If you are using Net Promoter to survey customers without a mobile-friendly landing page, you may be losing a third (or even more) of your audience - a figure that is increasing month by month.
Are you (mobile) Experienced?
Like adventurers searching for El Dorado's gold, the tech and marketing press have been predicting the fabled "year of mobile" each January for more than a decade.
We've been a part of  the evolution from SMS send and respond to mobile-friendly survey landing pages over the last few years, and we're always hesitant to make sweeping predictions. But after crunching some client data, we were interested to see that in January 2013, among our clients across the EU, US and Australia: 
Almost a third (29%) of b2c survey page visits are now made from a mobile device. For some clients its much higher – up to 50%.
Almost a fifth (17%) of b2b survey page visits are now made from a mobile device, and based on current trajectory, this will climb over a fifth in the next six months.
iOS is the dominant operating system overall, but it was also the only operating system to become less popular between the period of October 2012 and January 2013.
Android recorded a 3% increase in popularity between October 2012 and January 2013. 
Although it remains a minor player Windows saw a significant increase in relative terms.
SMS is dying: Perhaps even more tellingly, we recently sent out an SMS survey on behalf of a client with an option to reply by SMS or visit the survey online. An astonishing 87% of attempted responses came from the online survey rather than reply by SMS – despite SMS being the send out method.

Make sure your Net Promoter survey is optimised for mobile
But if you have not made mobile a part of your survey strategy yet, fret not. We have devised a simple checklist of questions that you can ask your supplier (Hint: The CustomerGauge platform has all these features built it – click on the image to take a test survey).
Checklist to make sure your NPS survey is mobile-friendly
Is your survey compatible with all major operating systems in your market, including older versions of Android and iOS?
Are there any emerging operating systems in your market that your survey needs to be optimised for?
Does your survey work on old and new versions of different browsers, including Chrome, Firefox, Safari, and IE (from IE6 to the latest)?
Does your survey work on a Javascript disabled browser?
Is your survey interface clear, easily read, and free of clutter? Will it read as well on an iPad as it will on a 3.5 inch iPhone 4?
Keep in mind that a mobile survey is not just a technical solution. Is your survey simple, short and easily answered by someone with a few seconds on a mobile device?
We will follow up on this story later in the year to see if there have been more noteworthy changes in mobile survey trends. In the meantime, do you have any thoughts on what may lie ahead in 2013?
In 2005 an influential report by a UN body predicted "The Internet of Things" – a ubiquitous wireless network linking household objects and appliances, all talking to each other. The Internet of objects may encode and track up to 100,000 billion objects. Every human being is surrounded by between 1,000 to 5,000 objects.
No more lost keys, no running out of milk, waste is a thing of the past, and so on…
In our industry that means that "things" will report back to home base on their operation: "Running out of disk space – help!". For CustomerGauge of the future, it may mean that systems have their own built-in survey mechanism that gathers feedback at the most appropriate moment. And, yes – we are working on that.
In the meantime, I can report that CustomerGauge has a small part of this future available from the November release.
We call this new report "Recommendation Score of Products" – or more snappily: "Score by SKU", to help show customer satisfaction of each product. The results are compatible with the Net Promoter Score®, (jointly developed by SatMetrix and Fred Reicheld, also known as NPS®), and come from the question  "Would you recommend this product to a friend?"
Until now, manufacturers have struggled to keep track of what customers thought of individual products (or stock-keeping units), and at best have relied on omnibus surveys taken once or twice a year. Results can be poor due to lengthy time lag, and low response rates (which mean that similar products can show markedly differing results).
CustomerGauge can be used to survey ALL transactions of a manufacturers online shop, or ALL product registrations. Automatically. And in a volume that gives reliable scores.
Results are shown in real time, and feedback can go straight to Product Managers.
We have already been piloting "Recommendation Score by SKU" with some of our clients over the last 90 days. One organisation has been using the report to sort their 2000 products by ranking into "Top 20 Best" and "Top 20 Worst" products, and examining the related voice-of-customer feedback.  They distributed customer comments to product managers, de-listed many of the poor performers immediately, and changed instruction manuals on several others to help usability.  On the best performers, some actions taken included more prominent marketing, re-pricing, and including some customer testimonials on web pages. The results have been impressive, with overall Recommendation Score (compatible with NPS®) increasing by several points.
Another organisation is taking the product feedback and recommendation scores from the direct sales division and distributing to product managers in the entire organisation. Although the direct division represents only small percentage of overall sales, the results give an excellent representation of total sales, and are available within 15 days of product purchase. This contrasts with 90 days or more from channel sales, and the results are unfiltered by store managers and account managers.
It's one of the many new features on the ever-growing CustomerGauge platform that is already helping major organisations understand and measure customer sentiment. So until your products start to phone home with the latest user gossip, please let us know if we can arrange a demonstration for your organisation.
Survey Idols: SAP now using NPS as part of their management DNA it seems. I was passed an invitation for their annual CRM Net Promoter Survey – here is an extract to help establish best practice (names changed to protect the innocent):
"In 2007 we established the CRM dedicated Net Promoter survey … We were able to get great insights from the initial survey, so we have now established this survey as a key part of our product management process. We greatly appreciate your feedback and encourage you to participate. You might have already received an email for this year's CRM Net Promoter survey, which is just running. The invitation comprised a direct link to the online questionnaire and was sent from the following e-mail address: sapXXXX@ccsurvey.com CRM Net Promoter Survey – details

When? Through Mid-April 2008.

Who? All CRM customers who made any form of experience with SAP CRM are invited to provide their feedback. XXXX Company is conducting the survey on behalf of SAP.

Why? We are committed to listening to our customers. As part of that commitment the CRM Organization has established a Net Promoter survey to measure customer loyalty and satisfaction with our CRM solutions and services. The information collected will be reviewed and acted upon as part of our continuous efforts to improve the products and services we offer. For example, your feedback from the prior survey has already impacted our latest CRM 2007 product release and future plans as well.

How? The questionnaire should take no longer than 15 minutes and you can choose to remain anonymous. The flow of questions are personalized depending on your experience with our CRM products, so only questions relevant to you are posed.If you are lacking the personalized link to the questionnaire included in the invitation email, or if you would like to register yourself or a colleague for the survey participation, please contact XXXX. Make use of this genuine channel, we will make use of your feedback. Thank you and regards, [Name]"
A link to a classic one-question Net Promoter survey, thanks to the Service Untitled blog. A good template for an NPS survey:
Subject: "(company name): 1-Question Survey"
Body: Hi -name-,
We are currently asking our customers to take a one-question
survey so that we can rate their level of satisfaction with
our company. If you have a few seconds, we would appreciate it
if you would answer our one-question survey found
by clicking the link below:
    [URL link]
Thank you for your continued support
Mr Smith
CEO, Company, LLC.
Here is the simple survey (note the 10 is on the right – see Good is on the side of right…)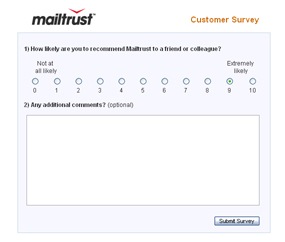 The blogger comments on how he likes the survey, and suggests how he would improve it.
Our product CustomerGauge does exactly what this describes – a simple one-page Net Promoter Survey and collects customer comments. Interestingly, many companies we work with (despite our advice) insist on adding a few more questions!
To answer some of his comments: We have found that offering some sort of award (or possibility of an award) for participating is counter-productive. The best feedback comes from real "fans" of a brand, or those who are motivated to comment because of poor service. Rewards do not improve quality of feedback, merely quantity.
In the world of surveying, which side is "good" on? Left? Or right?
We are often asked to give advice on how to put surveys together. Over the years I've collected dozens of examples – you can see some of the winners and losers on the "Survey Idols" section here, – and I'll share what we think is best practice in a minute, but first some background.
Around 7 – 10% of humans are left handed. Science has recently attributed this to the gene LRRTM1. But throughout history being left handed has usually had negative associations – and this can be traced through the words used to describe the condition.
From Mesopotamian time, the left hand symbolized the power to shame society, and was used as a metaphor for misfortune, natural evil, or punishment from the gods. Modern meanings evolved from the ancient terms and in many European languages. The word "left" comes from the Old English lyft, meaning weak. "Right" is not only a synonym for correctness, but also stands for authority and justice: (German and Dutch recht, French droit); in French, "gauche" means "left" and is also a synonym of "maladroit", meaning "clumsy".
Meanwhile, the English word "sinister" comes from the Latin, which originally meant "left" but took on meanings of "evil" or "unlucky" by the Classical Latin era.
Maybe left-handers don't have it all bad. Albert Einstein, Charles Darwin and Leonardo da Vinci are prime examples of lefties who made good. And there is some evidence that left-handers think more quickly (and so can dodge trouble).
CULTURAL IMPACT
Apart from the names we call people, what are the other ways in which the left-right issue works? Let's look at popular culture.
Jennifer Van Sijll writes in Cinematic Storytelling: "As Westerners we read left-to-right. If you rented fifty studio-made movies, there's a good chance that the 'good guy' will enter screen left every time. When the 'good guy' moves left-to-right, our eyes move comfortably. Subconsciously, we begin to make positive inferences. Conversely, the antagonist usually enters from the right. Since our eyes aren't used to moving from right to left, the antagonist's entrance makes us uncomfortable. The screenwriter exploits this by transferring our learned discomfort to the characters"
So you can see that the eyes usually feel more comfortable with the left-right travel…
More examples of Good (or at least Better) on the right…
Something from the 1980s I would guess:
The meters show louder on the right…
Spinal Tap, "the loudest band in the world" had amplifiers that went all the way to 11. Which was on the right.
a graph – usually better/higher is on the top/right…
CONCLUSION
Quick question: You're filling in a survey to give someone a great mark. Do you put your tick on the right or the left?
And although we allow our clients the freedom to choose, the CustomerGauge best practice is "Good goes on the right".
I am indebted to Church of the Customer Blog for this tip. It's an email invitation to fill out a survey for a Chicago Pizza company. I liked it for the polite, yet engaging tone of the invitation to comment. It actually does a great job of selling, and shows a lot of thought.
Hi, My name's Mike and I'm the Manager at HomeMade Pizza Company in Evanston. I just wanted to thank you for choosing HomeMade. The way we figure it, there are a whole lot of places you could've tried for dinner, so we really appreciate the fact that you went with us.

And if you get a chance, we want to hear what you thought. Do you have any questions or comments about your HomeMade experience? Any rants or raves? Whatever it is, let me know. Feel free to give me a call here at the store, or e-mail us at [note: I'll save them from the spambots].

Thanks a lot for trying HomeMade. I hope to see you again soon!
After commenting, this customer got a response direct from a VP.
Hey Christine — I just wanted to thank you for your nice email to Mike! Bottom line is, we're really glad you finally had a chance to stop in and, of course, I'm even happier your guys enjoyed everything — fantastic! Glad you're planning on coming in again, too — we'll be looking for you soon.

And keep in touch — if you ever have any questions/comments/suggestions, we'd love to hear them — we want to make sure we're keeping you happy.

Thanks again for the great feedback Christine, we really appreciate it! Best — Shane.
I like the way that the company's personality shines through in both of these communications. This is how customers like to be treated!
Where's my bus?
Seen at Heathrow Airport T4. "Connect 2 Work – Staff Bus Service. If you should have any comments regarding this service please call 020 874 56261″
I bet no one dares call. Or if they do politely complain, you can bet the answer would "Tough! You can wait luv!".
Lessons: 1. Invite people to call, don't intimidate them! Also, make it so they can email or write – or SMS (getting popular now I think). A staff service is somewhat captive audience, so customers probably feel vulnerable anyway. 2. Who is at the end of the line? Tell people where your comments will go.

Number 1 in an occasional series of the best and worst of Satisfaction Questionnaires – or as we like to subtitle it: Customer Survey Idols.

Laugh and cry with us as we look at some good practices – basically to see what we can "borrow" and what to let go – as we work on client projects and CustomerGauge. I'll add some pictures from my collection as we go on. Comments and new submissions welcome.

1 Dec 2007: Schiphol Airport: HMSHost (sponsored by SPA?). I stopped for a coffee early one morning en-route to catch a flight to the UK. Was served by the surliest attendant I have ever seen who served me with a scowl. I picked up a survey postcard: here it is.

Lovely graphics – you see what they did with the plates and cups? You have to fill them in. And some clip are of a plane. But for all the nice artwork, usability is not good. You can't write on the glossy paper. Difficult to read the small print for me. Let alone a senior. Overdesigned I think.

But it is in two languages (EN + NL), if somewhat hard to read. And some space for a remark.

4/10

Full version here: WordDoc