ING: Banking on Net Promoter | Introducing NPS at ING
by Cvetilena Gocheva
Currently Trending
ING is a bank and financial service institution currently experiencing a high in its Net Promoter Score® (NPS®)--at least in Australia. In a study conducted by Engaged Strategy, ING was found to be the most recommended bank in Australia by having the highest Net Promoter Score at 48. According to the 2018 NPS & CX Benchmarks Report, the average Net Promoter Score in financial services is 46, which means that ING is ahead of the pack.

However, Australia isn't the only ING bank that's promoting a high Net Promoter Score. ING Luxembourg also boasts and impressive NPS score at 63. How does ING maintain such a high Net Promoter Score? The simple answer is, ING makes Net Promoter a highly visible metric.
The company appreciates the value of a high score (such as it making them the most recommended bank to use, drawing in more customers), and has created strategies accordingly. Let's explore what those strategies are, and how they are actively working towards ING's NPS, and therefore, how they're helping the company skyrocket in the financial industry.
NPS via Think Forward
For the past few years, ING has made getting a high NPS a priority for itself as a company.
Specifically, it has the goal of achieving a number one NPS ranking compared to its main competitors in retail banking. It lists this goal as one of its primary aims, and accomplishments, in its 2017 annual report, as well as in its reports in 2015 and 2016. There has been some success with this goal; within the 2017 report, ING lists that they have the number one NPS in 7 out of 13 major retail markets, and they're number two in 4 additional countries.
Why such a laser-focus on Net Promoter®? Because the company believes customer-centricity is the heart of financial growth. We've seen in the past that many of the most successful companies who roll out a Net Promoter program often link it to a comprehensive customer service strategy. The technology company, SingleHop, for example, experienced exponential growth when they merged their Net Promoter program and Service First customer experience strategy together (a 42% increase in Net Promoter Score year-over-year and a 50% bump in retention).
We can see how this exact scenario started to play out with ING's customer service strategy starting in 2014, when it launched the Think Forward initiative. Think Forward was a restructuring effort to help ING keep up with the changing banking market.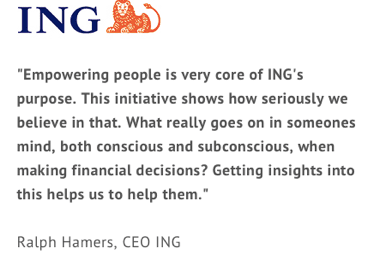 Think Forward "wanted to put more focus on placing customers at the heart of what we do," and committed ING to reaching out to customers and learning about their needs, developing new means of analyzing those needs to address them better, and speeding up the addressing of these issues. All of this is exactly what analyzing NPS does; a company gathers NPS data from customers, reaches out to detractors, or those giving low scores (0 to 6), and learns what complaints they have. The company then takes that information, and finds solutions, all while reaching out to customers in a timely fashion, as quickly closing the loop on communication is shown to improve customer retention by 10%, and 5% growth in retained customers increases profits by 25-85%.Unsurprisingly, Net Promoter Score became the ideal metric for ING to measure their success within this strategy.
And this commitment is serving them well. After ING invested further into Think Forward, the company saw a profit of €1.3 billion in one quarter in 2016. More recently, in addition to achieving some of their NPS goal of the year, and overtaking the market in Australia, the company also saw great financial success, with net customer deposit inflow amounting to €2.4 billion in the first quarter of 2018, and total retail customers reaching 37.8 million. Customer growth was another goal of ING's, and they're achieving it with ease. Part of that, as Engaged Strategy observed, is likely due to NPS, and ING's focus on it.
PACE Methodology
Think Forward isn't the only strategy ING uses to increase their Net Promoter Score. They also utilize the PACE Methodology, a means of deciding what projects and ideas to pursue by prioritizing talking to customers, and seeing what they think and want.
You may be sensing some common themes with Think Forward; PACE also helps ING continue to put customers first, and address their needs. Think Forward is ING's data collection strategy though, analyzing what is learned, but mostly focusing on hearing from customers. PACE deals more with internal machinations of the company and how ING takes action on what it's learned, and therefore ensures Think Forward is being followed through on. PACE helps with this by first organizing workers and teams within ING into domains that have 4 to 10 scrum teams tackling projects, and a support team helping all of the scrum teams out. Within the domains and teams, the PACE methodology is used.
The PACE methodology breaks down into five phases: Discover, Problem Fit, Solution Fit, Market Fit, and Scaling.

In Discover, an ING team finds a challenge, problem, or customer need to address. Considering Think Forward, it's very possible this challenge will be identified by a customer. In Discover, a broader context for the challenge is found so that in the Problem Fit phase, a specific challenge can be identified, as well as what kind of customer is being affected. This allows ING to figure out if a problem is really worth pursuing or addressing, in seeing how many people are affected, and how it affects them. If the problem is found to be significant, it's time to go to Solution Fit, or listing different potential solutions, and testing them out to see which one works best.
Once a solution is found, it's time to do the Market Fit, which is launching the solution in such a way that the intended customers will be reached. This is also a time to see the commercial potential for your solution, an important part of any business. Then, an ING team looks at Scaling, or how this solution can be grown or used to ensure ING has continued growth in the future.
Much like with Think Forward, this entire system works well with Net Promoter efforts. It's not enough to simply measure for the Net Promoter Score—action must be taken afterwards to address customer concerns, or to continue actions that customers are enjoying. The PACE methodology does just that, showing once again how committed ING is to Net Promoter.
One such example:
After seeing customer complaints with ATM fees within the banking industry, ING used the PACE method in 2017 to find a way to end ATM fees globally. ING also continues to seek ways to lower all banking fees, which customers have responded to—likely because the call for low fees came straight from them.
ING also addresses customer needs of currency conversion and quick payments with several apps, including Yolt, Payconiq, and Katana. All of them have ways of paying for things in differently, matching different customer complaints or desires, or addressing banking challenges with a customer-centric gaze. So they all reflect how ING is not just collecting data on customers, but how it's also taking action on what they want, via an NPS-based internal methodology that's fueling the company's success. ING continues to shine in NPS then, as they rightly want to, and that desire is further reflected in the treatment of their employees.
Better People, Better NPS, Better Future
How people are hired at ING, and how projects and other organizations are acquired, is also influenced by NPS, specifically in thinking about how the company will grow and continue to succeed in the future.
As of this writing, ING is developing a campus that will house startups, and other innovative companies that ING hopes to invest in, so that they can share office spaces in Amsterdam, near ING's headquarters. The goal of this campus, other than to help fintech companies ING is already working with, is to draw other talented startups and businesses, so ING can continue to get the insights and technological developments that will give it an edge in the marketplace. This is a move made while thinking about how ING can continue to grow and develop, another thing NPS encourages. Once data is analyzed and actions are taken, consideration of the company's future growth must also take place. After all, the goal of any business should be to continue to grow and be profitable. As part of PACE, and this method of acquisition, we can see ING is doing that, which helps explain its NPS, and its success.
Within the startups and companies it assists, ING also has done a great job spreading the word about its mission. Those who work in tech for the company have said that "We don't see ourselves as innovators. We're just focussing on the customer," the crux of ING's philosophy, and of NPS. This communication is benefitting the company greatly, allowing its teams and employees to thrive. Its Investor Relations (IR) department was voted the best IR of the AEX-listed companies by the Dutch Association of Investor Relations, and ING's CEO Ralph Hamers was in the top 10 most reputable CEOs according to the Reputation Institute. With employees getting such great external praise, and putting forth such strong internal work, it's not a surprise that ING is doing well. Part of that success comes from good communication throughout the company about putting the customer first, and part of it is ING's commitment to getting the best people, from developing its campus to its other hiring practices.
ING Net Promoter Score: Taking Great Strides
ING is ruling the roost in Australian banking, and if its current trends continue, its likely to achieve its goal of number one NPS in retail banking in the near future. The company should continue to thrive, as it seems committed to Think Forward and the PACE methodology, and, demonstrably, it's right to do so.
Want to get the latest Financial Services NPS Benchmarks? Click below to get the most comprehensive NPS Benchmarks report on the planet with over 24,000+ data points!

Blog Home