Last week, CustomerGauge hosted its largest event yet in Europe—Monetize! Amsterdam 2019. True to its name, the event focused on monetization and ROI, exploring the connection between customer relationships, retention, and a hard return on CX or NPS® programs. It was also the perfect setting for CustomerGauge to introduce its premier B2B CX solution for enterprises—Account Experience™. And what a success! With 15 notable speakers, 150+ attendees and 2 full tracks, the conference created a brand new benchmark for future events.
Unlike previous years, Monetize! ran for four full days and was divided into 2 tracks: a main conference and a certification course. The main conference pass offered a two-day line-up of incredible speakers who presented their insights (and lessons learned!) on customer relationships, CX, data, and more. Held March 13-14, the track took place at the beautiful Compagnietheater—a unique location that had transformed from a church into a multifaceted event location at the heart of Amsterdam.
The four-day pass is a recent addition to our Monetize! conferences. It added an exclusive, two-day CX and NPS® certification course prior to the general event. With limited tickets and access to the entire event, the certification track sold out weeks ahead of schedule! In the sections below, we'll delve into more detail about the certification course and main conference.
CX and NPS Certification Course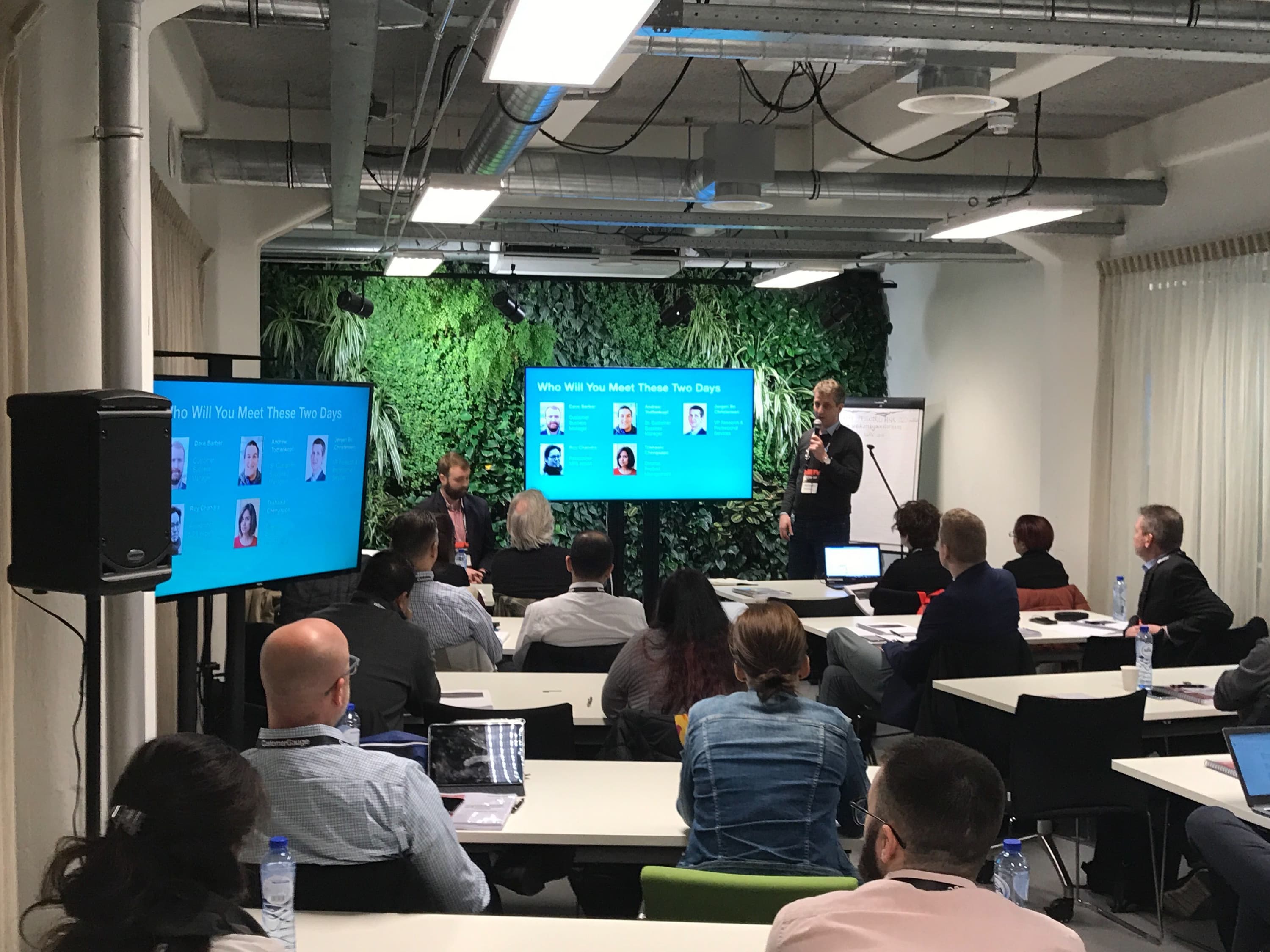 Taking place at the CustomerGauge HQ, the certification course offered attendees the expertise to build and maintain successful CX programs. As companies find themselves with little return for their customer initiatives, they could lose C-suite sponsorship and investment. To prevent ineffective programs, the course tackled common pitfalls and highlighted best practices at every stage. The material covered included:

Achieving customer loyalty
Creating a CX program
Listening to and analyzing customer feedback
Closing the loop
Optimizing loyalty
Monetization
Retention
Referral marketing
Both days were led by Jørgen Bo Christensen, CustomerGauge's VP of Research & Professional Services, along with guest lecture appearances from Roy Chandra, Trishaala Chengappa, Ian Luck, Andrew Todtenkopf, and Dave Barber.
Main Conference—Day 1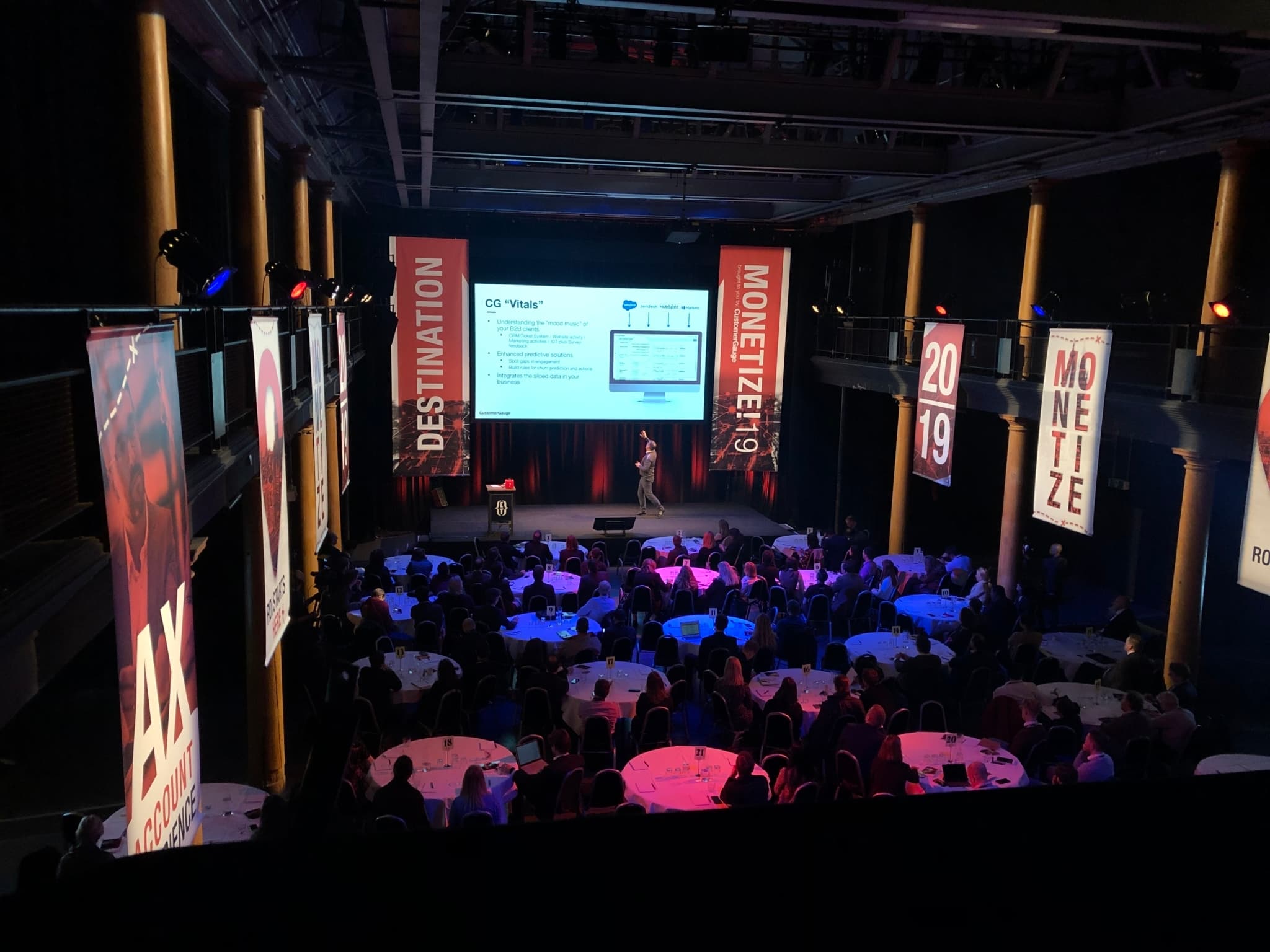 The first day of the main conference at Monetize! was completely packed with speakers and great networking opportunities—the Monetize! dinner and lively after party. During the day, we featured presentations from Electrolux, Maurice FitzGerald, AB InBev, G2 Crowd, Amazon Web Services, and more!

The first presentation of the day posed a key question—in the age of the fourth industrial revolution, how can companies remain engaged with their customers, and avoid becoming obsolete? We learned that the key is free and transparent flow of information and insights. Internally, this means breaking down silos within the company in order to more effectively serve the customer and align on goals. Externally, this means collaborating with customers on solutions, rather than blindly offering services that could be ineffective.
As consumers became more accustomed to the personalization and convenience that B2C offers, more has been demanded of B2B companies to match this type of experience. The trouble? Understanding how to apply B2C concepts of personalization and convenience to the multi-contact experience of a B2B client base. In a groundbreaking shift, Adam Dorrell introduced Account Experience—the long-awaited customer relationship solution tailored to B2B companies.
How can a company lock in retention, and understand what needs to be done to yield a loyal customer base? The key is in the data, and when it comes to consumers, there is much to measure. Monika Tornérhielm recounted Electrolux's success in listening to the Voice of the Customer and dissecting the customer journey to understand high and low points. Her VOC program is also advocated throughout the company, allowing each employee to understand and participate in actionable insights. In the next few years, Electrolux's goal is to break down all remaining internal silos and optimize every step of the customer journey.
Customer Experience Management
Markus Engel, VP Sales Performance Management, DHL Supply Chain
DHL is present in more than 50 countries, and is considered to be the No. 1 global logistics provider. How do they stay ahead of the competition? According to Markus Engel, the company believes that customer centricity is a 'customer-first' mindset that applies to every employee, everyday, at every level.
After the introduction of CXM (Customer Experience Management), DHL transformed its global survey and closed loop process to be more speedy and efficient for both company and customers. The company also increased satisfaction through transparency and implemented workflows for CX reps to ensure an effective response to each customer group within the appropriate time frame. The result was impressive. Since its 2016 program rollout, DHL increased its NPS by 10+ points in several countries and doubled its customer response rate.
In an illuminating presentation, Maurice FitzGerald addressed a unique challenge—what to do with passive customers. Using the metaphor of marriage, Maurice stressed the importance of communication when it comes to understanding why a customer is indifferent to a product or service. With an abundance of insight targeted at strategies for promoters and detractors, the passive consumer group in the Net Promoter System® is often omitted.
This can be costly mistake for companies, as the largest customer group for most businesses is typically the passive one. The solution is to dedicate resources that will help understand—and later solve for—passive consumer needs. One way to achieve this is to build an emotional connection between the customer and the brand. After all, indifference comes from a lack of emotion, making it easy for customers to walk away from the relationship.
G2 Crowd is a peer-to-peer business solutions review platform that provides insights for professionals making buying decisions for software and services. As an expert on the connection between company reviews and revenue, Michael Fauscette shared key insights on B2B purchase behavior. His findings indicate that as of 2017, 92% of buying prospects consulted online review sites before making a decision. Through case studies, Michael further demonstrated the power of great reviews. Since utilizing the platform, company 'Team Support' saw a 409% return on investment. Now that's 4x the reason to mobilize that promoter customer group!
Driving Top Line Productivity through Customer Loyalty
Luiz Gondim, Sr. Global Director Contact Strategy, AB InBev
Surodeep Chaudhuri, Sr. Manager, Digital Transformation, AB InBev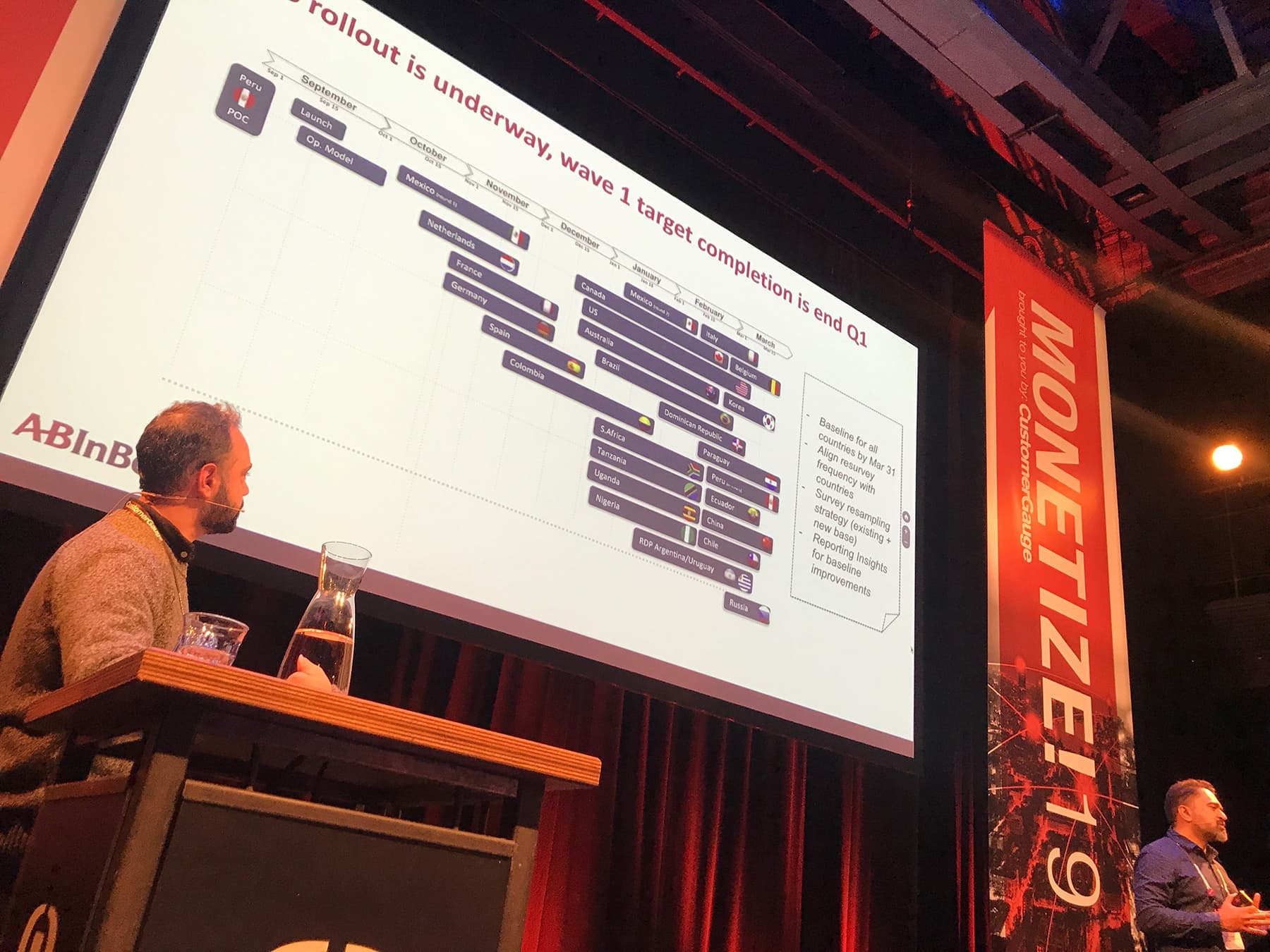 At CustomerGauge, we like to say that a CX or NPS program is a change management exercise. So, how can a large, global enterprise implement a company-wide shift towards customer centricity? Enter Luiz Gondim and Surodeep Chaudhuri, AB InBeb's NPS champions. In their presentation, Suro and Luiz outline their strategy and timeline to rollout the software and NPS-friendly company practices around the world.

As Shahbaz Alam outlined in his presentation, AWS aims to put machine learning in the hands of every developer. By utilizing their AI software, AWS was able to monetize content, automate workflows, and reduce costs.
Main Conference—Day 2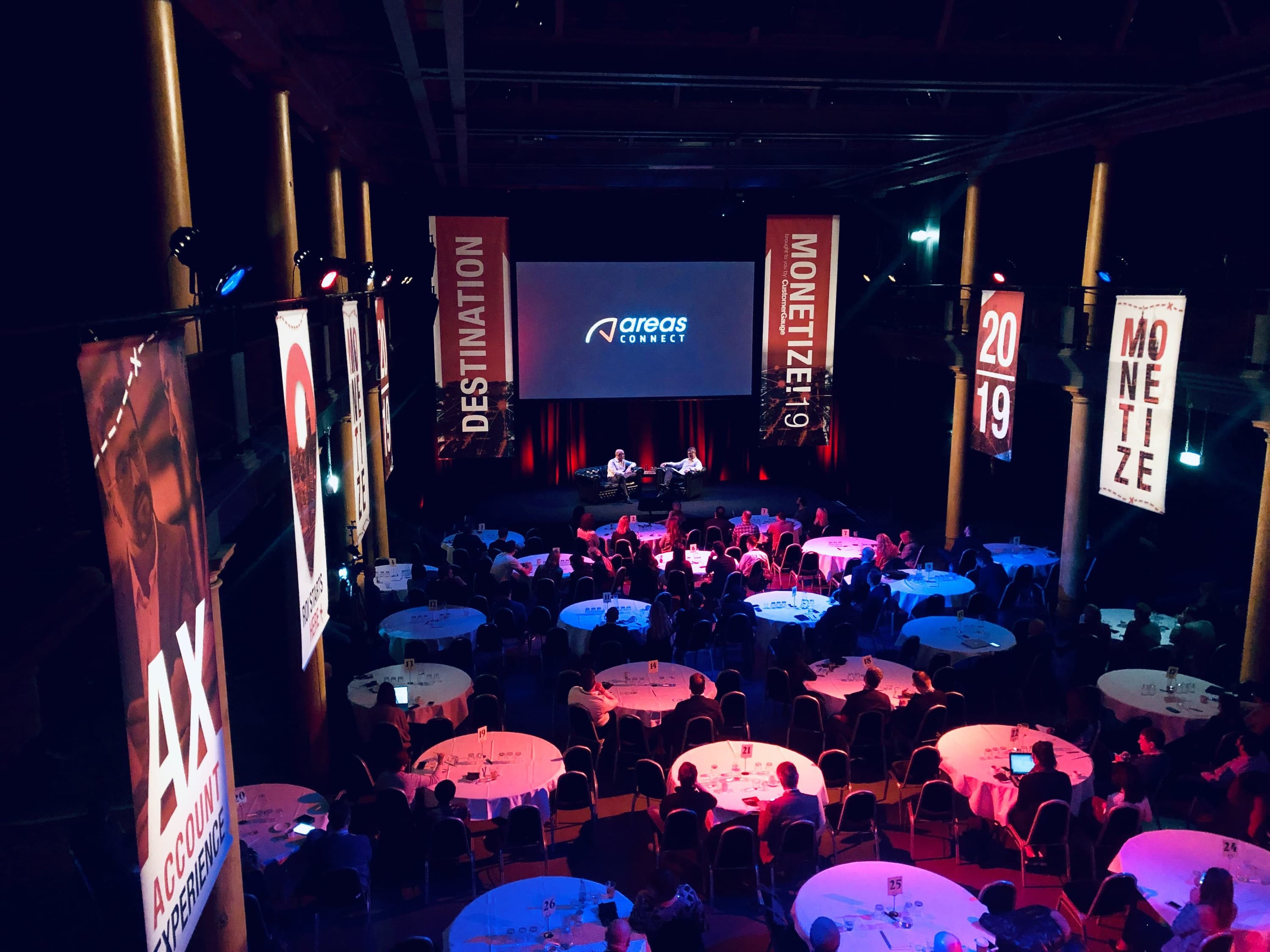 The second day of the main conference (and final day at Monetize!) featured CX and NPS experts from Salesforce, Areas, City of Amsterdam, Alchemista and more! The day closed off with one last round of networking and drinks following a closing statement from our CEO, Adam Dorrell.

A Fireside CX Chat: Cary Self & Adam Dorrell
Adam Dorrell, Co-Founder & CEO, CustomerGauge
Cary Self, Director of Training and Guest Relations, Areas
To kick off the final day, we gave presentations a break. Instead, CEO Adam Dorrell sat down with Cary Self, the Director of Training and Guest Services at Areas, to discuss culture, CX and return on investment.
The Crowd Experience
Eelco Thiellier, Strategic Advisor & Innovator, Royal HaskoningDHV/City of Amsterdam
Sometimes, experience can be applied to solutions beyond a company or customer. Eelco Thiellier presented the unique concept of Crowd Experience, a solution designed to mitigate tourist-related congestion and optimize the City of Amsterdam for visitors and residents alike.
The approach to solving for crowds began in the same place as solving for customers—gathering data. In an innovative approach, the City of Amsterdam installed sensors to help it collect information and identify pain points in the city where congestion peaked. The data was then analyzed to identify the relationship between crowd accumulation, means of transport available, and surrounding infrastructure. Using this method, the City of Amsterdam was able to implement solutions including dynamic way-finding and on-demand, one-way-street traffic flow. As a result, Amsterdam is reinventing itself as a Smart City, paving the way for future long-term civic planning.
When a B2B company has a small number of customers that account for large fractions of revenue, churn is not an option. Christine Marcus shared a powerful story about the value of one customer, and her drive to achieve 100% retention ever since.
Transforming AX with Monetization
Trishaala Chengappa, Director of Product Development, CustomerGauge
CustomerGauge's Director of Product Development, Trishaala Chengappa, led the audience through an overview of emerging software features that will help B2B companies monetize their account experience. With account level focus, monetization metrics, and rescue & growth systems, businesses now have a complete suite optimized to manage B2B customer relationships.
If you'd like to see any of the features mentioned at Monetize! Amsterdam, please reach out for a demo.

In a transparent and insightful presentation, Karen Mangia shared 5 Secrets of Salesforce's CX success. A customer advocate form the beginning, Salesforce established a platform that enabled its customers to connect, share insights, and brainstorm solutions that would make the service they subscribed to better-suited to their needs. As the platform flourished and gained momentum, the company suffered a pitfall in credibility when they failed to address their customers' official suggestions. The moral of the story? Never forget to close the loop—especially when your customers are so passionate about the product, that they dedicate their own time to help optimize the product.
Our Event Recap
We enjoyed learning from the best and brightest, and know our attendees did too! As we look to the future, the stories and insights we learned at Monetize! guide us to be proactive listeners and responders who adopt customer centricity at every level of the organization. So if you missed our last event, or would like to get ahead with your own B2B customer program, don't miss our upcoming digital release. This latest publication (available to conference attendees in print), will shed light on the big shift for B2B CX—Account Experience.
Discover How Account Experience Can Help Scale Your B2B CX Program!