Bank of Montreal Group report Net Promoter Score of 44
From the BMO Financial Group F4Q09 (Qtr End 10/31/09) Earnings Call Transcript. Bill Downe – President & CEO:  "[we] improved our net promoter scores for both retail and commercial in 2009." He drilled down to P&C Division  U.S, emphasising strong fourth quarter results and added: "Our retail net promoter score was 44 for 2009, compared with 42 in 2008, while the average scores of our large bank competitors declined." Source:
SeekingAlpha
Other financial snippet: The managing director of
A & G Insurance Services Australia
, Michael Weston, boasts his company's direct-to-market brand,
Budget Direct
, has a high net promoter score (but is only teasing us by not revealing it...)
Sydney Morning Herald
.
Weaponising NPS at Easynet for an Industry to become "responsible"
UK ISP Easynet Connect are calling for a common benchmark for measuring customer service for business ISPs: "We've been using the Net Promoter Score internally for a few years now. Since adopting it our score, and therefore the customer service that we actually deliver, has improved significantly in just a few years. It is a powerful tool that keeps you on your toes," said Harry Eastman, Operations Director, Easynet Connect "Crucially for us, we use the NPS to zone in on problem areas. If our CRM is the big gun in our arsenal, then NPS is without doubt our targeting system for that gun."Julian Harriott, Business Manager, Communications Management Association (CMA) says "… Adopting a standard like Net Promoter Score is the responsible thing [for the industry] to do…"
Sourcewire
.
Home Depot toughs it out.
[caption id="attachment_1288" align="alignnone" width="400"]
A link to the Net Promoter Survey at the bottom of every till receipt[/caption]It was a tough 12 months for the DIY shedsters. But they took comfort from increased customer loyalty. Frank Blake - Chairman and CEO: "On the store operations side, our net promoter score, [...] with 64.1% in October, over 8.5 percentage points higher than last year at this time." From the Home Depot, Inc.Q3 2009 Earnings Call Transcript on
SeekingAlpha
and
slides
.[caption id="attachment_1290" align="alignnone" width="400"]
Home Depot Do-It-Themselves to get NPS 64.1[/caption]
eBay "just testing" the zero to ten scale
[caption id="" align="alignnone" width="249"]
eBay start to ask the Net Promoter question[/caption]"This is a just a test..." say eBay UK, who have started to trial Net Promoter Score feedback for buyers (Source:
Tamebay
).
Sure it is.
eBay have been using the Net Promoter Score internally for a while. This from the recent
eBay Q3 2009 Earnings Call Transcript
: "Our net promoter scores are up for both buyers and sellers." says CEO John J. Donahoe. "....our focus on great customer experiences and customer retention and loyalty is as strong or stronger today than in any time in the last couple of years. [...] I changed the senior management incentives so the top 600 people in the company, part of their annual bonus is driven by improvements in essence in customer loyalty, as measured by net promoter scores. So we made good progress."
British Gas Mark 30
[caption id="" align="alignnone" width="185"]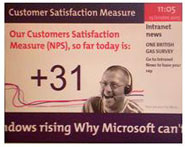 British Gas show Net Promoter scores on wall boards[/caption]Sensible tips from British Gas, winners of the European Call Centre of the Year award.
Tip 4:  Use Net Promoter scores - Show scores on your wall boards. "We adopted the Net Promoter score as our key measure of customer satisfaction.  Our agents are bonused on a combination of their Net Promoter score and the percentage of their customers that fill in a telephone-based post-call satisfaction survey. A bonus is payable based on the score and if 25% of their customers complete the survey. Progress has been significant and has gone from -20 to +30 in the past 18 months."
Source:
Call Centre Helper
DragonAge NPS (as recommended by Dark, Heroic Fantasy World Gamers)
Founder/CEO of Canadian developer
Dragon Age: Origins
BioWare,  Dr. Ray Muzyka spoke about KPIs for game developers:
"Net Promoter scores, which is more of a fan opinion they recommend to their friends, that's a useful metric." 
Source: VideoGamer.com
Strong loyalty with "Life Changing" Pen
Livescribe's senior marketing director and UK GM, Eric Petitt was interviewed about the no-computer-needed
SmartPen.
Read more on
PCR
In a recent US national survey of 5801 registered Pulse smartpen users, 74.5 per cent said they were very likely to continue using it, 92 per cent have demoed the pen to a friend, while 73 per cent said "Pulse has changed my life". We also got a 54.2 net promoter score (recommenders minus detractors) – this puts us in an elite group of brands, alongside Apple and Southwest Airlines.
Buy on NPS!
One of the original ideas behind Net Promoter Score was that companies with a high Net Promoter Score should provide better investment opportunities. In the appendices to
The Ultimate Question
Fred Reichheld shows graphs with NPS and growth correlated. So it's nice to see the market catching up with this thinking. I saw this headline: "
Companies You Should Buy Right Now
" from MarketMixup, with the sure-fire stock picking strategy of "So if you want to make serious money in stocks, start with great companies. [...]
Costco
(Nasdaq:
COST
), for example, has a
high net promoter score
". I'm looking forward to the first NPS Portfolio I can invest in...
Career Tip: From IT manager to CEO via NPS.
How a senior IT executive can move beyond a traditional role in technology (i.e. become a CEO) is discussed in
What it takes to become 'the extended CIO',
a book from Richard Hunter and George Westerman. An excerpt_
Since 2006, Leonardson [Butch Leonardson is CIO of Boeing Employees Credit Union (BECU)] has cochaired a BECU customer and employee loyalty initiative called Net Promoter. [..] "When a BECU employee logs on in the morning, if he's [customer-facing] staff, he sees our four strategic objectives—the target and where we are," Leonardson explains. "With Net Promoter we're supposed to be at 73.5 percent right now, and we're at 74.6 percent." [...] Leonardson continues to seek improvements in the company's ability to use data to improve performance for customer service. ... "
From CIO Canada (24 Nov 2009)
IT World Canada
Researchism* Corner
Our occasional feature showcasing links to
NPS-deniers
. This week,
Flat-Earther
Augustine Fou gamely argues the view "
What's wrong with the Net Promoter Score
".  Plenty of (well-informed) pro-NPS heckling follows in the comments, with even the author repenting: "... I will definitely grant that some clients may be able to use NPS, given a deep understanding of what it can and cannot do."
*Researchism: A new term that I just made up referring to the quasi-religious beliefs of some market research professionals that the Net Promoter Score is pure Evil, and that a proprietary scoring system derived from 40-question questionnaire is better than any other surveying system. A form of business creationism, probably done to protect a revenue stream rather than helping clients.
Get The Most Comprehensive B2B NPS and CX Benchmarks Report on The Planet