Net Promoter Score (NPS) surveys are one of the most powerful ways to understand and improve your customer experience (CX). But they're only as powerful as the responses you get.
And if, like the majority of companies, your NPS response rate wallows at around 5%, the insights you're getting could be a lot more reliable than they currently are.
That's why it's time we spoke about improving your NPS response rate. Simply, the higher it is, the more accurate your NPS results—and, crucially, the better the opportunity you have to boost customer loyalty.
You see, any CX management team shouldn't be accepting their survey response rate as simply good enough. With CustomerGauge, ICON Communication gets a 100% response rate on their NPS surveys—and that has allowed the brand to receive 80% of its new business from customer referrals.
In this article, we share some tips on how you can get a similar NPS response rate. But first, let's explore why it matters so much.
Table of contents:
Short video on how to calculate response rates
Why NPS Survey Response Rates are So Important
The quality of your customer experience management program depends on a high response rate to your NPS survey.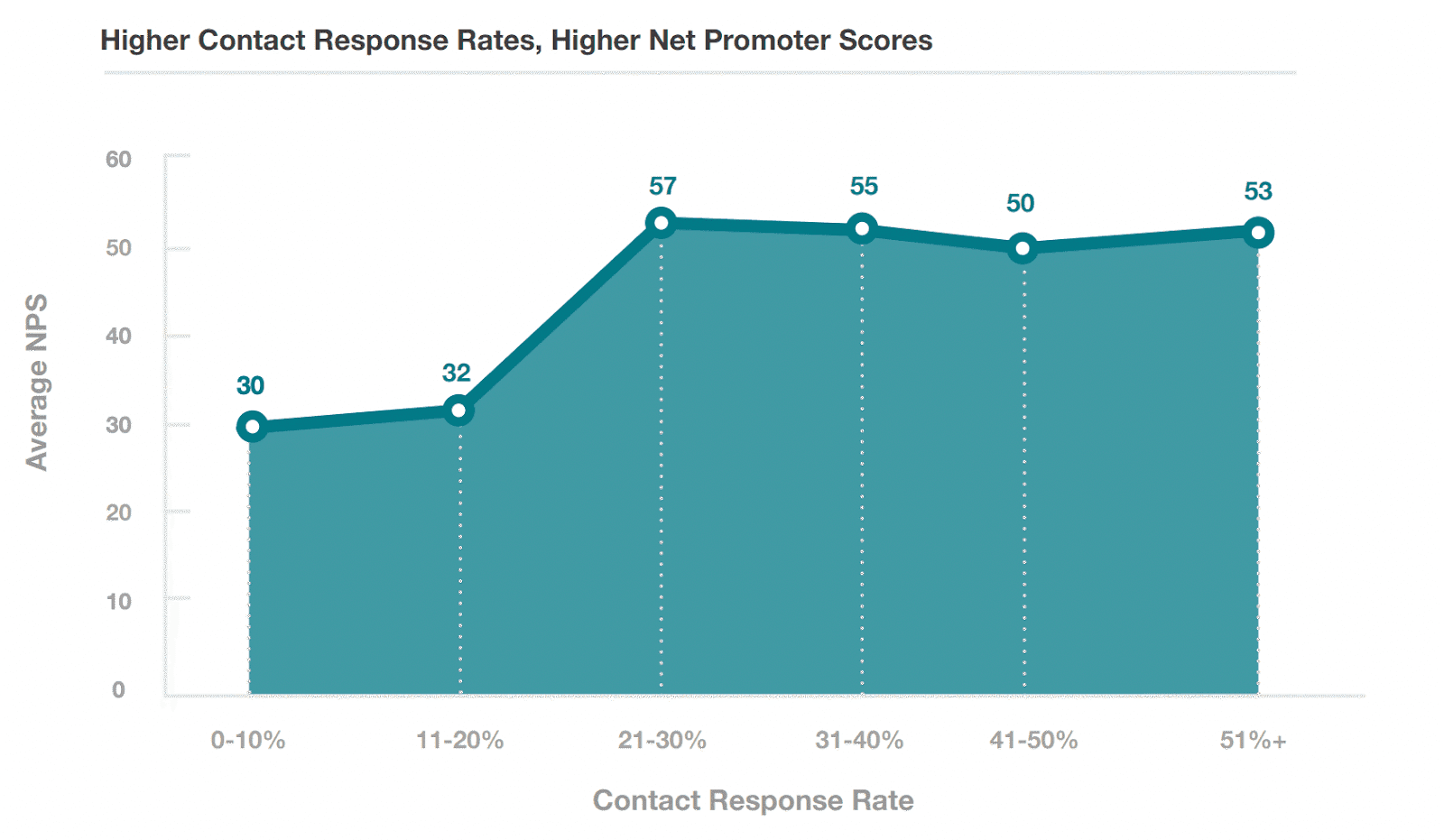 Here's why:
Higher response rates create more reliable customer feedback. It tends to be the people who really like your brand already that are most likely to respond to your survey. That means that with a really low response rate, you're likely getting falsely positive results. And that can lure you into a false sense of security.

If customers aren't responding, they're likely at risk of churn. At CustomerGauge, we find that one crucial predictor of customer churn is a loss of signal. Your account goes quiet, they don't ask for support, and likely you don't hear from them at all. If an account doesn't ever respond to a survey, they could be at the door—and that means a loss of revenue.

More engaged customers means better retention. On the flipside, the more actively engaged customers you have, the higher your customer satisfaction is likely to be. And that means higher retention—and revenue growth.

Non-response matters more in your bigger accounts. The value of your NPS responses will vary depending on the value of your accounts. For example, if your lowest response rate is among your largest accounts, you'll really want to know about it.
At CustomerGauge, we can help you track and improve your NPS response rates. Our Account Experience software helps you manage your entire customer experience management strategy, from survey delivery to closing the loop. Book a demo to find out more.
NPS Response Rate Benchmarks: What is a Good NPS Response Rate?
A good response rate is likely to differ depending on your industry, segment, and types of customer.
For example, in our report, The State of B2B Account Experience, we tracked NPS and CX benchmarks from across the B2B industry.
And what did we find?
Typically, B2B brands can expect a response rate of anywhere between 4.5% and 39.3%. The average NPS response rate was 12.4%.
But you can aim for much higher than that. According to Bain & Company, the organization that invented NPS, B2C brands should really be aiming for response rates at 40% and above. For B2B brands serious about gauging the sentiments of their customer base, a 60% response rate is a great benchmark to aim for.
However, we'll repeat: getting responses from the right customers matters more than just getting a large sample size. Your most valuable customers—or those you would most like to see become promoters—will matter most.
Does 60% seem doable? Let's now turn to how you can improve your NPS response rate.
Discover: What is a good NPS score?
10 Ways to Increase Your NPS Survey Response Rate
Surveys work best when you get as high a response rate as possible. So, without further ado, here are some key ways to secure a high response rate—alongside some general Net Promoter Score survey best practices.
1. Set Your Goals and Stay Relevant
Before you start thinking about your questions or survey templates, stop. Instead, begin by getting clarity on your goals. By only asking for feedback when it's really valuable will you ensure you're not bothering customers unnecessarily.
Consider the following before you start:
Transactional or relationship survey? Are you tracking customer loyalty over time, or do you want to dig into a customer response to a specific touchpoint? That will affect the type of survey you do.

All your customers or just a segment? Sometimes, you're not actually looking for a response from everyone. Sending an NPS survey to people to whom it's not relevant is your easiest way to reduce your response rate.

Is your survey intrusive? For example, do you need to ask a customer the NPS question the first time they land on your site? In most cases, the answer is probably not.
These are the basics of an NPS program—but you'd be amazed at how many brands still get them wrong.
2. Be Clear on What Customers Can Expect
Customers don't want to feel like they're wasting their time—particularly when you're asking them for a favor. So, when sending a customer your survey, tell them exactly what they can expect:
How long the survey will take them. An NPS survey shouldn't take more than two minutes.

How much you value their assistance. Making customers feel valued will encourage them to respond.

What you will deliver in return. This could be improvements to your product or service, or a reward like a discount.
3. Monitor and Update Your Contact Lists—Continuously
Clean data = higher response rates. And by making sure that your customer contact details are correct and up to date, you'll avoid sending your surveys to dead email addresses or phone numbers. This matters particular in B2B contexts, where contacts in your account can move to a different business.
So, monitor and update your contact data across all touchpoints, including phone, in-app, in-store, or online. An email management system—that helps you keep your contact data free of bounces—can help.
4. Send Your Surveys at the Right Time
There's a lot of misleading information out there about the best time of the day to send email surveys to boost your open rate. While our research has found that sending surveys on Thursdays and Fridays often give B2C response rates a kick of around 3%, there's not much evidence that the hour of the day makes a huge difference.
But getting your timing right can help:
If you're gauging customer satisfaction with telephone support, send an NPS survey ten minutes after a resolution has been reached on the phone.

In ecommerce, delivering a survey a week after the transaction is ideal, so that customers have time to test their products.

For B2B relationships, we recommend surveying customers every quarter. It sounds a lot, but our research shows that companies see a 5.2% increase in retention by surveying quarterly.
5. Deliver an Incredible First Impression (and Dodge the Spam Filter)
Studies estimate that 47% of people decide whether to open an email based on the subject line alone. That means that your first impression really counts.
Further research has suggested that 6-10 words is ideal for a subject line, but many people suggest going even shorter. We find simple subject lines such as "How did we do?" tend to perform quite well.
Likewise, in the email, make your copy short, engaging and personal, and your email design clean and clutter-free. A face and personal signature tend to drive up response rates. Meanwhile, make sure your copy doesn't annoy spam filters, by avoiding excessive capitalization, punctuation marks, and terms such as "free offer."
Find out more: 20 Subject Lines That Will Increase Your Survey Response Rates
6. Be Mobile-Friendly
These days, most people are working on mobile. That means that your survey needs to be optimized for a smaller screen.
Your survey design and layout should look great for different operating systems (especially iOS and Android), browsers, and devices, and work well on a variety of screens—from a small smartphone to an iPad.
7. Keep it Short
The beauty of the NPS survey is that it's short and simple. But with every unnecessary question that you add to it, you'll be reducing the chance that customers will complete it.
In fact, CustomerGauge research has shown that response rates are really closely tied to the number of questions you include. Somewhere between 2 and 6 is the sweet spot.
8. Don't be Afraid to Nudge Non-Respondents—But Only Once
There's no harm in checking in with people who don't respond. In fact, a well-timed reminder a week or so after the original survey is sent can deliver up to 50% extra responses (example – 21% response from first email, 13% reminder after 7 days = 34%).
However, it's not smart to send second or third reminders. These tend to deliver little further responses, more unsubscribes, and unhappy customers. And that's the opposite of what you are trying to achieve.
CustomerGauge's NPS management software helps automate survey sending and follow-up inline with best practice.
9. Say Thanks and Close the Loop
Obviously, you've just asked your customers for a favor, so it's only polite to say thanks. But don't just stop there. Let customers know what kind of feedback you received and how you're acting on it. The number one way to improve your response rates is to show your customers that it's worth their time to reply.
This is particularly important for B2B relationships—and particularly with NPS detractors. To prevent them from churning, close the loop with them fast, by reaching out and letting them know what you are doing in response to their feedback.
We recommend closing the loop with 100% of respondents, not just detractors. Closing the loop with detractors <48 hours has the best results, you can take a little longer with promoters.
It can help you prevent lost revenue—and improve your NPS score in the long run.
10. Think Outside the Box and Experiment
Nobody said a survey invitation had to be text—and it's definitely in your interest to experiment with different forms to see how customers respond. For example, when done well, a video can really bring the survey to life and communicate to customers how much their feedback is valued.
There's no right way to engage with your customers. And they may well appreciate the novelty.
A Bonus Tip: Use Account Experience Software to Boost Your Response Rate
Your NPS survey is another touchpoint in your business's customer journey—and it's an opportunity to demonstrate how much you value your customers.
At CustomerGauge, our customer experience management software can support your NPS program from survey design to responding to customer feedback.
Learn more about our special form of CX for B2B companies by reading our whitepaper on Account Experience. If you'd like to further improve your NPS surveys, check our book on the art of surveying:The Fine Art of Surveying.
Get The Most Comprehensive B2B NPS and CX Benchmarks Report on The Planet