Google—The Rise of CX for a Digital Titan
by Cvetilena Gocheva
Currently Trending
As the second most valuable brand in the world, there's a lot to be learned from Google. In just twenty years of existence, Google evolved from one search engine to a multinational internet service behemoth that defined our digital age.

The company began as a research project between Larry Page and Sergey Brin after the two met in Stanford University. Aspiring to design a better search engine, Page and Brin developed an algorithm that accounted for how pages related to one another and established subject-relevance in search results.
The groundbreaking approach altered the way data was itemized and stored on the internet. Today, Google offers desktop, mobile, and online products including cloud storage, computer assistants, advertising, automation technologies, artificial intelligence, and analytics for both consumers and businesses.
The majority of Google's revenue comes from advertising, and the company is thriving financially—reaching $109.65 billion in revenue in 2017. Though Google fell slightly short of the expected $34 billion in revenue for Q3 2018, the earnings still demonstrated a 22% increase driven by healthy performance in its mobile search business.
Chart by Statista. Google's revenue worldwide from 2002 to 2017 (in billion U.S. dollars)
Google has been in first place among worldwide internet companies in market capitalization for the last three years, and almost doubled its yearly revenue from 2014. This significant increase corresponds with Google's investment in customer and employee experience. But while the company holds an above-average Net Promoter Score® of +50, it hasn't always been a CX champion.
Finding Results with NPS and CX
Just eight years ago, Google was so unresponsive with its B2B customers that it developed a notorious reputation in the industry for providing "at your own risk" advertising solutions. Micah Solomon, customer experience and customer service consultant and author 2010, wrote:
"...Approximate, slow-motion, sullen customer support has historically been the price a business pays to advertise on Google AdWords." - Micah Solomon
In his Forbes article, Micah notes that 11 percent of Google's customer support interactions were completed in real time, while its customer satisfaction rating sat as low as 44 percent. Meanwhile, B2C consumers of products like Gmail, Google Maps, or Documents had no way whatsoever to reach the company for support. Email, phone, or chat support options didn't exist, leaving consumers to settle their own glitches. At a company that claimed to serve everyone, no one was receiving any care.
When Google's profit growth began to stagnate, the company faced pressure from investors to address its slowing gains. As the primary screen time shifted from desktop to mobile, cost per click advertising became less profitable. Meanwhile, Google's search engine started to show signs of aging. The company needed a transformation, and one of its breakthroughs came from an investment in real-time customer support.
To start, Google installed live phone support and make it available for customers in 42 languages, across multiple time zones. In May 2014, Google's customer service expanded to live video calling in Europe and the U.S. Customers could finally chat with a Google expert face-to-face, leading to a more efficient problem resolution rate.
Image courtesy Google. Google's 2014 video calling support option.
The implementation was a commendable success, and percentage of real-time support interactions grew from 11 to 85. From those changes alone, Google increased its CSAT (customer satisfaction) score to 90. Google is now the 4th most popular website by NPS according to Voice of Customer Solutions.
While responsiveness to customers was a significant contributor to Google's success, the company's automation programs also brought about the favorable outcome and impressive growth.
Closing the Loop Through Automation
As a developer of various automated responders, Google is ahead of the game when it comes to using artificial intelligence to close the loop with customers. As you may have already known, closing the loop is one of the key principles of the Net Promoter System®.
The action starts with processing customer feedback from channels like surveys, social media, or reviews. Then, the company takes necessary steps to resolve the issue and promptly follows up with the customer.
A swift response can be the difference between keeping and losing someone's business. According to a report conducted by CustomerGauge, the ideal time to close the loop with a customer is between 48 hours and 2 weeks, resulting in a 2.2 percent increase in yearly retention. This is significant because of the correlation between retention and profit. According to Harvard Business Review, 5 percent increase in customer retention leads a 25-85 percent increase in profit. Retained customers are also 10 percent less expensive to sell to than new customers, proving that retention impacts the bottom line by bringing in more revenue and cutting acquisition costs.
Chart by CustomerGauge. Closed Loop Speed for Respondents
For companies with hundreds or thousands of customers, sustainably scaling feedback responses can be tricky. As a solution, companies take advantage of AI-run automated response services to make sure customers are heard quickly and effectively.
Google's customer service systems are completely automated. The inquiry process starts with the program Google Help, where customers select the Google product they'd like to address. Then, using an internal search engine, the customer can type in their issue and select one of the automatically populated topics, or look at more results for a unique query. Using artificial intelligence, Google anticipates customers' needs and produces fast results.
Google Help Interface
In the meantime, more complex, unresolved issues are forwarded to Google's customer service team. This makes interactions more successful, as the Help Center addresses small concerns immediately while mitigating traffic to support staff. As a result, issues that require human presence are dealt with more quickly.
A well-crafted customer experience strengthens loyalty and positively impacts retention. By implementing a system capable of deep-learning, pattern recognition, and automation, Google's AI-powered Help Center supports all steps of the customer journey across multiple products. Meanwhile, G-Suite subscribers can bypass Google Help entirely to connect with a human assistant through chat, phone, or email support (available in 14 languages). This is a great example of providing omni-channel support, where customers get to pick the most convenient way for them to reach the company.
Earning Employee Respect
Google is committed to addressing the needs of its employees—listening, responding with action, and optimizing experiences. Just this October, Google overcame an employee PR crisis by being proactive with the demands of its workforce. The situation occurred when over 3,000 employees walked out of Google offices to protest the company's handling of a sexual harassment case. The crisis occurred when a New York Times article revealed that executives accused of sexual harassment in the company were paid generous exit packages, prompting concerns about Google's policies on sexual misconduct.
Within a week, Google altered its sexual harassment policies to make arbitration optional, rather than a mandatory response to accusations. It also changed its reporting process and established mandatory completion of sexual harassment training—a requirement that, if left incomplete, heavily impacted workers' performance review. This quick turnaround, and vocal commitment to be more accountable towards employee wellness and safety, reflects Google's interest in listening to employees taking action towards improvement.
Achieving Retention with Unbeatable EX
Google understands that its success, growth, and innovative edge rests in the hands of motivated, driven employees. This is why the company invests heavily in employee experience.
In addition to generous benefits packages, Google's offices are equipped to maximize productive and avoid burnout. For starters, the company provides free meals and snacks for all employees, and the food goes beyond cafeteria standard. According to Business Insider, employee feedback claimed that the meals were tasty, nutritious, and even on par with with great New York restaurants.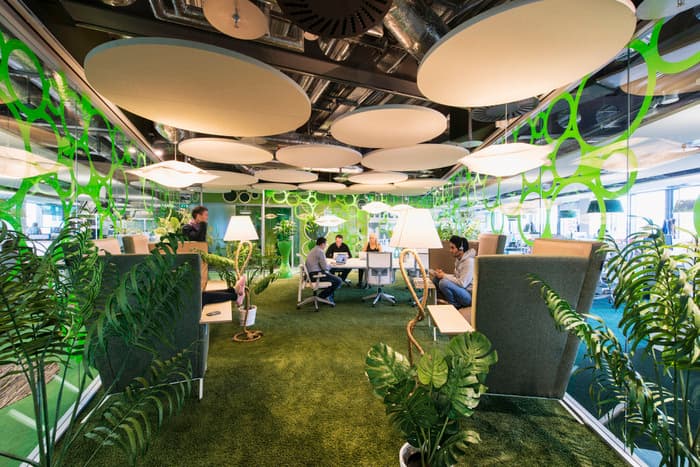 Photo by Camenzind Evolution. Inside Google Dublin Office
Google also promotes work-life balance and strives to create a convenient environment for its employees. On-site gyms, office pets, and collaborative spaces contribute to a culture that prizes communication and interaction. More than that, medical professionals, doctors, and nurses are available on the premises—all covered by the company's superior health plan. The company also offers one of the best parental leave plans in the U.S., giving mothers 22 weeks of paid leave and 18 for fathers who are primary caregivers.
To maximize employee retention, Google offers global education leave programs and has a well-established practice of promoting internally. The investments certainly pay off. Each year, Google receives more than 2.5 million job applications, which equates to almost 7,000 resumes received per day. Since 2017, the average length of time that an employee works for Google is 1.90 years. Here, the company comes in second place after Facebook (2.02 years) and beats giants like Amazon, Microsoft, and Apple.
Parting Thoughts
In two decades, Google underwent a colossal transformation that impacted our entire digital world. The company stays ahead of competition by investing in effective programs that help other companies market products and gain business insights. Of course, this level of success wouldn't be possible if the internet giant hadn't prioritized its customer experience and support. Using its expertise in artificial intelligence, Google developed a robust Help Center that seamlessly guides customers to the answers they seek. The company mitigates inquiries by using automation in the first steps of the support process, and sends more complex issues to their live support teams. Not only is the program efficient, it is automatically self-learning—transforming and analyzing patterns and experiences over time.
Alongside products and customer experience, Google invests heavily in its employees. The company has one of the longest employment-length averages in the tech industry and continuously adds new programs to enhance work-life balance for its workforce.
Google sees value in closing the loop with its employees and customers. As a result, the company has emerged as a true thought leader and continues to surprise us with new developments, growth, insight, and progress.
Blog Home