7 Apple NPS Score Benchmarks in 2023 | Secrets Behind Apple Net Promoter Score
by Cvetilena Gocheva
Currently Trending
Apple is one of the largest and oldest advocates of the Net Promoter Score (NPS). The technology giant introduced the NPS system back in 2007 and since then has been systematically listening to customers and managing its business in response to their needs.

We scoured the internet for the latest available Apple NPS data and found that Apple's NPS score was an average of 61 across five key product areas: earphones, laptops, music, tablets, and smartphone.

But, how does that compare to others in the industry? which products had the highest score? and how does Apple score so highly on NPS? In this guide we'll answer those questions and more:
What is NPS?
Apple's NPS score
Is Apple's NPS score considered good?
Apple's Net Promoter Score vs. the technology industry average
Our annual NPS benchmarking report and how to use NPS benchmarks
4 key ingredients fuelling Apple's high net promoter score
At CustomerGauge, we pioneered the use of NPS as a revenue growth driver for over 10 years now. If you'd like to learn how to go beyond using NPS as a research tool and start actively accelerating referrals and upsells, read our guide to Monetized Net Promoter here.

What is NPS?
The Net Promoter Score is a metric used in surveys to gauge your brand loyalty and is the first step to improving your customer experience. Developed by Fred Reichheld in 2003, author of The Ultimate Question, the Net Promoter Score survey asks one simple (but "ultimate") question:

"On a scale from 0 to 10, how likely is it that you would recommend our company/product/service to a friend or colleague?"
The results segments customers based on their score: detractors (0-6), passives (7-8), and promoters (9-10). And the final NPS score is a simple calculation of the percentage of customers that are promoters less the percentage that are detractors.
With the final Net Promoter Score, companies gauge the health of their customer experience program, and in turn, work to improve their customer experience with the Net Promoter System®.
Read more in our full guide: What is NPS?
What is Apple's NPS score? (Apple NPS 2020, 2021)
According to the latest available data, Apple's Net Promoter Score was an average of 61 in 2020. However, Apple hasn't been public about this information in recent years so it's difficult to verify that their high score of 61 is accurate—despite many independent studies being calculated, Apple's net promoter score is calculated in-house and they have the most trustable source.
In 'The Ultimate Question 2.0', a book by Fred Reichheld (founder of NPS) and Rob Markey, the authors share their experience with NPS and leading companies—Apple's NPS score is the star of the show.
In the book, the authors detail that when Apple began measuring NPS in 2007, its 163 stores already had a very good NPS of 58%. In 2011, its 320 stores had an outstanding NPS of 72%.
In 2020, PCMag found that Apple's NPS score was 65, whereas Satmetrix found that Apple's NPS score was 57 (an average across four product areas). At CustomerGauge, we took the average across multiple of the latest sources and products and found that Apple's NPS score is 61.
Is the Apple NPS score considered good?
Bain & Company (the creators of NPS) note that a good NPS score is 0 and above. Above 50 is excellent and above 80 is world-class.
A score that's zero and above suggests that you have more Promoters than Detractors, which is a good sign. However, it's important to compare yourself to others in your industry.
In the technology industry, where the average score is 59, Apple's NPS score of 61 is above average. However, some products (like Airpods, where NPS = 75) do significantly better.
In our latest NPS Benchmarks report (download here), we conducted a deep analysis of 13 industries covering hundreds of companies—a great place to start to benchmark your company.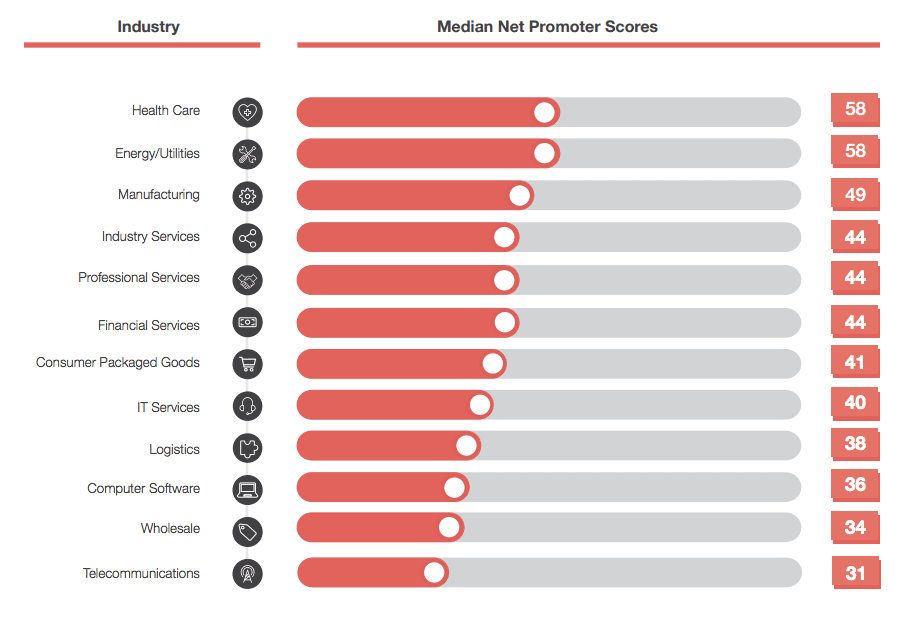 Industry NPS Benchmarks (Original Research, CustomerGauge)
Apple NPS compared to other top-performing brands
Let's first take a look at NPS benchmarks for other Apple departments, before comparing to industry comparables. Across Apple's products, PCMag found Apple's Net Promoter Scores were:
1. Apple's NPS across their six product lines
2. Apple's NPS score compared to nine industry competitors
In our latest NPS Benchmarks report (download here), you'll find out average NPS scores for every sector alongside a thorough analysis to help you improve yours. We also have dedicated NPS guides for SaaS, Finance, Insurance and more.

What's fuelling Apple's Net Promoter Result? 4 key ingredients behind the world-class Apple NPS scores.
Apple's high NPS wasn't pure luck. It was achieved through careful listening to customer feedback, quickly closing the loop, and engaging all Apple employees with NPS.

1. Apple starts with customer experience
The late Apple visionary Steve Jobs realized that the key to sustainable business growth is customer-centricity. That is why every new Apple product was carefully designed according to customer needs and wants. Similarly, the company focused a lot of its business efforts on selling an experience, not only a product.
"You've got to start with the customer experience and work back toward the technology - not the other way around." - Steve Jobs
Think of Apple's retail store experience, for example. Apple stores get more than 1 million visitors per day worldwide. That's at least 365 million people per year. In comparison, Disney theme parks only get about 130 million visitors per year. Why do so many people visit the Apple store? Simple—because of the extraordinary experience you get in the Apple store.
Shop assistants are encouraged to form an ongoing relationship with customers that delight and inspire. Moreover, each employee is trained to walk a customer through five steps that spell out the acronym:
A: Approach customers with a personalized, warm welcome

P: Probe politely to understand the customer's needs

P: Present a solution for the customer to take home today

L: Listen for and resolve issues or concerns

E: End with a fond farewell and an invitation to return
Apple employees use the same steps with every new product the brand releases. As a result, customers would leave the store delighted and tell their friends and colleagues about their wonderful experience at the store and thus become brand evangelists.
2. Apple listens to customers
As previously mentioned, Apple was one of the first proponents of the Net Promoter Score. In his book, The Ultimate Question, Fred Reichheld explains how the brand uses NPS to listen to customers and make decisions based on their feedback. The company emails surveys to customers right after they have made a purchase. Customers are asked to rate their satisfaction level and likelihood to recommend the brand. Because the surveys are sent immediately after a purchase, Apple is able to capture accurate feedback that is still fresh in customers' minds. According to Reichheld, Apple also uses NPS on a daily basis when managing their stores globally:
"Comments from customers help store managers prepare for service recovery calls with detractors to close the feedback loop. The outcomes of these calls, together with the customer comments, provide important coaching and feedback messages that are passed along to employees." (p.130)
Apple's centralized NPS team uses customer feedback to better understand the reasons that turn customers into promoters or detractors. Furthermore, Apple's team does a daily standup, where employees review the NPS feedback received and discuss how to adjust their work accordingly. In this way, the company makes sure its employees understand the importance of paying attention to customer feedback and delighting customers.



3. Apple quickly closes the Loop
Following an NPS survey, Apple store managers call detractors within 24 hours. Research has found that companies that close the loop quickly after receiving customer feedback, experience a 10% increase in retention. This is even more important when it comes to closing the loop with detractors. Apple has found that following up with dissatisfied customers 24 hours after completing an NPS survey has resulted in a great return on investment. Reichheld highlights that detractors that have been contacted have purchased subsequently more Apple products and services than others. Furthermore, every hour spent calling detractors was generating more than $1,000 in revenue or additional sales of $25 million in the first year.
You can find more information on how to close the loop with customers to generate better business results like Apple here.
4. Using eNPS: Apple's eNPS score helps engage employees
Apple was also one of the first proponents of the idea that having employees as your brand promoters is equally important as well. Employees are one of the first points of contact customers have with your brand. Therefore, it is important that employees are true brand evangelists, capable of turning customers into promoters as well. How does Apple achieve that?
Discover how CustomerGauge can help you measure and improve your Employee Experience here.
The company sends NPS surveys to its employees every 4 months and measures their likelihood to recommend Apple as a place to work. Surveying employees in such a way is called employee Net Promoter Score or eNPS. Ensuring employees that their feedback matters helps Apple build trust among the team. Moreover, explaining to employees how their feedback is being used and linked to business initiatives keeps them engaged with the customer experience programs.
We have found interesting research by ForeSee, showing how Apple's high employee engagement has led to the highest levels of customer satisfaction with the brand (See image below). As a result, customers are delighted with the brand and are happy to recommend Apple's products and services to their friends and family.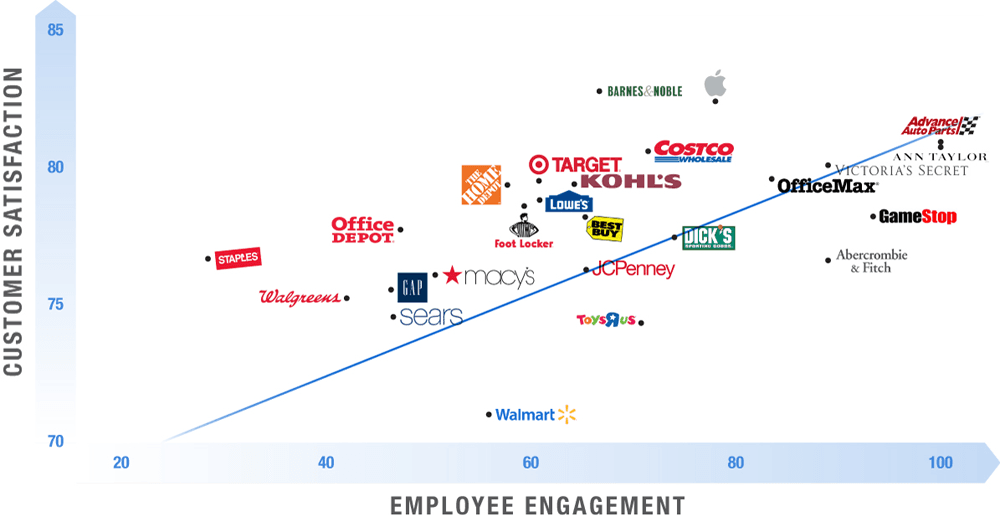 Finally, Apple makes sure employees know where they stand among their peers in terms of NPS and where their stores stand relative to the rest of the stores in the region. In this way, the company further engages all employees with the NPS program.
Apple NPS Score - In Summary
Today, Apple continues to pay attention to customer feedback and customer experience.
They use NPS to continuously gauge customer satisfaction, and, as a result, are one of the major leaders in NPS. Apple has achieved a world-class Net Promoter Score by using four key tactics—starting with the customer experience, not the product; careful listening to customer feedback; quick closing of the loop and engaging all Apple employees with NPS. Buying, opening and using an Apple product is a memorable experience for customers, which leaves them satisfied with the brand and happy to recommend to friends and family.
The company pays close attention to customer feedback received from NPS surveys and uses it on a daily basis to manage their three-hundred-plus stores. Quickly closing the loop with detractors has helped Apple generate a good ROI with increased sales. Finally, engaging all employees with an NPS program has led to increased trust among the team and high customer satisfaction. These four steps have become key ingredients fuelling Apple's strong NPS.




Blog Home