You recently signed off a new customer, and you're on cloud 9. So far, the onboarding process is going off without a hitch: NPS results highlight they are already a promoter, and they are responsive to your communication.
Now comes the hard part. Once the honeymoon phase of a new client has come and gone, it's your job to keep that customer account truly engaged and ensure the relationship remains a healthy one. As any B2B CX professional knows, this can be easier said than done—especially when accounts interact with you in so many various ways: from support tickets to marketing emails to quarterly business reviews.
Typically, customer experience professionals have to jump into a number of piecemeal systems to monitor customer data and interactions. In some cases, those responsible for managing these relationships might not even have proper access to all the different tools that store this key account/customer data.
So, how can you track the health of your account relationship and stay on top of possible churn? For our clients, data aggregation was key to offering the 360 degree view necessary to keep a pulse on their customer relationships. It was this thinking that lead to a feature we now call Account Vitals.
Account Vitals gives you a detailed monthly activity tracker of your account engagement across the key customer touch points—all in a single view. In this article, we'll explore how a customer data aggregation tool like Account Vitals helps improve customer experience strategies and account relationships.
1. Make it relevant to everyone, across departments
Account Vitals is great for breaking down any organizational and data silos that exist in your business. Because Account Vitals aggregates customer data from marketing, support, CRMs and more, the benefits of the feature can reach across departments and offer a goldmine of insights for your teams.
For example, CSM or support can quickly see if an account has sent a lot of support tickets, or if the product usage is low. Additionally, your C-Suite can understand, from a high level standpoint, the overall engagement level with an account and prioritize strategic actions if detraction is apparent.

Providing a tool that puts the customer into every facet of an organization's decision-making is an important driver for large-scale strategic changes.

2. See the full story in your data across touch points—and the steps to avoid churn
How are customers interacting with your brand across different touch points? What activities are they undertaking within those touch points? Answering questions like these are difficult for many CX professionals, especially in complex B2B customer journeys. With a tool like Account Vitals, depending on your business needs, you can decide which key activity data you'd like to track, for example NPS follow ups, usage, support tickets, etc. You can integrate any operational data with an account and have that complete activity and engagement view.
In the example below we can see that the NPS engagement with the account "Noble Coaching" in the first 2019 quarter has been great. The darker the color of the dot, the more engagement it shows. However, no business reviews have been scheduled in 2019, and support tickets are on the rise. This could indicate issues and dissatisfaction within the account.

The single view dashboard of Account Vitals makes it easy to understand patterns and predict if any accounts are at risk of churning due to lack of engagement. It is also perfect for pinpointing exactly which touch points need your team's attention.
In addition to working as a churn predictor, this tool also offers "recommended actions" based on the various activities within an account.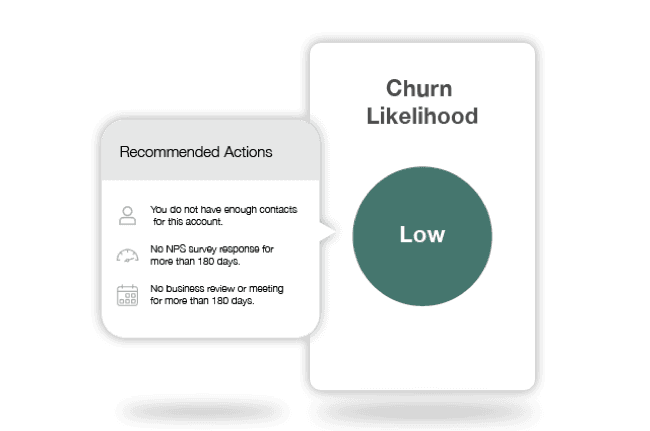 3. Drill down to the last detail, across activities
Not only can you get a single view of all the activities and engagement with an account, but you can also get a drill-down on the details of each activity. If we look at the example below, we can see it is colored dark, which signifies a lot of activity.
If we click on that dot, we can see the exact number of activities associated with touch point and get to the bottom of all the details.
In the Activities Overview popup you can click on the URL and go directly to the ticket in your support system and understand what's going on.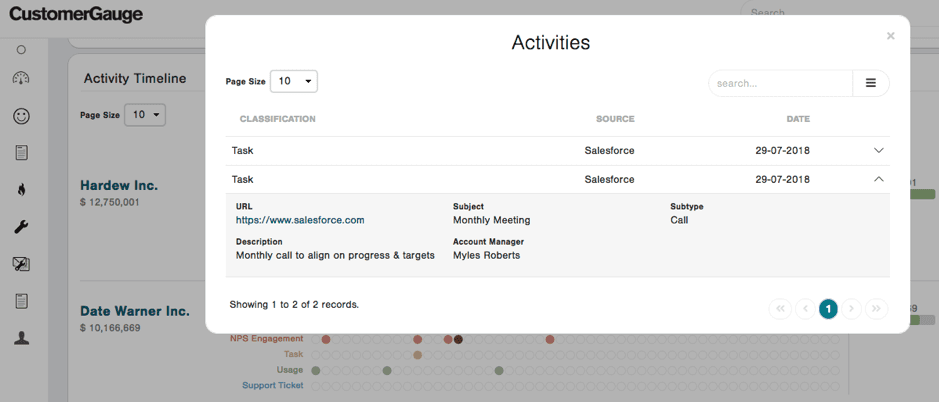 If you'd like to see this feature in action, let us show you. Book a demo today.