Naming no names, but most experience platforms are effectively general-purpose survey tools.
They'll willingly support you in setting up and spraying out surveys from every department and will sit back and collect the additional $ per user this model allows.
Honestly, this is why most CX programs fail.
After the initial sign-up and survey blast, you're left on your own to figure out how to use feedback to make a difference. When the budget crunch comes along, the ROI question is pretty hard to defend.
Your NPS software should not set you up to fail. It should help you:
Understand the cause of at-risk revenue (How much of your revenue is a Detractor, Passive, or Non-Response?)
Identify Earned Growth opportunities (Help you and your sales team to activate Promoters)
Tie your CX program to revenue outcomes (Securing continued buy-in for experience)
There aren't many that fit the bill. Let's look at which are the top ones on the market.
💡 Discover: Which is the best platform for customer churn reduction?

What Should a Good NPS software Platform Allow You to Do?
The best NPS survey tools for B2B should make it easy to automate time-consuming CX processes, drive account experience visibility, enable fast and effective closed-loop processes, and drive real revenue growth.
Let's look at each in more depth:
1. NPS Software Should Identify Opportunities for Revenue Growth
The reason you collect Net Promoter feedback is to drive action. That action should, in turn, drive growth.
There are three areas in that good NPS software helps you grow:
Revenue rescue
Referral generation
Upsell opportunity creation
These are the fundamentals of Earned Growth, a customer-led growth methodology recently introduced by Net Promoter founders, Fred Reichheld and Bain & Co.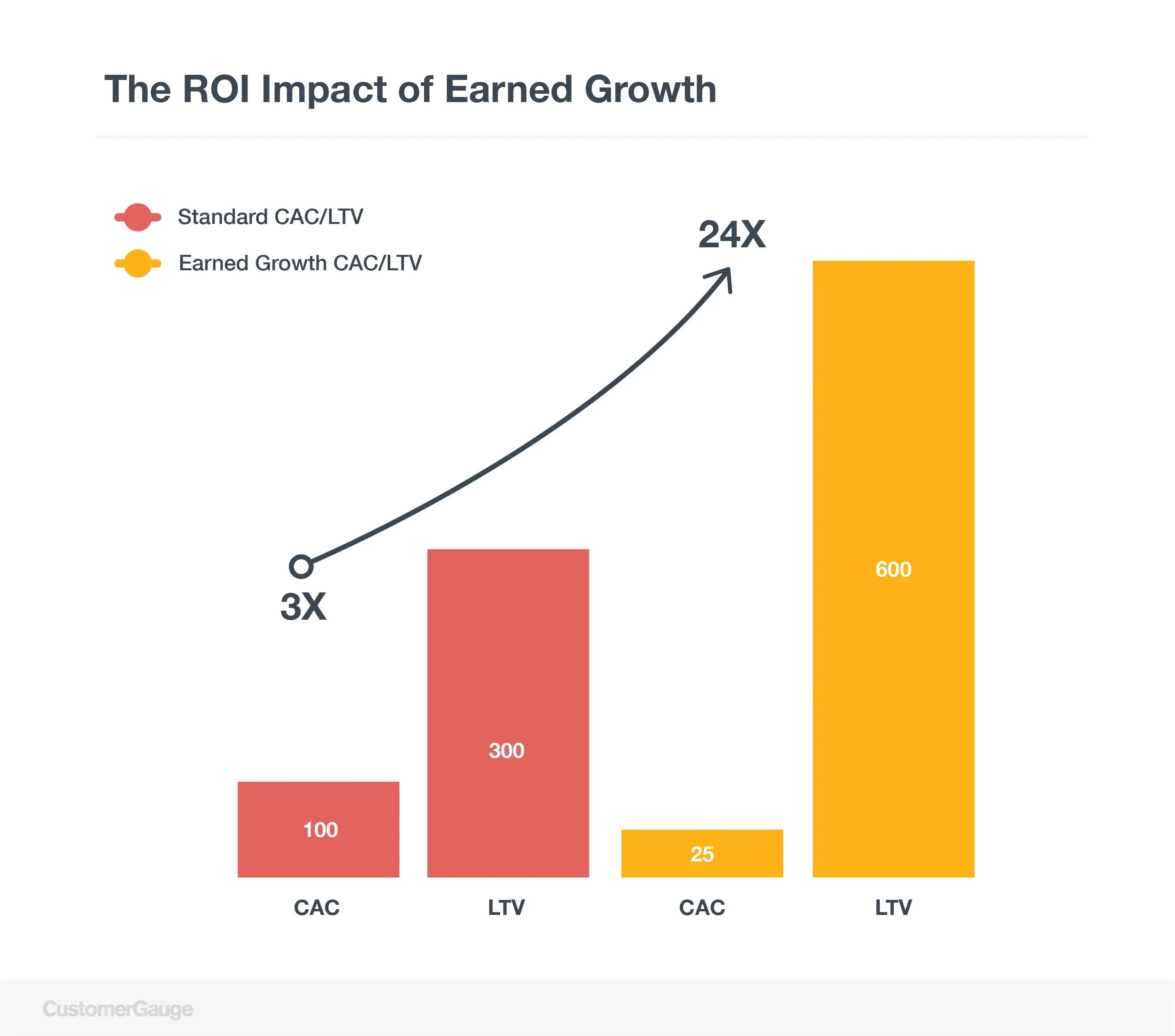 Your NPS software should help you directly influence Earned Growth. How?
By linking scores and feedback to account size data, so you know what CX issues are placing the most revenue at risk.
By tracking which revenue is Earned vs Bought, so you can win further buy-in for your program.
By making upsell/referral opportunities easy to identify for account teams.
You want to steer away from NPS software which is essentially a glorified survey sender, and instead work with a company (like us) that helps you build an experience program that actually generates revenue.
CustomerGauge is an Account Experience platform, which connects all the elements of a best-in-class Net Promoter software with revenue data, engagement signals, and Earned Growth data. Our top-notch customer success then helps you build a strategic roadmap from surveys to market share growth.

💡Learn more in our guide: How to identify upsell opportunities with Net Promoter
2. NPS Software Should Enable a Trackable Closed-Loop Process
Closing-loop processes are where much of revenue rescue happens.
In our article on closed-loop feedback best practices, our research showed that closing the loop on Detractors led to three times the number of Promoters the next time the survey was sent. We also found a noticeable impact on both NPS response rates and customer retention.
NPS software shouldn't just help you close the loop, it should help your account teams do it fast, consistently, and within existing environments like SalesForce.
CustomerGauge's Account Experience platform has closed-loop case management workflows built-in.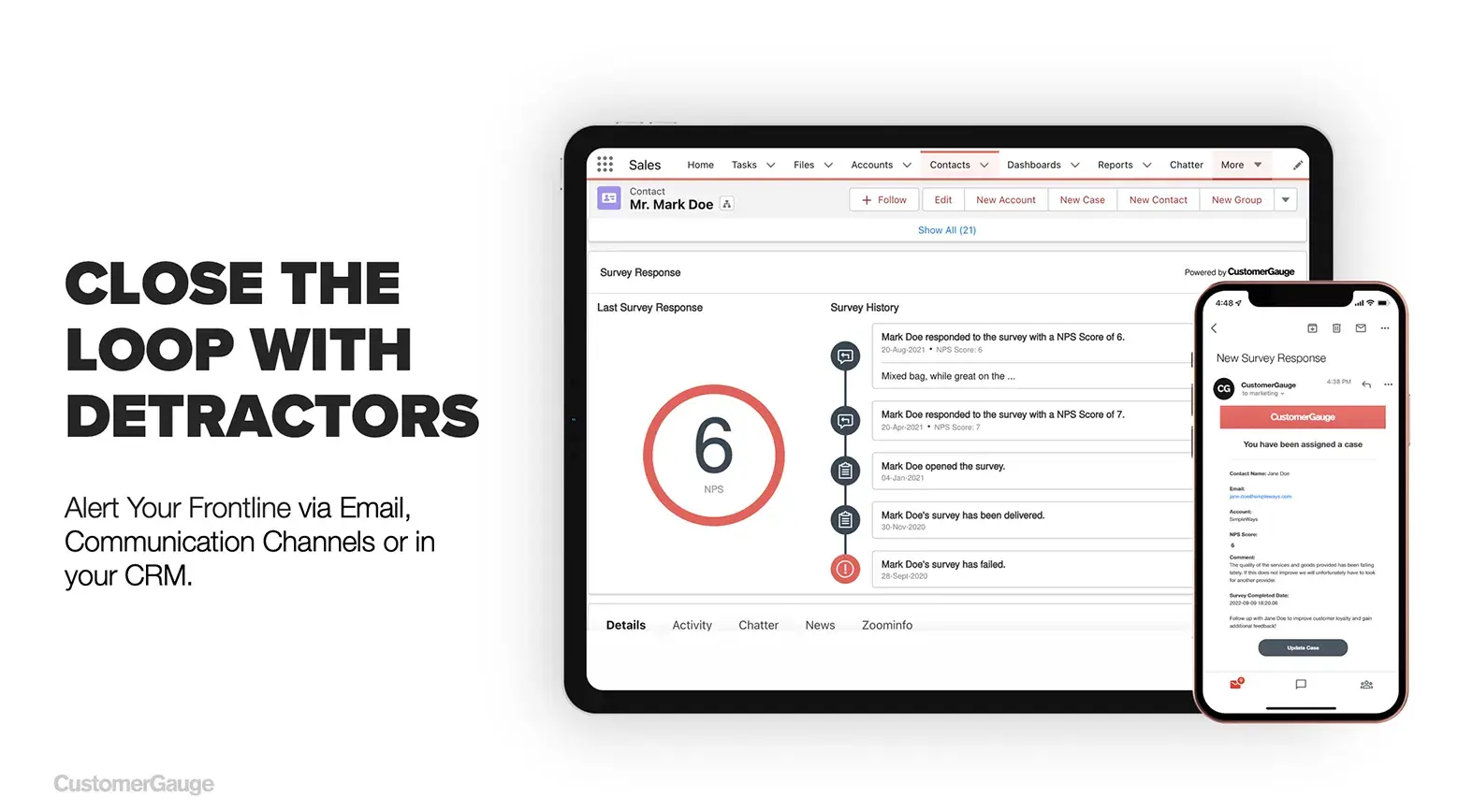 You'll have:
Real-time alerts to ensure you and your team close the loop in a timely way
Integrations across platforms like Salesforce and Microsoft (even close the loop from the road via mobile)
Management reporting that helps you drive improvements in hot and cold loop closing activity
💡 Learn more in our guide: Closed-Loop Feedback Best Practices
3. NPS Software Should Drive Visibility Into Your Account Experience
NPS scores are just one signal of account health. Your NPS platform should also measure a variety of engagement signals and help you drill down into the reasons behind customer sentiment.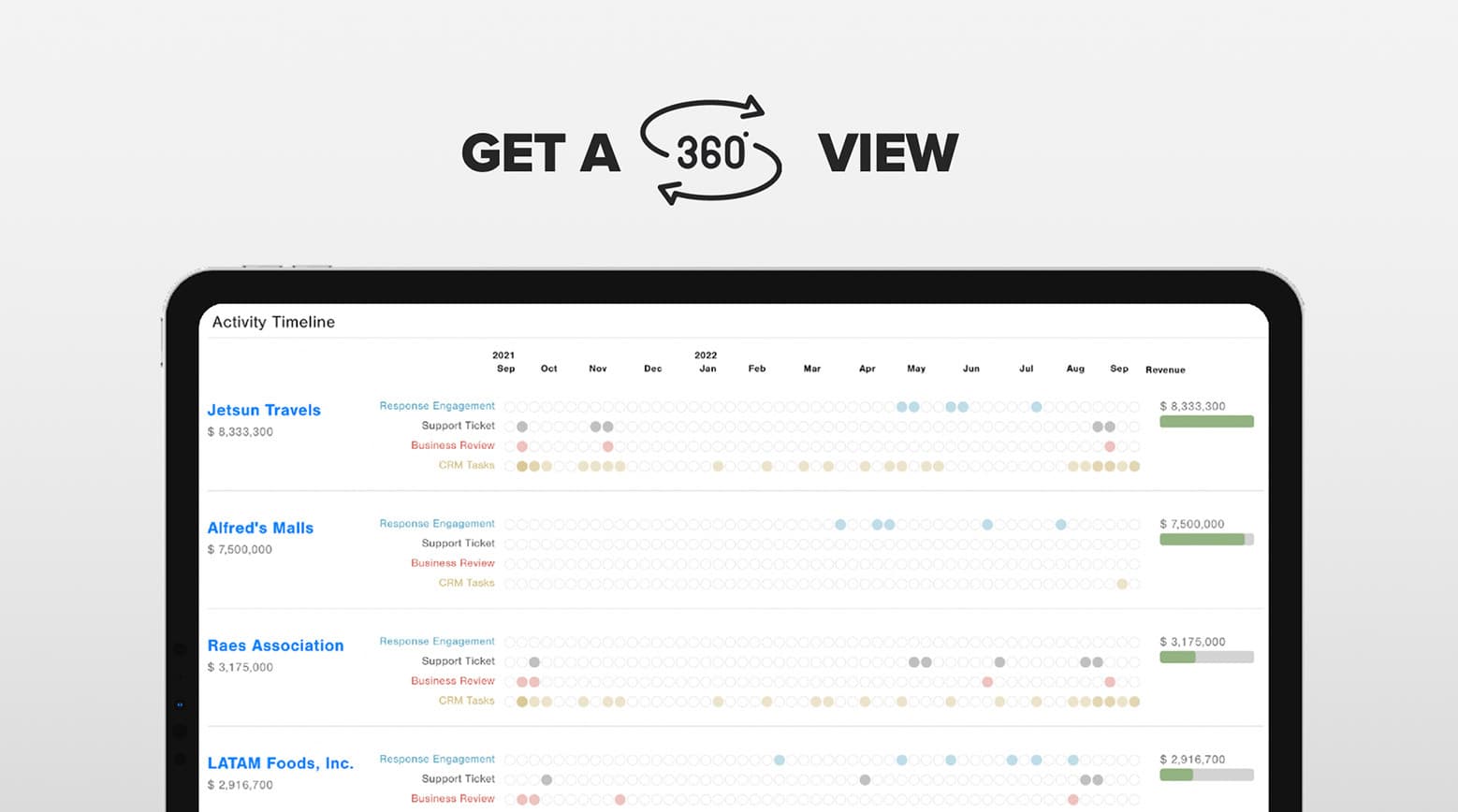 We recommend looking at signals across touchpoints, such as meeting attendance, response rates, and customer support contact. We beat the drum continuously for Experience professionals to also focus on absence of signal—if your accounts (or key stakeholders in those accounts) never fill out a survey, you should consider them a churn risk until you know more.
We also recommend that your NPS platform:
Makes driver analysis easy with text analytics and revenue-based driver analysis
Ensures you are getting signals from multiple stakeholders, not just one user
Helps you understand the revenue contribution of each driver
💡 Top tip: According to our white paper, surveys between two to three questions equate to a 5.3% bump in retention, while performing quarterly surveys produces a 5% retention increase.

How to Choose The Right NPS Software Fit
When choosing the best NPS survey tool for you, be led by your needs. What will work for a B2C company might not be optimal for a B2B for example, and vice versa.
Seven key areas to investigate when choosing your NPS software platform are:
Ease of use: How advanced is your team? Who will own implementation? These should factor into your decision.

Customer success: What's the reputation of your provider when it comes to customer success? Big players in this market have a terrible reputation, whereas CustomerGauge has a heavy focus on it.

Your use case: Some platforms are custom-built for B2B, while others are not. Consider your use case and what level of tailored expertise you want from your provider.

Infrastructure and security. Your IT team will want to ensure the security of your data. Most NPS software providers should offer the level of security and infrastructure you need.

Scalability. As your company grows, so too will the needs of your NPS software platform. Do they have the capability to scale with your organization?

Integrations. Do you have a network of CRMs that require integration? Can your NPS software provider accommodate them? Ideally, you want to look for an NPS software provider that has an API that ensures most integrations are possible.

Self-service. Once you've become familiar with the system, can you execute functions on your own? This should be standard.

Support. The purpose of NPS software is to improve your customer experience. But your NPS software provider should offer superior support and CX itself. After all, this is the business we're in. Look for an NPS software provider that has a unique focus on the client-to-Customer Success Manager (CSM) relationship, not only during implementation but continuously.
📚 Top Read: Browse through our Experience Management Software Buying guide here.
15 of the Best NPS Tools & Software (NPS Software Comparison)
How did we evaluate these tools? Each Net Promoter Score tool has been evaluated according to these criteria:
What they do in a nutshell

Pricing

Quality of Customer Service

Their G2 reviews out of 5

Who is it for?

What makes them different?
Our Top NPS Software Picks
Here's a quick summary of the top 10 tools (we'll deep dive into them and the rest later).
✅ Note: CustomerGauge is placed number one, but not just because we wrote this article. Gartner actually ranked us as the number one B2B VOC software.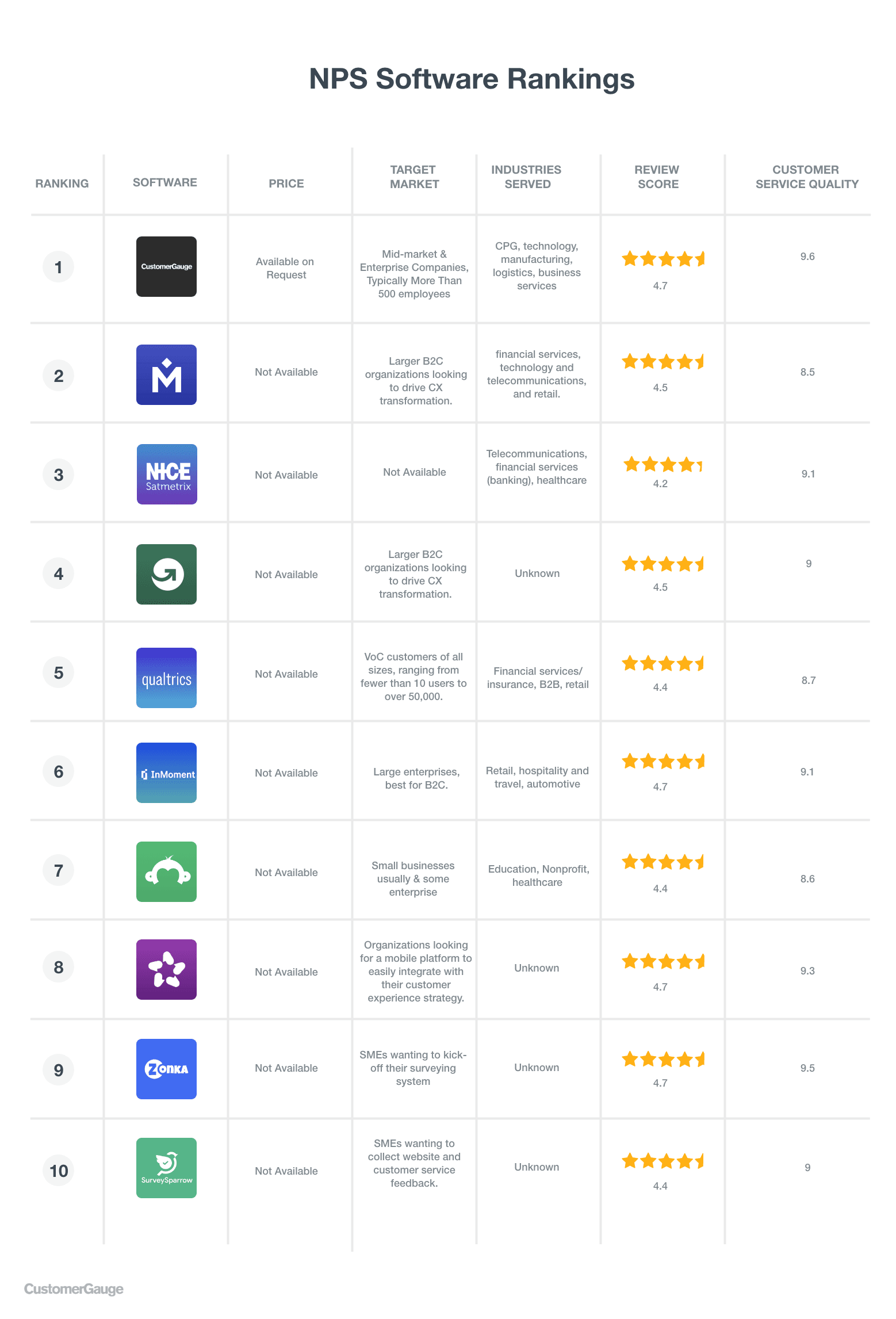 Let's dig deeper into each one, starting with how CustomerGauge can help you.
1. CustomerGauge - Built for B2B
CustomerGauge was voted #1 by Gartner for B2B & B2B2C Net Promoter software.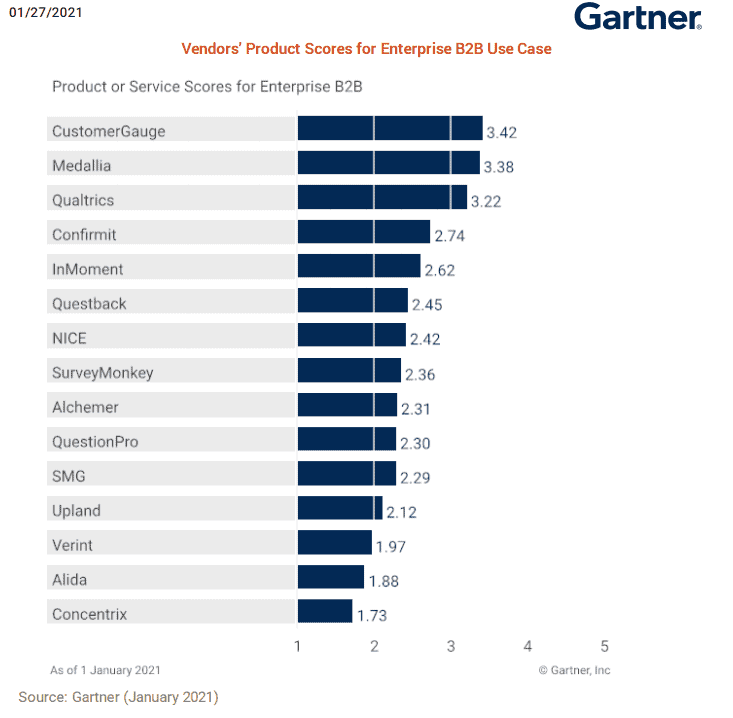 CustomerGauge is not just a B2B CX platform, it's an entire software, methodology, and partnership to get your business to the outcome you wish to achieve (A→B).

We teach our clients that the Net Promoter Score itself doesn't matter all that much. But, it's a useful measurement tool because it helps categorize customer accounts into four buckets: Promoters, Detractors, Passives, and Non-respondents.
It's important that you are able to categorize every customer account. Each bucket has a clear step-by-step playbook for what to do next to win more market share growth.
It's not all "tackle customer churn!" We provide businesses with the tools they need to:
(1) protect existing revenue
(2) turn accounts into happy, loyal customers
(3) grow the revenue coming from those accounts via upselling and referrals
CustomerGauge in a nutshell:
Accolades: Highest performing Voice Of the Customer (VOC) vendor for the B2B use case in Gartner's Critical Capabilities Report, Recognized G2 High Performer Spring 2022.

Example customers: Heineken, Coca-Cola, DHL, ICON, and many others across our key industries. Read our customer stories here.

Pricing: Available on request

Quality of Customer Service: Customer support is our essence. Currently, CustomerGauge has a 9.6 user rating for Quality of Support on G2.

Their G2 review score out of 5: 4.7 from 42 reviews.

Who's it for: Mid-market and enterprise companies, typically more than 500 employees

What makes us different? While most other NPS software companies exist to help you run NPS surveys, we provide many of the management tools you need to actually grow and take action using NPS. We're unique in how we help sales, account managers, and CSMs to focus on revenue growth through the account lifecycle with the help of experience data. Head to our homepage and book a meeting with our sales team to learn more about what we do.
💡 Earned growth: CustomerGauge is the first NPS platform to include Earned Growth functionality. Learn about it in our webinar summary here.
🚀 Experience framework: Figure out where you're at in your NPS journey and where to focus first in this article.

2. Medallia
Medallia is a customer feedback management platform that helps B2C and B2B businesses improve their customer experience and empower employees with insights. Medallia offers detailed cross-channel insight into customer bases using easy-to-use automation platforms.

Accolades: Forrester Wave Customer Experience Leader 2021, The Forrester New Wave Employee Experience Leader 2020

Example customers: AirBnb, Best Western, Deliveroo, General

Pricing: Request a quote

Quality of Customer Service: Currently sitting on an 8.5 Quality of Support rating on G2

Their G2 review score out of 5: 4.5 from 91 reviews

Who is it for? B2C companies looking for an NPS software tool that will drive CX transformation.

What makes them different? Easy integration and a platform that's specifically designed to be used by every single person in an organization.
3. NICE Satmetrix CXM
NICE Satmetrix enables companies to act on feedback and transform the customer experience at scale. This NPS software provides a useful, robust platform that allows you to combine and analyze millions of customer interactions, solicited feedback, and operational data. The aim is to uncover blind spots, increase customer satisfaction, and improve agent performance.

Accolades: Named a leader in the 2021 SPARK Matrix for Voice of the Customer.

Example customers: Toyota Financial Services, Experian, OneSource Virtual

Pricing:$24.00 per month for a 1-device license. Free trial available.

Quality of Customer Service: Support is good, with a G2 rating of 9.1.

Their G2 review score out of 5: 4.2 from 31 ratings.

Who is it for? Organizations of all sizes that rely on the strategic value of the contact center.

What makes them different? The buzzword here is holistic. NICE Satmetrix is a unified VOC solution that allows you to visualize omnichannel journeys through the eyes of your customers, and then action the insights you gain.
4. GetFeedback
Created by Momentive, GetFeedback provides NPS survey templates that allow you to get quick, actionable feedback for your business. They're focused on making their offerings agile and fully compatible across devices so that you can get up-to-the-minute feedback from your customer base.

Accolades: As an employer, Momentive has recently been announced as the winner in two categories of Comparably's Workplace Awards—"Best Work-Life Balance" and "Happiest Employees." They've also received Comparably Large Company awards for "Best Company for Diversity," "Best Company Culture," "Best Company for Women," and "Best CEO."

Example customers: KLM, Yeti, Puma, AutoTrader.

Pricing: They offer Essentials, Pro and Ultimate packages. Contact their sales team for a quote.

Quality of Customer Service: They currently have a 9.0 Quality of Support rating on G2.

Their G2 review score out of 5: 4.5 from 313 reviews.

Who is it for? Organizations that are looking for quick, actionable feedback that they can integrate with Salesforce.

What makes them different? Simple to use and set up, GetFeedback is particularly focused on making their surveys mobile-friendly—and beautiful.
5. Qualtrics
As an NPS software option, Qualtrics is comprehensive in its scope. Top security, sophisticated automation, and an easy-to-use interface, the platform allows you to collect, analyze, and action CX data.

Accolades: G2 Top 100 Fastest Growing Products

Example customers: Yahoo, Microsoft, Yamaha

Pricing: They have a free plan that could work well for small businesses. For larger enterprises, contact the company for a custom quote.

Quality of Customer Service: They're sitting at 8.7 on the G2 Quality of Support metric.

Their G2 review score out of 5: 4.4 from 2,413 reviews

Who is it for? Organizations looking for a one-stop shop to manage customer experience, products, employees, and brand on a single platform.

What makes them different? With an extensive client base across the globe, this is a trusted product. They offer a free NPS template for you to kick off with.
6. InMoment Customer Experience
Formerly called Wootric, InMoment is a full-service cross-channel NPS software solution. They offer a targeted approach to customer experience that aims to monetize insights to boost growth.

Accolades: G2 Leader for Spring 2022

Example customers: Footlocker, DocuSign

Pricing: CoreCx, Enterprise, and Custom options are available. Contact for a quote.

Quality of Customer Service: They're registering a 9.1 on G2's Quality of Support metric.

Their G2 review score out of 5: 4.7 from 289 reviews

Who is it for? B2B companies looking for a comprehensive tool to measure and action customer satisfaction.

What makes them different? Centering on the human element, InMoment takes a consultative approach to NPS software.
7. SurveyMonkey
We've already taken you through GetFeedback, but we think this offering from Momentive is also worth a mention. This simple-to-use survey solution empowers individuals and organizations to get feedback in a flash.

Accolades: SassSworthy Top 3 Most Worthy Software 2021, Top 20 Highly Rated Software 2021, Top 20 Highest Growing Software 2021, and Top 20 Most Popular Software 2021

Example customers: Golden State Warriors, Audi Business Innovation, Cystic Fibrosis Foundation

Pricing: Personal plan: $99 per month; Team Advantage Business Plan: $25 a month per user; Team Premium Business Plan: $75 a month per user; or you can customize for your enterprise.

Quality of Customer Service: For Quality of Support, their G2 metric is currently 8.6.

Their G2 review score out of 5: 4.4 from 17,667 reviews

Who is it for? Individuals and organizations that need to get feedback quickly and simply.

What makes them different? It's very popular. This tool is one that everyone has heard of.
8. AskNicely
AskNicely is NPS software that allows you to empower your frontline to best serve your customer. It's an easy-to-use, personable, and customizable way for you to get the feedback you need from customers and employees alike—and then action that feedback.

Accolades: NZ Emerging Company of the Year for 2018.

Example customers: Barnardo's, Contentsquare, YMCA South Australia.

Pricing: Request a quote.

Quality of Customer Service: They get a 9.3 for Quality of Support on G2.

Their G2 review score out of 5: 4.7 from 830 reviews.

Who is it for? Organizations looking for a mobile platform to easily integrate with their customer experience strategy.

What makes them different? The world's first pocket-sized customer experience coaching platform, AskNicely allows you to send useful surveys at automated intervals.
9. ZonkaFeedback
This easy-to-use solution is an NPS tool that you can use on the spot. As an omnichannel platform that you can use to understand your customer base in minutes, they empower businesses to meet their customers where they're at.

Accolades: G2 Momentum Leader and High Performer for 2022.

Example customers: Leroy Merlin, Nikon, Radisson, Lenovo.

Pricing: Professional: $79/month; Growth: $169/month; Enterprise $429/month. Custom options are available. Entry-level pricing from $24 for personal use. Free 15-day trial.

Quality of Customer Service: They get a 9.5 for quality of support on G2.

Their G2 review score out of 5: 4.7 from 61 reviews.

Who is it for? A great solution for B2C companies looking to collect on-premise feedback on tablets.

What makes them different? Simplicity and ease. Without any sort of learning curve, you can be collecting data from your customers and employees.
10. SurveySparrow
This popular omnichannel experience management platform is a front-runner when it comes to creating customizable, conversational surveys that generate real insights. They focus on honing in on every touchpoint of the customer journey.

Accolades: On G2s 2022 Best Software Awards on the Fastest Growing Product List.

Example customers: Heat + Deloitte Digital, Brella, ASL Marketing

Pricing: Free trial; $99 per month for Business (for small teams); $499 for Enterprise; customizable option available.

Quality of Customer Service: They get 9.0 for Quality of Support on G2.

Their G2 review score out of 5: 4.4 from 1,205 reviews.

Who is it for? B2C companies looking to foster an in-depth relationship with their customers through a high response rate.

What makes them different? They're at the top of their game when it comes to creating conversational surveys that help you engage with your audience.
11. SatisMeter
Satismeter makes easy to set up and send transactional surveys to your customers. With handy NPS, CSAT and CES templates you can automate survey sending acrlss multiple touchpoints.

"Easily create a survey, set up an event trigger, or target the audience based on their attributes. Then, set a recurring schedule, and review your feedback. Send out surveys from just about anywhere (public website, web app, email, public link, mobile SDK). And achieve anything with your feedback through a range of integrations (Intercom, Slack, Zapier, API, and more)."—SatisMeter G2 Listing

Accolades: G2s High Performer for 2022

Example customers: Segment, Mention, BuzzSumo

Pricing: Starting at $49 for 300 responses per month.

Quality of Customer Service: They get 9.7 for Quality of Support on G2.

Their G2 review score out of 5: 4.8 from 36 reviews.
12. HotJar
HotJar is a multiple-purpose tool for understanding website feedback. They let you make heatmaps and monitor visitor behavior, and now also let you do Net Promoter surveys to website visitors.
Accolades: G2s Leader in Fall 2022

Example customers: Adobe, Unbounce, Microsoft, T-Mobile

Pricing: Start at Free and scaling up quickly.

Quality of Customer Service: They get 8.5 for Quality of Support on G2.

Their G2 review score out of 5: 4.3 from 264 reviews.

Who is it for? Marketing teams interested in web analytics
13. SurveySensum
"Its AI-powered platform facilitates businesses to conduct surveys to measure customer satisfaction, NPS, employee engagement, close the loop and priortize actions".—SurveySenum G2 Listing

Accolades: On G2s High Performer list for Fall 2022

Example customers: Mitsubishi, Allianz, BMW

Pricing: Starting at free, then $49 for a Starter, $199 for Professional, and you must contact for Enterprise pricing.

Quality of Customer Service: They get 9.9 for Quality of Support on G2.

Their G2 review score out of 5: 4.7 from 24 reviews.
Which NPS feedback tool wins for B2B businesses?
It can be hard to choose between CX platforms. They all claim to have similar features and to be the 'best' on the market today.
But if you're in B2B, CustomerGauge wins outright. We're a relatively young company which means we've learned from the mistakes of those who went before us—a one-size fits all platform is not effective.
That's why we are laser-focused on building the #1 technology and methodology for B2B customer experience management. Focusing on B2B means a CX software better adapted to the needs of B2B account managers, sales acceleration, and customer experience.
Book an introduction call with our team here.
Frequently Asked Questions
NPS stands for Net Promoter Score (or System). It's a system of customer measurement developed by Fred Reichheld and Bain & Co that identifies customers that Promoters (a score of 9 or 10), Passives (a score of 7 or 8) and Detractors (a score of 0 to 6). NPS is calculated by simply subtracting the number of Detractors from Promoters. Companies with high NPS have been proven to correlate with outsized stock market returns, and the scoring system is now used by most of the world's largest corporations. In 2021, Fred Reichheld identified weaknesses in how Net Promoter and updated the methodology. They also introduced the Earned Growth in the book Winning on Purpose to provide an accounting metric to measure the impact of experience investments.
Net Promoter surveys are used to systematically collect feedback from all your customer accounts. Detractor scores indicate that an account is at-risk of churning, and should be followed up immediately. Promoter scores indicate a customer is your champion and can be activated for referrals or upsell opportunities. In this way, Net Promoter is a guiding system that tells you where to focus your attention and what to do.
Net Promoter software is the name for a wide variety of different tools that help companies send NPS surveys and analyze, act and grow using those customer insights. In the B2B space, we highly recommend that your NPS software sets out to help you focus on revenue growth (via case management, growth dashboards, and revenue integration) and does not encourage surveys for survey's sake. NPS software that focuses on research rather than action is more applicable in the B2C space.
Yes, NPS is just one way to measure feedback and analyze customer perception. Other popular metrics include Customer Effort Score (CES) and Customer Satisfaction (CSAT) although for relationship health we recommend truly investing in Net Promoter. Most get it wrong or cheat the NPS system, if you do it right it will set you up for growth.
About the Author