Introduction
What sets your company apart from competitors?
If first to mind was your product offering, it is likely you and your competition have the same idea.
Today, there are more product lines than ever before — that means customers have more options to choose from than ever, too.
And with the increasing difficulty to grow distribution due to supply chain issues, inventory shortages, and more, CPG companies must differentiate through innovative ways by:

Implementing solutions that help stay at the forefront of an ever-changing industry environment

Carrying out strategies that make brands stand out and be remembered

Making a difference by hearing customers at every journey point
So, what is it that your business should do to achieve all three?
Shift focus to your customer experience (CX).
In a recent roundtable hosted by CustomerGauge, leaders from Heineken, Coca-Cola HBC, and Anheuser-Busch told us how CX has become their new area of competitive advantage.
We heard how each brand had been transforming their distribution chain into one that's customer-centric, leveraging the Net Promoter System to do so.
Capturing voice of customer (VoC), and using it to drive account retention and expansion using Account Experience™ methodology (AX), has become these brands' golden ticket to healthy market-share growth in recent years.
But, before we dive into why and how Net Promoter has become a critical part of the future success of some of the biggest CPG brands in the business, let's take a turn down memory lane to see just how far CX in this industry has progressed.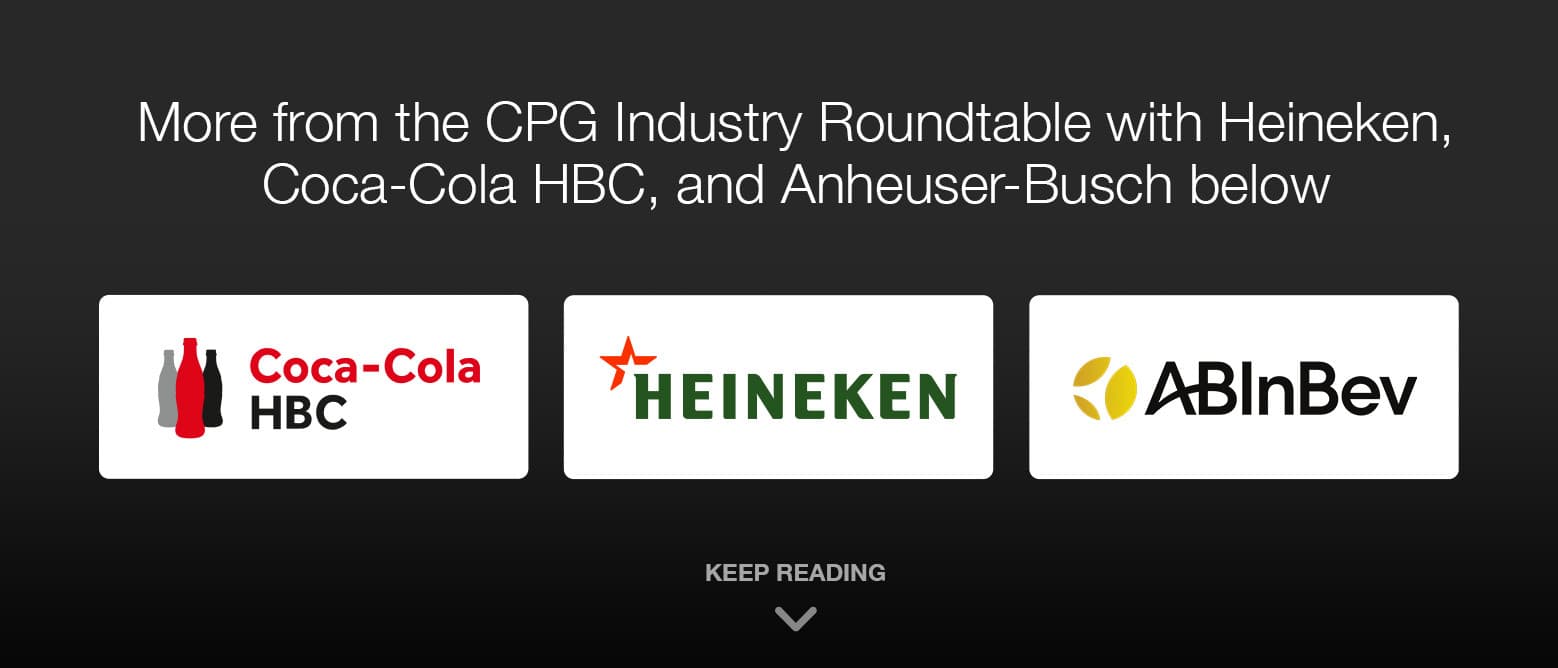 CPG Customer Experience: Then v. Now
From the most stripped-down methods of voice of customer programs surveying customers to the most automated, the successful all have one thing in common: listening to customer feedback and swiftly taking action on it.

However, every era had its hurdles to jump through, especially when surveying wasn't designed to be completed promptly.
The 1990s — paper surveys and on-street interviews
In the early 90s, the CPG market had limited resources available to gauge the overall experience their brand was imparting to its major stakeholders and customers.
Companies like Nielsen were used to analyze market share, sales data, and perform ad hoc analyses on customers.
This approach lacked comprehensive and unbiased statistics that businesses could trust. Plus, sample sizes were often small which brought into question the accuracy of the data.
Besides, once the data was presented, it generally had already been stale for months. Two factors that were less than ideal for making critical business decisions in a fast-moving environment like CPG.
Early 2000s & 2010 — scaling face-to-face interviews
In the 2000s, the industry transitioned to an approach spearheaded by IPSOS, a global leader in market research.
This entailed 60-minute, face-to-face meetings where analysts would interview outlets on sales production to better understand gross sales and overall market share.
Once again, this approach suffered from low sampling.
Starting in roughly 2010, the industry enlisted the Advantage Group, advisors in B2B, to start conducting 30-minute telephone interviews with major stakeholders and customers.
While this gave the much-needed scale CPG companies desperately needed, this approach ultimately suffered from outdated data and smaller sample sizes — neither of which are easily overcome.
Today — tech-led, real-time feedback
Now, brands are relying on software platforms like CustomerGauge to modernize their customer experience strategies.
The CustomerGauge Account Experience methodology utilizes the industry-standard metric Net Promoter Score (NPS) but is adjusted for CPG's B2BC channel needs.
Instead of storing this feedback in spreadsheets for months at a time as would have been the case in the past, the modern-day CPG experience requires data to be funneled to front-line staff, in real-time.


What Is NPS and How Can It Work for B2B Brands?
NPS is the primary tool for recognizing drivers of customer loyalty.
This metric is designed to help you understand why customers feel the way they do about your business and their willingness to recommend you to others.
NPS is based on a single question:
On a scale from 0 to 10, how likely are you to recommend our product/service/company to a friend, colleague, or family member?
The responses collected filter customers into three categories:

Promoters: With scores 9-10, these are your most loyal customers. They're proven to be more likely to refer, cheaper to serve, and to give a higher 'share of wallet' to you in the future.

Passives: These customers are fine with your product or service, but aren't exactly enthusiastic with scores 7-8. They're generally considered poachable by your competitors.

Detractors: Anyone scoring 0-6 are unsatisfied with your business and likely to churn (and may encourage others to do the same).
If you're thinking that it's unlikely for accounts to fill out these surveys, customers are actually more keen to do so with NPS because:

They're short and quick to the point

They show your business is listening to your customers and are willing to take action on their feedback (through a closed-loop system)

There are plenty of ways to improve NPS response rates so customers genuinely love to fill them
So, how can you put NPS to work to retain and grow your customer accounts?
Well, what was once a handshake a year to check in on customers has now evolved into real-time listening and taking regular action to take action on their feedback.
To be the most effective long-term, it is best practice for B2B companies to send out NPS surveys quarterly to multiple stakeholders within each of their accounts.
And for B2B brands, every account is a sizeable opportunity.
In B2B, Net Promoter shouldn't be used as a sampling tool. In B2C, it's relevant for companies to send out a sample-based survey to a few thousand customers and segment their results to represent the whole market.
This is because their customers are similar and their purchasing activity doesn't vary much. Plus, B2C customer financial contributions tend to fall in a narrow range.
Within B2B, NPS is built for teams to pass on important customer insights to the frontline so they can identify at-risk customers.
This, combined with Account Experience, results in real-time CX signals to quickly monitor at-risk accounts to close the loop and prevent churn. With the right NPS software, your business has the power to create happy customers who don't churn, are keen to give referrals, and who will be open to up-sell and cross-sell.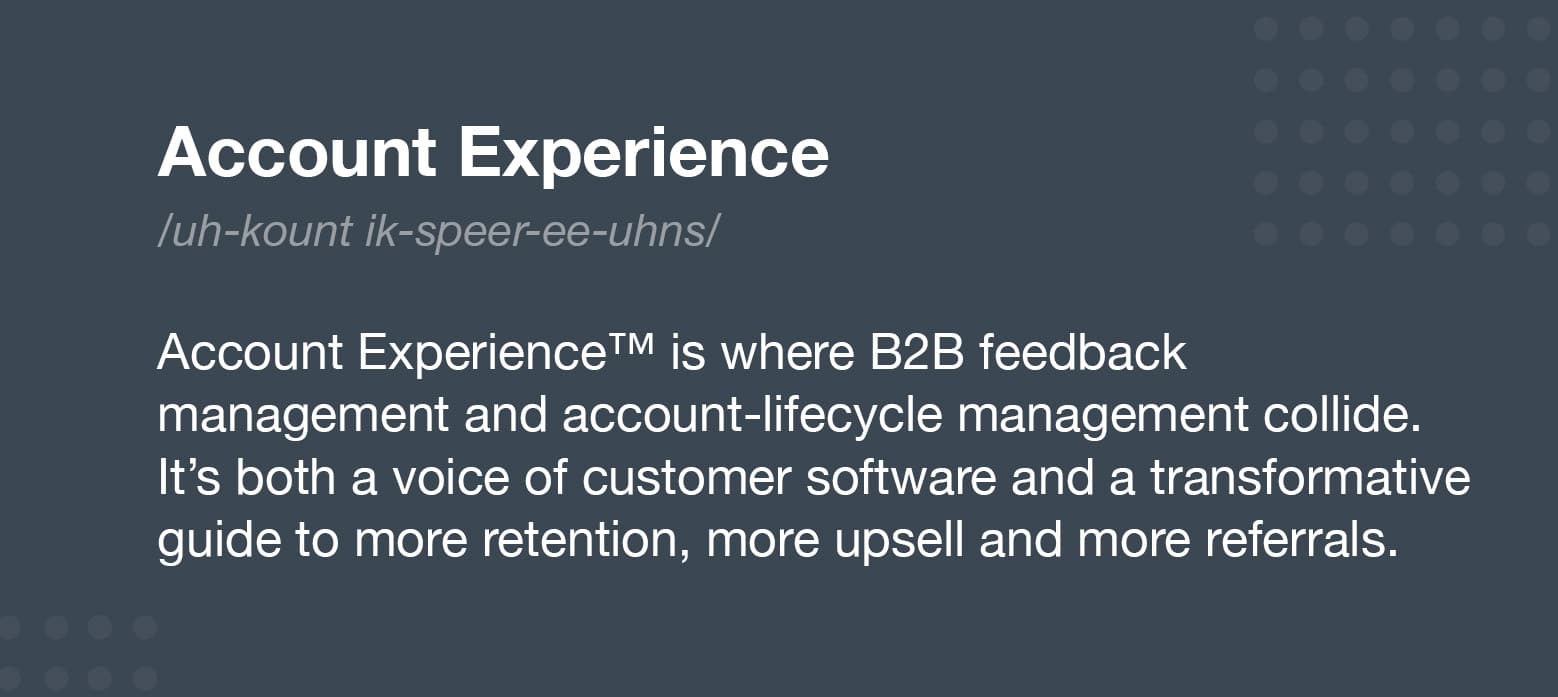 Impact of Innovative AX Programs in Three CPG Companies
Now that past approaches are staying in the past, CPG companies are taking advantage of the here and now of CX technology.
Stuart Ward, Head of Sales Capability at Coca-Cola HBC, David Aynat, Head of B2B at Anheuser-Busch, and Roderik Rosenbaum, Global Director, Route to Consumer and Sales Capability for Heineken spoke with CustomerGauge Founder and CEO Adam Dorrell to discuss how customer experience is the future for CPG.

You can listen to the full episode here.
But what convinced these companies to invest in tech-led CX instead of their old way?
It came from the need to act faster on feedback to ensure account retention and build a culture of customer-centricity.
Once they implemented Account Experience software that gave them a 360 view of customer data to improve their services, ultimately leading to a rise in revenue, all 3 realized they had a new competitive advantage.
So, what other benefits are the three CPG companies at our roundtable seeing?
Receive & React to Feedback Fast
Successful CPG companies did away with collecting customer data a few times a year and adopted an 'always on' channel approach.
In doing so, you're never not collecting responses, allowing your team to intercept and act on feedback as fast as it comes in.
During our CPG industry roundtable, Stuart Ward, Head of Sales Capability at Coca-Cola HBC explained how his team transitioned from their old ways of doing things to the efficient way mid-pandemic: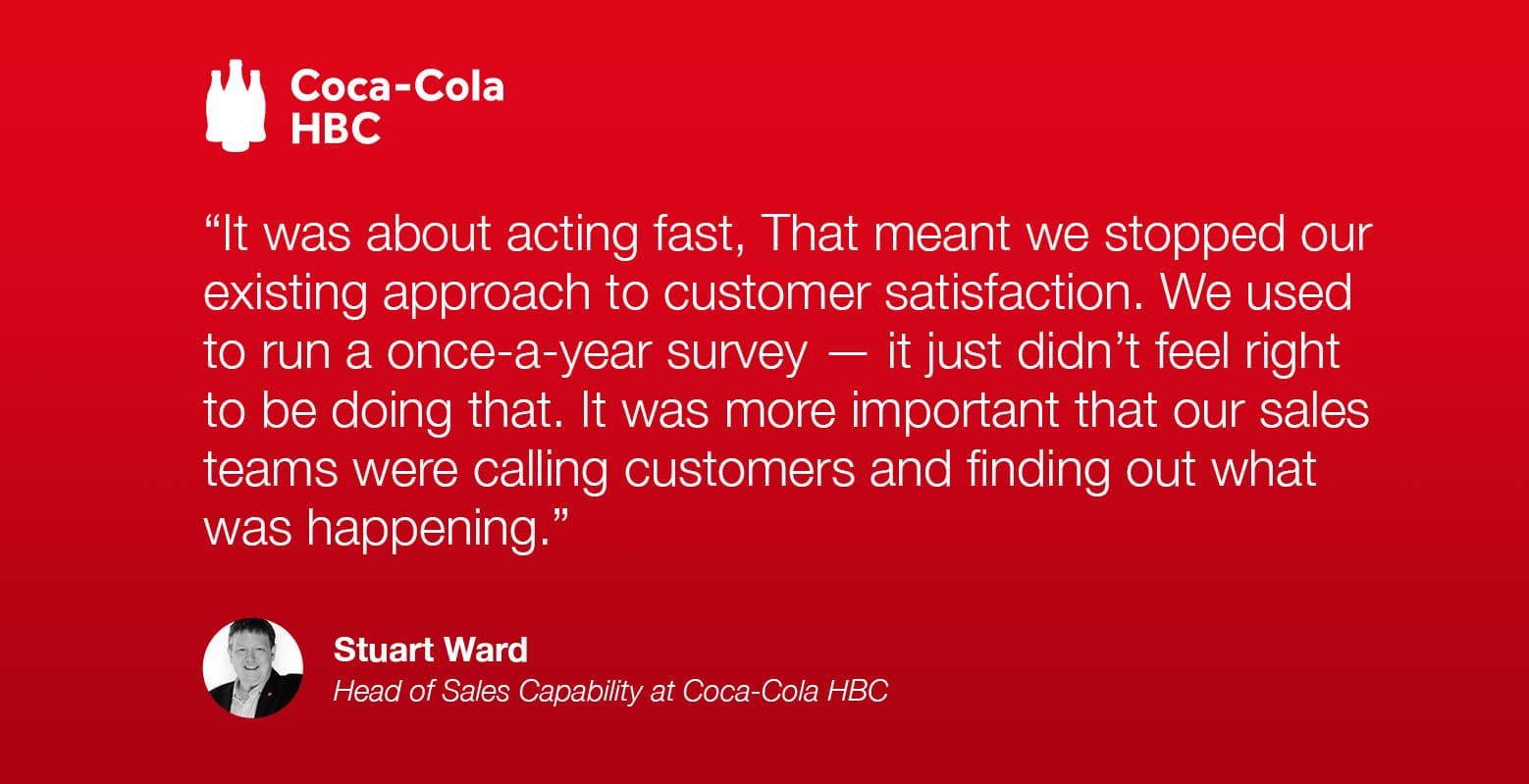 Stuart and his team had the right idea, as according to Emplifi, 52% of consumers expect a response from a brand within one hour.
Fast forward to today Coca-Cola HBC is now seeing over 50% of all their customers in different countries, direct and indirect, now providing feedback.
Visibility Across Multiple Markets
Think rolling out a Net Promoter program to multiple different markets is impossible?
One of the largest CPG manufacturers in the world, AB InBev did exactly that, across 27.
With the right solution in place, your business can have global visibility of every one of your accounts to measure and react to channel feedback from anywhere in the world.
Doing so allows you to unlock massive market share opportunities. Not only is it crucial to hear how different customers feel about your product, but a net promoter program is a must-have to stop relying on 'gut feelings' with real-time channel health and data.
"
"It's not like we didn't listen to customers, but the feedback only reached a small group of people. Now, [with CustomerGauge] having the results being so transparent, with the NPS coming in on an ongoing basis and having it seen throughout the entire company, it really, really helps [with culture]."
Roderik Rosenbaum
Global Director, Route to Consumer and Sales Capability of Heineken
Identify Churn Risk & Predict Revenue
You're not a mind reader, but you can be with the right net promoter program.
What if we told you your team could quickly see which customers are at-risk of churn with the right tech?
Utilizing NPS software like CustomerGauge, you now have the opportunity to identify 'absence of signal' directly in a customizable dashboard to stay ahead of customers churning.
Pairing a net promoter program with an account vitals tool helps account managers nurture those at-risk accounts and rekindle the relationship.
Your team could predict how much of your company's revenue is in the hands of detractors, passives, and promoters. Having a dashboard to view where your revenue lies strikes an opportunity to drive true change.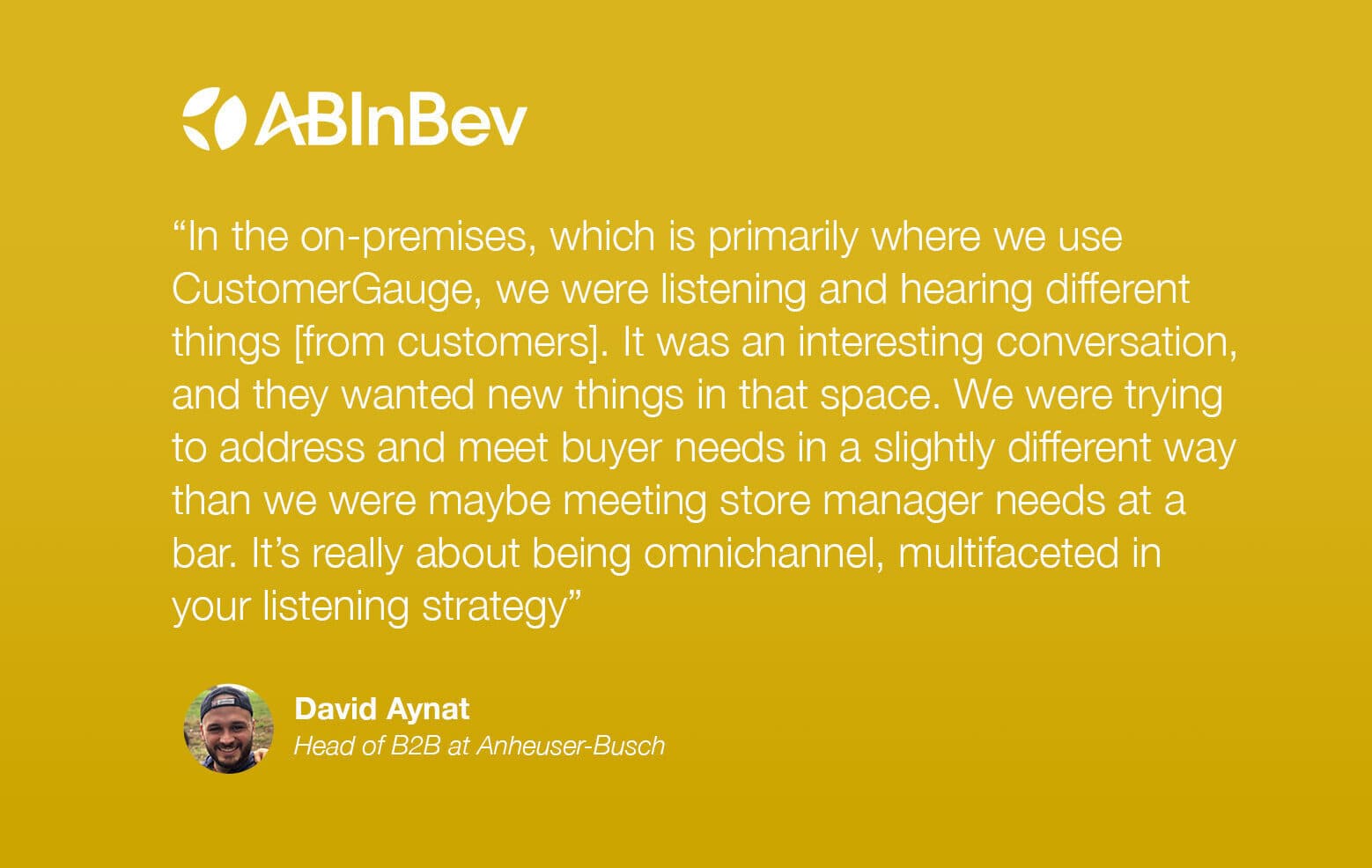 Imagine finding that 20% of your revenue comes from an account that is having a bad experience with your product?
CPG companies now more than ever can utilize this visibility to guide real growth.
The industry giants didn't achieve their status by acting retroactively — they used tools to help them stay 10 steps ahead.
And it pays off.
In Q4 of 2020 alone, revenue at Anheuser-Busch grew by 4.5% in addition to total volumes increasing by 1.8%.
Competitive Edge by Closing the Loop
Products are becoming increasingly similar with fewer differentiators, so brands need to start working harder to separate themselves from competitors.
And customer experience is not one-size-fits-all.
When you provide a unique interaction to each customer from the bars, restaurants, or distribution centers your business might work with, you stand out.
Rosenbaum of Heineken noted, "We're closer to customers than ever. There is this entrenched feeling that the whole company stands behind and supports our customers."
He believes the key to success is sharing with customers what you've learned and done with the feedback.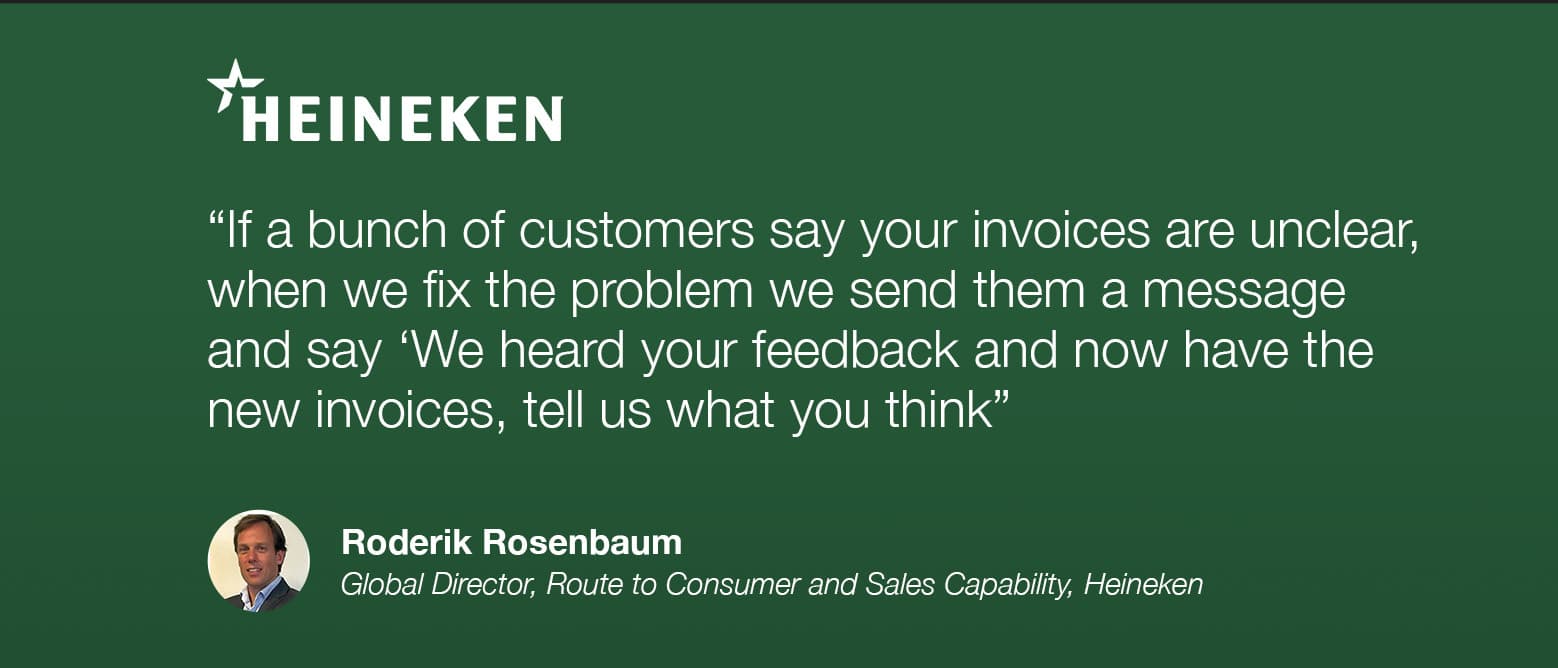 Even if you can't resolve an issue, simply closing the loop will speak volumes if other companies you're competing against can not.
In today's climate, where consumers are wanting deeper connections with brands, you will stay top of mind if you personalize their experience.
…As well as profit, too: customer-centric companies are 60% more profitable than companies that aren't, according to HubSpot.
It's Your Turn to Transform Your CPG Business With AX
CPG CX has come a long way.

It's now all about:

Shifting to a digital agenda

Sampling customer feedback often

Delivering learnings to the frontline

…and acting fast
You've read that the biggest brands in the industry are doing business and succeeding by implementing these actions — but not without a strong Net Promoter program to measure voice of customer, and smart software to ensure signals are understood and acted upon.
How can you strengthen new and existing customer relationships without the means to listen to them each day?
Just imagine where your CPG company could be a year from today if you adopted the right technology, consistently closed the loop and made an effort to focus on every customer.
Learn all about how Account Experience™ drives market share growth here.
About the Author