What is Net Promoter Score (NPS)?
Net Promoter Score (NPS) is a voice of the customer (VoC) tool used by organizations to collect feedback from their customers.

It's typically one simple question (noted below) that asks for a score between 0-10, followed by several follow-up questions to determine the root cause of the score.

When enough customers are surveyed regularly, the aggregate NPS score calculation offers insight into your customer base's health.
When used correctly, Net Promoter offers a pathway forward to continuous improvement in customer experience and customer retention.

The Net Promoter Score Question
Note: Full guide to the Net Promoter Question here (with templates & examples).
Initial development of the NPS score metric proved that, out of all of the ways a company could track customer loyalty, asking customers about their willingness to recommend your services correlated best with future growth.
This led Fred Reichheld, alongside Bain & Co, to develop and test this one simple question:

On a scale from 0 to 10, how likely is it that you would recommend our company/product/service to a friend or colleague?
Organizations ask this question to customers either immediately after a touchpoint event to enquire about their experience (called transactional NPS) or as a general question about their overall experience with the brand (called relational NPS).
Later on, you'll want to know why your customers gave the answer they gave (and we discuss this below), but this initial question digs deep into your customer's commitment to your brand.
So, how will customers respond to the question?
Depending on where they place themselves on the scale, you can categorize them as promoters, passives, or detractors:

Promoters, Passives, and Detractors: What's the Difference?
Promoters, passives, and NPS detractors are the three types of customers that will emerge from your NPS survey. Depending on the category in which they sit, you'll be able to gauge their loyalty, but also their potential impact on your revenue growth:
Promoters. Scoring 9 or 10 in response to the NPS question, promoters are the type of customer from which the whole system takes its name. These are the customers that are loyal, enthusiastic, and passionate about what you do.
Crucially, they will be willing to go out of their way to refer you to other customers. And, this way, they'll have a direct positive impact on your bottom line.
Passives. Passives score 7 to 8 on the scale. These customers aren't as enthusiastic as promoters, and they always carry the risk of churning or becoming detractors. However, they're unlikely right now to spread negative word of mouth all by themselves, and with a little nurturing, they may even become promoters.

Detractors. Detractors rate your brand between 0 and 6. They're not happy with their customer experience and they're at the greatest risk of churning and spreading negative word of mouth.
This matters, because churn means revenue loss. What's more, customers who have had a bad experience are twice as likely to tell others about your brand.
Learn how to turn detractors into promoters here.

How to Calculate Net Promoter Score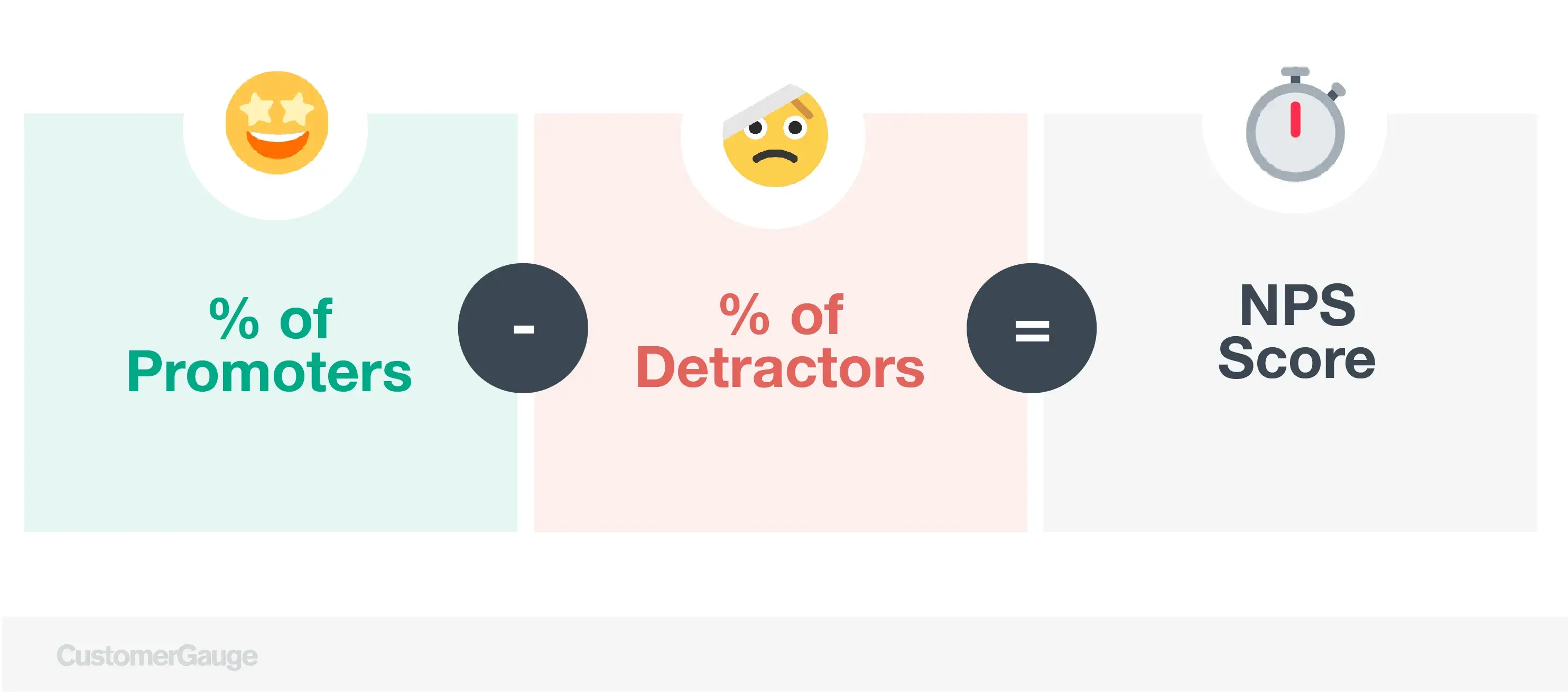 Now, it's time to get into the nitty gritty of calculating your own Net Promoter Score.
Luckily, it's really simple, and can be completed in four stages:
1. Run surveys and collect results from the Ultimate Question. Start by asking: "On a scale of 0-10, how likely are you to recommend our product/service to a friend, colleague, or family member?".
The way that you ask the question, and the frequency and design of your NPS surveys, will affect your response rate, the accuracy of results, and the usefulness of your data. We'll show you what you need to know below.
2. Find the proportion of detractors and promoters. How many of your customers are promoters? How many are detractors? From the results of your survey, calculate the percentage of each category.
If you have 1,000 responses and 800 score 9-10, you have 80% promoters.
3. Use the NPS formula. There's a simple formula to calculate your headline NPS score:
% of promoters – % of detractors = NPS score
Your score can be anywhere between -100 and 100. The higher the better.
So, if you have 80% promoters and 15% detractors, you have an NPS score of 65. But if you have 15% promoters and 80% detractors, your score is -65.
By the way, for this calculation, you can ignore the percentage of passive customers.
4. Benchmark and keep measuring. Your NPS score is only useful if you measure it consistently over time. So, begin by remembering your current result and use that as a basis to grow. It's the only way to get an accurate sense of how you're performing in the long run.
Let's tackle a crucial question first: why measure your NPS? And to answer that properly, we need to go back to the very beginning of NPS.

Learn more: What's a good NPS score?
A Short History of Net Promoter Score
So, let's take it again from the top. The history of Net Promoter Score has its roots in 2003. All those years ago, NPS was invented to help companies understand and earn customer loyalty.
In his book, The Ultimate Question: Driving Good Profits and True Growth, the researcher Frederick F. Reichheld was the first to outline what he called NPS. The "ultimate question" of the title was, of course, the NPS question we just explored, and Reichheld gave it this name because he already recognized its power.
Now, conventional customer satisfaction surveys were well-used in the industry at the time. But they were generally unwieldy, difficult to benchmark, and couldn't provide the detail that companies wanted to drive business growth.
So, Reichheld—with help from Bain & Company and Satmetrix—got to work to explore options for a simpler approach. In his research, he found that a company could ask a customer 19 different possible questions to understand their loyalty. And from those options, the Ultimate Question emerged as the most incisive, to quickly understand their sentiments.
What's more, high scores on the NPS question correlated strongly with future referrals, repurchases, and revenue growth.
Yet too many businesses soon started focusing exclusively on this score—and that wasn't delivering the promised results.
As a result, Bain & Company built the NPS Score into the heart of a new approach, the NPS System. This outlined a model for businesses to build around, so they could turn their metrics into action.
For two decades, companies—including the majority of Fortune 1000 brands—have been using the NPS Score to get accurate insight into their customers.

What's the Goal of NPS?
The goal of NPS is to monitor your customer experience and show you how to improve. But it does a lot more than that too.
In fact, with NPS, the return on your investment in CX can be immense:

Better understand your customers. NPS helps you better serve your customers by enabling you to listen to them. Furthermore, by linking your NPS data with your revenue, you can clearly identify ROI from CX projects and drive executive buy-in—perfect to get more budget, resources, and respect for customer-focused projects.
Tackle customer churn. It's said that 80% of profits come from 20% of customers. NPS helps flag whether that 20% of customers are happy or unhappy so that you can take action. Targeted action means you'll never be blindsided again by losing a large customer.
Fact: acquiring new customers costs you 5 to 25 times more than retaining existing customers. That's why loyalty matters so much.
Quantify word of mouth. These days, the most trusted source of information on your brand is a customer's friends or family. If businesses are neglecting this powerful marketing channel, then they're doing something wrong.
Knowing how often customers will recommend you is crucial. And NPS is the one metric that can show you.
Get a benchmark for customer experience. Studies suggest that customer experience is a more important brand differentiator even than product and price. Understanding how you perform in comparison to other brands will enable you to get a competitive edge. NPS comes in handy there too.
Yet, crucially, businesses have found that NPS is not just about quantifying your CX. Instead, it can deliver returns on your internal processes too:
Identify areas to improve your products. Customer feedback through NPS can give you insight into how to build better products. For example, Tesla's NPS score is so high because customer feedback has a direct and visible impact on product development. That means better products and more satisfied customers.

Align your team. Identifying a metric around which your whole organization can rally can build staff motivation, improve performance, and get everyone on the same page about business strategy. If there's one CX metric to track, it's NPS.

Improve the experience of your employees. Customer experience goes hand-in-hand with employee experience. Without happy employees, you won't have happy customers—and vice versa.
NPS vs CES: Which to Track?
Of course, NPS is not the only metric out there for measuring customer experience. Customer effort score (CES) is one of the most popular alternatives. So, it's worth considering the differences.
CES looks at the amount of effort that customers make in each interaction with your brand. The less effort they must make the better the customer experience.
CES is based on research that's shown that reducing the effort customers expend has a much bigger impact on improving customer loyalty than exceeding expectations or delighting customers. This makes a lot of sense when you consider that 82% of people still think that purchases "take too much effort".
Yet, CES does have its drawbacks. For example, it doesn't gauge the influence of price, product, and competitors on the customer experience. And it's not well-equipped to identify the driver behind the customer response.
We compared NPS, CES and CSAT in-depth here. Of course, there's no harm in tracking all CX metrics.
But if you're going to pick one, we'd recommend NPS because it has several advantages.
Benefits of NPS
You get built-in driver analysis. Why are customers saying what they're saying about their CX? NPS tells you a couple of simple additional questions—which CES lacks.

It demands minimal effort from your customers. Alongside a driver question to understand why customers are saying what they're saying, the NPS question is effortless for customers.

That means a high response rate. The less effort a survey requires, the more likely customers are to respond. Our research says that while companies prefer email, customers are actually more likely to respond to phone surveys. Why? It's easier.

Continual rollout. On a practical level, you don't want to receive 800 survey responses all at the same time—because that means you have 800 responses to close the loop with. A simple survey like NPS makes managing this easy.

It gives a more complete view of the customer experience. CX is not just about effort—although that plays a role. Instead, NPS gives you an in-depth view of customers' feelings, when, and why.
Find out more: 8 Benefits of the Net Promoter Score
About the Author