Investing in the right customer experience management (aka CXM or CEM) software has the potential to turbocharge your business growth. But with so many CXM tools out there, knowing which is right for you can be a challenge.
Yet it's a challenge worth facing head-on—as the rewards can be immense. You'll better understand your customers, get real-time insights into customer engagement, and unlock opportunities to drive real growth.
We recommend working with a CEM software that integrates with operational metrics and helps you identify concrete opportunities to reduce churn or accelerate your customer referral engine.
In this article, we'll explain why CXM software is really worth your time and investment. And we'll introduce you to our own customer experience management platform, CustomerGauge, while we're here. Let's get started.
P.S. Looking for a buyer's guide to B2B experience software? Here's ours.
What Is Customer Experience Management (CEM) Software?
CEM software is a tool used by companies to understand, manage and improve their customer experience (CX).

CEM software harnesses the customer's perspective to deliver insights into how they can be better served. It should provide you with the knowledge and tools to take action on those insights, so you can drive revenue growth.
Quantifying the customer experience is essential for companies to conceptualize how their actions impact their customers, and in turn, their retention and profits. The "management" in "customer experience management" signifies that this is not only a tool to measure experience, but to optimize it and use it to accelerate the financial metrics that matter.
In short, that means CEM software measures interactions between you and your customers and provides an accurate picture of the customer journey. Yet, at the same time, it is an insight engine, a closed loop tool, and a profit-generating machine.
(Note: CXM and CEM are often used interchangeably. But they both stand for Customer Experience Management.)
The Goal of Customer Experience Management Tools
The primary goal of CXM tools is to improve your customer experience (CX) and boost your bottom line.
Recent studies have predicted that CX will become a more important brand differentiator than even product or price. That means CX is fast becoming the arena in which companies are competing—to secure customer loyalty, optimize brand recognition, and reduce customer churn. In fact, 90% of businesses now cite CX as a primary focus, according to research by Oracle.
With so much at stake, CXM tools help make it easier to know whether your customer experience efforts are working. CEM software gives companies the capability to do this and more. In fact, there are so many great reasons to invest in CX management software:
Why Invest in Customer Experience Management Software?
Get deeper insights into customers, across all customer interactions. CX is not just for customer service teams. Instead, by investing in a CX management platform, you'll be getting a 360-degree image of your customers across every single touchpoint. And that's for the benefit of everyone in your business, from your sales team to your C-suite.
Receive granular and big-picture data. The visibility you'll get both on individual customers and your overall performance will improve dramatically—and that in turn will improve your business processes.

Make CXM easier. CXM tools help you automate your CX efforts and analysis. That means smarter, more efficient, and more cost-effective operations.

Reduce churn by identifying at-risk customers. It's easy to lose track of customer sentiments when you're working across hundreds of different accounts. But that can be fatal. Customer experience management systems put all the information you need right before your eyes, so you can maintain optimal customer relationships and prevent churn.

Optimize employee support based on customer feedback. Your CX might be suffering because your employees are. This way, customer experience data can help you improve your internal processes too.

Identify action steps to close the loop quickly with customers. The best CX management platforms will deliver live, actionable insights, so you can respond to customers at the right time.

Link up customer experience to revenue. Not all CXM tools make it easy to understand the impact that improved CX has on your revenue. With the right customer experience platform, you can immediately see the best opportunities for growth.

Get a concrete view of your CX ROI. 62% of companies aren't calculating the ROI of their CX efforts, according to CustomerGauge research. This makes it incredibly difficult to prove their value. But CX tools make this easy, so you can get buy-in from all levels of your organization.
Key CEM Software Metrics to Measure
So, we've made the case for the value of CXM software. But before you kick off, you need to understand what you'll need to be measuring. Let's talk about CXM metrics, the key numbers that power your software.

Net Promoter
Net Promoter Score (NPS) is a metric used to measure and monetize a customer's experience with a business. It's at the basis of many customer experience programs, because it's simple, scalable, and easily measurable. If your CX software doesn't enable you to setup, run and continuously improve your NPS score then that's likely a red flag.
Fundamentally, the Net Promoter System is used to track brand loyalty, through a standard question: "On a scale from 0 to 10, how likely are you to recommend our company to a friend or colleague?".
From this simple question, you can identify whether your customers are promoters, passives, or detractors. Or, in other words, whether they'll spread positive word of mouth and help you secure referrals and upsells, or else be at risk of churn.
The Net Promoter System is a solid backbone for a CEM software because it's a growth and loyalty indicator and provides actionable insights companies can act on to improve their customer experience.
Yet the real power of NPS programs come when they're linked to revenue data using the CXM framework: monetized NPS. By monetizing NPS, you can get a clear insight into how customer experience affects your revenue.
Read our complete guide to choosing a B2B NPS Software here.
Customer Satisfaction (CSAT)
CSAT is short for customer satisfaction. Its aim is to allow you to measure exactly that.
Typically, companies gauge their customer satisfaction through surveying. The standard CSAT question is: "How would you rate your experience with your [e.g. recent support requirement]?". Then, responses are based on a scale of Very unsatisfied / Unsatisfied / Neutral / Satisfied / Very satisfied.
Customer satisfaction surveys are most useful when used to measure short-term happiness. This is where they differ from Net Promoter surveys. Rather than measuring greater customer satisfaction in a particular context, NPS is used to predict long-term happiness and customer churn.
Customer Effort Score (CES)
Finally, customer effort score is the simplest of the three metrics. This measures how much effort a customer puts into an interaction with a company. Simply, the less effort a customer makes, the more likely they are to have had a positive experience.
There are two ways to frame this CES question:
"How much effort did you personally have to put forth to handle your request?"

"The organization made it easy for me to handle my issue."
In both cases, the CES score is derived from a numerical response to this question.
While it's limited by itself, CES also has the capability to work with either CSAT or NPS, as discussed in an interview with James Borderick of HPE Software.
What to Look For in a Customer Experience Management Platform
Aside from data collection capabilities—on metrics from monetized NPS to CES—what other features should you be looking for when choosing your CXM platform? Here are some of the key things to consider:

Comprehensive data. Your CMX tool should have the capability to monitor and analyze all of the metrics you require. If it doesn't, find another one.

B2B or B2C or B2B2C? Different businesses have different needs and a tool designed for B2C firms probably won't cut it in B2B contexts. The best B2B customer experience software according to Gartner? That's CustomerGauge.

It should link CX to revenue. Your CXM tool should link your customer feedback and outcomes to the customer's financial value, so that you have clear indication of how much revenue is at-risk and what's driving customer churn.

Easy dashboard. The quality and usability of your CXM program's interface will have a big role to play in your own experience as a customer. NPS data or real-time customer feedback should be available easily.

Omnichannel data collection. You want to understand how your customers interact with you across all of your customer touchpoints and channels—from social media to live chat, from customer support to reviews.

Smart integrations. CEM software can often be integrated with customer relationship management (CRM) software, such as Salesforce, SAP and Oracle. This can help you get insight into customer behaviors using historical and transactional data. But other integrations may be possible, to benefit all of your team members.
Top 5 CXM Software for B2B and B2B2C
So, what are the best customer experience management solutions out there? Here we look at 5 of the most popular.

CustomerGauge
CustomerGauge is officially the best customer experience management tool for B2B companies, according to Gartner. We developed a CEM methodology (Account Experience™) to give our customers a clear pathway to healthy accounts, less churn and higher referrals. Account Experience, combined with our platform, enables B2B companies with complex account structures to better manage their experiences and power revenue growth—and we're proud it's getting the recognition it deserves.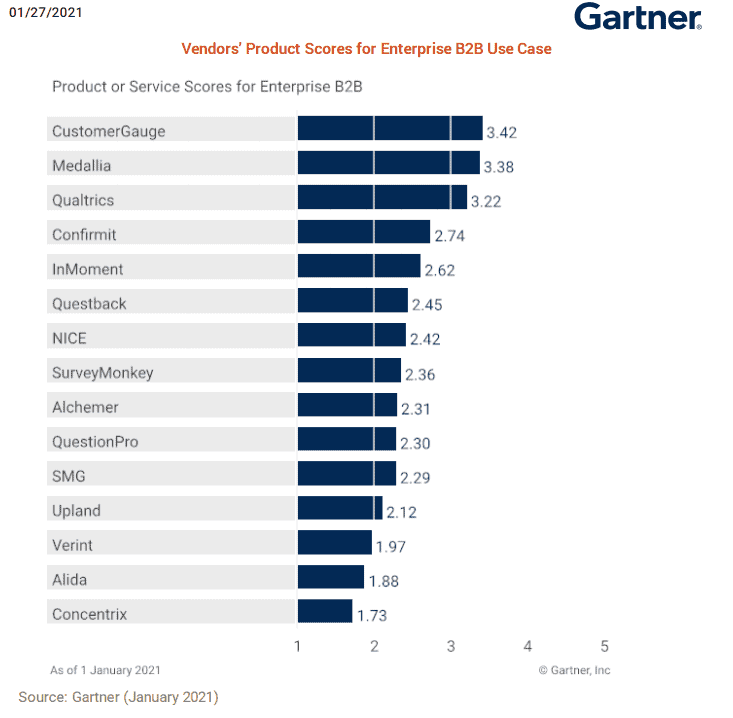 Our technology beat out competition from 14 of the most advanced CX brands, thanks to its strong performance in collection channels, data & analytics, and insights. Our success is largely driven by the software's capacity to measure and monetize NPS, so you can better drive revenue growth.
Key highlights:
Run NPS surveys at multiple levels of each customer account. Our customer success teams coach you through achieving high response rates so you can work towards getting 100% response rates like ICON.

Set SMART goals and timed targets for closing the loop, so your account management teams are fully responsible for following up with unhappy customers.

Activate your CX-based revenue growth engine. CustomerGauge brings accounts to your attention that are showing signals that they are ready to refer or be upsold.

Prioritize what CX issues to fix first. With our library of widgets, you'll easily identify what's driving NPS detractors and what financial value each CX improvement holds—making it really easy to sell CX internally.
Learn more about CustomerGauge's Account Experience here.
"Onboarding CustomerGauge has had the highest ROI of anything I've ever done at my company." (Christine Marcus, Alchemista)
CustomerGauge G2 score: 4.6/5
Medallia
Medallia is a popular alternative and one of the biggest CX names out there. Its strength is its versatility, as this CMX tool enables easy cross-functional use. In fact, it has the highest possible number of different functions among all competitors.
But, overall, Medallia is tailor made for managing CX in B2C organizations.
Medallia G2 score: 4.5/5
Qualtrics
Qualtrics is another big name in CXM, where it performs well for B2B and B2C businesses alike. With strong data collection capabilities—offering a range of different metrics and opportunities for customer feedback—it has deep functionality and some really impressive analytical tools.
Performing well across B2B, B2C, and B2B2C contexts, Qualtrics is best used alongside its tools to measure employee, partner, and brand experience too.
Qualtrics G2 score: 4.3/5
Confirmit
Confirmit is a simple CXM platform that focuses on CX, employee experience, and market research. It enables you to build your own software based on the insights you need to track customers across different channels.
Confirmit G2 score: 4.2/5
InMoment
Finally, InMoment works a little differently. That's because its software is offered only as part of an integrated package including CXM services too.
Yet it remains a strong platform for achieving better customer experience—particularly if you're in the B2C space. That's because the majority of InMoment's customers are in retail, travel, and hospitality. It performs less well for B2B brands, however.
InMoment G2 score: 4.2/5
In summary, there are several big players that could handhold you to big CX wins and each platform has its pros and cons. CustomerGauge wins outright for B2B and B2B2C organizations thanks to our focus on improving response rates, providing tools to close the loop, and linking CX and financial metrics.
Get Started with CustomerGauge
Ready to get started with customer experience management software? Try the best CXM platform out there for B2B brands: CustomerGauge. Book a demo with our team today to learn more.
About the Author