Over the last few weeks we've introduced some of the content and technologies revealed at our Monetize! Amsterdam event. One of the largest reveals was the concept of Account Experience™, a methodology that looks to standardize and streamline B2B CX best practices and introduce a new path forward for the CX marketplace.

In our latest publication, Account Experience™: How to Monetize Accounts, Grow Revenue and Deliver Exceptional Experiences in the B2B Economy, we walked through how concepts like account-based marketing (ABM) have transformed marketing departments in the B2B market. Taking a similar approach from a customer-facing perspective, account experience (AX) looks at tackling the customer experience from an account-based approach, with a focus on monetization for companies struggling to prove the ROI of their program.
In the following sections, we take a deep dive overview into why B2B companies have begun transitioning to an account-based model for their core growth funnels (marketing, sales and customers).
The Account-Based Evolution
Before we take a look at an overview of the AX model, let's briefly look at why bringing an account focus to CX has been ushered in by the evolving B2B economy.
In the early 2000's B2B marketing was at a crossroads. Prior to this time, marketing's demand generation tactics involved casting a wide net in the hopes of catching the right fish, i.e., standard inbound marketing. To reduce the time, resources, and cost of lead-to-deal conversions, marketers needed a better way to deliver quality leads to sales. The industry's solution? Take the inbound marketing funnel and flip it on its head.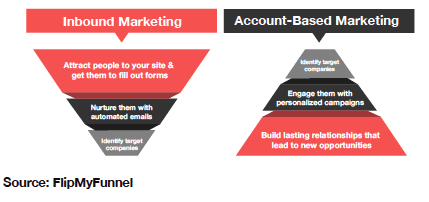 ABM is a great example of how a discipline that first focused on B2C required further development to be truly successful in B2B. ABM enriches leads by adding multiple points of contacts to the leads/opportunities.

But this account-based approach to B2B organizations isn't just reserved for marketing. Given the unique relationship between marketing and sales, the term "account-based sales," also looks into the targeted sales side. This tactic is often used by enterprise salespeople to help better scale the acquisition's process.
The concept of account-based CX was first introduced by Tom Scearce of TOPO in his article The Account-Based Everything Framework. In the blog, Scearce introduces a number of reasons for the shift in B2B towards accounts, and why this is spilling over to the CX industry:
Precision is smart (and financially savvy)
As mentioned, the previous method of wide nets in inbound marketing weren't effective in terms of time, resources or precision. The trend towards ABM and ABS emerged as B2B companies began channeling their efforts towards a specific type of customers. B2B companies are developing more sophisticated ideal customer profiles for this purpose to align with their positioning and growth objectives. In a similar fashion, an account-focus within CX helps understand where to concentrate and prioritize efforts when it comes to customers. This includes which accounts to follow up with based on satisfaction and revenue, as well as stakeholder management. The emergence of roles such as relationship managers (for e.g., CSMs), have become necessary in proper relationship management and for the growth and stability of accounts. Which brings us to our next point...
Sustainable growth
Acquisitions are a natural growth tactic for any business. The acquisition technology industry, from Google Adwords to Facebook Advertising, is growing because it is trackable, repeatable, and easy to report revenue. These technologies allow companies to achieve the account-based approach to sales and marketing through streamlined segmentation and targeting at a record pace. Previously, CX programs lacked this type of sophistication. However, competitive markets and cost of acquisition can be a burden on the health and sustainability of a company in the long-run, if they aren't compensating it with retention.
B2B companies have begun looking for additional growth outlets within their own customer bases, developing what experts like Tom Scearce have called the "third growth funnel."
The hourglass illustration is a more accurate representation of the third growth funnel, or customer funnel. All the work that happens within sales and marketing pour into your customer funnel.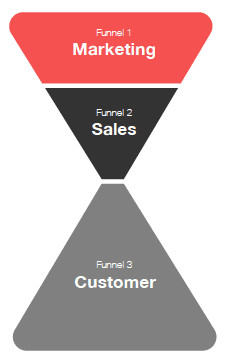 On the flip side, growth within your customer funnel can feed into additional sales and marketing opportunities. Reviews, referral marketing, etc. can generate additional sales and introduce more ideal customers that are easier to sell additional services to and onboard.
Referred accounts often come at a higher lifetime value because they start at a higher level of trust. In an empirical study by Wharton Business School, a large German bank's referred customers churned 18% slower than non-referred customers and had a 16% higher customer lifetime value.
ABM and ABS work
The final reason Scearce indicates for the adoption of account-based practices in B2B is simple: they've been proven to work. According to Scearce, many companies are finding continued improvements with the adoption of ABM and the precision sale of the ABS model: "The modern version of the account-based movement is still young, but early adopters are reporting that programs are yielding impressive results particularly with respect to deal-size metrics such as ACV and LTV. For example, best-in-class account-based programs yield a 75% increase in ACV and a 150% increase in LTV via account-based upsell campaigns." - Tom Scearce, TOPO
Similarly from an account-based CX point of view, CustomerGauge's 2018 NPS® & CX Benchmarks Report found that companies who focused on monetizing their customer bases experienced an 18.6% greater revenue growth, 2X the referral sales volume and had a 20% increase in up- and cross-sales.

With a better understanding of where account-based CX falls in the new account-based revolution, let's dig into why the CX market needs to pay more attention to the B2B economy.
The State of B2B CX
As B2C consumer experiences are being revolutionized at a rapid pace, B2B consumers are also raising their expectations. In fact, according to a recent survey conducted by PwC, "73% of consumers stated that a positive customer experience was a key driver for their continued brand loyalty."
This is a shift that most B2B companies are taking note of. According to Accenture, 90% of B2B leaders "already believe that customer experience is crucial to their companies' business priorities."
So, what's holding these leaders back? While Scearce introduced the concept of the account-based everything approach, one area not given much additional attention is that of the account-based CX. As mentioned, marketing and sales now have a plethora of tools to support their account-based efforts in generating additional revenue. Unfortunately, these innovations haven't quite trickled down to the account-based CX model.
For starters, many of the current CX tools and best practices in the CX marketplace are positioned for the B2C experiences:
Single-contact native technologies designed for individual experience management and measurement, but limited in juggling complex multi-contact hierarchies
More difficult to tie to financial outcomes in a way meaningful to B2B
Limited in mapping complex networks of B2B customer journeys
Despite these shortcomings, the CX marketplace has never been more crowded with tools. However, many aren't meeting the needs of B2B companies.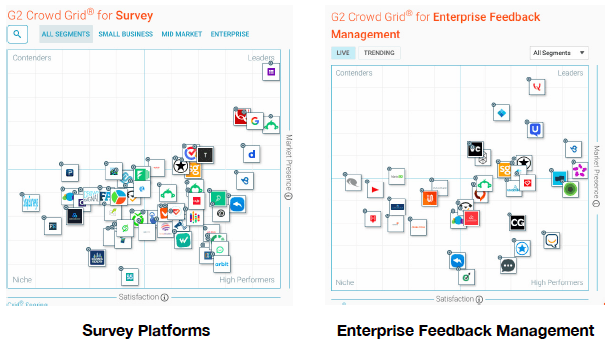 The CX market now stands at a branching milestone, where the need to differentiate contact-native vs. account-native experiences must be addressed. This might be why a number of B2B companies (30%) have indicated that they lack a 360-degree view of the customer, according to Accenture.

At CustomerGauge, we faced a similar issue within our own customer base when it came to understanding the multiple relationships under one account. The results we were seeing depicted an engaged, highly-satisfied customer base. It was shocking, therefore, when one of those seemingly happy accounts churned, almost out of nowhere. The issue? We were not getting an accurate picture of our stakeholders at every level. We had what many B2B companies before us had: a "happy ears" problem—what we heard sounded great, but the reality was very different.
It was during our own crisis that we began building out the B2B CX technology and methodology that was introduced at Monetize! Amsterdam. Something we like to call Account Experience.
Account Experience—The Account-Based CX Approach for B2B
Account experience (AX) is the intersection between experience feedback management, monetization and account-based methodologies within the B2B business model. The approach looks at fulfilling two primary purposes within B2B CX:

To manage the post-purchase customer lifecycle to increase retention and improve business processes and value for customers.
To grow accounts and existing customer revenue streams through Revenue Lifecycle Management activities.
In addition to these goals, AX is a cross-departmental tool, providing insights throughout the organization to support enterprise-level alignment.
If you'd like to learn more about this new B2B CX methodology and best practices, download the full free eBook here
About the Author