5 years after starting the monetization movement in the world of customer experience (CX), we were ecstatic to be back at Monetize! our leading voice of the customer (VoC) conference in Amsterdam.
Having countless leaders join us on stage from companies like Coca-Cola HBC, Heineken, and Intuitive Health, we were with the best of the best in B2B Account Experience (AX).
Not sure what Account Experience is all about? Let us show you 👇
While at Monetize! it was truly inspiring to see how they'd taken our AX methodology, built it into their processes, and leaned into VoC to retain and grow their customers, channel partners, and distribution networks.
We kicked off with a presentation from CustomerGauge founder, Adam Dorrell, where he shared three core elements of a successful B2B CX program: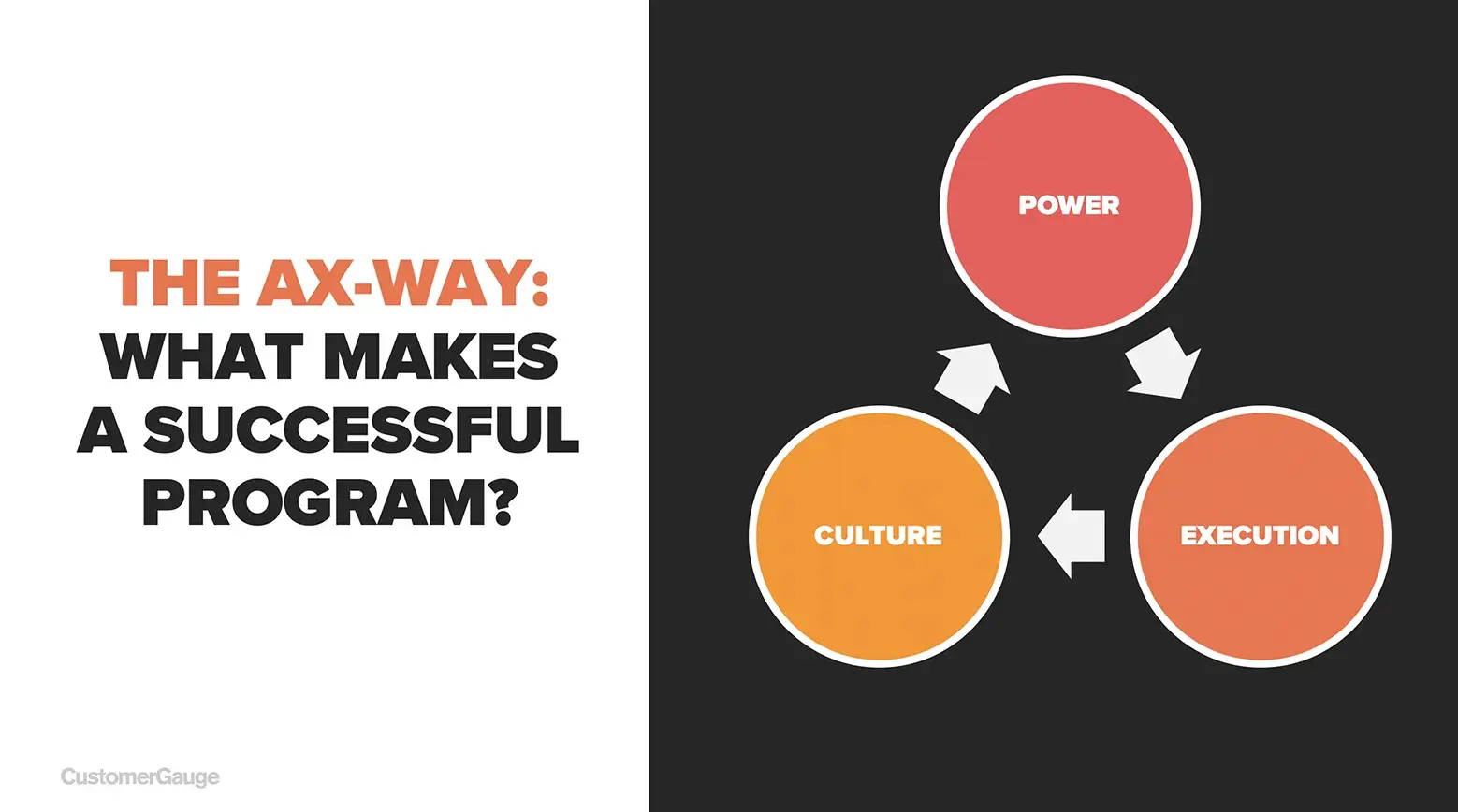 These three circles of influence underlay every successful program:

Power: You need buy-in from the C-Suite.

Execution: Action cannot sit siloed in one department. It must spread to involve teams across an organization. This is where AX software like CustomerGauge plays an important role—empowering teams with tools to take action.

Culture: Your program needs a life of its own. It needs to be bigger than one diligent team, and the mindset must be adopted company-wide.
In our webinar this week, we took strategies spoken about at Monetize! and focused on execution.
We have a lot of experience helping companies execute successful AX programs — so we wanted to teach attendees how to drive *actual* revenue growth through their VOC program.
Here are the highlights from the webinar 👇
What is Earned Growth? Why should it be your focus right now?
In a nutshell, earned growth is revenue growth you generate through returning customers and customer referrals. That's your retained business, upsell, and referral revenue.
The other side is bought growth: revenue growth generated by new sales and marketing campaigns.
If you focus on earned growth your cost of acquisition is lower and your customer lifetime value is higher.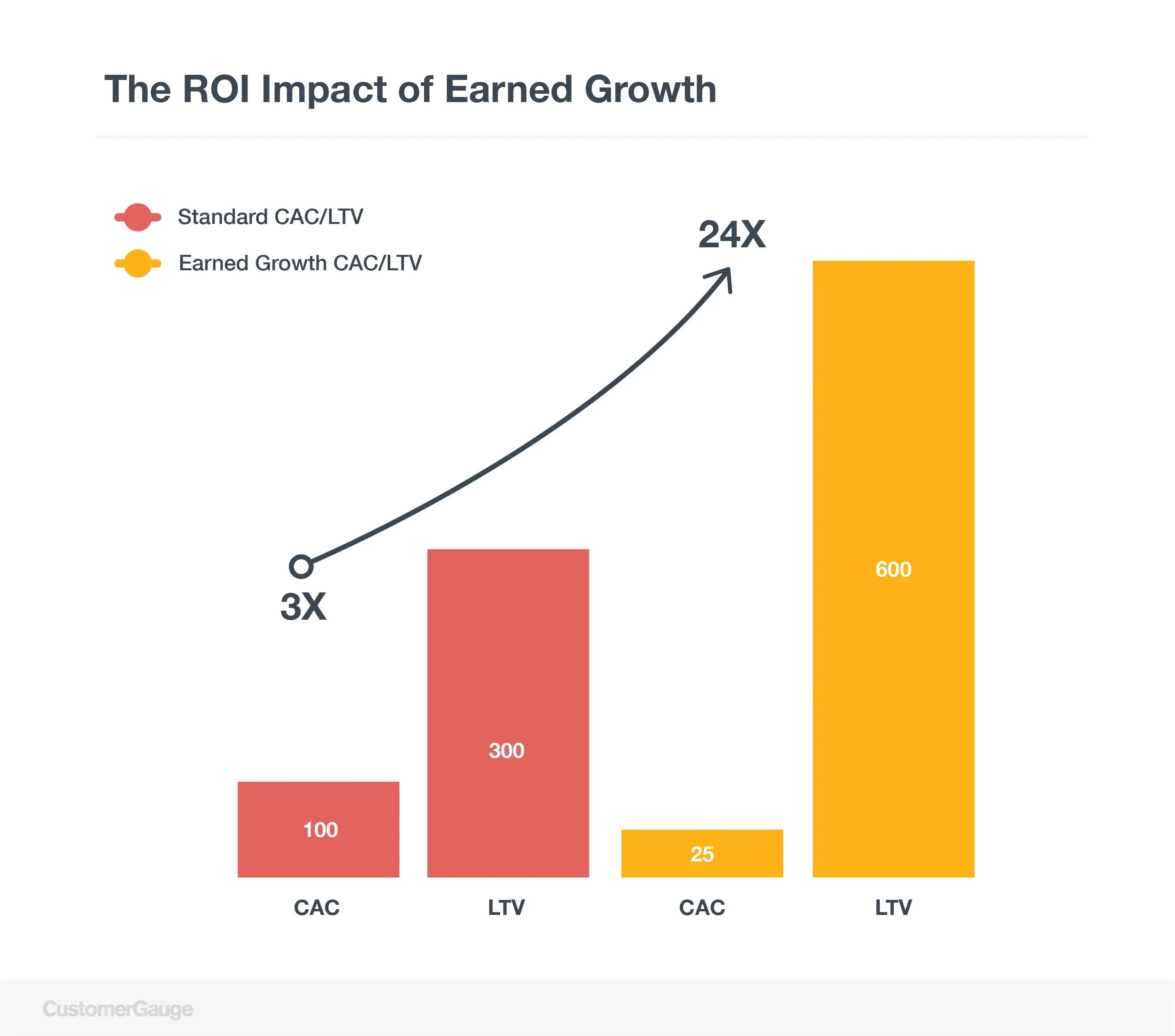 It's a no-brainer for B2B companies to focus on this kind of growth, which is why we made it the core focus of Monetize! this year.
A well-functioning Account Experience program:

Tackles churn risks

Identifies upsell opportunities

Activates promoters to win referrals
Let's look at how to use your AX platform to accelerate earned growth and have the impact customer experience should have on a business. We'll also take a look at CustomerGauge's new earned growth functionality—we're the first VOC platform to have it built in!
How to create an Account Experience program that drives earned growth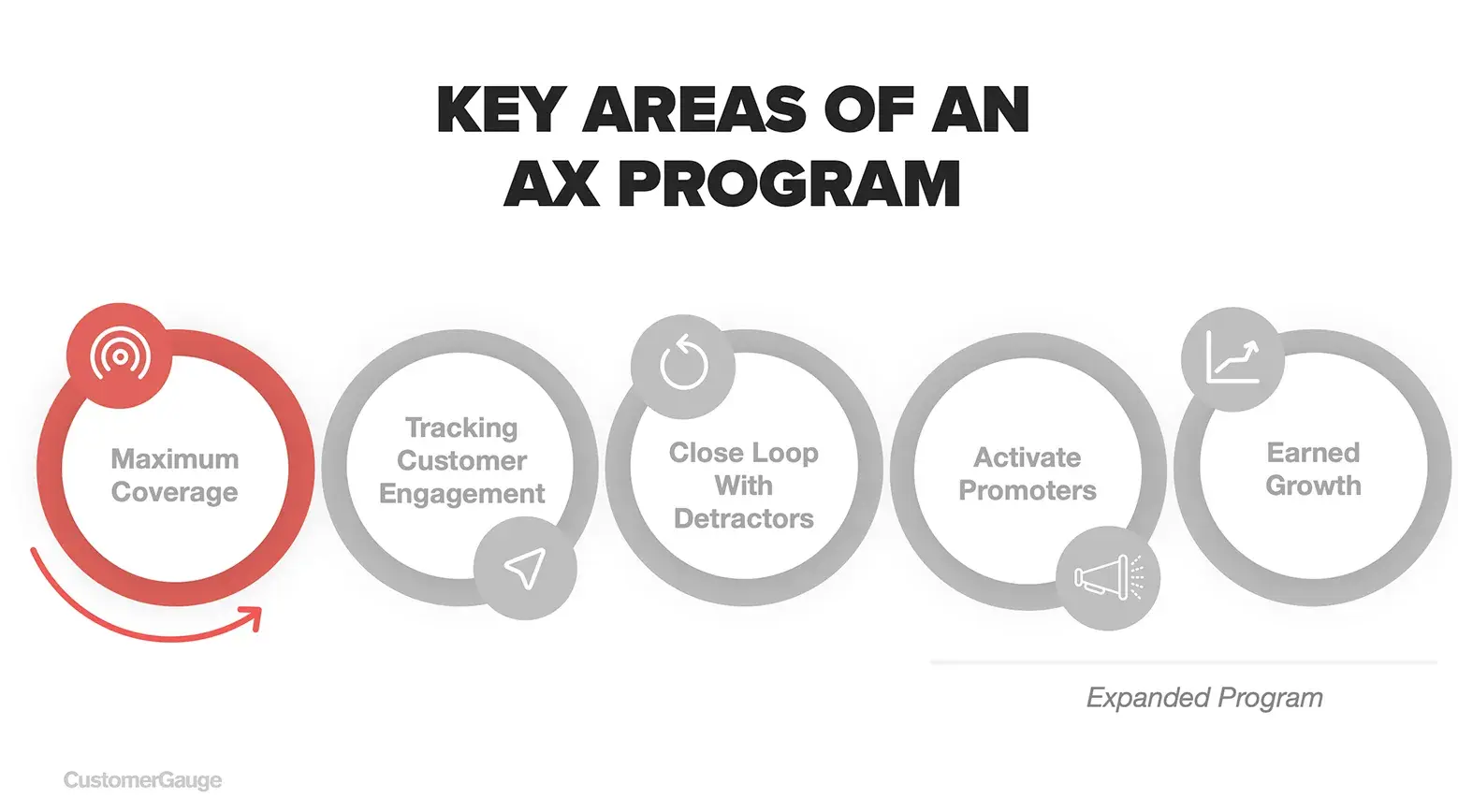 There are 5 key areas a successful AX program must have in place:

Maximum coverage

Increase customer engagement

Closing the loop with Detractors

Activating promoters

Earned growth
Let's start with maximum coverage.
1. Maximize coverage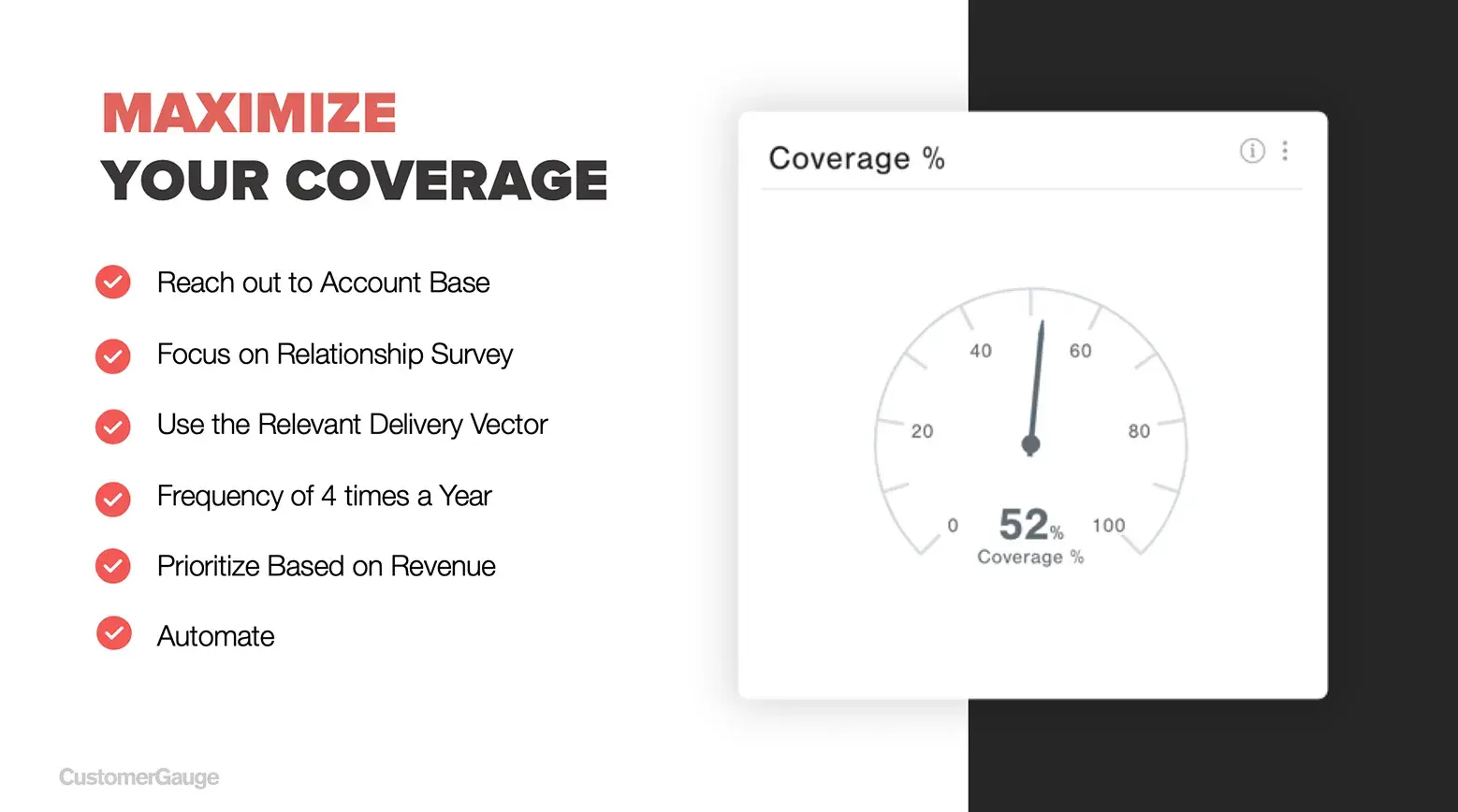 Companies that maximize coverage retain more customers.
What is coverage?
The topic of what, who, when, and how to measure B2B customer feedback is the first thing new customers ask us.
We always recommend that you reach out and collect feedback from 100% of your account base. If you received feedback from all of them, that'd be 100% coverage.
This is a very hard feat, so don't expect it to happen immediately (though not impossible). But it should be a guiding KPI of your program.
Maximizing your coverage ensures you are in the know about churn risks and will never be blindsided by a churning account.
How do you maximize coverage?

Use the right delivery vector
How you reach out to customers for feedback impacts their response rate.
CustomerGauge customers are able to use email, SMS, WhatsApp, embedded forms, pop-ups or telephone agents as a channel to collect survey feedback.

Survey your customers at least 4x per year
Our data show this is the optimum frequency if you want to keep a pulse on account health and improve engagement.
This is not too much in B2B. In fact, we find that response rates increase if you increase frequency, as long as you are doing the right thing: following up with respondents and telling them how you will act on their feedback.

Prioritize your high-revenue customers
We know it's hard to get feedback from everyone. So, we recommend you start with your most important customers first.
Top Tip
Get coverage in your largest accounts first and work your way down until 100% of all accounts are covered.
Automated survey sending allows your team to focus on what really matters: improving response rate, increasing engagement, closing the loop, and driving change.
2. Increase customer engagement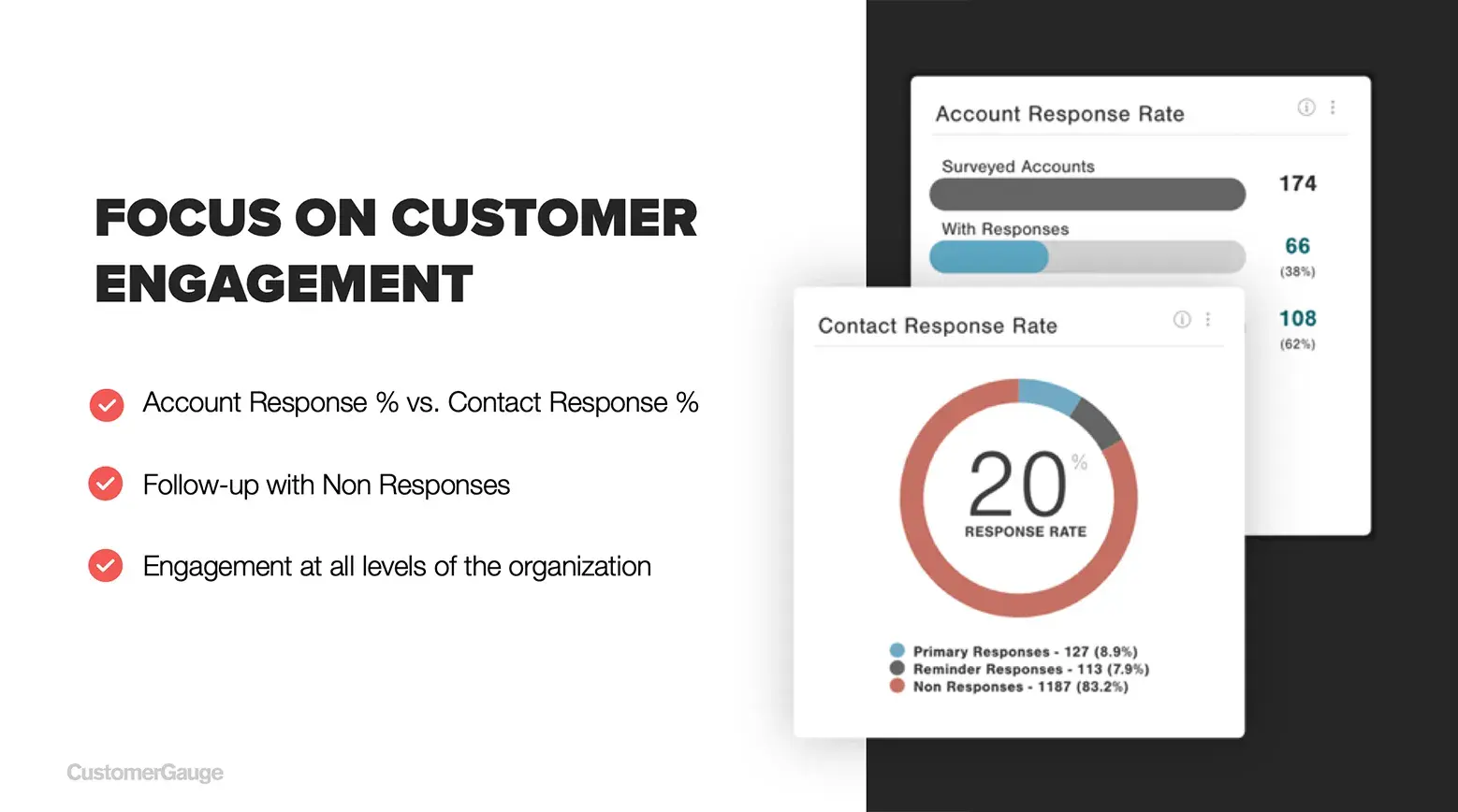 Most companies focus on contact response rate (% of individuals who respond to a survey request). However, in the B2B space, you must focus on two response rates: contact response rate AND account response rate.
An earned growth-driving VOC program has a healthy balance between the two, ensuring responses from a large percentage of your accounts.
It's recommended (by us and Fred Reichheld himself) that you consider all your non-respondents to be NPS Detractors. If you did, look at the potential difference in the results: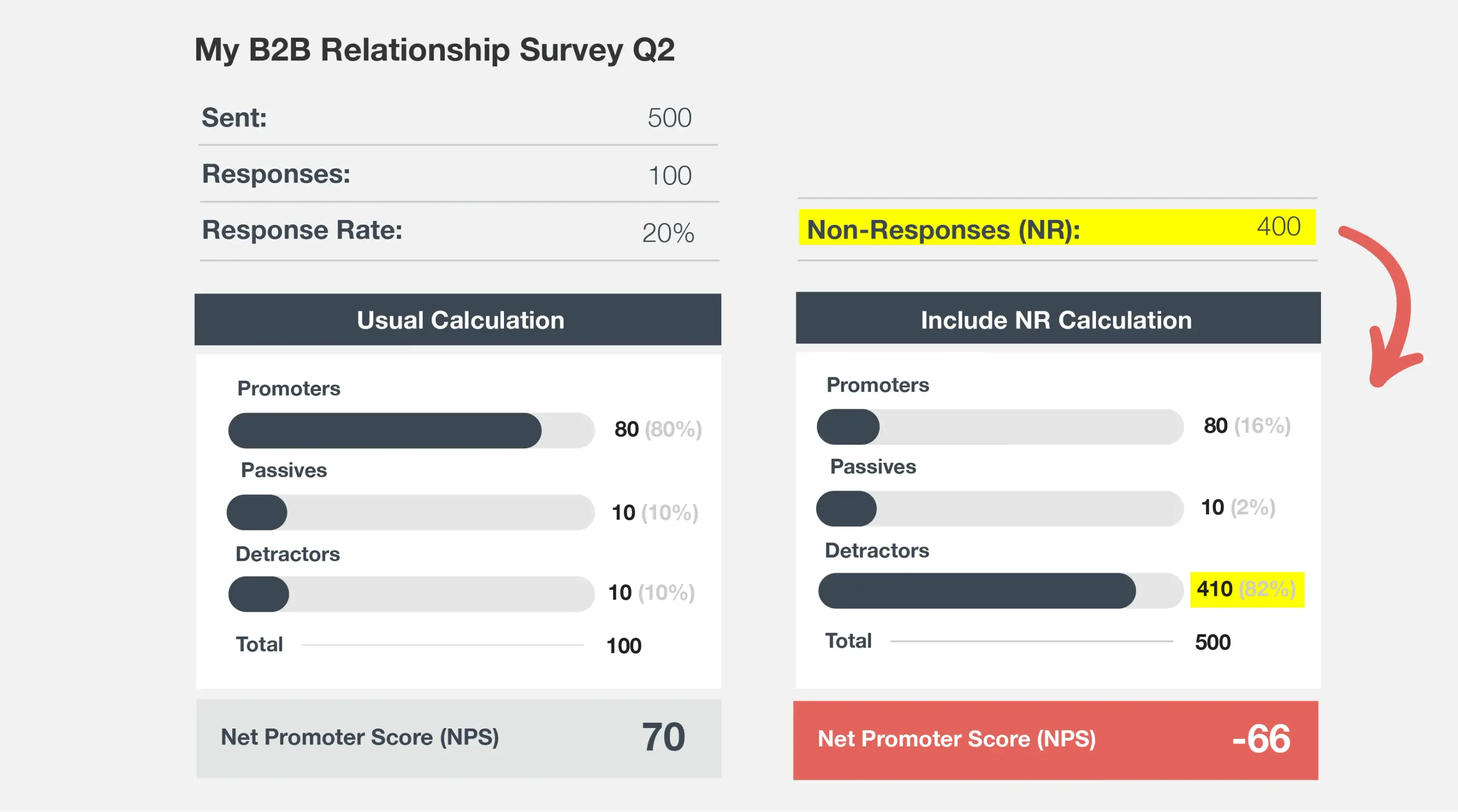 That paints a much more realistic and worrying picture of your account health.
For that reason, following up with non-respondents should be a core focus for your team. CustomerGauge's tracking and alerts make it easy to follow up and stay on top of engaging your customers.
3. Close the loop with detractors
Closing the loop with detractors is a critical action step for a few reasons.
Firstly, it increases future response rates if your customer knows you're listening.
And, more importantly, it gives your account management team an opportunity to listen to the customer and rescue that account from potential churn.
Top tips for improving how you close the loop:

Alert your frontline team to a detractor immediately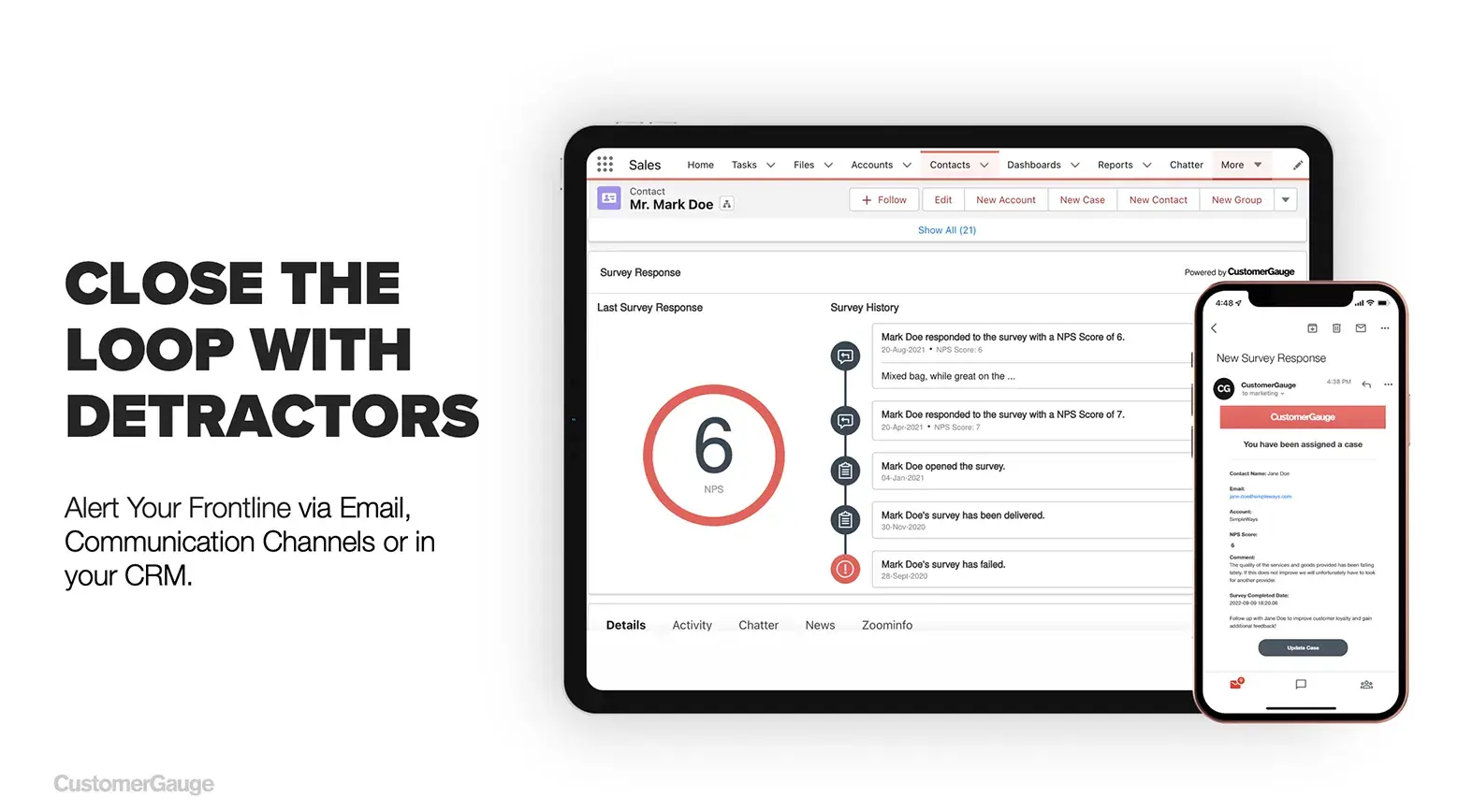 Those who close the loop need timely alerts with all the right details.
Early this year we launched our integrations with Salesforce and Microsoft to ensure that your account teams have real-time alerts and survey feedback embedded in the CRM systems they use daily. We also built mobile functionality so on-the-go teams can close the loop while out in the field.
This is a critical differentiator and why you should choose our AX platform. If you want to arm frontline teams with the insights and tools they need to tackle churn, let's talk.

Close the loop in under 48 hours
We've proven that this increases NPS by 5.5 points. We highly recommend closing the loop with Detractors, fast.

Overwhelmed? Prioritize based on revenue
Part of monetizing your account experience is tying account NPS scores to their revenue size.
There might be times when you have too many Detractors to close the loop with them all in 48 hours. For those times, revenue prioritization comes into play.
CustomerGauge allows you to quickly rank Detractors and reach out first to those that matter most.
Briggs Equipment, a full-service material handling company, was the winner of our 2023 Account Experience Award for closing the loop.
With an incredible 98% closed-loop rate, they're a stand-out example of the success that can come from taking quick action on customer feedback.

Below we had Pete Jones, Group Managing Director, accept the award on behalf of Briggs.
4. Activate promoters
Hopefully, you'll have a good handful of NPS Promoters (if not, you will over time as your program makes an impact).
One area we see organizations focus on less is activating those Promoters. We're not actually sure why…this is high-value, high-profile work.
I can't think of a single sales leader who wouldn't jump at the chance of receiving a list of 20 extremely happy customers to reach out to and ask for a referral or upsell opportunities.
CustomerGauge's platform gives you the opportunity to activate promoters and start generating that all-so-elusive ROI.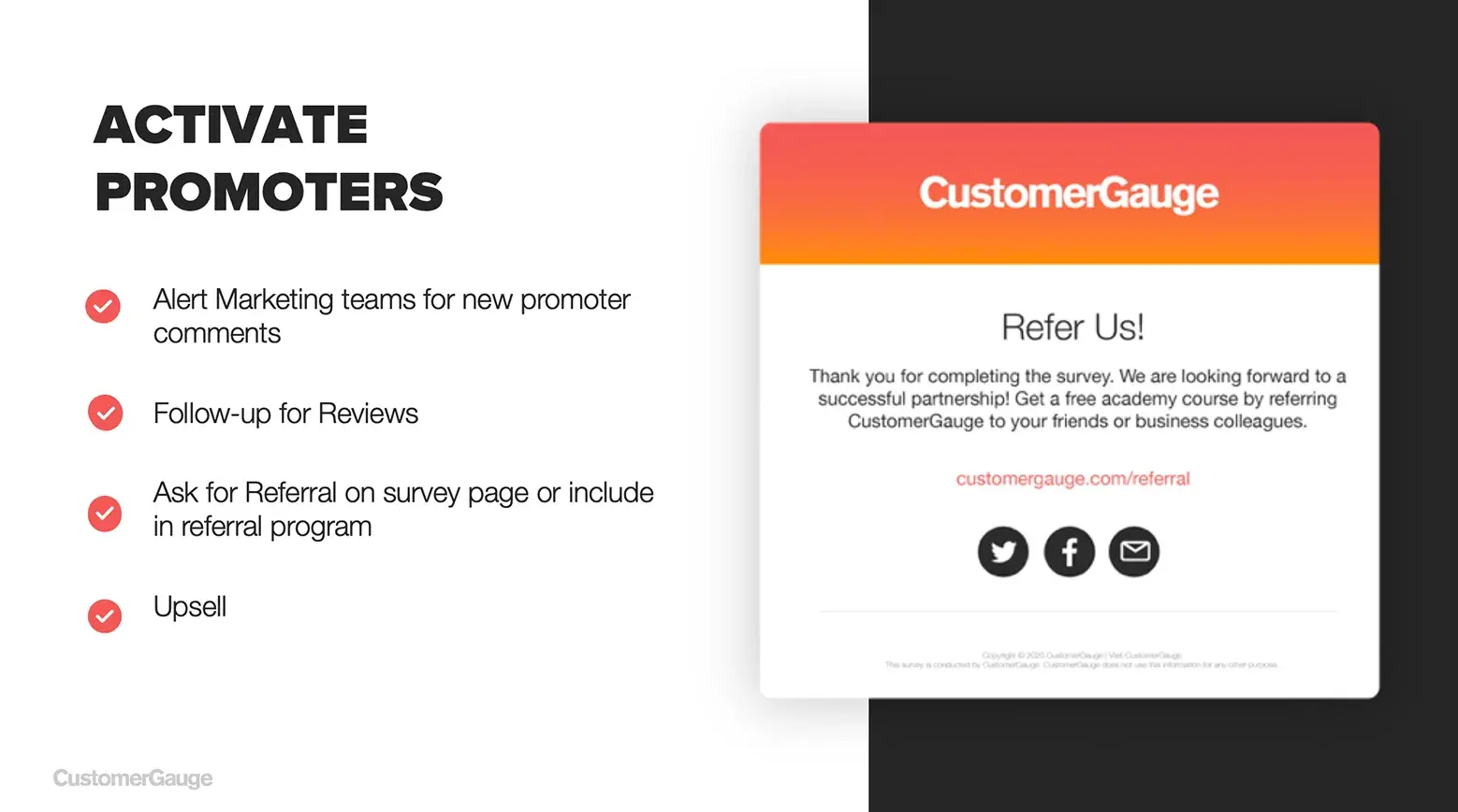 Here are three key tips we shared in the webinar:

Bring other departments into the process
For example, alert your marketing team when a new promoter is declared. They can reach out immediately to ask for a review, case study, referral or to speak at your next event.
There's a lot of power in grabbing someone when they've just left a positive score.

Ask for referrals or 'the next step' immediately
Once a customer has left a 9 or 10 NPS score, make a request on the survey page. Perhaps an online review or include them in a referral program.

Identify upsell opportunities in your Promoters, too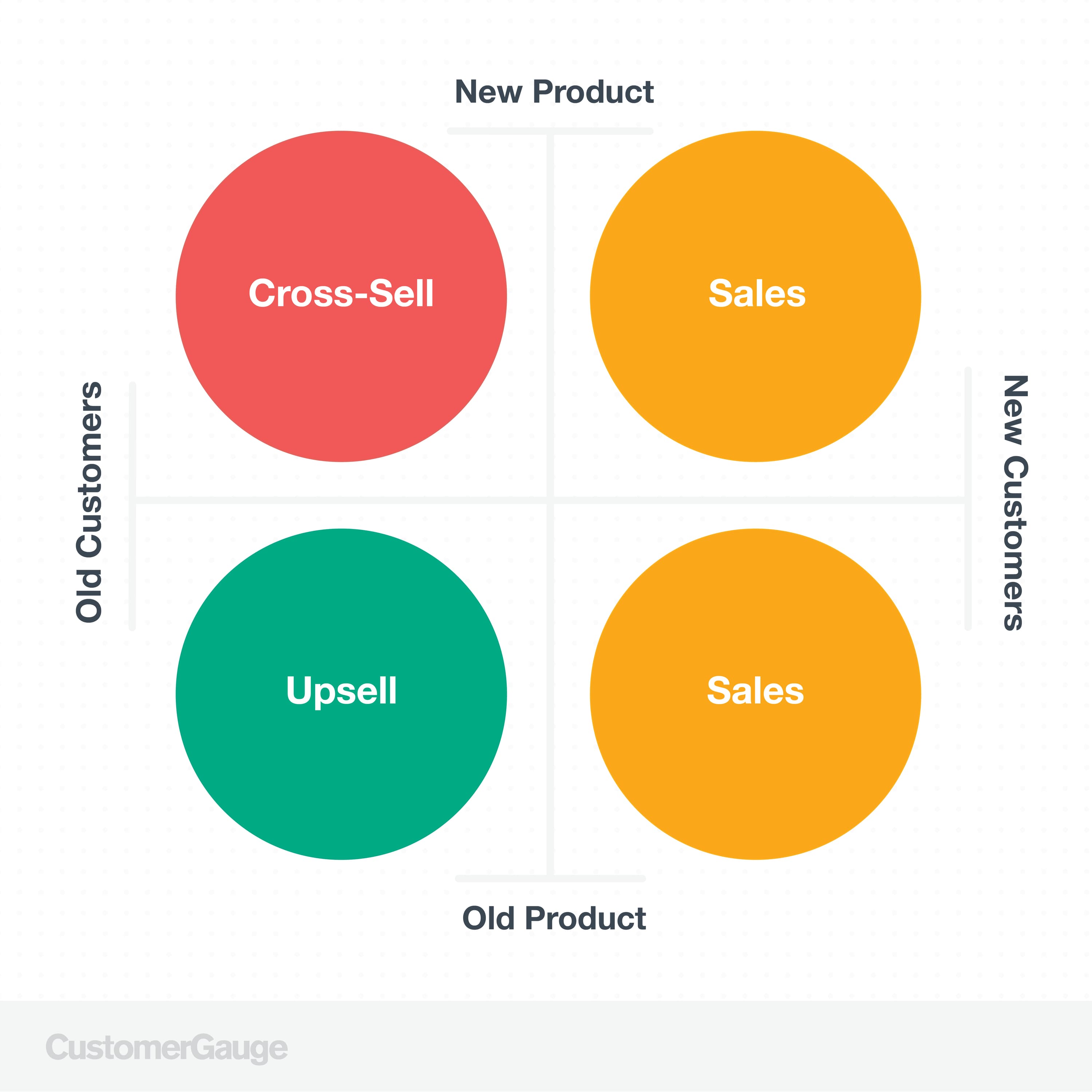 It really helps to know what portion of the revenue the survey respondent represents.
When your account teams can see the score, alongside annual revenue, it shows where there are revenue opportunities OR to grow accounts.
Top Tip
Promoter accounts that spend below average with you will be open to the question, "Why don't you spend more with us?"
Once you've got a high response rate across your account base, and you're closing the loop to reduce Detractors, it makes sense that your next steps are to activate Promoters to drive new revenue growth.
5. How does this drive growth?
At Monetize! this year we launched a brand new feature set: Tracking Earned Growth.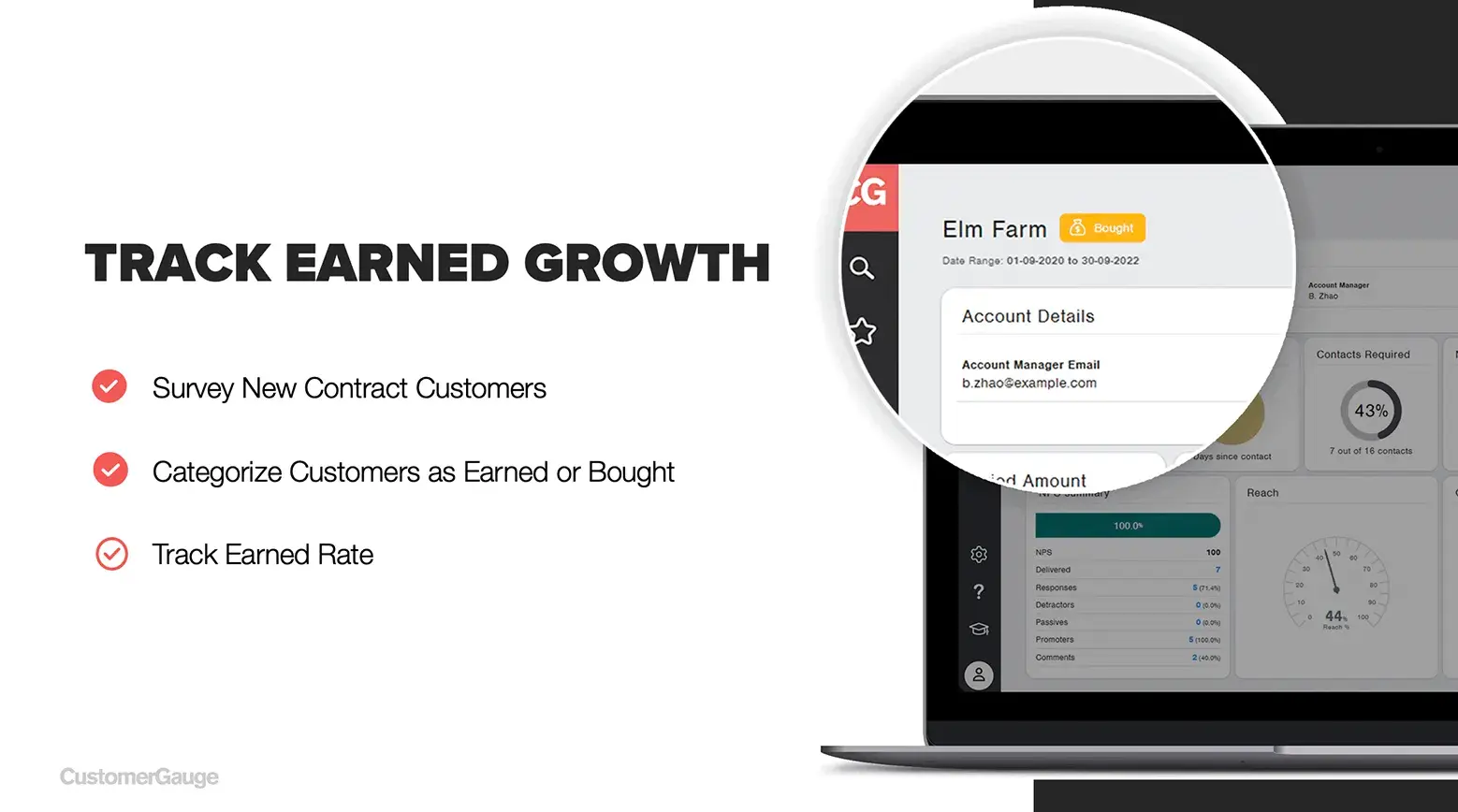 How does it work?
We help you:

Survey all new customers to discover if they were earned (referral) or bought

Categorize all accounts as earned or bought

Report easily on earned growth rate (what % of revenue this year was earned)
Fred Reichheld has proven the data on this time and again: high earned growth rate correlates with above average stock market returns. He even announced at our conference that he invests his own money in fast-growth startups based on their EG rate.
The goal of our new Earned Growth functionality is to give you a deep understanding of the health of your business growth and to prove to your organization that customer love really works — there is a huge ROI from improving customer experience.

Conclusion
In our webinar this week, we ran through the key elements of an Account Experience program that drives Earned Growth.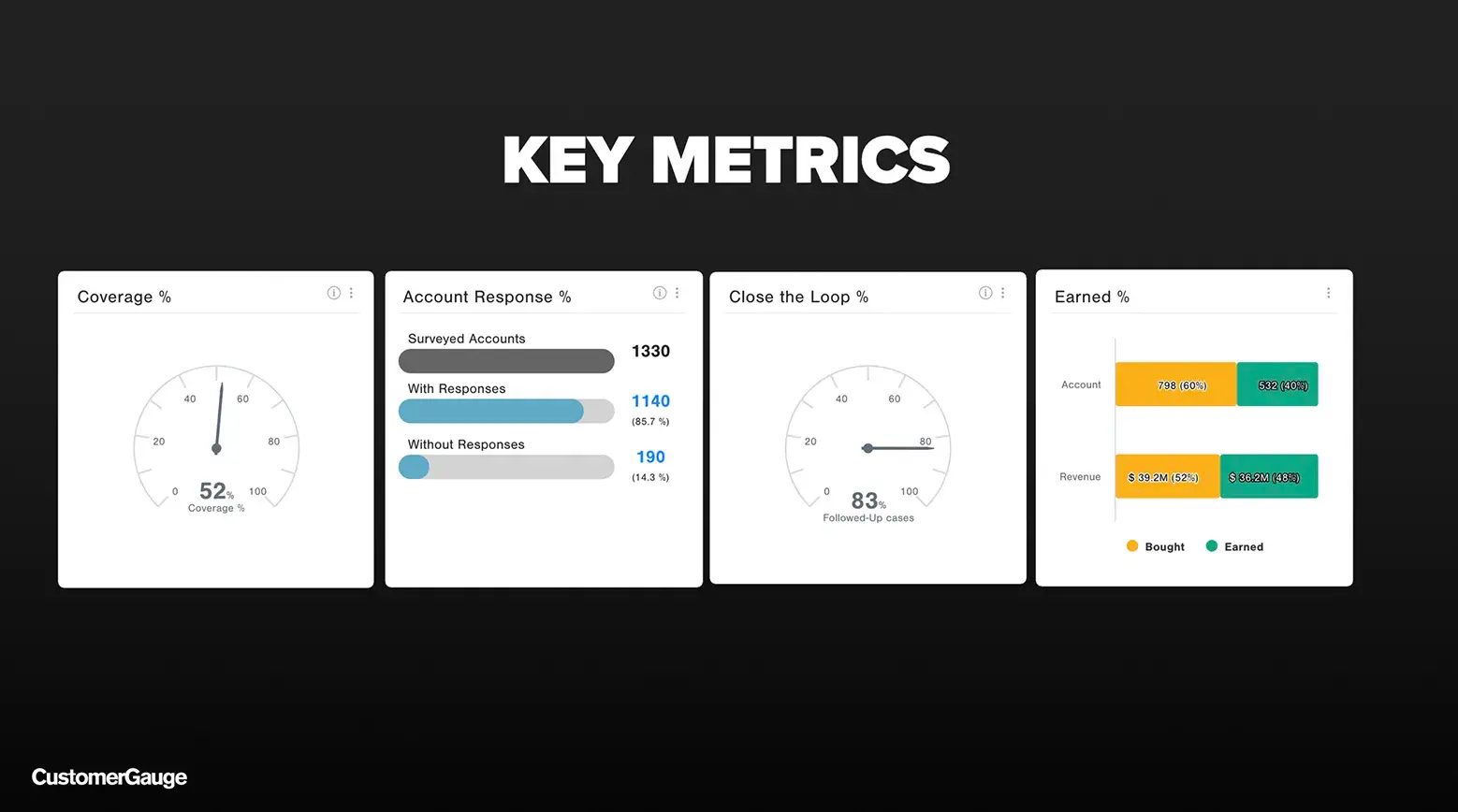 All of these can be measured and improved with CustomerGauge's Account Experience program.
We hope you join us at our next webinar, until then, reach out to our sales team to chat about how we can work together.
About the Author