How does the financial impact of your NPS® program help drive strategies?
If your C-Suite asked you how much revenue you've lost to detractors or how much untapped financial potential promoters provide…could you tell them? In real-time? These aren't easy questions, and their answers are not one-size-fits-all.
Before we dig deeper into the ways you can find and impact the financial value of your NPS program, let's first look at why you'd want to adopt a more dollar-focused approach to NPS.
Monetizing NPS has become the new imperative for businesses to drive tangible business results from their customer experience management programs and the way forward to prevent churn.
Why Monetized Net Promoter?
While many companies have matured their abilities to measure and act on customer feedback, few have the means to measure the financial impact of their Net Promoter® and CX program. As a result, most companies still rely on the implied financial results of CX programs and lack real-time, precision-engineered tools to see and impact the ROI of such investments.

The elusive gap in proving the ROI of NPS & CX goes hand in hand with the lack of advanced and dedicated means to keep track of customer retention and prevent churn. These gaps were only further confirmed in the cross-industry research CustomerGauge conducted over time. Our 2021 NPS & CX Benchmarks Report follows our 2018 report which continues to find industries—from IT & Software to Telecommunications—struggling to not only define retention and churn, but associate revenue with NPS and customer experience efforts.
By combining the right customer and revenue data with advanced tools, organizations can start transforming their customer experience programs. The article below showcases how Monetized NPS has the power to convert CX & NPS non-believers inside organizations, and help more businesses better strategize their CX improvements' investments.

How to Monetize Your Net Promoter Program
As we've established earlier, a typical program director will go through perfecting measuring their customer feedback via surveys, determining the drivers behind root causes and closing the loop with respondents and accounts. The ROI element, however, would still be the result of an implied impact of the actions taken in measuring and acting on customer insights.

To get a more revenue-focused view, program directors normally have to manually take all their quarterly NPS results, combine them with their financial information using a BI tool or spreadsheets and spend hours turning the analysis into a presentation that their board can act upon. And just as that reporting cycle is finished—for example, the first quarter—it's time to to start all over again for the next quarter. Since all of this is done via spreadsheets and not in a single system in real-time, it's not easy for program directors to provide complete transparency on the results, get the buy in from all stakeholders and have complete faith in the data.
Over the last few years, we have developed a robust toolset that addresses the previously elusive gap in proving the ROI of NPS and offers intuitive, intelligent and engaging features that can be used in real-time and in a single system - the Monetize Suite. We will provide an overview below on how companies can transform and unlock the financial value of their NPS & CX programs.

Uploading Your Financial Data into a Single Application
To generate your initial results, you'll need to upload financial information and NPS data to a single system. Your financial data will usually sit with your finance or account management department and includes things like customer details and revenue associated with it. Your NPS data, on the other hand, will typically include the loyalty information like the Net Promoter Score® and the root cause analysis (drivers).
CustomerGauge's real-time system makes it possible for you to quickly and easily upload your NPS and financial data and does the heavy-lifting of the analysis, so you can focus acting on it.
Connecting NPS Data to Financial Information
Now that you've got your data in order, you can start connecting your NPS results with your financial information.

Imagine walking into a status meeting and reporting to your NPS program stakeholders - this is our NPS, this is our loyalty split of promoters, detractors and passives and these are what they are worth to our business in dollars. To help NPS program directors achieve just that, we developed the NPS Revenue Simulator. Now, you can finally have an answer to what if you converted 5% of passives into promoters, how would that impact your bottom line. Or what percentage of you revenue is lost if dissatisfied customers increased.
CustomerGauge's NPS Revenue Simulator allows you to track the financial value of loyalty buckets, know the average customer spend and simulate the financial impact when you change a Net Promoter Score. Whether you're in B2B or B2C, it's time to start improving the ROI of your Net Promoter program.
So Now What? Discover The Hidden Financial Value of Root Cause Analysis
Turning what-if's into actionable strategies requires a firm grasp on root causes. Not only does a company need to know how drivers impact Net Promoter Score, but also how they impact revenue.

To help NPS program directors and account managers take prioritization to the next level, we created the Drivers Contribution widget, part of our Monetize Suite. With this tool, businesses can analyze what areas are important to high revenue customers and what to do to stay ahead of future churn.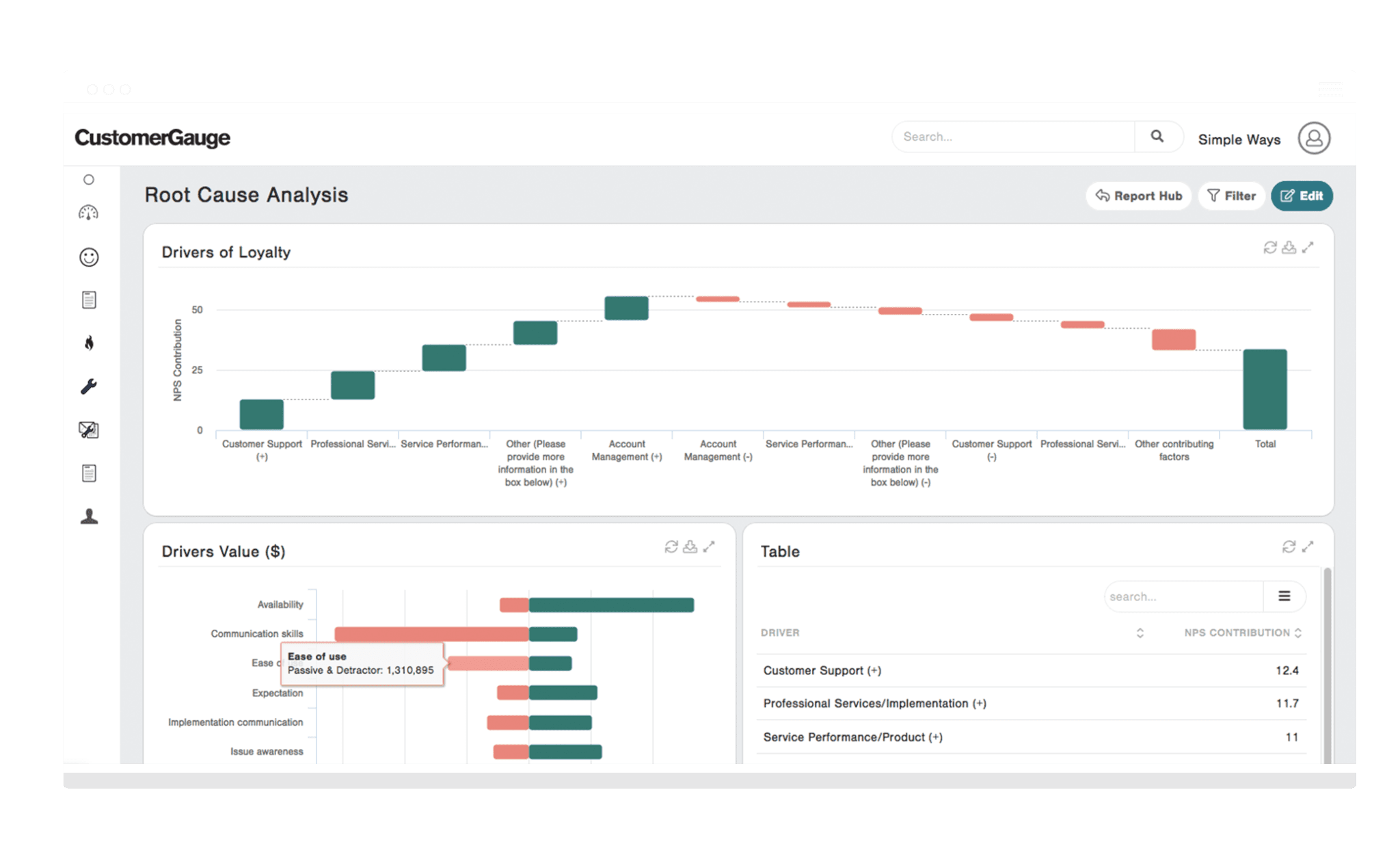 Segment Customers by Dollars Spend & NPS
To understand the full picture of your NPS program it helps to look at things from a high-level. You've uploaded your customer and financial data to a single system, connected NPS to your financials and now know the areas important to your high-spend customers. But imagine taking that further and knowing what percentage of your customers contribute to the majority of your revenue. Or viewing the customer financial value against their evolving experience with your company.

To help NPS managers quickly segment customers by dollars spend and understand if high spenders are growing more or less loyal over time, we developed the Customer Lifecycle feature. The multiview capability of the Customer Lifecycle will take the monetization element of an NPS program to the next level.
Conclusion
Up until now proving the ROI of NPS has been associated with implied financial results of measuring and acting on customer feedback or processes with spreadsheets that are time consuming, limited in real-time reporting.

CustomerGauge's Monetize Suite provides businesses with a single system that leverages their Net Promoter investment to better understand program ROI. If this is something you'd like in your toolkit, we'd love to make that happen. See how it all works, by signing up for a demo below.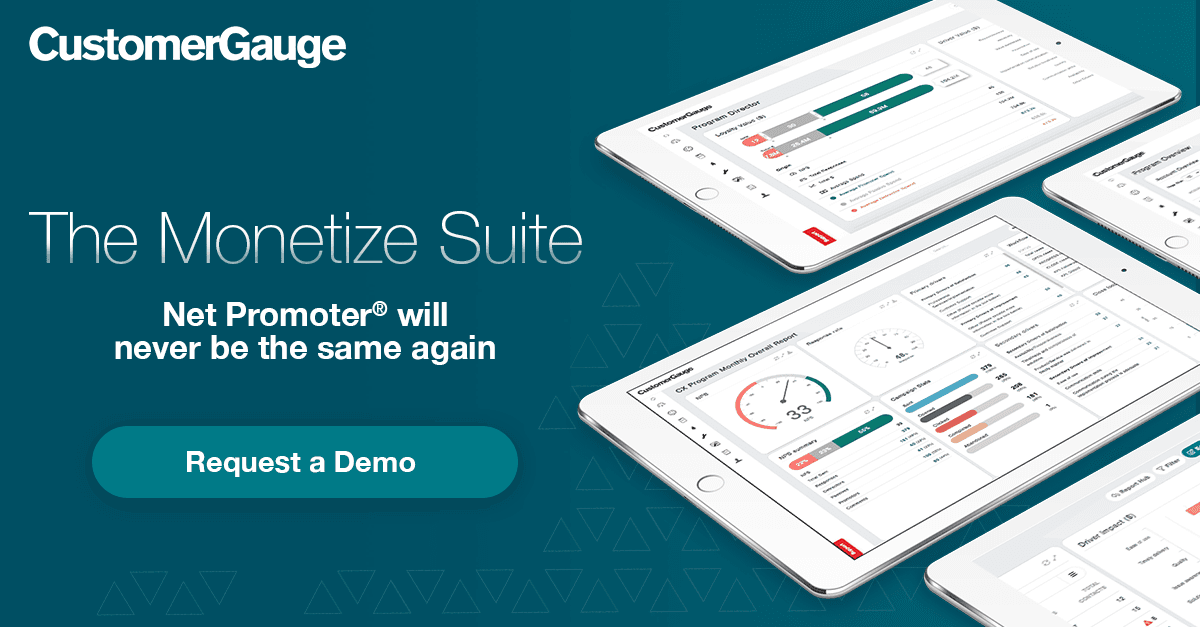 About the Author