Successful customer experience programs aren't built on guesswork. Companies looking to drive loyalty, whether B2B or B2C, need to create a seamless omni-channel customer journey.

However, many companies still struggle to meet the demands of all their channels. This type of systematic failure is the main driving force behind why, on average, businesses are losing more than $62 billion per year to bad customer service—a number on the rise from previous years.
A company's job doesn't end when the customer walks through the door. Understanding whether a customer is coming back (or is lost to churn) in addition to the experience pre- and post-purchase is vital to increasing retention and achieving sustainable growth. This starts with mastering the omni-channel customer journey.
In this eBook, we'll walk through the basics of customer journey mapping and how companies can take control of CX with the Net Promoter System® to clearly identify the touch points and therefore, pain points, within the customer journey.
Lesson1 Demystifying the Customer Journey
Customer Journey Mapping
To launch a successful customer experience program, the first step is mapping out your customer's journey. Customer journey mapping allows you to document the customer's interactions with your company. These areas within the customer journey are known as touch points. Any and all interactions with customers are considered touch points.
The quality of interaction that the customer has within these touch points are part of the customer experience (CX). According to Harvard Business Review, in a study with two different billion dollar companies, customers who had a better past experience spent 140% more. This is just one example of the research that has been done that shows the ROI of CX.
In addition, where once companies could focus on one, single channel to concentrate their customer experience efforts, businesses now face the challenge of creating a consistent customer experience across multiple channels, such as web and in-store. This compounds the already complicated network of touch points companies must consider in creating the optimal customer experience.
To better understand the customer experience, it's important to determine every possible touch point.
Customer journeys vary based on the nature of your business, which means touch points can vary as well. For example, a company like Philips may define their customer journey as:

Whereas, for an automotive company, like BMW, the customer journey might look like this:

For the purposes of example, on the next page we'll look at a retail shopper's journey within an in-store and web channel environment. We'll then take a deeper look at each stage within the customer journey.
"
Customer journeys vary based on the nature of your business, which means touch points can vary as well.
Customer Experience at Each Stage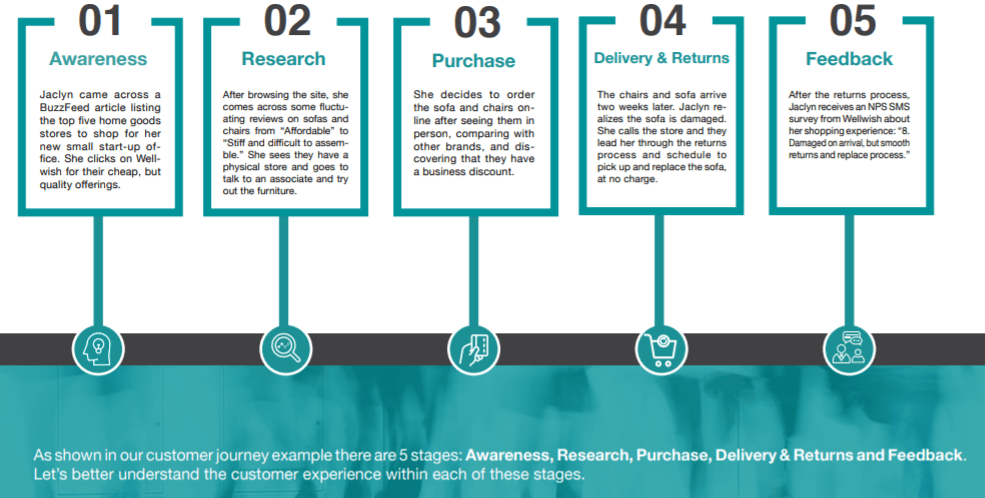 Awareness
No matter your customer journey map, every business starts with an Awareness stage. The Awareness stage is the initial contact that every customer has with a company.
For physical locations, Awareness comes in the form of catalogs, advertisements (both televised and print), and store fronts. Building brand awareness also can be achieved through good word of mouth (which effects Research) and well-targeted marketing. Online-based Awareness is similar. Companies use methods such as online downloads, blog posts, pop-up ads and more to transition the customer from the Awareness stage to Research and Consideration.
Research
The Research stage for a physical location involves both on-site visits and word-of-mouth. Often customers will consult with their friends and then visit the store. Within the physical store, shoppers can compare items while also interacting with sales people.

During the online research process, customers are looking deeper into what people are saying about you brand or product (online reviews), comparing prices and products from your site with competitors, or checking online for in-store availability (cross-channel association). More than 70% of consumers—and 85% of millennials—ask the opinion of others before making a purchase. Meaning: bad reviews can cost you dearly. The more negative reviews your prospects come in contact with, the more you stand to lose.
In fact, companies lose 22% of potential customers to one single negative review and 59% of potential customers after 3 negative reviews.
"
More than 70% of consumers—and 85% of millennials—ask the opinion of others before making a purchase.
Purchase

Think of the Purchase stage as a journey all its own. With B2B you have contracts, negotiations, etc. B2C goes from online shopping to frontline checkout. Google conducted a research study and discovered that 62% of customers and businesses found it very or extremely important to be able to call your business during the purchasing process. Mckinsey has some great research on B2B customer journey buying processes we highly suggest reading.
Delivery & Returns

Amazon finds a lot of success in their varied shipping programs which includes a Prime option that offers free two-day shipping. Whether purchasing in-store, to be delivered in home, or online, the quality of delivery has a big impact on the customer experience, which is why Amazon has over 40 million customers taking advantage of the service. In B2B, it pays to play like B2C with flexible shipping and returns. In research by Mckinsey, they used an example B2B start-up called Shipster who took B2C customer experience into B2B interactions: "Shipster has translated retail tracking and tracing apps to B2B international shipping by putting live tracking of international shipments on apps for web and mobile phones for all its customers."

Feedback

Without constant and continuous feedback, companies cannot know how their customers are perceiving them. Customer insight is vital to identifying the pain points within your journey, as well as successful interactions which companies can replicate and use to optimize the customer experience. Using drivers in Net Promoter surveys allows companies to determine what touch points have the most positive or negative contribution to their Net Promoter Score.
"
Shipster has translated retail tracking and tracing apps to B2B international shipping by putting live tracking of international shipments on apps for web and mobile phones.
Lesson 2 Identifying Pain Points in the Customer Journey
Getting the Whole Picture with Customer Feedback
Once you've mapped out the customer journey, your company then needs to identify
where possible issues might arise within each touch point. The best way to do this
is by surveying your customers to get their feedback.
There are two types of surveys you should conduct to better understand the customer
journey and how customers feel about your brand: relationship surveys and transactional surveys.
If we look back at our customer journey example, we see that the customer encountered numerous company touch points within these channels, including marketing/promotions, product, front-line staff, sales reps and logistics. This means that each of these contributed to the overall customer experience.
And, as shown in our example, not everything went as planned. At the very end of the
customer journey, we got to feedback. Here is where we learn that there were some
issues within each channel. But how do you conduct and follow-up with customers within each of the channels?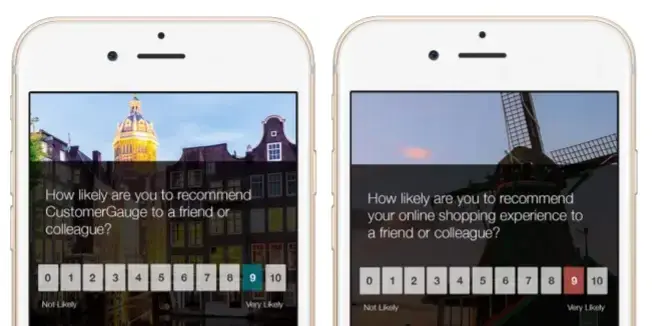 Surveying within the Omni-Channel Experience
When it comes to surveying your customers, you need to give them options. In our retailer example, store locations could employ QR codes on till receipts for customers to take surveys after their transaction.
By giving your customers the possibility to share feedback right away (during or post transaction), you can expect higher response rates and greater engagement from your customers.
A successful customer experience program employs a "closed loop" policy across all
channels. This means that a disgruntled web customer gets a follow up from the company to rescue them from detracting with a resolution, apology, etc. Like, for example, if after ordering online from Walmart, a customer receives a completely different product. The moment a customer goes online to complain and requests follow-up, they should be contacted within 48 hours.

Employing these closed-loop policies to minimize pain points and maximize every interaction is where a metric and system like NPS comes into play. In the next section, we'll discuss how NPS enables companies to not only capture feedback, but act on it.
Lesson 3 Measuring and Managing CX with Net Promoter
Net Promoter Score
When looking to measure the quality of a customer's experience there are a lot of different metrics companies can employ. One of the most popular is the Net Promoter Score®, which when properly utilized, is an entire system companies can leverage to maximize their CX and customer loyalty.

Developed by Fred Reichheld in 2003 with his Harvard Business Review
article "The One Number You Need to Grow", the Net Promoter Score asks
one simple question: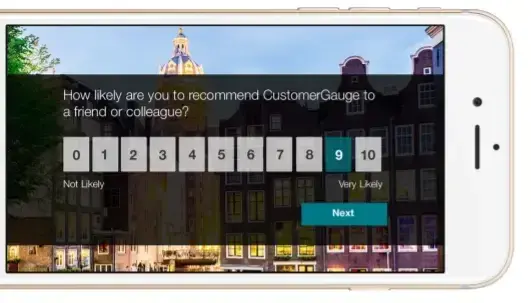 With the Net Promoter question, you can determine three different types of customers.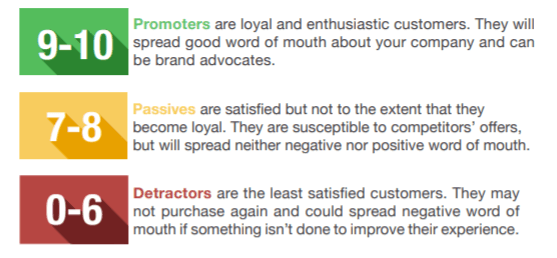 To get your overall NPS score, you need take the % of promoters minus the % of detractors.

This question can be used with others. However, we suggest no more than 2-6 questions to yield the best information and response rates. With relationship vs. transactional surveys using Net Promoter, a distinction needs to be made when it comes to your NPS score.
Transactional surveys provide insight into touch points by surveying individual drivers. You can learn more about relationship vs. transactional surveys on our blog. Drivers are representative of customer touch points. In addition to including weighed contributions to the NPS score, total revenue contribution can also be attributed for more in depth analysis.
Net Promoter System
The Net Promoter Score is an indicator of your company's health and is the first step to improving your customer experience. The Net Promoter System takes this to the next level and turns results into action. Knowing about a customer's experience in real-time means companies can act immediately to improve each customers' experience without delay.

Closing the loop with your customers is vital to increase retention. Companies with multiple channels and touch points often have difficulty closing the loop quickly with detractors in a consistent manner.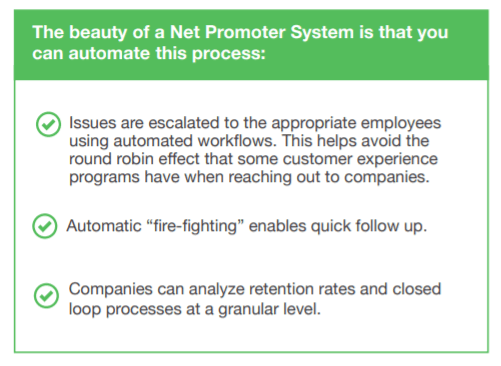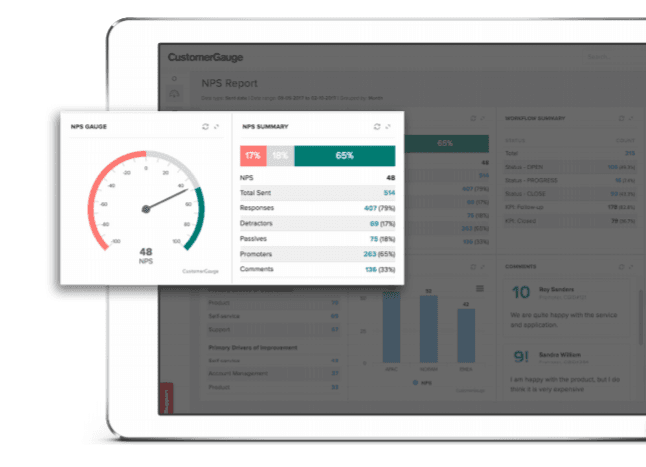 Using a Net Promoter System helps reduce churn among customers and provide a solid foundation for your customer experience program. We talk more about customer churn in our NPS 101®: Retention Management to Combat Churn.

Overall, a Net Promoter System creates tangible, usable feedback to help companies change what matters most—their bottom line and customer experience.
About the Author