In the past, many companies have employed a "heritage Net Promoter" model. This model provides steps for measuring customer feedback and acting to quickly close the loop. These two methods were previously introduced as part of the Net Promoter Operating Model in the 2008 book Answering the Ultimate Question.
In our recent white paper, Next-Generation Net Promoter: How to Monetize a Net Promoter System® and Create Profitable Growth, Jørgen Bo Christensen introduced the concept of Monetized Net Promoter to the equation as well. The Monetized Net Promoter stage optimizes the steps for measuring and acting on customer feedback to consider revenue when discussing NPS.
In his research, Jørgen found that when companies make raising their Net Promoter Score a goal in and of itself and focus mostly on improving customer experiences, some forget that the purpose of the program should be to create long-term revenue growth. This is where Monetized Net Promoter comes in.
What Is Monetized Net Promoter?
Monetized Net Promoter is the process of tying revenue value to and correlating revenue with NPS. The idea is that a detractor comes with a value and actions, and priorities should depend on this.
Adding revenue figures to the process of measuring and acting on feedback provides strategic insights into a company's strengths, weaknesses, opportunities and threats through the eyes of the customers. To tie revenue to your NPS program, and determine whether a loyal customer will promote growth, the Monetized Net Promoter process goes through the following steps:
Measuring a company's retention rate
Measuring and analyzing referrals including the referral value
Correlating revenue with NPS
Let's take a look at each of these.
Measure Your Retention Rate
A large amount of companies still don't know their own retention rate. However, the only way to stop churn is to admit and that it exists. To reduce churn and raise retention companies need to know:

When customers churn in their lifetime
Which customers churn
Why customers churn
You can find answers to these questions by looking at revenue, segmentation, churn and Net Promoter data.
To better understand why customers churn, companies can match churn data with detractors and passive drivers. In addition, if more data based on churn needs to be gathered, companies can force churning customers to answer churn surveys.
Churn surveys will help answer why not just detractors, but ALSO promoters, might churn, more so than a typical relationship or transactional survey would.
Measure and Analyze Referrals
Many companies live under the myth that promoters will refer them without intervention. According to our recent studies, this simply isn't true. This is why as part of the Monetized Net Promoter stage, you need to invest in referral marketing and referral programs that encourage your promoter brand advocates to spread the word.
And for your big-ticket customers, this sort of word-of-mouth marketing can really make an impact. In the Harvard Business Review article, "How Valuable is Word of Mouth", the writers define customer referral value (CRV) as: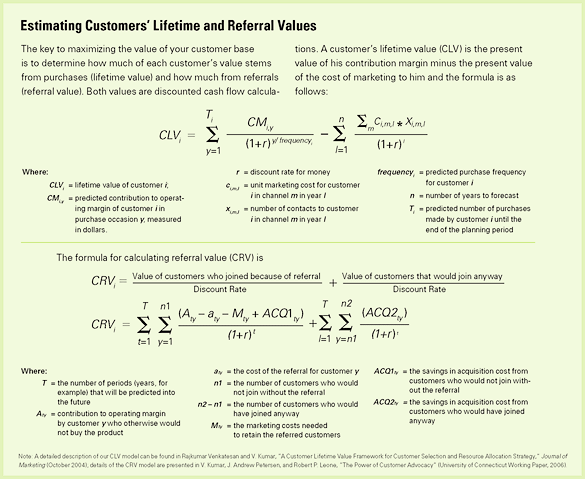 Understanding which customers join due to referral and to which degree referrals shorten the sales process is a requirement to calculate CRV. A straightforward way to obtain this information is to ask joining customers.
Correlate Revenue with NPS
It's always important to be able to tie your NPS program to revenue growth. Doing so involves correlating a financial value with your NPS data.
In the figure below, we give an example of how this can be done within a Net Promoter System to determine a strong correlation where up-sales revenue grows by 3.2% when NPS grows by 10 points.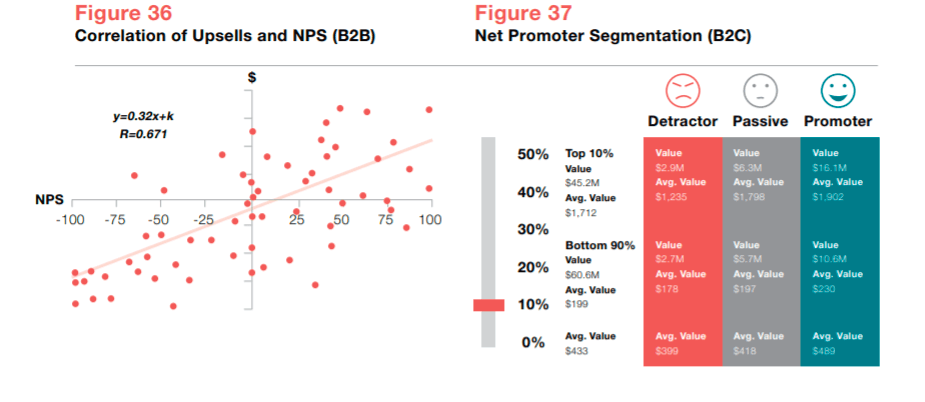 If you'd like to learn more about Monetized Net Promoter and the Next-Generation Net Promoter model, check out the full white paper.
About the Author