For many software as a service (SaaS) companies, demos are the first chance to put their "best face forward" when interacting with customers.

At CustomerGauge, we're all about discovering the pain points in the customer journey.
For us, the journey doesn't just happen after the customer signs the contract. To improve, we want to dig into our performance on every level.
So often, we miss the opportunity to identify the buyer's intentions and their impression of a solution — a "post-demo survey" allows us to do just that.
Below is an example of a CustomerGauge post-demo survey. As with our other surveys, we start by introducing a simple Net Promoter Score (NPS) question and then try to identify a few key pieces of information to improve our opportunity to win.
In the spirit of transparency, and "practicing what we preach", we've provided insights from our post-demo survey results to discuss the benefits these types of surveys provide.
How Our Account Executives Send Their Post-demo Survey
Upon completion of a successful demo, account executives select the "Send Sales Demo Survey" link within Salesforce to get feedback on their performance during a demo.
This isn't just a useful oversight for the company, but it is also beneficial to the account executive as well.
Specifically, it allows the account executive to:
Keep an open line of communication with a prospect
Gauge the prospect's continued interest
Get insight into what they can improve in future demos
What Was Your Account Executives' Average Response Rates?
For you as a company, understanding which of your account executives are getting more responses for demos provides insight into:
What impact your account executives have on the buyer's decision
Best practices when it comes to conducting a demo
Which account executives excel at interacting with customers
For sales directors and VPs, this information allows them to prioritize which account executives may need more training or guidance when it comes to conducting sales calls or demos with prospects.
What Impact Did Your Account Executives Have?
A post-demo-survey should indicate not only the reaction to the product, but also how well your company is selling that product.
During a demo, this comes down to your account executives, who provide not only the voice of your company but the type of service customers can expect in the future if they decide to move forward with the product.
In our post-demo surveys, we use a similar NPS scale as we do with "detractors, passives, and promoters" on determining whether customers were "blown away or impressed" by the demo.
For example, a 9 or 10 would indicate that the demo created a "promoter" of a potential prospect.
In fact, our own Mary Mogan has had over 57% of respondents say they were "blown away" (score = 10) by her demo (she follows these best practices). This type of information is important for account execs to determine their own performance.
Did the Demo Increase the Likelihood of Their Buying Decision?
For many companies, this is the "go-to" question.
It's simple and straight-forward: Did this demo make you more likely to buy our product?
In our most recent post-demo survey results we found that a whopping 75% of prospects said the demo "increased their likelihood" of buying.
What does this tell us?
People like the look of our product
People felt the information provided was comprehensive and relevant to what they were looking for
Our account executives left a positive impression of the product and excelled at building the case for its necessity
It goes without saying, but all demos should help increase the likelihood of a buying decision.
There are a lot of factors that come into play when customers decide to go with your product. A bad demo experience shouldn't be one of them.
What Features Do People Care About the Most?
This question offers a lot of insight when it comes to not only selling your product but also identifying a market need.

In our latest post-demo survey, a large portion of customers said that "reporting" was one of the most important features for them.
This tells us:
That a versatile and comprehensive report designer is important for customers
We need to ensure our reporting capabilities meet customer expectations
Reporting should be a central feature for our demos
Post-demo surveys provide a lot of valuable information about account executives, buyer interest, product perception, and more. They also offer insight into how you can improve your relationship with prospective clients and turn an opportunity into a win.
So, what post-demo survey questions do we ask?
We ask the NPS question to get a score, "Based on your engagement to this point, how likely are you to recommend CustomerGauge to colleagues?"
We ask about drivers of the score, "Please let us know which area(s) should we invest our resources to improve?"
We give an open-ended free-text box, "Please write any additional comments you have below, including if there was anything not covered or missing in our interaction(s) with you so far."
Here's an example of our product demo feedback survey questions [using the CustomerGauge platform]: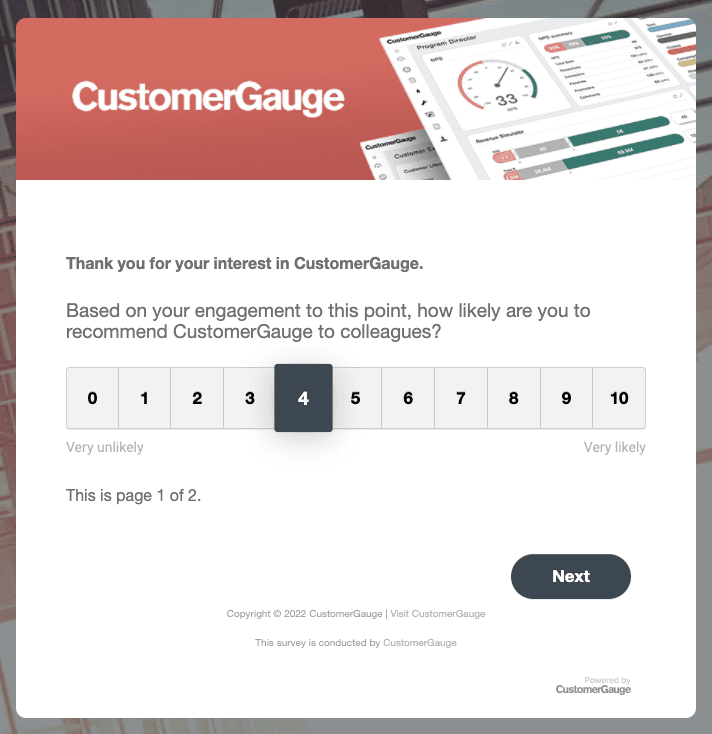 And the follow-up questions (drivers and comment box):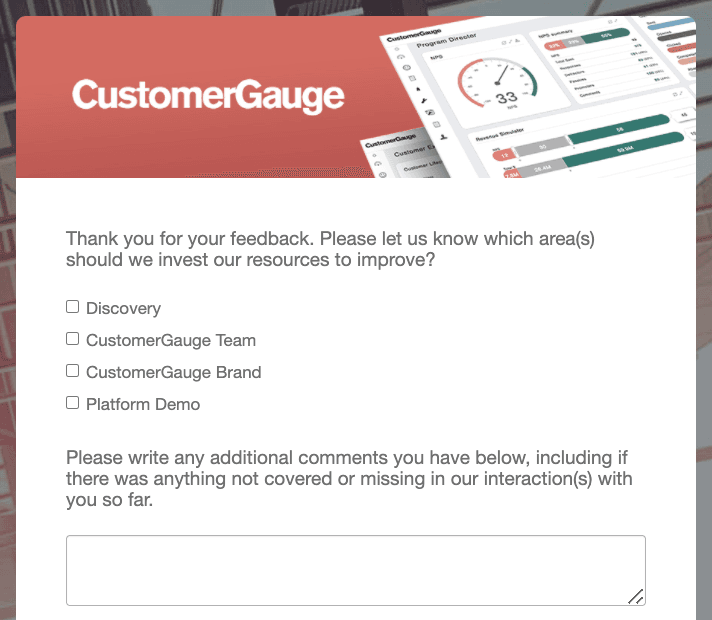 Interested in retaining not just your prospects but your current clients as well? Check out our latest guide on customer retention.
About the Author