Getting your customer experience program off the ground and running means implementing a strategic survey process. Surveys enable companies to measure the satisfaction and engagement of both accounts and customers, across the touchpoints that matter the most.
Before kick-starting a CX survey program, your team must consider the following:
How to design the survey to reflect the relevant touch points
What type of survey should be sent - relationship or transactional
When you should send your surveys
What is your survey coverage or how large a part of your customer base the collected feedback covers
Of course, surveys are only useful if you actually get responses; per the 2018 NPS® & CX Benchmarks Report, companies with higher survey response rates (61-80%) tend to have higher Net Promoter Scores.
Check out the six tips below on how to get your survey response rates up, so you can engage your customers, as well as optimize your Net Promoter program.
Tip #1 - Sending The Pre-Invite
To make sure that survey invitations are anticipated by your customers we recommend that you send out a pre-invite email. You can use the pre-invite emails to your customers that their feedback is valuable and beneficial to improving your product and service and assure them that your survey will be short to complete.
Giving such advance notice to your customers can ensure a higher open and click-through rate of your survey invite. Plus, your customers will appreciate the heads up and be ready to provide you with valuable and useful insights on how to improve your business or simply cheer you for being an awesome business partner.
Here are two examples of "pre-invite" email templates: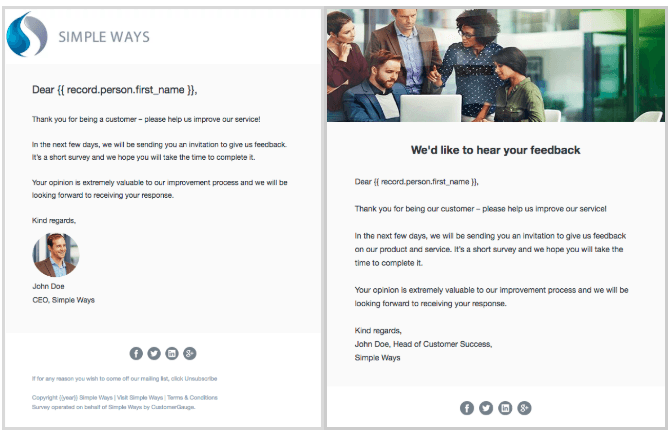 If you wanna see more examples of "pre-invite" email templates and download them, check our Inspiration Center here.
Tip #2 - Writing An Effective Invite
Whatever channel you use to invite customers, there will always be a body of text to persuade and invite respondents to take the survey.
To create an invite that gets the highest possible click-rates, follow these rules:
Personalize to them Personalize the text with your recipient's name. If you are sending the invite by email, there is no excuse for not doing this. For other channels, this can be tricky, but you should always try.
Get to the point, quickly Get straight to it and tell them what the email is about, why are you emailing them? Begin with something like:
"At [Company Name], we are constantly trying to improve our service and would like to hear your feedback on how we performed."
Give them a time frame One of the strengths of an NPS survey is how short and precise they are. Make sure the customer knows this too, as it will show that you care about their time:
"This short survey will only take a few minutes to complete."
Tell them their feedback matters Customers often think: "Why respond? My issue will just end up as data on a spreadsheet rather than being fixed." Convince them that this is not the case and let them know that you analyze feedback at an individual level:
"We promise to read every customer comment!"
Always say "thank you!" And of course, thank the customer for their time!
Browse through our gallery of "invite" email templates here.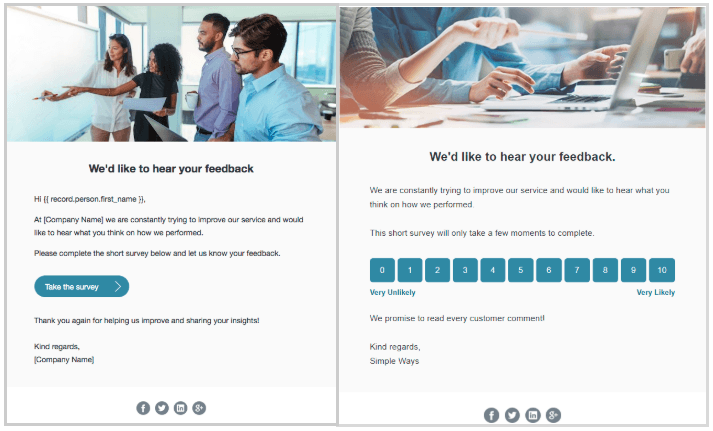 Tip #3 - Sending Survey Reminders
Sending survey invite reminders is a great way to improve your response rates. As many customers, particularly by email, may not see or be able to respond to your survey the first time around.

A standard waiting time for CustomerGauge clients is 3 - 7 days. You don't want to remind the customer too soon after the first request, but if it is a transactional survey you are conducting you don't want to wait too long either.
Here's an example of some template you can use:


Click here to download this template, as well as review more "reminder" email templates we've designed for you.

Important Note
Survey reminders become tricky when you send transactional survey invites through the transaction channel itself, such as the final screen of an online purchase. As a reminder will require a different channel, such as email. In these cases, it may be better not to send a reminder, as it will probably have little effect and only confuse customers.
Tip #4 - A "Thank You" Can Go a Long Way
Since feedback is something your customers choose to selflessly write and submit in their free time, the least you can do is write them a genuine thank you email in return. That way you show them you appreciate their time and trust. Below, we've included some tips on what to include in your "thank you" emails:
Address the recipient/survey respondent by their name
Say "thank you" and that the feedback you received was really appreciated
Write what you learned from the feedback
Explain what you have done or plan to do based on the received feedback
Finish on a positive note
The following are examples of "Thank You" email for post-survey completion:

Browse through our gallery of "thank you" email templates here, also including copy for promoter and detractor responses.
Tip #5 - Harnessing the Power of Reviews
Online reviews offer a number of benefits for businesses: shortened sales cycle, SEO visibility, stronger credibility, product quality insights, and more. Since you are a business that is already running a transactional and/or relationship customer feedback program, you already have a headstart in the online reviews competition.
Two options are available:
Manually send a review campaign to the customers you surveyed
Tie your review invite at the end of your CustomerGauge survey

For the first option, use these templates to invite your customers to write an online review of your product and service.
Useful advice:
Target a wide base of your customers (different industries and company sizes, older and newer customers, etc.) to get the best representative sample.
Don't target only your promoters to reach out to. Having only glowing, 5-star reviews actually makes you look less credible; serious buyers want to see balanced, authentic insights to help guide their decisions.
If you don't want to pursue customers to leave comments or reviews, you can show a simple checkbox at the end of your CustomerGauge surveys which ask customers for permission to post their reviews publicly.
Detailed information here: https://customergauge.com/blog/3-steps-to-boost-online-reviews-strengthen-buyer-intent
Tip #6 - Learn from Churn
While many companies are experts in attracting new customers, it's a fact that retaining existing ones is far cheaper and more effective. This is why, when a customer leaves (as customers will do from time to time), it's best practice to understand the reason for their churning. That way you can focus your efforts into making sure it doesn't happen again.

For situations like this, we've provided a few email templates you can use to send your churn survey. Access them all here and pick the one you like the most.
Conclusion
There's so many things to consider when launching and running your survey campaigns. Hopefully the content provided here is a good guide for understanding how to optimize your next survey launch, as well as gather feedback across touchpoints.

About the Author