Managing your B2B customer experience (CX) intelligently is vital for your company's health.
With so many Net Promoter Score (NPS) software tools claiming to provide the ultimate set of solutions for delivering critical CX data, finding the right software for your business can be a challenge.
There's a lot to consider and riding on you to make the right choice.
AskNicely is one of the better-known NPS software solutions. It integrates well with most CRMs and workflows can be automated based on your customers' survey responses. The highly customizable analytics dashboard is a nice touch, too.
However, AskNicely's survey scores can be difficult to drill into and that's a key requirement for businesses, not least of all B2B businesses.
Below, we take a look at some of the AskNicely alternatives you should consider for creating outstanding customer experiences and winning in our age of customer-centric enterprise.
5 AskNicely Alternatives for Understanding Customer Sentiments
AskNicely may be one of the better-known customer feedback software packages available today.
However, customer experience management (CXM) software is becoming a much more widely used technology as, according to Gartner, more than 80% of businesses expect to compete on the basis of CX.
While AskNicely is simple to set up thanks to the uncluttered dashboards, some of the templates can be confusing and the mobile app doesn't allow for customer issues to be closed.
Luckily, AskNicely certainly isn't the only NPS survey software available for businesses. There are plenty of options available that integrate with all major CMSs and splice customer feedback for actionable insights.
We've listed the best AskNicely alternatives we've found to date so you can find the best fit for your business.
#1. CustomerGauge: Designed for B2B Brands
G2 Score: 4.6
Let's face it: if your business is competing on CX, you want to know which elements are driving profits.
To quantify NPS scores in terms of return on investment (ROI), there's no better software than CustomerGauge. The Account Experience (AX) package provides a powerful reporting suite with the best NPS technology at its heart.
Predictive analytics allow you to get granular with your NPS scores so you can make decisions and set targets based on hard CX data that's linked to your bottom line. Further, customer lifecycle reports let you see exactly which areas of retention revenue are at risk while account analysis identifies opportunities and areas for growth.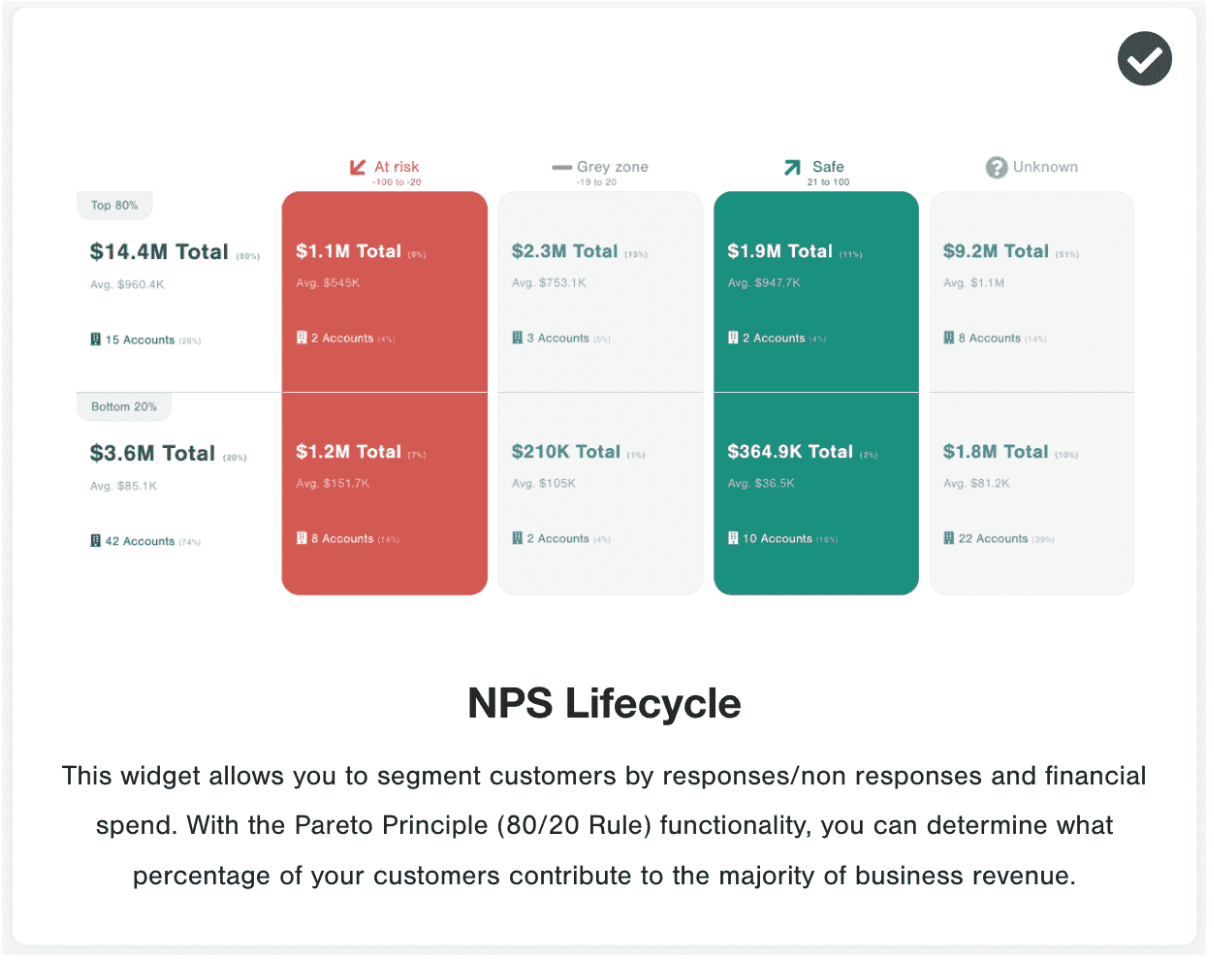 Meanwhile, CustomerGauge's review platform makes asking for, and following up on, reviews and referrals straightforward and automatic. Customer churn is reduced while happy customers are guided towards becoming vocal advocates thanks to clear suggestions for enhancing the customer journey touchpoints that each team is responsible for.
You can also take a birds-eye view of account feedback or drill down into the nitty-gritty of responses to gain powerful insights. Accounts can be prioritized for a holistic and organized view that lets you easily see what needs immediate action and which actions will have the biggest impact on your bottom line.
However, CustomerGauge is not just about keeping your top accounts happy, but also turning customers into vocal advocates that bring more business to your door. Account Intelligence lets you predict, and prevent, churn, identify referral opportunities, and precisely track retention revenue.
CustomerGauge Key Features
Link NPS scores and other channels of customer feedback to clearly and concisely understand impact in terms of revenue.

Automatically capture and distribute survey and non-survey feedback from customer accounts in real time.

Drill down into B2B account feedback to fully understand customer sentiments and drive satisfaction.
AskNicely vs CustomerGauge: How Do They Compare?
While AskNicely and CustomerGauge do very similar jobs, there are important differences between the software that should influence your decision.
Without a doubt, the most important difference is that while AskNicely markets itself as a solution for all companies, CustomerGauge is specifically aimed at B2B brands.
That's why CustomerGauge is ranked by Gartner as the #1 Voice of Customer tool for B2B brands available.
Similarly, AskNicely is much more frequently used by smaller businesses. If you're a mid-size brand, or a larger enterprise, you may find that it performs less well than CustomerGauge.
While AskNicely has plenty of perks, including its ease of use and simplicity of integration with other tools, it does less well in supporting CX action. Thanks to its emphasis on closing the loop and feeding CX data to the people who need it most, CustomerGauge excels.
#2. SurveySparrow
G2 Score: 4.4
Another alternative to AskNicely is SurveySparrow. This cloud-based software allows businesses to create their own engaging feedback surveys designed to start meaningful conversations. SurveySparrow is a great option for collecting omnichannel data through email, social web links, and more.
The customer feedback solution has the ability to track audiences and surveys with data visualizations. For example, the centralized dashboard enables users to import contacts and organize them in custom lists based on job titles, location, and age groups. It also allows for feedback analysis to gain further insight.
SurveySparrow is a modulated system, and the level of subscription determines which elements of functionality are made available. There are 7 plans available, not all of which incorporate NPS.
'NPS Free' is the lowest level plan and, as the name suggests, it's free to use. Just one NPS project can be run at a time, though, but the survey and feedback analysis integrate with Microsoft Teams, Google Analytics, and Slack, so follow-ups and workflows can be arranged.
At the other end of the scale is NPS Enterprise with unlimited NPS projects, default workflows, multiple CMS software integrations, audit logs, and HIPAA compliance for surveys.
If you're looking for a surveying tool that lets you send professional-looking surveys and understand customer sentiment and responses, one of SurveySparrow's plans could be good for you. However, if you want to link your NPS data back to revenue and clearly understand your CX ROI and the high-impact areas of action, it might not be of much use.
SurveySparrow Key Features
Simple to create professional-looking customer surveys

Chatbot to collect customer feedback directly from your website

Integration with Gmail, Mailchimp, HubSpot, Slack, Zenkit, Shopify, and other apps
AskNicely vs SurveySparrow: How Do They Compare?
SurveySparrow is an increasingly popular tool that focuses primarily on one thing: surveys.
The brand aims to help brands easily create customizable, conversational surveys. What it's less good at is helping organizations action that survey feedback.
AskNicely and SurveySparrow are targeting similar companies: small and medium-sized businesses in IT, marketing, and software.
However, a glance at most reviews on tech comparison sites such as G2 show that AskNicely is generally better received. It outperforms SurveySparrow in 7 key categories including Ease of Use, Ease of Setup, and Quality of Support.
#3. Google Surveys
G2 Score: 4.5
Google's survey software allows businesses to quickly and easily ask questions of their customers or the general population based on specific demographic sets or screening questions. While it's not a dedicated CX tool like the others in this list, the tool allows for focused feedback campaigns that can reach distinct target markets.
Responses to Google surveys are analyzed and presented in easy-to-understand graphs and charts once delivered. Automated dashboards help users quickly understand the data and gain insights for faster decision-making. Then, results can be shared via email, links, or spreadsheets integrated with the rest of the G-Suite.
There are two levels of Google Survey solutions: Surveys and Surveys 360.
The former is a pay-as-you-go model aimed at SMEs who wish to send ad-hoc surveys. Surveys let you begin polling customers and your market right away. Each survey project is charged at 10c per completed survey.
Survey 360 is aimed at larger organizations with more advanced surveying needs. Pricing for this isn't advertised. Rather, interested companies need to chat with Google's sales team to discuss their needs.
Whether opting for Surveys or Surveys 360, the feedback received from customers needs to be fed into an NPS system of some type to determine NPS scores. Understanding detractors, passives, and promoters and the action required to move the needle on any of these groups will take a little more analysis.
Google Surveys Features
Simple survey creation

Custom targeting and remarketing audience targeting with Surveys 360

Quickly share survey results with colleagues
Google Surveys is useful for surveying customers about recent experiences and is more of a market research tool than a CX tool. However, to create a broad picture of your CX, the data can be analyzed by NPS software or someone who truly understands all touchpoints of the customer's journey.
AskNicely vs Google Surveys: How Do They Compare?
The major difference between AskNicely and Google Surveys is that AskNicely is marketed as a CX solution. Google Surveys, on the other hand, is aimed at making the design and delivery of surveys really easy for every company type.
This has its pros and cons.
While Google Surveys is a lightweight and affordable option, it does lack the more sophisticated CX analytics and actionable insights that AskNicely offers. While this may sound like a limitation, Google Surveys actually has a really established market among larger enterprises — much more so than AskNicely.
In fact, Google Surveys tends to be more widely used in education, including higher education, as well as marketing firms — while AskNicely is preferred by software companies.
#4. SurveyMonkey Enterprise
G2 Score: 4.7
SurveyMonkey is one of the leading customer survey platforms available.
Their Enterprise suite of tools is designed to make asking for customer feedback an everyday part of business. The platform integrates with a number of CMSs, automated workflows can be set up to support organizational policy, and a single admin dashboard provides visibility and control over all users.
SurveyMonkey surveys can be designed in collaboration as well as by individuals. The platform provides survey templates for different types of feedback and guidance on how to create surveys that customers will respond to.
The dedicated NPS solution allows businesses to launch a CX program with the help of pre-built customer survey templates, reports, and best practices built-in. Feedback collection can be automated, while insights on trends, sentiment, and behavior can be shared via project management systems such as Slack and Jira.
SurveyMonkey Enterprise Features
Collaborative customer survey building tools

Collect customer feedback automatically through multiple channels

HIPPA, GDPR, and SSO compliant data collection
AskNicely vs SurveyMonkey: How Do They Compare?
SurveyMonkey is one of the best established names in the survey software landscape.
That could partly be down to its widespread use by all different sized businesses. While AskNicely is largely shunned by bigger enterprises, SurveyMonkey has a very balanced customer base among small, medium, and large businesses.
This popularity is a double-edged sword.
While SurveyMonkey is perhaps the most popular software between the two among individuals as well as businesses, educational institutions, and tech firms, AskNicely does outperform it in key categories according to G2.
#5. Medallia Experience Cloud
G2 Score: 4.5
The cloud-based software solution combines AI with human intelligence to deliver actionable customer insights to relevant people within an organization.
Medallia Experience Cloud enables businesses to generate feedback, turn that feedback into insight, and make it accessible and actionable for everyone from the C-Suite through to the frontline.
Customer feedback can be matched to specific employees, for example, frontline staff can see feedback from customers they have helped. Feedback can be collected across a diverse range of channels to then be integrated within the system to generate insights, understand preferences and intent, and get clarity on opportunities to deliver delight in real-time.
Medallia Experience Cloud CX software is geared toward influencing CX in real-time and mobilizing employees to become proactive and accountable for their part in the customer experience journey.
Medallia Experience Cloud Features
AI text analytics of customer feedback across all channels

Internal community of Medallia Experience Cloud users

Easily customizable case management
AskNicely vs Medallia: How Do They Compare?
AskNicely performs incredibly well in customer reviews on platforms such as G2. However, Medallia has recently won Gartner's accolade for easiest survey software to use for medium-sized brands.
If that's you, Medallia could be your preferred choice.
Medallia's strengths also lie in Net Promoter Score. If you prefer other metrics to NPS, such as CSAT or CES, AskNicely may do the job a little better.
However, if you're a B2B brand, Medallia (like AskNicely) is not designed for you. Both softwares excel in B2C industries.
Key Takeaways: Reviewing AskNicely Alternatives
These are just 5 AskNicely alternatives to consider for monitoring and enhancing your customer experience. Of course, there are many more available, but we believe these are all strong contenders for the majority of businesses who wish to compete on CX.
When considering which solution is best for your company, the trick is to think carefully about your organization's aims for CX management software — and the functionality and support you need to achieve those goals.
Gaining insights from B2C feedback is a different process from B2B customer sentiment. Shoehorning a B2C solution to fit a B2B organization's needs is unlikely to be successful.
If you're a B2B brand looking to link NPS and customer feedback to revenue data, CustomerGauge is the best solution available!
About the Author