The results are in—CustomerGauge is the highest performing VoC vendor for the B2B use case on the planet according to Gartner's latest Critical Capabilities Report.
The Critical Capabilities Report is a companion report to the Magic Quadrant released by Gartner to help application leaders to understand key vendors' capabilities, identify those aligned with their use cases and shortlist promising candidates.
The report details product capabilities like advanced case management, customer journey orchestration, and advanced predictive and prescriptive analytics, from the world's top VoC vendors and stack ranks them by use case.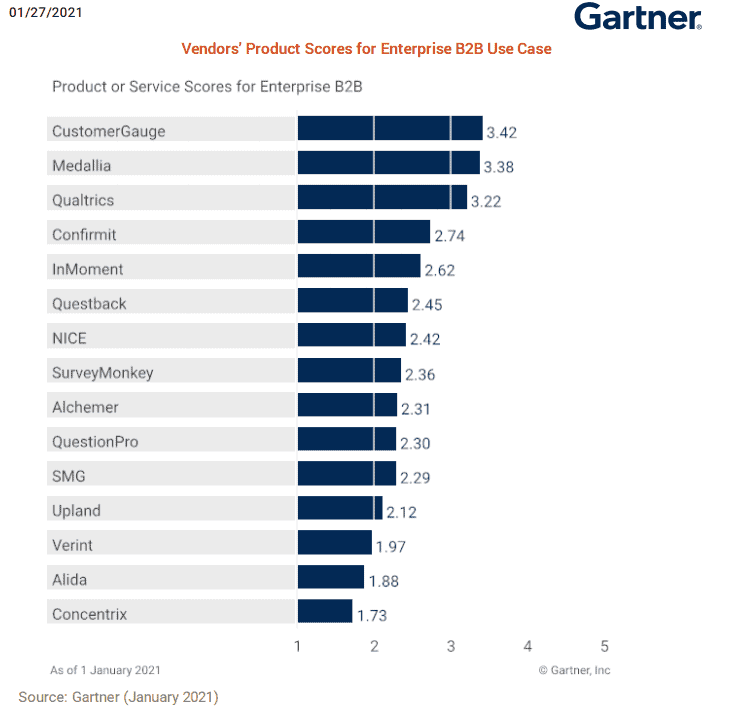 We're happy to report, CustomerGauge ranks top of the list for B2B use cases beating out other VoC vendors like Qualtrics, Medallia, Confirmit, InMoment, Verint, and others.
CustomerGauge has the top score for the enterprise B2B use case. Our application is primarily targeted at midsize and large B2B organizations with up to 1,000 end users that are seeking to monetize a Net Promoter Score (NPS) program. Our application helps customer success managers, relationship managers and account managers who use data from sales (primarily Salesforce and Microsoft Dynamics), support, marketing, and other customer-facing systems.
It's certainly an honor to be listed amongst the other top performing VoC vendors, but to rank as the #1 experience software vendor for B2B on the planet? Wow! Truly a testament to our customers for always pushing us to innovate with their feedback and our commitment to creating the best B2B experience software possible focused around account-centric growth.
CustomerGauge Named Leading B2B Niche Player in Gartner's 2020 Magic Quadrant
Gartner published its Magic Quadrant for Voice of Customer and profiled 15 of the most advanced vendors in the space. The selection was based on three main product and capability categories: collection channels, Data & Analytics, and Insights.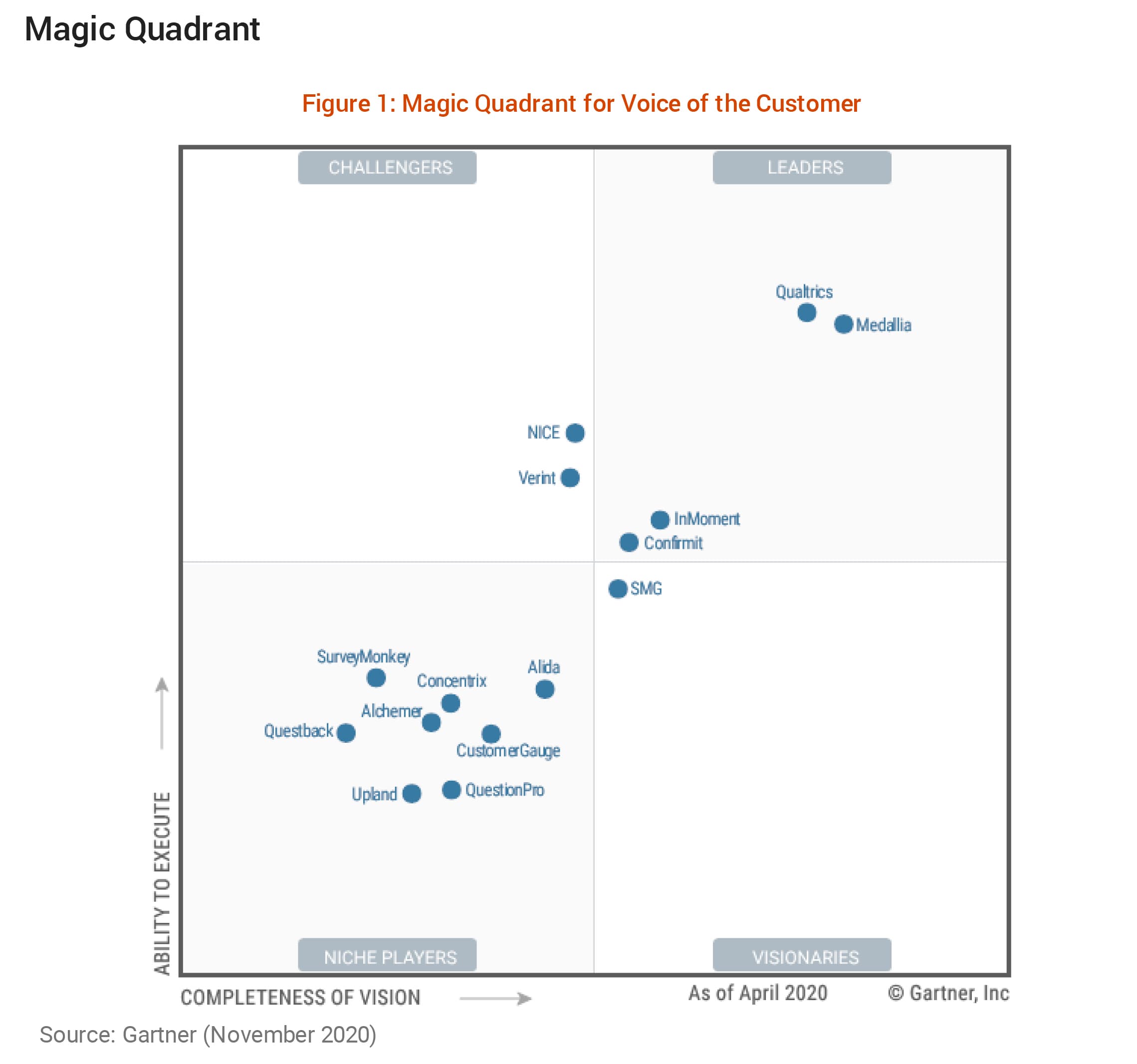 CustomerGauge is once again validated as one of the leading B2B niche players in the market.
We created the Account Experience category to enable B2B companies with complex distribution and account structures to better manage their experiences and drive revenue growth fueled by retention gains and referrals.
The CustomerGauge Account Experience software is ideal for industries like Consumer Packaged Goods (CPG), Telecommunications, Manufacturing, Logistics, and Technology—their clients include AB InBev, Heineken, SugarCRM, DHL, H&R Block, Electrolux, Sure, Bisnode, SuperOffice, and many more.
Account Experience: The Future For B2B
While we've been saying this for years, it's great to see Gartner recognize that B2B is in fact, different and requires a unique approach both on the software and methodology side of the experience equation.
Ever since Adam Dorrell, our CEO, and Co-founder built the original version of the CustomerGauge software, he realized there are a (few) critical flaws with simple Net Promoter in a B2B context.
For example, the issue of revenue coverage. Without peering through the lens of revenue per account, Net Promoter can give you a false sense of security.
Let's say your NPS is a solid 85 but when you add revenue and account coverage (% of accounts you have responses from) into the mix, you realize that your score of 85 is given from only 10 of your 250 accounts and worse, those 10 accounts only account for 20% of your revenue.
Even scarier, the remaining 80% of your account revenue shows an "absence of signal" or lack of response— so essentially, you don't have scores for these accounts, you don't know how they feel about your product or service, and you have no idea if or when they could churn.
Just like one of our customers Alchemista before they onboarded CustomerGauge Account Experience:
Pretty scary right?
That 'example' company I described above, was CustomerGauge circa 2007-2008 believe it or not. We lost accounts to churn even though our NPS was stellar because we didn't look at our program from a revenue and coverage perspective and it cost us, big.
More on how using revenue and coverage with your experience data completely changes your perspective (and the game!):
But in essence, we learned the hard lessons so you don't have to.
This is one of the main reasons why long ago we developed Account Experience.
Forget the software for a moment (yes shameless plug, we sell software, shocker I know).
When you look at a feedback collection system or experience program at the B2B level, it's fundamentally different from B2C.
A single response from a single stakeholder in an account (a la B2C) is simply not enough anymore for B2B. Why? We know in a modern B2B sale it takes on average 6.8 stakeholders minimum to buy B2B software or services according to Hubspot.
Why would getting true account sentiment be any different? Wouldn't you want to know how every one of those stakeholders feels about your product or service? Wouldn't your renewal kind of depend on it? We think so.
Account sentiment is a pretty simple concept (more on Account Sentiment on this podcast)—getting the sentiment of every major stakeholder in an account.
And we separate each account into 3 different levels of stakeholders:
Front-line, middle management, and executive.
Why? Because each level is often involved in the buying process. Not only that, bad things can happen when a single group does not like your product or service.
Check out our webinar with Drift talking about this exact thing:
The classic example is this: front-line users love your product, middle-management loves your product, but the executive-level doesn't see the value and is not a fan. 9 times out of 10, that program will fail and that account will churn.

And it can work the other way around, execs and middle-management love your product, but front-line users hate it. This is another good indication you may have a soon-to-be churned account on your hands.
BUT you would never know this if you were not running an Account Experience program and relying on basic NPS in a B2B context or worse, using a basic NPS tool.
Things can go very badly, very quickly.
Account Experience Hyper-Charges B2B Growth
Sure, Account Experience can help you better understand the sentiment of your accounts at scale as described above, but honestly, so what?
So what if you're measuring account sentiment properly and your NPS is now a real 85 with good account and revenue coverage.
Does this really help you grow faster?
The answer is pretty gray for a lot of companies. But wouldn't you rather double down on actions that increase your referral, up-sell, and cross-sell activities at the account level to drive revenue growth as a result of your experience program?
Most companies would answer 'yes' to this question! What's the real downside of doing this?
We don't believe there are any, yet the bulk of VoC or experience companies out there are not built to maximize these growth-centric activities at the account level.
We identified this years ago and set out to create a single piece of software where B2B companies can not only collect feedback and account sentiment, but act on that feedback in real-time, and grow their accounts with baked-in features that allow them to generate more referrals, identify low-hanging fruit on the sales side like upsells and cross-sells.
Here's an overview of our Account Experience software:
Of course, we have deep features like account hierarchy that allow you to manage multiple divisions, locations, and departments (ideal for global rollouts), etc. but our customers keep coming back to the fact that our software is a massive growth engine for their B2B companies.

They're making more money from referrals as a result of their Account Experience programs, their execs are bought in because they see the revenue coming in tied to the experience program, and their sales teams are loving the dashboards and real-time alerts that prompt them to follow-up and start a conversation.
All of these actions are purpose-built by us to maximize the impact your experience program has both internally and externally. It's one thing to make your customers happy, but if you're not showing a revenue gain as a result of your additional effort, it will be difficult to justify the cost and effort of your program over the long-term.
Account Experience makes growth, buy-in, and experiences easy for B2B.
This is ultimately why CustomerGauge was ranked #1 out of every experience software vendor on the planet by Gartner in this year's critical capabilities report.
Here are a few interesting links to help you get started in your journey to maximize your Account Experience:
Also, here's a shortlist of things you should avoid:
This graphic was published by Gartner, Inc. as part of a larger research document and should be evaluated in the context of the entire document.
Gartner does not endorse any vendor, product or service depicted in its research publications, and does not advise technology users to select only those vendors with the highest ratings or other designation. Gartner research publications consist of the opinions of Gartner's research organization and should not be construed as statements of fact. Gartner disclaims all warranties, expressed or implied, with respect to this research, including any warranties of merchantability or fitness for a particular purpose.
GARTNER is a registered trademark and service mark of Gartner, Inc. and/or its affiliates in the U.S. and internationally, and is used herein with permission. All rights reserved.
About the Author