It's no big secret that companies these days are mostly competing on customer experience (CX).
Those who get it right win, and those that don't lose out.
While that may seem simple enough, what's not so simple is finding the CX management tools that puts you ahead of your competition. There are a lot of different customer experience management (CXM) software out there and, at first glance, there doesn't seem to be a whole lot between them.
Here, we'll consider two of the most frequently compared CX platforms out there: Clarabridge vs Medallia.
Medallia is a comprehensive CX solution that performs well across a range of use cases.
Meanwhile, Clarabridge, recently acquired by CX giant Qualtrics, is recognized for its outstanding ability to analyze customer emotion, effort, and intent.
Both are powerful tools, and here we'll outline some of their key features, reviews, and performance stats. At the same time, we'll introduce you to CustomerGauge, ranked by Gartner as the #1 voice of customer (VoC) platform for B2B.
Introducing Clarabridge, Medallia, and CustomerGauge CX Solutions
Clarabridge (Now Known as Qualtrics XM Discover)
Acquired by Qualtrics in October 2021, Clarabridge is now available as Qualtrics XM Discover.
The merging of these technologies has created one of the most comprehensive systems for collecting, understanding, and acting on CX data across all kinds of platforms.
Clarabridge's conversational analytics enable customer feedback to be analyzed in real-time. Now that it's fused with Qualtrics iQ logic, it's able to dive beneath the surface of that feedback and get to the root cause of bad experiences faster. As a result, Qualtrics boasts that it's able to understand emotion, customer effort, and intent better than ever.
Medallia
Founded in 2002, Medallia has become another of the best-known CX solutions available today.
It's an extremely versatile platform recognized for its effectiveness in supporting all manner of different businesses to improve their CX. The full features of the platform allow CX data to be visualized and analyzed to understand patterns, spot issues, expose opportunities, or predict behavior.
Medallia is suitable for Enterprise-level organizations interested in curating CX, particularly those with large and complex structures. Among their customers, there's strong representation from businesses in the telecom and hospitality industries.
CustomerGauge
CustomerGauge is a CX solution designed specifically with B2B brands in mind. While other CX tools attempt to offer solutions for everyone, CustomerGauge focuses on the B2B market, where options are conventionally more limited.
To this end, CustomerGauge helps companies manage every part of their customer experience management program, from Net Promoter Score (NPS) surveys to closing the loop on customer feedback and linking CX data to revenue.
Where CustomerGauge differs is its emphasis on action. Rather than merely helping you to understand your customer experience, CustomerGauge supports you to improve it and to drive revenue at the same time.
CX Solutions: Gartner's Assessment
So, how do Qualtrics XM Discover, Medallia, and CustomerGauge stack up alongside each other? Before we check out some customer reviews, let's take a look at what Gartner, the tech research and consulting firm, has to say about these CX tools.
Each year Gartner publishes their Critical Capabilities report, which accompanies its Magic Quadrant mapping of CX solutions. The report and quadrant compare the world's top CX vendors based on a number of criteria, including collection channels, data and analytics, and insights.
According to Gartner's research, CustomerGauge was the highest-performing VoC vendor in the world for the B2B VoC use case in both 2020 and 2021.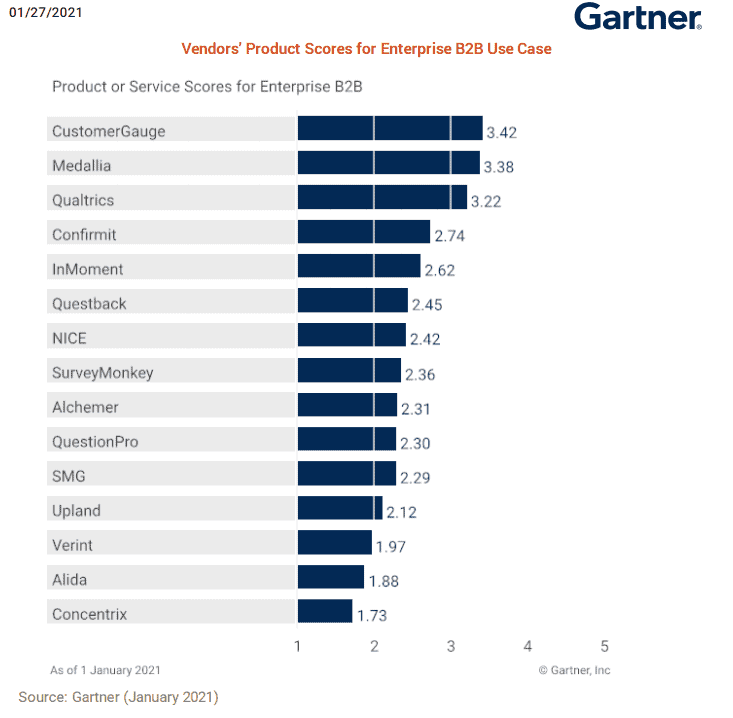 You'll also notice that Qualtrics and Medallia also appear in the Magic Quadrant. While CustomerGauge is recognized as the leading niche player in the B2B space, both Qualtrics and Medallia are relatively equal in the broader market of CX solutions.
Qualtrics XM Discover vs Medallia vs CustomerGauge: G2's View
Gartner is just one of many business software review authorities. G2, formerly G2 Crowd, is a peer-to-peer review site and marketplace that aims to help buyers understand software solutions through genuine, verified user feedback.
Users of all kinds of software grade solutions they have worked with and provide detailed, thoughtful reviews to help other professionals make the best choices for their business needs. Scores out of ten for a number of criteria are given and then aggregated to create an average star rating out of five.
Before we take a look at individual users' opinions, let's see how each of these solutions stack up side by side, according to G2's analysis. As you can see, CustomerGauge comes out on top overall.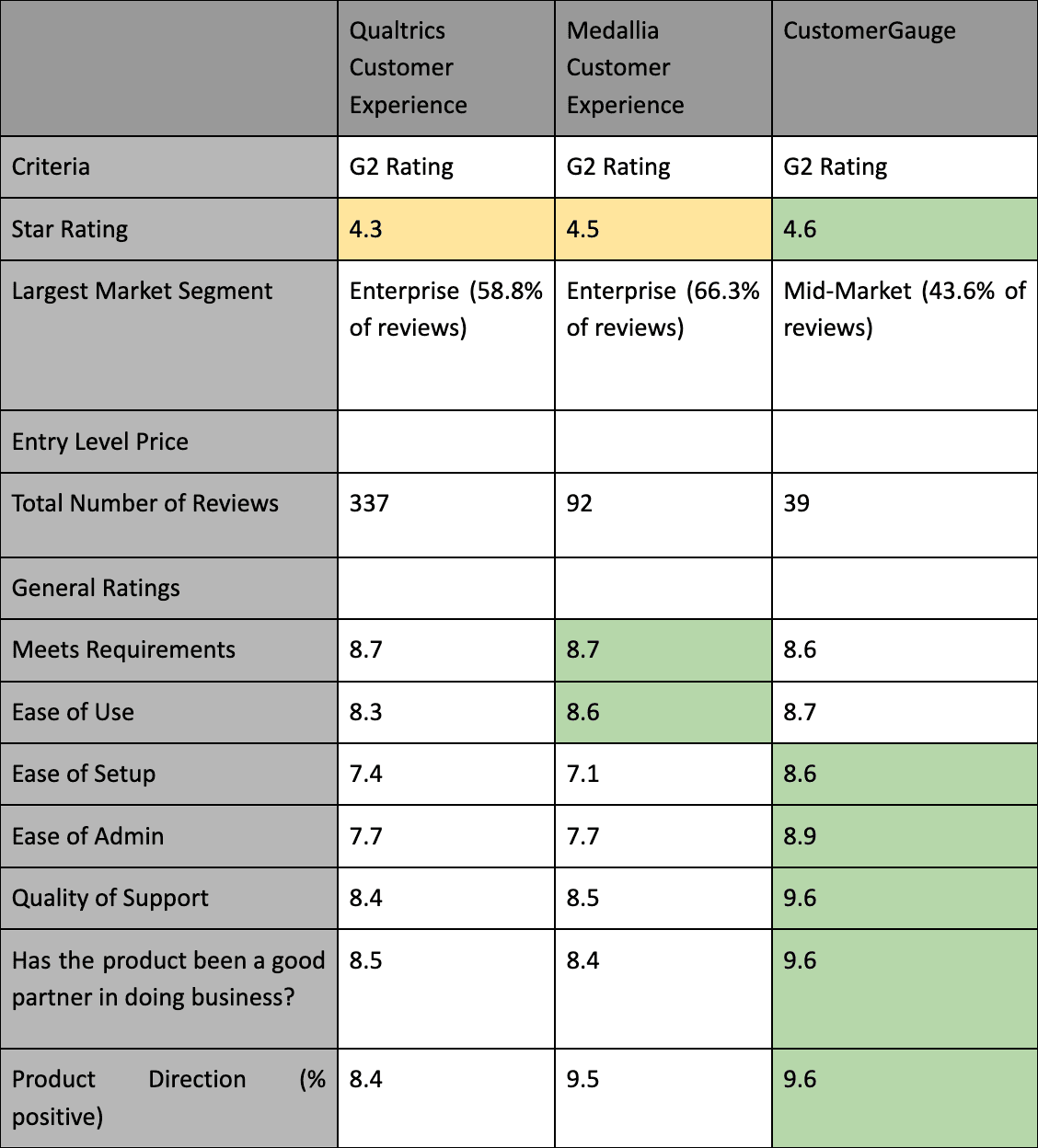 What Users Have to Say About Qualtrics XM Discover, Medallia, and CustomerGauge
Interested in a little more information from real users? Let's take a look at what verified customers share in their G2 reviews.
Qualtrics XM Discover Users Say…
Strengths
Most of Qualtrics's reviews are positive. Users compliment the range of features and ease of use.

Cautions
Although users enjoy the range of features, they also comment that the enormity of the solution can make it difficult to learn and navigate.

Medallia Users Say…
Strengths
There are plenty of positive reviews about Medallia, praising how easy the software is to navigate and the great level of functionality.
Cautions
However, users also note that the cost of the software and the complexity of the functions means the system doesn't always provide 'out of the box' answers users can manage on their own.

CustomerGauge Users Say…
Strengths
CustomerGauge users like the ability to see the dollar value of their CX actions and appreciate the high level of customer support they receive.

The Pros, Cons, and Key Features of These 3 CX Solutions
Qualtrics XM Discover
Pros
Simple setup. Qualtrics is simple to get started with. As a web-based solution there's no need for software installation.

A host of survey templates. The survey builder includes over 85 question types along with pre-built survey templates and tools for basic and advanced users to request and understand customer feedback.

A big name in the field. Qualtrics is one of the most widely used and trusted CX solutions available today. Individual researchers, smaller businesses, and large enterprises alike have the functionality they need for managing CX and improving NPS scores.
Cons
Overwhelming. Given the enormity of Qualtrics's solution, many users don't begin to scratch the surface of the multiple functions. For many customers, there are just too many options and that makes the system overwhelming.

Expensive. Qualtrics comes at a high price. This makes the CX solution simply too expensive for many users.
Medallia
Pros
Extremely flexible and customizable. Medallia's greatest strengths are the ways it handles complex company hierarchies and its ease of use. Even with large and changeable datasets, Medallia's analysis is intuitive, simple to pick up, and easy to understand.
Great ratings from credible sources. Medallia has received high praise for analytics and insight, automated action, and data collection capabilities from Gartner, TrustPilot, and G2 platforms.
Enterprise focus. Medallia has been built with large organizations handling vast amounts of data in mind. If this is you, Medallia is a good CX solution.
Cons
Price. As one of the leaders in B2C CX management software, Medallia comes with a plethora of functions and a price tag to match.
B2C focus. Gartner gave Medallia the highest score of CX solutions handling B2C feedback and experience management. If this is your business model, Medallia is a strong contender.
CustomerGauge
Pros
Automated real-time surveying. CustomerGauge offers a comprehensive solution for capturing and distributing customer feedback automatically.
CX value. CustomerGauge ties CX to your revenue to help you clearly understand the link between customer experience and your bottom line. This is unique to CustomerGauge and is designed to reduce customer churn, encourage upsells and cross-sells, and support B2B referral marketing.
Closed loop actions. CustomerGauge prompts you to act on feedback in ways that efficiently close the loop on customer feedback and improve revenue.
Cons
B2B focus. Designed specifically with the needs of B2B interactions in mind, CustomerGauge is a poor fit for B2C businesses.
If you're looking to improve your CX, there's bound to be a solution that fits your needs. For B2B companies searching for software that can improve CX while also driving revenue growth, CustomerGauge is the top choice.
Get in touch to find out how we can help you.
About the Author