Update May 2021:

Full disclosure before we get started, we're huge fans of Salesforce. We've used it to run the CustomerGauge business for the last 10 years. The majority of our B2B enterprise customers run it too. And it's pretty clear—there's value in bringing the external voice of customers together with the rich operational data that sits in Salesforce. What we also learned is that a simple Salesforce "plug-in" does not fit the bill for B2B in most cases. There are distinct differences between 'apps' and a robust push/pull Salesforce integration. Let's talk about the differences and why they matter below.

What does CustomerGauge offer?
Salesforce systems can vary widely from customer to customer and even between business units within the same client. Enterprise Salesforce installations are - how can we put this politely - often messy. Corporations can have multiple Salesforce instances, differing data sets, and sometimes completely separate systems. On top of that, one part of the business has a set of business rules that's different to another. And in other companies, Salesforce is not rolled out to every customer facing employee.
With CustomerGauge's multiple object, multi-filter two-way integration specifically designed to manage complex business processes, the data flow for every customer journey use case is covered.
Tailored for Salesforce Admins
CustomerGauge has developed the most comprehensive integration in the business. It handles multiple instances of Salesforce, multiple tables and any query you want to throw at it. That's because unlike other apps, whatever SOQL Pull you want to make, you can do it in CustomerGauge. Scheduled automatically or triggered. So you can get the voice of the customer at precisely any point in the journey, loaded with right fields. And when the response comes back, you can put it in any place you want in Salesforce, and trigger the workflows you want.
Flexible and fast for non-Admins
We've also found that not everyone likes Salesforce reporting… or they don't need the heaviness of the whole app. CustomerGauge has amazing reporting tools built in, enabling key account managers to visualize and easily see how to rescue accounts. And with built-in close loop functionality it will work out- of-the-box for many organisations (ready to go complex when you are).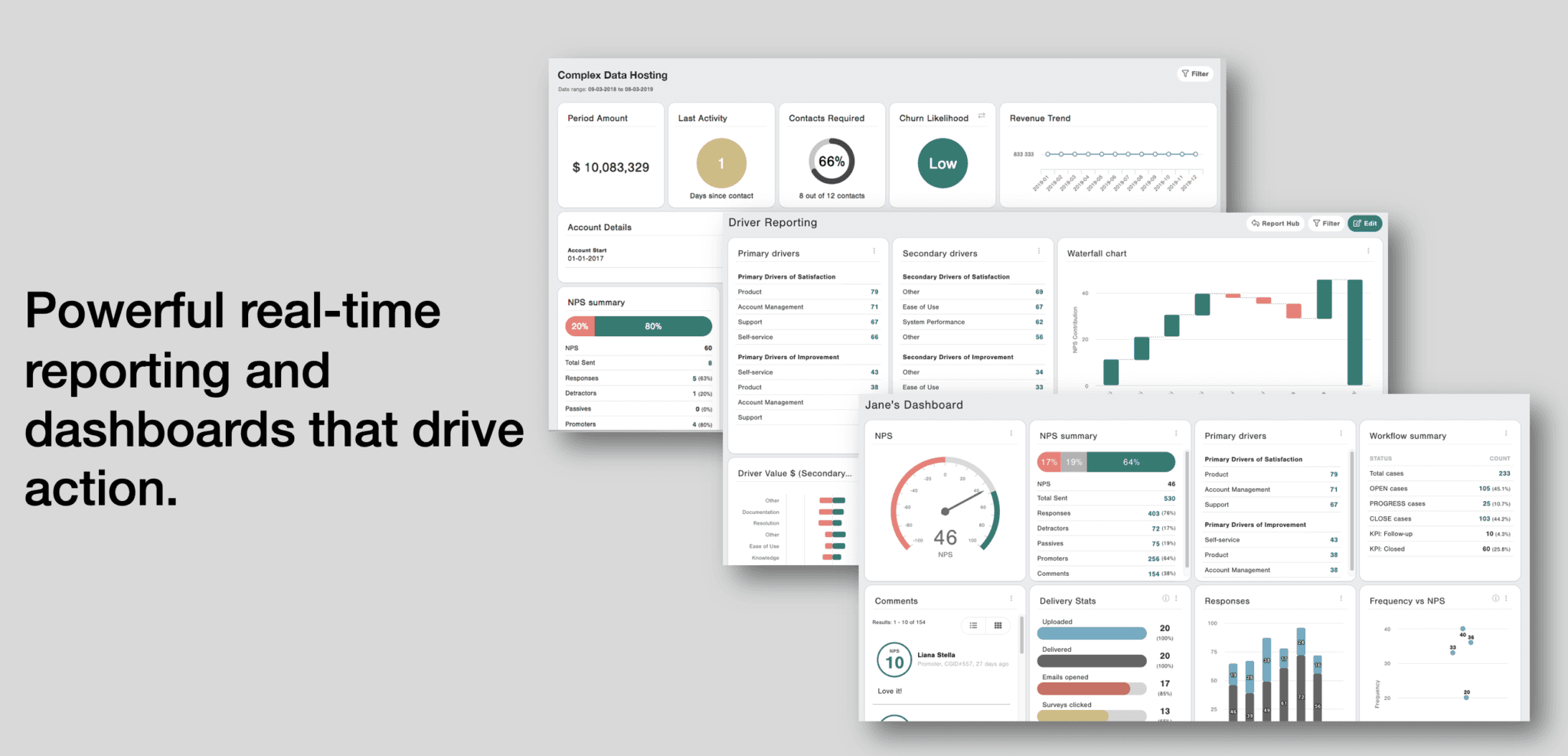 Robust for the business

That's why CustomerGauge is the CX app of choice for global B2B enterprises, chosen over in-app surveys, or mainstream research apps. It's also one of the reasons why Gartner rated us #1 in enterprise B2B VoC, above other players, such as Qualtrics and Medallia.
Our years of experience have helped us make the best technical solution for Salesforce. And our staff know how to make integrations sing. You'll only get to see this if you try us out, so book a Salesforce CustomerGauge demo today to see how we can transform your complexity into CX simplicity.
Get the Details:
While many applications provide built-in integration modules that are simple and easy to use, they can only cover the most basic of use cases. The CustomerGauge 'native integration' module combines the ease-of-use that our enterprise customers have come to expect, with the ability to drop right down to Data Query Language level, meaning that we offer the tools to deal with even the most complex of integration requirements.
Data Pull Setup:
Pull Data from Salesforce to trigger survey sends from CustomerGauge
Setup multi-object data flows per touchpoint or customer journey
Follow a guided process to setup a tailored configuration best suited for their needs
Write Salesforce Object Query Language (SOQL) to clearly define the data (multi-object) to be pulled from the Salesforce system, the sync frequency, and the data to be shared back with the Salesforce system
Connect Multiple Salesforce Feeder systems to one CustomerGauge system
Data Push Setup:

Push Survey feedback from CustomerGauge to Salesforce in real-time
Be in control of the data that is pushed back to Salesforce and when, push back all feedback data, push back only certain segments of feedback data etc.
Create object level rules to trigger workflows in Salesforce based on feedback data pushed back.
Ensure that the data is pushed back to the correct Salesforce system from CustomerGauge in the case of multiple Salesforce feeder systems to one CustomerGauge system.
Change Management & Diagnostics:

Tweak/Change the data flow process as the organization evolves.
Deploy the integration within minutes and leverage real-time diagnostics for quick troubleshooting of errors
Best practices & Support:

Get access to best practice implementation and integration Query examples
The integrations work with existing CRM workflows and processes, helping clients collect, analyze, and act on customer feedback throughout the customer journey.
What do you need to get started?
In order to get started, you will need a Technical Salesforce Administrator (comfortable in SOQL), Salesforce system and a CustomerGauge system. You can test your integration in Sandbox or set it up directly on your production environment.
Our implementation teams will guide you with the data that is typically pulled from your Salesforce system to CustomerGauge for an Account Experience program. For Example
Contact First Name
Contact Last Name
Contact Email
Survey Language
Contact Country
Account Name
Account Manager
Any other kind of Segment information about the Account/Contact needed for reporting.
In addition, we will also guide you through the data that will be pushed into Salesforce from CustomerGauge. This information is typically pushed back into a CG Survey Results custom object linked to the Contact or as a new Case. Example data pushed back
Contact ID
NPS Score
Selected Drivers
Comment
Answers to additional survey questions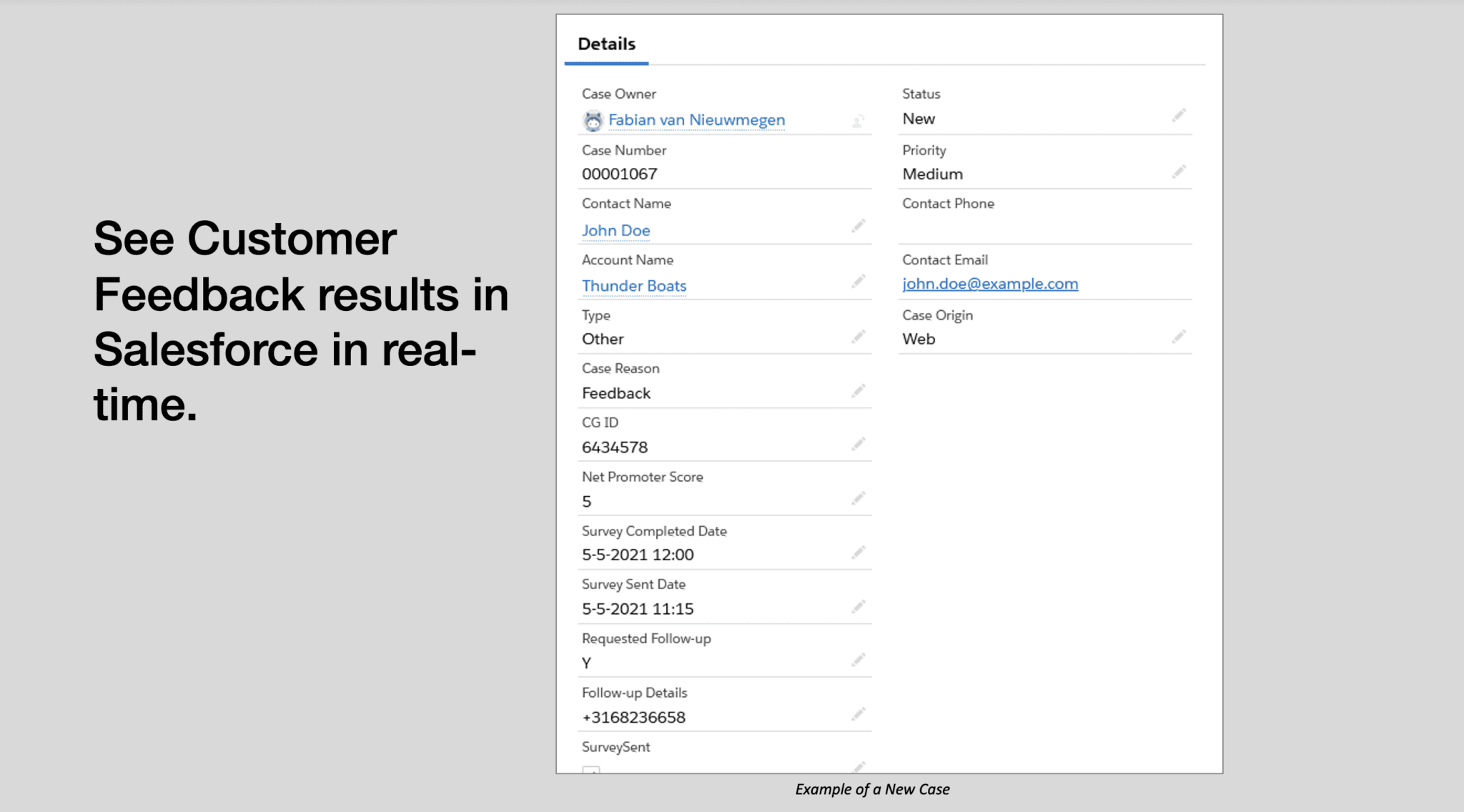 How long does it take to set up?
Once you have the data you want to pull from Salesforce to CustomerGauge agreed on, the setup of the integration can take anywhere between an hour to a day. This time depends on the experience of the Salesforce Administrator. We offer template/example queries for the administrator to use.
Can I view CustomerGauge's reporting inside of Salesforce?
In order to get access to CustomerGauge's powerful engagement tracking, monetized NPS and retention reporting - you will need to log into CustomerGauge.
An easy way to do this, is to use our Single Sign-On feature between Salesforce and CustomerGauge. This comes standard as part of every CustomerGauge system and allows users to seamlessly move between Salesforce and CustomerGauge. In addition, we also offer functionality to have a direct link from the account page in Salesforce to the corresponding account page in CustomerGauge.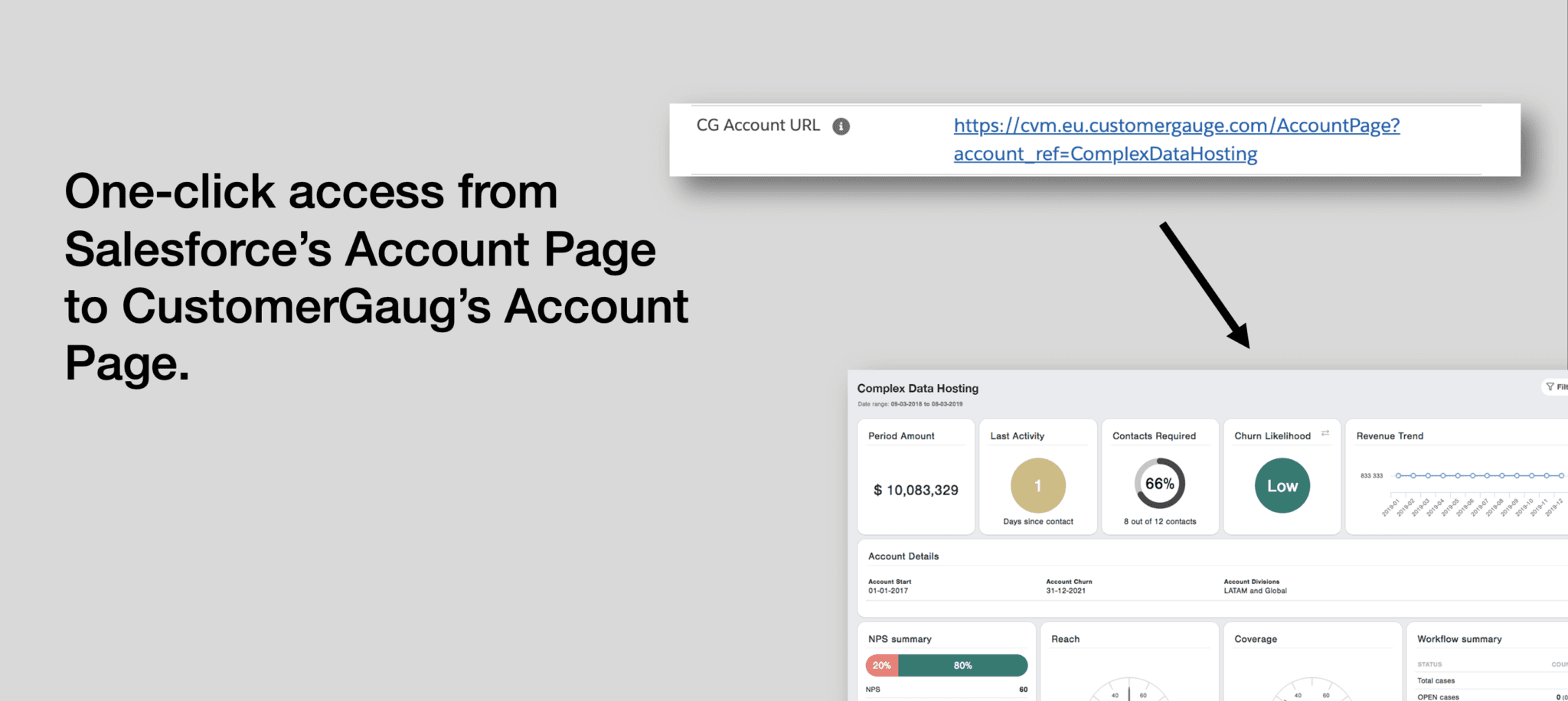 Does CustomerGauge offer an app inside of Salesforce?
No, CustomerGauge does not have an app that can be installed and used inside a Salesforce.
We typically find that an app offering is limiting and does not meet the complex needs of our enterprise customers. For this reason, we offer a powerful integration that can be setup between CustomerGauge and Salesforce from inside the CustomerGauge platform. This gives greater power and flexibility to our customers to set up and control their integrations.