We frequently discuss CX in our blog. After all, happy customers have a track record of being more cost-effective to retain and more profitable for the business.
You may already know that customer loyalty is measured by the Net Promoter Score®, a metric that tracks the percentage of promoters, passives and detractors in a company's full customer base.
Businesses invest time and money in loyalty programs because customers are important. But what about employees?
There are multiple reasons why it pays to nurture a loyal, satisfied, and dedicated workforce. In this blog, we'll discuss how to measure employee loyalty and why it's important to do so. In our next blog, we'll give you several notable examples of companies that have had quantifiable success investing in their employees.
What Is eNPS and How Is It Measured?
Simply put, loyal employees are happy employees, and happy employees are more driven to ensure happy customers. Lucky for the business world, there's no need to reinvent the wheel. By applying the Net Promoter® framework to measure loyalty internally, we get eNPS, or the employee Net Promoter Score®.
eNPS measures the willingness of each employee to recommend your company as a place to work. Similar to the NPS question, eNPS ranks answers on a scale of 0 to 10 and categorizes its responders into promoters, passives or detractors. The standard eNPS question looks like this: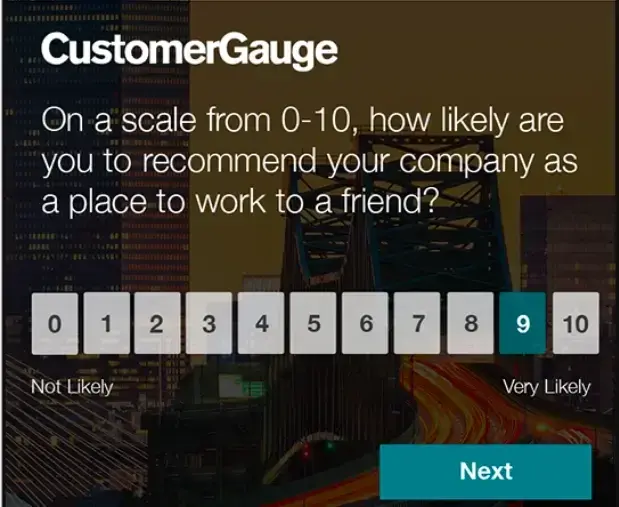 Promoters (any employee who answered with a 9 or 10) make up the company's most loyal employees. They love where they work and are the most engaged with the company's culture, functioning as advocates and motivators for the present workforce and potential new hires.

Employees who answered with a 7 or 8 are passives—more or less satisfied with their workplace but aren't strictly loyal to the business. They typically aren't willing to go above and beyond their duties, but they also don't have strong negative feelings towards their company.
Finally, detractors are employees who answered 0-6. They represent the least loyal employee segment and are dissatisfied with their position, department, or the company as a whole. They are probably considering employment elsewhere.
To get your eNPS score, subtract the percentage of detractors from the percentage of promoters. Your score will fall on the range between -100 (where all employee respondents are detractors) and 100 (where all employee respondents are promoters).
Note
eNPS is still an emerging science. Since its original inception by Bain & Company, some additional questions have been suggested to add for additional accurate. For example, in November 2017, Darci Darnell of Bain announced in a podcast that Bain also suggest adding the question: "To what extent do you agree with the following statement: I am inspired by my job." This question would then be measured on a 5-point scale.
Although the concept of employee experience is more novel than customer experience, eNPS is already one of the most widely-used ways to gauge employee loyalty.
This is due to the fact that:
The survey makes sense to employees
It provides clear metrics
It establishes a baseline for the company
It's scalable
And it yields a high response rate
Of course, receiving survey answers without follow-up action is a waste of time and resources. This brings us to one of the larger benefits of the employee Net Promoter System®—identifying and acting on drivers that influence the score.
The Drivers of Employee Loyalty
When it comes to employees, there are two key ingredients that make up loyalty for a company—employee experience (also referred to as EX) and employee engagement. eNPS measures employee loyalty by looking at experience and engagement.
Employee Experience
In 2017, MIT conducted a study on Building Business Value with Employee Experience. They defined EX as the combination of work complexity—how hard it is to get work done in the organization—and cultural norms around collaboration, creativity, and empowerment.
"
Companies with great employee experience and strong behavioral norms were more innovative and profitable and had higher levels of customer satisfaction.
In other words, companies that make it easy for their employees to get their work done by providing appropriate resources, measures, and environments, outperform their competitors.

It is important to add that "work complexity" encompasses the concept of work-life balance. Inflexible business hours, along with expectation to work overtime leads to dissatisfaction, or worse, burnout. According to Eric Garton, partner of Bain & Company's Chicago office,
"
Employee burnout is a common phenomenon, but it is one that companies tend to treat as a talent management or personal issue rather than a broader organizational challenge. That's a mistake.

It seems pretty straight-forward—employees that work in a nurturing, balanced environment are not only less likely to burnout, they will actually accomplish more at the company thanks to a longer duration of employment and higher productivity. They are also more likely to value their company. As a result, employee churn drops while retention grows, leading to fewer acquisition and turnover costs.

Positive employee experience leads to high levels of employee satisfaction, but similar to NPS and customer experience, satisfied employees can still churn. This means that while experience could be likened to the foundation for loyalty, there is still one missing ingredient - engagement.
Employee Engagement
In his HBR article, Three Ways to Actually Engage Employees, Michael Mankins links engagement with the concept of ownership:
"
Employees who take ownership of their work — and who feel that what they are doing matters — are far more likely than others to feel engaged on the job.
Granted, giving ownership of work at all levels of a company calls for a level of trust in both the employees doing the work, and the management teams that mentor and guide their departments.
We briefly touched on the concept of empowerment while discussing EX. This is because employee engagement is impossible to achieve without the right experience. In a way, employee engagement can be seen as the end goal, while employee experience is the means to that end.
So what does employee engagement look like, and what do companies have to do to provide it? Employees who are engaged with the company participate in the following cultural practices:
They understand the impact of their work through the business. Employees are motivated when they see the impact their organization has on the world around them. Here, a positive impact is viewed as an extension of their own contribution to the world. Being able to do so makes employees more engaged, passionate, and dedicated.
They work with inspiring leaders who are in turn rewarded and encouraged by their company. No one wants to go above and beyond for a bad boss. On the other hand, leaders who inspire have the potential to channel the workforce and unite employees. A good leader also motivates others to lead and take initiatives, which creates a new generation of capable employees that benefit the company.
Employee satisfaction alone isn't enough to promote or measure loyalty. Only through engagement and empowerment can a company truly move ahead of its competitors in employee retention, eNPS, and innovation.
The ROI of Happy Employees
Depending on where a company is on its employee Net Promoter journey, implementing employee experience changes could be a costly and time-consuming initiative. So is it worth it? The answer is yes.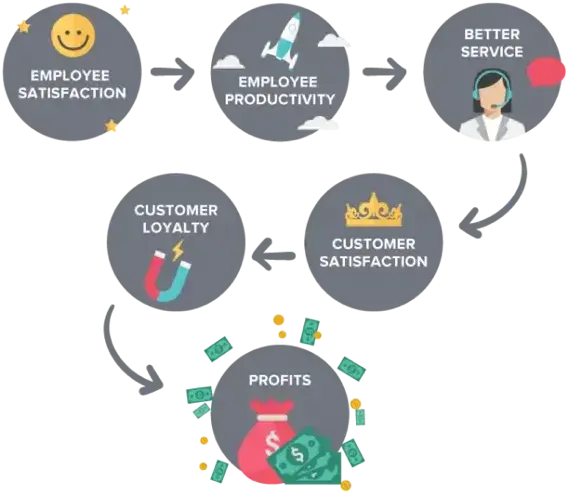 According to a 2018 report done by the US Bureau of Labor Statistics, 6.7 million jobs are currently unfilled in the U.S. due to a significant lack of available workers. This phenomenon marks 2018 as the first year where it is more difficult to hire a candidate than to look for a job.

In April, 2018 alone, 3.4 million Americans quit their jobs according to the Wall Street Journal—twice the amount of those who were laid off. In a job market where employees find more benefit churning, employers must focus on building loyalty to avoid the costs associated with churn. According to the 2017 Talent Acquisition Benchmarking Report by the Society for Human Resource Management (SHRM), the average national cost-per-hire is $4,425.

Let's look at a medium sized company in the tech industry as an example. According to LinkedIn, the average attrition rate for tech is 13.2%. Imagine our company has 200 employees. If we use the national average cost-per-hire, we determine that by losing 26 employees, our company will have to spend $115,050 on new hires.
The consequences of disloyal employees are disruptive, expensive, and detrimental to productivity. Now let's look at the other side, where happy and loyal employees actually contribute positively to their companies' bottom line.
A survey conducted by Report Linker found that 78% of employees whose company encouraged creativity and innovation were highly committed to their employer. Another study done by the Social Market Foundation found that happy employees were 12% more productive.
When attrition declines, the costs associated with hiring and training new personnel also drop. In today's job market, employees have more opportunities than ever to jump ship and seek alternative employment. The only way to mitigate the cost of attrition is to start thinking about retention, and the steps needed to generate greater employee loyalty.

Parting Thoughts
In this blog, we introduced the concept of employee Net Promoter and talked about the largest contributors to employee loyalty: engagement and experience. While eNPS is a newer concept compared to NPS and CX, it is just as important. Not only does the metric enable companies to understand their employees' needs and act to improve retention, it correlates with NPS.
Loyal and engaged employees are naturally more attentive and motivated to improve the customer journey and contribute their initiatives to the business. This makes more customers feel like their input matters, and positively impacts the ratio of customer promoters to detractors. The math is clear—happy employees = happy customers.
About the Author