Finance Executives Say—It's Time to Focus on Customer Experience in Financial Services
Digital transformation has shifted consumer standards in terms of what customers expect in their interactions with businesses. Maybe nowhere is this changing landscape felt more than the financial services industry.

In fact, according to research performed by Ernst &Young (EY): "The most common reason customers cited for opening or closing accounts in the past year was the experience with their financial service providers, edging out rates/fees and convenience surpassing branch location and accessibility." Just think about that: Over the course of just a few years, customer experience has become more of a competitive advantage in the financial services sector than rates.
Finance executives can't ignore this fact either. In 2017, Adobe released its Digital Trends in Financial Services and Insurance report, which surveyed 840 financial services executives.
"
The most common reason customers cited for opening or closing accounts in the past year was the experience with their financial service providers.
Ernst & Young

In the study, 63% of executives determined customer experience (CX) to be a top priority for them, a 17% increase from the previous year

Their reasoning? Customers are demanding a more personalized and cohesive experience—from their relationship with advisors to mobile access.
The good news is that consumer confidence in the financial services industry has improved, with
"93% of respondents reporting moderate or complete trust in their banks."
This, at least in part, can be attributed to this new demand for better CX, and the growing community of financial service companies expanding their toolkit to meet these rising challenges.
Improving data analytics capabilities will be a crucial component for better customer experience in the financial services sector. According to Adobe, a full 99 percent of respondents consider "improving data analysis capabilities" to be a key element in better understanding customer experience requirements.

One such tool Fortune 1000 financial service companies have trusted with measuring the impact and monetization of their customer experience is the Net Promoter System®. In this field guide, we'll highlight some of the NPS 101 basics, including how the Net Promoter Score® and Net Promoter System work together. We'll also dive into how top financial service companies use NPS to further their customer insight and growth.
Net Promoter Score vs Net Promoter System
Net Promoter Score in Financial Services
The Net Promoter Score is a metric used in surveys to gauge your brand loyalty and is the first step to improve your customer experience. Developed by Fred Reichheld in 2003, author of The Ultimate Question, the Net Promoter Score survey asks one simple (but "ultimate") question:
"On a scale from 0 to 10, how likely is it that you would recommend our company/product/service to a friend or colleague?"
Depending on their answers, customers are designated into three different pools: Promoters, Passives and Detractors. You can then begin calculating your Net Promoter Score.

You do this by subtracting the number of detractors from the number of promoters.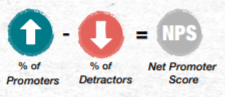 Net Promoter System in Financial Services

The Net Promoter System takes the Net Promoter Score one step further and turns results into actions. A good Net Promoter System allows companies to do four things:

Measure and analyze customer feedback
Act to close the loop and optimize business processes
Monetize NPS to correlate with revenue and measure retention and referrals
Grow your existing customer base through referrals, up-sells and cross-sells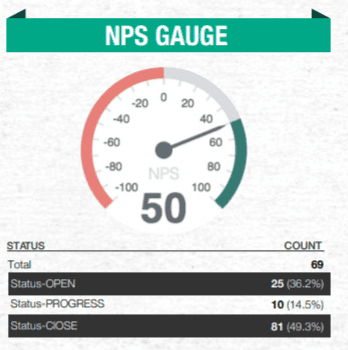 Making The Case For NPS In The Financial Services Industry
There are a lot of metrics and systems out there that claim to have the magic combination, but top financial institutions know that a good Net Promoter System should have the following capabilities.
Manage CX in the customer journey
Using relationship and transactional surveys coupled with drivers, your Net Promoter System should allow you to identify paint points in the customer journey. This will enable you to determine which touch points need work to improve retention and the customer experience.
Encryption to ensure the security of your customers
Being a financial institution you deal with a lot of sensitive information. A good Net Promoter System should provide the level of security and permissions you need.
Learn who your most valuable customers are…
Reduce cost of acquisition by focusing on your current customers. Determine your customer lifetime value (CLV) to better understand the impact on revenue and churn. Do passives account for most of your revenue, or promoters? This information is vital to tying NPS to revenue.
…And how to keep them…
Your Net Promoter System should allow you to act, in real-time, to quickly follow-up with dissatisfied accounts to rescue them from churning.
Use a system built for B2B
A large portion of financial services is in the B2B sphere, which means you need a Net Promoter System built for B2B finance, allowing you to see trends over time, perform advanced account management, etc.
Find opportunities for growth
Some Net Promoter Systems employ something called NPS SWOT. Using NPS SWOT, companies can identify which accounts are at-risk of churning or if there are missed opportunities for growth.
Engage and motivate employees
Use Employee Net Promoter Score (eNPS) to assess staff sentiment, engage with your employees, and gain valuable feedback to improve.
NPS Spotlight: Customer Loyalty in Financial Services
Customers before profits

USAA is committed to putting customers' needs before profits. USAA has found that some of their key drivers for customer loyalty and satisfaction include the ease of doing business with the company and the feeling that customers are treated fairly. In order to build robust customer trust, USAA customers are regularly brought into the company's offices to speak with employees at all levels about their challenges.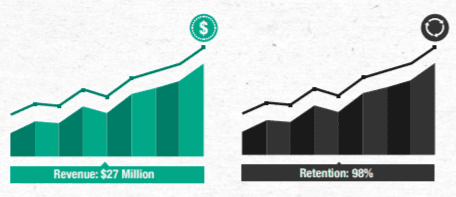 In 2016, the company's more than 29,000 employees generated revenue of $27 million and helped the company achieve a whooping customer retention rate of 98%.
Client engagement technologies and effortless experience

USAA's product and service innovation are driven by customers' needs and with the purpose of making their lives easier. The company has become the first bank to allow customers to check their bank balances via text messages and email. Today this might be a common practice, but back in 2009 it helped USAA establish itself as truly customer-centric company. USAA has even managed to provide a truly free checking account by finding a way to profitably reimburse up to $15 a month in ATM fees charged by other banks.

Top 10 Net Promoter Best Practices
1. NPS should not be used as a market research tool, but as an operational management tool
NPS surveys are used to continuously take the temperature of customer relationships, and should be conducted at least every quarter to ensure that customer issues don't accumulate.
2. Engage and motivate your employees
Stop churn from within your own organization using Employee Net Promoter (eNPS).
3. Use both relationship and transactional surveys—and keep them short
Our research shows that by using both survey types companies can increase retention by more than 4.9%. In addition, no more than 2-6 questions in a survey can lead to a 5.3% increase in retention.
4. Close the loop within 48hrs to two weeks
The faster the frontline closes the loop, the more retention grows. We suggest closing the loop within 48 hours to two weeks.
5. Be able to tie your NPS to revenue

For every 1 NPS point, you should be able to attribute a portion of revenue increase
6. Get buy-in at every level, and be transparent

Ensure buy-in from the executive level to the frontline. Also: be transparent! Companies that have successful NPS programs are 3x more likely to share results internally and externally
7. Your customer journey should inform your survey drivers
Your survey drivers should represent the touch points of your customer journey.
8. Automate processes to reduce cost and error
Minimize time, effort and FTE usage by automating as much of your program as possible.
9. Say thank you!
75% of successful NPS programs send follow-up "thank you" messages.
10. Tie your NPS program to referral marketing

If you aren't seeing growth within your program, then you're doing it wrong. Start by tying referral marketing efforts to your Net Promoter System.
CustomerGauge CX For Financial Services
It's vital that your NPS software choice enables you to prove the ROI of your customer experience. As such, financial services companies like USAA and Vanguard are doing more than just using NPS to measure user experience these days—they're also monetizing it.

CustomerGauge is a software-as-a-service rooted in what we call the Monetize NPS methodology. This industry-standard metric allows companies to do more than just close the loop and reduce churn—but also monetize their existing customer base.
About the Author