Customer experience (CX) is a vital brand differentiator.
It influences just how loyal customers are to a business and how far the company goes to keep them satisfied. To understand and manage your customer experience, you need to collect feedback, analyze customer sentiments, and take action on that data to improve.
There's no doubt that customer experience management (CXM) is a lot of work. But fortunately, CX platforms like IBM's Watson Studio and Qualtrics can help. These two tools help businesses improve customer experiences, albeit in different ways.
IBM Watson Studio is a powerful tool that lets businesses analyze and interpret data using artificial intelligence (AI) and machine learning (ML), whereas Qualtrics is designed for end-to-end customer experience management. These different approaches have their pros and cons, as we explore below.
While we're here, we'll introduce you to CustomerGauge, a platform specialized in helping B2B businesses improve their CX. In this article, we compare these three CX solutions and assess their strengths and weaknesses.
Introducing IBM, Qualtrics, and CustomerGauge
IBM Watson Studio
IBM Watson Studio is an Enterprise-grade data science and ML platform that lets businesses build, train, and manage AI models.
We know, it doesn't sound very CX.
But, Watson Studio lets businesses leverage AI and ML to perform predictive analysis, interpret unstructured data with text analysis, build advanced data visualizations, and automate tasks — all of which can help you improve your customer experience.
IBM Watson Studio is a code-optional solution, i.e., users can choose whether to use it with code or without. This makes the tool accessible to both business analysts and tech-savvy users.
As far as customer experience is concerned, IBM Watson Studio can be used to analyze and interpret customer feedback and sentiments, from both structured and unstructured data.
However, unlike Qualtrics and CustomerGauge, the tool doesn't have the capabilities to manage customer experiences.
Price: Contact IBM for a custom quote.

Best for: Medium-to-large Enterprises.

Top 3 industries: Computer Software, Information Technology and Services, Banking.

Customer service G2 rating: 8.6 for Quality of Support.

G2 score: 4.3
Qualtrics
Qualtrics is a leading provider of experience software, including solutions for managing customer, employee, brand, and product experiences. Qualtrics's solutions are used by businesses of all sizes and both B2C and B2B brands.

Qualtrics has a dedicated customer experience solution, CustomerXM, which is used to manage end-to-end customer experiences. The platform supports everything from omnichannel data collection to text analysis and offers insights into taking action based on feedback.
While IBM Watson Studio focuses on data analysis, visualization, and modeling, Qualtrics helps CX teams actively manage and improve customer experiences.
Price: Qualtrics CustomerXM's pricing starts at $1500/year/user.

Best for: Medium-to-large-sized Enterprises.

Top 3 industries: Research, Education Management, Higher Education.

Customer service G2 rating: 8.7 for Quality of Support.

G2 score: 4.3
CustomerGauge
CustomerGauge is a CX platform purpose-built for B2B and B2B2C business needs. It helps businesses collect customer feedback, analyze it, and take action based on voice of customer (VoC) data.
CustomerGauge was founded in 2007 and has a proven track record of helping B2B brands improve Net Promoter Scores (NPS), reduce customer churn, and grow their revenue.
Unlike many other CX solutions that focus largely on analysis, CustomerGauge goes the extra mile to help you improve relationships with customers and grow account sizes. For example, the platform provides insights into how many decision-makers should be surveyed in a given account and which to prioritize.
Price: Contact our team for details.

Best for: Mid-market and Enterprise B2B and B2B2C companies looking to increase revenue and reduce churn.

Top 3 industries: Consumer Packaged Goods (CPG), Manufacturing, High-Tech.

Customer service G2 rating: 9.6 for Quality of Support.

G2 score: 4.6
Gartner's Verdict: Qualtrics vs CustomerGauge
Gartner's Critical Capabilities report analyzed 14 top CX platforms for their B2B enterprise capabilities, including CustomerGauge and Qualtrics, which scored 1st and 3rd place respectively.
CustomerGauge was ranked as the #1 VoC platform for B2B and B2B2C enterprise needs, and recognized as the leading platform for sales enablement.
Meanwhile, Qualtrics scored better for B2C needs.
IBM Watson Studio wasn't featured in the report because it falls under the category of Data Science and Machine Learning platforms and was declared a leader in this category in Gartner's 2021 report.
IBM vs Qualtrics vs CustomerGauge: According to G2
G2 reviewers have shared how they feel about IBM Watson Studio, Qualtrics, and CustomerGauge. CustomerGauge scored the highest overall with a 4.6 star rating, and the CX software topped all other categories except for "Meets Requirements," which Qualtrics CustomerXM scored the highest in.

IBM Watson Studio scored well across most categories, scoring below 8.0 only in "Ease of Setup" and "Ease of Admin."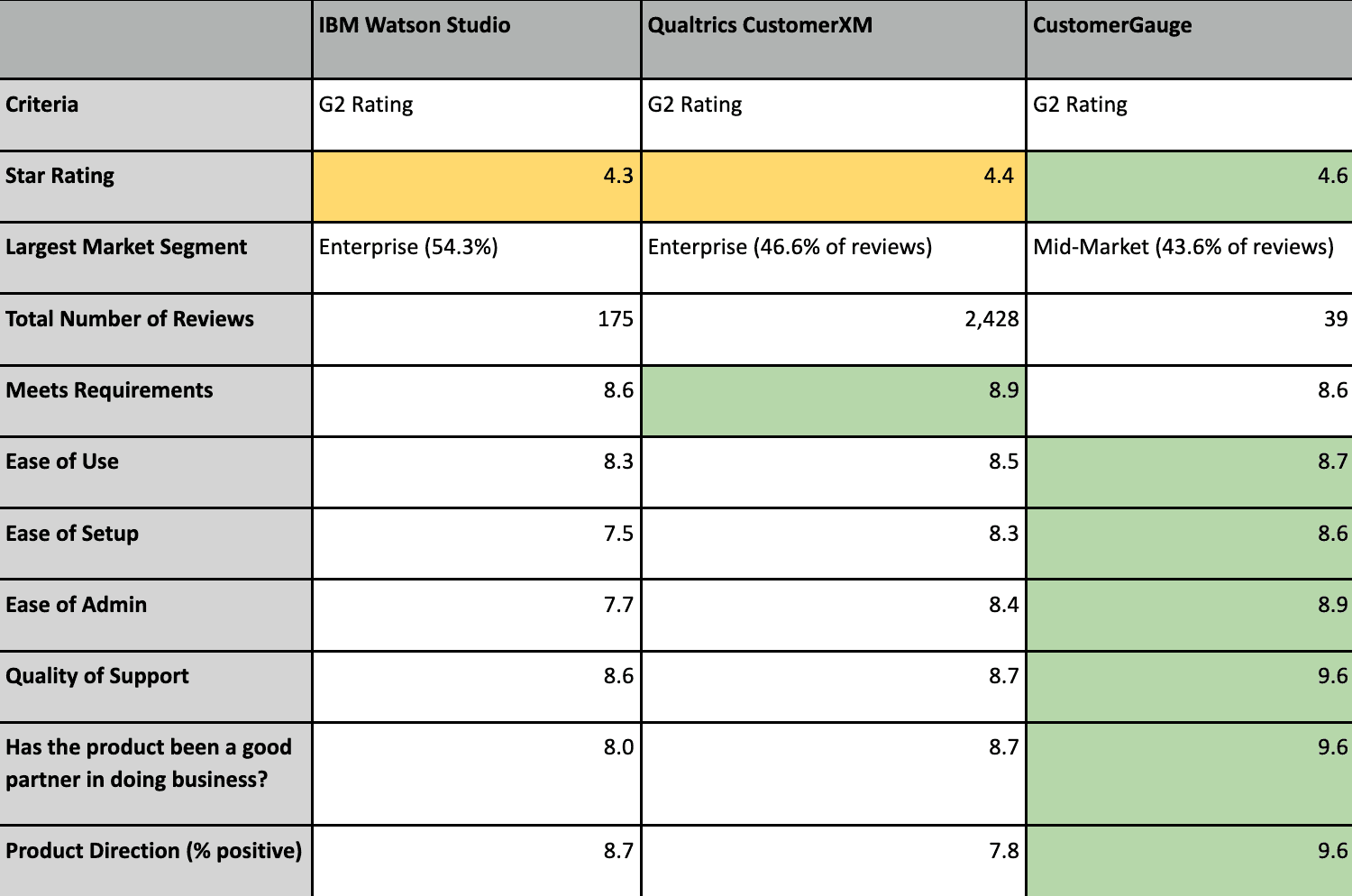 IBM vs Qualtrics: How Customers Feel
IBM Customers Say…

Strengths
IBM Watson Studio is praised for its advanced analysis and data management features:
Cautions
Many users found IBM Watson Studio's UI to be unintuitive and believe the tool is too expensive for smaller businesses:
Qualtrics Customers Say…
Strengths
Customers praise Qualtrics for its data collection capabilities and versatility:
Cautions
Some customers find Qualtrics to be too expensive and feel the platform has some limitations:
CustomerGauge Users Say…
Strengths
Customers appreciate CustomerGauge's customization capabilities and account support:

Cautions
Some customers believe CustomerGauge's reporting features can be improved:
The Pros and Cons of Each CX Platform
IBM Watson Studio, Qualtrics, and CustomerGauge are all powerful platforms to help you improve customer experiences. However, the tools have distinct offerings so let's take a closer look at each one's strengths and weaknesses.

IBM Watson Studio
Pros
Powerful data analysis. IBM Watson Studio is an exceptional data analysis suite that lets data scientists train AI models, analyze large datasets, and test predictions.

Collaboration features. The software has file-sharing and project-sharing features to let team members compare models, discuss predictions, and learn from each other.

Automation. IBM Watson Studio's automatic AI functionality lets users automate different tasks, including data preparation, parts of model development, and helps with the tuning of their AI/ML models.
Cons
Doesn't support end-to-end CXM. Unlike Qualtrics and CustomerGauge, IBM Watson Studio isn't a dedicated CXM tool. It can only analyze data – it doesn't assist with data collection or taking action based on customer feedback.

Unintuitive UI. As many users have pointed out, IBM Watson Studio's UI needs improvement.
Qualtrics
Pros
End-to-end CX solution. Qualtrics CustomerXM lets businesses conduct surveys and collect feedback across different channels, use text analysis to interpret CX data and understand customer sentiments, and take action to improve CX.

Multi-departmental CX experience. Qualtrics is a mature CX vendor that has helped leading enterprises drive CX initiatives in multiple departments, including Sales, Marketing, Product, CX, etc.

Supports businesses of all sizes and types. Qualtrics is used by small businesses and large enterprises, and it caters to both B2C and B2B needs.
Cons
Cost. Qualtrics's products are typically expensive, with CustomerXM's pricing starting at $1500/year per user.

Non-intuitive interface. Many users have found Qualtrics's interface difficult to navigate and get used to.
CustomerGauge
Pros
Sales-enablement capabilities. Gartner's Critical Capabilities recognized CustomerGauge's powerful sales-enablement features. The software helps B2B and B2B2C businesses grow account sizes through targeted upselling, cross-sells, and referral marketing.

Designed for complex B2B and B2B2C journeys. CustomerGauge is equipped to handle the complexity of B2B business needs – it specifically developed the Account Experience methodology for this purpose.

Tie CX data to revenue. CustomerGauge enables businesses to tie CX to financial data, helping them understand the value of CX initiatives and where to prioritize their efforts.
Cons
Not ideal for B2C needs. CustomerGauge's capabilities are too advanced for simple B2C needs.
Focused on commercial needs. Solutions like IBM Watson Studio and Qualtrics CoreXM are used for academic research purposes, but CustomerGauge is exclusively for commercial needs.
Looking to grow your B2B account sizes and improve relationships with your customers? Book a demo with CustomerGauge to learn more.
About the Author