In our financial services industry case study, we discussed how the coming onslaught of financial technologies (fintech) has led many in the financial services industry to adjust their customer experience to keep pace with the streamlined nature of the fintech customer journey.
Editor Note: Read this case study in PDF format here.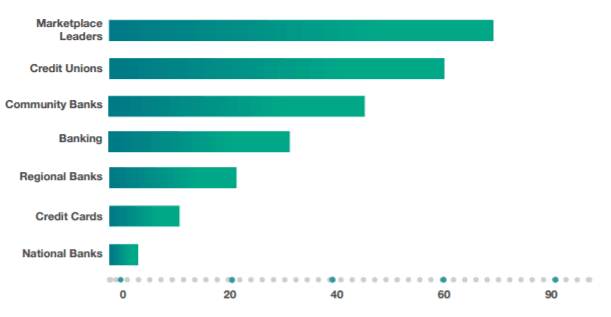 Fintech customer satisfaction and loyalty outpaces by leaps and bounds above traditional financial providers. In EY's most recent report, Customer Experience: Innovate like FinTech, their survey noted that 71% of customers found that technology has made it easier to have products across multiple financial providers. Much of this trust in fintech has to do with how the industry has streamlined and improved the customer experience between financial institutions and consumers, offering a greater level of transparency.
Benefits of fintech vs. traditional financial service businesses include:
Better multi-channel and online experience
Ease of account setup
Better overall customer service
Easier access to helpful, educational resources
Diversified rates and overall rate transparency
In this case study collection, we will explore the NPS scores and customer experience programs of fintech companies including SoFi, Funding Circle, OnDeck, Affirm and Lending Club to understand how they are translating these benefits into long-term customer loyalty.
SoFi B2C Lending/Wealth Management
Enjoying one of the highest Net Promoter Scores on our fintech list, SoFi is experiencing unparalleled success in terms of member satisfaction.
With a 300% increase in adoption for their corporate partnership program for employee benefits and a referral rate of 50%, SoFi has been making big waves since their founding in 2011.
Their success and high Net Promoter Score is reliant on a number of strategic and customer-centric approaches.
Set Customers Up for Lifelong Professional Success
Beyond the technical innovations of a fintech, SoFi has entered a new competitive realm of defining customer experience through services that nurture sustained success and ultimately continued loyalty through social engagement: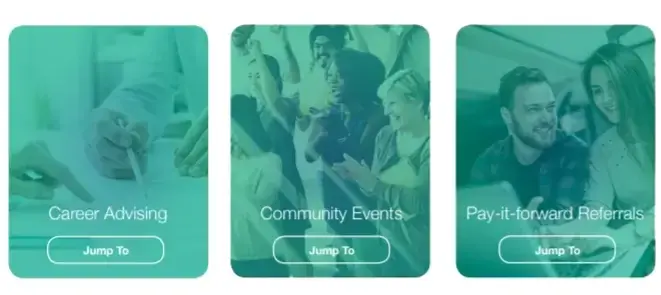 Career Advising
SoFi's core message has always gone against the traditional banking model. They first turned their focus on simplifying the student loan market by reaching out to digitally-savvy and well-educated millennials back in 2011. By removing the "boogeyman" mentality that many banks had, SoFi instead focused on helping customers be successful by building lasting relationships.
Part of this SoFi relationship includes career advising services exclusive to members. The Career Advisory Board at SoFi offers career transition training, job searches, personal branding, and more. This type of service from a financial institution is almost unheard of, but plays into the long game that SoFi hopes to keep with their customers.
"
When you become a member, we want to invest in you. We're really trying to combine this idea of money, careers and relationships, which we see as the main drivers for this demographic we're targeting. If you lose a job, we don't call you up and threaten to take your car. We help you find a new job.
Mike Cagney
Former CEO
Community Events
In addition to providing career advising, SoFi also sports community events that include speaking engagements, city-based community happy hours and dinners, and financial planning meet-ups. It's this type of community-focus that has made SoFi the "accessible" finance partner.
Pay-it-forward Referrals
In unison with their Net Promoter customer experience program, SoFi also has a well-established referral marketing program. Both the referrer and the referred receive financial compensation ($300) for the referral.
Using Roboadvising to Improve Customer Interactions
Beyond the student loan game, SoFi has also taken a personal and innovative approach to other aspects of their business. Once they found a home in the student loan game, SoFi began setting their sights on mortgages and wealth management.

In 2017, SoFi launched their SoFi Wealth product which includes roboadvising and automated wealth management— with a human touch. Available for online, iOS and Android usage, features include automated investment portfolios, access to human investment advisors, discounts for events and SoFi products and more.

In a report from Business Insider, researchers found that 49% of customers across all asset classes would consider investing some of their assets using a roboadvisor. SoFi believes their human element in the roboadvising game is a true competitive differentiator. Using their Net Promoter program, SoFi will be able to easily identify which of those customers to cross-sell to.
Start Your Entrepreneurial Journey
SoFi's entrepreneurial program offers open applications to those professionals looking to start their business. Services include seed financing, mentorships, resources, and "Demo Days" which connect professionals with VCs. Coupled with the expertise of
the SoFi community, customers have more than the backing of a financial institution, they have a wealth of expertise at their disposal.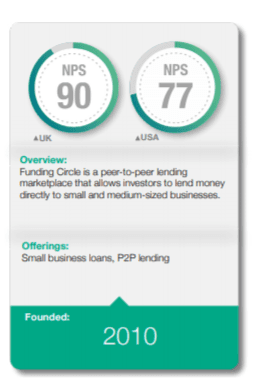 Funding Circle Small business loans/P2P lending platform
While SoFi may be dipping into the entrepreneur business, Funding Circle has been leading the peer-to-peer lending business since their inception in 2010.
Like traditional banks, Funding Circle looks at NPS per location, with two separate NPS scores, 90 in the UK and 77 in the US. Part of Funding Circle's success has been what customers perceive as a transparent loan process. The P2P lending company provides a chart that shows all interests and fees online, in addition to a free online loan calculator.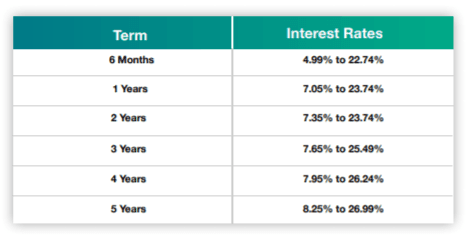 Funding Circle also has a "How to Grow Your Business series" that helps small businesses set a strategic plan forward for their financial future. Beyond transparency, Funding Circle also uses the "white glove service" approach to customer service, which are carried out in three-steps.
Funding Circle white glove services, in three steps:
1. Create memorable moments in unexpected places

Funding Circle is all about finding ways to turn customer issues into memorable moments of triumph. In one example, a Funding Circle employee offered to hand deliver a closing documents during their vacation to New York to an antique dealer there after technical issues made electronic sending impossible. That one "extra mile" moment created a customer for life.
2. Celebrating customer triumphs
Customer wins are company wins in Funding Circle's book. Funding Circle has a number of stories involving members being surprised by employees coming to congratulate them on recent achievements.
3.Delight customers

Similar to creating memorable moments, Funding Circle is well-known for surprising customers. Funding Circle mentioned one such moment on their blog: "One of our borrowers mentioned that he was in the running for the 'Best Sandwich in San Francisco' award from a local newspaper.
Instead of simply wishing him luck in the contest, a member of our borrower team organized an email campaign in our office to encourage our friends and family to try the sandwich shop and vote in the competition. Shortly after, the restaurant was named 'Best Sandwich in San Francisco' for 2014, in part thanks to Calley's effort to go above and beyond."
Find Your Field Guide To Navigating NPS Click Here For More
Ondeck Small business loans
Founded in 2006 on the cusp of the financial crisis, OnDeck is one of the largest online small business lenders, having issued over $7 billion in small business loans to over 50,000 small businesses. OnDeck has experienced a +11 NPS increase between 2015 to 2017 from an NPS of 73 to 84.

OnDeck's increase in Net Promoter Score is thanks in large part to initiatives undertaken by the company to streamline the customer experience, educate customers, promote transparency and referrals through their online review platform, and push a customer-first focus as a core company value.

To streamline the customer experience, OnDeck brought together the best of what fintech has to offer, including an online, offline and multichannel customer experience. OnDeck also provides underwriters who reach out to current and prospective borrowers to address their concerns during the origination process. And, for customers who are rejected for applications, OnDeck doesn't simply turn them away. OnDeck offers specialized "decline counselors" who provide detailed guidance for why an application was rejected and educational material to improve the rejected applicant's future borrowing chances.

"
Make sure you have a system that keeps track of past and historical communication and interactions with your customers. It's important to know why and when they've reached out in the past.
Eric Lichtenwalter
Director of Customer Service
To ensure the seamless resolution of customer issues, Director of Customer Service Eric Lichtenwalter uses a workflow system that enables his staff to find immediate answers based on past correspondences.
To promote transparency, OnDeck publishes their reviews online via TrustPilot based on their Net Promoter survey feedback, which shows the company receiving an overall score of "Excellent".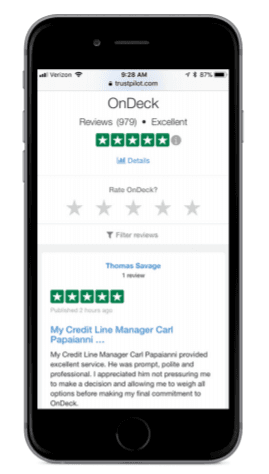 Celebrating their 10-year anniversary this year, CEO of OnDeck, Noah Breslow, believes the customer-centric approach and providing fintech efficiency is the only path forward:
"OnDeck started lending online to small businesses ten years ago with a customerfirst philosophy and a relentless commitment to providing capital online with speed,
efficiency and top-quality service to America's small business owners. This is still
the hallmark of our business today as we celebrate a decade of innovation on behalf of small business owners, truly the lifeblood of our economy."
Learn More About Financial Services Benchmarks in our guide here.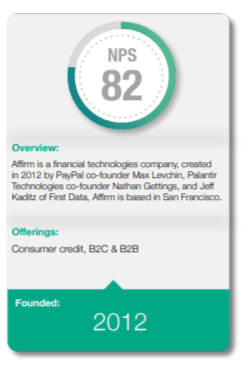 Affirm B2C & B2B | Consumer Credit
In a time where consumers are suspicious of consumer credit agencies, Affirm has maintained a high level of customer loyalty, reaching a Net Promoter Score of 82. In the same year, they also processed their 1 millionth consumer installment loan.
The financial services company achieved a stellar NPS of +73 in July 2017. Since then, Affirm has grown their NPS by +9 points to +82, a true indication that the company is putting customers first by of providing consumers with honest, transparent financing, in line with their core values.
Prior to implementing NPS, Affirm was using anecdotal interviews to gauge the customer experience. With their NPS program, Affirm sought to inform the gaps in their product and services and improve customer happiness. Net Promoter allowed them to identify improvements, including updating billing reminders, improving the payment process and check out experience, and enhancing the FAQ section on their website.

"
This was key as we pride ourselves on making everything we do completely transparent and honest as possible, including making complex concepts simple and clear.
Affirm

Affirm then analyzes the results and flags responses from both promoters and detractors for further follow-up via email, phone, etc., from the Customer Ops team.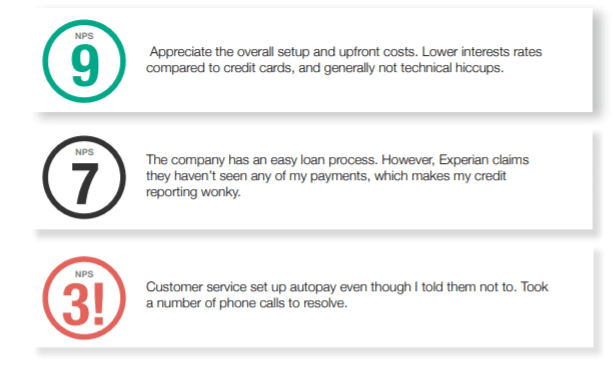 In promoting both transparency and best practice improvements, a "customer spotlight" is then sent out to the entire company from the Customer Ops team in the form of weekly posts that summarize various experiences customers are having. This allows departments beyond the ops team, including engineering, product and management teams, to stay accountable of the customer experience. This process also strengthens customer relationships, while presenting opportunities to push customer referrals.
"
At its core, NPS is a measure of trust, and so long as our customers continue to trust us with their time, money, and well-being, we know we're doing something right.
Max Levchin
PayPal co-founder and CEO of Affirm
Lending Club P2P lending
Based in San Francisco, LendingClub is the world's largest P2P lending platform. With a current NPS score of 79, LendingClub still falls within the center to high range of the fintech industry.
Looking at LendingClub's agile customer support process, it's no wonder why customers keep coming back for more. As part of the Silicon Valley movement, LendingClub learned that tech support and customer support must live in unison to ensure a streamlined approach to the customer experience.
Branded as the "Silicon Valley client approach" by EY, LendingClub call centers are located right next to developers, meaning customer technical issues are addressed quickly. This is what allows LendingClub to close the loop with customers within 24 hours for both financial concerns and tech issues.
Many fintech companies also rely on one another for referrals. Similar to the Progressive model, for applications that LendingClub cannot accept, they are not beyond recommending other competitive lenders. LendingClub will recommend Avant for subprime borrowers in some cases.
According to EY, this "model is supported by the user experience, resulting in more than 50% repeat customers." Other lenders will similarly recommend LendingClub. This referral process reduces the cost of acquisition for companies.
About the Author