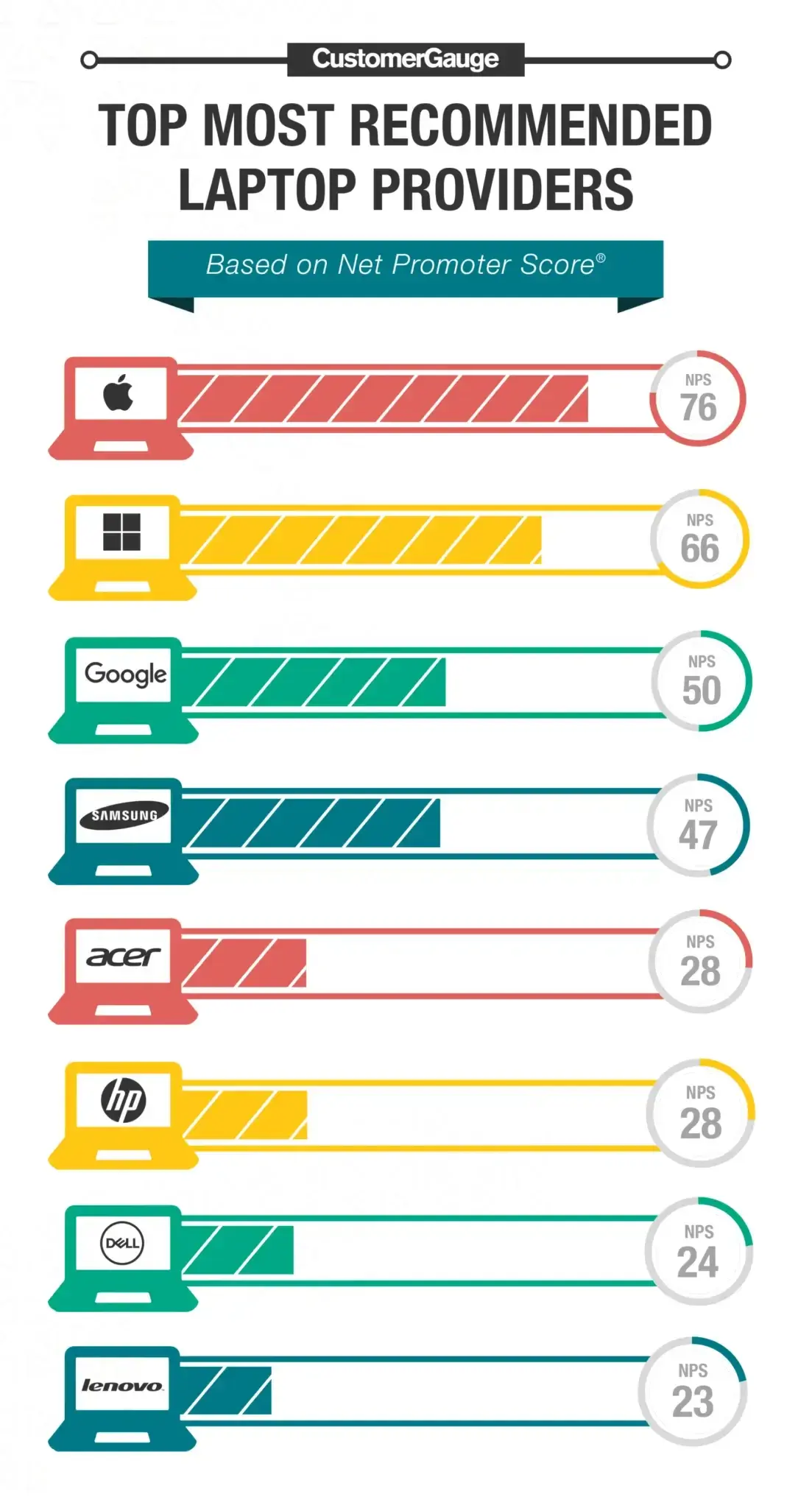 When it comes to buying a laptop, customers don't make impulse purchases. They do their research to compare brands and features, shop around for prices and consult with experts. The geekiest among us might look at things like graphic cards or solid states. Regardless, we all agree on one thing: recommendations matter.

As part of our "Top Most Recommended" blog series (check out our previous most recommended banks article), we're looking at the top most recommended laptop providers, based on Net Promoter Scores®—just in time for the holiday season. Throughout, we'll look to answer how each company achieved their Net Promoter Score and how this reflects in the highs and lows of their customer experience and service.
Apple—76
While Apple's overall Net Promoter Score stands at an impressive 89, we decided to use Apple's Mac Net Promoter Score, which they define separately from their main company Net Promoter Score at 76.
It's no secret that Apple's Macs have taken the laptop industry by storm. Over the years, sales of Macs have consistently increased. However, despite it seeming like everyone and their cousin owns a Mac, Mac sales account for only 10% of Apple's total revenue, with $7.2 billion dollars in revenue for Q1 of 2017. Mac OS X is also only 9% of the global computer operating systems on the market.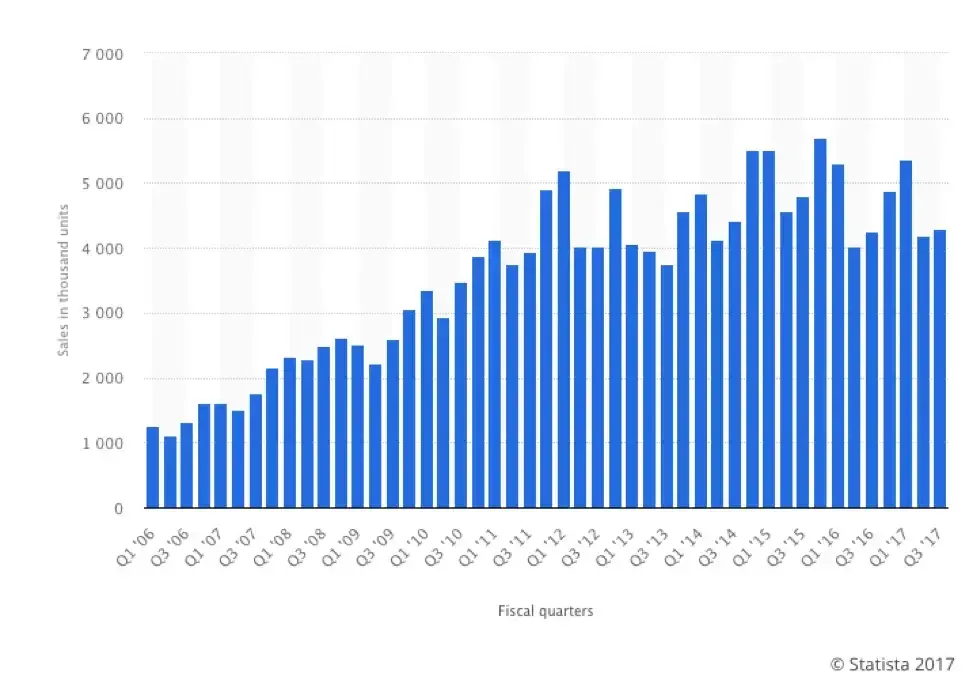 It's important to note that Mac sales have steadily increased even as PC sales have dipped, regardless of the fact that Windows PCs continue to dominate the market. Part of this is may be due to the steep costs of even the most basic Mac laptop, starting typically at $999, and them being the only Mac OS providers on the market (little reason for competitive pricing). However, Apple's furiously loyal base means Macs continue to experience higher customer loyalty than those of PC users. I.e.: Once you go Mac, you never go back.
A major part of Apple's current success comes from the customer service and experience of Apple itself. In his book, The Apple Experience: Secrets to Building Insanely Great Customer Loyalty, Carmine Gallo said there three pillars of Apple's customer loyalty success:
Likeability
Apple's main marketing campaigns have been built around creating a "social identity" for their users, similar to the loyalty of sports fans. This campaign angle started between 2006-2009, when they began creating a mentality of "Nerdy PC Users" vs. "the Cool Mac Guy". In it you had Mac users as modern, young and cool. PC users, on the other hand, were portrayed as nerdy, socially awkward and adverse to change.
Trustworthiness
According to a survey conducted by Concerto Marketing Group, 83% of consumers will recommend a brand they trust and 82% would continue to use that brand. Since Apple's business model is built around being the official provider of both its hardware and software, they have solidified themselves as the most trustworthy source when it comes to customer service around Apple Mac products and software.
Quality
Most Mac users will gush if you ask them about the quality of their Macs. The design is sleek, modern (patented) and its OS is very user-friendly. AppleCare+ for Mac gives you expert telephone support and additional hardware coverage for up to 3 years. It also includes up to two incidents of accidental damage coverage. Each incident has a service fee ($99 for screen damage or external enclosure damage, or $299 for other damage). If you don't buy AppleCare+ with your Mac, you can buy it within 60 days of your Mac purchase if your product isn't damaged ($249.00-$269 for 3 years).
This campaign worked for a while, but was soon working against Apple as part of their mission was to convert lifelong PC users over to the Mac-side. Apple then started to focus specifically on exploring the lifestyle of ideal customers: young, especially students, who have basic computer knowledge, appreciate ease-of-use and use their laptops for long periods of time for streaming, etc. This set the tone for their current campaigns, which push Macs as the go-to laptop for people on the go. It built a brand tribe, and brand tribes are hard to break.
You can go to an Apple Store (or authorized service provider) for support or to talk to a certified expert. Using the A-P-P-L-E approach to customer service, each employee provides the same consistent level of service. This service also extends to online support as well. Phone support by Apple is rated as some of the best in the industry.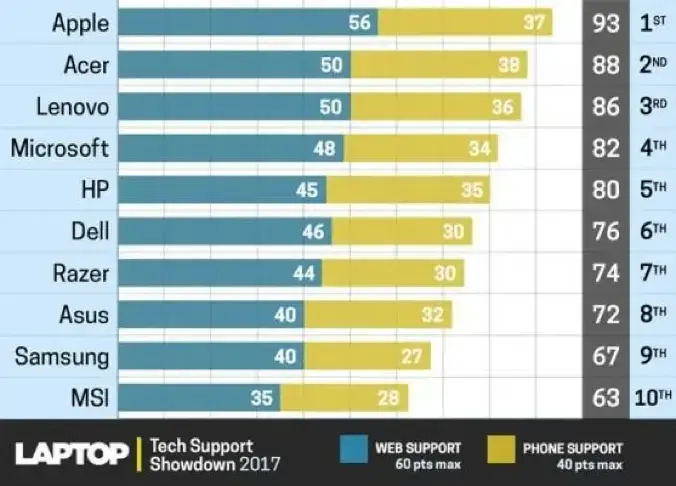 For do-it-yourselfers, online guidance for support is user-friendly, with easy navigation to understand "what's going on with my Mac".
It is also possible, if issues do arise with your Apple computer, to check on the status of your repair online. Which brings us to our next point. The success of Apple's Mac computers will most likely continue to increase as they are the primary provider of both the hardware and software, and continue to deliver unparalleled support for their customers.
Microsoft—66
Like Apple, while Microsoft's overall Net Promoter Score is 45, their Surface Book earns an even higher score of 66.
Microsoft's push into the laptop manufacturing game is relatively new. Generally, the other laptop providers in this list all use Microsoft software, which is the face of PCs everywhere. Therefore, their dive into personal computers is an interesting one. However, with a current score of 66 for their Surface Book, Microsoft is quickly making waves.
Priced similarly to the Macs, Microsoft is making a risky move. While boasting itself as a "design-friendly" laptop, it still has one problem that reviewers have noted:
"
I've used Surface Pros as my main PC quite often in the past few years, and my only major complaint with the 2017 Surface Pro is the same I've had with the others: It's not all that great as a laptop. As a tablet, it's as usable as Windows 10 Pro can get in touch screen form.
Wired
Microsoft Complete Protection
Just like AppleCare+, Microsoft offers fantastic product protection in the form of Microsoft Complete for Surface. Ranging from $149 to $399 worth of coverage, Microsoft Complete offers extended hardware and accidental damage coverage for any Surface device—plus unlimited technical support—for two full years. Microsoft Complete for Surface also offers a number of other benefits, including:
Great in-store customer experience
In addition to delivering stellar product protection and customer service, Microsoft Stores are also making waves. Microsoft is currently using their array of experience-based products—from laptops to VR—to create improved customer experiences in-store.
Creating "WOW" moments
As part of improving in-store moments, Microsoft sales associates are encouraged to share "wow" moments they create with customers. They can record the experience and send it to corporate. Each week a "WOW" winner is selected for a cash bonus and a team bonus. This WOW moment is then used as a learning tool for other stores.
Preferred Care
At $249, Google's Preferred Care option is right in line with AppleCare+ for the price, but a bit more overpriced in comparison to the basic protection from Microsoft. Benefits include:

2 years of accidental damage coverage, and an additional year of mechanical breakdown coverage for Pixelbook
24/7 priority access to support specialists
Unlimited expert sessions to learn about your device
In addition, sales for Microsoft Surface haven't been as steady as its competitors. This year, Microsoft reported that revenue from Surfaces dropped 26% from last year (i.e., $831 million to $1.1 billion). According to Microsoft, this has to do with pricing for the competition where they are being outperformed.

However, despite both Macs and Microsoft Surfaces being the priciest of options, they still maintain the highest Net Promoter Scores on our list. Why is this? There are a number of reasons:


Currently, there are about 98 Microsoft Stores in the US, 7 stores in Canada and 1 in Sydney, Australia. In an interview with Travis Walker, General Manager of Worldwide Physical Stores at Microsoft, he discussed how Microsoft is using stores to create a unique customer experience, which includes free trainings, in-depth product demos, gaming meetups, and other events to keep people coming back. In addition, each store tracks their customer experience and engagement using a dashboard.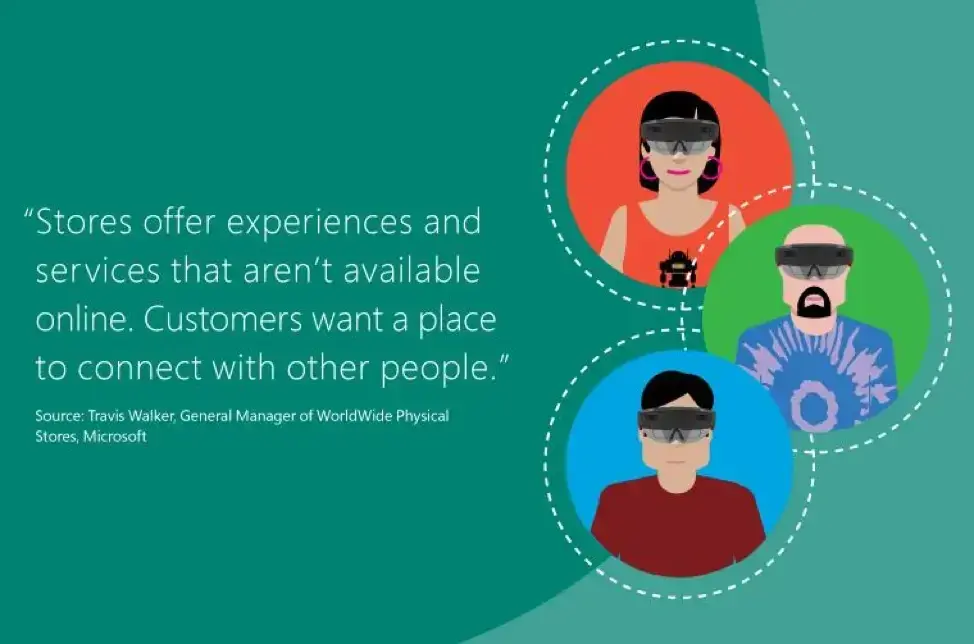 To improve its overall Net Promoter Score and Surface score, Microsoft should continue to focus on delivering above and beyond customer experiences, while also pricing products within similar realms as Samsung, Dell and HP.
Google—50
Google is also a relatively new face to the laptop game. While Google's low-priced Chromebooks (though manufactured by others) was Google simply "getting its feet wet" in the personal laptop space, the new Pixelbook is Google's first attempt at the mainstream laptop game.
As you'll remember, Chromebooks were priced around $300 and offered some basic amenities: word processing, internet surfacing and not much else. And while they weren't selling like hotcakes, there was a place on the market for this low maintenance device.
A 2-in-1 device, the Pixelbook is coming in direct competition with the likes of Microsoft Surface and Macs at a price tag starting at $999 and rounding out at $1,649. However, numerous reports are saying, similar to the Microsoft Surface, many customers are still hesitant to fork over the high costs for a device they feel isn't matching that of a "real laptop".
Despite this though, Google took extra pains to make sure that Adobe suite products and other offerings work well with this 2-in-1 device, making it ideal for creatives on the go. As Tech Crunch mentions, "Indeed, Google worked with Adobe and other software houses to make sure that applications like Lightroom work well on the Pixelbook."
The new Pixelbooks also offer much more space than their counterparts, up to 128GB in relation to previous Chromebooks which, at 16GB, were bulkier and slower.
While it still remains to be seen if Google can really compete within their price point, they do provide a number of perks:
Cross-device apps
With the new Pixelbook, users can work like Android-powered smartphones and access the same apps. For Apple users, there can be a bit of frustration with the fact that certain apps are only available on iPhones and iPads. Pixelbook gets the same great apps as the Android phone. Part of this can be attributed to the 2:1, but also to the smart developers over at Google.
Edge computing for the best wireless customer experience
For those of you unfamiliar with this term, "edge computing" involves the use of "smart" interactions, regardless of internet connections. As USA Today puts it: "This concept of what's often called "edge" computing has been bubbling under the surface of the tech industry for the last few years….Edge computing includes the Pixel 2 phone's ability to automatically recognize music and display the artist and song name on the phone's screen without a network connection and the Google Home Mini's ability to distinguish between different people speaking to it via what its calls Voice Match."
Samsung—47
Now that we've gone through the big spenders, we've now transitioned to what I like to call the "average PC" buyer territory. When looking for PCs, Samsung and its counterparts Acer, HP, Dell and Lenovo dominate (we would have included the gamer-friendly Asus, but they don't publish their Net Promoter Score; hint hint).
Like these other brands, Samsung offers a price variety when it comes to its laptop, from high-end devices to more affordable offerings.
Samsung has been under some fire (literally) in recent years for their Galaxy phone debacle . This has surely impacted their overall customer perception; however, Samsung does continue to experience good customer satisfaction with their laptop offerings.
To revamp its image, Samsung has started a number of initiatives:
Creating an in-store experience
Samsung hired a previous Apple store designer to help market their new "flagship" stores that not-surprisingly, look and feel similar to the retail experience of Microsoft and Apple stores. Samsung expects to rollout about 1,400 of these pop-up stores in Best Buys to show off its array of products and connect experts with consumers.
More options for protection
Samsung has increased its product protections for customers over the years to include 2-year and 3-year extension plans.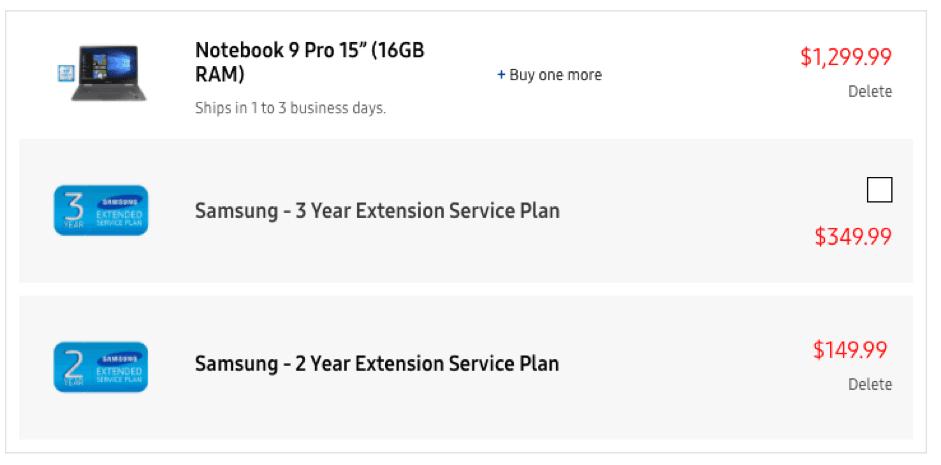 Improving customer support
Overall, Samsung gets an okay rating for their customer support, with an average call time of 11 mins. However, their online support is ideal, with quick responses. Their web support was rated the highest according to Laptopmag.com:
"
Samsung's online tutorials are useful, but when they miss a step, the company's reps are there for you. The company redesigned the site support.samsung.com to make locating content easier.
If Samsung were to improve their overall customer support, their Net Promoter Score may inch closer to that of Google.
Acer 28/HP 28
While the Net Promoter Scores begin to dip lower at this point, coming in strong is Acer. The low-cost, but highly functional laptop provider for those on a budget who want to get the job done. Acer's customer support is considered one of the best in the business, ranked 2nd next to Apple on customer service.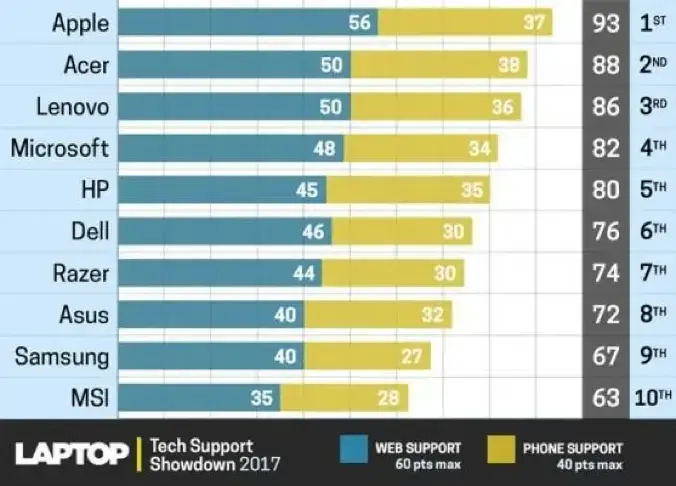 Acer offers free 24/7 phone support for products under warranty. If out of warranty, customers can use a third-party resource called AnswersBy, which offers premium support packages at $69 for one PC.

In addition, Acer offers a variety of other warranty options, including:
A two-year extension for $90; and $140 for a two-year upgrade that includes accidental-damage protection
A three-year warranty for $190
And on-site service for $80 a year or $130 for three years. This is a great option for businesses.
Tying with Acer at a Net Promoter Score of 28, HP, while in the running still has a number of issues to work out in terms of customer experience and support services.
According to LaptopMag's most recent survey, HP dips below the lowest on our list, Lenovo when it comes to customer service. However, it's pricing for laptops and general comments from customers leave it more in line with that of Samsung for customer satisfaction.
As for product protection and customer service, HP does offer a number of options as part of their HP Care Package:
Extended Coverage with Accidental Damage Protection and Pickup & Return
Extended Coverage with Pickup & Return
Extended Coverage with Accidental Damage Protection with LoJack for laptops:
Post-warranty
Dell—24
For as popular of a brand as Dell is, they have the second to lowest NPS® score on this list. It wasn't straight-forward finding out information on their offerings for their warranty plans and the information that was accessible seemed to be geared more towards their PCs and Tablets rather than their laptops.
Dell offers a standard one-year warranty, which includes return shipping. Basic support gives you phone support during business hours. Though sparsely advertised, they also offer ProSupport to ProSupport plus plans (that can extend up to 4 years). ProSupport extends they phone support time to 24 hours a day and ProSupport Plus adds accidental damage protection. This information was all found through Laptop Mag's customer service review and not the official Dell site, so as far as we're concerned, this is all here-say.
Dell falls on the middle of Laptop Mag's list for customer service offerings. They're said to offer technical support through social media accounts, phone tree and plethora of information on its website. But according to this reviewer, the quality seemed spotty. Our advice? Proceed with caution: for as big of a brand that Dell is, they don't seem to put a lot of focus on their customer support offerings.
Lenovo—23
Rounding out the bottom of the list is Lenovo with a Net Promoter Score of 23. It was very hard to find information on Lenovo's customer service offerings (which may be a contributing factor to their score). This is what we do know:
Lenovo actually did quite well in Laptop Mag's ranking of laptop company's customer service, ranking #3 below Apple and Acer. They shine with the wide-variety of ways you can get in touch with them for service issues, from web-based support to social media. They did note that, just as we found, if you're looking to find information on your own, it can be quite difficult. Their website seems to be stuck in 2005, and ease of access is abysmal. That being said, if you're willing to kick it old school, they do have fast and helpful phone support.
In an interview with the Director of Lenovo's Customer Insight Center of Excellence, he explained what the company was doing to improve their customer experience:
"We're analyzing the voice of the customer by conducting text mining on our brand mentions to help understand sentiment, identify new customer segments, and test how our messaging is resonating." We hope they keep on with this goal of truly tapping into their VOC, in hopes that maybe they'll raise that Net Promoter Score.
Don't see your name here? Add your score to NPSBenchmarks.com if you think you should be on our list!
About the Author