Here's your HQ Trivia question for today: What's the best way to predict customer churn for SaaS companies? Quick! Is it:
A) Astrology
B) Usage Statistics
C) Usage and NPS
Alright, so it's not a savage question (of course, the answer is C). However, you'd be surprised at how many companies I meet that seem to operate on a mix of metrics that might as well be based on looking up horoscopes, reading palms or rolling dice.
Customer Success Should Consider All Customers—Moving Beyond Usage
Poor usage stats from a client are an indication of waning buy-in—a red flag of future churn. Segmenting SaaS customers by how they use a product is a good proxy for measuring engagement. This is well understood in businesses, and used widely by Customer Success teams. Similarly, in our 2018 NPS & CX Benchmarks Report, surveyed companies that indicated higher survey response rates typically had higher Net Promoter Scores® as well—in other words, higher customer engagement translates to higher loyalty.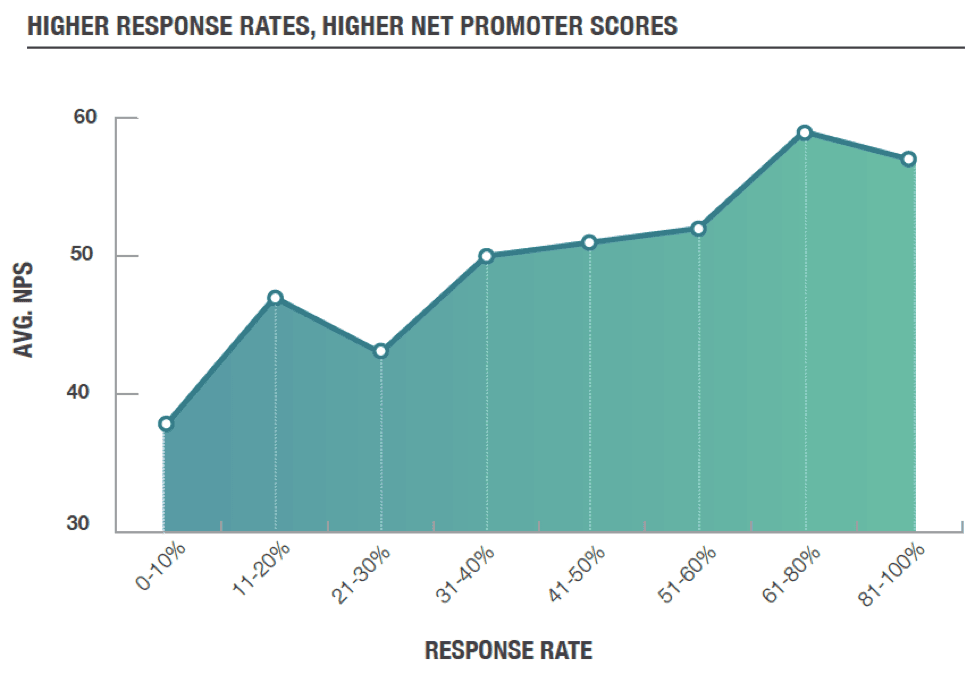 This brings us to our next point. Despite being a valuable indicator of churn, usage is only part of the picture when it comes to understanding your customer experience.

For B2B SaaS companies, a focus on usage stats alone can mean introducing big blind spots into a retention strategy. With usage, companies can only measure what their SaaS users are doing. Often, however, there are several key audiences missing. The executive suite can be non-users (or, at best, occasional users), but are key decision makers in renewals. Customer success teams should look at these users and ask: What are they thinking of the investment in your product? Or maybe: What does the IT Director (typically another non-user) think of how your software is playing with the rest of the estate?
The people who use your product are often not the only main drivers responsible for it's longevity within the tech stack. So, how can we take customer success out of the mindset of just focusing on usage?
"Do What I Say, Not What I Do"
Help is at hand. Enhancing your usage focus by adopting a "Spend-Do-Say" Model can help uncover additional sentiments among stakeholders and significantly reduce customer churn.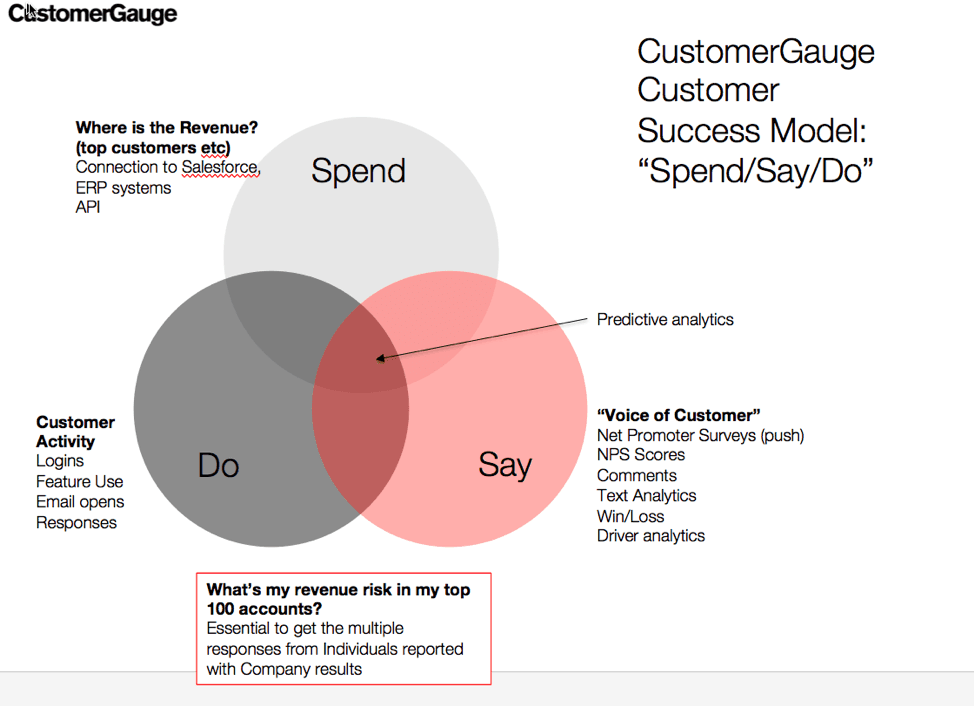 Never heard of the Spend-Do-Say approach? No worries. Below is a breakdown of the illustration above:

Spend: "Spend" allows you to identify where revenue is coming from, focusing on the ability to segment customer based on their financial commitment to you: past performance, spend trends, company size, etc. Who are your high value customers? Who are your "high spenders"?

Say: "Say" is a structured approach to customer feedback and follow-up. Specifically, it encompasses something called the "Voice of Customer", which uses Net Promoter® feedback loops, comments, user engagement, etc., to tell a story around the customer experience and identify the root cause behind feedback. Are customers satisfied with your brand? Would they recommend your company to others?

Do: "Do" taps into the more traditional customer success metrics, namely customer activity. This is the data that you get from usage. What are they doing in your platform? Have they been responding to our emails?
I find that the really successful CSM departments are reaching out with the "Say" approach. They go outside the user base to the other members of the company's Decision Making Unit. This is because getting C-suite and management feedback can only be done reliably within the Say model framework. Juxtaposing structured feedback alongside usage stats and customer comments provides greater transparency into the health of an account.
Sure, you're probably doing surveys now. But most likely you're using features of another "customer success" system that's not ideally suited to this level and depth of feedback analysis (i.e., root cause). CustomerGauge takes the best of both worlds with the Spend-Say-Do model: combining the insights from the product side and the cross-organizational insights from in-depth customer feedback analysis into a fully developed, actionable narrative.
That's not to say there aren't companies out there doing this right—for example, SmartBear ruthlessly gathers NPS® feedback as part of their customer success process. They publish it within the company, then follow up on the comments. They also like to analyze churn reasons to increase retention and introduce additional growth by mobilizing promoters.
SmartBear will be telling their story at our upcoming Monetize! event in Silicon Valley event. We will also be talking about the Spend-Say-Do model, and how Net Promoter can enhance your churn reduction strategies. With more than 1000 SaaS companies in the valley (all focused on retention) this event is already rapidly selling out, so secure your place now be clicking the image below.