B2B companies have unique challenges in the realm of customer experience.
While the transaction involves two separate companies, the end users are the people that use the products or services provided. B2B marketing and sales processes differ from a B2C approach, but it is important to note that there has been an evolution of expectations for service.
Today's B2B customer is a tech-savvy, digital native who seeks a B2C-like experience in his day-to-day operations. This is a demand that enterprises across many industries are striving to meet — with some companies far ahead of the curve.
Here, we're spotlighting four B2B companies that have adapted to the expectations of their customers and achieved CX success: IBM, FedEx, GE, and Nationwide.
These companies demonstrate unique strategies that have helped them solve for the customer, from the creation of new departments and centers to a multi-level closed loop process.
IBM
The International Business Machines Corporation (IBM) develops and manufactures computers and computing technologies for business environments. In their desire to be a one-stop shop for everything tech—and hold its place as market leader—IBM has done extensive work with nanotechnology and cloud storage in recent years.
IBM's enterprise has flourished and emerged as one of the most successful B2B companies today. In 2017, IBM was recognized as the second most valuable B2B company in the world, when its value increased by 18 percent from the year before. It also came in second place in 2018, and though its value was lost by 6 percent, IBM is still more than $30 million ahead of the third ranked B2B brand, UPS.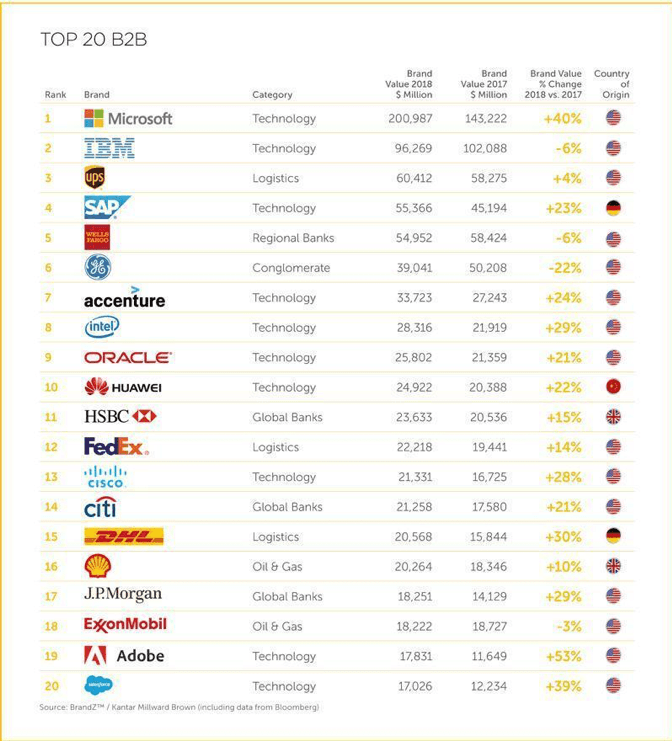 There are many factors contributing to IBM's financial achievements and growth.
However, their exceptional customer experience is chief among them. This is particularly evident in IBM's Cloud Storage service, as the company invested in customer-facing specialists to support multiple stages of the customer journey.

When a customer signs up for IBM Cloud Storage, they are given access to a team of specialists to help them integrate the tech into their own office systems.
These specialists help customers manage the IBM Cloud, and utilize it to its full potential. By leveraging this team, IBM ensures that their customers are engaged with their product. Engaged customers are more likely renew their contracts, and IBM's personalized account approach encourages both personal interaction and product awareness.
In the B2B market, retention rate can be difficult to identify, partially because businesses have different definitions of what counts as a repeat purchase. According to CustomerGauge's B2B CX and NPS Report, only 44 percent of businesses are aware of their retention rate.
IBM recognizes the value of investing in their customer base. In 2017, the company pulled in $17 billion in cloud revenue—an increase of 24 percent from the previous year. Then, following the 2018 release of The IBM® z14™, a cloud mainframe with next-level encryption and processing capabilities, the company enjoyed one of the strongest sales cycles in years. The mainframe completely surpassed z13, the company's previous model, and a significant portion of sales came from existing customers.
By reaching out to the company's promoters and solving for their unique issues, IBM was able to upsell the new mainframe, growing the total number of sales. That year, IBM earned $19 billion in cloud revenue—increasing its profits by 20 percent. Cloud services currently account for 21 percent of IBM's total revenue, reflecting that a commitment to customer centricity boosts profit growth and product innovation.
FedEx
While FedEx is available to individual consumers, the company profits most from its B2B revenue, delivering shipments for hundreds of thousands of businesses every day. As a B2B enterprise, the company is number 10 in Sacunas' Top 100 B2B Brands list, and is the second most trusted B2B company according to SageFrog.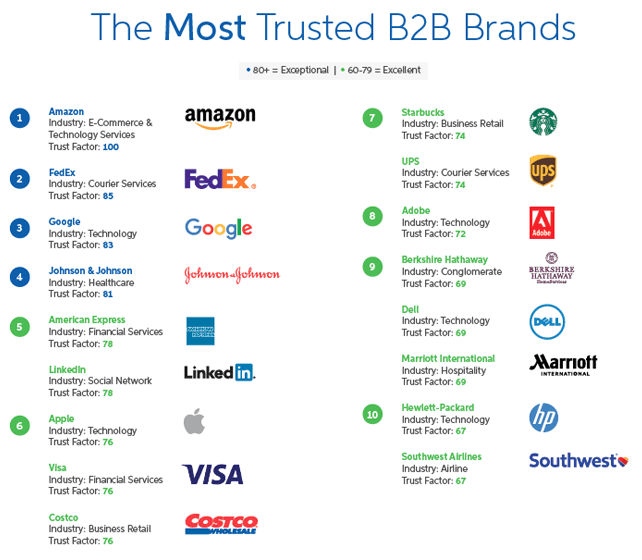 As of 2018, FedEx is in 12th place for the most financially successful B2B companies in the world. The company's didn't make it this far by accident—FedEx is committed to customer experience, transparency, and open communication.
One of the best ways any company can communicate with its customers is to close the loop, or follow up with customers to resolve issues, give support and respond to feedback. According to CustomerGauge, companies that close the loop within 48 hours and 2 weeks see a minimum of 5.5 percent increase in customer retention. This is a significant statistic given that for every 5 percent of increased retention, companies increase profit by 25-85 percent.

FedEx benefits from its good internal and external communication. One notable example is how the company recently reworked its newsletter production and execution. In the initial approach, five independent agencies produced content for the newsletter, resulting in a large scale production with little communication, strategy, or effect. At one point, FedEx would generate 13 different emails per month for a single customer, none of which were remotely relevant.

This illustrates an internal communication issue between the content teams, FedEx's marketing department, and customer service. The newsletters and emails were not created with a single vision, so the company was spending significant costs with little ROI. That changed when Drew Bailey, FedEx's new Manager of Content Strategy, proposed a newsletter system that was more customer-centric.
The company decreased new content output from 80 to 20 percent, distributing the work between just two teams.
Every level of the marketing department now participates in the creation and recycling of content, leading to better internal communication around the newsletter, and in turn, better external communication with customers. This more united vision ultimately generated double-digit revenue increases from the newsletters while reducing costs.
We see this kind of effective internal communication at FedEx in other areas as well. The president of FedEx Express Canada, Lisa Lisson, frequently engages with her employees, crediting them with some of her most successful ideas.
Occasionally dropping in on sales calls, Lisa is very familiar with work at the frontline. Her participation and involvement in employees of all levels boosts morale and increases employee engagement, something that in turn influences productivity.
Thanks to executives like Lisa, FedEx has a loyal workforce that cares about their company. Feeling valued, employees go above and beyond their duties, just like the rep who purchased baby formula for a customer on their own credit card when delivery was lost. This level of dedication inspires others in turn, so it's no surprise that the company earned a spot on Fortune's 100 Best Companies to Work For in 2017.
FedEx delivers exceptional CX and continuously seeks new best practices for the company. Unafraid of making large-scale changes to their content, operations, and data sharing, FedEx is ahead of the curve when it comes to communicating with customers.
General Electric (GE)
General Electric (GE) is a conglomerate valued at over $40 billion, with branches and divisions operating in numerous industries.
One of those branches, GE Additive, is a dedicated B2B manufacturing business whose commitment to customer experience helps illustrate why GE is in second place in Sacunas' 100 Top B2B brands list.
In an effort to connect with their customers, GE Additive built 2 Customer Experience Centers in Pittsburgh and Munich. Fully operational, these hubs welcome future and current clients for an inside look at GE's manufacturing capabilities. During a visit, customers get to see the value of working with GE, familiarize themselves with the manufacturing process, and discuss tailored solutions.
Most importantly, the Centers provide an excellent marketing opportunity as customers build personal connections with GE specialists during their visit. By interacting with potential customers face to face, GE has a unique opportunity to personalize service and immediately respond to wants and needs. The Customer Experience Center employees preach the value of additives, and the educational opportunities even bring in potential investors.
These infrastructures are a substantial investment for GE—the Center in Munich cost $15 million and houses 50 employees year-round. However, the investment is mitigated by the fact that the buildings are fully-operating manufacturing facilities that contribute to the company's workflow.
The Centers were introduced in 2017, when GE's revenue was down a percentage point as cash flow problems in several branches contributed to company-wide decline.
Though it's too early to tell, the undertaking could be a turning point for GE Additive, perhaps even for other branches, if they successfully increase revenue through customer engagement. After all, this pioneering approach is an exciting experimental strategy to humanize the B2B customer experience.
Nationwide
When it comes to insurance companies offering packages for businesses and employees, Nationwide is one of the top 10 best service brands in Britain. With superior ratings, Reviews.com named the company as Best for Most Businesses.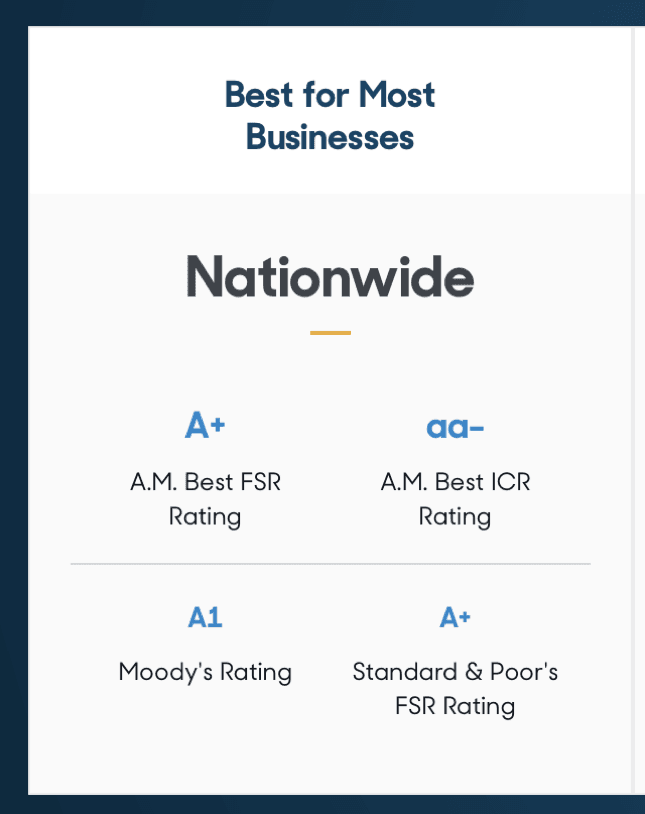 Like other B2B companies on our list, Nationwide can attribute their success to its CX commitment. The company has an entire department to care for its customers, the Office of Customer Advocacy.
Dedicated to helping customers navigate policies and payouts, the Office also collects customer feedback and distributes key findings throughout the company to ensure continuous improvement.
The Office of Customer Advocacy performs online surveys and telephone interviews to gauge loyalty and understand where the company could improve. After collecting this data, Nationwide closes the loop at every level of the organization. This way, the company is able to implement large-scale changes beyond the front line through managerial and executive support. The shared data ensures that all departments work towards common goals and strategies.
Nationwide's closed loop process, transparent internal communication, and departmental alignment help the business put customers first, and the effort pays off. Nationwide made $46.5 billion in total sales in 2017, a 7.5 percent increase from 2015. As the #1 total small business insurer, Nationwide is a market leader wisely focused on the customer.

Parting Thoughts
The companies in this article come from different industries with unique problems and customer needs. While they have different backgrounds, they share a common theme. Nationwide, GE, FedEx, and IBM all took measures to bridge the gap between the company and the customer, effectively humanizing and personalizing the journey for their B2B clients:
GE built a Customer Experience Center designed to educate, market, and connect with the people inside the company. Their process broke down the boundaries typically seen in B2B marketing and enabled personalization.
IBM drew in their loyal customer base to generate more revenue from a new product release.
Nationwide implements a company-wide closed loop process, and has even allocated a new department, the Office of Customer Advocacy, to ensure success.
Lastly, FedEx optimized its communication and marketing to release content that was no longer redundant and useful for the customer—generating more revenue and cutting operational costs along the way.
Achieving ROI within a CX program is possible but requires change management and creativity. Too often, companies implement changes on a smaller level to cut costs—only to lose sight of the right goals in the process.
Solving for the customer, not the product, requires an enterprise-level shift towards customer-centricity. By looking at some of the leading B2B companies in the world, we were able to see that this approach not only works but increases their competitive advantage and growth.
About the Author