Artificial Intelligence (AI) is a term that has been trending across every industry, including customer experience (CX). If you've recently logged onto LinkedIn, it's likely you have come across a heated discussion sparked by these new tools.
From ChatGPT to OpenAI, most people are scratching their heads asking themselves, "Should I start using AI?" or "What can I use it for?" And the biggest question of them all: "Will AI replace my job?"
In our recent webinar, AI & CX: How Ignoring Future Tech Will Leave Businesses in the Past, CustomerGauge CEO and Co-Founder Adam Dorrell, joined Owner and Director of Genroe, Adam Ramshaw to uncover what AI is good for, it's limitations, and how people can get true value from it.

💬 To AI or not to AI, that is the question of the year.
The Artificial Intelligence Evolution
If you asked people in the 70s, 80s, and even 90s what we'd have by 2023, it's likely you'd hear flying cars and hoverboards — what's taking them so long anyways?
Instead, we have intelligent language processing tools that are meant to provide humans with human-like responses, making certain projects that much easier.
Like any other webinar, we kicked off with a poll: Have you started using generative AI tools?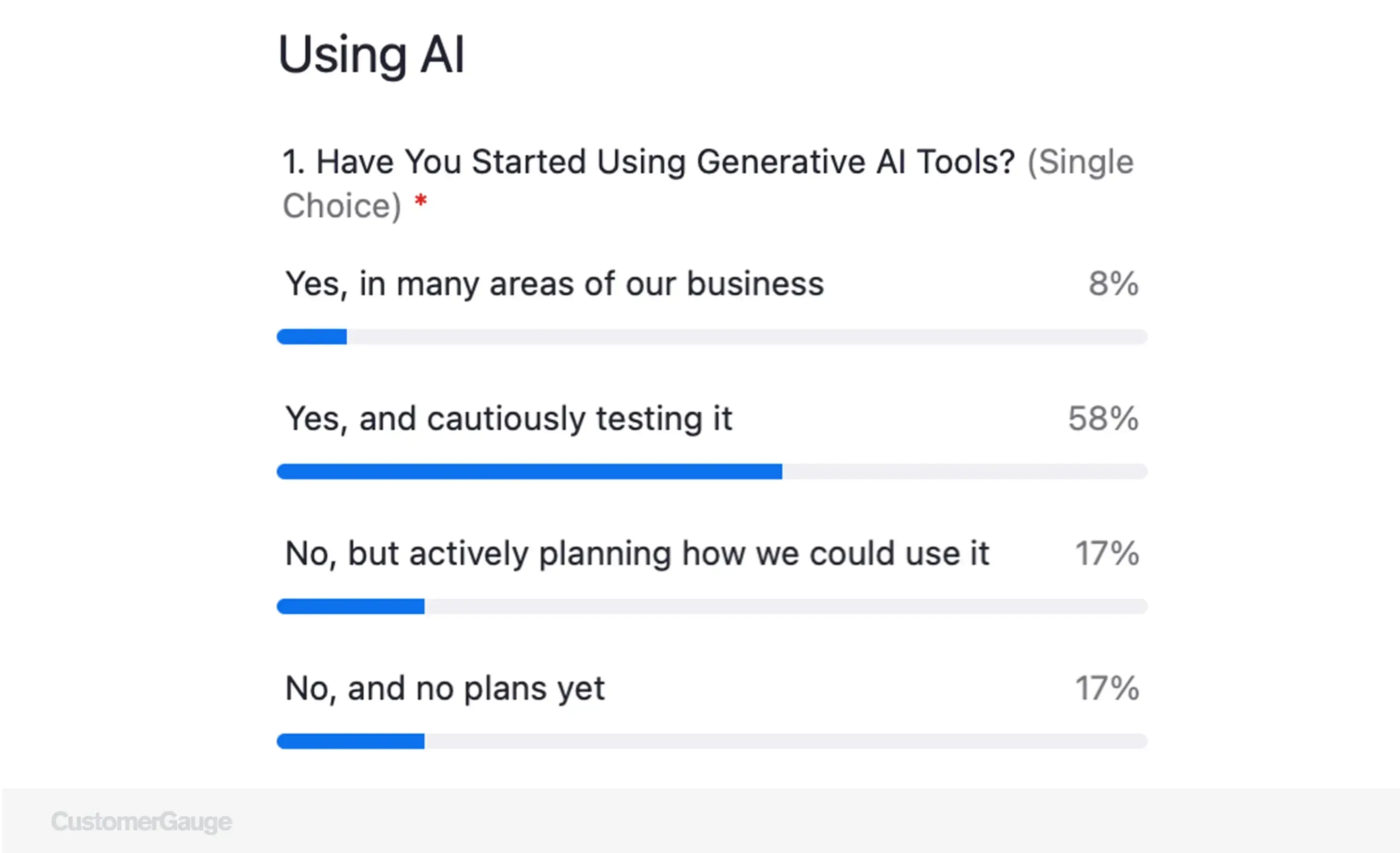 Only 8% of attendees said they're already using AI in many areas of their business, while 58% said they are cautiously testing it. 17% did say no, but that they were looking for ways to utilize it and the last option tied with 17% sharing no, they aren't using it at all.
Adam Dorrell asked Adam Ramshaw if the results surprised him, and he explained:
"I'm always surprised by the last two sections. It's been everywhere. And, I guess, for me, it's a piece of tech. That just every everywhere I look, I can see opportunities, but I'm really glad to see people cautiously testing it... I think that's the only way you really learn about this stuff."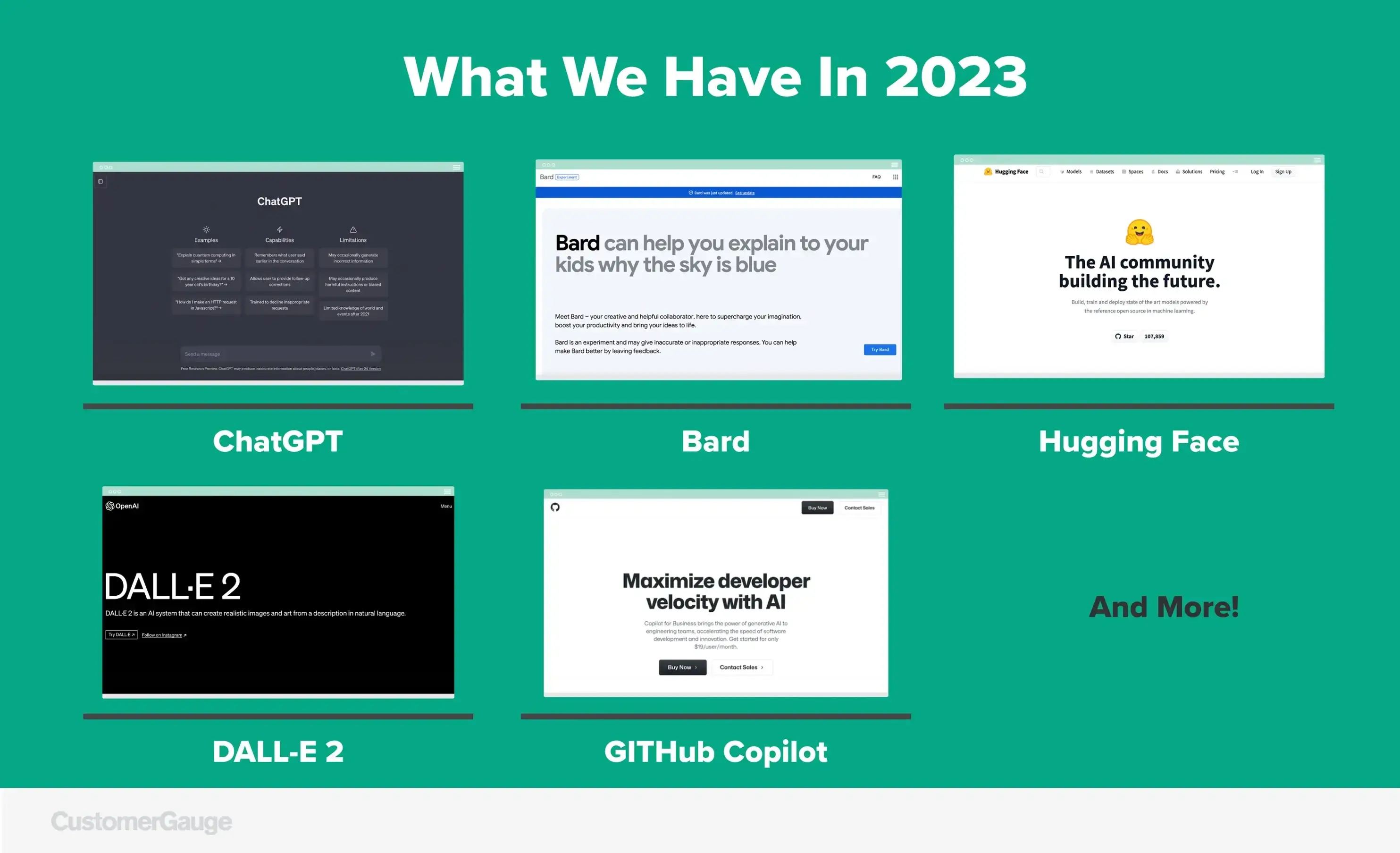 What once started with one or two AI tools has now turned into hundreds, all used for different purposes. Above are a few of the most popular platforms, but tools can come even more granular and be used to create images, videos, and more.
Throughout the years AI has taken many different forms, and if that is the case, why is it such a big deal now? Why should people worry if their job will now be jeopardized by tools like ChatGPT?
With the launch of these platforms, it's the first time AI tools have been made for the general public to use.
Adam Ramshaw explains,
"Well, we've seen lots of promise for a long time. The promise really didn't do anything from an easy-to-use business perspective.
For a long time, this stuff has been deep in universities, and people with super deep pockets have been able to access their stuff and play with it. It's never really caught on or been able to be operationalized I think, for me, until Chat GPT, until OpenAI, and I think it's really until then, that all of a sudden now a very overused term that has been democratized.
People in all sorts of businesses now were able to use this tool. You literally don't have to have expertise in AI to use it. You just use it like another tool. Like you use a car or like you use any other tool.

But it's literally been a new dawn just in the last six months and I'm shocked at how fast it's changed.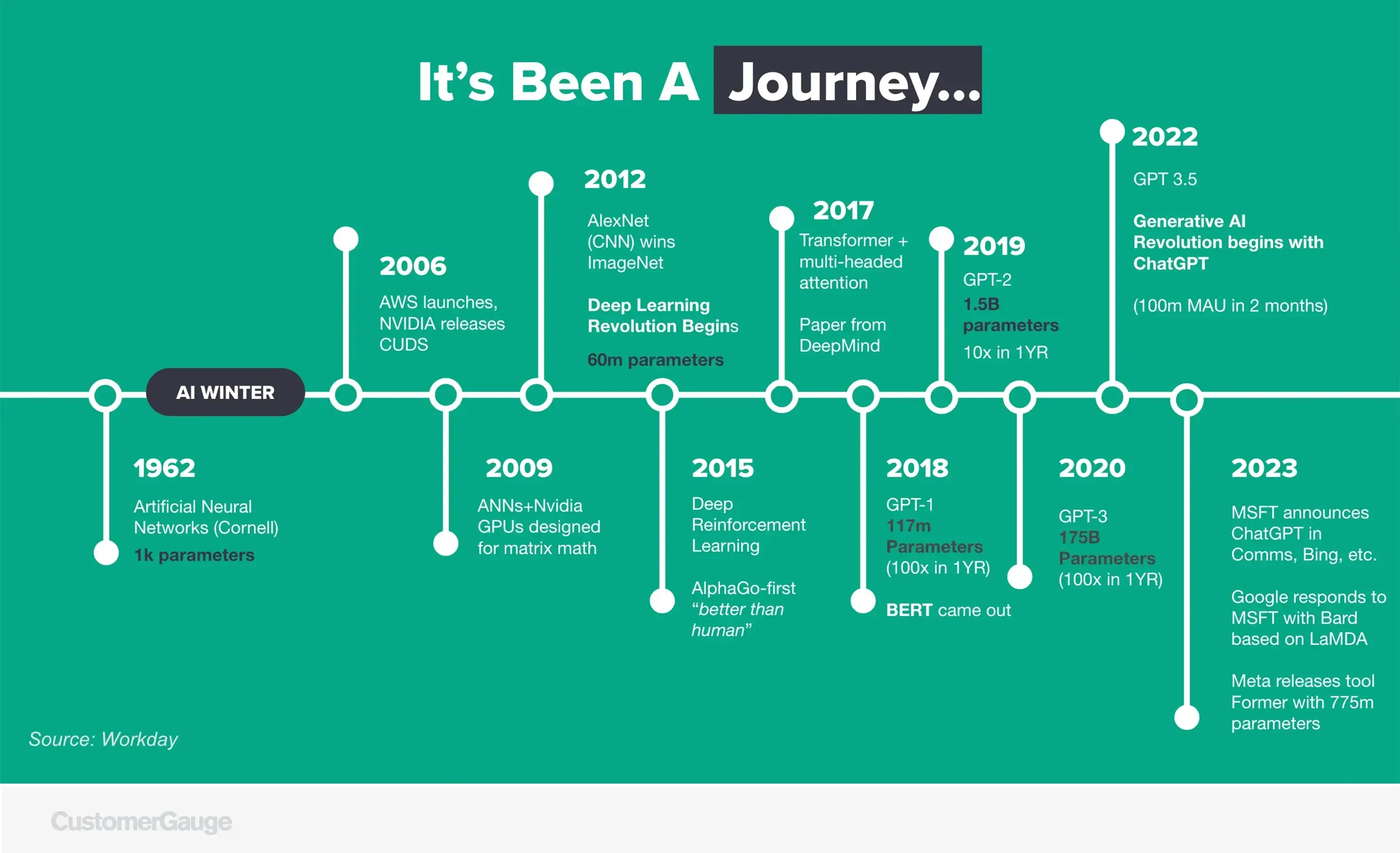 Big brands including DHL, Coca-Cola HBC, Vimeo, Ceros, and more are finding ways to implement AI into their daily operations. So, it must be something to get behind right?
Just as our webinar states, businesses that ignore future (but really, modern-day) tech will get left in the past.
So, will AI change everything? The answer: not quite yet.
But it can help you be more efficient now.

5 Real CX Use Cases for AI
Enough talk about potential ways AI can be used in our day-to-day — let's jump right into it!
Adam Dorrell and Adam Ramshaw shared 5 real CX use cases to immediately operationalize into experience roles. All five can be done once customer data is inputted into the tool.
1. Automated Customer Support
Training AI to provide automated customer support is a fantastic starting point and something, according to Adam Ramshaw, that everyone should be doing.
This type of feature is so beneficial it's something we've experimented with at CustomerGauge and have plans to potentially launch in our product.

2. Customer Feedback Analysis
Leveraging AI to produce customer feedback analyses is a quick and easy way to analyze customers' responses — gone are the days of complicated text analytics and other tools that take their time to generate data. Adam Ramshaw says,
"I honestly think that a lot of the text analytics enginges that we've been using, the ones that pull out words and we have to send ten thousand examples to train it have disappeared. That's become obsolete almost overnight."

A tool like OpenAI understands language and has essentially been trained on every nuance and every way of saying the same thing across billions of documents. That's why it does a great job of pulling major themes from customer data and even sentiment.
You don't need a separate customer sentiment engine; simply say, "What's the sentiment here?" after uploading your data and it will quickly provide it.
Adam Dorrell noted, "It's spookily good."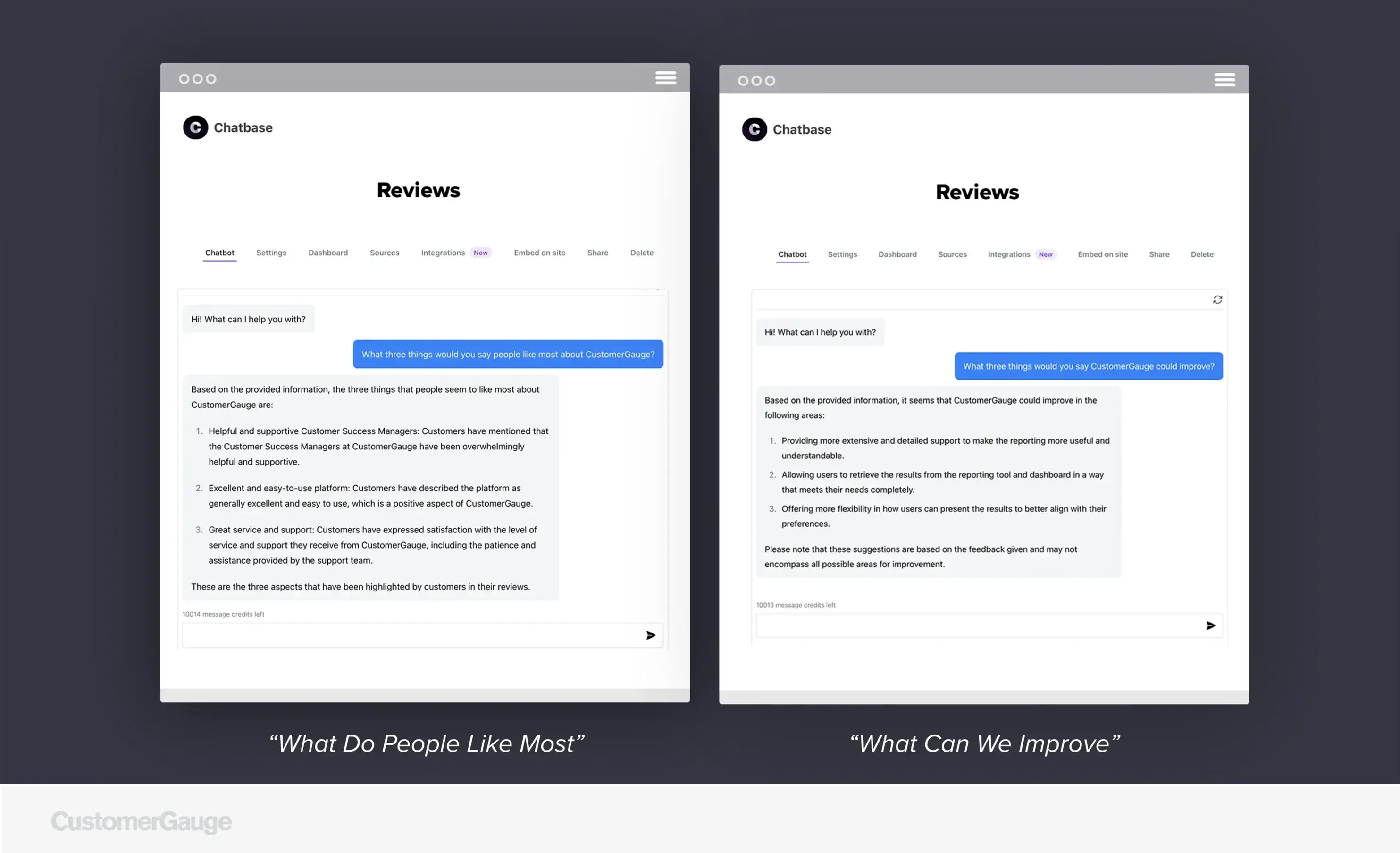 But that's not all. Adam Ramshaw continued,
"The other thing that a lot of these models or this particular solar model can do is that rather than having to have a thousand examples of a particular thing, you can get away with few shop prompting.

So, you get away with ten, fifteen, twenty examples, and AI gets the idea very, very quickly, and then it's very, very accurate.

[Adam D]: "So what you're saying is that no one's ever going to want to use a word cloud again? No. If we can avoid word clouds for the rest of eternity, I think we'll all agree in the CX community that that's a good thing.
3. Extracting Themes + Drivers From Feedback
AI did such a good job streamlining executive summaries for Adam Ramshaw, he'd happily hand it off to a customer: "It was really that good."
4. Account Planning
Artificial Intelligence tells stories very well.
However, from an account planning standpoint, it's likely the tool won't have enough data and nuance to understand how each account is different.
So, in order to give you an answer (because it will give you an answer no matter what) it may give you a generic response or what we call platitudes. Adam Ramshaw says,
It's going to read very well. If your KPI for Account Managers is that all of them should have an account plan, then this is great. But will it be nuanced enough for your accounts? I always say no.

And I see this in a lot of marketing...it will give you lots of good words. Those words aren't necessarily great. To be honest with you, they're very generic.

It's going to be a tick in the box.
We know what you're thinking: why in the world would I try a use case they don't stand behind?! That's not entirely true.
It will give you a relevant plan, especially if you ask it to point you in the right direction. It's just not up to our standards...yet.
For each account, you can ask, for example, ChatGPT:
Preferred communication method
Best way to reach out
Which to upsell or cross-sell
💡Just remember that these tools are not the end-all-be-all — discover its strong suits, pick out the good stuff, and keep experimenting.
5. Consult the "Oracle" — Make Improvements
Our fifth and final use case is one Adam Dorrell is most impressed with. If you have contextual data (numbers aside) it's fantastic at reading the text, spotting themes, and summarizing.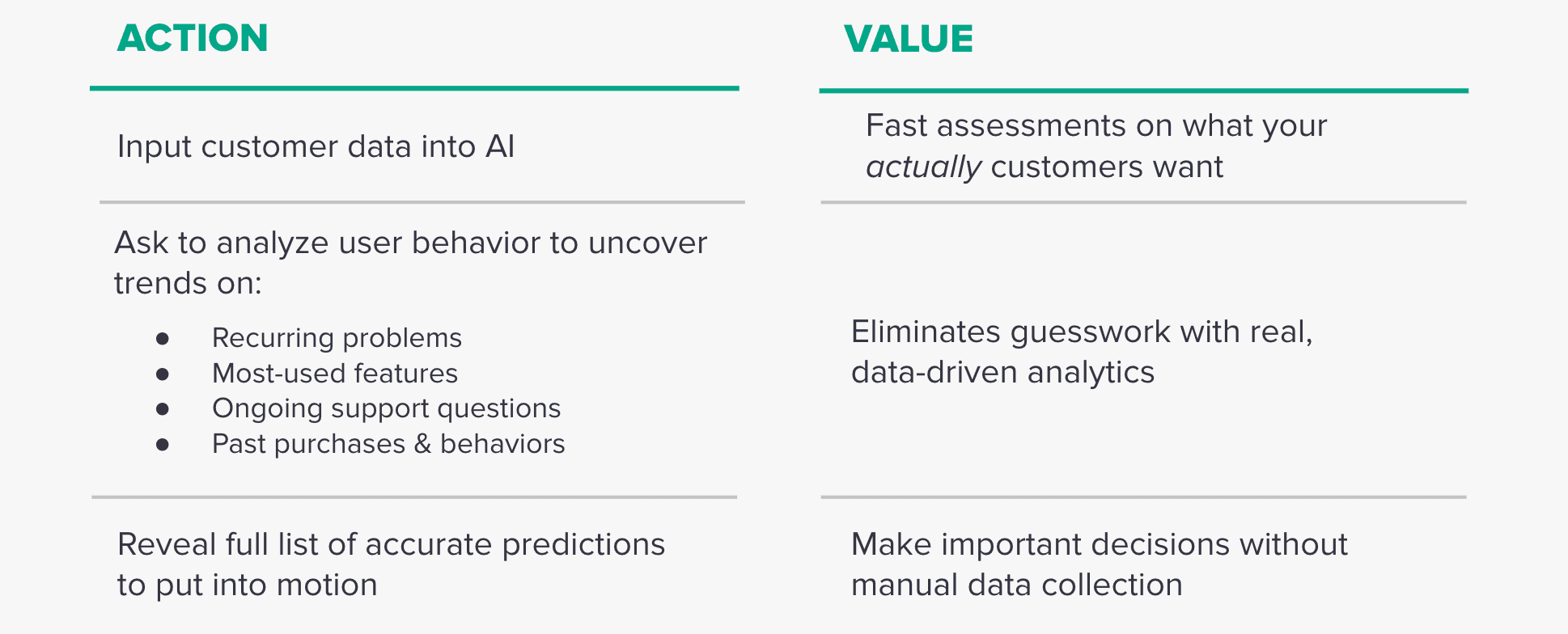 Adam Ramshaw said,
"Think about this style of AI as just being like the best English professor you've ever had, in terms of understanding all of the words and how they relate together and how people use them. As long as you've got the data that's going into the front of it, which is critical.

It can summarize really, really well. What do people talk most about? What do people look the least about? What do they like? What do people who dislike it say the most?

By consulting the "oracle" and asking AI to analyze user behavior, you can discover trends among your customer base in seconds. This eliminates guesswork and allows your team to make important improvements without separate data collection.
AI Limitations
Every shiny, new toy comes with its pitfalls (at the start anyway).
So, naturally, with these newfound AI tools, there are some kinks they're still trying to work out.
So, What Will You Decide?
Choose to stay relevant by leveraging modern-day tools or stick to old ways and become a thing of the past?
The businesses that keep up with trends and utilize them to their benefit, win.
CustomerGauge isn't any different — we've already gotten started on seeing where AI can take us. In our most recent project, we asked ChatGPT how we can go from 0 to 100, and it appears the robot might know a thing or two:
📲 "To go from 0 to 100, CustomerGauge should focus on breaking down barriers between departments, increasing transparency, improving communication, and unifying metrics that have an impact on the bottom line.
Additionally, CustomerGauge should focus on using their own maturity metrics, MAX score, and award criteria to reach for and then continually share those results throughout the organization.
This will help CustomerGauge deliver a more holistic solution from every touchpoint that their customers experience with them.
Finally, CustomerGauge should focus on introducing structured customer-focused teams with key expertise to support, service, and ensure success. This will provide more clarity of action to internal teams and demonstrate exceptional customer focus."
Impressive, right? New doors open for companies that implement modern tech, and we like to think Account Experience is that entrance for our customers.
The old way of researching the market once a year with stale feedback won't cut it anymore in this new, digital-first world. You need real-time insights and an automatic system to follow up on B2B customer feedback at scale.

Don't ignore future tech — reach out to our team today to see a live demo!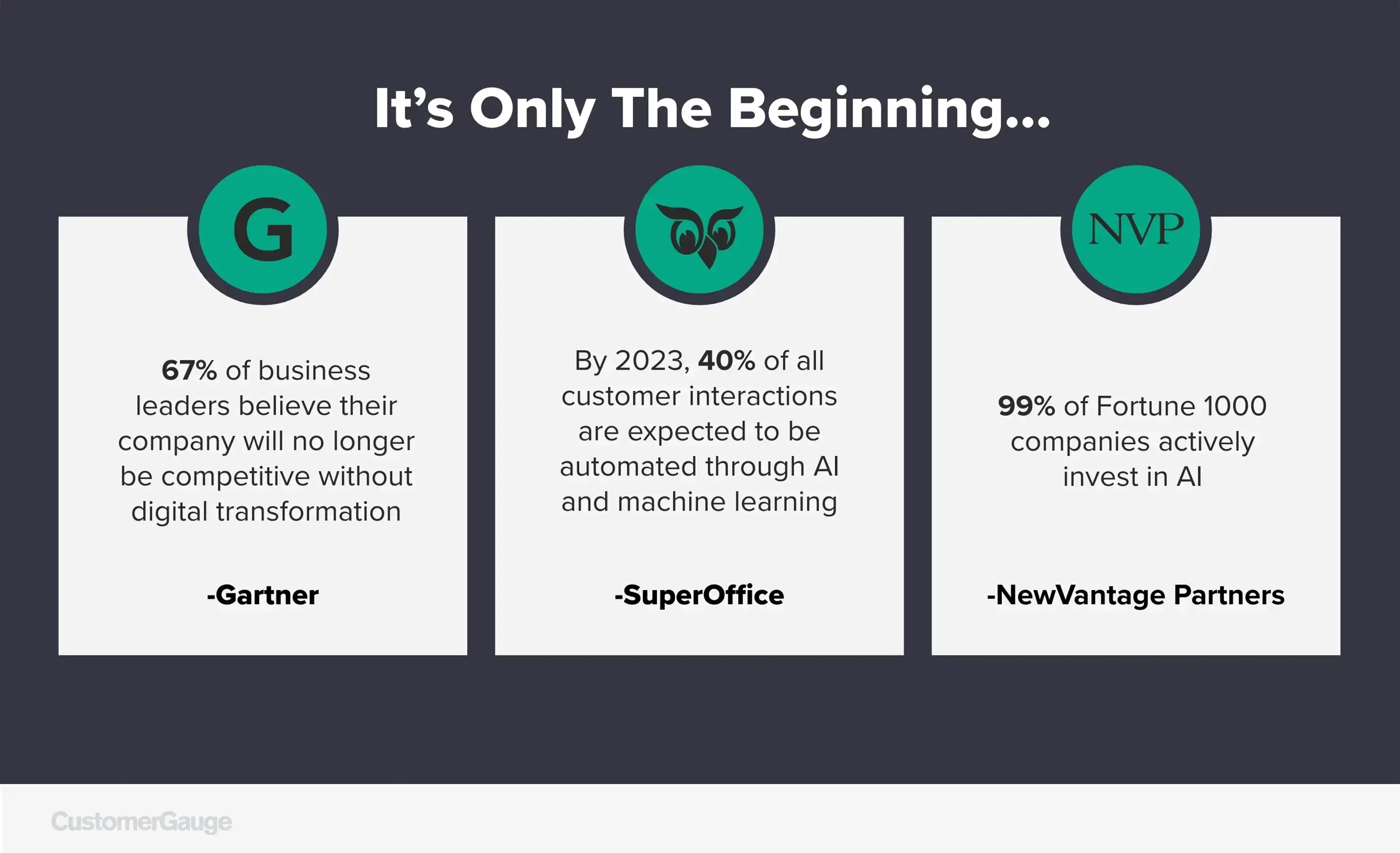 About the Author