Understanding the part each member of an organization plays in your brand's customer experience (CX) is imperative for not only delivering on your promise to customers, but optimizing customer-centric growth.
In a previous post we looked at the Chief Customer Officer (CCO) role in delivering on this promise. In this article, we'll now introduce another C-Suite member who specializes in breaking down organizational silos and growing retention revenue.
What is a Chief Revenue Officer?
Outside of introducing bean bag chairs as potential office furniture in the startup scene, Silicon Valley is also responsible for some of the new roles and innovations coming out of B2B SaaS.
The Chief Revenue Officer (CRO) role, much like office bean bags (but highly more functional), are a by-product of the startup SaaS industry. From a high level, the Chief Revenue Officer's mission is to increase revenue by leveraging revenue-generating departments including sales, customer success, and marketing, as well as optimizing and removing friction in the customer experience.
From a more detailed perspective, a Chief Revenue Officer is responsible for optimizing sales performance, demand generation tactics, pricing strategies/execution, and the customer experience, with the ultimate goal of increasing and identifying new revenue streams. In addition, they:
Remove organizational silos between marketing and sales teams to promote revenue growth
And approach everything from a highly analytical standpoint to understand and optimize ROI
In this article, we'll look at the importance of a Chief Revenue Officer in B2B SaaS organizations, see why the CRO should focus on retention revenue, and discuss best practices for turning CX into a revenue-generating asset.
The Importance of the Chief Revenue Officer in B2B SaaS
"
...Silicon Valley realizes that in a land-grab world of innovation, the first winner takes most of the spoils. Competitors will come, but a CRO is the best chance you have to dominate a market first and fastest.
Jim Herbold
Chief Revenue Officer, INFER, Venture Beat
Some might argue that the Chief Revenue Officer is part of a larger bloating issue sweeping the C-Suites of organizations. And, perhaps some of these concerns are valid. However, there are incredible benefits to adding a CRO to your C-Suite team:
They are revenue hunters
As Revenue Storm puts it: "Not all revenue streams are created equal." As such, the Chief Revenue Officer must ensure that companies are making strategically smart decisions for approaching different revenue streams.
They are true leaders
Not only do Chief Revenue Officers focus on growing acquisition-based revenue and retention revenue, they also bridge the gap between these two revenue streams and responsible departments within an organization.
They complement the CFO
Whereas a traditional Chief Finance Officer (CFO) is focused on controlling spend/costs, a Chief Revenue Officer can focus primarily on driving additional revenue and introducing comprehensive marketing, sales and customer strategies in this pursuit. Having a strong partnership between your CRO and CFO is ideal in a SaaS space where a velocity-like mentality may lead to out of control costs.
"
Realizing that over-investing in the wrong revenue stream will hurt the company's bottom line and under- investing in the right revenue stream will hurt the company's top line, one person (CRO) is needed to oversee the prediction, execution, and production of the individual revenue streams. Once these decisions are made, the CRO can coalesce organizational support towards the common goal of revenue production.
The Role of a Chief Revenue Officer (CRO)
Revenue Storm
B2B SaaS companies, especially in startup or hyper-growth phases, rely on Chief Revenue Officers for building sustainable revenue streams that don't hang too heavily in just acquisitions alone. The Chief Revenue Officer introduce a leader who can instantly bridge the gaps in both communication and strategy for your three key revenue-generating departments. One of the largest points of friction in both early startup SaaS businesses and even enterprise-level organizations, is the siloed nature these departments can take when a single mission isn't guiding them.
Retention vs. Acquisition Revenue: Building Sustainable Growth as a CRO
Yes, increasing your customer base is imperative to growing your business. However, the death spiral many B2B SaaS organizations find themselves in is when the pursuit of acquisition overshadows the customer experience—and the opportunities that exist within your own clientele.
According to Forrester, accounts that have a good experience with a brand are 3.6x more likely to buy other services and products. Amazon, for one, has perfected the art of up- and cross-sales in the B2C eCommerce market. In fact, over 35% of Amazon's revenue is generated from its killer cross-sales strategy.
But what about B2B SaaS organizations? How can they look to incorporate a similar strategy in their own CX program?
Chief Revenue Officers must find a healthy balance between focusing on growing acquisition revenue and retention revenue.
Retention revenue has gained new steam in the SaaS space with the emergence of the CX software space and a growing focus on the customer experience. In other words, products, services, and prices, are no longer the main determining factor in attracting, retaining and growing customers.
Ensuring an optimal experience is just as important. We'll discuss more about creating an optimal experience in the next section. For now, let's dive into one of the most important metrics a CRO can track.

Maximizing Customer Lifetime Value
When talking about retention revenue and the role of the Chief Revenue Officer, it's important to address a key metric in any SaaS business: customer lifetime value (CLV). CLV is the net profit that can be attributed to a particular account over their relationship with a company.
CLV is a central metric in a customer experience program—and an important metric of insight for a CRO. Why is that? Well, as retention grows, so too does the lifetime value of an account. Monetization involves activities that improve and expand CLV both to the benefit of the customer and the company.
However, according to Gartner, despite a 2.3x increase in the size of the average sales teams' B2B portfolios, "only 28% of sales leaders believe existing account management channels meet cross-selling account growth targets."
This indicates a growing issue within B2B companies around finding ways to maximize CLV/LTV. Many B2B companies need more tools for identifying these types of opportunities and to encourage their relationship managers to remember that good customer service includes providing greater value to accounts through products and services.

In Forbes Insight's report on maximizing the revenue lifecycle of a customer, they stressed the importance of managing and maximizing retention revenue had on B2B SaaS, and the need for expanded roles that managed this particular revenue stream.
As part of their research, Forbes surveyed C-Suite executives to discover how B2B companies are maximizing their retention revenue activities. Their results found that 72% of senior management recognized customer engagement as a top priority. However, very few put retaining existing customers and maximizing customer lifetime value above expanding their customer base (they often rated at least 10% lower in both cases). In fact, only 29% of C-Suite respondents said maximizing their CLV was a strategic priority.
Chief Revenue Officers can assist in identifying areas to improve the customer journey and increase CLV. Working in partnership with customer experience leaders in an organization, CROs can pinpoint areas of friction and opportunity:
"
…opportunities present themselves at each touch point in the [customer] lifecycle—onboarding, adoption, up-sell/cross-sell, retention and renewals. Those enterprises that are ahead of the curve—that make data-driven decisions and partner continuously with their customers to help unleash the value inherent in insights derived from the RLM process—are poised to see substantial returns on investment.
Mastering Revenue Lifecycle Management
Forbes Insights
Important CX Metrics for Chief Revenue Officers
Outside CLV, there are also a number of important metrics that CROs must keep tabs on to maximize and grow retention revenue streams.
Base renewals
CROs should track those accounts that maintain a so-called "steady-state." Are these customers engaged? Are there new products or services your company can provide as a vendor to improve their business? These customers may end up as future at-risk customers because they aren't growing, but more than that, they may indicate missed opportunities.
Referrals
According to HBR, almost 84% of B2B sales begin with a referral. In CustomerGauge's NPS & CX Benchmarks report, 54% of B2B professionals indicated they didn't use a referral marketing program. However, the 9% that not only use a referral marketing program, but link it to their CX program, experience the highest percentage of revenue growth (20%) and return on retention (82%).
CROs can help marketing, sales and customer success focus on building a better method for identifying and generating future referrals.
Up-sales
As your company grows, so too may your accounts. CROs should work with customer success and marketing leaders to maximize opportunities for up-sales. A traditional example of this in SaaS includes adding more users.
Additionally, as your accounts grow, new features and capabilities may become more relevant to them. CROs should ensure customer success and marketing have a strong up-sales program for keeping these growing accounts up-to-date on relevant product and service offerings.
Cross-sales
Tracking cross-sales is useful for seeing the performance of complementary products in your portfolio (if you have them). Many vendors diversify their product portfolio, at great expense. The payback is often measured by how well your customer base consumes the new offerings. Cross-sales, depending on the diversity of your product or service, may not be entirely relevant to a CRO. Most likely, as your business grows (and your portfolio), this might become more important of a metric to track.
Retention/Churn
According to Bain, when retention grows by 5%, profits traditionally grow between 25-85%. Earlier when we discussed CLV, the reason behind this correlation was made clear: Loyal customers are more willing to buy other services/products and refer your services/products to others.
Understanding lost opportunities is just as important as identifying available opportunities. This is where tracking retention and customer churn become so vitally important. In a previous article, we looked at calculating both Customer Retention Rate (CRR) and Revenue Retention Rate (RRR).
While CRR looks at the number of customers lost in a given time period, RRR looks at the amount of revenue lost in a given time period. Both are important to measure, because, as we say at CustomerGauge:
"
While all customers are valuable, not all hold the same value.
NPS 101®: Retention Management to Combat Churn
This means that while you may find that only 5% of customers churned in a given quarter, 25% of your revenue was also lost. You can learn more about retention, and how to measure it, by downloading the Retention Management eBook.

5 Customer Experience Best Practices for Chief Revenue Officers
Now that you have more insight into the roles, responsibilities, and metrics that fall under the purview of a CRO, let's end with some best practices for CROs when it comes to managing and monetizing the customer experience:
Drive your company to become customer-centric
According to Gartner, 89% of companies expect to compete mostly on the basis of customer experience, a number that was only 36% in 2012. It's clear, therefore, that customer-centricity is on the rise. However, many companies are, by nature, product or service-centric, as they started with an idea of building a newer, better product or service than the market currently offers. In their early life, their focus was to sell this product or service, then improve it to gain a foothold with existing customers or to widen the market reach. This evolution has likely turned the company into an organization centered around products and focused on creating new products or services. Customer-centric companies see customer success as their end goal and reward employees accordingly. Sales people are not paid by their ability to sell, but by their ability to understand customer needs and to find a solution to fill it. Where product-centric companies pay out the sales bonus after a sale, customer-centric companies pay out sales bonuses once the solution has been established, an agreed set of benefits have been reached and the customer is happy.
To get your company to focus on growing retention revenue, they have to understand what it means to embed customer-centricity into every aspect of their interactions. As the CRO, you can work in unison with your organization's C-Suite, CX team and other department heads to spearhead what this customer-centric version of your business should look like.
Breakdown the organizational silos hindering retention-based growth
We've stated it before in this article, but one of the main objectives of any CRO is breaking down the silos between marketing, sales and customer success. This is important not only from an operational and mission standpoint, but a data standpoint as well. You can learn more about organizational silos within CX programs in our previous article on the topic.
Onboard tools to help manage your CX growth program
Getting a clear understanding of your customer experience in real time, and the opportunities within your account base, isn't something to be done manually. While there are a plethora of tools out there that do everything from provide simple NPS surveys to a complete customer success platform, as a CRO you need a tool that lets you do three primary activities:

Get an executive level overview of accounts and their satisfaction
Monitor and identify opportunities within your account base
Strategize and predict ROI based on CX initiatives
Bring CX insights into the boardroom at every opportunity
Without the organizational buy-in of key stakeholders within a company, B2B or B2C CX programs are destined to fail. From C-Suite to management to frontline account managers, unless ownership is felt at every level of an organization, an experience program will fail. Program champions should address the needs and expectations of relevant parties within their company and work to breakdown the silos. In previous CustomerGauge NPS Benchmarks reports, many organizations indicated a lack of C-Suite buy-in as a primary reason for their failing CX program. In unison with a Chief Customer Officer, the CRO can help bring CX insights into the board room as an indicator for sustainable growth within the company.
Communicate improvements across the organization
Internal transparency is everything. Once you've aligned executives and department leaders at the top, it's important to work with those below you in rolling out change management to align with the customer-centric vision. Work with those in CX and marketing departments to build internal campaigns around new processes that encourage others in your organization to embrace these changes.
Conclusion
The Chief Revenue Officer is a new and exciting role that found its footing in the rapid growth of the SaaS space, but has quickly become a centerpiece in many B2B organizations' C-Suites. CROs have also reinvigorated the customer-centric movement by renewing the focus in B2B on retention revenue.
However, getting the visibility needed to manage CX in an organization is still a struggle for many C-Suite leaders. In a survey by Accenture, more than 72% of B2B leaders stated that they don't believe they have any influence on the direction of their organization's CX. This same survey stated that 90% of these leaders found improving CX to be a strategic business priority.
At CustomerGauge, we call this the B2B CX Gap, and we've been helping companies bridge this gap since 2007.
In the previous section, we mentioned some of the tools leaders like CROs use in monetizing CX. If you're interested in learning how to use SaaS to grow your retention revenue stream, schedule a demo with one of our experts.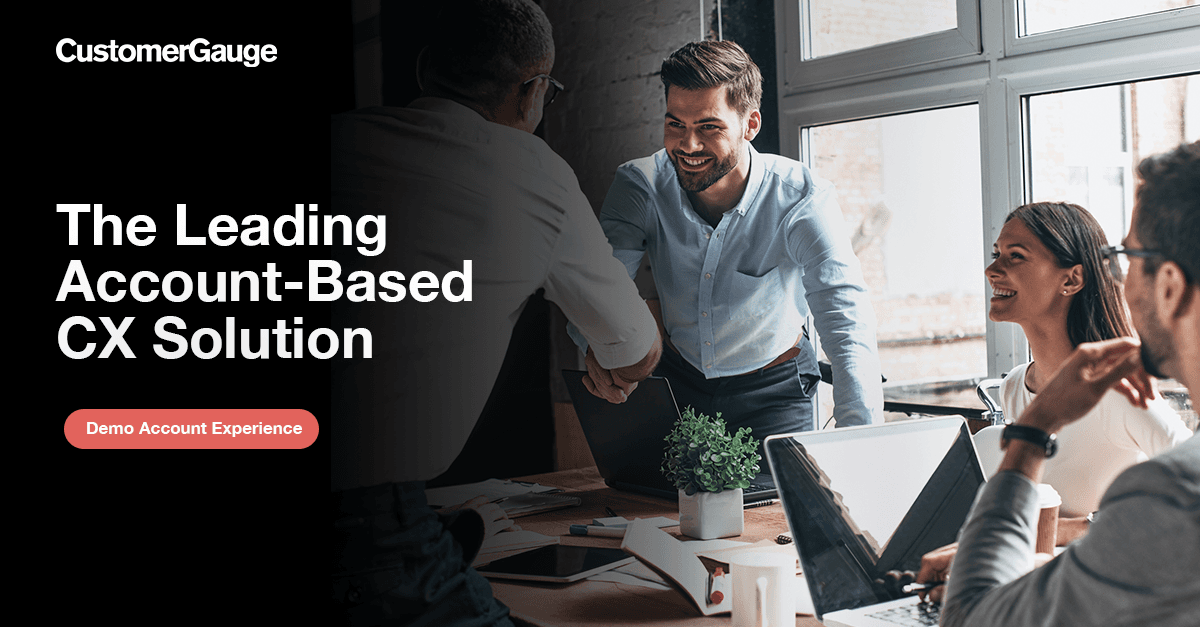 About the Author