We've all had it happen: You call up a vendor looking for assistance, and you're shuffled between six different people in three different departments looking for an answer to a question that should be…simple. Why? Because some organizations, especially large B2B enterprises, are unable to extend their CX program beyond one department. Too often, this happens through data silos.

According to a report from Walker, as few as 22% of B2B CX professionals claimed that their organization leveraged CX data effectively. If you feel like you're part of the other group, you aren't alone.
Turning a CX program into a company-wide strategy—one with C-Suite buy-in and cross-departmental support—may seem like an unattainable goal. Surely CX data can comfortably sit in one department? Wrong.
CX data, or lack thereof, can steer any company into rough waters. But for B2B enterprises, having useful customer information locked away inside silos can be disastrous in numerous ways, resulting in:
Poor customer service
Blind, non-customer-led product and service development
An ineffective, repetitive, or mistargeted customer marketing strategy
Missed up-sell and cross-sell opportunities
Vague to no understanding of ROI, and the inability to link revenue to CX program performance
In this article, we're going to be exploring these consequences, why they happen, and how to avoid them.
How Isolated CX Data Impacts Current & Long-Term Customer Satisfaction
Without the organizational buy-in of key stakeholders within a company, B2B CX programs are destined to fail. And it is rather common to see CX departments struggling to gain authority at the C-Suite level. This in turn leads to an insufficient budget to curtail follow-up issues, and make necessary changes within the company in order to continuously improve customer experience.
At the frontline, closing the loop means resolving issues to turn passives and detractors into promoters. But what if the issue keeps recurring due to, say, product limitations, and the solution requires assistance from other departments?
Justifiably, customers leave businesses that turn a blind eye to problems in their offerings. Alchemista, a Boston-based business catering company, is familiar with the consequences of siloed customer data. In the video below, you'll see Chrstine Markus, the company's CEO, share the difficult story of losing a large account. Just two years later, Alchemista achieved a 100% retention rate using the right tools to collect and distribute customer feedback.
So how does a successful closed loop process influence retention? The key is ensuring a smooth closed loop transition from issues gleaned at the frontline to other areas of the organization. To do so, it is critical to have workflows that enable data relay from an organizational hierarchy perspective—the frontline to C-Suite level—and throughout appropriate departments.

As we learned from Alchemista's story, an inability to share CX data at all levels of the organizational hierarchy impacts both issues that need immediate attention and the long-term satisfaction and experiences of accounts. Having established processes in place for escalation and information-sharing is an important first step in breaking down silos to improve customer service.
Within B2B CX programs, there are two ways to close the loop: with respondents and with accounts. Generally, for transactional surveys, closing the loop with respondents is the most efficient. For accounts, there are multiple contacts to factor in. High-touch, high-value accounts will still require transactional closed loop follow-up from the front-line. However, management and the C-Suite will most definitely be involved at some stage of the relationship for closing the loop and keeping these valuable accounts happy.
Middle management is responsible for analyzing how various drivers impact the company's customer satisfaction ratings, churn risk, and revenue. Understanding the correlation between a driver and business performance ultimately allows management to pin-point what areas need improvement, and relay this information to the next level, the C-Suite.
Unlike account managers, executives do have the authority to enact appropriate changes by leveraging the right departments and budget to resolve a larger issue.
Closing the loop in accounts will require B2B companies to use the right tools to manage multiple-contact relationships. Many CX tools cater to single-contact experiences, so it's vital that the CX technology used for B2B CX accounts caters to these tiered relationships.
In short, it takes every level of the organization to act on customer feedback, but it's impossible to do this if your method for communicating customer needs is ineffective. In CustomerGauge's benchmarks report, 90% of companies reported closing the loop at some level. However, it was those companies who closed the loop at every level that experienced the largest gains.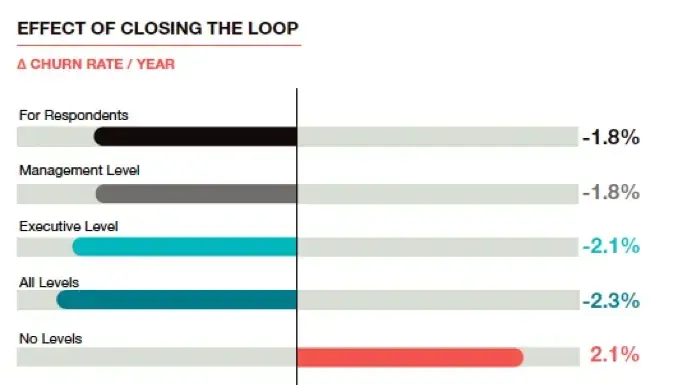 As mentioned earlier in this article, CX data silos aren't just detrimental at an organizational level, but at a departmental level as well. In the next section, we'll look at how siloed CX data can stunt innovation and competitive growth.
Account- and Customer-Driven Innovation
Building and strategizing innovations without the guidance of clients can spell danger quickly for a company. Without a clear, data-backed direction, many product and service departments lack the visibility they need to make decisions around their offerings.
In 1992, IBM experienced an estimated $8.10 billion loss against new, more nimble competitors who went after IBM's mainframe computing business with the dawn of personal computing.
The impact to IBM's C-Suite culture was immediate. Old lions were cut loose and new minds brought in. This is how CEO Lou Gerstner, an outsider, was brought into the team. As a client-focused leader at his last company, Lou quickly saw the error of his predecessor's ways. And he did it by listening to his customers.
Lou found that the hit in 1992 was a result of IBM splitting aspects of its business into different business units (processors, software, etc.). However, he quickly realized after speaking with clients that this was the exact opposite of what needed to be done. What customers wanted was what IBM always provided: integrated solutions for customers in the modern age. Lou quickly reversed the move of past leaders but modernized the tech to keep pace, and the rest is history.
The IBM story is one told time and time again by CX leaders. Customer-guided product- and service-based development has gained greater prevalence as CX becomes a priority for B2B business leaders.
The morale of the story? Become a customer-driven (rather than product-driven) business.
To do this, your business will need a program that connects product/service departments with their clients in a more direct dialog. In the last few years, we've seen many B2B CX programs falter, but we've also seen models of success. Those forward-thinking B2B companies are building lines of business alongside customers, supported by an Account Experience™ methodology and tools that support more direct feedback across customer channels.
In April 2016, GE Additive (GE's additive machine provider and 3D print manufacturing branch) opened its first Customer Experience Center in Pittsburgh. This new infrastructure is a fully-operational manufacturing center that also serves as a classroom, daily demo space, and a state-of-the-art facility dedicated to customer collaboration.
The Customer Experience Centers (there's now one in Munich) are a novel approach to product development. With this solution, GE Additive is able to work closely with customers, tailoring solutions to fit customer needs as they emerge.
While not every B2B company can afford the multi-million dollar investment of a CX Center, there are a plethora of avenues that companies can use to involve accounts in innovation and business area improvements. Products and services that are developed with appropriate insight—perhaps even using data collected by customer experience reps—will yield a more loyal and engaged customer base that won't be at risk of churn.
Creating Effective Customer Marketing Strategy
t's been proven time and time again that data is essential to marketing. According to a survey conducted by Forbes Corporate Communications, "64% of executives…'strongly agree' that data-driven marketing is crucial to success in a hyper-competitive global economy."
Without reliable, updated information regarding your customers and prospects, your enterprise's marketing department may as well be firing campaigns in the dark. At best, this wastes company resources as strategies continue to flop without generating ROI. At worst, your company risks alienating valuable contacts who find themselves on the receiving end of irrelevant messaging.
According to a report from Teradata, 87% of marketers consider data their organization's most underutilized asset. What gives? Curt Bloom, President of BlueVenn, notes key reasons for the disparity in his article on CMS Wire:
"
Businesses have masses of data, but it isn't often at their fingertips for use, and it isn't necessarily easy to understand when it is readily available… Adding to the problem is the fact that data is frequently strewn across all corners of their organizations, held in a range of disparate systems and information silos, in a wide variety of data formats. This inaccessibility prevents marketers from understanding customers and their behaviors, and it hampers their ability to target consumers with relevant campaigns.
Curt Bloom
Breaking down silos isn't easy, but it is worth it. In the same Forbes report, the author notes that more than half (57%) of respondents reported seeing an increase in their ROI after switching to data-driven marketing campaigns.
In spite of this, there still seems to be a lag in customer-centered marketing. According to the company Terminus, while 74% of marketers established that the goal of their ABM program was to increase ROI, only 18% claimed to use ABM for improving customer engagement.
You may ask, is there a solution that eliminates both data silos and customer marketing gaps? Our answer is yes, and it sits with an appropriate account experience platform.
Having a dedicated B2B CX platform enables marketers to prioritize campaigns around satisfaction and revenue data. As we already mentioned, the right CX technology connects information from other departments and shapes it to provide marketing with appropriate insights.
And while your marketing department can (and should!) contribute to annual growth through referral campaigns, it is up to your sales team to close accounts. As it happens, sales is the next department on our list to benefit from a CX silo breakdown.

B2B Growth Driven By CX Data: Identifying Revenue Opportunities
Sales is taking on a larger role post-sale than ever before in the B2B context. It's no wonder then, that according to Forbes research, "90% of customer value for B2B businesses is obtained after the initial sale." And yet, according to Gartner, "only 28% of sales leaders believe existing account management channels meet cross-selling account growth targets."
To mitigate this issue, we recommend introducing two new elements to resolve the disparity:
Relationship managers
A platform that helps identify areas for improvement and growth opportunities
Relationship managers are integral for retention and account growth. They also have a dual responsibility within an organization to provide value to both their accounts and their company. Because of this, a relationship manager's greatest strength is guiding her accounts into using products and services to grow their own businesses. Executing this customer improvement responsibility effectively, says Gartner, can lead to a 45% increase in account growth alone.
It's a mistake to think these type of roles are isolated to just Customer Success Managers in a SaaS business model. Any business with high-touch, high-value accounts should invest in a workforce that can manage the dual nature of the described relationship manager.
So how can companies equip their relationship managers with the best tools for success? The first step is breaking down data silos. Just like product development and marketing strategy, relationship managers need access to customer insights to know which accounts could benefit from additional or new solutions.
Caroline Japic, Chief Marketing Officer at Pramata, summarizes the concept brilliantly in her Forbes article, Three Tips for B2Bs When Cross-Selling and Upselling:
"
...The challenge often is not around finding more stuff to sell—it's knowing what stuff's already been sold. Surprisingly, many B2B organizations struggle to lay their hands on that information. Like other key data points—contract renewal dates, customer commitments, pricing and discount agreements—it has to be extracted from the dense legalese of contracts and assembled from multiple systems that don't communicate well with each other.
Caroline Japic
CustomerGauge's benchmark report found that those companies that incorporated monetization into their CX programs experienced 2x the referral sales volume and a 20% increase in up- and cross-sales.

In addition to providing insight into other customer revenue streams, using CX data in correlation with revenue and financial data allows B2B companies to not only prioritize CX improvements based on bottom-line benefits, but also predict how these improvements can impact growth.
CX & Revenue Data: Getting a Hard Return on Your CX Program
From referral marketing to service optimization and growth, it won't be possible to achieve any of the monetization activities mentioned in the previous sections without revenue data. And to access revenue data and correlate it with your CX data, you'll need to work with finance.
Most companies don't invite their finance team members to participate in discussions concerning customer experience, and that's ok. But siloing financial data in a CX program can drastically inhibit bottom-line improvements.
In order to understand how various strategies are impacting revenue streams, having this information available is vital for both CX professionals and financial leaders. Therefore, this is an important conversation to have with finance to enable data sharing where available.
By correlating CX initiatives, service changes, and marketing campaigns with revenue over time, companies are able to ascertain the following points:
The portion of revenue that is at risk
High-priority areas in customer experience to focus on
The opportunities that could lead to highest growth
Breaking down the wall between your CX program and financial data is also an excellent opportunity to develop what-if scenarios. For example, you may be wondering whether increasing your Net Promoter Score® is worth it, and if so, what do more promoters mean for your business?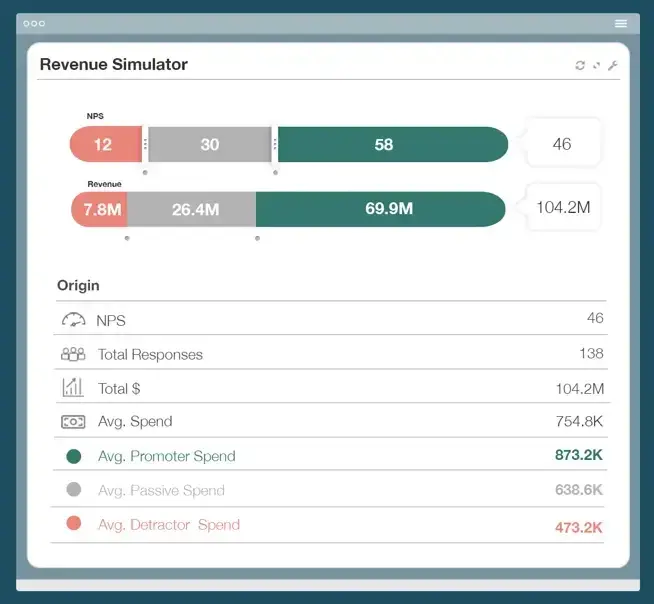 In short, access to financial data is the difference between a failed and successful company-wide CX program. After all, there's no point investing business resources into initiatives that leave you guessing of their outcome.
The Take-away? Using the Right Tools Matters
To achieve growth and monetization through your CX program—your company must tear down the walls that form your data silos. Every B2B industry is undergoing a CX shift. As emerging technologies and growing customer demand for personalization make or break whole enterprises, it's becoming harder for B2B companies to get away with operating through segregated data.
To succeed in the new era, companies must be vigilant to instill cross-departmental collaboration and data sharing to continuously solve for the customer and incorporate appropriate product, sales, and marketing initiatives. Consequently, bringing together data from these key departments introduces new and invaluable data sets and KPIs that keep departmental and corporate goals on track.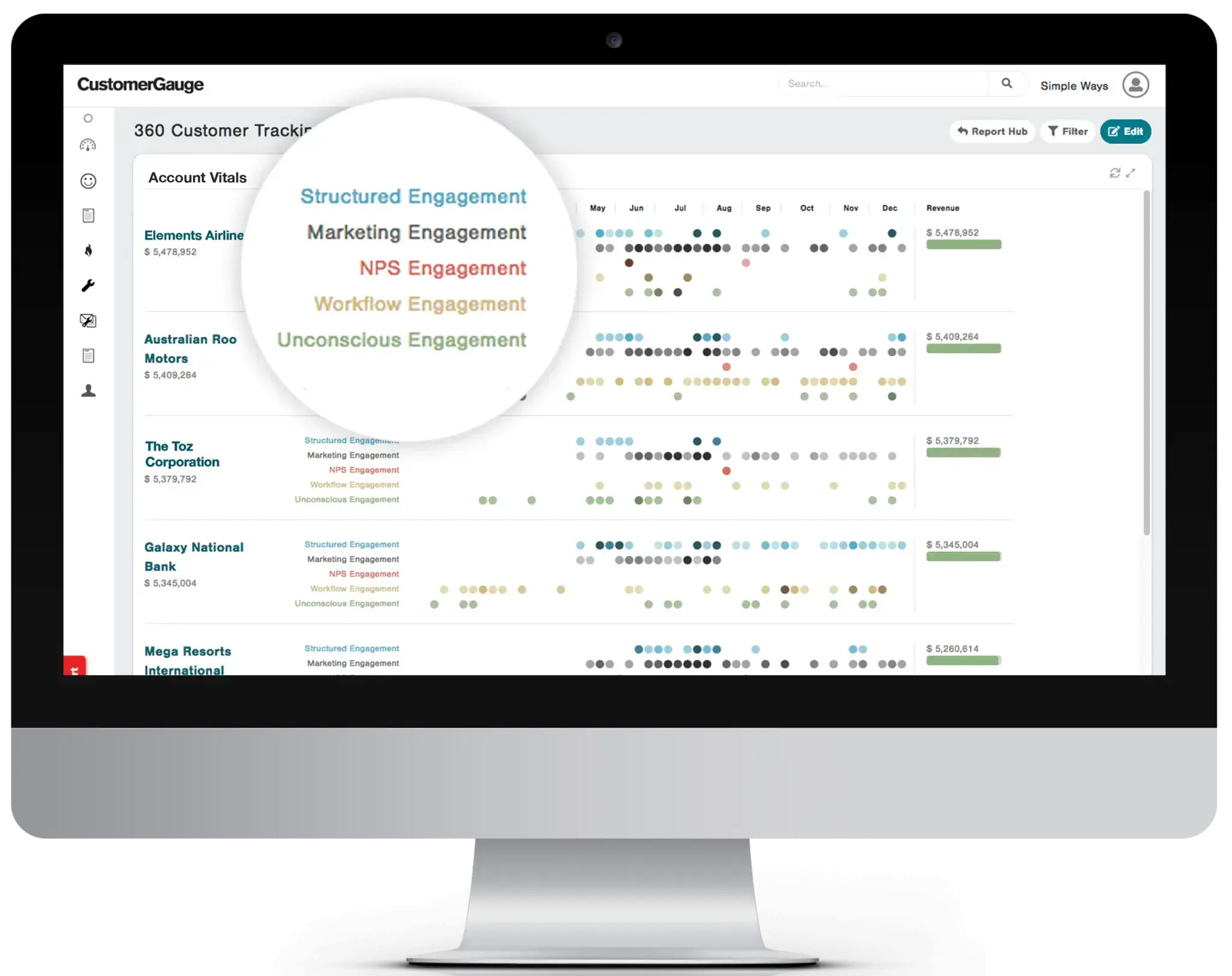 CustomerGauge's Activity timeline tool uses a plethora of data points from the AX platform and various integrations to paint a picture of account engagement, satisfaction and churn likelihood. B2B companies that successfully bring this kind of data into a centralized focus are able to steer their CX programs to become reactive and predictive.

For more information on how an account experience methodology enables CX growth within B2B, download the full free eBook by clicking below.
About the Author