In December, we held the first of five upcoming webinars: CX Storm Series Part 1: From Cut to Crucial With a Three Pillar Framework. Our team began by sharing what the storm is, customer experience (CX) programs facing cuts worldwide, and how you can overcome it.
Since then, we've seen layoffs come to fruition across the industry and have officially found ourselves in the eye of it all.
To save your program from cuts, you must show a direct correlation between CX efforts and net new revenue. And now that you've learned our three-pillar framework in Part 1, next is to dive into the metrics that will make the difference between losing customers and winning more business.
In the second wave of the CX Storm series, our Global VP of Education and Services, Cary T. Self takes the screen again — this time, with our Head of Implementation, Elles de Boer.

What Is Revenue Coverage?
If we were to ask you, "Do you know your revenue coverage rate?" could you give us a yes?
We asked the same question to attendees, and the poll results confirmed exactly why we're hosting the CX storm series.
20% of people replied no, and 20% didn't know what revenue coverage rate is.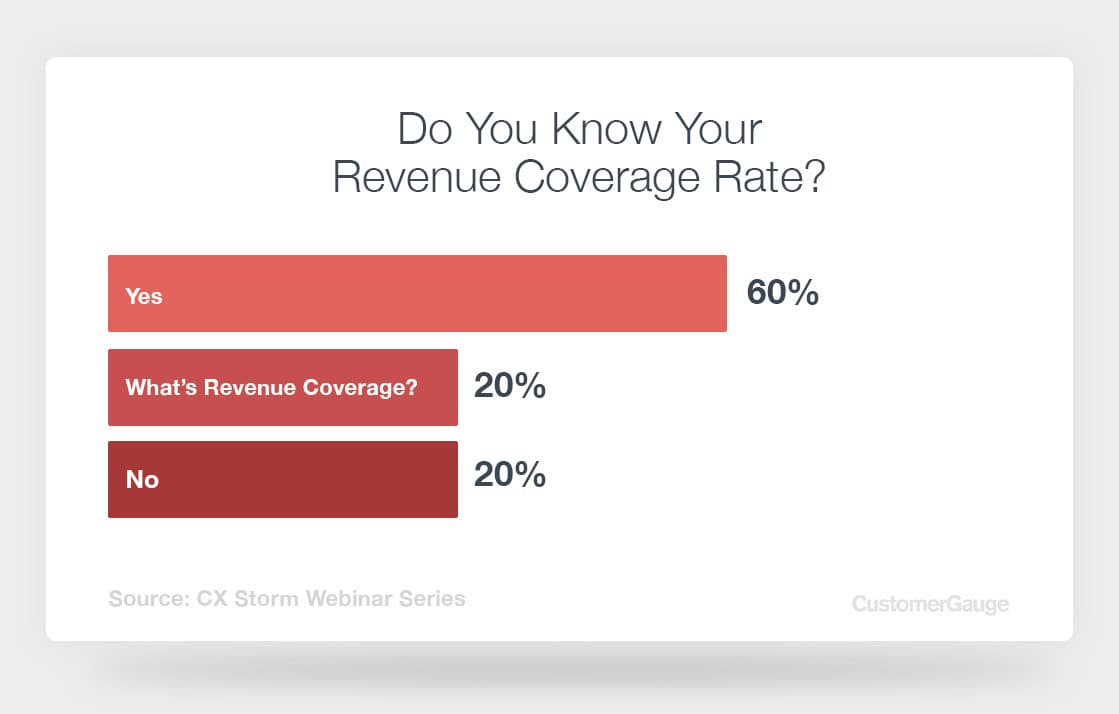 So, it only made sense for us to take a deep dive into the metric.
"It means you survey all of your accounts, and I think if you survey 100% of your accounts, you automatically survey 100% of your revenue," said Elles.
"We want to focus our attention on getting revenue into the equation because as you're setting [survey] targets, your initial target may not be 100% and this is where I think it's nice to focus on revenue, rather than the number of accounts."

When you talk revenue, you're talking a language your C-Suite and investors can understand — it's universal, and one that provides value when deciding which programs should be preserved during budget cuts.
One element (of many!) that differentiates Account Experience (AX) from any customer experience is covering revenue and seeing how much money lives where across your account base.
Here's an example of revenue coverage: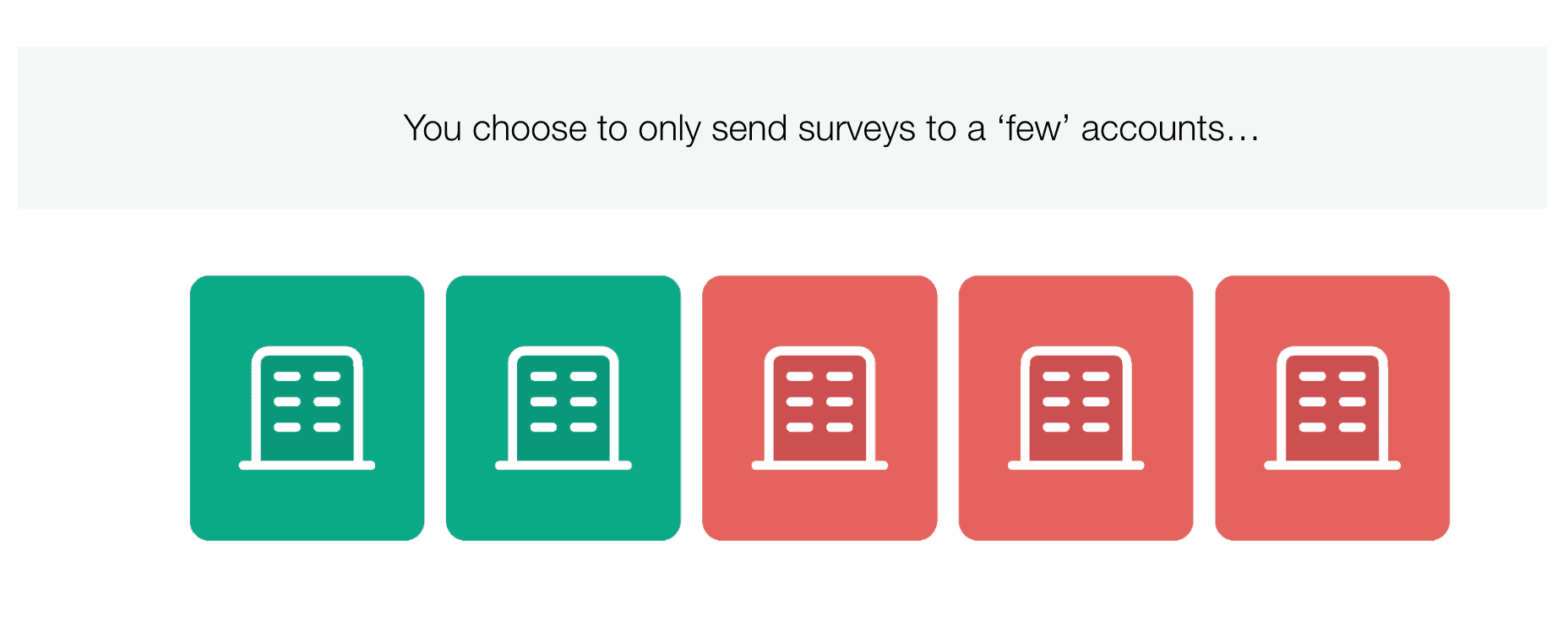 This example shows five accounts.

Say you choose to only upload revenue information for two of them, and then send those two surveys. In the beginning, it might feel as though you're scaling or tackling the resources you have; but with that comes a ton of risk.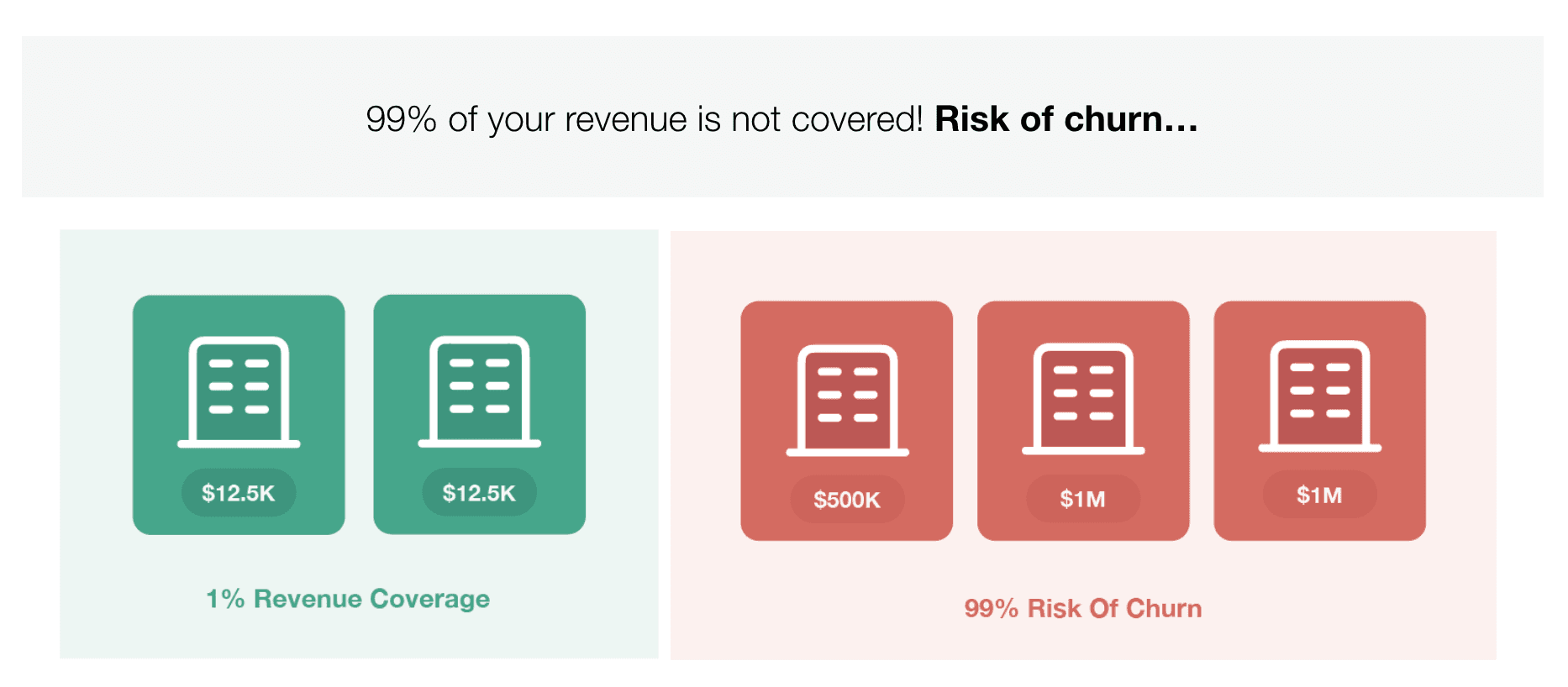 By doing this, you're only covering 1% of your revenue across your business, potentially excluding an important part of it. As Elles says, "If you don't know about these accounts, that's a risk in itself!"
"We sometimes fall into the trap of looking at 100 of our accounts and thinking we feel safe," said Cary.
"But not really looking at the revenue those accounts actually cover, too, because let's be honest: if we struggle with some of our smaller accounts, they might make up a much smaller percentage. Where one account might actually be a big part of what you own and need to worry about."
Coverage Across All Contacts
Though they sound similar, Account Experience and Customer Experience are two very different methodologies — especially when linked to coverage.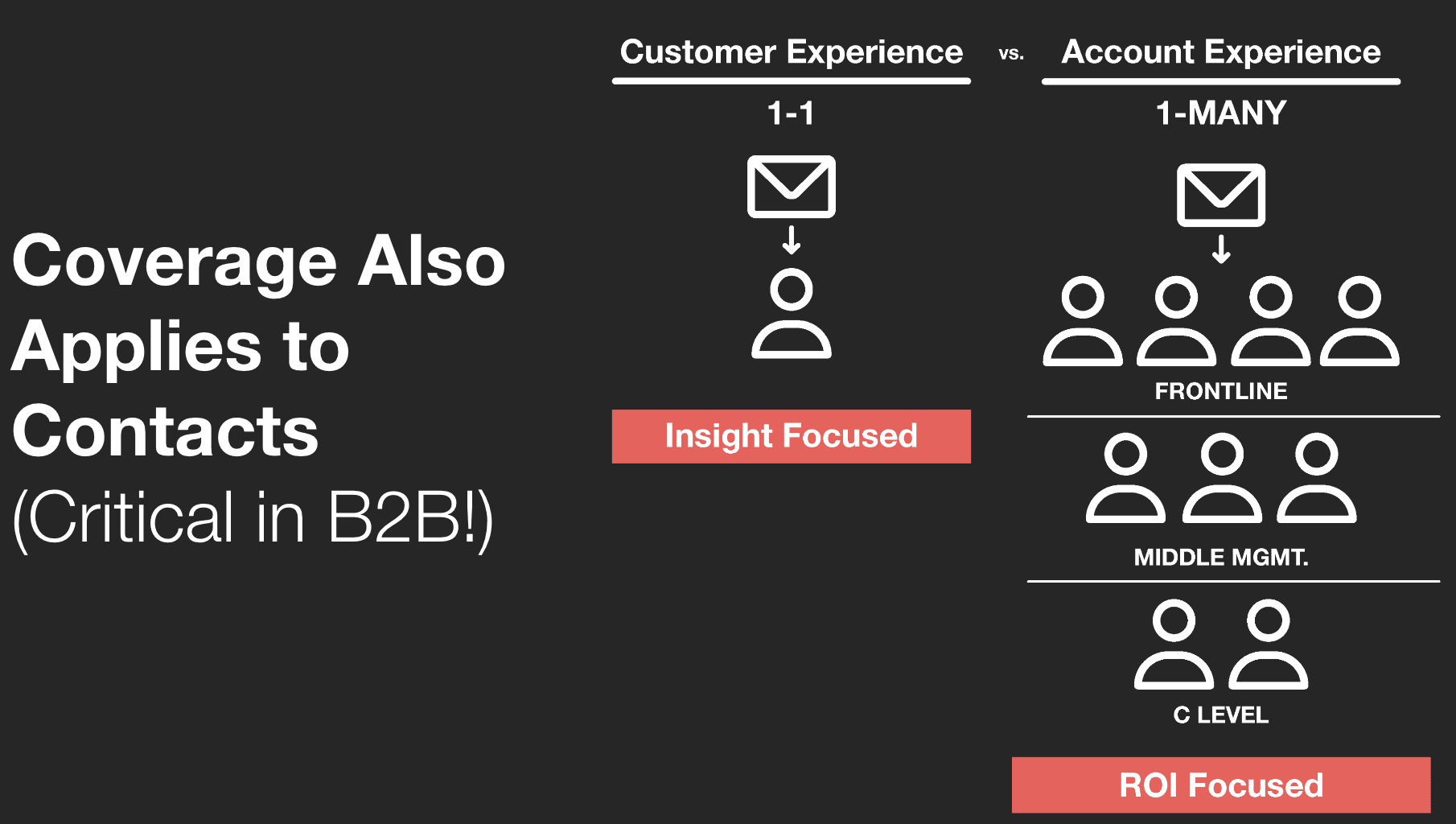 This overview is not directly related to account or revenue coverage, but about getting the coverage within the accounts.
What we mean by this is not only surveying (or having entirely) a single point of contact in each of your customer accounts.
Why?
Cary says, "This is a continued theme for us that we talk to all our clients about. If you have one person who is making all of those decisions for that relationship you're creating with all these different companies you work with, you put a lot at risk."
"What happens if they move on or become distracted? Also, are we truly being an account solution if we're not listening to different levels of the organization? So, it's a shift from being insights focused and opinion-based [with one person], to a more return on investment."
The goal is to cover (survey) various people within multiple levels of the organization who is your customer.
We shared an example of one CustomerGauge customer who is doing this right. In fact, they were an AX Award winner last year for it.
Unilode is a mission-critical service supplier in the Aviation industry and they reached a 100% revenue coverage rate.

How did they do it? Unilode…

Started internally. Made it clear from leadership why they were doing it

Got everyone involved. Every department within the organization

Had the right contacts and information. Your relationships depends it!

Understood the program. The what, when, and who.

Continued to engage. Responses, actions, repeat.
Top Four Coverage Tips From the Experts
1. Upload all accounts with revenue information
When our team kicks off implementation, customers want to jump head-first into delivering surveys. Eventually, we'll get you there!
However, the very first step is uploading their customer's revenue information. We're talking about all accounts and their data on how valuable they are to you.
"Our goal is to get you to sending surveys as quick as we can, but you need a foundation of who you're sending to and why," said Cary.
Note: your data won't be clean right away. You'll very likely need to spend some time finding where this information lives, whether in your CRM or from your finance department, and ensuring it's up to date.
But don't overthink it, Elles says, "Your big accounts will be in the bucket with your big accounts and the small ones with small, so it's all going to be useful to kick your program off."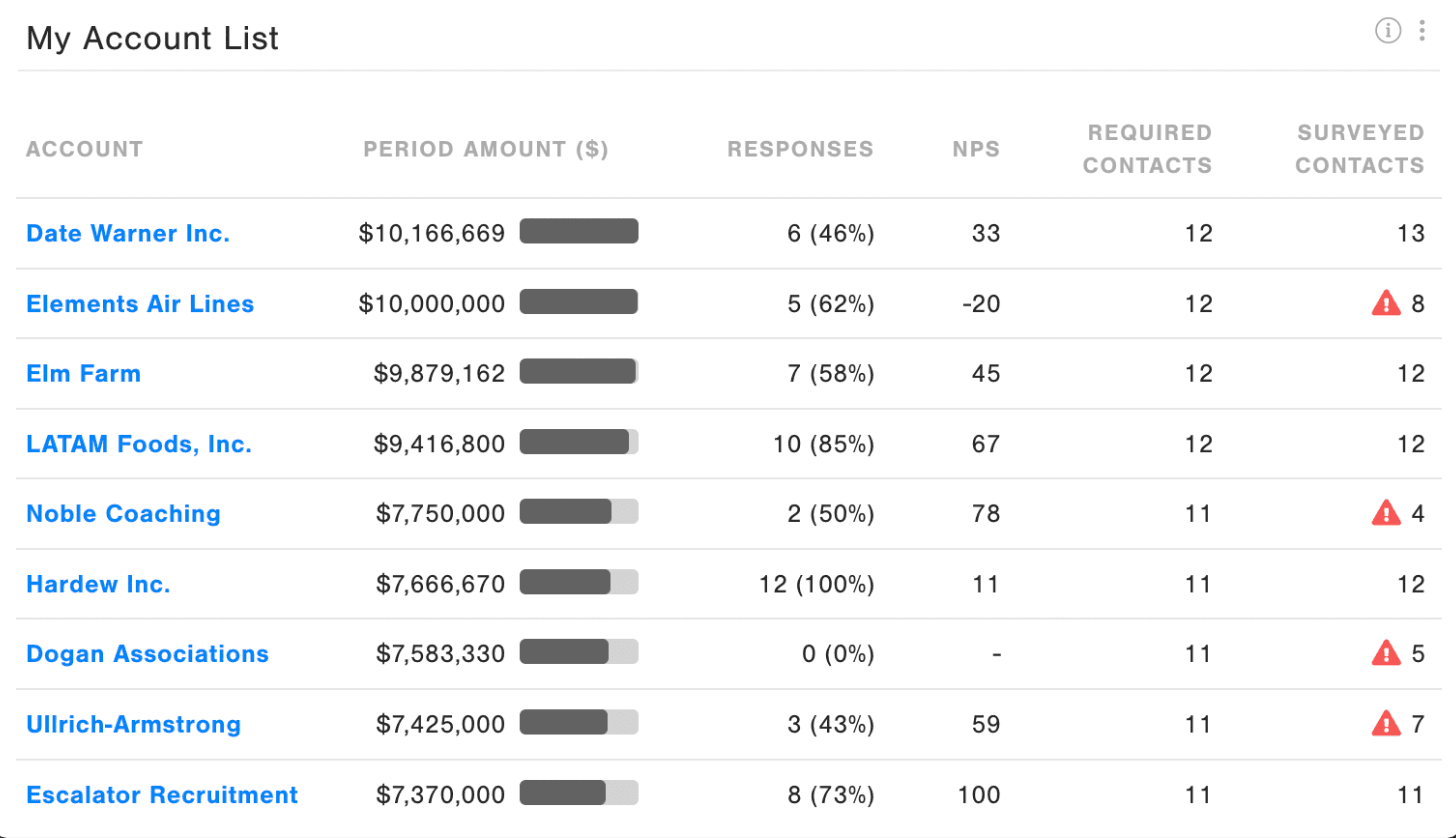 2. Nominate multiple contacts for a survey
Remember earlier when we spoke about coverage across all contacts with accounts?

Our second tip touches on account managers working to nominate the right people to receive surveys.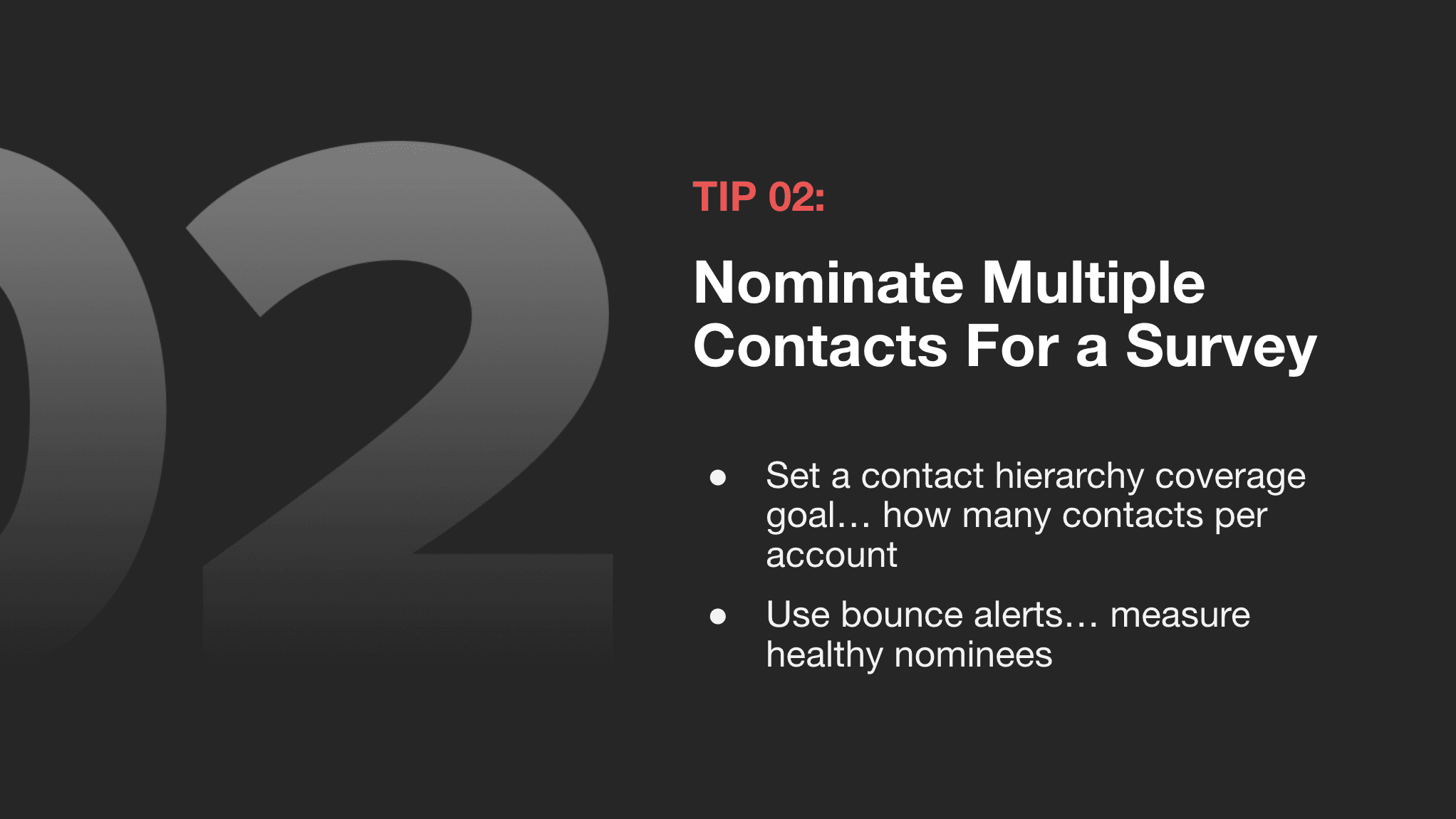 It's not just a single point of contact who should be receiving your surveys, even if they are a key decision-makers.
You want to receive feedback from multiple levels within an organization.
This will not only help you receive great, well-rounded feedback but increases your chances of getting responses, in general, to get that response rate up — and in no time be on track to achieve Unilode-grade success.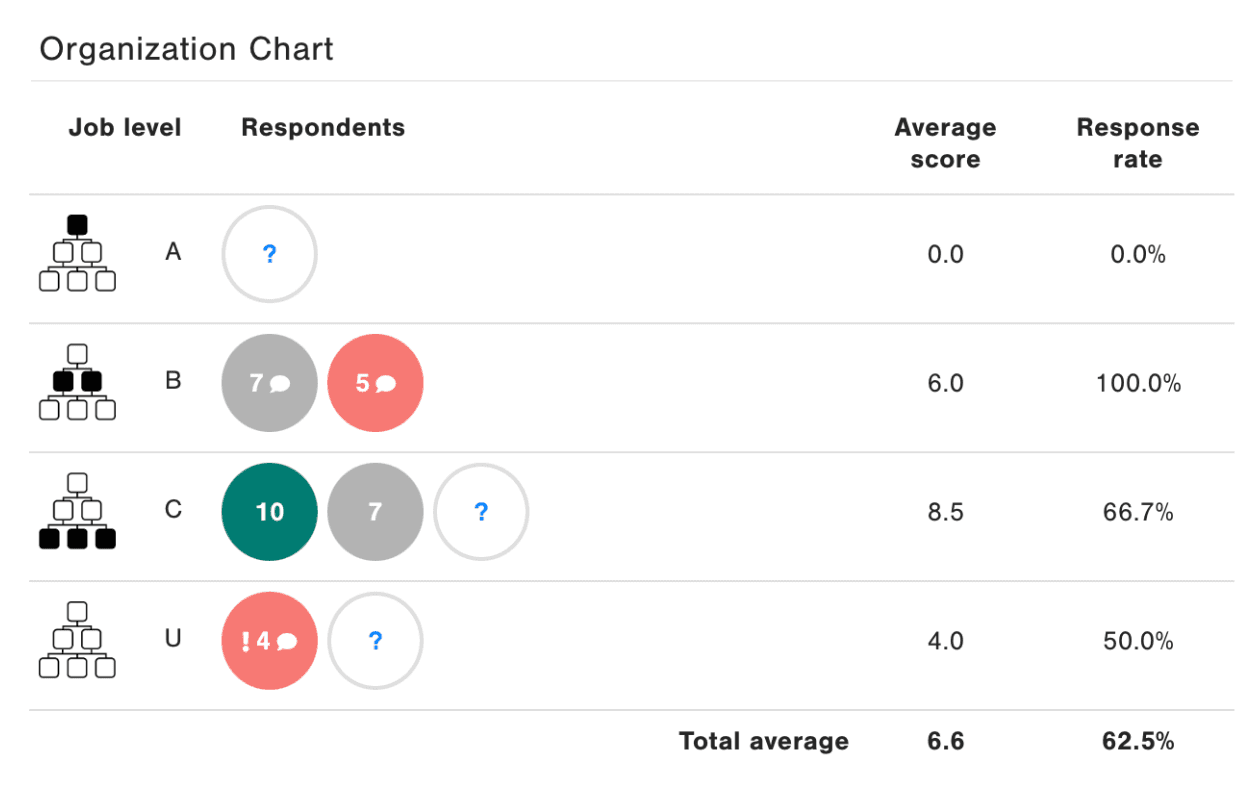 Top Tip
CustomerGauge's survey bounce alerts are a great tool to use to discover if you've nominated the right contacts or added contact information correctly.
3. Start surveying
This might sound simple, but the key is to just get started once you find you're in a good spot to do so.
Of course, there are also best practices to keep in mind at the beginning.
"100% revenue coverage doesn't need to happen Day 1. I do think your entire account base needs to be in there with the revenue information to set your target for say, 3 months out, to have surveyed everyone by that time, " says Elles.
"But do a portion per week. That way you allow your team to get the data sorted and to catch up on data cleaning, the nomination process, and pre-communication spread out; do the closed-loop responses, deal with non-respondents, especially with high-value accounts — you don't want to dump a whole week of work on someone's desk at once, it should become their day-to-day."
4. Make coverage a major company KPI
The last of our expert tips: making coverage a major company key performance indicator (KPI). In doing so, it takes the spotlight off of Net Promoter Score (NPS) for a moment, the metric that has become the most celebrated.
Cary noted, "From the example we shared earlier, if I'm only putting revenue in for a small amount or only surveying a small sample size, I may be patting myself on the back on really a fictitious number that's not representative."
Making coverage a key metric for the frontline to focus on encourages teams to go out and get that accurate data.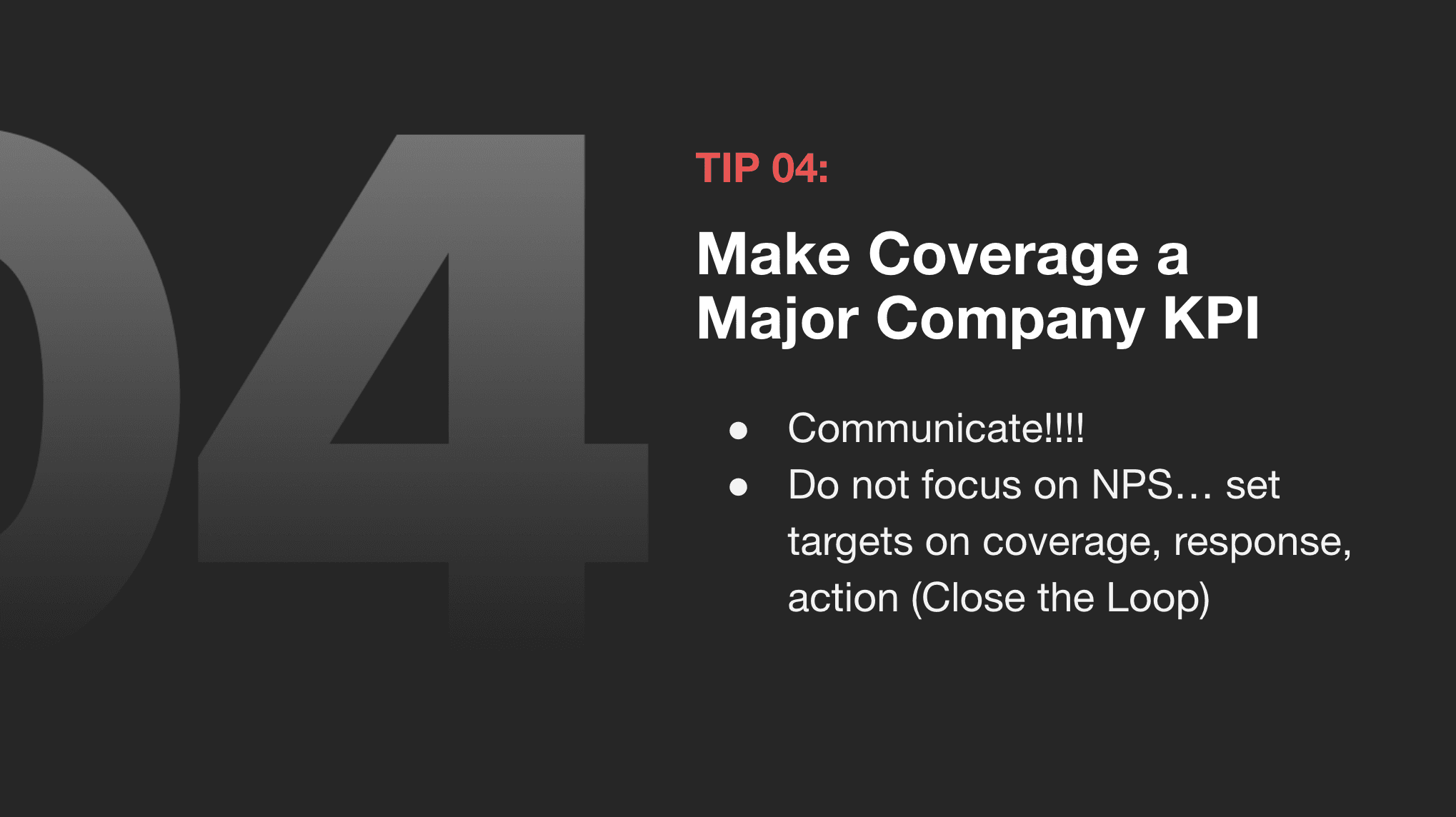 Elles left us with this:
"When we don't have that focus on NPS, it helps generally with the buy-in of account managers. It's about helping them and their accounts, where everybody has visibility on that data. They no longer have to go around the organization, speak on behalf of the customer, and ask where they need to improve — that will happen by itself now…and NPS will naturally increase overtime with that."
Weather The Coming CX Storm: Part 3
Next in our five-part series, we'll tackle response rates and the expert strategies that take CX programs from cut, to crucial.
About the Author