Our four-part webinar series, 'Weathering the Coming CX Storm' is helping customer experience (CX) professionals take their program from cut to crucial.
In CX Storm Series Part 1, we introduced our research from The State of B2B Account Experience Net Promoter Score (NPS) and CX benchmarks report.
What we discovered was beyond valuable — think of exact measurements that are imperative to the success of your program.
Those include covering as much revenue as possible, getting as many responses as possible, and acting quickly on all feedback.
Tracking these measurements will make the difference between showing a correlation between CX efforts and net new revenue, or facing job cuts.

In Part 3, CustomerGauge Global VP of Education and Services Cary T. Self is back, this time with our Customer Success Manager, Monte Kozmitz, to chat about the importance of tracking response rate.

Why Response Rate?
To kick off Part 3, Cary held a poll asking attendees, 'Do you know your response rate?'
And to our (very satisfied) surprise, almost everyone answered with, 'yes'!
For that, we dove right into the industry standard benchmark that showcases our why — the data behind our reason for making it such a critical measurement in our framework.
At a fundamental level, the response rate shows which customers are most engaged with you. But why is this important to track?
If accounts are unresponsive to your surveys, it's likely they're a high churn risk.
Cary said one of his best examples he uses during trainings is,

"It's like a real relationship — imagine you say, 'Hi Honey, I'm home!' and you don't hear that 'Hello!' or at least someone yelling at you because they're upset. If all you hear is silence and no response, you're in trouble."
So, what happens as a result when it's consistently tracked and improved upon?
The chart below speaks for itself: higher NPS.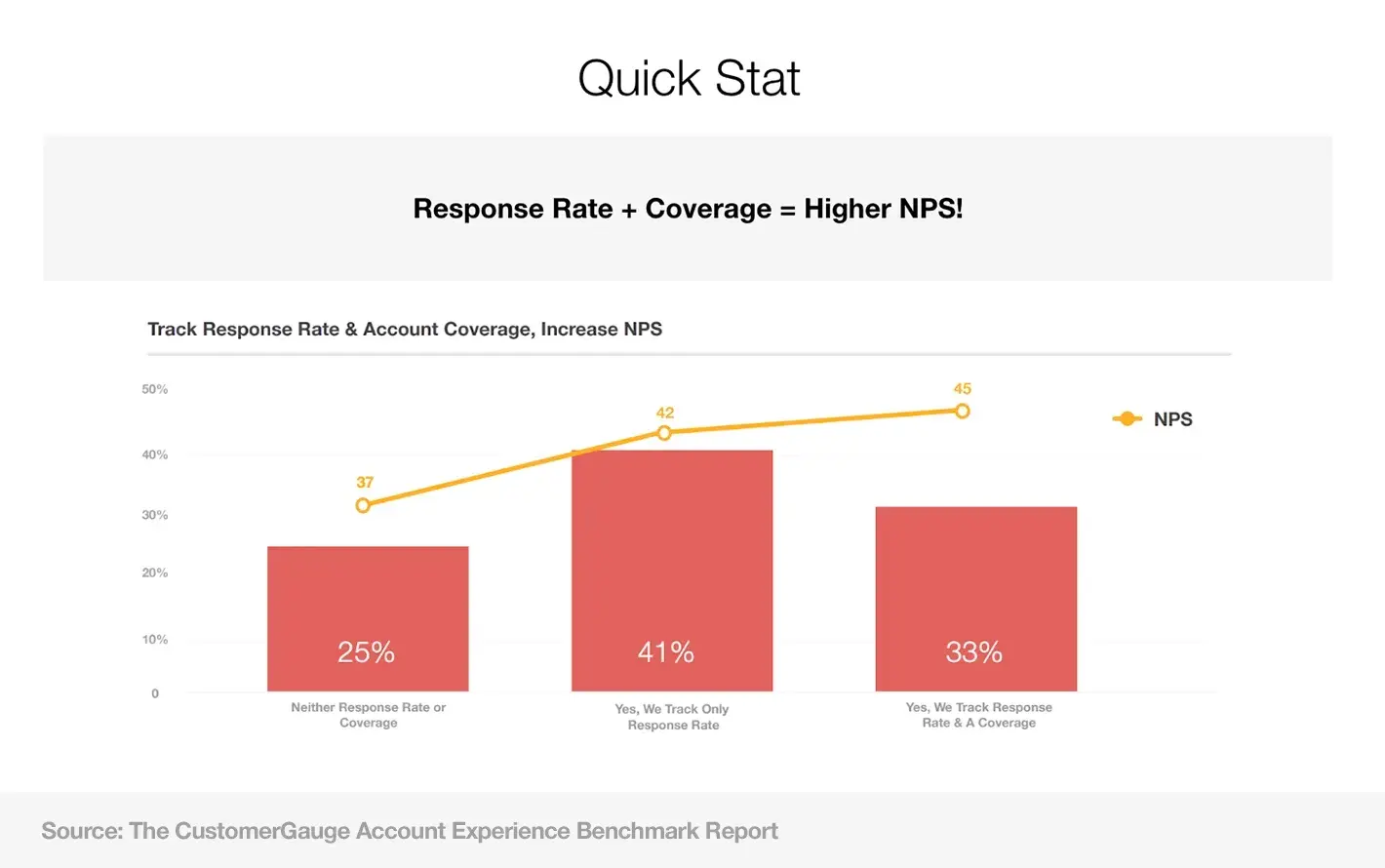 Next, we shifted gears to dissect the differences between contact and account response rates.
We polled our attendees for a second time asking, 'Do you know your account response rate?' and the results looked a bit different.
It came out to be 50/50 for attendees tracking and not tracking account response rate, with a few unsure of what it means.
"This visualization really helps to explain our point — on the left we have contact response rate which is fantastic and something we're trying to receive with our programs," said Monte.
"But if you compare that with the right, when we break it down by account response rate, we're seeing which accounts and, tying it back to Part 2, their revenue, on what levels are we getting responses from and what are those loyalties on different levels.
So, it's really about digging deeper into your responses."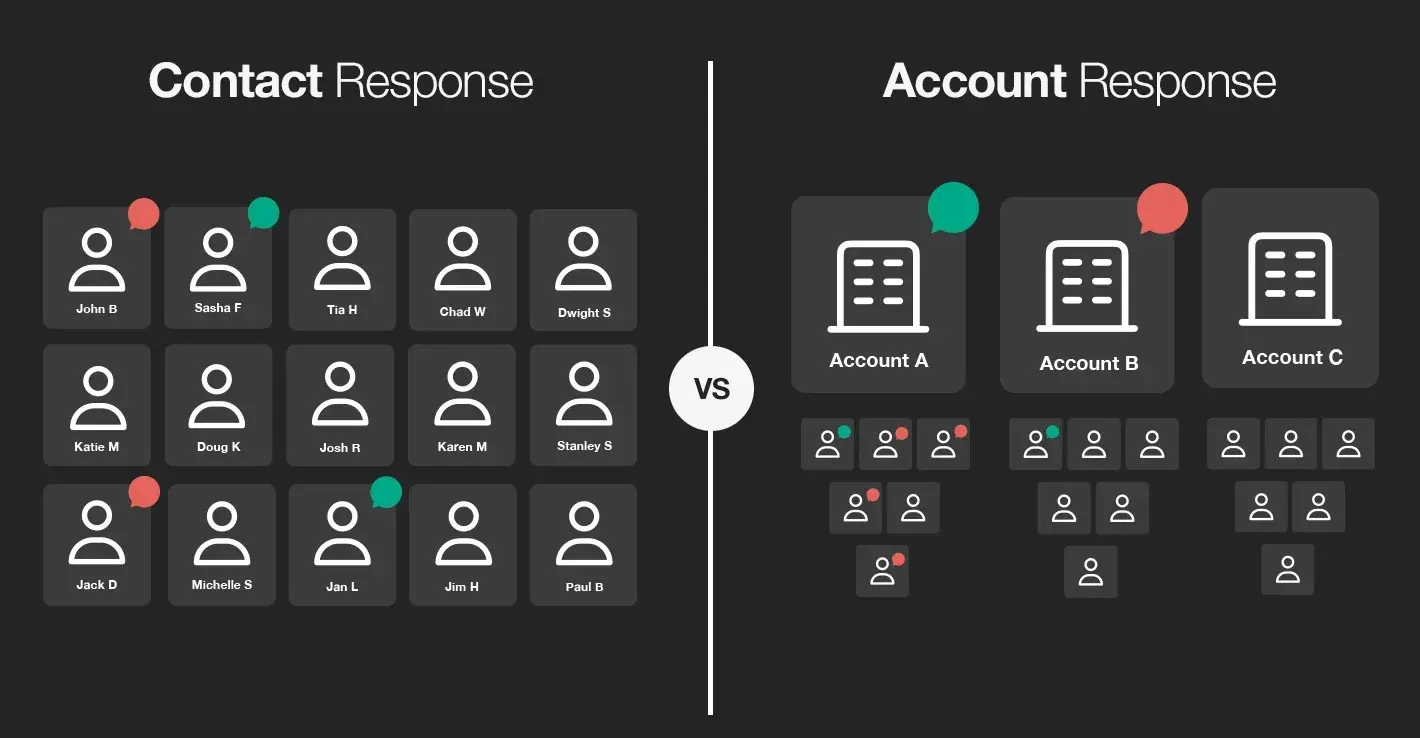 If you look at the contact response rate, out of everyone it's only sitting at about 20-25%.
With account response rate, it shows that we've heard from three separate companies resulting in contact from around 75% throughout different levels of the organization — this is why tracking by account truly provides better insights.
Cary said, "On the left, imagine if all four of those responses came from one account? You may not be hearing from a lot of your customers which puts you at a large risk [of churn]."
The goal, of course, is to achieve a 100% account response rate.
Think it's not possible? Our customer, Engro Corporation, is the largest diversified conglomerate in Pakistan working in Food & Agriculture, Energy & Related Infrastructure, Petrochemicals, and Telecommunication Infrastructure.
Engro achieved a 98% Account Response Rate, winning an award for their efforts at our 2022 Account Experience (AX) Awards.
How did Engro do it? They...
Transitioned from paper surveys to digital, real-time surveys with CustomerGauge
Surveyed all 'active' accounts (those purchasing from them)
Had regional sales managers call clients asking to take the survey
Sent personal reminders through email with the survey link
Had a focus on response rate before NPS!
Monte mentioned, "A lot of times, NPS will become the major focus and then people will do whatever they have to to get that number where it needs to be.

We find response rate to be a much better metric to focus on."
Top Six Response Rate Tips From the Experts
1. Let customers know the survey is coming
The best way to prepare customers is to notify them that a survey is coming from your business. This gives you the chance to explain the importance and what they can expect.
Plus, you could get creative. Have your CEO or Head of Customer Success film a video of themselves explaining current initiatives and why they want to collect feedback.
Something we often hear is, 'I don't want to overwhelm my customers, they already receive so much marketing communications from us.'
Surveys don't have to be separate items!
Include the link to your survey in your current newsletter or any pre-existing messaging you have.
2. Maximize open rates
You'll want to maximize open rates, the percentage of people who open your email in their inbox.
"There's an estimation that 40% of people decide to open an email based on the subject line," said Monte. "So, it seems like a small thing, but it can make a huge difference."
Our tip is to experiment with subject lines to see what works best for grabbing your customer's attention.
💡We've seen the use of adding the customer's name, the name of their program, or a direct ask of, 'We'd love to hear from you!' yield great open rates.
Timing is also everything. For example, you might not receive a ton of responses by sending a survey on a Friday. So, try mid-week or again, experiment with your customer base.
And remember: always send from your company domain!
No matter what survey distribution method you utilize, no one will want to fill out a survey from someone they don't recognize. Plus, you'll avoid the dreaded spam folder by showing you're a trustworthy sender.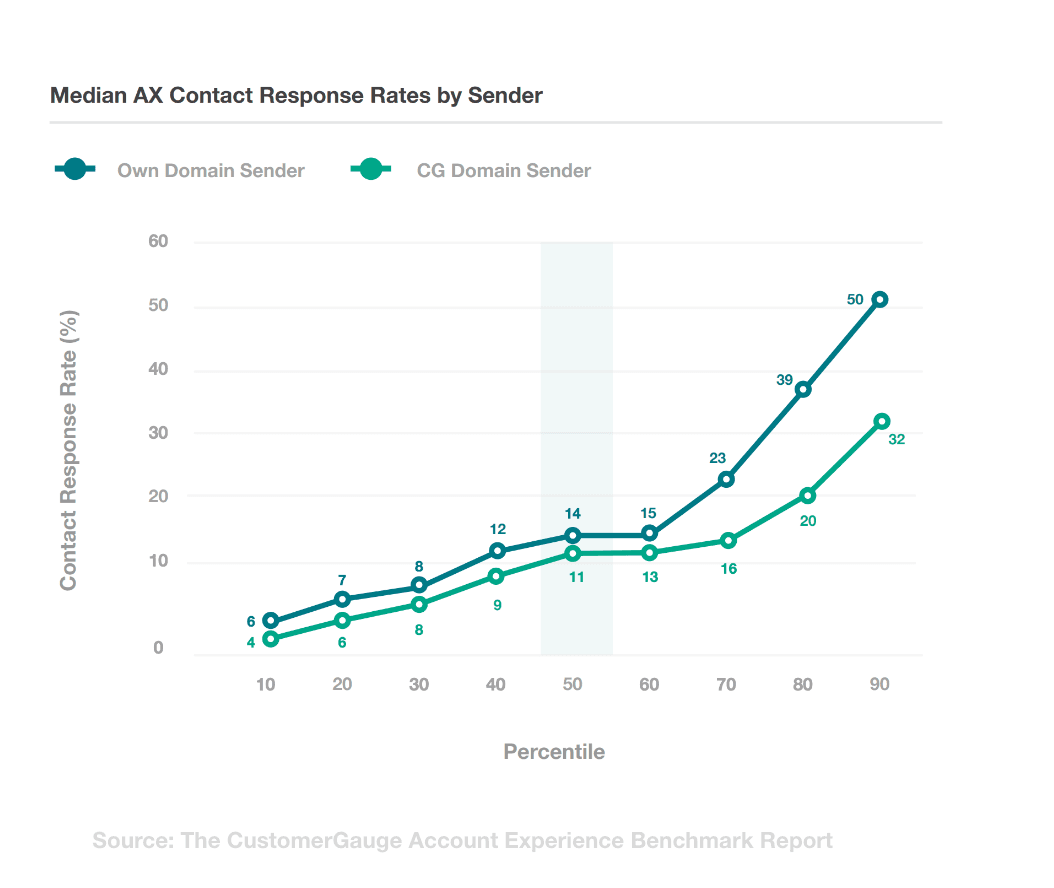 3. Maximize click rates
We say it time and time again, keep your survey invite minimal!
The last thing your customers want to do is endlessly scroll about why your survey is so important, especially because the majority is responding via mobile.
"If customers know you're going to do something with this feedback and know it's not going to take them too long, most of the time they'll be happy to oblige," said Monte.
You'll want to ensure your surveys are on-brand, too. Have them be recognizable with the look and feel of your business.
In CustomerGauge, the data transport widget is a great tool to identify opportunities and drive action. With the easy-to-understand layout, our customers quickly view how they're doing and where they may be falling short.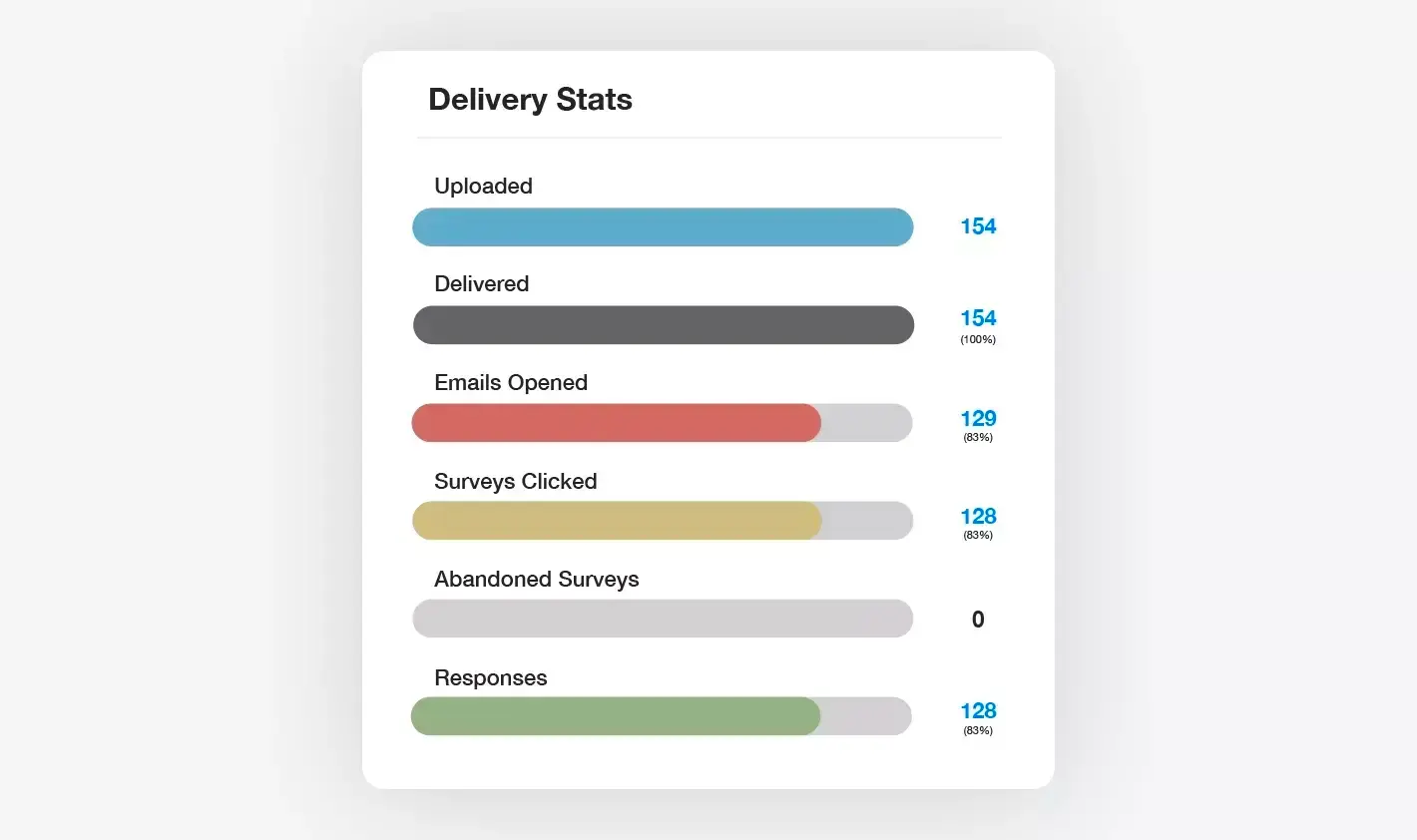 4. Keep it short
Just like your email invitation, you want to keep the survey brief, too.
Be upfront: if you say your survey will take 2 minutes to complete, make sure that's true!
"Send it to others in your company as though they're passionate customers, one acting as a promoter and one a detractor, typing out a long comment. Is it still as short as you're claiming? Because the second you start to surpass that expectation you set, you're most likely going to see a drop-off rate," said Monte.
To keep surveys short (but powerful) utilize cascading driver questions.
These are questions that reflect the customer journey, showing familiar touchpoints that customers experienced with your business. Cascading questions that use drivers offer more accurate information in terms of getting to the root cause.
Instead of having to ask ten separate questions, these drivers help keep surveys concise and attached to NPS, seeing if it's a driver of success or dissatisfaction.
Once again, the data speaks for itself — the shorter the survey, the longer customers stay to complete it.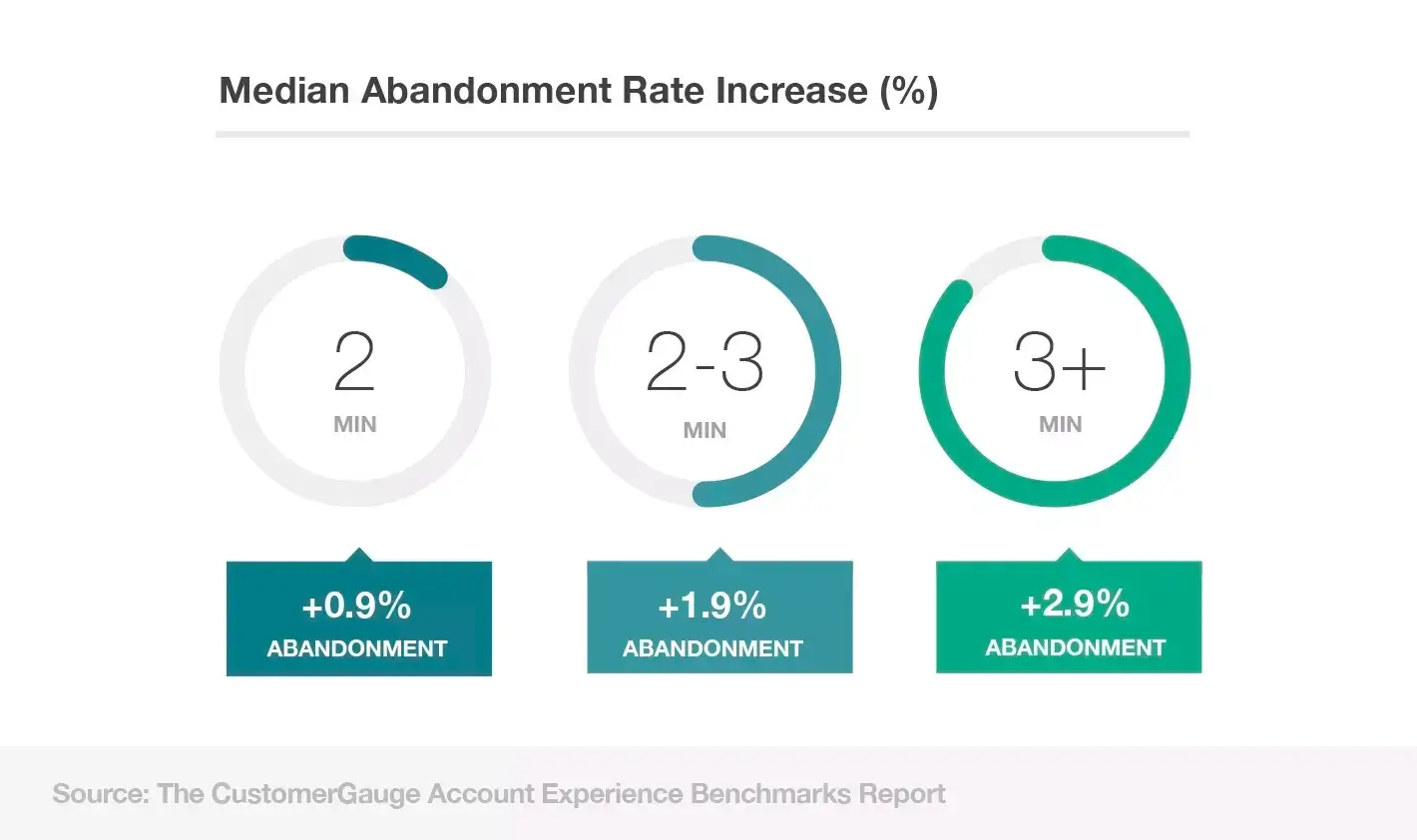 5. Attack absence of signal
6. Close the loop with survey responses
Don't be that company that launches a CX program just to receive a score and then not understand why that score isn't increasing: you have to take action.
Taking action on customer feedback helps to improve the response rate because...
1. You're proving to customers that you're listening
2. You're doing something with their feedback
3. And you're thanking them for filling out your survey
This fosters relationships and motivates customers to want to continue filling out your future surveys.
Monte left us with, "..talking to your detractors and passives, it's okay if what they're bringing up isn't something you can fix for the next three years; acknowledge the feedback and help build that relationship and that person will continue to offer constructive feedback going forward that you can use to make your program better and your company better."
Weather The Coming CX Storm: Part 4
Want to learn more about closing the loop best practices for taking action on customer feedback?
In Part 4 of the CX Storm webinar series, Cary T. Self and CustomerGauge Customer Success Manager Beatrice Gheorghisor will be sharing tips, expert strategies, and a customer success story.

In the meantime, reach out to our sales team for any questions about our platform or to see a demo.
About the Author