"Thousands of Jobs Cut in Ailing Customer Experience Division," "Country Preparing For Long Recession," "Stock Market Drops 500 Points."
We've learned from headlines in 2022 that the coming CX storm is inevitable.
From economic downturn to a poor-performing stock market, customer experience programs worldwide are facing cuts due to businesses looking to preserve cash where they can.
Why?
The truth is, most programs fail to show a direct correlation between their CX efforts and net new revenue. If you're not using your customer data to show ROI, senior executives view you as an easy cut.
Now is the time to make your CX program work for your business by listening to customer feedback, quickly taking action, and tying Net Promoter Score (NPS) to revenue. This can make the difference between losing a customer and winning more business.
In the first wave of our three-part webinar series, Co-Founder and CEO of CustomerGauge Adam Dorrell, and Global VP of Education and Services Cary T. Self, discussed the framework that can take your program from cut, to crucial.
The Three Most Important Measurements
Right now members of your company's finance team and their board members are asking themselves if your program is a need to have or a nice to have. And if you've found yourself in this position unsure of how to prove your worth, we're here to help.
When you conduct B2B experience program assessments across 776 companies across the globe, you learn a thing or two.
In our case, CustomerGauge research from The State of B2B Account Experience NPS and CX benchmarks report provided impressive results, including which measurements are imperative to the success of your program and who's responsible for each.
We've now simplified it down to a three-pillar framework.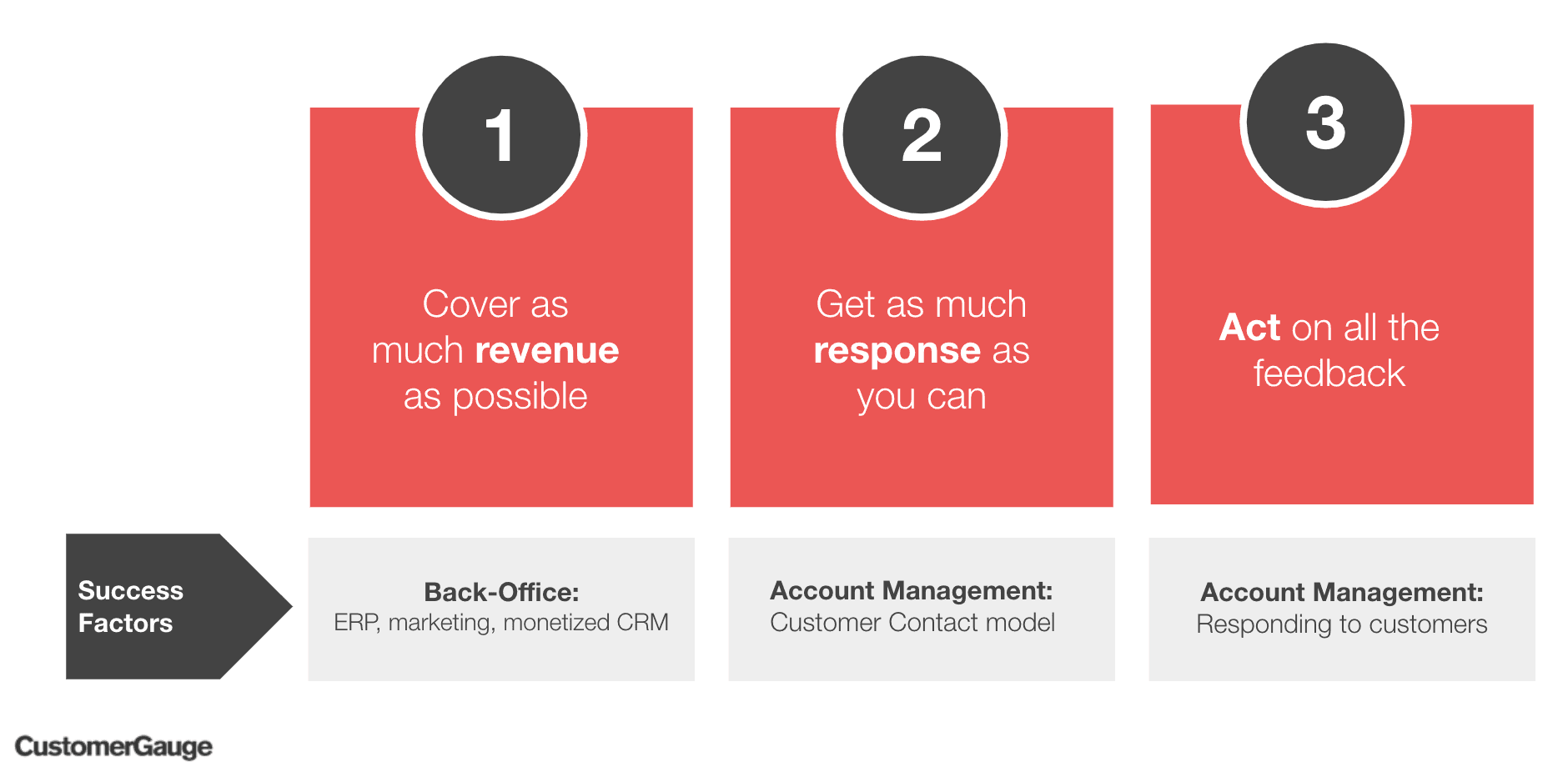 Revenue Coverage
You'll notice the first pillar is revenue coverage, a topic that many of our customers are truly, no pun intended, indebted to and spoke at Monetize! about.
"You have to make sure you cover as much revenue as possible, and that's an easy thing to do. You just take your customer list and stack rank it. But, if you then merge that with your CX program and use that as a starting point, it opens doors because you can start to say, 'Oh, are we covering 80% of our revenue with responses we get back or 20%?' And there's a huge difference there." said Adam.
"Then you can identify the NPS scores for those customers who were declining or improving in sales — that's really important."
Alongside revenue coverage, account coverage is also a must. Account coverage is a critical area within Account Experience (AX) and key to building an omnichannel customer feedback strategy, a topic we covered in our last webinar.
When you're in the eye of the storm, it's all about finding what works for your program to benefit your company because the storm looks slightly different for every industry.
Consumer packaged goods (CPG) is facing aluminum and cardboard shortages while hospitality is short-staffed, so it comes down to utilizing an expert framework and making adjustments where necessary.
Response Rates
Getting as many survey responses as you can is what CX leaders do.
During the webinar, Adam noted that he was inspired in this area by a Coca-Cola bottler we've added to our portfolio.
They came to CustomerGauge explaining the old ways of surveying once a year with a small sample of their customer base weren't working anymore.
Their main goal? Cover 100% of their accounts by surveying 4x a year.

To gather as much feedback as possible to increase response rates, remember: go where your customers are.
If email is the best touchpoint to communicate with them, continue to do so. Not sure if SMS could be a better option for your location? Give it a try. You'll see those responses coming in if you're using the survey distribution methods that work best for your business.
Closing the Loop

Now that you're covering revenue and getting survey feedback in, it's time to act on the feedback you've received or close the loop.
This is imperative.
These are people providing feedback about your business. They want to help you improve. So, if you're not giving them any indication they've been heard or if action is being taken, they won't want to fill out a survey from you in the future.
"When someone takes it upon themselves to give you a piece of feedback, they're expecting to hear or at least see some action on it. I think this is where a lot of companies struggle with prioritizing this, but this is where the other pillars play a part, too." said Cary.
"You can prioritize through revenue, through how important that business is to you, but getting back to those responses is vital to keeping the health of your program going and weather this storm."
Above all, closing the loop reinforces why a customer left you feedback and your relationship with them.
With the coming CX storm, acting on all feedback you receive is a low-cost, easy way to level up your current program because if you're keeping a pulse on your customer base, all else with follow.
Adam says, "All you need to do once a quarter is write an email to your customers saying 'We learned this. This is what you're struggling with; we're not always great but we're working on it. Thank you for your feedback.' There you go, I just wrote it for you! And if you can't get frontline people to do it in a timely fashion, set the example yourself."
There's a vulnerability with accepting feedback from customers because let's face it, it's hard hearing the truth sometimes. But acting on it will show your accounts that you're human and bring you one step closer to turning Detractors into Promoters.

Weather the Coming CX Storm With CustomerGauge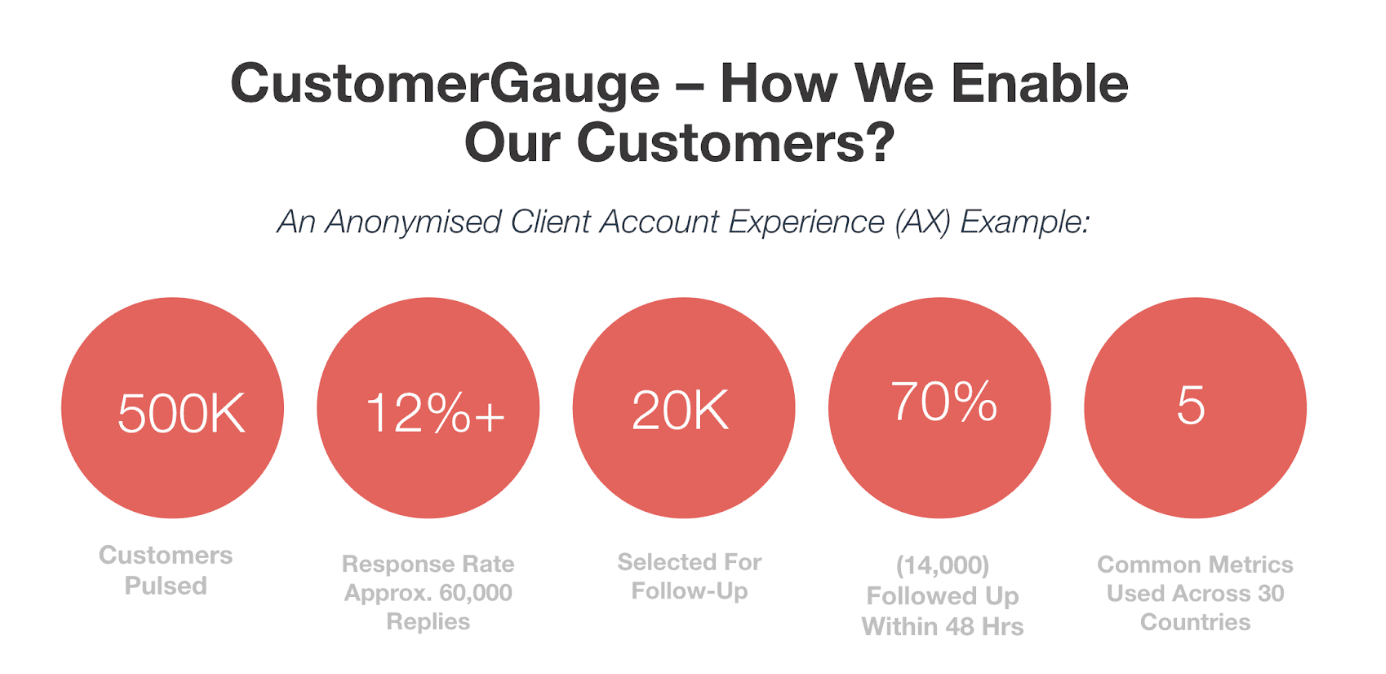 This is one of our customers who demonstrate what success looks like.
Instead of surveying, they call it 'pulsing' when collecting feedback from customers. From the numbers above, their data is already impressive and only just getting started.
How they got here? Using our three-pillar framework.
The storm is rolling in but you no longer need to run for cover. You're armed with a framework to follow to prove the value of your CX program.
Adam shared, "There is a path through to success, that's the important thing. Instead of being a drain on the business, you can bring value by identifying customers who might leave, you can upsell, and recommend you in the future — and if you could measure those things, that's how you'll show success in your program and ultimately thrive through the storm"

Keep an eye out for the third wave and catch up on CX Storm Series Part 2!
In the meantime, reach out to our sales team for any questions about our platform or to see a demo.

About the Author