Introduction
When Antony Bennet, CEO of the global fintech company Simple Ways, was preparing for his quarterly board meeting, he thought he was going to crush it. The latest client reports showed that their Net Promoter Score® was in the high 60s, with a response rate of more than 30%. In other words, everyone seemed to be thrilled with the experiences his company was providing and were thoroughly engaged. Antony knows he's going to make his board members happy.
But then, a week before his important meeting, Antony received an unexpected email: His Director of Revenue informed him that one of the company's highest-value accounts had churned—to the tune of $1,000,000 revenue. To make matters worse, Antony's VP of Customer Success just updated their CRM system, showing that another high-value account does not plan to renew its contract.
That was a tough pill to swallow. How could this be, when Antony's business had such a great CX program and when their customers were so engaged?
Unfortunately, getting distracted by high NPS® scores and not digging into the details of their CX program can often leave companies with blind spots of their retention and revenue situation.
So, what was really happening at Simple Ways?
Upon closer inspection, it turned out that Antony's company high score and response rate were a result of responses from their smallest, yet most engaged accounts. As a result, Simple Ways got distracted with the high amount of responses, and ignored gathering insights from their high-value, more demanding accounts. Looking at their entire customer base, Simple Ways' total survey coverage, or how large a part of their customer base the collected feedback covered, was quite poor.
Further analysis showed that the survey response they were receiving from their top 20 accounts was coming predominantly from low-level contacts, with little to no influence on any buying decisions.
You might say "Sure, but all this is based on a scenario." Well, we decided to put this to a test. In our NPS benchmark industry study CustomerGauge discovered that companies ranging from SMBs to global organizations were, in fact, experiencing the exact same problems.

How can B2B companies prevent "false-positive CX views" like this?
First and foremost, companies need to have a clear view of their largest accounts by both size and revenue. In CustomerGauge, our clients use a feature called "Account Overview" to stack-rank accounts in their Account ExperienceTM (AX) solution. Having such a holistic, organized view of the accounts that have the biggest impact on your bottom line can help with prioritizing survey campaigns.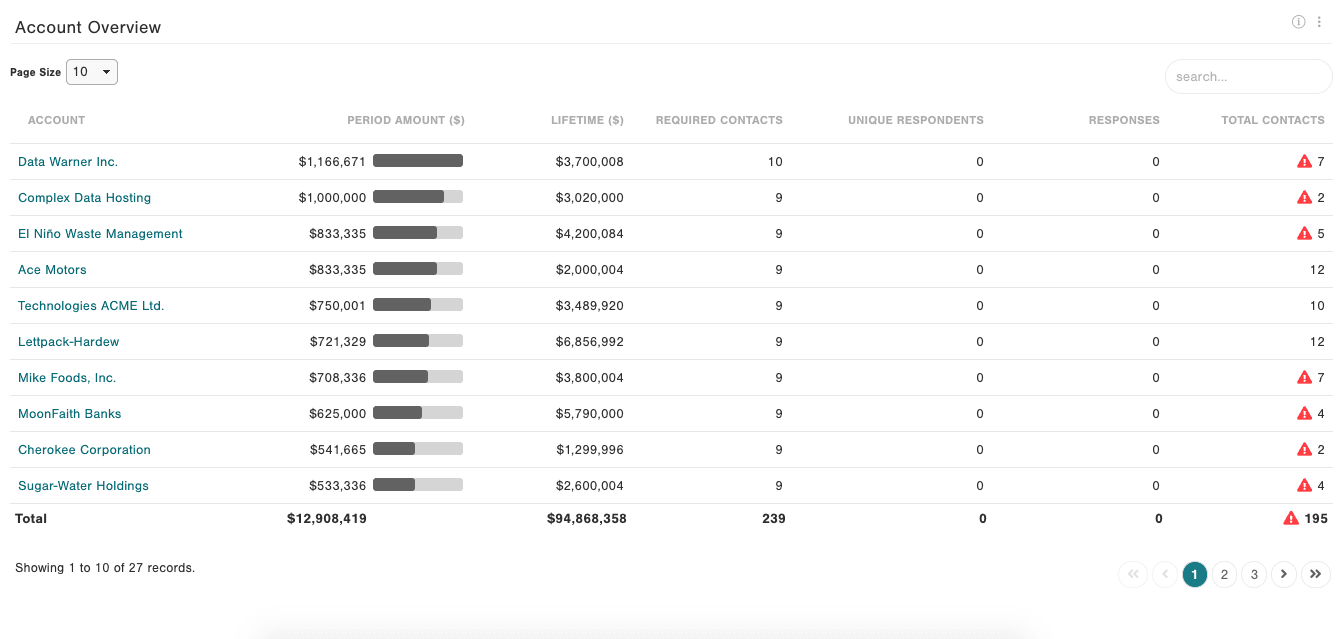 In the image above we can see that instead of scrolling through endless customer reports or spreadsheets to understand which accounts need prioritization, you can find all you need in a single view. This will be your starting point to combatting churn.

A good AX/B2B CX program enables companies to track the number of engaged contacts in an account and juxtapoze this next to revenue. Similar to the Simple Ways example, if the primary engagement you are getting from your high-value accounts comes from low-level contacts, i.e. not decision makers, then you're in trouble.
The other extreme, where only decision-makers are surveyed and engaged—and give very high scores—can also be risky. Imagine what happens with your retention strategy when these same decision-makers change jobs, as it often happens. Since you have no insights from the rest of the organization, i.e. influencers and operational users, you will know little about what they think of the experience with your company. So coverage is important and should not be ignored.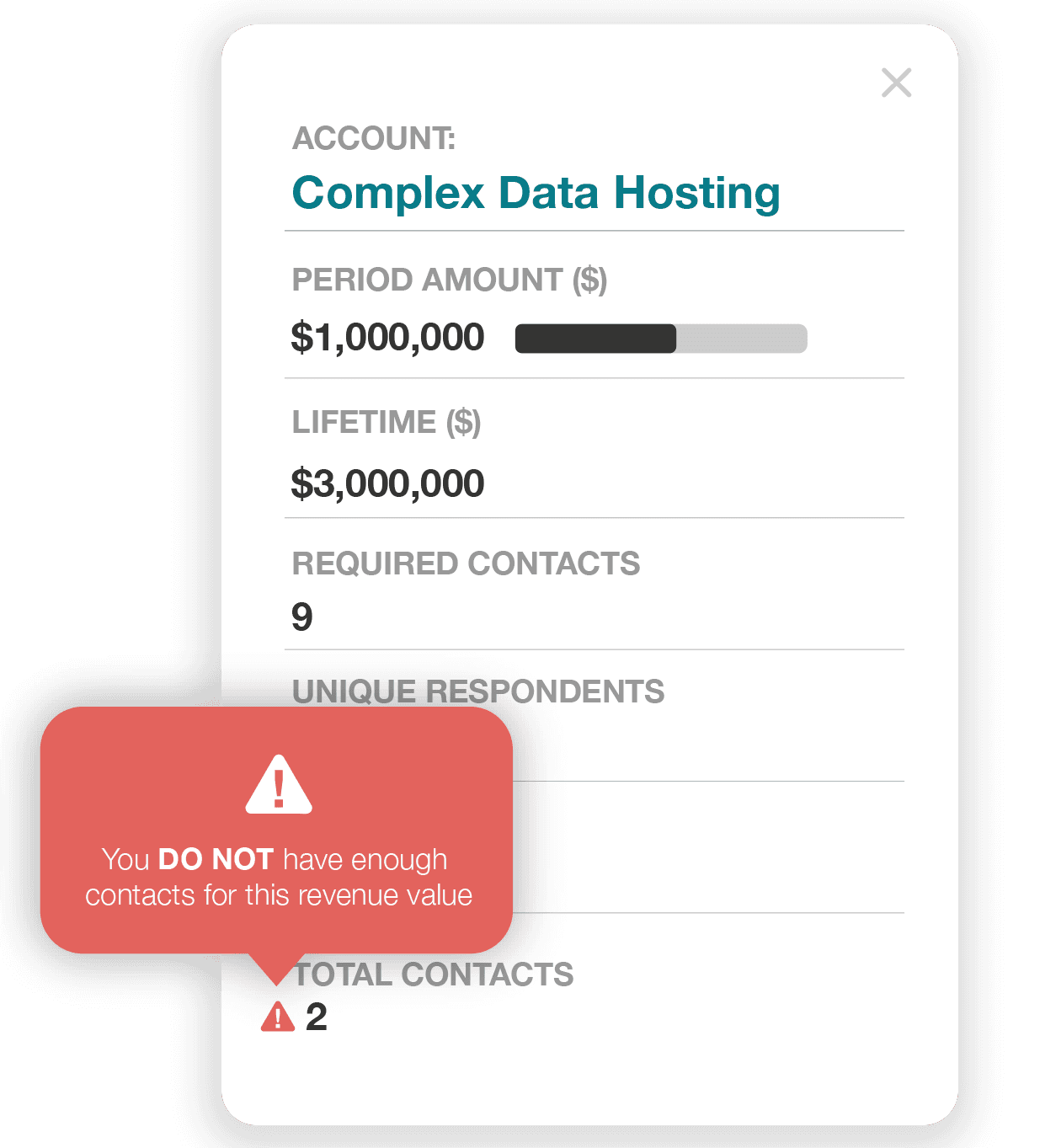 In the image to the right, you can see that the "Account Overview" tool has highlighted that Complex Data Hosting, a high-value account, worth $1 million, has only two contacts associated with it. Drilling down into the details would show that these two contacts represent operational users only. Hence, the key stakeholders that may impact the bottom line the most—influencers and decision-makers—have been left behind, and unsurveyed. That's a high-value account at risk!

Just how many contacts should you survey in an account to boost retention confidence?
Based on our years of research across industries, our short answer is it depends on the revenue and nature of your account. Logically, bigger accounts will have a higher number of contacts. But, as a rule of thumb, we recommend using the 3 x 3 model, or three contacts at each level for a million-dollar account. In a million-dollar account, for example, there are often at least 9 people involved in new purchase decisions; in hundred-thousand-dollar accounts, that number is closer to 6.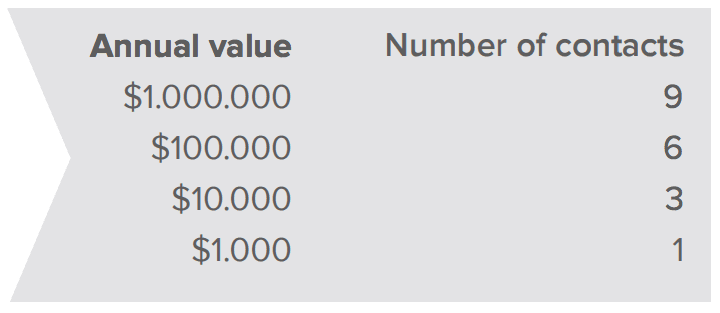 CustomerGauge's Account Experience solution comes with a required contacts preset configuration based on the revenue of an account. However, based on your business complexity and needs, you have the possibility to adjust it to a number that best suits your organization from inside the CustomerGauge application.

Last, but not least - remember to survey the right people!
Taking the Complex Data Hosting example from above, we also talked about the importance of having a good relationship with the right stakeholders in an account.
Typically, there are three different kinds of stakeholders in any B2B account:
A. Decision Makers: Sign off on the contract and have ultimate say, generally sit at positions like CXO, SVPs and VPs
B. Influencers: Evaluate purchases and advise decision makers, generally sit at the tactical level - e.g. VPs, directors and managers.
C. Users: Use the service or product on a regular basis, normally sitting at the operational level.
Having enough representation from each of these three organizational levels (3 x 3 model) and getting a pulse on what they think of the experience with your brand will ensure you have a strong retention plan at hand.

If we look at the illustration below, we can see an organizational chart that shows the scores and comments at each stakeholder level. While there is a strong representation and insights from the Users ( C level), there are also missing data from the Influencers ( B level). This may indicate that these contacts are not engaged or that your survey may not be optimized for easy completion. What's even worse, the Decision Makers ( A level) has indicated they are a detractor and that they "don't see value in the solution." This calls for revisiting your retention strategy.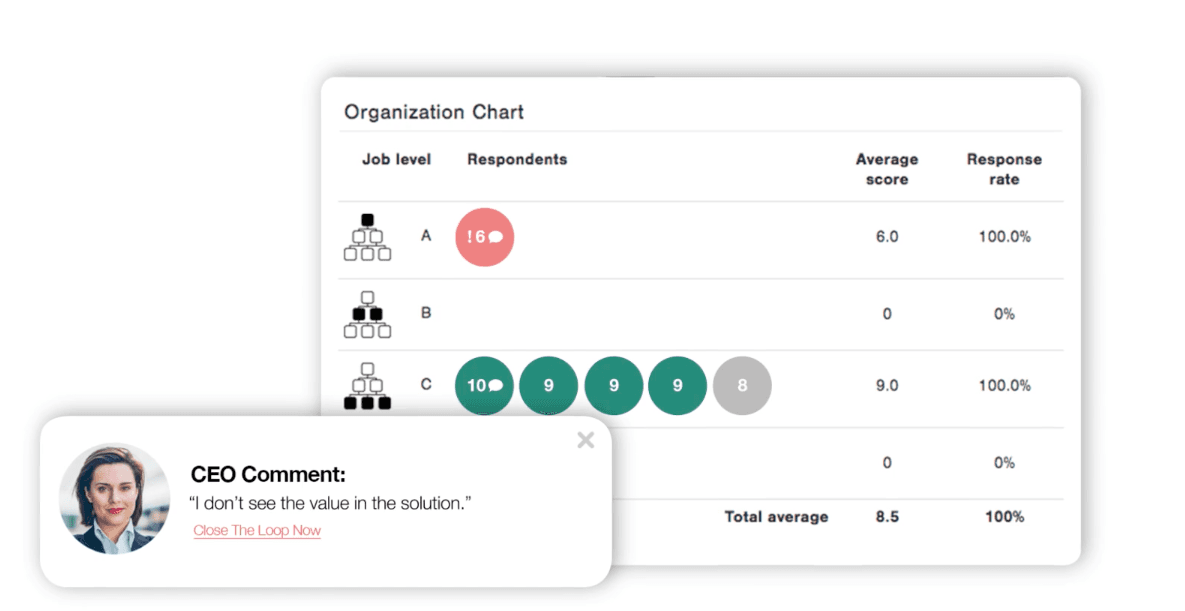 As you can see, stakeholder sentiment can make or break a relationship. With CustomerGauge's Organizational Chart view our clients can understand their brand perception at every level of a client's organization and highlight engagement gaps at vital contact levels.

Conclusion
If there's one thing to remember from this article it is this: Don't wait for churn to occur to figure out you operated under a false-positive CX view. Identify if you have enough representation from the key stakeholders in each high-value account (decision-makers, influencers, and users), and then be proactive in establishing a good relationship with them.
Now that you understand what's needed to achieve your retention and growth goals, we invite your to see how you can bring that into fruition. Click on the image below to see CustomerGauge's Account Experience solution in action and avoid the pain of losing a high-value account!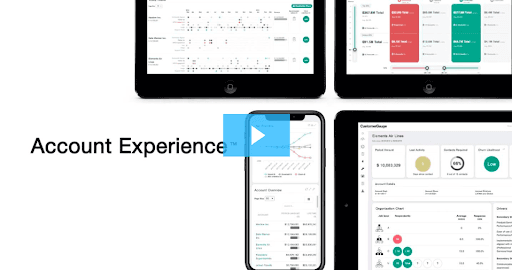 * SimpleWays is not the real name of the company mentioned in this article.
About the Author