To CustomerGauge and customer experience (CX) warriors across the globe, the word monetize means so much more than earning revenue from a business asset.
CustomerGauge CEO and Co-Founder Adam Dorrell and COO and Co-Founder Camilla Scholten welcomed back their leading voice of the customer (VoC) event Monetize! for the fifth year in a row.
However, this time, the "stage" looked a bit different.
Monetize! 2023 went digital, bringing the same fantastic speakers from brands like Heineken and Coca-Cola Bottlers Japan, expert CX strategies, and engaging conversations as every in-person conference.
But the excitement didn't stop there. The CustomerGauge Product team presented their new product feature built entirely for frontline teams to become heroes in the eyes of their customers — more on that later!
For now, let's relive the incredible insights that have reignited the fire under CX programs across the globe.

Heineken Kicks Off Monetize! Digital
After an introduction to the Frontline Revenue Revolution by Camilla and an industry look at what lies ahead in 2024 by Adam, it was only right for Heineken to follow.

Together, they shared their journey to becoming the best-connected brewery in the world.

Welcoming Coca-Cola Bottlers Japan
An event with as wide of a global reach as Monetize! Digital, we had to welcome Coca-Cola Bottlers Japan to share their incredible story with the 500+ attendees.
Joining us from the company was Ohno Kazuhito (大野 和仁), Head of RTM, Commercial Service Division, to give his background on how the business achieves sustainable profit growth through Net Promoter Score (NPS) management.
Coca-Cola Bottlers Japan is the #1 bottler in the country, with 807B yen in revenue made each year, 340k outlets, and over 700k vending machines — counting outlets and vending machines, that's one million places to buy Coca-Cola in Japan.
Their CustomerGauge journey began with a visit to CCHBC in Poland, and they've taken off with incredible momentum ever since.
Ohno Kazuhito shared, "Our new NPS journey began last year. There was a trip to Coca-Cola Hellenic in Poland to learn about their efforts and they taught us many things. Do we really know and understand our customers? What is our value to our customers?

...the NPS approach is about changing corporate culture. It is a customer-driven approach. The speed of response to customers is important. Discipline and transparency are also important. Our trip also taught us to set NPS, as a target or an indicator, like a compass. It's important how well the score is improved through activities and change the corporate strategy with discipline and transparency."
Coca-Cola Bottlers Japan's mission is to listen to customers and make their sales team heroes in the eyes of the customer (what better way than through the Frontline Suite?!)
And when it comes to leveraging the CustomerGauge Account Experience (AX) software, Adam Dorrell says that their pilot, "Was the most perfect pilot we've ever seen."
Adam also expressed his gratitude for Ohno sharing their results as the numbers should be targets everyone sets.
Coca-Cola Bottlers Japan are aiming as high as the peek of Mt.Fuji with their goals in the upcoming year. And with how we saw their CX program rollout, we're confident they'll reach the top in no time.
The next steps are to work away at internal change management and gain a continued understanding of customers.

Unveiling the CustomerGauge Frontline Suite
2023 was a busy year for the CustomerGauge Product Team.
200+ new product features, 80+ issue fixes, and 20+ new releases were just the beginning.
We launched the new and improved Campaign Builder specifically designed to improve response rates. The team also kicked off the next-generation Survey Builder equipped with live editing and multi-language support of over 190 locales.
But that wasn't the show-stopper. What took the spotlight was the introduction of CustomerGauge's latest release, the Frontline Suite.
Trishaala Chengappa, Vice President of Product Management at CustomerGauge gave an incredibly in-depth presentation to share what the team has been working away at all year.
Explicitly designed to aid frontline teams in incorporating customer feedback seamlessly into their daily routines, the Frontline Suite is made for a business development representative (BDR) to have their customer feedback in their back pocket, literally.
The mind-blowing new feature that will change how BDRs operate on the road forever is the Geocoding Map capability for visualizing customer engagement and loyalty.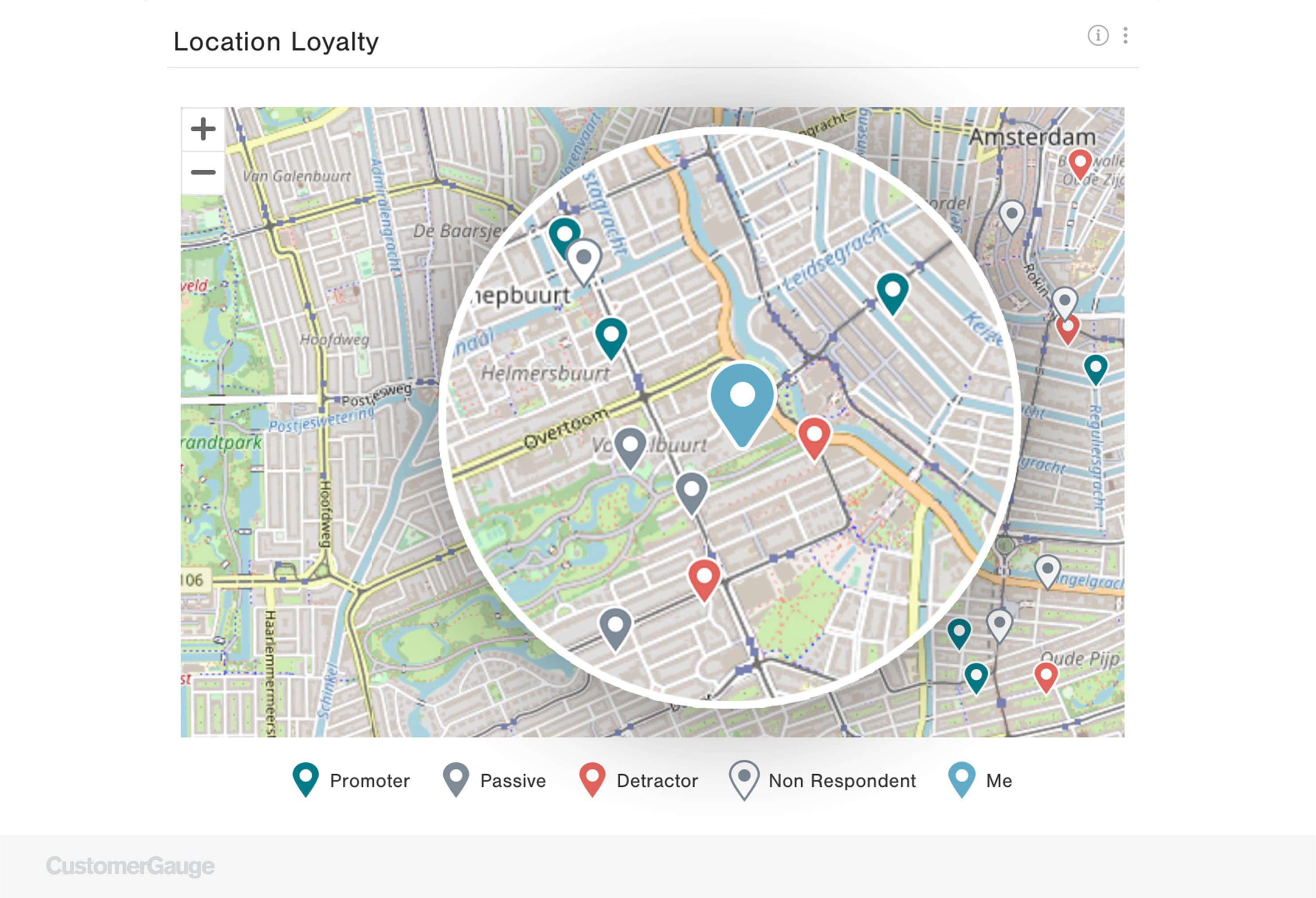 Trishaala illustrated practical scenarios, showcasing how a BDR Joe could efficiently handle detractor responses, plan customer visits, personalize responses using artificial intelligence or AI-generated templates, and prioritize tasks leveraging geocoded customer data — all with the goal of empowering frontline teams to excel in customer retention and growth.
"[With the Geocoding Map] Joe can plan out his day based on where Detractors are located but also continue to view the map. This means that if he does want to make a detour or a visit to a customer nearby that might be a non-respondent. He's able to do that all while incorporating it into his daily customer plans," says Trishaala.
Of course, we had to extend our functionality of AI even further into the software. Trishaala also introduced Gaugie-AI, everyone's new favorite AI-powered closed-loop assistant to automate responses to customer feedback.
This makes it easier than ever for teams to develop well-thought-out customer responses and to close the loop between 24 and 48 hours.
Trishaala went on to emphasize, "It is a tool that really empowers your frontline team as it allows them to use this as part of their day-to-day routines. It allows them to empower their customers. It also makes it seamless into their daily routines rather than being looked at as an extra workload that they've got to do. And I think more importantly, it really gives them a tool to build that human conversation using this technology."
👉 If you're interested in seeing the Frontline Suite in action, you can reach out to our team at any time here.
Engro Polymer & Chemicals LTD. CPG Transformation
Engro Polymer and Chemicals Ltd. joined us in the second half of Monetize! Digital to share the successes they've achieved as a direct result of their customer experience program.
Engro was founded as a fertilizer business in 1965 and has since grown into the sole chemical manufacturer of polyvinyl chloride (PVC) resin in Pakistan.
A subsidiary of Engro Corporation with over 2,600 employees, they are one of Pakistan's largest and most diversified conglomerates. The company's vision is to become a globally competitive PVC producer, and they are well on their way.
Telling their full story was Muhammad Idrees, Chief Commercial Officer at Engro. Anytime you speak with Muhammad and ask him how to make selling a commodity business different, he'll answer "Simple — make it a great experience."
The business has had customer-centricity rooted in their culture since the beginning, continuously proud to see customers succeed.
He shared, "The great thing is that within the [parent] company, they were already using Net Promoter Score. So we could understand and appreciate the benefits of using this methodical approach of customer engagement.
From there, we started our rollout 2021 and it has been great. We went to all the customers and educated them."'
Adam stepped in and said,
"I think you're very modest because you're a company that's won 2 CustomerGauge Account Experience Awards for response rates and following up. You've got an incredibly high response rate. It's almost 100%!"
It's true — since Engro began working with CustomerGauge, they have achieved...
The AX Award for their 99% account response rate two years in a row
A near 100% contact response rate
16% increase in Net Promoter Score improving from 64 to 84
8% increase in closed-loop rate
and a 17% increase in the top-line growth of the organization as a direct result of their NPS program!
For Muhammad, everything falls into place once you create a strong bond with customers. "Once the customer trusts you," he said, "it's a smooth journey going forward."
The Cambridge University Press CX Evolution
How does an organization that is almost 600 years old keep up with modern ways of customer experience? For Cambridge University Press and Assessment, they're constantly evolving to adhere to their customers better.
Vanessa Milan, Head of Voice of Customer, shared the organization's journey to incredible CX with the use of Account Experience.
She shared, "In 2021, we finally had the opportunity to upgrade to CustomerGauge and initially, we launched the in-platform surveys in our main digital platform. In the meantime, we launched a new service system in customer service, and last year we had a small pilot to integrate it with CustomerGauge and the results were really good with high response rates."
A big challenge Vanessa overcame was not knowing who to go to in an organization as big as Cambridge to put a CX program into place. There wasn't a clear direction on who would be responsible so that had to be considered before putting a pilot into place.
Fast-forward to today and experience objectives are clear and executives are always up to speed on the program's status.
"Each month we have forums with senior directors in operations, for example, and NPS has become a part of the agenda so every month we focus on the results from the different touches," said Vanessa.
Cambridge Unversity Press and Assessment's CX evolution is a perfect example of what challenges may be met with rolling out an experience program but having it come together successfully.
Data-Driven Playbooks by the AX-perts at CustomerGauge
It wouldn't be Monetize! without bringing the CustomerGauge Education team to the stage.
Joined by our infamous MC and Global VP of Education and Services, Cary T. Self were Janis Donnelly, Customer Success Director, Matt Champion, Global Head of Sales Engineering, and Júlia Domingues, Implementation Specialist.
Together the 4 hosted a best practice-packed panel, giving attendees a live look at CustomerGauge's Account Experience methodologies. Covering Measure, Act, Grow, and Culture, this session covered actionable tips and real-life scenarios where you can apply them.
After hearing from Trishaala earlier covering the Frontline Suite, Cary's session was what married the two together and provided insight into how to put them in motion.
Transcendent Account Experiences With Sutherland
Sutherland Global is a business process transformation company that rethinks and rebuilds business processes for the digital age. This mission is proving to carry into the way they operate in CX as well.
Dan Lang, Senior Vice President, took the "stage" to share his story on Sutherland becoming more technologically advanced with their ways of improving the customer experience.
"We were early adopters of NPS — we met somebody at Bain and Co. and talked about Fred Reichheld and we were bought in. We said we were gonna do this for everybody. So, we had a very sophisticated analysis machine and each quarter someone would present these bubble charts of revenue and NPS.
And I raised my hand and said, 'Does anybody think it's weird that only a quarter of our customers are contributing to all this analysis, and your single largest one isn't in there?'" said Dan.
It was then he left his experience of business development behind and began to take on the voice of the customer approach.

While Dan faced challenges including his previous business focusing too much on the score itself and not enough on following up on feedback, Sutherland Global has found its stride.
He emphasized, "We're doing this in near real-time. Meaning this program, someone can update their NPS on a Tuesday afternoon if they want to. The cool part about [CustomerGauge] is that it triggers things inside of my organization."
...And then sometimes it's an operational SWAT team. Sometimes, it's our team just going to say, 'Hey, can you expand upon that? What's ailing you?' Maybe it's just a bad day, right? But it usually isn't. There's usually something."
Dan's biggest piece of advice? Trust the system.
"Trust the system because my team absolutely does. They did this stuff with yarns, sticky notes, and Excel spreadsheets. I don't know how they put it together each year, but I trust the [CustomerGauge] to do the things. There are business rules that are in there. That if you follow them you can do these things at scale."

Dan's incredibly engaging and enthusiastic presentation is one you won't want to miss.
Fred Reichheld: Earned Growth is the Future of NPS
For the second year in a row, we welcomed back Fred Reichheld, Creator of the Net Promoter Score, to share his forward-thinking insights with us.
Adam Dorrell and Fred had an engaging conversation on the future of NPS and how Earned Growth isn't just a nice to have, it's going to be mandatory for future business growth.
"I get these questions, 'Are surveys dead?' Yes, they're dead. But they have nothing to do with Net Promoter," said Fred. "Net promoter is simply keeping track of all the people you touch, how many are having their lives enriched, or promoters, and how many detractors. Surveys were a useful tool and will continue to be useful in all in a more limited role."
Fred went into detail that NPS isn't so much a tool but a philosophy.
"This is about a philosophy of how you treat customers and when you declare victory and when you declare failure."
To Fred, a failure is any time a customer isn't a promoter.
In fact, he went on to explain, "If you're not turning your customers into promoters who come back for more and bring their friends enthusiastically, you're not gonna earn your cost of capital."
He also stated that it's not only about having a continuous dialogue with customers but delivering on that dialogue. "The primary objective is not to get rich, which is what profits tend to point you toward. It's sufficient profits to make my machine healthy, so it can be the foundation for my customer's machine," said Fred
There's another element companies tend to struggle with and that is measuring the most important things in business. Fred continued with how people aren't stepping back and asking if they're measuring the right things.
"I think it's going to reinforce the resources that are flowing to organizations that are earning their growth. You know, you should be getting most of your growth, 90% of your growth through existing customers, expanding purchases, and referring their friends.

That's a healthy business and investors will start to see that.
I think the real smart investors can use the financials, read the entrails, and make a good guess about how much of the business is coming through earned growth. A real earned growth metric would shine a light on everyone."

Adam finished the presentation by asking if he were to advise people to get going with earned growth, how would he go about it?
Fred's response:
"Are you living up to your fiduciary responsibilities? Given what you've seen in [Winning on Purpose] that no company that Fred has found has earned its cost of capital over the long term and delivered true shareholder value without being outstanding at earning customer loyalty. If you've read that chapter, what are you doing to measure progress on that?
On that fundamentally important idea that we can't prosper as investors long-term unless we're doing better at generating customers coming back for more and bringing their friends, in other words, earning our growth. And then if my board just shrugs their shoulders, I would look for a job someplace else as soon as you can find one.

I'd rather work in a place where they hold you accountable for actually doing the thing that makes this world better, and is great for our investors."
Defining What 'Good' Looks Like With CPG Experience Council
Nigel Tordoff, Chairman of the CPG Experience Council, is no stranger to both the Monetize! stage and thought-provoking fireside chats with Adam Dorrell.
The Council's vision is to share and develop best practices and data to foster competitive customer experiences that help brand owners, customers, and consumers win.
And Nigel was sure to carry this important vision into his presentation. The two paired together again to get to the root of what 'good' customer experiences really look like and what goes into creating them.
He began by explaining, "When you wanna make change happen, one of the big things that you have to do is to call upon your deep-rooted beliefs as an individual and the insight she'd gained to be able to tell stories and to be able to influence others about how to be able to start to make change happen.
That's a big part. What we're trying to do at the CPG Experience council is to create an environment where you can talk to like-minded people about the beliefs and the behavior insights that drive a really good CX culture."
The core of Nigel's session at Monetize! Digital was four insights broken down by the person who would be leading that particular insight and who it impacts.
For example, insight #1 was 'go to your Executive Directors and agree on why you're doing the things and what needs to be able to change.'
Nigel said, "[In the Council I found] executive leaders were really curious about the expectations that have been set in the outside world and how that can affect their business as either a threat or more interestingly, as an opportunity.
And that was an overlap with another group of people to be able to talk about. So, the first insight that came about was to go to your executive directors and agree on why you're doing things and what needs to be changed, and they were really interested in that conversation.
They don't need to know about everything else because they trust you've got that covered."
Hear all four insights from Nigel in yet another extremely lighthearted and intriguing conversation on customer experience below.
Ready to Start Connecting Your Frontline to the Bottom-Line?
If there is one thing to take away from our fantastic speaker sessions, is this: if you aren't tying your customer experience program to revenue, you're behind.
And with the Frontline Revenue Revolution, we are taking it one step further and can guess your frontline isn't prepared with the tools they need to succeed.
The time is now to join the revolution, begin connecting your frontline to your bottom-line, and make them heroes in the eyes of your customers.
If you're interested in learning more about the pilot of CustomerGauge's new Frontline Suite, our team is ready to answer any questions you might have!

About the Author