The 3rd Annual Account Experience (AX) Awards were a success! For the third year in a row, this event proves to be the best opportunity to celebrate best-in-class AX programs.
It is also a great way to hear just how these companies achieve success and what keeps them motivated to surpass their goals.
This year we had over 200+ attendees join CustomerGauge Co-Founders Adam Dorrell and Camilla Scholten from all over the world to see who the official leaders are for each category.
In case you missed the ceremony or just want to relive the fun, let's get into it!
AX Award Criteria
We gave away awards for three different categories based on our Account Experience framework below: Revenue Coverage, Account Response Rate, and Closing the Loop.
Our team then narrowed each category down to whether a company was Single Region or Global, resulting in two winners per category.
And if you don't know by now (you should!) we believe customer experience (CX) should be at the heart of a business's culture to truly succeed, so we also gave away a bonus award: Most EnGauged.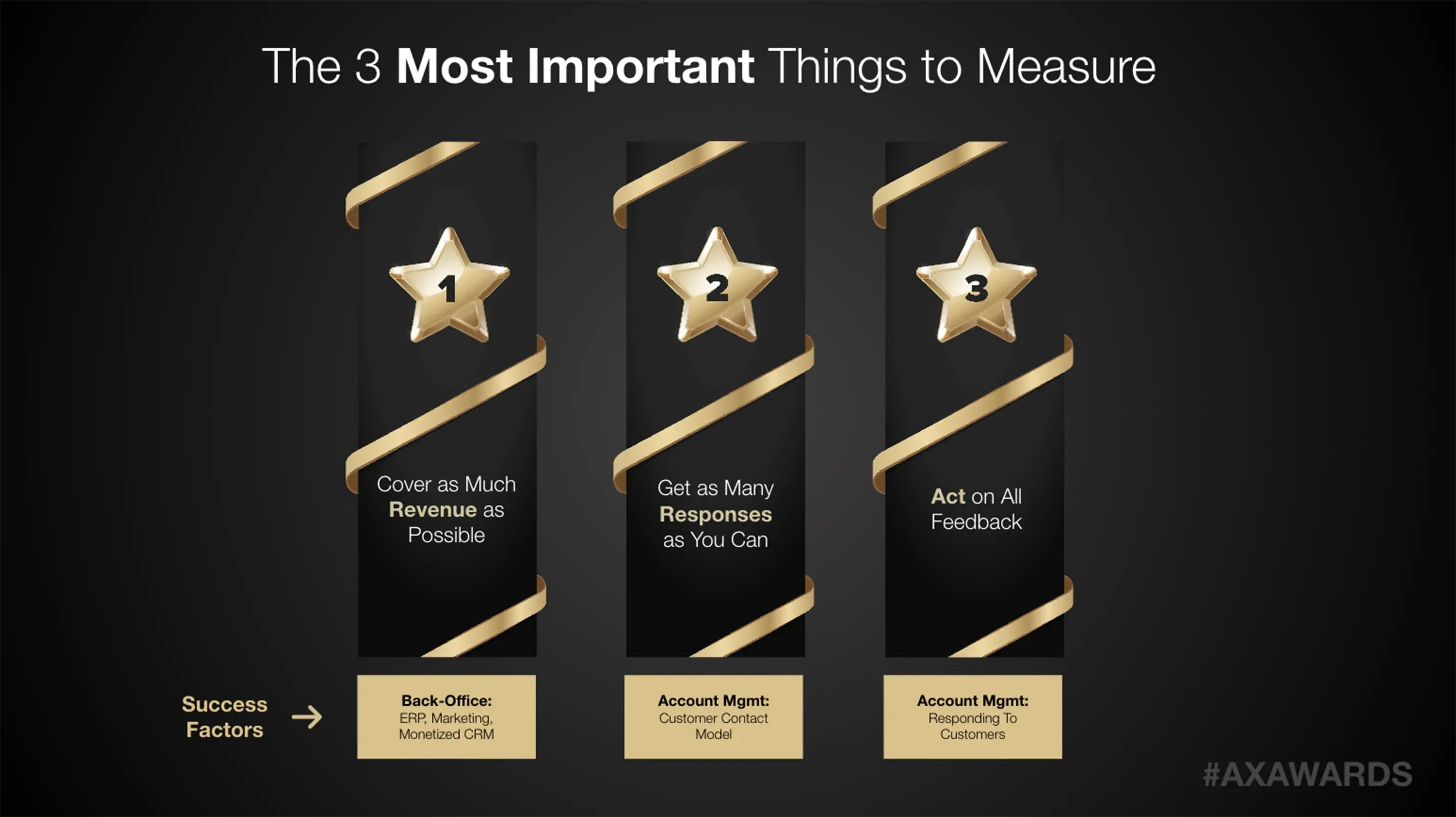 In the end, we had seven incredible winners walk away with their AX Award — time to see who won.
Revenue Coverage Award Winners
Single Region: Sutherland
Sutherland is a business process transformation company that rethinks & rebuilds business processes for the digital age.
They took home the gold with an impressive 98% revenue coverage rate, coming out on top in front of WorkFusion, Aspira, Engro Polymer and Chemicals Limited, and NuCompass Mobility.
We had Arun Varadarajalu, Quality Manager, join us from Sutherland.
Global: SuperOffice
SuperOffice is a cloud-based CRM solution that helps build business relationships and turn them into revenue.
The Norway-based business came ahead of Atmosphere and won the Global Revenue Coverage Award with an outstanding 85%.
Hans Christian Gronsleth, Director of Digital Customer Experience, accepted the award on behalf of SuperOffice.
"
This is part of the reason we landed on CustomerGauge — because you had this thought about monetizing NPS.
Having our data in real-time is fun and connecting it to revenue is important. This year we also connected the drivers to revenue, so we are getting more insights and of course, always striving to get more responses to turn that feedback into actionable insights.
Hans Christian Gronsleth
Director of Digital Customer Experience
Close the Loop Award Winners
Single Region: Briggs Equipment
Briggs Equipment is a full-service material handling company based in the United Kingdom with a customer-first focus.
Our winner (two years running!) beat the nominees in this category with an incredible 98% closed-loop rate within 48 hours or less. Others up for the award were Manheim, GLS Group, Sphera, and Neos Networks.
Accepting the award we had Pete Jones, Group Managing Director at Briggs Equipment.
Global: Coca-Cola Hellenic
Swiss- and Greek-based Coca-Cola HBC is the world's third-largest Coca-Cola anchor bottler in terms of volume with sales of more than 2 billion unit cases.
The nominees were stacked for the Global category, with big names including Heineken, Dun and Bradstreet, IDEXX, and Arcserve.
After the drumroll, it was Coca-Cola HBC who received the award with their 66% closed-loop rate.
Stuart Ward, Head of Customer Capability, shared a few words on how they got here.
Account Response Rate Award Winners
Single Region: Engro Polymer and Chemicals Limited
Engro Polymer and Chemicals Ltd. was founded as a fertilizer business in 1965 and has now grown to 2,600 employees playing a key part in the Consumer Packaged Goods ecosystem.
For the second year running, Engro has taken home the gold by achieving a 99% account response rate — wow! Nominees in the Single Region category were Friss, Effortless Office, and Novozymes.
Muhammad Idrees, Chief Customer Officer, accepted the award on behalf of Engro Polymer and Chemicals Ltd.
"
High response rate is strongly attributed to strong engagement at all levels [of the company] with the customers...this has brought us more than 8% of closed-loop rate than the previous year, an increase of 16% in NPS, and a growth of 17% in the organization.
Muhammad Idrees
Chief Customer Officer
Global: Heineken
Heineken, based out of the Netherlands, is the world's leading premium lager with operations in over 70 different countries.
Up against AB InBev, Dun and Bradstreet, and SuperOffice, Heineken won the Global Account Response Rate Award with 36%!
We had Program Manager Voice of the Customer (VoC), Iris Boon, join us to discuss the ongoing rollout of their global program.
Most EnGauged Award
Our last award is a special one, based entirely on a company's culture.
The nominees in this category were chosen because their team...
Fosters a culture of ongoing education and Account Experience excellence
Effortlessly adopts CustomerGauge Academy
Demonstrates commitment to training their entire organization toward better AX practices
..and the winner for Most EnGauged was Wolters Kluwer! Wolters Kluwer is a Dutch information services company with a global footprint in legal companies.
Their competition was strong, including Coca-Cola HBC, Sutherland, Mycronic, and Cambridge University Press & Assessment.
Invited to accept the award on behalf of Wolters Kluwer was Linda Nieuwenhuis, Global Director of Sales Legal & Regulatory Division.
And that's a wrap on CustomerGauge's 3rd Annual Account Experience Awards! If you missed us this year, make sure you keep an eye out for next year's event.
Interested in learning how these top brands achieved their success?
Contact our team today! You'll be one step closer to becoming an AX Award Winner and having your name up there, too.

About the Author