There are many tools out there that businesses can use to reach customers, understand their sentiments, and act to improve their customer experience (CX).
But with so many options, making the right choice can be a challenge.
Qualtrics and Google Forms are two options available to business customers. However, while they have some of the same basic functionality, the two tools are pretty radically different. Qualtrics is a heavy-duty customer feedback software that demands a considerable learning curve, while Google Forms is designed with the simplest surveys in mind.
This means that if you're a large organization, Google Forms might not be able to do enough. However, Qualtrics can't do everything. For example, its functionality for B2B brands does have its limitations.
Here, we want to show you the pros and cons of Qualtrics and Google Forms side by side so you can make up your mind. And while we're here, we'll introduce you to CustomerGauge too — the #1 customer feedback tool for B2B brands according to Gartner.
Introducing Google Forms, Qualtrics, and CustomerGauge
Before we get on to see what reviewers and software brands think about each of these tools, let's start by taking them at their own words.

Here's what Qualtrics, Google Forms, and CustomerGauge are designed to do.
Qualtrics
Since its launch in 2002, Qualtrics has become one of the best-known customer experience tools on the market. Designed as a program that can enable businesses to collect all types of feedback (from Net Promoter Score (NPS) surveys to unstructured data to sentiment analysis) it makes a strong claim to being one of the most powerful CX tools around.
While it has customers among the biggest brands on the planet (including BMW and Microsoft), Qualtrics is also often used by many customers who don't need its full capabilities. For example, researchers in higher education or small businesses often use it for surveying, and often find it's a bit unwieldy.
That said, it remains an incredibly powerful tool. It's been reinforced by recent acquisitions such as Clarabridge, which brought conversational analytics features to Qualtrics.
Google Forms
On the other hand, Google Forms is the simple free survey builder that's part of the Google Workplace suite. It used to be just a feature of Google Sheets, but now it is a fully-fledged application in its own right.
In the context of Google's formidable range of products, Google Forms can be a useful tool that integrates frictionlessly with the other products you might be using. However, if you're not using Google Workplace already, it might not be worth getting it for the sake of this app.
Google Forms is designed for simplicity. So, if you need to collect standardized information, such as responses to a flash poll, it performs really well. However, if you need more complex information, or you want to dig into CX analytics or customer retention data, it can be difficult to work with.
CustomerGauge
Finally, CustomerGauge is a voice of customer (VoC) tool that's designed specifically for B2B brands. Since 2007, it has been helping businesses with large accounts reduce customer churn, improve customer satisfaction, and grow their revenue.
That means that every feature is created with the complexity of B2B relationships in mind.
For example, you can deliver NPS surveys to multiple individuals in each customer account, and receive guidance on how many in each should be surveyed to improve your B2B relationship.
That's where CustomerGauge really excels. It's not only a tool simply for collecting feedback, but for doing it in a way that drives your bottom line.
CX Solutions: Gartner's Assessment
In their 2021 Critical Capabilities report, the tech consultancy Gartner considered various customer feedback tools, helping businesses understand key functions and capabilities, use cases, and performance.

Based on criteria such as customer journey orchestration, advanced predictive and prescriptive analytics, and advanced case management, Gartner compiled a ranking of CX providers in the B2B space.
As you can see, CustomerGauge came out on top for the B2B use case, with Qualtrics in third. Google Forms is conspicuous by its absence, due to its limited functionalities for B2B brands.
Qualtrics vs Google Forms vs CustomerGauge: According to G2
G2 is one of the most powerful sites out there for accessing authentic customer reviews on different business products. Before we look at what some individual customers have to say about each tool, let's see how each of the performs stack up according to G2.

Note. You'll find Google Forms under Google Workspace.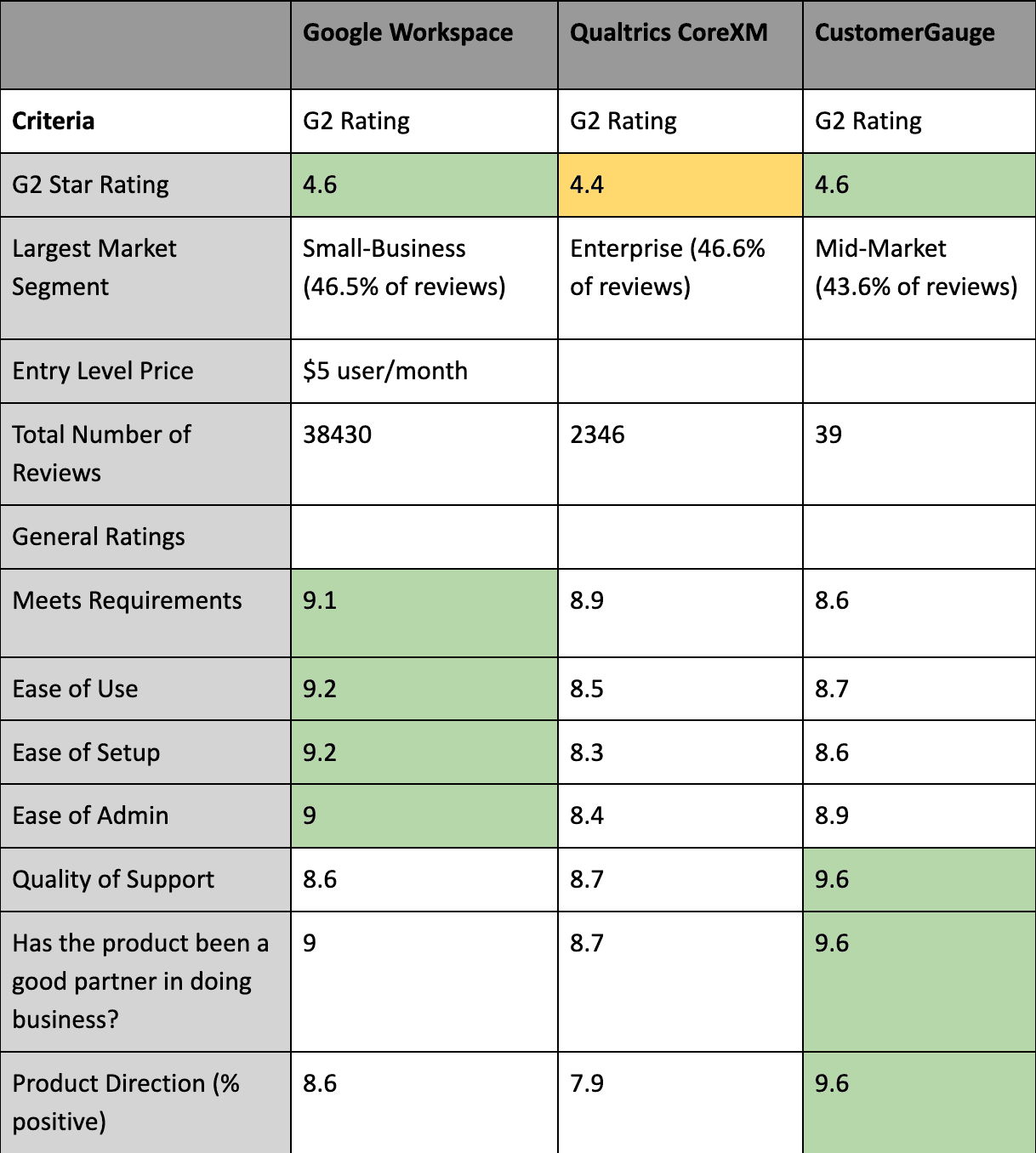 What Users Think About the CX Tools
So, what do users think of the different software? Let's hear some voices from different industries using these tools.
Qualtrics Customers Say…
Strengths
Cautions
Google Forms Customers Say…
Strengths
Cautions
CustomerGauge Users Say…
Strengths
Pros and Cons of Qualtrics vs Google Forms vs CustomerGauge
So, which platform should you use? Ultimately, that's down to you, but every platform has its advantages and disadvantages that you'll now probably be aware of.

To summarize, here are the key strengths and weaknesses you should know.
Qualtrics
Pros
A powerful CX tool with incredible functionality. Qualtrics already boasted one of the strongest VoC capabilities on the market. But with recent acquisitions, such as Clarabridge, it can now do even more. For large businesses who want a complete CX tool, this could be a great option.

Versatile and widely used. Qualtrics is widely used by large businesses to collect customer feedback. But it's also often deployed in higher education institutions, where researchers use it for other surveying purposes.

Strong analytics capabilities. Surveying functions aside, Qualtrics also excels in enabling businesses and researchers to analyze their results.
Cons
Overly complex features. Time and again reviewers point out that Qualtrics suffers from an unintuitive design, with complex features and minimal guidance. If you want surveying support straight out of the box, this may put you off.

High price. For larger enterprises, pricing may not be such an issue. But for small and medium businesses, as well as individual researchers, Qualtrics's price tag might simply be too high.

Weaker in the B2B use case. While Qualtrics is a powerful tool, it is not designed specifically for B2B brands, which might encourage you to go elsewhere.
Google Forms
Pros
Simplicity. Businesses and individual users praise the ability of Google Forms to be up and running quickly. You can set up surveys and collect responses within moments.

Easy integration with other Google tools. One of the main advantages of Google Forms is that it is part of the Google Workplace suite. It's free and integrates easily with other tools.

Brand recognition. These days, everyone knows Google. That can make a difference to employee buy-in and survey response rates.
Cons
Limited functionality. The flipside of simplicity is limited functionality. While it can be easily set up, customers with more complex needs will find Google Forms is simply not able to do the things you want it to.

Unattractive design. Many customer reviews note the crude and dated designs of the surveys.

No analytics features. If you want to use customer surveys to track Net Promoter Score or customer effort score, you'll have to do this yourself. It's not a feature that Google Forms is equipped for.
CustomerGauge
Pros
Account-based focus. CustomerGauge has the strongest support for B2B brands of any surveying or VoC software.

Revenue analysis. If you want to see how your customer sentiment is impacting your bottom line—and what you can do to improve it—CustomerGauge is the most effective tool for you.

Not just survey data. CustomerGauge allows businesses to track not only survey responses, but customer behavior and engagement too. This provides a much fuller picture of customer sentiment—to help you tackle churn and boost customer loyalty.
Cons
B2B focus. CustomerGauge is designed for B2B brands. That means that if you are a B2C, this might not be the right solution for you.

Not suited for academic research. Unlike other surveying software, CustomerGauge is a tool to drive customer experience improvement. As a result, it's not right for academics and other researchers.
Is CustomerGauge Right for You?
If you're a B2B brand looking for a powerful and intuitive tool to support customer experience management and revenue growth, CustomerGauge is the solution for you.
Unlike other surveying tools, its emphasis is on action i.e. what you can do with the customer feedback you have collected. For businesses, listening to the voice of customer is not enough. You need to act to improve your bottom line.
CustomerGauge helps by linking your CX data to revenue, revealing upsell and referral opportunities, and helping you cut churn.
About the Author