If you're going to compete in business, you need a customer experience (CX) management software that puts your customers at the heart of all you do. This will provide CX data at your fingertips to take the right actions quickly, every time.
Qualtrics and Tableau are two solutions that approach this same challenge differently.
Qualtrics is a comprehensive CX solution that enables businesses to collect all types of feedback, from Net Promoter Score (NPS) surveys and unstructured data to sentiment analysis, and delivers insights and suggested actions based on that data.
Tableau helps in a different way. Rather than a dedicated CX solution, Tableau is a business intelligence and analytics software that pulls data from multiple sources and lets you slice and dice it to make better business decisions.
That means if you're primarily interested in CX, Tableau may be a little too broad to allow for the CX focus you need. However, Qualtrics isn't the last word in CX solutions either. While it's great for B2C, it's not quite so robust when it comes to B2B CX management.
In this post, we compare Qualtrics and Tableau up close, so you'll know what's right for you.
And while you're here, we'll introduce you to CustomerGauge, the #1 CX solution for B2B brands according to Gartner, to give you a better understanding of the full spectrum of CX solutions.
Introducing Qualtrics, Tableau, and CustomerGauge
Before we wade into reviews and comparisons for these CX solutions, let's take a look at what these platforms have to say for themselves.
Qualtrics
Qualtrics has become one of the biggest CX solutions since launching in 2002, with more than 85% of Fortune 100 companies using Qualtrics to manage their CX. Built to collect all types of customer feedback, it's one of the most comprehensive CX platforms out there today.
Although many of their customers are massive brands, many smaller businesses simply won't need or use the full range of capabilities the system offers. Indeed, Qualtrics surveying capabilities are often used by researchers in educational organizations rather than by businesses.
Ultimately, Qualtrics is a robust CX solution. And, recent acquisitions of Usermind and Clarabridge have brought superior journey orchestration and conversational analytic capabilities into the mix, too.
Tableau
Tableau software is all about interactive data visualization. Founded in 2003, the business was acquired by Salesforce in 2019.
Tableau CRM enables data from anywhere across an organization (and outside of it) to be collected, analyzed, compared, and spliced for greater insights into everything from sales trends to employee turnover. The brand's aim is to enable businesses to create forecasts, make decisions, and build strategies based on data in all its forms.
Salesforce has taken the visual analytic capabilities of Tableau and paired them with the existing deep AI capabilities of Einstein Analytics. This enables users to explore data and pivot their analysis while combining internal and external input for more intelligent analysis that enhances predictive capabilities.
The result? A CX solution that provides recommendations, explanations, and predictions based on data sources.
The intuitive user interface makes data analysis simple, but the enormity of the platform can make initial configurations difficult, while integrations can be troublesome causing data pipelines to break down.
CustomerGauge
CustomerGauge is a tool designed specifically to enable B2B and B2B2C businesses to collect, understand, and act upon their voice of customer (VoC) data. Launched in 2007, CustomerGauge has been integral in helping businesses with large B2B accounts improve customer satisfaction and Net Promoter Scores, grow their revenue, and reduce customer churn.
Because it's been designed with B2B engagement in mind, every feature helps users understand and manage the complexity of these relationships. In this way, CustomerGauge is built not just to help businesses understand their relationships, but to improve them as well.
For example, the solution provides clear guidance on how many individuals in each account should be surveyed to improve your B2B relationship.
It also allows users to create and deliver NPS surveys to multiple people within the same account. Where CustomerGauge really excels is in linking customer feedback and the actions needed to improve your bottom line.
CX Solutions: Gartner's Assessment
Gartner reviewed and reported on a number of customer feedback tools in their 2021 Critical Capabilities report. The report accompanies Gartner's Magic Quadrant report and helps businesses understand the key functions and capabilities, use cases, and performance of the software reviewed.
Based on a range of criteria including advanced case management, customer journey orchestration, advanced predictive and prescriptive analytics, Gartner compiled a ranking of CX providers in the B2B space.
As you can see, CustomerGauge came out on top for the B2B use case, with Qualtrics in 3rd. Tableau wasn't included in this report as their software was considered under a different category altogether: Analytics and Business Intelligence Platforms.
In this arena, Tableau is the leader.
Qualtrics vs Tableau vs CustomerGauge: A G2 Review
G2 is one of the world's largest and most trusted tech review platforms.

Customers review, share, and learn about different types of business software. The ability to compare different applications side by side in G2 makes the process of understanding the pros and cons of each simpler.
We've made that easy for you below using G2's reviews and will dive into the customer feedback on each of these further on.
Of the three software options here, CustomerGauge comes out on top for product direction, as well as ease of use, admin, and support. Only Qualtrics performs better in how well it meets user requirements.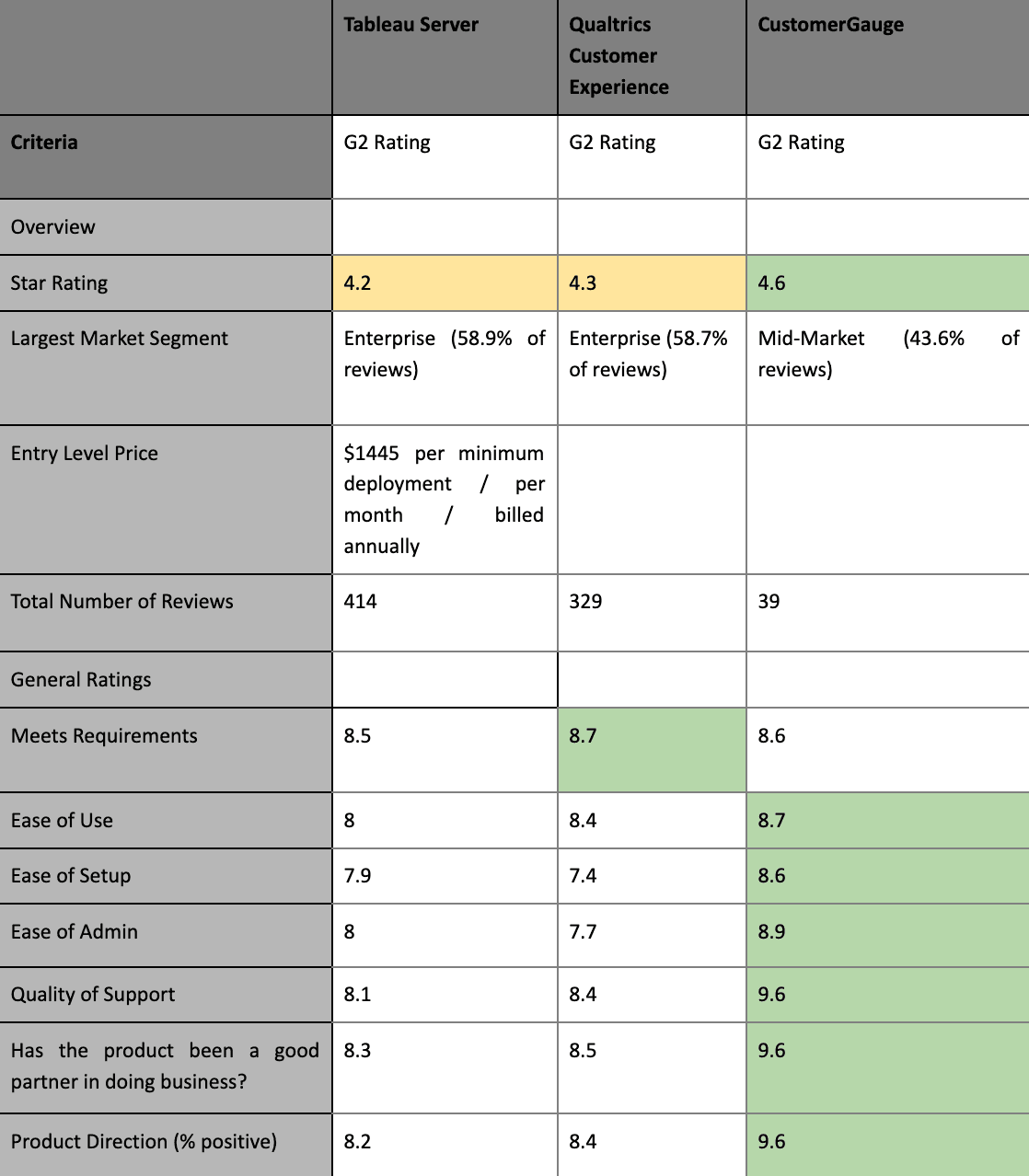 What Users Think About These CX Solutions
Of course, scores from G2 and other review platforms only tell part of the story. Detailed user feedback and comments can provide the insight you need to choose the best CX solution for your business.
So, let's take a look at some of the commentators from different industries.
Qualtrics Customers Say…
Strengths
Functionality and capabilities "The number of options to do the same idea is so useful at times. I always tell people that there are many ways to accomplish the same idea, so to never fret and just give me the ideas they want and there will probably be at least one way to accomplish their goal." (IT Business Analyst)
"The Qualtrics platform is easy to use and extremely flexible. I have been able to create surveys for a variety of responses and audience types. The reporting is also very clean and easy to build." (Director of Marketing and Customer Experience)
Survey creation and response analysis. "The process of creating the questions is easy and efficient. Up to medium complexity, surveys can be designed easily and quickly. It gives you a good look and feel, so you can create interactive surveys which give a good respondent experience. We can see the data in real-time to create reports which help in data analysis." (Team Lead)
Cautions
Patchy customer support. "The platform allows all sorts of customization and logic. It's nice that they have people to help you if you have questions but not all of them will actually be helpful." (Consultant in Hospital and Healthcare)
Expensive and pushy for upselling add-ons. "Qualtrics is expensive and sometimes they try to sell you on more add-ons and features. We prefer getting raw data and doing the analysis and reporting ourselves rather than purchasing their professional services." (User in Research)
Tableau Customers Say…
Strengths
Easy setup. "In general, it's excellent software for hosting dashboards and data sources. Setting up users, groups, and permissions is painless. The server can support a very large amount of dashboards with many multiple, differing refresh schedules." (User in Automotive)
Cautions
Data refresh can be slow. "Integration is a bit difficult for first-time users and dashboard refresh is painful."
Fragile integrations. "Tableau integration can be difficult, so some of the data pipelines are fragile. Also, when data is linked to other dashboards, the raw data exports become muddy with duplicate entries and losing date range specifications." (User in Consumer Electronics)
CustomerGauge Customers Say…
Strengths
Simple and comprehensive. "Developing drivers custom to your line of business allows for a survey worthy of a great customer experience, while still getting the level of information we need to make customer-driven decisions." (Customer Engagement and Retention Strategist)

"Treat us as if we are their most important customer". "The support we receive from CustomerGauge is more like a strong business partner, rather than that of a customer and business. From the first call all the way through today, we are consistently asked questions in order to provide solutions based on our needs. In addition to great service, the product solution offers the same level of customization and flexibility that the CustomerGauge team does. For 2 years now, since switching from another company, we have seen the financial impact on our business by improving the level of insight to our Net Promoter Process, the actual voice of our guest, and the ability to communicate it throughout the entire organization." (Cary S. Director of Training and Guest Services)
Qualtrics vs Tableau vs CustomerGauge: Pros and Cons
So, which platform is best for you? Really, that's for you to decide based on your organization's needs and how well each of these solutions can meet them.
By now, you should be well aware of what each is designed to help you with.
To summarize, we've made a quick note of all the pros and cons for each CX solution.
Qualtrics
Pros
A powerful CX solution with comprehensive functionality. Qualtrics's VoC capabilities continue to improve both with internal development and recent acquisitions bolstering the platform's functionality. Large businesses that want a comprehensive end-to-end CX solution may find this to be the right option.

Supports both large and small organizations. Qualtrics's broad functionality for survey creation and analysis of responses means it's able to support both large and small businesses with VoC and CX management, educational organizations and research institutions also rely on it for their surveying needs.

Deep insights and clear analysis. Complementing the strong surveying capabilities are the data analysis and insight generation features of Qualtrics which support businesses in the creation and curation of CX journeys.
Cons
Complicated navigation and non-intuitive interface. Despite the comprehensive capabilities, users lament the unintuitive navigation and confusing options. The system can be overwhelming and can take a lot of time to learn. If you're looking for a quick start to CX management, Qualtrics may not be the answer.

Expensive. Although Qualtrics is a comprehensive CX solution, the plethora of functions and features can be excessive for smaller businesses' needs, making the price tag for the software overly pricey.

Stronger in B2C CX management. Qualtrics is a powerful tool with a strong B2C focus for CX management. It's not designed with the complexities of B2B relationship management in mind, and may leave you trying to shoehorn your business needs into their software solution.
Tableau
Pros
Strong data analysis capabilities First and foremost, Tableau is a business intelligence tool designed to deliver deep insight into the data it's been fed. The data visualizations, predictive capabilities, and reporting functions are second to none in their class.
Simple to learn and get started. Tableau dashboards are intuitive and simple to understand. If you have large amounts of data that you need to splice and explore, Tableau is an excellent choice for supporting data-driven decision-making across an organization.
Cons
Primarily a data analytics tool. Tableau is not a dedicated CX solution for developing customer journeys or improving NPS or customer satisfaction scores. Rather, this software has been designed as a data analytics tool for generating business intelligence and sharing data insights across an organization. If you are looking for a CX solution to improve customer relationships, Tableau may not be the best option.
Fragile integrations. Time and again, users point to the fragile integrations of data feeds that can interrupt analysis or skew reports.
CustomerGauge
Pros
Multi-person customer focus. CustomerGauge was built with the complexity of B2B relationships in mind, it provides the strongest support for B2B brands of any surveying or CX solution available.

Linking CX to revenue. CustomerGauge clearly links CX sentiments and actions to your profit, letting users know which CX approaches will deliver the biggest gains. CustomerGauge is the most effective tool for monetizing your CX.

More than survey data. CustomerGauge attacks survey responses, customer behavior, and engagement levels to create a complete picture of customer sentiment. This enables you to tackle customer churn and promote greater customer loyalty across accounts.
Cons
Not for research purposes. CustomerGauge is designed specifically for driving CX improvement, building revenue, and raising NPS scores. Because of this specific focus, it is not suited to research professional or academic organizations.

Clear and specific B2B focus. The laser focus on optimizing complex B2B relationships makes CustomerGauge a poor choice for B2C companies looking for insights into trends across large customer groups.
CustomerGauge Is the Best Choice for B2B Brands
B2B brands that want to improve customer experience management, grow revenue, and understand the expected return on customer initiatives will benefit most from CustomerGauge's CX solution.

While many other tools focus on analysis and insight, CustomerGauge puts the emphasis on action, i.e. what you can do with the customer feedback you have collected to improve business relationships and your bottom line.
CustomerGauge supports businesses by linking CX data and insights directly to revenue. It exposes opportunities to upsell and highlights referral possibilities, all the while helping you cut churn.
Book a demo to find out how CustomerGauge can help you grow.
About the Author