CustomerGauge's vision is to build deeper human relationships through feedback technology.
The consumer packaged goods (CPG) industry is changing rapidly to meet consumers' new, modern expectations.
Old ways of gathering once-a-year market research aren't cutting it anymore. Today, agile and 'always on' digital feedback approaches are critical to B2B channel relationships.
And in such a crowded market like CPG, the businesses that put their customers at the heart of what they do will come out on top. However, this isn't just your end consumer — brands must build relationships with their distributors, manufacturers, retail outlets, and more.
To meet customers at every touchpoint, your company will need two elements:
A strong customer experience (CX) methodology to build a foundation on
Smart technology to leverage day to day
That's why CustomerGauge CEO and Co-Founder, Adam Dorrell, and CPG Experience Council Co-Founder and Chair, Nigel Tordoff, came together to present The Beverage Experience Summit.
For the first time, they pulled back the curtain on not only the current state of the industry but the strategies leading CPG businesses like Coca-Cola HBC and Just Eat Takeaway are using to create world-class CX programs.
With Nigel's passion for the industry with over 30 years of experience and Adam's understanding of the importance of customer centricity, everything you need to know about the future of CPG is right here.
The State of the CPG Industry
When you think of the consumer packaged goods industry, a few different channels may come to mind including beer and soft drinks. But in reality, the scale of marketplaces in CPG around the globe is huge.
For context, there are about 23 million people worldwide that support the Beer sector alone.

That's 1 in every 110 jobs in the Beer commerce value chain.
Nigel pulled these statistics and more from Oxford Economics that do an impressive job of uncovering how massive this market really is.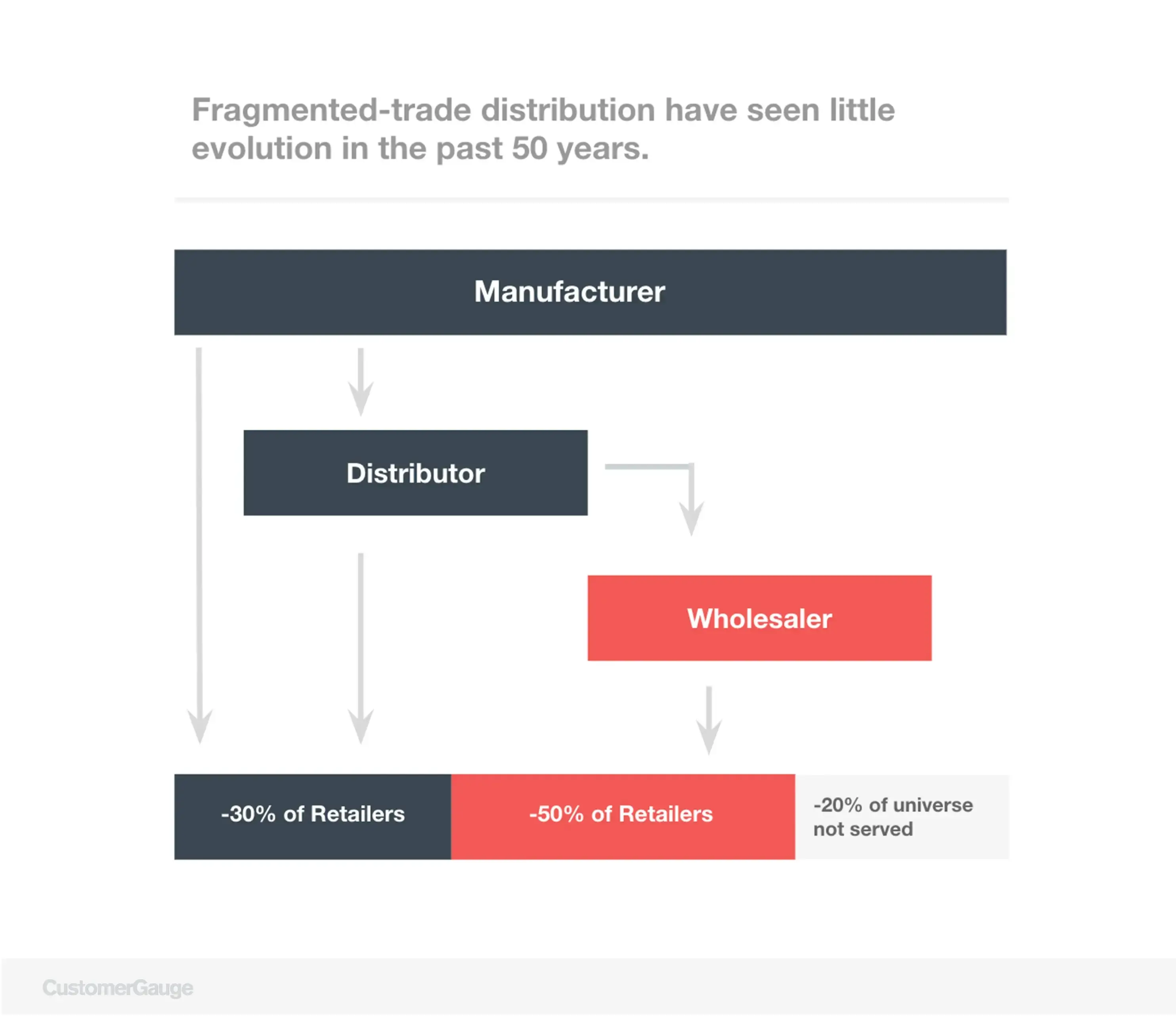 The way we foster great customer experiences isn't the only element changing in CPG. We are seeing many changes to the landscape and the original route to market.
Nigel said,
"The market has become so fragmented, there's so much consolidation. No matter which country you operate in, there will be multiple distributors and wholesalers, ownership changes, and the real question is: How in touch are you as a CPG manufacturer with the last customer in the chain before they pass your product off to the consumer?"
Major Challenges: "Amazonification"
With new players entering the B2B value chain offering data and new marketplaces, Adam has called this phenomenon "Amazonification."
During the Beverage Experience Summit, Adam shared that Amazon has even created its own new label of Gin (not to mention it comes up first when searching for this specific type of alcohol — coincidence?)
What makes this a seemingly unfair advantage, search results aside, is that they own customer data.
"They're sending directly to customers and have a very efficient distribution chain," said Adam. "This is one of the challenges, a shift towards Direct-to-Consumer (DTC)"

However, we're not only seeing a DTC approach appear on Amazon but with ABinBev and other household name brands. In today's CPG landscape, customer data and social media channels are playing a much larger role than ever before.
Nigel noted,
"It is [part of the landscape] but it shows this is possible, and those brand owners in that CPG world who have taken ownership of scale and the opportunity that scale and data brings — if Amazon can do it, there's no reason any single CPG brand couldn't do this as well, if you choose to."
The New Way Forward for Consumer Packaged Goods
A discussion on the industry's major challenges brings us to our next question: what do you invest in? How do you go up against this new competition?
The answer? Customer experience.

What are leaders doing to help understand their customers and improve their experiences?
Nigel explained,
"I think it starts with a very classic phrase of skill and will. Let's start with skill first because the capability has been accelerated over the last three years, particularly with COVID, where you couldn't go out to see a customer. So, lots of organizations used digital capabilities to talk to their customer base."
He continues below.

The 3 Most Important Measurements
For the CPG industry, the new way forward includes leveraging Net Promoter Score. However, we often see companies land in a few common pitfalls when implementing the metric, including:
Obsessing over the score
Having difficulty finding B2B benchmarks
Not linking NPS to revenue
To make it truly work in this market, the solution is a standardized methodology.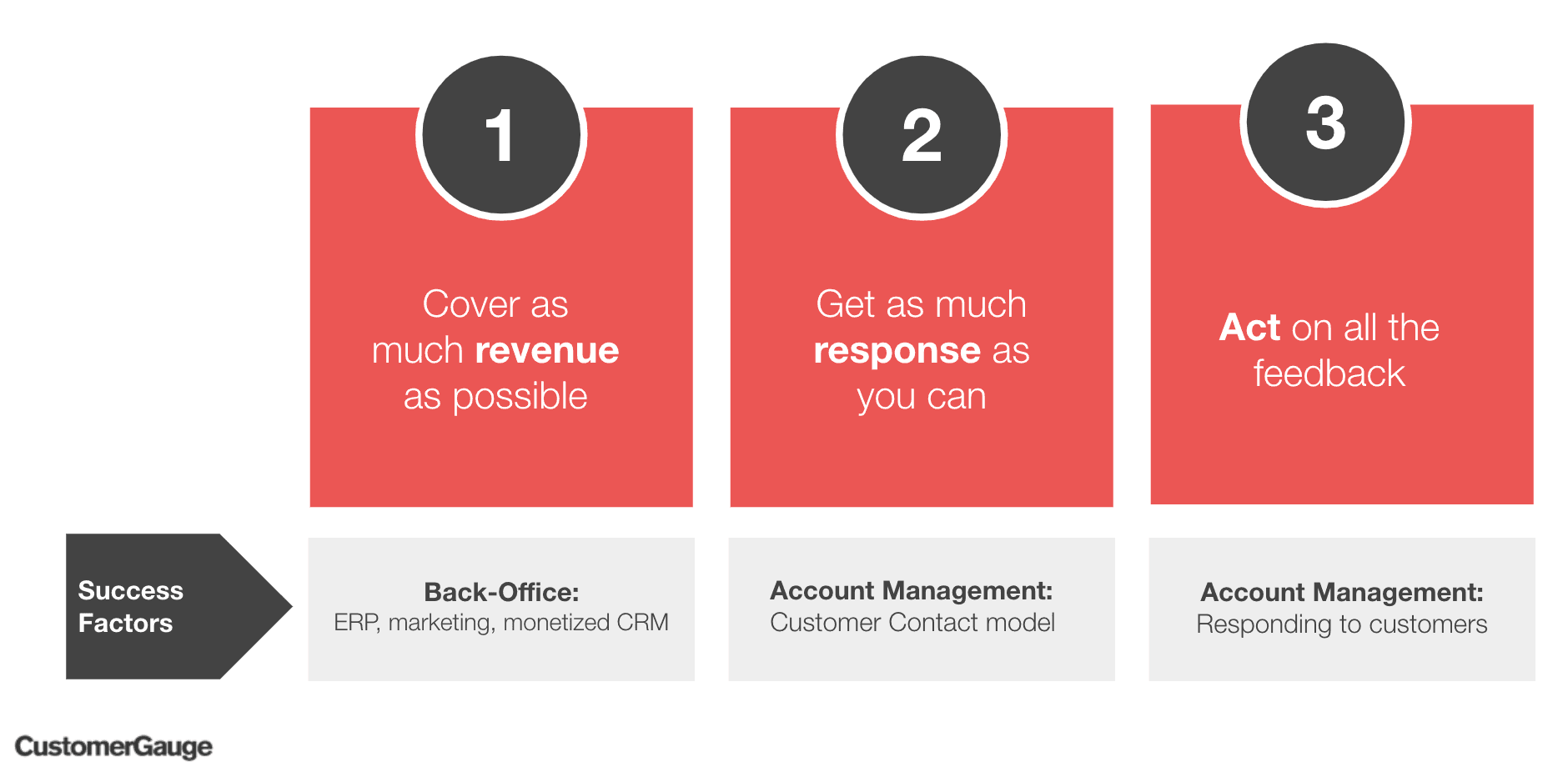 "You can start to see when you ask yourself those three questions — have you covered all the revenue you have? How well are your customers really engaging with you? How well are you at motivating the whole of your staff and organization to close the loop?

When you start to get into those questions you separate an average customer experience performance from a really good one.
Expert CPG Experience Dashboards
After touching on examples from both Coca-Cola HBC and Heineken, who have proved time and time again their customer centricity, Adam and Nigel showed what an expert CPG experience dashboard should include.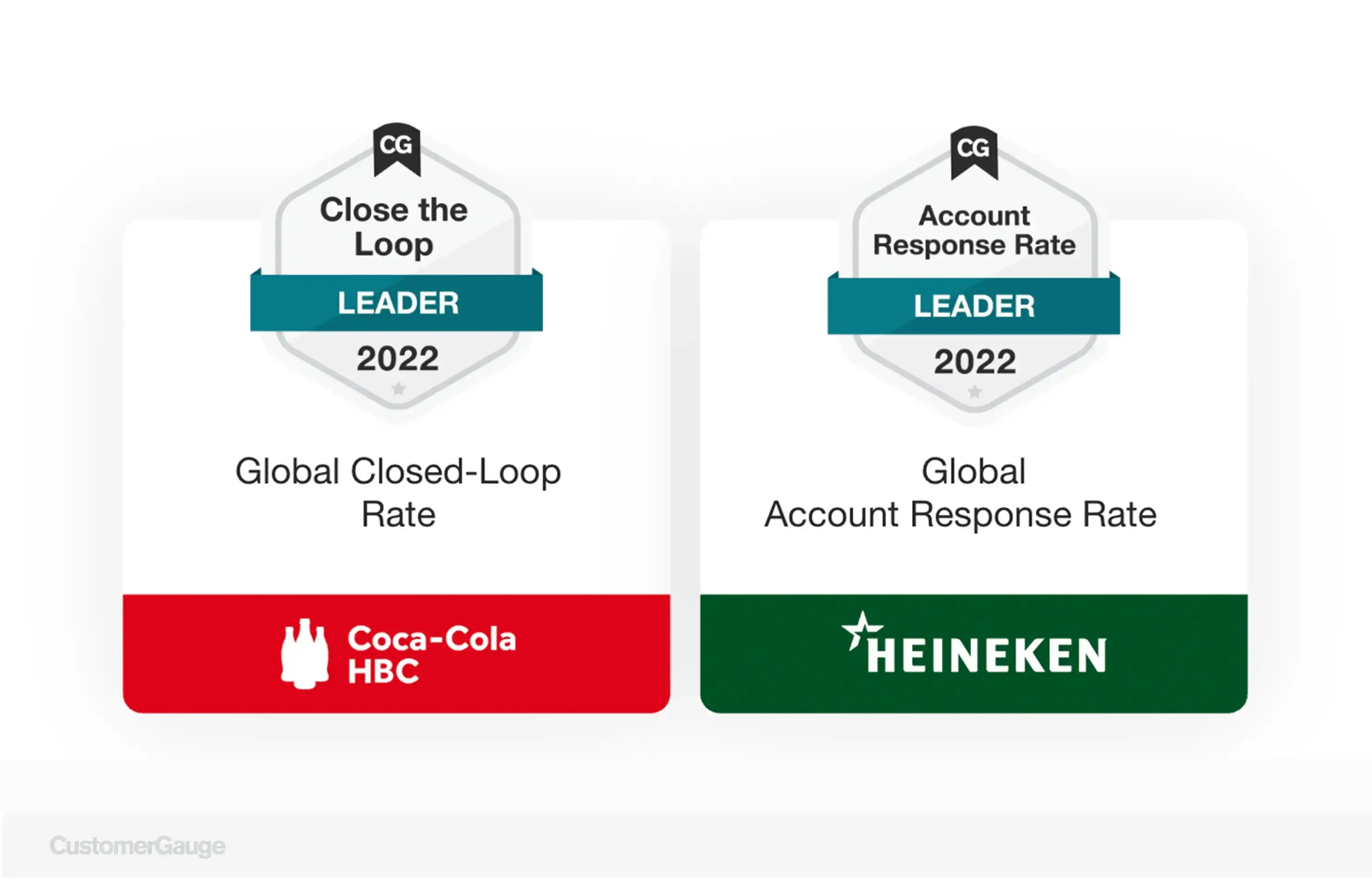 Incorporating CustomerGauge's Account Experience (AX) software, both CPG giants were able to receive AX Awards this year for closing the loop and account response rate worldwide.
CPG Experience Best Practices: Making Your Team Heroes
What if you could not only make your customers happy but have them view your team as heroes? To get there, The Beverage Experience Summit covered the critical steps you need to take.
Adam began, "For BDR teams, it's a tough job. And one of the concepts we have is the more customer experience you have the better relationships you have with your customers, so we're thinking about turning these BDRs into heroes.
Joining the CPG Experience Council: Elevating Industry Standards
The CPG Experience Council's mission is to share and develop best practices and data to foster competitive customer experiences that help brand owners, customers and consumers win.
For Nigel, founding the CPG Experience Council began with wanting to give back to the industry he dedicated his career.
"When you bring lots of people together that really understand what customer experience can do, that's when you realize you know a small fraction of what can actually happen out there — it's such a broad topic," said Nigel.
For that reason, the Council is fundamentally built on three core elements all to establish what "good" in CPG really looks like:
A range of best practices in the traditional trade and independents industry
Commonalities in reporting of Net Promoter Score® through efficiencies in data collection & reporting standards
Resources and education for all CPG workers on delivering a great customer experience

Making a difference begins with not only the right people but the right technology, too.

To ensure that, founding members will have access to benchmarking data to continuously establish what good looks like.
If you believe you're a great fit to join Nigel, Adam, and their mission to elevate traditional trade independents, apply today!
Beverage Experience Summit Q&A
Question: Does Net Promoter mean the same in different countries? In my country, no one gives a 10...
Adam's Answer: Everyone says no one gives a 10 in their country, and factually they're wrong. If you're getting above a 30 NPS it's statistically likely you're going to get a lot of 10s. It is true some countries have different ways of answering Net Promoter questions, but in the end you set the mark for your country and look to go up from there.
Question: How do you deal with localizations?
Adam's Answer: At CustomerGauge, we always translate the question, and we make sure it's available in somebody's language. We treat each culture separately in terms of reporting. Nigel's Answer: I think I have the opposite side of that coin — I said to my PA once in America I was going to wear a jumper for thinking it was cold. In America, a jumper is a baby suit which is why she looked at me very funny. So you need a local team of experts to be able to make sure that a classic Google translation into another language doesn't give you a hiccup that you come to regret further down the line.
Question: Can you tell us more about the financial outcomes of an experience program?
Adam's Answer: As a rule of thumb, we know that promoters are worth more than detractors and the amount that they are can vary. We did a some work recently that showed that promoters were worth 4 times the value of detractors. So without getting into too much detail, that's one way that you can look into that just simply by tracking your promoters and detractors. You know where to put your effort.
Question: Where do you see the market going?
Nigel's Answer: The shortest version of my answer is, I think, imagine what you now expect as a consumer and amplify that to what your customer now expects of you as a CPG Organization and whatever your expectations are as a consumer, double it. That's what your end customers expect in the view as a CPG organization. And if you are not delivering that, I think you're going to get left behind with what we've seen in the marketplace at the moment with some top performing beverage companies. They're delivering more than what they expect as a consumer and that that would be a really good look in the mirror moment for any leadership team to question whether that's happening or not.
About the Author