How to Monetize Accounts, Grow Revenue and Deliver Exceptional Experiences in the B2B Economy
I was a man on a mission.
In 2007, my co-founder Camilla Scholten and I started what would become CustomerGauge. Our purpose? To create a system that helped companies improve their customer retention.
Years previously, we began to see how customer churn was affecting businesses of all shapes and sizes—and were bewildered by the wasted resources companies were using to acquire new customers, only to lose them by not looking after retention (the classic "leaky bucket" analogy). Churn was becoming a company killer, and we wanted to solve it.
That year, with the help of our very first employee, Roy, we began developing
CustomerGauge from our kitchen table—a system that could automate retention activities, grounded in Fred Reichheld's industry standard metric, the Net Promoter Score®. With this platform, we were able to provide visibility and insights into the customer experience for our clients.
Early on, we started to conduct our own Net Promoter surveys to ensure we maintained exceptional CX and our target net retention rate. What quickly excited us, soon humbled us.
The Classic "Happy Ears" Problem
In the first initial surveys, all signs pointed to success. Our clients seemed thrilled with the experiences we were providing and were thoroughly engaged. We had:
• An above average response rate at more than 30%
• We were closing the loop on about 80% of cases
• And our Net Promoter Score was in the 60's
We thought our program was a shining beacon of excellence that we could share with our clients. But…then we lost an account. And then another.
This was a tough pill to swallow. How was this possible, when we had such a great Net Promoter program? When our customers were so engaged?
So, three years ago we took a step back and started to assess our program strategy. Upon closer inspection, it turned out that our high score and response rate were a result of responses from our smallest, yet most engaged accounts.
We had been distracted with the flow of feedback, and ignored gathering responses from our high-value, more demanding, enterprise accounts. Looking at our entire client base, our total coverage was, honestly, quite poor.
Our perception had been skewed by a high score that was not representative of the majority of our account revenue. The risk for churn from our enterprise accounts suddenly became very real. This was our wake up call.
As a management team, we decided to take action. We stack-ranked our accounts by total revenue and discovered something even more shocking— our top 20 accounts had little to no responses and very low engagement. The survey responses we were receiving turned out to be predominantly low-level contacts, with little or no influence on any buying decisions.
As we started to dig into this revenue-centric approach to Net Promoter®, we wondered if we were the only B2B company experiencing these issues.
Turns out, we weren't. In 2016, we ran our first NPS® benchmark industry surveys and discovered we were, in fact, not alone. Companies ranging from SMBs to global enterprises with household names were experiencing the exact same problems—many of them while utilizing the Net Promoter Score.
Our mission was then clear—enhance the Net Promoter System® by prioritizing account revenue and growth. We termed this new methodology Monetized Net Promoter®.
Since then we have been running a conference series called "Monetize!" which has attracted thousands of attendees all over the world. The results our clients have experienced by implementing this new methodology with our accompanying software has changed the value proposition of Net Promoter in B2B businesses. As a result, we continued onboarding new enterprise clients at a steady clip.

Part of any effective Net Promoter program is not just listening to feedback, but
acting on that feedback. Soon our customers' voices were clear…they needed learning capabilities, churn prediction, and more robust account-based views. When 80% of your promoters are asking for the same thing, you listen.
So we started developing technical functionality around account activities like responses, comments, website visits, support tickets, etc. Integrations with ERP systems were added, along with additional monetization capabilities for clients to slice and dice accounts based on revenue, size, and more.
From there, we developed a hierarchy feature that enabled companies to survey decision-makers at every level of the organization, and avoid making the same mistakes we made. We then built machine-learning algorithms that helped predict churn and showed opportunities for up-sells. Finally, we created a certification series to better educate the market on how to employ CX best practice methodologies.
Avoiding the Software that Dr. Frankenstein Built
Soon after launching these features to the market, something quickly became
clear: Traditional B2B companies were being underserved by the current CX
software marketplace.
We began hearing more and more "horror stories" from B2B prospects about their current CX environments—from programs made up of small survey tools and Excel sheets to completely manual systems using marketing automation software. Our team coined the phrase "Frankenstein's Solution" to identify these cases—a nod to the famous, ghastly monster of literature and the new CX battleground.
In one case, there was almost a sense of disbelief from a contact that they wouldn't have to manually export, run two day's worth of analysis, and then create PowerPoints for senior management to get their results anymore. We had it all in one platform, in real-time.
It was a revelation for them.
And us.
CustomerGauge had gone far beyond simply Net Promoter software. And had a mid-life crisis of sorts in the process. So we began asking: What market are we in? How can we better position ourselves so companies in need can find us?
We knew the bulk of Customer Experience tools on the market tackled B2C use cases, with little to no account- or revenue-based analytics/functionality. Additionally, we were also geared towards global B2B enterprises. On the other hand, newly developed Customer Success tools were focused on product usage, specifically functionality around product onboarding, product usage, product adoption, etc. This was also not an ideal fit. While we care about product feedback and usage, account monetization and retention is in our DNA.
We had to create something entirely new to assist this B2B gap in the market. And, we're happy to say, you're holding that new rulebook in your hands now.
We call it Account Experience — it's changing the B2B CX landscape as you know it.
The State of Customer Experience & the Rise of Account Experience
As frequently happens, what begins as a buzzword inevitably becomes part of an industry's vernacular. Such was the case with the 2010 "cloud" obsession—a simple, but somewhat seemingly technical term.
When Dropbox, a star of the cloud era, came onto the scene, they struggled with how to turn what was a simple startup concept to us today into something consumers back then could easily understand.

"
We're definitely allergic to a lot of the technical terms. Anything with the word sync in it, or cloud, or drive–it sounds too much like a utility, and you just wouldn't expect a great company to have a word like drive in it. It doesn't sound right.
Drew Houston
Dropbox Co-Founder
It wouldn't be until the early 2000's when customer experience insights were taken out of the hands of analyst and into the hands of key operational decision-makers, to fully realize the vision Gilmore and Pine first documented. With growing access to the internet and mounting competition, businesses could no longer rely on acquisitions as the primary form of growth. New research found that retention played just as vital a role in a company's longterm growth as acquisitions.
This retention revolution led to the inception of the modern CX metrics of today: Customer Satisfaction Score (CSAT), Customer Effort Score (CES) and customer lifetime value (CLV). CX was no longer about just understanding the customer experience, but measuring satisfaction, effort and loyalty among customers to maximize CLV.
This focus on CLV helped legitimize CX initiatives within organizations, demanding the creation of whole departments and the implementation of new tools dedicated to improving experiences for customers and boosting retention. Where market research looked to passively understand experiences after the fact, customer experience was now looking to both understand AND improve experiences—with immediacy.
This transition to a more proactive model changed consumer expectations today as well. In a recent survey conducted by PwC4, 73% of consumers stated that a positive customer experience was a key driver for their continued brand loyalty.
Moreover, this same research found that consumers who do have a positive customer experience tend to spend 16% more on products and services. Research like PwC's shows that not only can customer experience predict customer retention, but the possible likelihood for future purchases.
Much of the advances in the customer experience space, however, have been developed primarily in the B2C marketplace. Because of this, many of the CX management software tools and best practices revolve around an individual consumer, without consideration to the multi-contact and touch point complexity of the B2B "Decision-Making Unit" customer experience.
But just how different can managing B2C vs. B2B customer experiences be?
The Forked Road: B2C vs. B2B Customer Experience
B2B leaders understand the importance a great customer experience has on their bottom line and competitive differentiation. In fact, according to a survey and report conducted by Accenture5, 90% of B2B leaders "already believe that customer experience is crucial to their companies' business priorities." However, 72%6 of these B2B leaders don't believe they have an influence on the direction of their organization's CX.

And these aren't just leaders in your typical Customer Experience and Customer Success departments. Top line CEOs are also becoming cognizant of the impact that an effective CX strategy can have on their bottom line. In their report, The CEO View of CX7, researchers at Walker found that B2B companies who were more successful at CX within their organizations forecasted 20% or greater growth than B2B companies that lacked an effective CX strategy.
In spite of these powerful findings, many B2B leaders and CX champions struggle to obtain the insights they need to enact a successful CX program. So, what sets B2B vs. B2C experiences apart? And why are B2B organizations struggling to improve these experiences?
Generally speaking, B2B customers are demanding similar tactics when it comes to their customer experience as B2C. In fact, in the previously mentioned Accenture report5, the top three business priorities that B2B leaders pinpointed are primarily CX focused: personalization, convenience and visibility.
In this report, 50% 5 of leaders acknowledged that providing an omni-channel
customer experience was vital to their strategy towards personalization and
convenience. And, considering this same research5 found that in 2017, 33% of
customers churned due to a lack of personalization, it seems this focus is wellfounded.
Did You Know?
73% of consumers stated that a positive customer experience was a key driver for their continued brand loyalty.
However, many B2B organizations struggle to understand how to incorporate behavioral data, satisfaction and CRM data into a clear view of their customer base due to a sheer lack of visibility into the customer journey. This lack of visibility extends to one of the issues that 40% of B2B leaders face5 : no 360-degree view of the customer.
Another added layer of friction: the vast ecosystems of B2B sales partners that live within some enterprise journeys. Setting expectations and procedures for CX practices
across sales partners can be difficult. Moreover, your own B2B organization, if not meeting efficient customer-centric standards, may be dismissed from potential partnerships.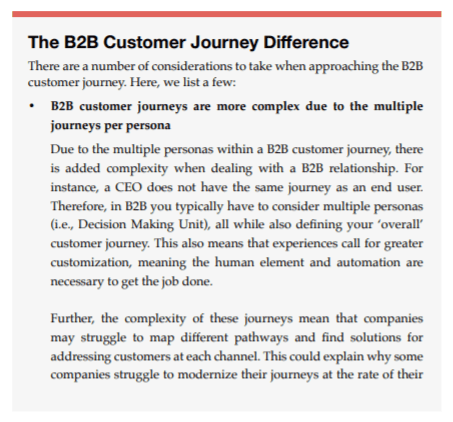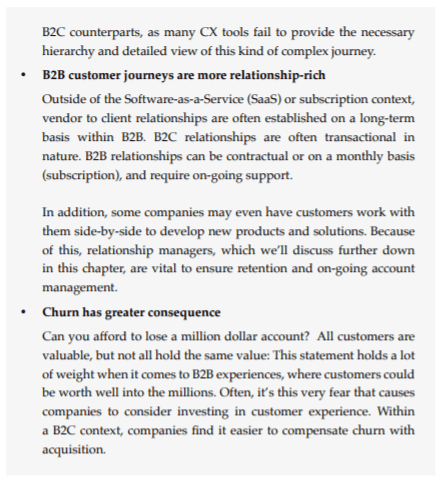 While some similarities lie in the management of CX programs across B2B and B2C, the differences exist in core elements of the program:
• Feedback management, not metrics, need to change
Some challengers may claim that metrics like NPS don't work as well in B2B environments. Arguments maintain B2B contacts might be more biased in scoring or that sample sizes aren't sufficient within NPS B2B surveys. However, this simply isn't true. What remains important in a B2B feedback program is WHO is surveyed and measuring the overall level of engagement (as important as the actual score and feedback). In a B2B feedback program, who you survey should always be determined by those contacts who impact future buying decisions. We discuss more about surveying in Chapter 4, Account Sentiment.
• Closing the loop in more complex relationships changes the firefighting playbook
Within a B2B closed loop program, there are two ways to close the loop: with respondents and accounts. Generally for transactional surveys, closing the loop with respondents is the most efficient. For accounts, there are multiple contacts to factor in. We'll dive into account experience best practices for closing the loop with both respondents and accounts in Chapter 4.
• Monetization takes on a larger meaning
Prioritization, driver analysis, predictive churn, etc.—monetization is a core part of an account-based experience program. In B2C companies, monetization often lends itself to referral programs/loyalty programs. Review programs also play a unique role in B2C monetization—i.e., encouraging reviews can lead to more business. However, monetize features are not integrated into B2C CX tools, which means much of
these monetize practices happen outside a standard system. These disparate systems require additional integrations to provide this type of monetization.
In a B2B environment, monetization is in every facet of the B2B customer experience. In Chapter 4 & 5 of this book, we look at how monetization comes into play within account feedback management and intelligence.

Within a B2B environment, the concept of experience takes on a new meaning: Whereas a B2C organization handles and manages the experiences of mostly single contacts, B2B must grapple with the consideration of both individual and collective experiences. This brings us to our next point…

Why B2C CX Tools Won't Cut It Anymore For B2B
When it comes to tailored CX solutions, the B2B market has been grossly underserved. Many of the tools that have been developed for experience management focus largely on B2C consumer brands. And while these CX tools can help serve basic functions within a Voice of the Customer (VoC) program, they miss the mark when it comes to managing multi-contact relationships, channel complexity, and monetization for retention growth.

The B2B customer journey changes the concept of "customer" in the traditional
sense, as these organizations must consider and juggle multiple relationships.
Many B2B companies have run out of options—they onboard a simple survey or B2C CX tool and end up in a massive data exercise to simply extract meaningful insights (if they're lucky). These Frankenstein-like, disparate solutions are costly to maintain, difficult to operate and nearly impossible to scale.
The CX market now stands at a branching milestone, where the need to differentiate contact-native vs. account-native experiences must be addressed. In this section, we introduce a new approach to the B2B customer experience— the account experience. But first, we'll look at why B2B CX programs fail, and then how this failure can be addressed with account-native methodologies.
Why B2B CX Programs Fail
Because B2B CX is not widely serviced in the marketplace, few best practices have been provided to guide companies in their CX program rollouts. This lack of guidance can be attributed to why some B2B companies struggle to manage large-scale CX programs. Generally, there are two areas that program failure can be attributed to, and often, one impacts the other: internal misalignment and a lack of technical and operational support.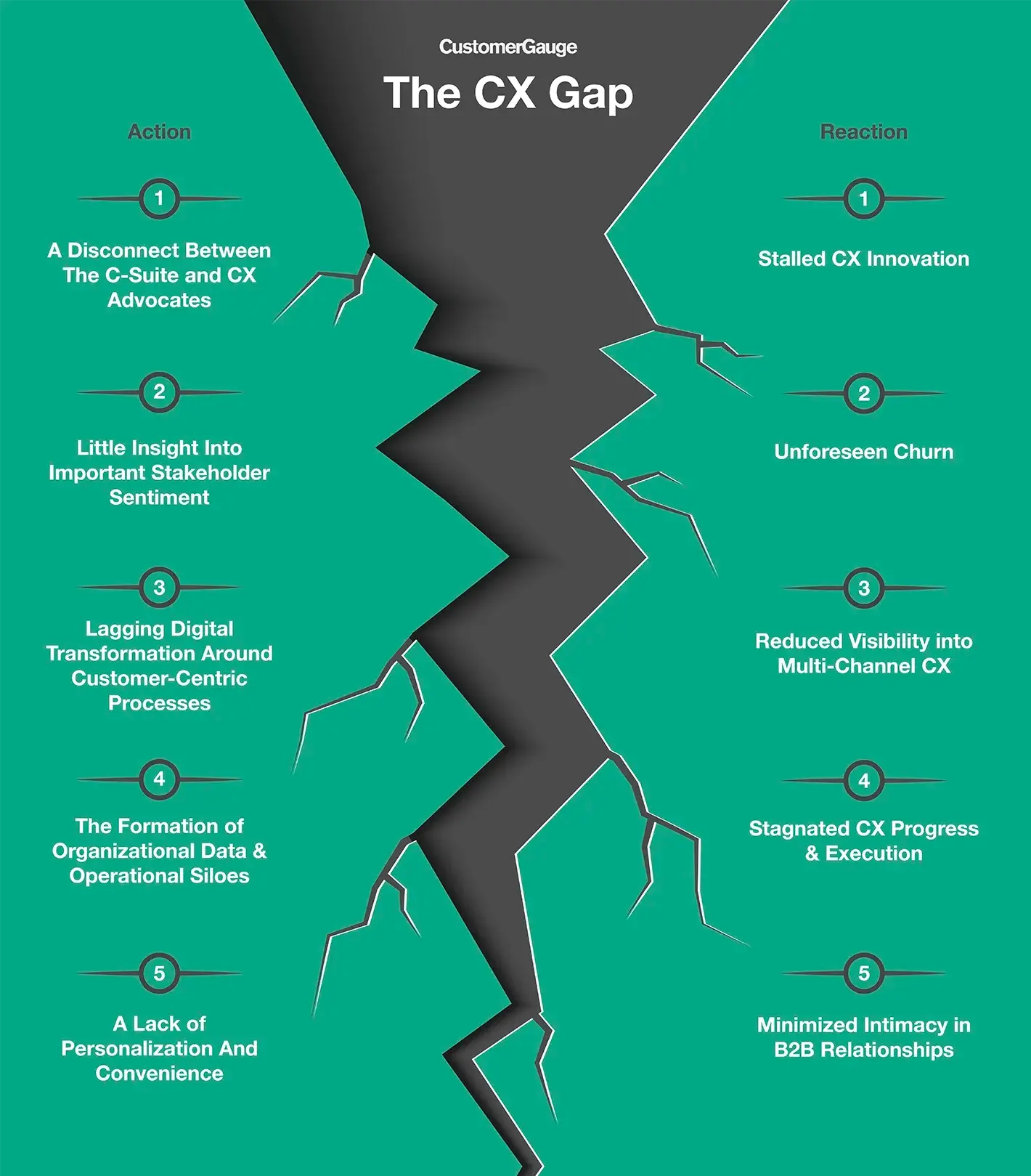 Internal Misalignment
Lacking an internal strategy and a guiding coalition of cross-departmental support can stall almost any CX program.
The points described below are a few of the internal issues that B2B companies struggle with in a CX program rollout:
• A change in mindset — shifting from service-centric to customer-centric
According to Gartner, 89% of companies expect to compete mostly on the basis of customer experience, a number that was only 36% in 2012. It's clear, therefore, that customer-centricity is on the rise.
However, many companies are, by nature, product or service-centric, as they started with an idea of building a newer, better product or service than the market currently offers. In their early life, their focus was to sell this product or service, then improve it to gain a foothold with existing customers or to widen the market reach.
This evolution has likely turned the company into an organization centered around products and focused on creating new products or services.
Customer-centric companies see customer success as their end goal and reward employees accordingly. Sales people are not paid by their ability to sell, but by their ability to understand customer needs and to find a solution to fill it.
Where product-centric companies pay out the sales bonus after a sale, customer-centric companies pay out sales bonuses once the solution has been established, an agreed set of benefits have been reached and the customer is happy. We'll talk more about how satisfaction metrics, more specifically, Monetized Net Promoter, comes into play in the pursuit of customer-centricity.
• No organizational buy-in/sense of ownership
We've all had it happen: You call up a vendor looking for assistance, and you're shuffled between six different people in three different departments looking for an answer to a question that should be…simple. Why? Because some organizations, especially large B2B enterprises, struggle with ownership and visibility. We call these situations "hand-offs," and they are inefficient and negatively impact CX.
Without the organizational buy-in of key stakeholders within a company, B2B or B2C CX programs are destined to fail. From C-Suite to management to frontline account managers, unless ownership is felt at every level of an organization, an experience program will fail. Program champions should address the needs and expectations of relevant parties within their company and work to break down the silos.
Lacking a sense of ownership toward a CX program can have further trickle-down effects:
- Most changes within an organization require a sense of urgency. If cross-department ownership of the customer experience is not felt, this will often stall initiatives and progress.
- Vital data that contributes to an action-based CX program can be even more guarded. When a CX program is owned by a single department, it will quickly lose the funding and support for the necessary innovations needed to impact the bottom line. For example, if finance or sales is not brought to the table for a CX discussion, then
information such as revenue data could be more difficult to integrate with satisfaction data.
And these are just a few examples!
In the previously mentioned report from Walker, 97% of B2B CX professionals said that their CX program had "some degree of" impact on their company's bottom line. However, only 22% indicated that their organization leveraged CX data very effectively.
This correlates with a number of strategic failures organizations have faced due to ownership of a CX program living in one single department.
• Business outcomes don't align with C-Suite
A large portion of B2B CX initiatives experience friction because of the disconnect between the C-Suite and CX professionals. The Walker study found that this "CX disconnect" had a massive impact on the perception of a CX program's success. As shown in the illustration below, CEOs are primarily concerned with how CX creates a competitive advantage and long-term profitability. CX professionals, on the other hand, are looking at operational aspects of action, culture and best practices. When they are unable to get necessary actions, CX professionals will default to a
"research only mode."
A good account experience model and tool should address both the economic and operational needs of a B2B CX program to account for these different stakeholders.
Lack of Technical and Operational Support
Technology has revolutionized the customer experience and given consumers the power to connect and interact with companies more than ever before. This is true for both B2B and B2C companies. But, whereas B2C companies can focus on single contacts, B2B must not only consider complex customer journeys, but the complex journeys of multiple contacts, depending on the size of the company.
Managing CX program analysis via spreadsheets is like jumping a decade back in time. Such a practice is no longer an option for the modern B2B organization. In a world of instant feedback, if you're not working in realtime, you're behind. Nor can a B2C-oriented CX tool that focuses on single contact experiences truly assist a B2B organization.
In this section, we look at some of the technical and operational support issues that can impact program success:
• Limited view of accounts leads to poor understanding of touch points
We mentioned previously that as many as 40% of B2B leaders were missing a clear view of their customers and their touch points. This lack of insight into the customer journey can impact how companies prioritize action, channel targeting, and follow-up. Many CX tools stick to a simplified view tailored to the B2C journey.
This approach is insufficient for the complexities of an evolving B2B journey ecosystem, which must account for both experiences within the core business and with direct partners.
• Follow-up action delayed due to insufficient tools and operational processes
Closing the loop in a B2B organization is starkly different than most of the single-contact experiences of B2C models. However, a vast majority of the CX tools available on the market use single-point-of-contact workflows to close the loop. This might work in transactional survey situations within a B2B transaction (more on that in Chapter 4).


However, the multi-layered stakeholder model of a B2B environment calls for more. New roles, such as Customer Success Managers (CSM) and Account Managers, have emerged in CX programs to take on a larger role than that of a typical customer support department in B2B organizations as well.
One of the ways they do this is through quarterly business reviews (QBRs) or general business reviews. Plainly put, CSMs, and roles like this, are an important line of defense that B2B organizations use to mitigate churn and track potential monetization opportunities—which brings us to our next point…
• Little monetization capabilities in B2C tools
Most CX and NPS programs run within a heritage framework: Companies send out a survey, relationship or transactional, and then follow up through closed-loop tactics. More mature CX programs look to go beyond the operational cost savings of just closing the loop. The best account experience tools should enable B2B companies to incorporate monetization into every facet of a CX program.
Having revenue side-by-side with satisfaction metrics turns CX programs into a true revenue funnel. We'll look at how the coupling of account experience and Monetized Net Promoter make this a reality for B2B enterprises and how to tear down the internal silos.
In the next section, we'll look at how account-based marketing, or as some call it, "account-based anything," solved its own industry challenges—and what translating an account-based approach to CX might do for B2B organizations.
Account Experience and Its Place in the New Account-Based World
With a better understanding of the challenges facing B2B companies in a CX rollout, what can be done to address the issues facing the market? Truth be told, B2B marketers faced a similar dilemma in the early 2000's. Prior to this time, marketing's demand generation tactics involved casting a wide net in the hopes of catching the right fish, i.e., standard inbound marketing.

To reduce the time, resources, and cost of lead-to-deal conversions, marketers needed a better way to deliver quality leads to sales. The industry's solution?
Take the inbound marketing funnel and flip it on its head.
Instead of casting that net and waiting for targeted companies to come to them, marketers began seeking out these targeted accounts first, and promoted personalized campaigns to them.
ABM is a great example of how a discipline that first focused on B2C required further development to be truly successful in B2B. ABM enriches leads by adding multiple points of contacts to the leads/opportunities.
Today, interest in account-based marketing has skyrocketed, as shown in the Google Trends data gathered since 2004. According to Optimizely8: "85% of marketers who measure ROI describe account-based marketing as delivering higher returns than any other marketing approach."
But this account-based approach to B2B organizations isn't just reserved for marketing. Given the unique relationship between marketing and sales, the term "account-based sales," also looks into the targeted sales side. This tactic is often used by enterprise salespeople to help better scale the acquisitions process.
However, some organizations have taken the account-based methodology even further. Tom Scearce of the company Topo10 argues that both these terms are limiting, and that B2B companies should take a more cross-departmental approach to accounts with something he terms: the account-based everything framework.
In his article, The Account-Based Everything Framework10, Scearce describes this method as "…the coordination of personalized marketing, sales development, sales, and customer success efforts to drive engagement with, and conversion of, a targeted set of accounts." Within this article, Scearce briefly mentions the concept of account-based customer success (CS).
Similar to Scearce, VP of Customer Success at HubSpot, Eva Klein, also identified three growth engines within businesses11: marketing, sales and the customer. Like Scearce, Klein frames these three funnels within the accountbased mindset and as primary drivers of growth.
However, account-based customer success isn't all-encompassing enough to
address the underserved B2B CX market outside the subscription economy.
Why? Because customer success, as it stands, only covers only a small portion of the CX market: product-centric, specifically SaaS technology organizations that are focused on usage. In other words, it's a small piece of the CX marketplace pie, and doesn't account for the B2B economy specifically.
So what does?
Introducing Account Experience
Account experience (AX) is the intersection between experience feedback management, monetization and account-based methodologies. AX technologies and best practices address not only the needs of the SaaS technology industries, but all industries, making it a true cross-departmental solution.
As illustrated below, the AX model and functionalities are grounded in two primary business management practices:
• Customer Lifecycle Management
Customer Lifecycle Management includes those activities after an initial purchase within the customer lifecycle, such as managing feedback for both respondents and accounts, as well as prioritizing follow-up and closed loop practices, prioritized in some cases by revenue.
• Revenue Lifecycle Management
Revenue Lifecycle Management include processes undertaken to strategically identify areas for growth within an existing customer base— i.e., up and cross-sells, referral marketing, reviews and predictive churn analytics.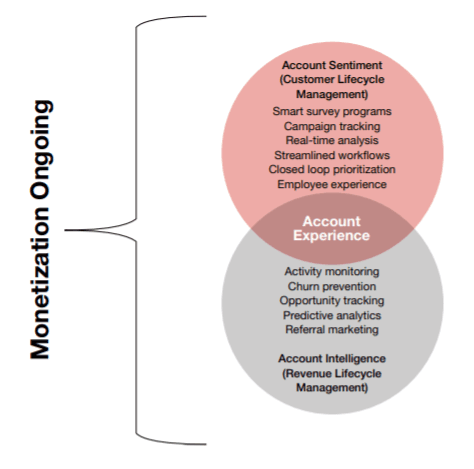 We'll discuss more about the features mentioned above as we travel further down the book. To better understand an AX program, it's best to see it in action: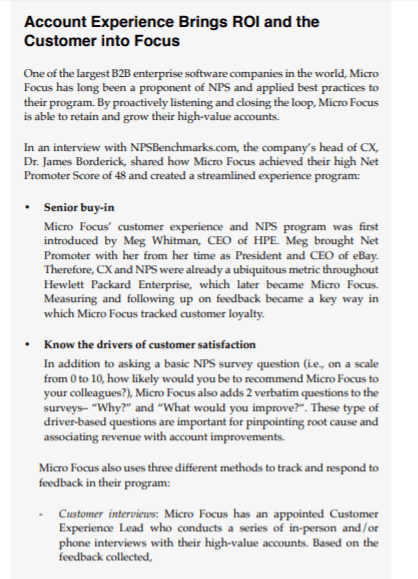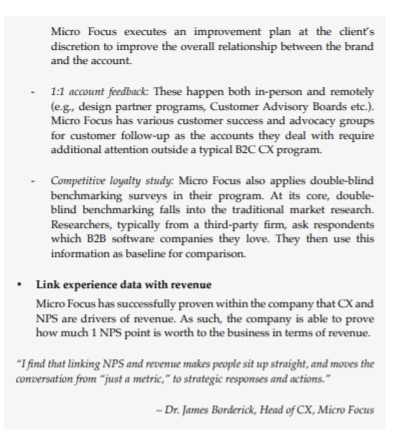 There are a number of key takeaways we can gather from this success story:
• C-Suite buy-in was instrumental in the longevity of Micro Focus' NPS and experience program, and helped them evolve their program from a simple survey tool to a true growth funnel
• To better serve and close the loop with accounts, Micro Focus created additional relationship management methods outside traditional closed loop practices for their multi-stakeholder accounts
• To better understand the ROI of their program and what improvements and opportunities to focus on in their accounts, Micro Focus links revenue data with their experience data
This AX success story also brought to light some additional best practices every account experience program should achieve: monetization.
In this chapter, we introduce the account experience category fully. We'll start by looking at how Monetized Net Promoter has transitioned into the new account experience model, then we'll look at how AX addresses the gaps within the CX and CS market, before walking through the fundamentals of an account experience program and toolset.
See Account Experience live! Contact our team today for a demo.
The Net Promoter System & Monetized Net Promoter

When Fred Reichheld adapted the Net Promoter Score into what would become the Net Promoter System in his book, The Ultimate Question 2.0, he did so because the needs of businesses had grown beyond the confines of the score.

After seeing how companies had begun shaping the Net Promoter Score beyond its original intent, Reichheld quickly realized that the concept of NPS itself was growing:
"
Indeed, one of the fundamental lessons that these practitioners had learned is that the power of NPS extends far beyond the theme implied in the original book title. The score provided a starting point, but it is the system that has helped leaders create cultures that inspire employees to become more customer focused.
Fred Reichheld
The Ultimate Question 2.0
In this same book, Reichheld and cowriter Rob Markey also began tapping into the concept of NPS as a driver of profitable growth. From the beginning, Reichheld was clear on a simple fact: Companies who relied on bad profits at the expense of customer experience were doomed in the long run, and that true profitable growth happens when companies invest in customer relationships.
The real value of NPS came when the perception of customer experience became less fluff and more of an economic indicator in the eyes of the C-Suite.
To demonstrate the economic impact of investing in customer relationships, Reichheld used an example from Bain & Company's work with Dell. Bain helped Dell to identify the economic power of promoters within their own customer base.

Did You Know?
According to Bain, by converting just 2-8% of those detractors into promoters, Dell would have increased their revenue $167 million annually.
As part of the study, Bain revealed that Dell had 15% detractors who accounted for $68 million dollars of lost revenue. According to Bain, by converting just 2-8% of those detractors into promoters, Dell would have increased their revenue $167 million annually.
This was groundbreaking. Bain's findings revealed that improving and investing in these relationships (where possible), and focusing on NPS, would increase Dell's bottom line significantly.
As part of this research, Bain provided a range of analysis to Dell, such as calculating the customer lifetime value. In addition, they also looked at several profit-driving behavior factors for promoters, passives and detractors.
However, despite these advancements introduced by Bain, today, most companies still struggle to move beyond measuring and acting on NPS and CX.
Moreover, many lack the resources and ability to associate revenue properly with their NPS/CX programs in a meaningful way. And even more, few are using their programs to generate new growth opportunities.
In 2017, CustomerGauge introduced the concept of NPS and CX monetization with Monetized Net Promoter12.
Not only does this model take into account the great work of Fred Reichheld and his team, it also provides guidance on how companies can reach the kind of CX maturity growth Reichheld did with Dell all those years ago and beyond. No team of dedicated analysts required.
This shift divided NPS marketing into two sectors: Traditional and Monetized Net Promoter.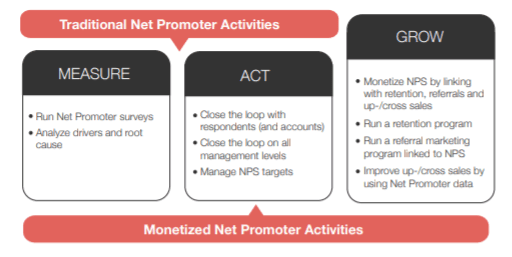 Traditional Net Promoter practices were created to only address the process of measuring customer feedback and closed loop processes, with the exception of growth outside of mobilizing promoters.
The Monetized Net Promoter System does this and more—adding revenue figures to the process of measuring and acting on feedback to provide strategic insights into a company's strengths and weaknesses, and a direct line to map growth in real-time. Fred Reichheld recognized the need to transition his original Net Promoter Score model to the demands of the market.
In the same vein, while Monetized Net Promoter has helped companies tie both revenue and satisfaction metrics together, B2B businesses are now demanding more of the CX marketplace to help address account monetization capabilities outside of NPS.
Account experience moves beyond NPS to leverage other CX and vital growth metrics within the scope of B2B customer experiences and Revenue Lifecycle Management. In other words, account experience is the next natural evolution in the monetize narrative. After all, for account experience to be truly successful, monetization must live at its core.
In the next section, we'll dive deeper into why AX falls outside the traditional B2C CX and customer success technology stacks, and is deserving of a separate distinction and focus in the marketplace.
Why Account Experience is Not CX or CS

So far, we've touched on a number of reasons why the current CX marketplace and available solutions underserve B2B companies, and the differences in the very nature of managing a B2B vs. a B2C CX program.

Based on the elements identified earlier in the book, we can surmise the following key elements set a CX and AX solution apart: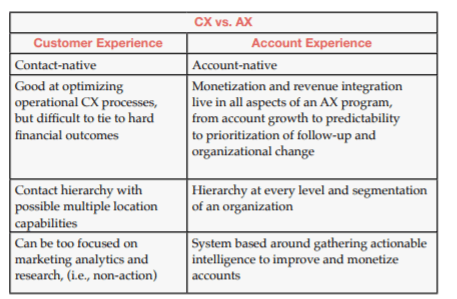 Where account experience looks to divide the CX market in half between B2B and B2C, customer success takes a small market segment within the CX marketplace, focusing on SaaS, tech and the subscription-based economy.
On the surface, AX vs. CS may seem closer in relation feature-wise. Both look to incorporate ROI in a deeper level of a CX program, both promote account management best practices, and both understand the importance a relationship manager serves in retention gains and account growth. Where the two differ, they do so on a fundamental level, from the treatment of accounts via segmentation to industry capabilities.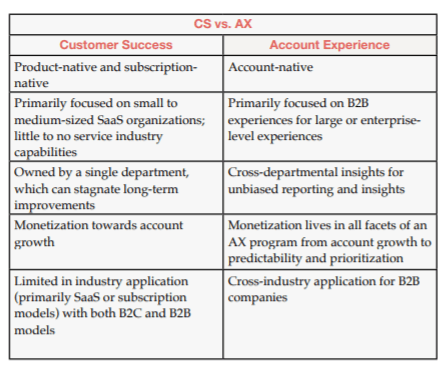 One of the biggest limitations of CS technologies is their singular departmental usage. Customer success technologies traditionally live in one department: customer success. And this isn't anything new! There are plenty of departmentspecific software tools out there necessary to the function of a particular department. Unfortunately, this kind of tactic doesn't bode well when it comes to managing CX on a large scale within an organization.
Having your experience management tool sit in one department creates natural silos within a company and can often stagnate change management initiatives identified in account feedback.
So, while customer success methodologies may call for permeation of best practices to be pushed to the whole organization…the reality is quite different given the nature of CS technology itself.
Don't get us wrong, customer success is a great development in the world of CX and is the perfect tool for some companies. However, at the moment, it's based primarily on usage metrics, and restricted to the SaaS market. It does not address the complex relationships in high touch enterprise accounts.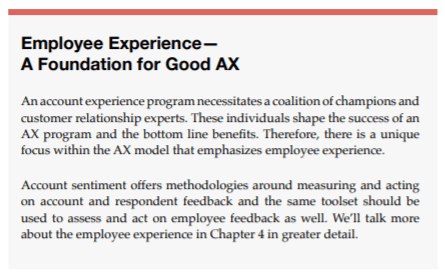 With a better summary of where account experience falls in the marketplace and how the B2B economy can carve out their own experience revolution, next we'll flesh out the account experience model itself and how organizations can kickstart an AX program.
The Account Experience Model
The account experience model provides value to enterprises across B2B organizations that are looking to do two things:
• Better manage the customer lifecycle to reduce churn, increase retention and improve business processes and value for customers
• Boost ROI through Revenue Lifecycle Management to grow accounts and existing customer revenue streams
Customer Lifecycle Management (CLM) is the process of tying metrics to aspects of the customer lifecycle, which is the ongoing relationship a customer/account has with a brand, including all touch points and channel interactions.
In an account experience model, account sentiment plays the role of Customer Lifecycle Management within the B2B context after the initial sale. Just like CLM, account sentiment looks at those parts of an AX program focused on measuring and managing the health of an account using feedback tools, root cause analysis and closed-loop best practices.
Account sentiment is the ongoing maintenance and check-ups necessary to reduce churn with relevant stakeholders.
B2B companies can use monetization when determining which accounts to survey, and juxtapose revenue next to touch points for prioritizing organizational improvements. In addition, account sentiment also includes employee experience elements to ensure the longevity of the AX program and improve the sentiment of the workforce.
Revenue Lifecycle Management (RLM) are processes undertaken to strategically grow revenue from existing clients. In the account experience model, RLM is referred to as account intelligence. Account intelligence focuses on account growth management activities, including retention and churn management, opportunity creation and tracking, as well as predictive analytics.

Forbes Insights' research paper Mastering Revenue Lifecycle Management, reported that enterprises that were investing in and excelling at RLM saw bottom line results increase, while those who ignored the benefits of RLM felt a negative impact to their revenue:
"Businesses are finding that a lack of focus regarding their RLM process can have
a negative impact on profitability, market capitalization and shareholder value. Yet opportunities present themselves at each touch point in the lifecycle—onboarding, adoption, up-sell/cross-sell, retention and renewals. Those enterprises that are ahead of the curve—that make data-driven decisions and partner continuously with their customers to help unleash the value inherent in insights derived from the RLM process—are poised to see substantial returns on investment."
Now that you understand the fundamentals of account experience, let's begin looking at how to bring your program into fruition.

Getting Started with an Account Experience Program
As mentioned, an account experience program doesn't live in a single department. The insights and metrics used within an AX program reverberate into almost every outlet of an organization. However, there are a number of important elements and parties an account experience program should support and involve.
To compile the insights in this section, we looked to the experts over at Gartner on their best practice steps for building a business case to get approval for a CX technical investment.
The illustration below is a recreation of Gartner's parameters.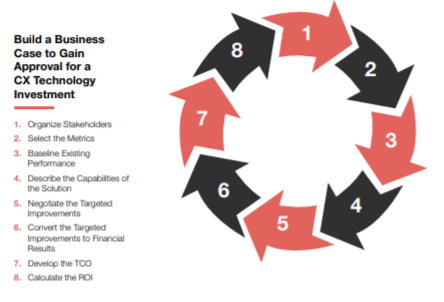 Source: Gartner, Realizing the Benefits of Superior Customer Experience:
A Gartner Trend Insight Report
Using some of the guidance from Gartner's model, we developed the following list to help build the resources necessary to get an AX program off the ground and running—as well as ensure the program's longevity and success.
1. Identify a cross-departmental need for change that an AX program and toolset can solve
The best way to get your resources is to make a business case based on a particular pain point. Perhaps your B2B organization has struggled to support your CX program due to a lack of guidance or sufficient tools. Maybe this is the first time you've considered aligning an account-based approach to experience management.
Whatever the case, to begin the process of onboarding an AX program, you need to start building a strong case for its fruition prior to approaching or inviting others to participate.
2. Gather a coalition of champions and get sponsorship from the C-Suite Understanding how an account experience program serves each area of your business is vital for not only long-term buy-in, but on-going improvement and growth. Once a need for change is identified, work should be done to gather a championing coalition around the account experience program.
During this time, the C-Suite should be engaged to connect higher level company initiatives with program outcomes. In fact, CustomerGauge's 2016 NPS Benchmarks Report found that 23%16 of companies said C-Suite buy-in was the primary factor behind the success of their program.
3. Build a program charter
With your coalition now in place, it's important to designate the goals and mission of your account experience program. Specifically, a program charter should define:
- The reason for undertaking the project
- The project details
- Stakeholders required to be involved
- Budget, timeline, and resources required
- The initial risk assessment
4. Create or designate the roles & responsibilities of a relationship
manager within the organization
Every account experience program should have some form of relationship manager to provide the human face of your company to your multilayered stakeholder clients. Relationship managers combine product expertise, business specialization and account growth tactics all rolled into one. We'll discuss more how this fundamental role plays a part in your AX program later in the book.
5. Implement an automated AX tool to manage the digital transformation of your AX program
The time for managing B2B experience programs via spreadsheets or disparate CX software tools is over. To support the success of your AX program and ensure that the relevant insights, workflows and action points are provided to the right people at the right time, you need to onboard the right tools.
6. Incorporate any non-digital transformative best practices needed to support the AX program operationally
Tools can do a lot. However, unless best practices and operational procedures follow, little in the way of change or growth will be seen. Creating a cultural AX buy-in campaign is one way to get your organization excited about the transition. Some companies use branded swag around kick-off sessions to raise awareness around the program. It's important to align all three levels of an organization around the new program, establish change agents within the organization to drive this new program and make change easier.
This section will walk through these steps in greater detail, while also developing on the principles of a successful account experience program.
AX: A Multi-Departmental Solution to B2B Success
We mentioned in the introduction the importance of ownership and responsibility within a B2B account experience program. Given that a successful account experience program should serve as a cross-departmental tool, how does ownership come into play?
First, let's look at a worst-case scenario approach to any type of program management:
A group of people were sitting in a park at lunchtime with a rainstorm approaching.
Someone got up and said: "We're going to have to move. Here's the plan. Each of us stands up and marches in the direction of the apple tree. Please stay at least two feet away from other group members and do not run. Do not leave any personal belongings on the ground here and be sure to stop at the base of the tree. When we are all there, we'll sit down in the same spots as we did here, so we can continue our conversations."
This story is adapted from John Kotter's book, "Leading Change" and shows an example of micromanagement (an incredibly ridiculous and silly one, but one nonetheless). If you plan to run an account experience program this way, you will likely create some resistance.
The best way to initiate an AX program is to gather a coalition of champions looking to transform your B2B enterprise towards a profitable, customercentric future—and support these champions with tools that allow them to carry out this mission. In other words, the best approach is to invite people to co-create and run your program. The problem is that you cannot invite the entire company to this exercise.
So, your task is to identify what we call AX champions. These are people from different parts of your organization who can drive action in their own groups. Champions can help you communicate problems, solutions and other information to their units; they can assume central roles in your program once it's operational, and they can help you coordinate and cooperate across departments.
Here we see an illustration of some of the key departments that would benefit from an account experience tool and program: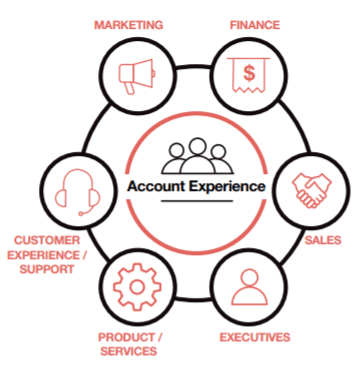 Let's build a case for why departments like these should support an account experience program. This will assist you in identifying possible departmental champions for your own AX program.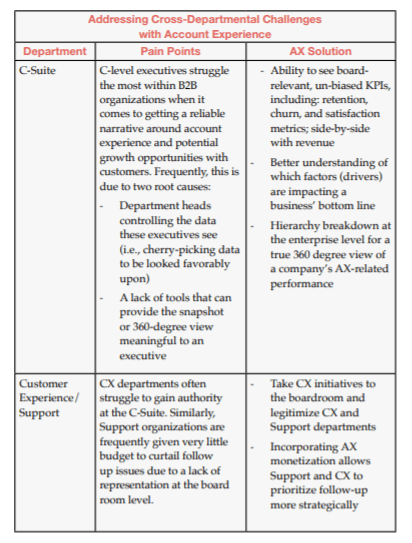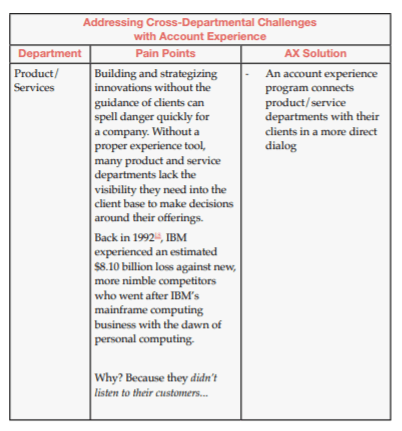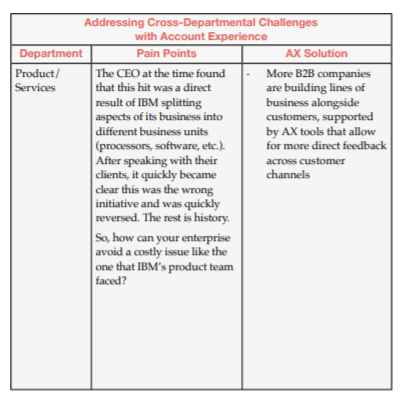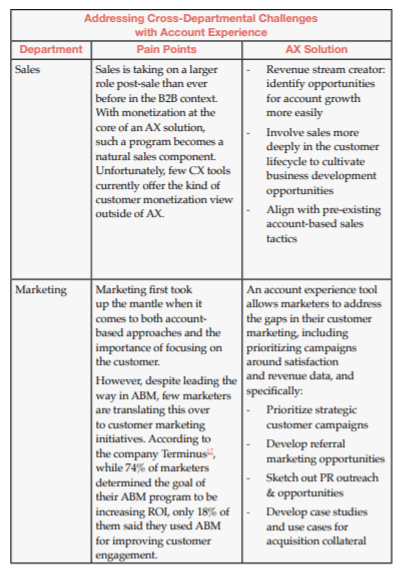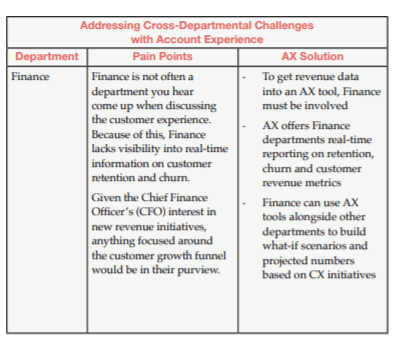 Now that you understand how AX impacts different facets of a B2B organization, let's look at one role that has gained greater prevalence in B2B experience programs, the relationship manager, and why any AX program is incomplete without it.
The Role of the Relationship Manager
If the term relationship manager doesn't sound familiar to you, these may ring a bell: CSMs, Account Managers, Product Experts, etc. All different names for a similar function: managing relationships with your customers.
Across industries, B2B companies are investing in a new kind of account experience workforce: the relationship managers. This team of people can sit in departments ranging from Customer Experience, Sales and Customer Success.
With the emergence of account experience, the role of relationship managers becomes even more vital to manage the lifecycle of multi-layered stakeholders within B2B accounts. We call these multi-layered stakeholders the "Decision
Making Unit".
Decision Making Units are the hierarchy of roles within an account, ranging from decision makers who influence future buying decisions to frontline users. In Chapter 4 we'll discuss, in greater detail, the importance of interacting with EACH level of the Decision Making Unit to gain an accurate picture of account sentiment ensure account retention.
Relationship managers are those roles that work with Support and/or technical personnel to address both the needs of customers and support and grow the customer growth funnel of a business. You may have people in positions similar to this description—or perhaps entire account management teams— that support this function. Depending on the size of a particular client, more than one relationship manager may be required, especially on an enterprise or international level.
Relationship managers help customers:
- Achieve business outcomes for multi-contact stakeholders of a single organization
- Scale and support business cases as they evolve
- Address technical or service issues
- Provide product or service expertise to help with self-service
- Educate on new product or service innovations that can help support use cases
- Onboard new users
Relationship managers help companies:
- Manage the customer lifecycle
- Keep a pulse on the health of an account and its multiple stakeholders
- Increase retention and reduce customer churn
- Identify and act on opportunities for growth within accounts, including referrals, up-sells, cross-sells, etc.
To capture the satisfaction of multi-layered stakeholders, relationship managers in B2B companies should use AX best practices like quarterly business reviews (QBRs) to keep a pulse on how each level of an organization feels towards their business. 48 | Account Experience
On a transactional basis (i.e., when a particular action is performed), B2B businesses can trigger transactional surveys to capture sentiment for a particular touchpoint with a single respondent.
We'll discuss more about keeping a pulse on account health and managing multiple contacts in Chapter 4, Account Sentiment.
Below is what we call a "Decision Making Pyramid." It denotes the various stakeholders that relationship managers must consider at every stage.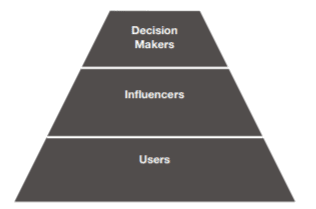 Decision Makers
People at the top of the Decision-Making Pyramid typically reside in C-level roles and have the executive authority to sign off on large initiatives.
Due to their authority needed on signing off, Decision Makers are often the most satisfied within the Decision-Making Pyramid. After all, their name is on the dotted line, and they are typically the ones convinced into taking on a service/product.
This is good for economic buy-in of your products and services, but not particularly good for long-term operations.
Interested in seeing Account Experience live? Contact our team for a demo today!
About the Author