Introduction
Customer churn costs businesses a total of $1.6 trillion every year — that's as much as one of the 10 largest economies in the world!
However, if you've just landed on this page, you probably know first-hand the pain that churn can cause. What you need right now is concrete, actionable, and effective strategies to cut customer churn and get yourself on a more stable path to growth.
In this article, we provide exactly that.
Here are 8 proven strategies to reduce customer churn.

1. Measure Retention and the Financial Impact to Reduce Churn
The solution to churn starts by building a clear understanding of the impact it's having right now.
It may sound obvious, but you'd be surprised: 44% of executives don't know their company's retention or churn rate.
Begin by calculating your churn rate with the following formula:
(churned customers / total customers at the start of period) x 100
As an example, say you had 300 customers at the beginning of the year, but 60 churned — you'd have a churn rate of 20%.
That might sound pretty good, and for some industries it is, but if your revenue is $5 million a year, you're still losing $1 million. And that could be avoided.
But the truth is that a 20% churn rate can cause financial losses that are even more substantial. To truly understand your churn problem, you can calculate how much revenue you're losing to churn:
(churned revenue / total revenue at the start of the period) x 100
It could be that the 20% of customers that have churned are worth a much bigger proportion of your revenue. To give your churn strategy the strength it needs, tie your churn rate to revenue to be absolutely clear on what you're losing.
2. Use Net Promoter Score to Understand Your Customers
Alongside revenue analysis, there's one tool that simply must be in your churn reduction strategy: Net Promoter Score (NPS).
Designed to measure customer loyalty, NPS has since become one of the most widely used tools to gauge customer sentiment. And it works. According to our research, by implementing an NPS system you can cut your churn by 7%.
With an NPS system, you'll ask how likely customers are to recommend you to their friends or colleagues. Based on their responses, you'll group them into three categories:

Detractors. The biggest churn risks for your business. You can expect them to leave soon if you don't intervene quickly.

Passives. Not the worst churn risk, however passive customers may have their heads turned if they get a better offer.

Promoters. These are your most loyal and enthusiastic customers. Understandably, you want as many of these as possible.
When you understand your customers, you can focus on transforming the negative experience of your detractors. As you'll see below, that means reaching out to them, understanding the drivers of possible churn, and showing them what you're doing to change.
When done right, B2B businesses can benefit massively from NPS. The software brand INAP worked with us at CustomerGauge over a period of two years and was able to reduce churn by a huge 50%.
3. Follow These Survey Collection Best Practices to Reduce Churn
NPS is an indispensable tool for battling churn. However, high NPS scores and generally positive feedback can lull you into a false sense of security.
Just ask Antony Bennet, CEO of the global fintech brand, Simple Ways. With a solid NPS score and high engagement rates, he thought an upcoming board meeting would be a breeze. But then he had news of two massive customer accounts, worth over a million dollars, that had just canceled their renewal.
It was a hard pill to swallow, but it's an important lesson for all of us. Limited responses to your NPS surveys can give you a skewed impression of your CX performance.
How to avoid Antony's problem yourself? Reduce the risk of surprise departures by:
Boosting your survey response rate from all of your customer accounts. This way you'll be much better equipped to predict your real churn risk (however high your NPS score might be). Find out how to improve your response rate here.

Surveying multiple contacts from key accounts, including decision-makers, influencers, and users of the product itself. It's a good idea to focus on building relationships at different levels, from executives to frontline employees.
(By the way, CustomerGauge's Account Experience solution automatically shows you how many contacts you should interview per account, in line with the revenue each account brings in.)
Aim for a 100% response rate to your customer surveys. It sounds like a lot, but it's doable. ICON Communications does it (and receives 80% of their business through referrals).
4. Dig Into the Churn Drivers to Reduce Them
Your NPS score is a crucial indicator of your overall customer experience. But, to truly make a difference in your churn rate, you need to understand why customers might churn or why they have churned already. For that, you need driver questions.
These can be part of your NPS surveys, where detractors can detail the reasons why they wouldn't recommend your product to their peers. Or, they can be included in a churn survey, in which you ask leaving customers for the reasons why they've left.
Then, using CustomerGauge's Account Experience, you can begin to analyze this data and assign values to different churn drivers. This means you'll be able to see which reasons most commonly lead to your customer churning.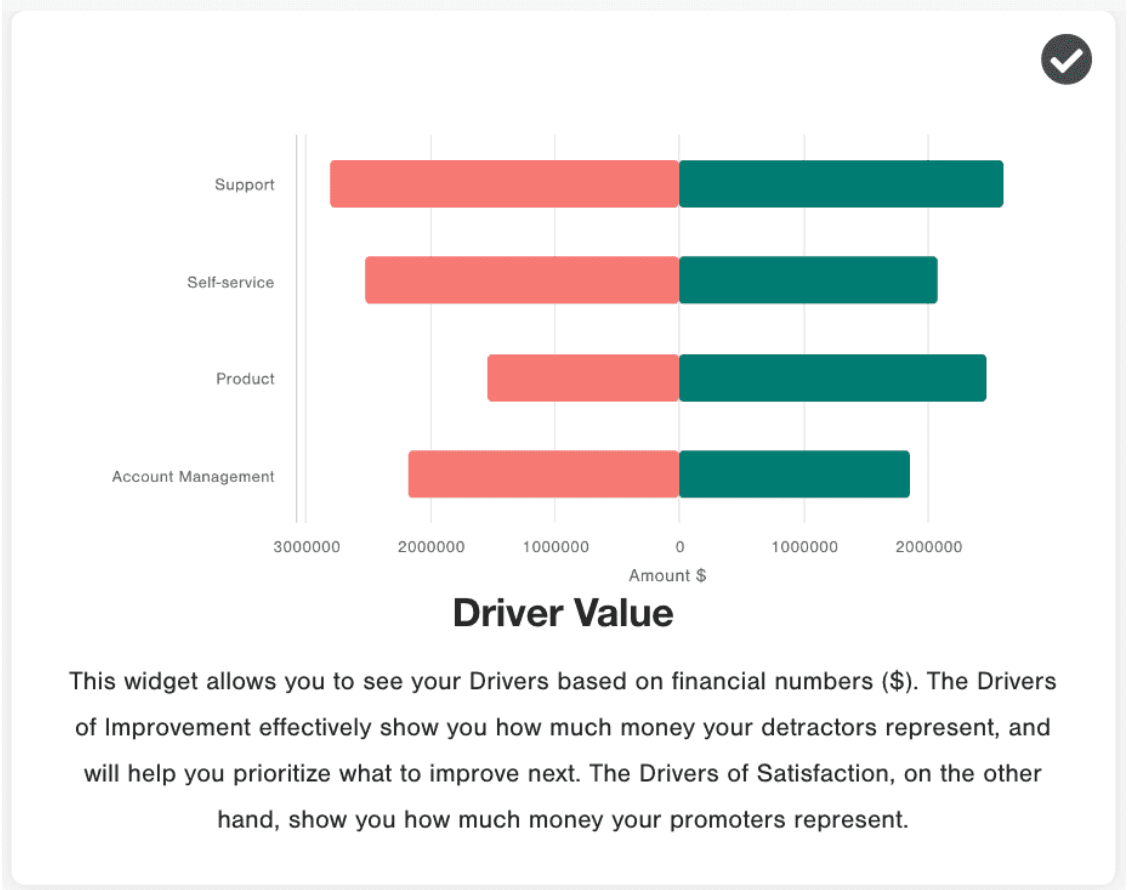 With this data, you can identify any customers which appear to be on the verge of churning, and try to prevent them. Try talking personally to unhappy customers and providing them with a tailored offer to better suit their needs.
5. Close the Loop With All Customers (Not Just Detractors)
Detractors are no doubt your biggest churn risks. However, they're not the only customers that need to be engaged. While it may be tempting to focus all your anti-churn energy on detractors, pay attention to passive customers, too, as these can be in danger of having their heads turned.
The truth is that you should be aiming to close the loop with all customer feedback within 48 hours, no matter where that feedback is coming from.
In our The State of B2B Account Experience report, we found that only 26% of companies close the loop with all feedback. However, these companies see an 11-point increase in their NPS score and, more importantly, an 8.5% increase in retention. They also have three times more promoters than those that don't: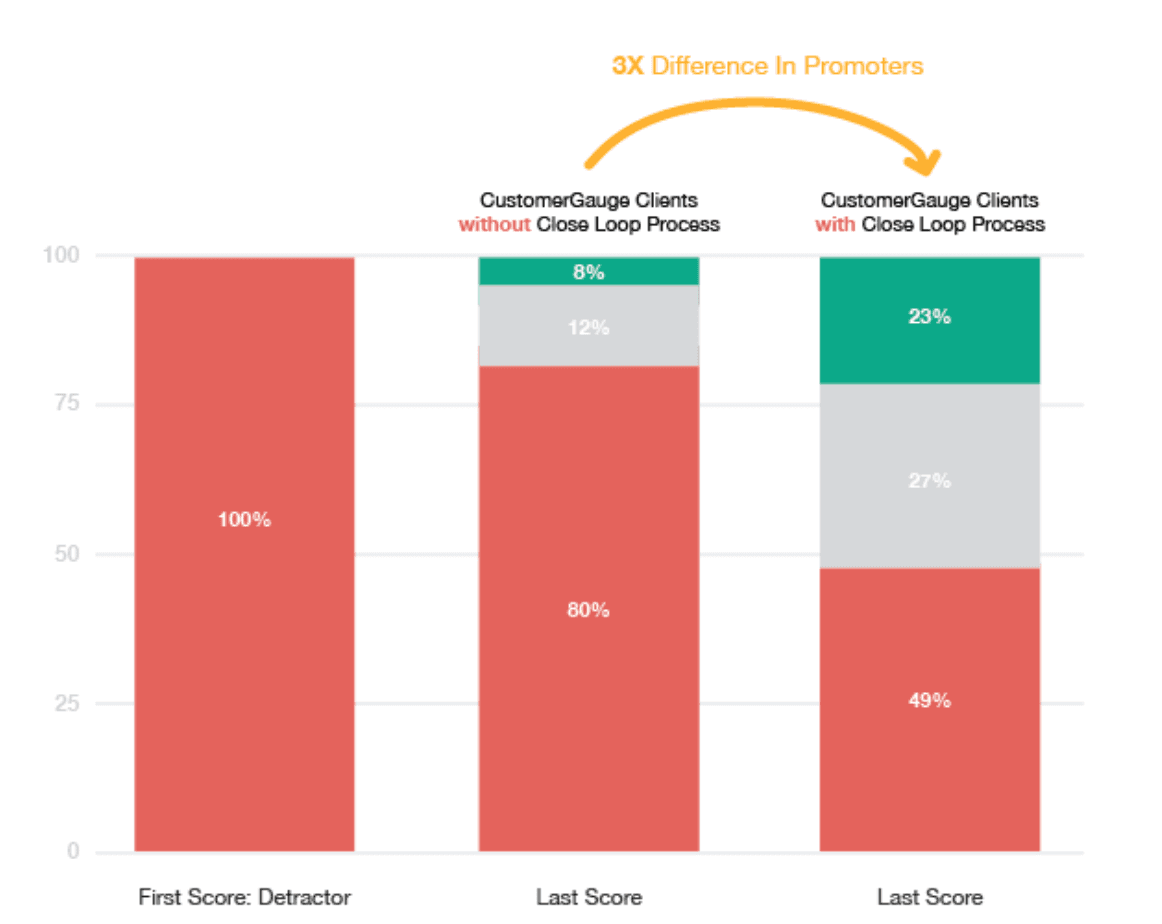 Top Tip: Set targets for how quickly you can close the loop. It will help your performance.
6. Beware This Major Churn Driver
At CustomerGauge, we talk a lot about absence of signal.
Imagine you haven't heard from a customer in a while. They're not responding to your customer surveys, they haven't turned up for meetings, and they're not issuing support requests. Look deeper and they may not even be using your product.
This lack of signal is perhaps the most important indicator of churn there is. Simply, unengaged customers aren't loyal and are likely to move elsewhere.
But, there's plenty you can do to stop them. At CustomerGauge, we use engagement metrics to track down those customers most at risk of churning.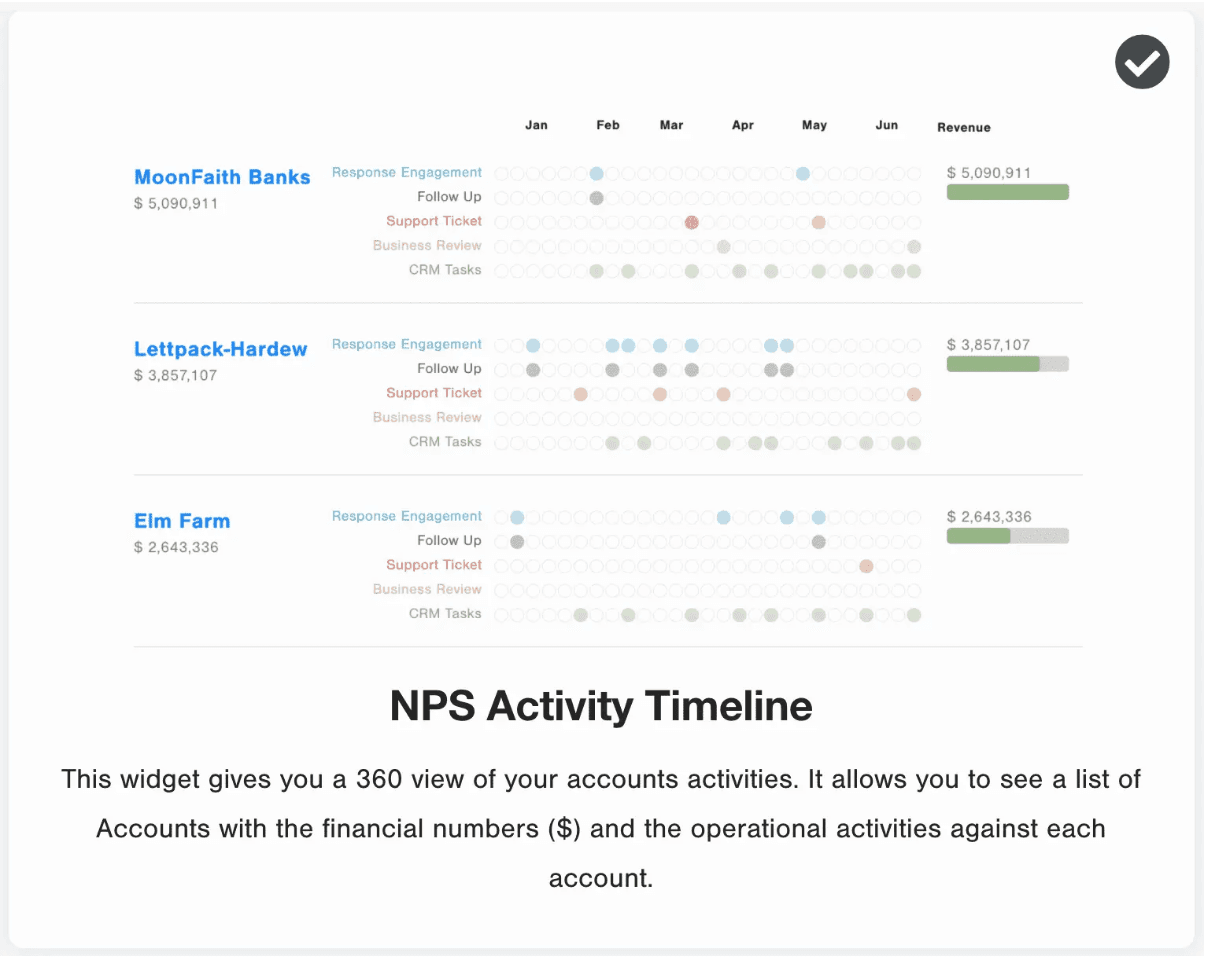 Of course, if you haven't received any sign of life from a customer in a while, reach out to them to discuss their experiences with your product. That could be through a pop-up on your SaaS product, asking if everything is well. Or, if they've been inactive for a while, consider sending them an email highlighting some of your features they haven't experienced yet.
7. Make Retention a Priority for Your Whole Team
One of the best ways to reduce churn is to have your entire team prioritize retention over acquisition.
As our VP of Education at CustomerGauge, Cary T. Self, has said:
"
It's much sexier to look at new business and growth as an organization. Everyone loves new— nothing wrong with that! But, we challenge you to have that same excitement for your current business. Think of this: every account manager you have dealing with a company relationship is going up against your competition's best team of sales professionals. You have to bring the same level of excitement to retention that you bring to new sales!
Cary Self
VP of Education at CustomerGauge
Here are a few ways your whole team can bring this excitement to work for existing customers:
Realign commissions and incentives for sales teams to focus equally on upsells and cross-sells compared to new customers.
Finding ways for customers to integrate your product with other workflows can lead to 40% lower churn. If your product is computer software, make sure it integrates seamlessly with some of your customer base's favorite apps.

Developers could focus on fixing existing bugs and improving user experience instead of producing new features.
8. Reduce Churn with CustomerGauge
CustomerGauge's Account Experience is the only B2B retention tool you need to identify customers at high risk of churn.
With CustomerGauge, you can get control of your retention rate with the following features:
Lifetime revenue and customer value rankings

Automatic contact management

Our proprietary monetized NPS system

NPS and other customer experience surveys

Real-time churn tracking

Insight into the main drivers of customer churn
This is only a small selection of CustomerGauge's best churn-preventing features. Request a demo and start working smarter on customer retention!
About the Author