A Bird's Eye View of Retention Rates By Industry
To better understand the per-industry landscape, we undertook our own research on median retention rates, outlined in our Benchmarks Report.
These were the results: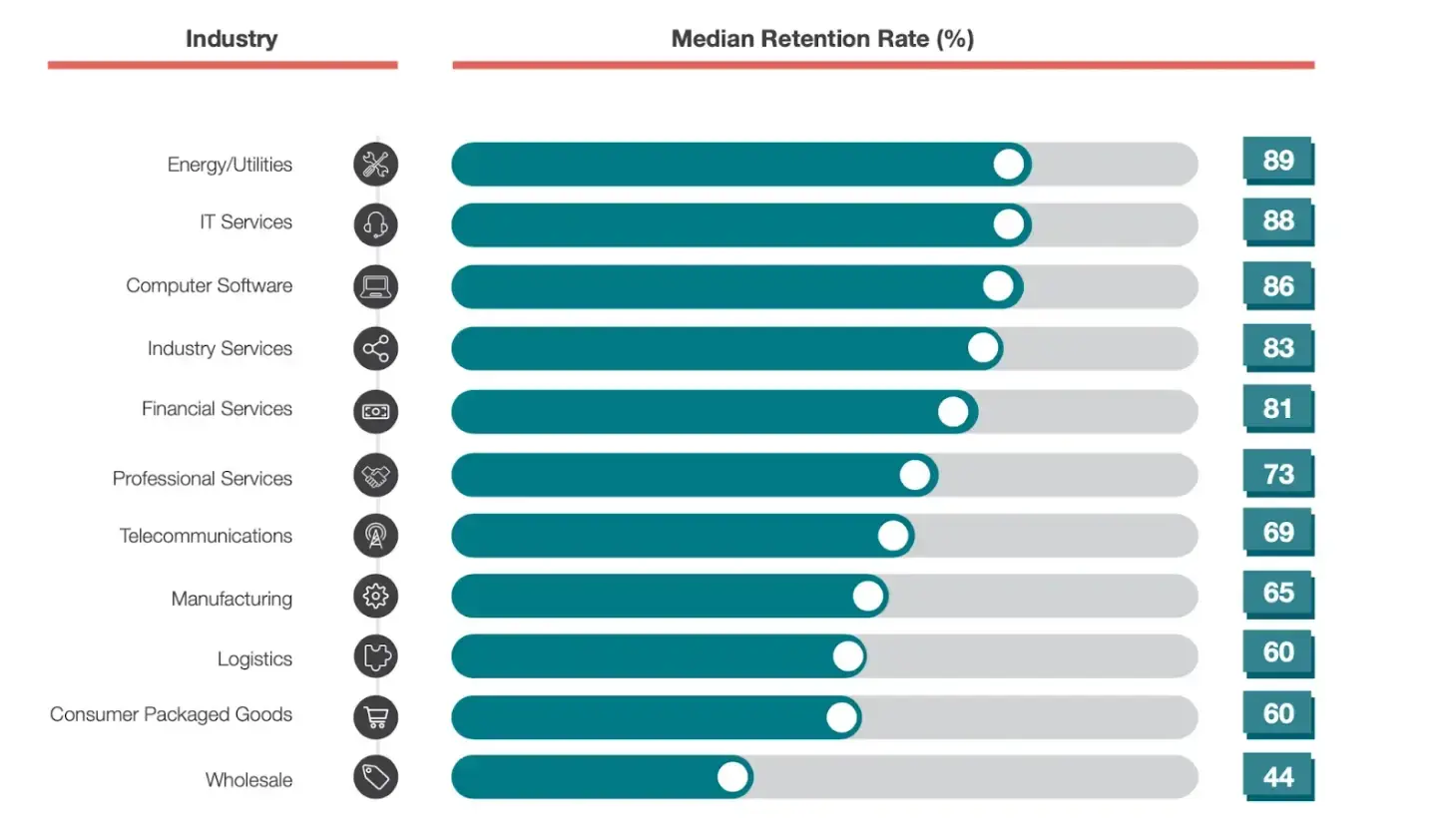 Here's what's happening on the higher and lower ends of the spectrum:
Energy/Utilities — 89% Customer Retention Rate
While the retention rate in this industry may seem solid, its lofty position shouldn't be taken for granted.
As this perspective from Deloitte argues, the needs of the utility consumer are changing, and providers need to understand these new attitudes better. Contemporary customers are on the hunt for energy efficiency, smart homes, and self-service interactions with providers.
McKinsey's 2020 report of 20,000 residential utility customers was telling — there was a vast disparity between the lower and upper ends of the customer satisfaction scale.
Importantly, companies that embraced digital channels of interaction and offered their customers self-serve options saw overall customer satisfaction rise an average of 2%.
But that's not the end of the story.
According to this study by data giants J.D. Powers, overall customer satisfaction with electric utilities has decreased slightly from 2020 to 2021. There are many reasons for this dip, perhaps most notably the impact of rising inflation costs on essential service budgets.
But while not a significant drop, it does speak to a need for greater efforts to be made to understand customers' attitudes, behaviors, and preferences. The goal is to take a targeted approach to improve performance, thereby increasing satisfaction and, ultimately, retention.
Computer Software — 86% Customer Retention Rate
Over the pandemic, the need for computer software reached new heights, evidenced in the 17.1% increase this sector experienced over the two years that marked the height of the pandemic.
According to TechRepublic, the software industry was responsible for adding $933 billion to the U.S. economy.
The need for digital solutions has meant an upsurge of successful businesses meeting them. Big data and the security and privacy measures that keep that data safe have become all too sought after.
And the tools themselves have improved, with AI and 5G changing the capabilities of what was previously possible in this industry.
But while that may help the industry as a whole, what does it mean for individual retention rates?
Basically, CX matters more than ever — and if you pay attention to your customers, you can expect astonishing results.
ZoomInfo, a company that sells access to its extensive database to recruiting, sales, and marketing teams, has a retention rate of 98.5%.
Remarkable, yes, but clearly not impossible.
Their strategy? Centering consumer experience by providing ongoing education and training to their customer base. Live webinars, On-Demand 1-1 training sessions, and a certification program have all helped ensure their customers stick around.
Head here for our guide on how to keep your SaaS business healthy.
Telecommunications — 69% Customer Retention Rate
Of the industries that have come into sharp view in 2021, telecom holds a special place, empowering remote work and feeding social interaction during the pandemic.
So, why is their retention rate on the lower end of the spectrum?
While telecom brands may have previously ridden the tailcoats of the industry's hard to leave attitude that has fed customer loyalty, younger decision-makers are looking for something else.
That's why new players in the market who have understood this can more easily disrupt it.
MyRepublic in Singapore, for example, took 7% of the fixed-broadband market share shortly after launching. And Free Mobile in France took 19% market share within four years.
There are two main reasons for this shift:

New companies that have built digital adoption into their business models have made old businesses more vulnerable.
Communication platforms such as WhatsApp and Apple's FaceTime have disrupted old communication models. (RIP the landline)
But that doesn't mean that older players are booted out by default. Read our Benchmarks report example of Sure, an 100+-year-old company who have managed to pivot their enterprise to reduce churn rate.
Wholesale — 44% Customer Retention Rate
What makes the wholesale sector a tricky playing field when it comes to customer retention?
First, retail is notoriously tricky when it comes to churn.
In this 2019 Statista report, this industry was at the bottom of the pile in terms of retention.
Primarily, it comes down to the consumer being faced with an overwhelming amount of choice. High competition and an easy route to the exit door make customer loyalty challenging to come by.
Add to that the disruption of supply chains, talent shortages, and the reduced (and altered) demand that has come with the pandemic. Retention in this industry can be a tough nut to crack.
So, is it worth focusing on retention in the same way you would in other industries, or should onboarding be more front and center?
While customer acquisition is important in this arena, the key to retention here is collecting and acting upon customer feedback. And the best way to do that is to use software tools that can digitally facilitate this within your business.


About the Author