Did you know across multiple different industries customer retention rates average out at about 72.5%?
Averages can hide a lot though, and from industry to industry, these rates can differ dramatically.
That means if you're looking for valuable retention benchmarks for your business, it's important to factor in the nuances of each industry.
Despite the differences, certain tenets are applicable across all fields, such as:
1) Retention matters
2) Your bottom line is intrinsically linked to how you monetize your retention data and action these insights
3) Customer retention tools have shifted how you can understand this
And yet, 44% of businesses still aren't calculating their retention rate — but they're missing a huge opportunity.
Here, we take you through the numbers of average customer retention rate by industry, why knowing and leveraging this data is important, and how we can help.

Why Customer Retention Rate Matters
When we started what would become CustomerGauge in 2007, our purpose was to help improve customer retention by reducing customer churn — a pain point felt by B2B companies in industries from consumer packaged goods to manufacturing.
Commonly referred to as the leaky bucket, what you put in keeps coming out, customer churn can also be understood as Sisyphus's rock: the boulder you're trying to push up the hill keeps rolling back down before it ever gets to the top.
You're working hard to onboard new clients, but you just can't get your business to grow.
CustomerGauge works hard to help B2B brands reduce the size of that rock that's pulling them back.
Our Account Experience platform helps brands better understand the drivers of customer churn, so they can bolster their retention rates for maximum return on investment (ROI).
And yes, it's worth it. Improving retention by just 5% could increase your profitability from anywhere between 25 and 95 percent. So, the effort you put into nurturing rather than acquiring customers could come with significant returns.
That's because returning customers are:

Cheaper than acquiring new customers

More likely to spend more

Easier to serve

More likely to refer others and promote your brand

Happier to provide feedback to improve critical areas of your business
While Account Experience is now an award-winning voice of customer software (Gartner's #1) facilitating customer retention for our clients remains our priority.
What's changed the game for us is linking our retention efforts to revenue.
Rather than simply instituting programs that provide a plethora of data, we monetize that data, providing companies with actionable insights into how CX metrics affect their bottom line.
What Affected Customer Retention in 2021
Industries have been hit by a unique combination of forces, including the continued rise of automation and machine learning coupled with the unique needs of a global pandemic.
AI, for example, has affected how the data for different industries is collated and implemented. Manual approaches to customer retention predictions are simply no longer competitive.
From the growing needs of a remote workforce to the specific requirements of a new type of consumer, a monumental shift was inevitable.
Not only has new tech been on the rise, but new consumer behaviors, too.
77% of consumers are no longer as loyal to brands as they were a few years ago.
Younger consumers, in particular, are quicker to switch brands and have higher expectations. They're also more willing to give feedback — an essential factor in structuring your retention program.
A Bird's Eye View of Retention Rates By Industry
To better understand the per-industry landscape, we undertook our own research on median retention rates, outlined in our Benchmarks Report.
These were the results: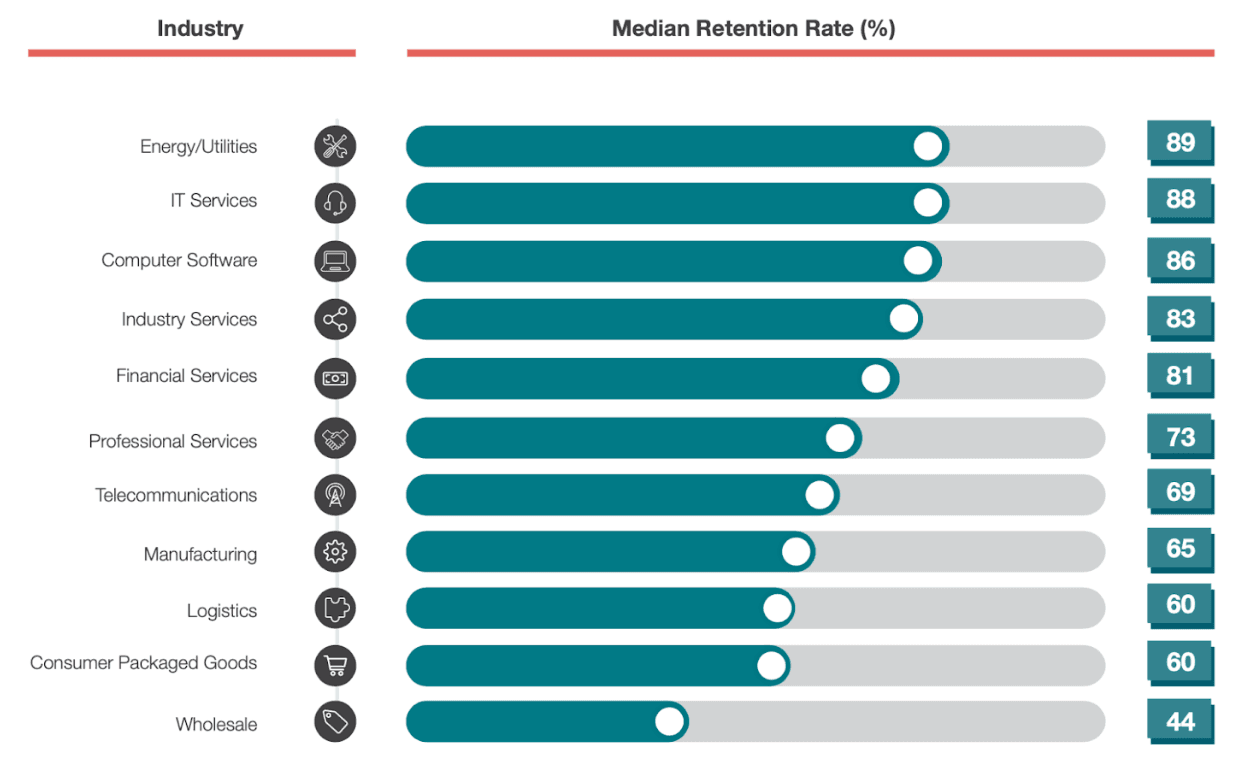 Average Retention Rates By Industry
Here's what's happening on the higher and lower ends of the spectrum:
Energy/Utilities — 89% Customer Retention Rate
While the retention rate in this industry may seem solid, its lofty position shouldn't be taken for granted.
As this perspective from Deloitte argues, the needs of the utility consumer are changing, and providers need to understand these new attitudes better. Contemporary customers are on the hunt for energy efficiency, smart homes, and self-service interactions with providers.
McKinsey's 2020 report of 20,000 residential utility customers was telling — there was a vast disparity between the lower and upper ends of the customer satisfaction scale.
Importantly, companies that embraced digital channels of interaction and offered their customers self-serve options saw overall customer satisfaction rise an average of 2%.
But that's not the end of the story.
According to this study by data giants J.D. Powers, overall customer satisfaction with electric utilities has decreased slightly from 2020 to 2021. There are many reasons for this dip, perhaps most notably the impact of rising inflation costs on essential service budgets.
But while not a significant drop, it does speak to a need for greater efforts to be made to understand customers' attitudes, behaviors, and preferences. The goal is to take a targeted approach to improve performance, thereby increasing satisfaction and, ultimately, retention.
Computer Software — 86% Customer Retention Rate
Over the pandemic, the need for computer software reached new heights, evidenced in the 17.1% increase this sector experienced over the two years that marked the height of the pandemic.
According to TechRepublic, the software industry was responsible for adding $933 billion to the U.S. economy.
The need for digital solutions has meant an upsurge of successful businesses meeting them. Big data and the security and privacy measures that keep that data safe have become all too sought after.
And the tools themselves have improved, with AI and 5G changing the capabilities of what was previously possible in this industry.
But while that may help the industry as a whole, what does it mean for individual retention rates?
Basically, CX matters more than ever — and if you pay attention to your customers, you can expect astonishing results.
ZoomInfo, a company that sells access to its extensive database to recruiting, sales, and marketing teams, has a retention rate of 98.5%.
Remarkable, yes, but clearly not impossible.
Their strategy? Centering consumer experience by providing ongoing education and training to their customer base. Live webinars, On-Demand 1-1 training sessions, and a certification program have all helped ensure their customers stick around.
Head here for our guide on how to keep your SaaS business healthy.
Telecommunications — 69% Customer Retention Rate
Of the industries that have come into sharp view in 2021, telecom holds a special place, empowering remote work and feeding social interaction during the pandemic.
So, why is their retention rate on the lower end of the spectrum?
While telecom brands may have previously ridden the tailcoats of the industry's hard to leave attitude that has fed customer loyalty, younger decision-makers are looking for something else.
That's why new players in the market who have understood this can more easily disrupt it.
MyRepublic in Singapore, for example, took 7% of the fixed-broadband market share shortly after launching. And Free Mobile in France took 19% market share within four years.
There are two main reasons for this shift:

New companies that have built digital adoption into their business models have made old businesses more vulnerable.
Communication platforms such as WhatsApp and Apple's FaceTime have disrupted old communication models. (RIP the landline)
But that doesn't mean that older players are booted out by default. Read our Benchmarks report example of Sure, an 100+-year-old company who have managed to pivot their enterprise to reduce churn rate.
Wholesale — 44% Customer Retention Rate
What makes the wholesale sector a tricky playing field when it comes to customer retention?
First, retail is notoriously tricky when it comes to churn.
In this 2019 Statista report, this industry was at the bottom of the pile in terms of retention.
Primarily, it comes down to the consumer being faced with an overwhelming amount of choice. High competition and an easy route to the exit door make customer loyalty challenging to come by.
Add to that the disruption of supply chains, talent shortages, and the reduced (and altered) demand that has come with the pandemic. Retention in this industry can be a tough nut to crack.
So, is it worth focusing on retention in the same way you would in other industries, or should onboarding be more front and center?
While customer acquisition is important in this arena, the key to retention here is collecting and acting upon customer feedback. And the best way to do that is to use software tools that can digitally facilitate this within your business.
Here's How to Improve Retention Rates in 10 Steps
Measure your retention rate. Less than half of B2B companies are currently doing so. But it's easy. Excluding all new acquisitions, compare your current customers to the customers you had at the beginning of a given period. Don't forget to measure your revenue retention, too.

Implement a customer retention management program. A systematic framework to monitor and cut churn, such as Account Experience, should be your starting point.

Leverage software tools. There are many customer retention tools out there to help you cut churn and monitor customer sentiment.

Build for the new consumer. That means factoring in new expectations for CX design, collecting and acting upon feedback, and not assuming that all old dogs can learn new tricks.

Give real rewards for loyalty. Provide offerings that your customers truly want and need, such as high-value content, exclusive offers, and referral incentives. (Remember the ZoomInfo example?)

Implement customer surveys to drive retention. Customer surveys should be at the heart of your customer retention strategy. Only this way will you find out how your customers really feel about you.

Close the loop on your survey findings. Our goal is to close the loop 100% of the time. Every customer must feel seen and that their experience is driving your decision-making. Doing it quickly is best. We recommend closing the loop with every customer within 48 hours.

Reduce churn by increasing survey response rate. Sending out surveys is one thing — receiving enough responses is quite another. While it feels like a huge goal, an 100% response rate really is possible. Making surveys short, gently nudging non-respondents, and saying thank you (and closing the loop) will help.

Measure your progress. 62% of companies don't calculate the ROI of the experience programs and therefore cannot feed back this insight into their future strategy. But, if you want to secure continued buy-in from your C-Suite, and show the impact of your customer retention program to investors and other stakeholders, it's crucial.

Tie your metrics to revenue. Use tools like Monetized NPS to ensure that you're getting real ROI from the programs you're implementing.
You can opt for a more targeted response to retention within your industry by taking industry-specific metrics into account.
However, regardless of the field you're in, automation and its tie to revenue are non-negotiable as we head into the next chapter.
Get in touch
to learn more.
Hey there! Did you know we have a library of customer retention articles? Check these topics out:
Get The Most Comprehensive B2B NPS and CX Benchmarks Report on The Planet