ICON Communications is a contact center based in Prague that gets a massive 80% of its new clients from customer referrals.
It's secret? Customer feedback.
"One of our core pillars is that we want feedback," Helen Hickin, ICON's founder and CEO, said in a recent podcast.
"Sometimes that feedback hurts and sometimes we're super proud of it, but in any case, we need that feedback. That's why the business has grown and not just from clients and colleagues, but from our workforce as well."
Customer feedback is one of the most important resources that your company has. It helps identify opportunities to improve, build trust, and do right by your customers. But more than anything else, it helps your business to grow.
To achieve this, as ICON well knows, you need customer feedback software that can support your efforts to hear from your customers. And the reality is that the right one for you isn't always easy to find.
There are literally hundreds of different feedback tools out there. And to achieve your customer experience (CX) and larger business goals, you need one that drives action and gives you clarity on growth opportunities, too.
Here, we'll help you find the best customer feedback software out there so you can be more like ICON.
But first, let's dig into why you need one.
4 Reasons Why You Need Customer Feedback
Your customers are the people that keep your business afloat. Without them, you're doomed. Yet, amazingly, there's an impressive number of businesses that aren't interested in what those customers think.

Obviously, they're missing a trick because collecting customer feedback brings concrete benefits in more than one way:
You'll build trust among your customers. Asking customers for their thoughts on your business and products builds trust. Simply, it shows you care, and this is one of the most powerful components of building customer loyalty.

You'll combat churn. At CustomerGauge, we found that simply starting a customer survey program through Net Promoter Score (NPS) can improve customer retention by 7%. That's because you'll better understand the drivers behind poor customer experience.

Find opportunities to improve your offering. Customers tell you what they like and what they don't like about what you do. Wise businesses take customer feedback and act on it to deliver the best experience possible.

Identify promoters and referral opportunities. Collecting customer feedback through systems like NPS can tell you which customers are most satisfied. It's likely to be those who are the prime targets for your referral marketing program (as Helen from ICON found out).
The truth is that not every customer feedback software will be able to deliver all of these benefits. To ensure you're getting the most from your customer feedback program, you need a tool that can clarify exactly what your customers are feeling.
Types of Customer Feedback Tools
There are five main types of customer feedback software on the market. The kinds of feedback you want to access, as well as the type of business you are, will determine your choice of software.

Simple survey tools
Many brands use simple surveying software to collect customer feedback. This type of customer feedback tool enables organizations to build surveys, often with prearranged questions, distribute them, and collect the responses.
However, as you may imagine, they come in all shapes and sizes.
Some surveying tools excel at helping brands easily deliver beautiful surveys to their customers, but often struggle with analytics. Others, such as Qualtrics, grew from an academic context where survey responses needed to be analyzed deeply, so they can be a little overwhelming in commercial settings.
There are others still (such as Google Surveys or Typeform) that aim for simplicity.
If you want to send only a very limited number of surveys, but quickly and easily, these will be good enough for you. However, if you're serious about improving CX, you may find them limited.
Voice of customer software
Surveying tools suffice when you want to quickly understand the sentiment of individual customers. However, when you're working with complex B2B accounts, or you want deeper insight into your customer behavior, a more robust feedback tool will be needed.
For example, in B2B contexts, customer accounts often have dramatically different sizes, as well as different stakeholders, touchpoints, and ways of interacting with you. For an accurate sense of how the whole account is feeling about your brand, you'll want to speak to as many stakeholders as possible.
That's what voice of the customer (VoC) is about. VoC tools take a much more comprehensive approach to customer feedback.
Of course, customer surveys still play a central role, with tools like CustomerGauge putting NPS surveys front and center. But, they ensure that surveys go to the right people in each account and push feedback to the right people in your organization.
With CustomerGauge, you'll also get visibility on the value of your CX efforts.
Online review tools
Another type of customer feedback software helps you easily access and manage what customers are saying about you online; these come in a number of different forms.
For example, customer review management tools such as Get More Reviews or Trustpilot Business can help you solicit public customer feedback, automatically share it, and even hide negative reviews.
Alternatively, hear what customers are saying about you with social media listening tools. Ones like Sprout Social or Hootsuite let you track customer feedback out there in the wild.
While that's helpful for monitoring authentic customer sentiment, it doesn't give you a reliable sense of customer retention and loyalty. For your customer experience management (CXM) program, that might not be enough.
Behavior analytics
Another type of tool for monitoring customer feedback is behavior tracking.
Tools such as Hotjar, for example, enable you to keep a close eye on how customers are behaving on your website. This is a type of passive customer feedback, where you're not directly soliciting feedback, but it can be incredibly useful for monitoring your user experience.
It's not going to be enough to give you a deep understanding of customer behavior all by itself though. Usually, businesses need a powerful voice of the customer tool to back it up.
Customer relationship management tools
Finally, customer relationship management (CRM) tools are also often used to collect customer feedback. But as you may know, if you're using one already, they do a lot more than this, too.
CRM software typically combines surveying functionality with other capabilities, such as data on customers from various channels. Yet the authentic feedback it actually receives can be limited. And it's mainly aimed at marketing and sales teams (rather than the whole business).
If you want a tool that really dives deep into customer feedback, while reducing unnecessary features, a VoC software will do the job better.

What You Need from Client Feedback Software
Not every tool will do what everyone wants it to. So, when you're investing in a customer feedback tool, what features are a must?
We suggest these four essential capabilities:
Unlimited Net Promoter Score surveys. Net Promoter is used by the majority of the Fortune 1000 to collect customer feedback. Your client feedback software needs to be equipped to run NPS surveys, ideally to as many customers as you have (and to as many contacts within each account as possible).

Robust automated analytics. How are your customers feeling and why? Of course, you could talk to every single one of your customers yourself to understand this, but you don't have time for that. Your customer feedback software needs to be able to analyze customer sentiment and identify key CX drivers automatically.

Revenue metrics. At CustomerGauge, we discovered that the majority of B2B brands (we're talking 70%) don't tie their CX performance to financial data. That means they have no idea how they're really performing.
One of the main reasons for this is that most feedback software simply can't give you that information. CustomerGauge can, though, to give you insight into exactly which CX changes would improve your revenue.
Guidance for action. Now, it's all good collecting feedback, but what are you going to do about it? How can you know how to respond (and who should respond) to customer feedback? A customer feedback solution that's worth the investment will be able to tell you exactly that.
Top 5 Software for Customer Feedback
So, which customer feedback software should you choose? To end this guide, we suggest 5 top tools to choose from:
1. CustomerGauge: VoC and customer surveys for B2B
If you're a B2B brand looking for robust support to collect and act on customer feedback, there's no better choice than CustomerGauge. And it's not just us that says it.
In its 2021 Critical Capabilities report, Gartner named CustomerGauge the #1 VoC tool for B2B brands.
CustomerGauge puts NPS at the heart of its customer feedback capabilities, alongside customer satisfaction (CSAT) and customer effort score (CES) surveys.
However, it's much more than just a surveying tool. Rather, thanks to its range of non-survey data, it gives you a 360-degree view of what your customers are doing and feeling.
For example, the platform's engagement metrics can show you how often customers are interacting with your brand (or whether they're not interacting at all). Moreover, it shows you how often they should be interacting with you.
In this way, CustomerGauge is not just a research tool, it's a fully-fledged tool for CX action.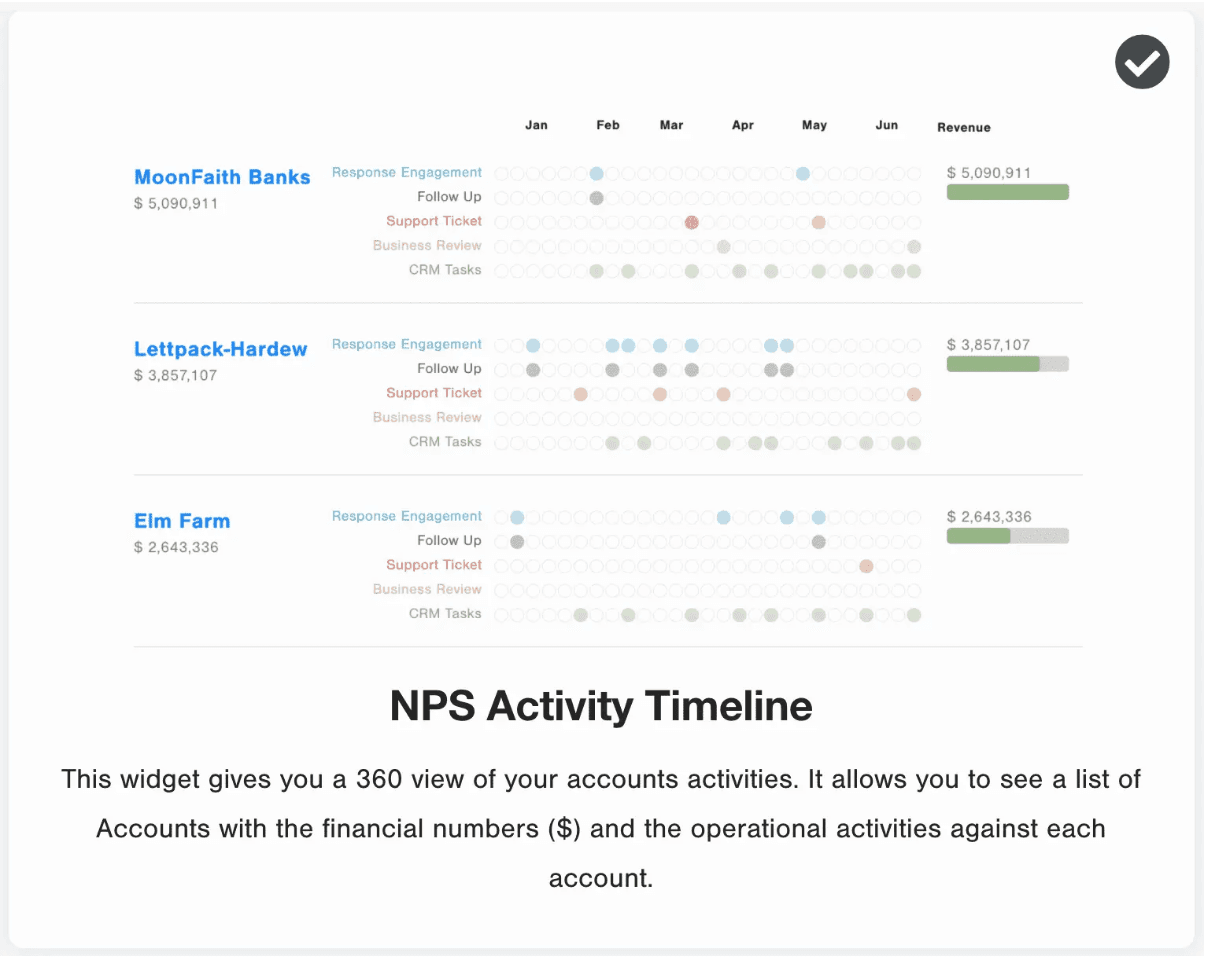 Crucially, CustomerGauge shows you the financial impacts of your CX performance, too, so that you can see the cost of churn, identify opportunities for revenue expansion, and improve key CX drivers.
2. SurveyMonkey: Simple surveys with a free basic plan
Where CustomerGauge excels for B2B brands, simpler survey tools are well-placed to support B2C brands, small businesses, and other organizations with a limited client base.
SurveyMonkey is probably the best-known of these, and it's definitely the most widely used, with over 20 million active users. It will help you build beautiful surveys quickly and easily (in fact, its ease of use is one of its main draws) while offering a range of limited analytics capabilities.
The free basic plan is another great opportunity for small businesses. However, it won't be nearly enough for larger brands or those with more complex customer accounts.
3. Sprout Social: Social listening and review management
Sprout Social is now one of the biggest tools available for brands to access customer sentiment and manage their reputation online. While it has many other features that can help you manage your social presence, it's these two functions that help with customer feedback.
For example, Sprout integrates with Google My Business, Facebook, Tripadvisor, Glassdoor, and Yelp so that you can see all customer reviews in one place.
4. Hotjar: Tracking website user behavior
The vast majority of businesses will use tools like Google Analytics to track the journeys of customers across their website. While that can tell you where conversions are happening, or where customers are bouncing, it doesn't make clear why.
That's what Hotjar is for. Using website heatmaps combined with live customer feedback, it shows you the weaknesses in your website and opportunities for improvement.
5. HubSpot: The CRM
Finally, HubSpot is probably the best known CRM tool out there. With its immense functionality, from surveys to content management, it sometimes feels like it can do everything that your business might ever want to do.
Obviously, that's not really the case. B2B brands, for example, will feel that Hubspot's surveying capabilities are not nearly as robust as they need. However, for everything else it can do, for everyone, from marketing and sales to customer service, it's a valuable tool.

B2B Brands Should Choose CustomerGauge
There's a customer feedback software out there for everyone. Whether you need to understand how users feel about your website or you want to see what customers are saying about you on social media, there are tools out there that can help.
For B2B brands that want clear insight into the sentiment of their customer accounts, there's no better option than CustomerGauge. Unlike other customer experience survey software, it's designed with only B2B brands in mind.
Remember ICON Communications, the Prague-based contact center with stellar referral rates? Their success was supported by CustomerGauge to achieve a 100% response rate on their customer feedback surveys.
You can achieve the same — Book a demo to find out how!
About the Author