Introduction
What is Referral Marketing
---
It's widely recognized that referrals are a key contributor to growth. Every business benefits from them. Most businesses rely on ad-hoc referrals but very few have a process to help increase sales through them.
By adopting a referral process, you can dramatically improve the referral business. The ROI impact is significant as you can leverage an existing Customer Experience (CX) program.
This guide has some simple practical ideas you can adopt quickly. Key steps in the process:
Impact-Measure Referrals In Terms of Revenue
Find Potential Referrers-Use Net Promoter
Weaponize Your Referrers-by Activating Them
Arming Them With Content-and Track it
Reward and Thank Them-Golden Ticket
Concept
Measure and Attribute-All Referrals
We are CustomerGauge - and we have been helping B2B companies to retain clients with our Account ExperienceTM software solution since 2007. We call it "Account Experience" (AX) as it combines revenue data, Net Promoter® scores from multiple contacts and other data inputs.
"Organic Referrals lack Frequency or Predictability"
What is B2B Referral Marketing?
Mobilizing promoters to refer a brand, product or service is called referral marketing. Referral marketing can happen via word of mouth, or through marketing influence or strategy via a referral marketing program.
Organic referrals lack frequency or predictability, so companies establish referral marketing programs to generate and track Referral Sales within their customer base.
However, there's significantly less information on referral marketing strategies when it comes to B2B businesses.
What is the Impact of Referral Sales in B2B?

According to Harvard Business Review, 84% of B2B sales begin with a referral—and they're more valuable. Accounts are 4x more likely to buy a product when referred and have 16% higher lifetime values on average.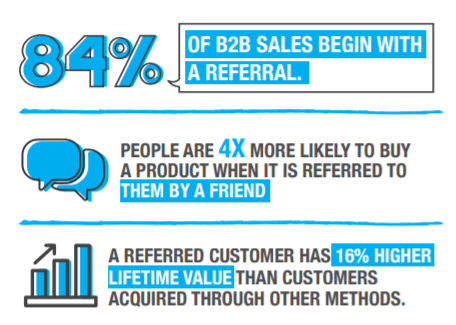 These seem somewhat esoteric - the usual internet-sourced stats that you see in presentations. But we were surprised when we calculated our referred business. In our own CustomerGauge business we found that:
Referral business accounted for at least 20% of new sales
Referred opportunities closed at around 20 days compared to 100 days on a non-referred deal
We could realize a 13% higher deal value on referred deals
Clearly, a mutual trust from the onset of a referred account helps make deals move faster and close easier. After we did the calculation, we made sure we put even more effort in our program.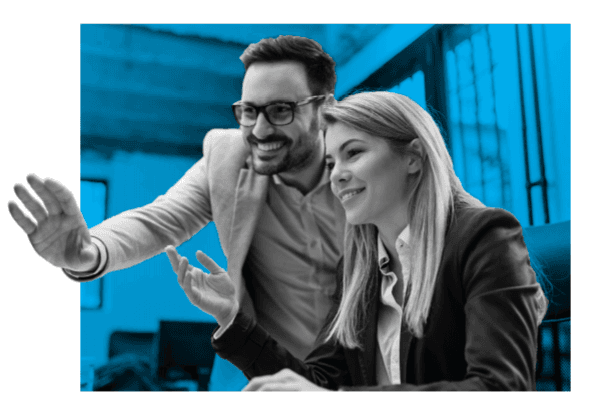 STEP ONE

Understand The Impact In Your Own Business Of Reffered Business
Does Everyone in B2B Use a System for Referred Marketing?
Looking at the stats above, you might imagine that everyone has a good system. Some do - about 10% of the businesses we surveyed in the CustomerGauge's NPS® & CX Benchmarks Report had a real process to run and track referrals. These well organized businesses benefited from the highest percentages of revenue growth (+20%) and return on retention (+82%).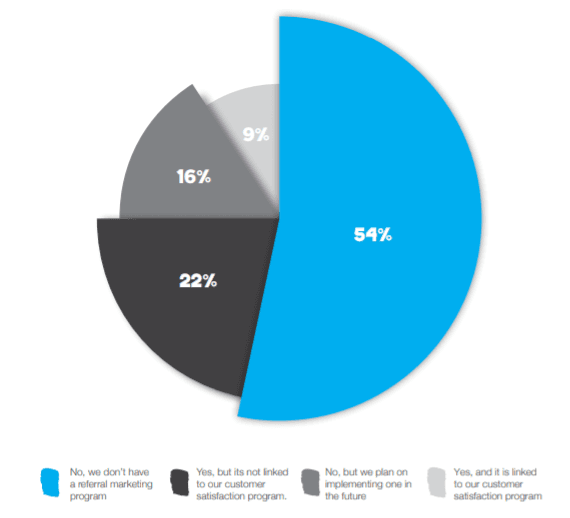 On the other hand, more than half the businesses we surveyed DO NOT have an organized referral program.
You can leap ahead of other laggards by working through the steps we outline.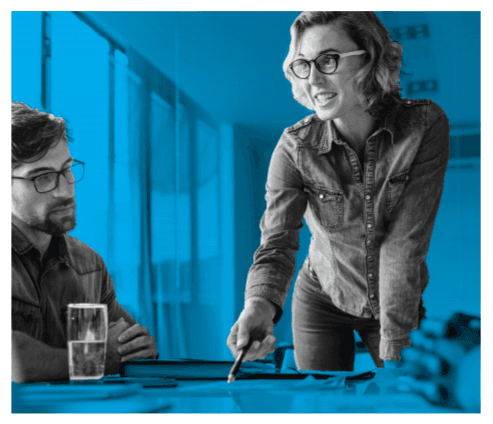 STEP TWO

Find Your Potential Referrals

"Who can I use as a reference for this new prospect?" - we've all heard that cry from the sales team—sometimes several times a week. We normally have a sort of oral tradition for this, and consult the person in our office with the longest tenure. But that's so subjective.
There is a better way, and the Net Promoter® system is perfect for this.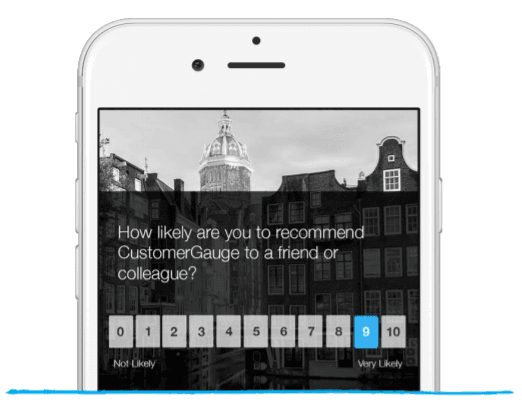 You are actually asking your customer "how likely are you to recommend...?" and asking for a score. Any score from an 8-10 is prime territory to ask for a referral.
In this way, Net Promoter is a more suitable question system than Customer Effort or Customer Satisfaction when it comes to driving your referral program. On the flip side, it will help you identify the unhappy customers - the ones that you should NOT ask for a referral!
However, many NPS programs ask only a few customers, and at a low frequency. To maximize your program, do the following:
Boost your response rates. Done properly, a B2B email NPS program can get over 25% response (in CustomerGauge we regularly get more than 40% response).
Ask multiple contacts in the business. Rule of thumb - you should have 9 contacts in a $1 million account
Increase your survey frequency. Waiting 12 months between surveys is too long. We recommend up to 4 times a year in major accounts.
Let's say you can double your numbers in each of the 2 steps above - this will give you an overall impact of nearly 10x your current Referral candidates (2 x 2 x 2).

In addition, add meta data on use-case, customer size and type to help match the right potential referrer for your needs.
If this sounds hard, you should look at solutions on the market to help you automate this and integrate with existing systems. CustomerGauge is an excellent choice to help you in this regard.
Using Account Experience (AX) Data To Generate B2B Referrals
As mentioned, CustomerGauge's NPS® & CX Benchmarks Report found that those B2B companies who tied their referral marketing to their CX or Net Promoter programs had greater bottom line benefits than all others surveyed.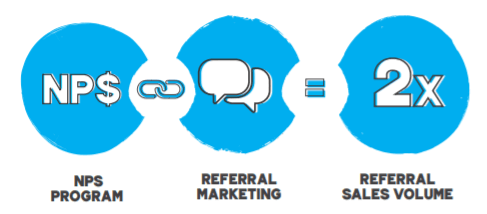 The chart below displays the percentage share of respondents (x-axis) by the referral sales rate ranges (y-axis). In the report, 2 out of 3 companies said they registered if a sales win came from a referral—though very few could answer if the referrer was a promoter, passive, or detractor.
The companies in CustomerGauge's survey who tied referral marketing to a CX program experienced greater growth for a simple reason: they knew who to target. By combining referral marketing with an NPS or CX program, B2B companies can begin to identify new areas of growth, specifically for:
• Targeting promoters and passives to refer new customers by incentivize them and the referring customer (more on that in the next section)
• Using a combination of referral and CX data to determine which types of customers are most likely to refer new business
• Making referral marketing a part of the closed loop process by training employees to ask if a promoter will refer them at the end of a resolved issue
The other great benefit of tying referral marketing to a CX program is that you are already communicating at an expected cadence with your accounts—from QBRs to quarterly relationship surveys to customer marketing emails. This makes it easier to embed referral conversations within your customer base.
Using CX Data To Generate B2B Referrals
Once you've targeted which promoters or passives are satisfied with your brand, you can begin looking into the drivers behind that satisfaction, as well as the size and growth within that account.

This is ideal if you'd like to:
Narrow down your referral marketing to refer a specific product or service
Determine which accounts might have a large amount of influence based on their size
At CustomerGauge, our clients can look at the drivers and reviews behind each contact to infer if an account is a good candidate for a referral. Drivers will indicate the reasons WHY a customer is satisfied with your brand.
Below we see this played out in both survey drivers and reviews. CustomerGauge's comment analysis shows that the driver of satisfaction here is Product.

This indicates that this particular account may be ideal for referring a particular product.
Our customers can also use a feature called "NPS SWOT" to indicate which clients are high-revenue accounts and juxtapose that information next to satisfaction metrics like Net Promoter Score® to better identify referral candidates.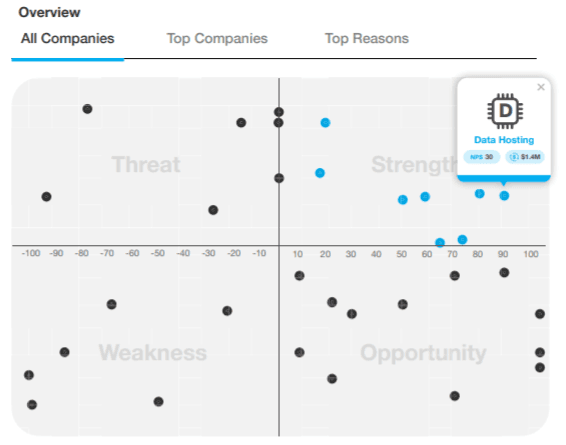 In a previous article, we look at how sales leadership can use features like these to increase retention revenue and generate new pipeline opportunities.

STEP THREE

Weaponize Your Referrers By Activating Them

There is a dream scenario. That's when you get a phone call from a prospect and they tell you that one of your clients has been raving about your product and they need to buy it—today.
But remember, apart from this "active reach out", there are multiple, less direct ways your referral program can work. Most marketers think it's important to focus on the reach-out by prompting "please refer us!", and in reality there are many softer actions your customers might prefer to take.
Now you have identified the candidates in step two, you are now ready to match up the actions with your customers. You can even consider a matrix of actions you can persuade your customers.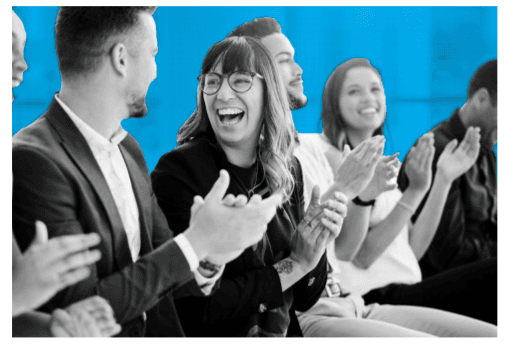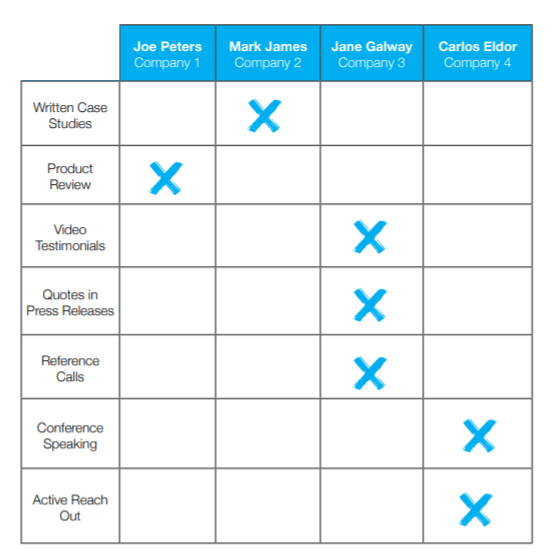 STEP FOUR

Arming Your Customers With Content

Most marketers forget this part - create content that your customers can use to sell you! Two of our favorite books are: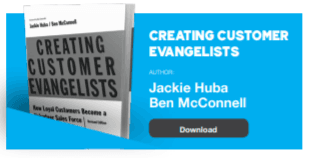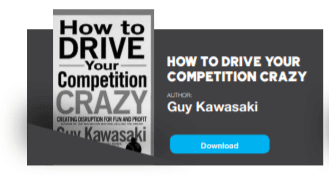 They both explain (quite well) how to give the right content to your customers. It's really simple to create an updated sales deck that you can give to your best customers, or some swag showing a few bullet points that help them tell others what you do best.
You should open the curtain on technical breakthroughs and your roadmap - customer advisory boards are great for this. Let them have input on the product direction and they'll be much more likely to be a promoter and in turn, refer you business.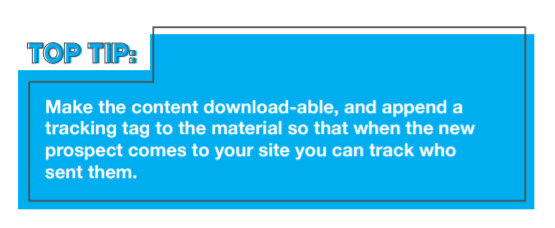 Make sure you continue to market to your best customers!
STEP FIVE

Rewars And Thank Them
How to Motivate Clients to Participate in Your Referral Program

This is one of the points where B2B programs are different to B2C programs. B2B customers have different motivations for buying - you will remember from business school the concept of the decision making unit.
Unlike consumers, business users are not normally motivated by money or personal gain when it comes to referral. In fact, it is usually discouraged and even strictly forbidden for some business buyers to receive any gifts or monetary incentives to buy, or to benefit from referral fees.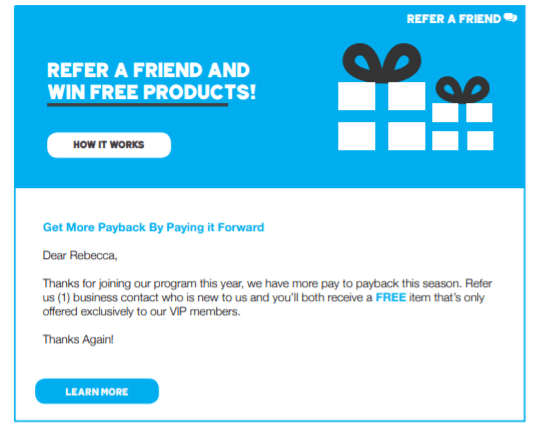 But you can still make non-personal incentives work. You can reward customers with different "referral rewards.". Marketo has a great article on "7 Question to Ask Before Launching a B2B Referral Marketing Program," that walks through a few of these: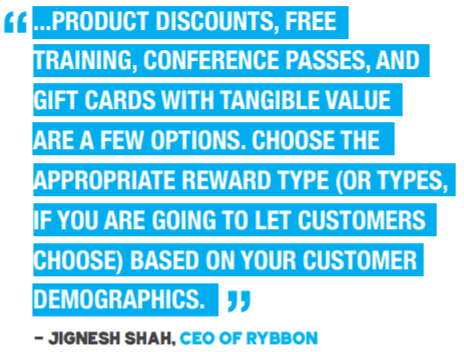 In this same article, Marketo also reminds the reader to consider important questions around rewards, including:
How big the reward will be?
How and when the reward will be given?
If only the referring company gets a reward (i.e., are you also willing to incentivize the referred company)?
There are a lot of great examples of B2B referral marketing programs out there. Therefore, we won't run through the gambit of possible tips and tricks. For now, check out ReferralCandy's blog post on 7 such success stories to see how companies like Google, Booker and Zoho tackle their programs.
At CustomerGauge we offer to make a donation to a favorite charity as a thank you for the referral—a win-win. Whatever you do, make sure you don't forget your manners. Say a hearty "thank you" to your customers for helping out. A handwritten note or card might seem old-fashioned, but has a disproportionate impact.
The "GOLDEN TICKET" Concept

When someone makes a referral, it can be risky for them as they're putting their reputation on the line. If something goes wrong in the transaction, it could reflect badly on them.

We have all heard countless stories of referred prospects getting poor service in sales or implementation. This then gets back to the original referrer - who can quickly become a detractor. The stakes are high and you need to make sure it's a smooth process, and a nice welcome mat for these referred customers.
Using the concept of a "golden ticket", you can give a personalized introduction letter (or email) to your referrers to pass on. It can be used by the prospects to skip to the front of the line, or even get to senior staff faster.
What's great about this is you can also track it easily - and it even has the name of the original account on it!

STEP SIX

Measuring The Impact

How to Calculate Customer Referral Value

Since one of the purposes of running a Net Promoter and CX program is to create more referral business, it's remarkable that so few companies track if they succeed.
One likely reason is that few CRM systems are set up to link sales and Net Promoter data. However, many companies also don't track which customers refer new business (as we discussed earlier).
Now that you've identified which customers are willing to refer and the steps you need to take to get that referral, you'll need to determine the ROI of your referral marketing. Specifically
How much referrals affect the sales process
How much revenue referrals generate
A straightforward way to obtain this understanding is to ask joining customers. In B2B, the concept of asking won (or lost) customers for root causes to their decision is called win/loss reviews.

Your CX solution should allow you to run this type of survey.

Win/loss reviews not only help companies calculate CRV, but improve their retention by learning how to attract customers that stay longer.
With this information, companies can begin calculating customer referral value (CRV).
Customer referral value was first created and defined by Kumar, Petersen and Leone in their Harvard Business Review article "How Valuable Is Word of Mouth".
While the actual full calculation behind CRV is quite extensive, the below does offer a good summary: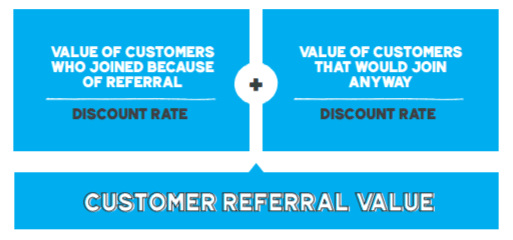 If you're a math nerd, click here, to view the original HBR article, that goes a bit more in depth on the specifics of the calculation. This same article also dives into some real-world examples using the above formula.

Conclusion
---
We hope the insights in this article help inspire your own referral program. To recap, here are some best practices we discussed:
Any stage B2B company should invest time in a referral marketing strategy:

From startups to large-scale enterprises, companies at any stage of maturity should establish some kind of referral program for their business. Not only does it build a strong customer base, but it improves the loyalty of your current customers as well.
The Six Steps:
Impact-Measure Referrals In Terms of Revenue
Find Potential Referrers-Use Net Promoter
Weaponize Your Referrers-by Activating Them
Arming Them With Content-and Track it
Reward and Thank Them-Golden Ticket Concept
Measure and Attribute-All Referrals
If you're looking to build your own success story, start by establishing a strong B2B CX program that allows you to identify and monetize opportunities like referrals within your
customer base.
Luckily, we can help you out there. At CustomerGauge, we specialize in B2B customer experience management and monetization. Click below to schedule a 15-20 minute demo.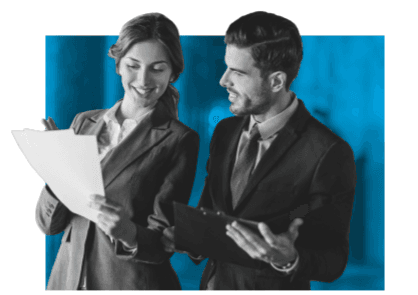 Want a PDF copy of "The Definitive Guide To B2B CX-Referral Marketing" whitepaper?