Referrals are a key contributor to growth. Every business, B2C or B2B, benefits from them. Yet most businesses still rely on ad-hoc referrals, with very few having a formal referral program to help increase sales.
In fact, in our The State of B2B Account Experience report, we found that 63% of B2B brands don't track referrals as a result of their B2B customer experience (CX) program.
This means that only a third of companies make the most of their referral opportunities.
That 63% are really missing a trick. Because by building a B2B referral program, you'll dramatically improve your referral revenue, spend less on customer acquisition, and reward your loyal customers.
What's more, the ROI of B2B referral can be significant if you can leverage the CX program you already have.
In this guide, we'll show you how to build an effective program with B2B referral software from the ground up.
What Is B2B Referral Marketing?
Definition
B2B referral marketing is the process in which you mobilize promoters and loyal customers to refer your brand, product, or service to someone else. In B2B as in B2C, referral marketing can happen by word of mouth, or through marketing influence via a referral marketing program.
Typically though, organic referrals, where customers naturally talk to or refer you to others, lack frequency or predictability. It's hard to build a strategy from it — let alone regular revenue.
That's why we encourage companies to establish B2B referral marketing programs to generate and track referral sales within their customer base.
However, there's one complication.
While referrals should be an important revenue stream for every B2B brand, there's a lot less information out there on referral marketing strategies for B2B businesses. But, that's a gap we're here to fill.
What's the Benefit of Referral Sales in B2B?
According to a study in the Harvard Business Review, as much as 84% of B2B sales begin with a referral. By any estimation, that makes B2B referrals an incredibly powerful income stream.
What's more, the study found that B2B accounts that have been referred are 4x more likely to buy a product and have 16% higher lifetime values on average, too.


Of course, you'd be justified in taking these stats with healthy skepticism. However, we were surprised when we calculated the impact of our referred business.
Referral business accounted for at least 28% of new sales every month

Referred opportunities closed at around 20 days compared to 100 days on a non-referred deal

We could realize a 13% higher deal value on referred deals
Clearly, a mutual trust from the onset of a referred account helps make deals move faster and close easier. However, there's more to the benefits of referral marketing.
As our VP for Education, Cary T. Self, recently explained in an interview:
"Referral programs are truly the gift that keeps giving. When a customer refers, not only will they continue to refer, but all that new business is also willing to recommend you as a solution. So, it's important to keep your promises by listening to their feedback and acting quickly. You have to be the model of great customer experience in order to be considered for a referral."
These are no doubt benefits you'd want to secure for your business, too. Luckily, it's time to consider how to build a successful B2B referral program yourself.
5 Steps to Building a B2B Referral Program That Works
Building a formalized process that links referrals to your wider customer experience and revenue will help you build strong relationships, leverage brand ambassadors, and drive revenue through referrals.
Yet, in our survey of B2B brands for The State of B2B Account Experience, we found that very few companies are being this rigorous about their referrals. In fact, less than 20% of brands in the B2B space are using their CX programs to leverage satisfied customers and find new potential customers.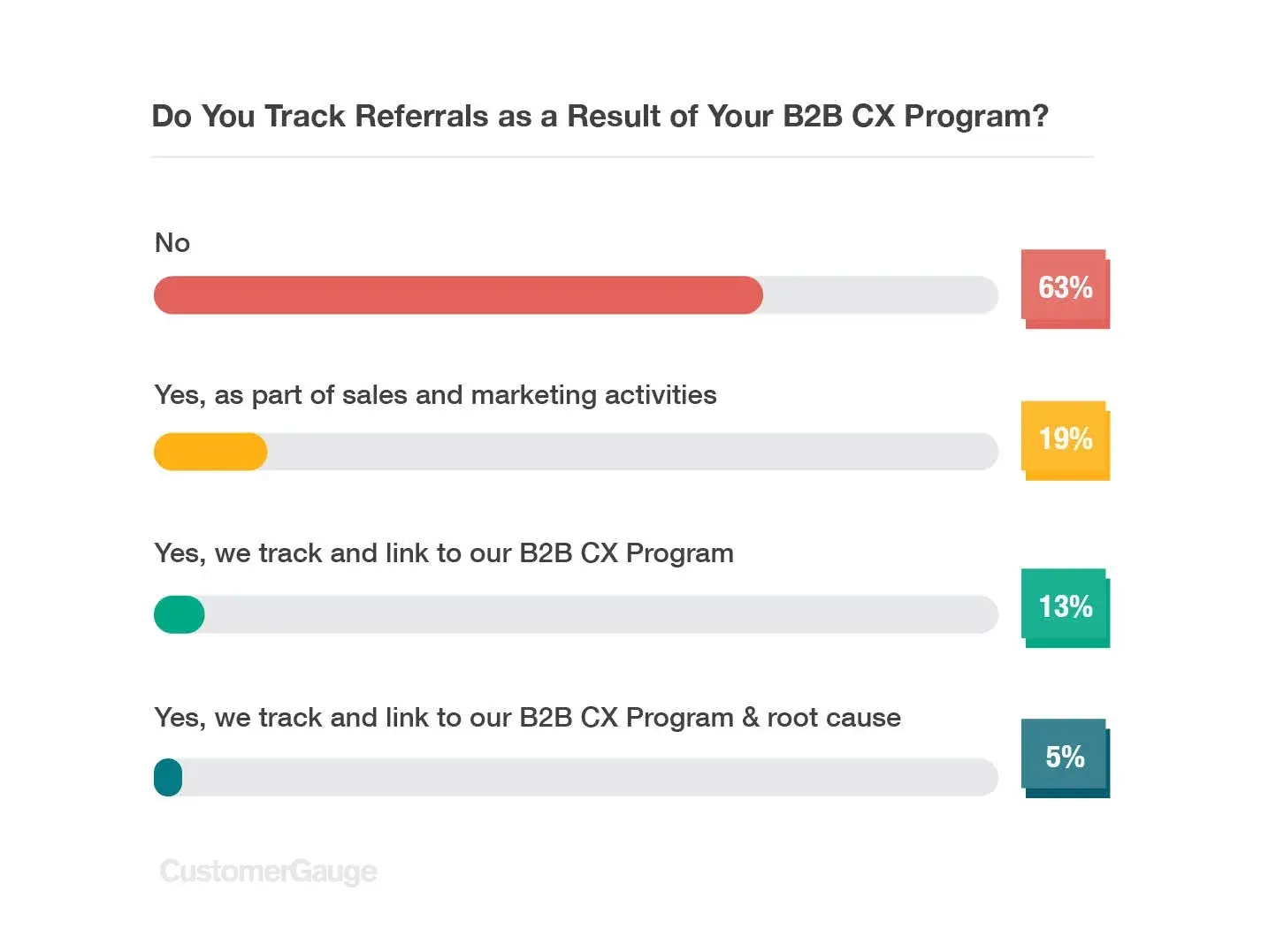 However, the reality of referral marketing is simple: only a formal process will do.
Here are 5 steps to leap ahead of the laggards and unleash the full potential of B2B referrals.
1. Identify B2B Referral Opportunities With Net Promoter Score
We need to start with identifying the targets for referral marketing. "Who can I use as a reference for this new prospect?" We've all heard that cry from the sales team.
Typically, B2B brands often have a sort of oral tradition for this, in which they simply consult the people in the office with the longest tenure. However, that's far too subjective, informal, and unreliable to be truly useful in the long term.
Rather, you need a formal referral system for identifying the advocates you have among your existing customers. And that system should be the Net Promoter Score (NPS).
NPS is great for referrals because it directly asks your customers about their willingness to recommend you to others. It is based on a single question:
On a scale of 0-10, how likely are you to recommend our product, brand, or service to a friend, colleague, or family member?
As a result of the survey, you'll be able to identify three different types of customers:
Promoters (giving you a score of 9 or 10). These are your happiest customers. They're loyal and enthusiastic about your brand and most likely to make a recommendation.

Passives (7 or 8). Not as enthusiastic, but they can be leveraged with referral incentives.

Detractors (0-6). These are the customers who are least happy, and they're not great targets for your B2B referral marketing.
Why use NPS over other surveying systems like customer effort score (CES) or customer satisfaction (CSAT)? Let's hear from Cary again:
"NPS is so much more powerful than asking are you satisfied? or how much effort?, because we're literally asking customers would you be willing to refer? So, while you are still gaining great insight on how well your relationship is and building trust, you're also in the process of gathering an entire network of people that want to bring you more business."
However, many NPS programs aren't being used to their full potential. To maximize your program, do the following:
Boost your response rates. The average response rate to NPS surveys is 12.4%, according to CustomerGauge data. But there's nothing stopping you aiming for 100%. ICON Communications have achieved it, see how.
Ask multiple contacts in the business. The more individuals you survey in each B2B account the better. A good rule of thumb is that you should have 9 contacts in a $1 million account — including product users, decision-makers, and the C-Suite.
Increase your survey frequency. Waiting 12 months between surveys is too long. We recommend surveying up to four times a year in major accounts. It can increase your retention by 51%.
While these simple steps can have a direct impact on your referrals, not all customers are the same. To ensure that customers can refer the right customers to you, add metadata on use-case, customer size, and business type to help identify the right potential referrer for your needs.
If this sounds hard, find a referral marketing solution to help you automate and integrate this with existing systems. Account Experience is an excellent choice. Step 2 shows you why.
Practical terms: How to use NPS to get referrals
This is the process we use, summarized in an excellent LinkedIn post by Nick Bennett.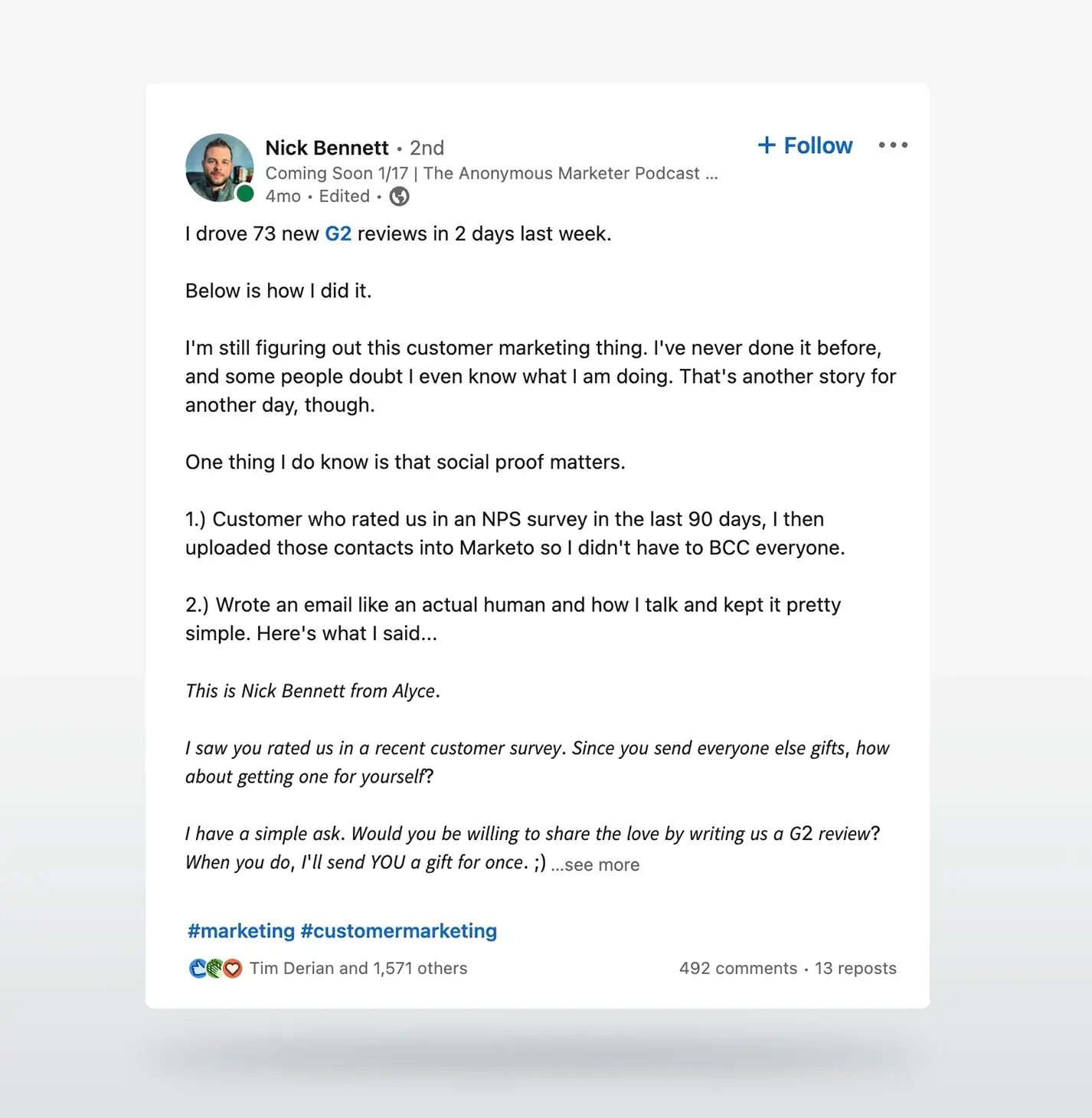 2. Use Account Experience to Track Your Best B2B Referral Candidates
In our NPS® & CX Benchmarks Report, we made a simple discovery.
B2B companies who tied their referral marketing to their CX or NPS programs had greater bottom-line benefits than all others surveyed.
How come? These companies achieved greater growth for a clear reason: they knew who to target.
Account Experience makes it easier for B2B brands to identify new areas of growth by combining referral marketing with your NPS or CX program.
It can help you to:
Identify promoters and passives to target referral marketing

Structure the closed-loop feedback process to embed referral marketing into the resolution of every CX issue

Build referral marketing into your regular communications with customers through QBRs, quarterly relationship surveys, and customer marketing emails
But there's more. Once you've targeted which promoters or passives are satisfied with your brand, with Account Experience you can begin looking into the drivers behind that satisfaction, as well as the size and growth within that account.
This is ideal if you'd like to:
Narrow down your referral marketing to refer a specific product or service

Determine which accounts might have a large influence based on their size
With Account Experience, you can look at the drivers and reviews behind each contact to infer if an account is a good candidate for a referral.
Drivers will indicate the reasons why a customer is satisfied with your brand — whether a product or your customer service. That might highlight, for example, that a particular account may be ideal for referring to a particular product.
With our feature called "NPS SWOT" (Strengths, Weaknesses, Opportunities, and Threats) you can also identify which clients are high-revenue accounts. Then, you can cross-reference that information with B2B customer experience metrics like NPS to better identify referral candidates.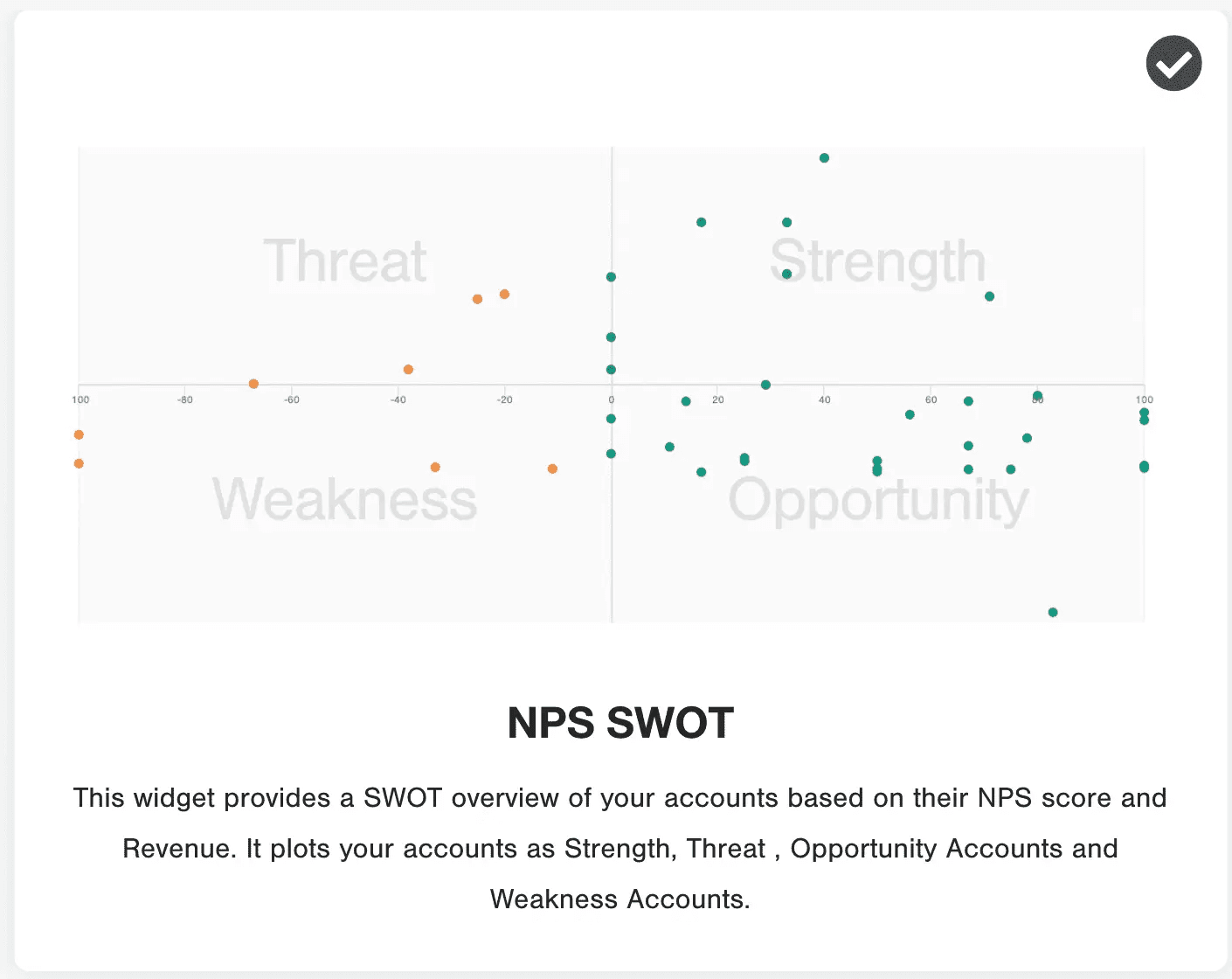 3. Activate Your B2B Referrers (And Arm Them With Content)
So, you've identified your ideal referrers. Now, there's a dream scenario.
When you're going about your business, you get a phone call from a prospect and they tell you that one of your clients has been raving about your product and they need to buy it, today.
Unfortunately, this doesn't happen every time. Rather, apart from this "active reach out", there are multiple, less direct ways your referral program can work.
Most marketers think it's important to focus on the reach-out by prompting, "Please refer us!" But, in reality, there are many softer actions your customers might prefer to take:
Conference speaking. A client may not be ready to actively tell their contacts about you, but they can advocate for your product in other ways. Speaking at or participating in your conferences can be one way this could happen.

Case studies or quotes. Providing case studies for your marketing can be an effective way for clients to participate in your referral program without actively spreading word of mouth themselves. They can then share the case studies on social media or their website.

Product reviews. Simply writing reviews of your brand or product is a simple way for clients to refer you to their peers.
Your task after you've identified your B2B referrer candidates in step two is to match up some of these actions with the customers who are most likely to perform them.
Build a matrix containing the actions you can persuade your customers to perform: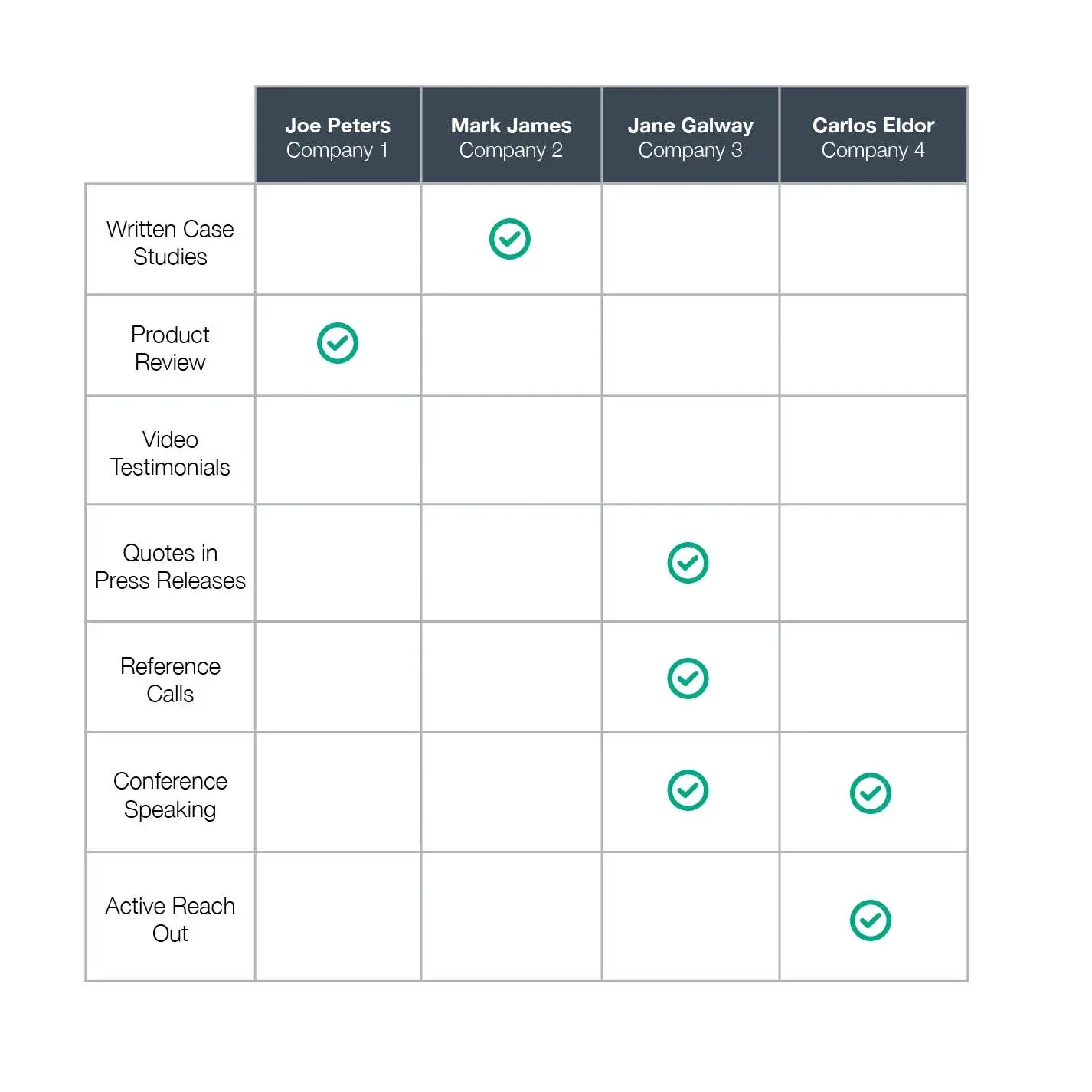 Keep in mind there's something that most B2B marketers actually forget. You should make it as easy as possible for your customers to refer you, and a crucial element of this is content.
This is the material that your customers can use to sell you. And while it's often forgotten, it's really simple. Create an up-to-date sales deck that you can give to your best customers or some swag showing a few bullet points that help them tell others what you do best.

Top Tip
Make content download-able and append a tracking tag to the material so that when the new prospect comes to your site, you can track who sent them.
4. Reward and Thank Your Referrers
How do you motivate clients to participate in your referral program? This is what you need to think about in step 4. What's crucial to remember is that B2B customers have very different motivations for buying than B2C customers, and this will inform your rewards.
Unlike consumers, business users are not normally motivated by money or personal gain when it comes to referral. But, you can still make non-personal incentives work.
Reward customers with different "referral rewards," such as product discounts, free training, gift cards, or conference passes.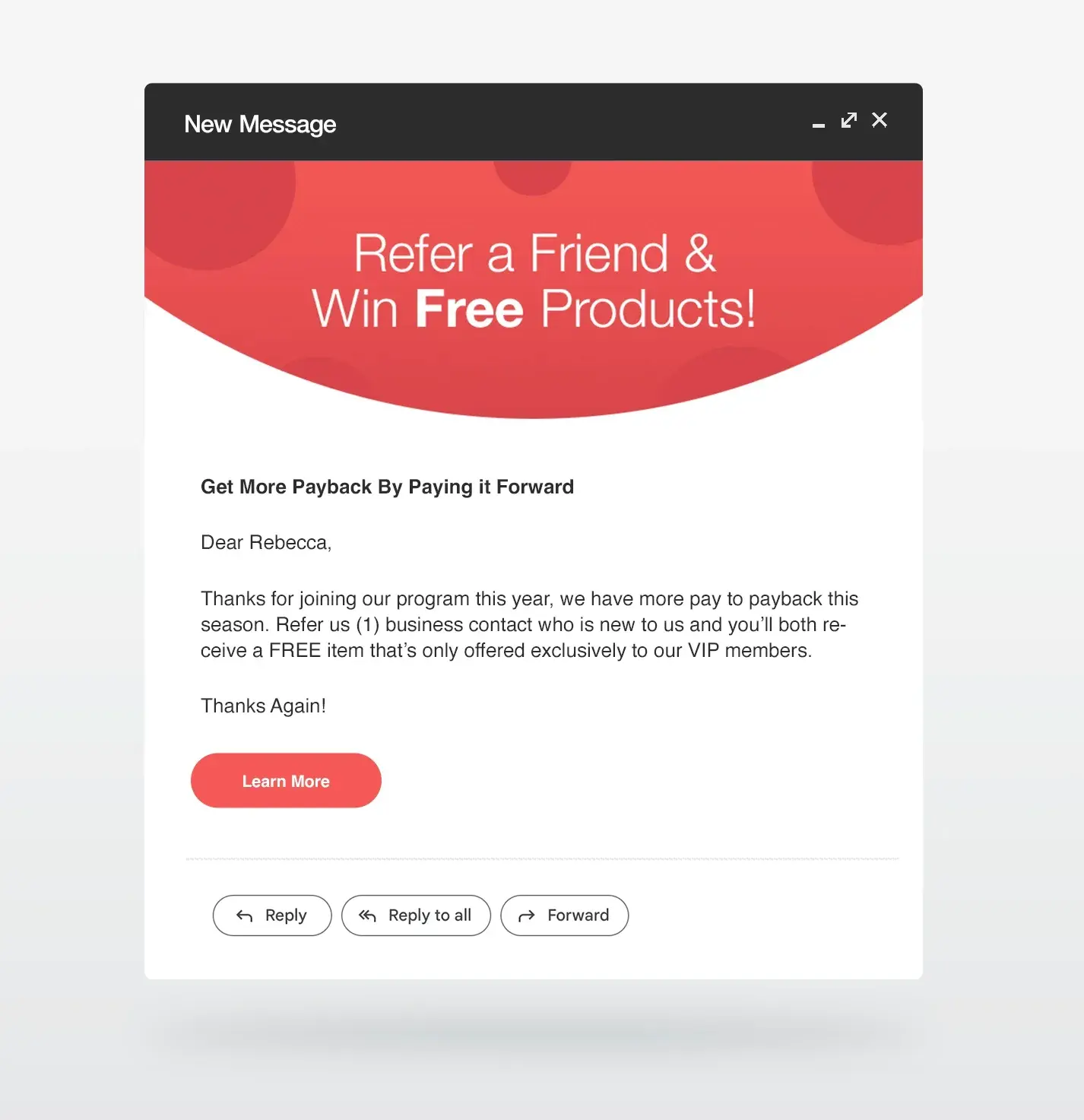 Before you start dishing out the rewards, you'll need to ask yourself a few questions:
How big will the reward be?

How and when the reward will be given?

Will you also incentivize the referred company?
For example, at CustomerGauge we offer to make a donation to a favorite charity as a thank you for the referral — a win-win. Whatever you do, make sure you don't forget your manners. Say a hearty "thank you" to your customers for helping out.
A handwritten note or card might seem old-fashioned, but it has a disproportionate impact!
A Successful B2B Referral Reward: The Golden Ticket
When someone makes a referral, it can be risky for them as they're putting their reputation on the line. If something goes wrong in the transaction, it could reflect badly on them.
The stakes are high and you need to make sure there's a smooth process and a nice welcome mat for all referred customers.
Using the concept of a "golden ticket" can give your referrers a personalized introduction letter (or email) to pass on. It can be used by the prospects to skip to the front of the line or even get to senior staff faster.

5. Measure the Impact of Your B2B Referral Successes
Since one of the purposes of running a NPS and CX program is to create more referral business, it's remarkable that so few companies track if they succeed.
One likely reason is that few CRM systems are set up to link sales and NPS data. However, many companies also don't track which customers refer new business.
Yet measuring the success of your referral program is absolutely essential. Cary explains:
"Think of and treat your referral network as an extension of your sales team. You should track how much they bring to you, measure their true earned growth, and make sure you reward them just like they're a member of your team that's responsible for bringing in the big sales."
You should be tracking some of the following metrics:
Participation rate. How many existing customers are actually taking part in your referral program? Keeping an eye on this will enable you to understand what results you can feasibly expect.

Referral rate. This is the percentage of participants who are actually making referrals. If it's low, it could mean that you need to improve your incentives or better target referrers.

Conversion rate. Just because a customer has referred you to someone else, it doesn't mean that prospect will actually become a new customer. Measuring conversions will tell you whether your referral program needs improvement or if you need to better equip your sales team.

Revenue growth through referrals. In B2B, where some client accounts can be 100x larger than others, it's not just the number of referred customers that matters, but their value, too. Measuring the amount of revenue that comes your way through your referral program is crucial.
This should be divided up by referrer as well to see which customers are bringing in the most value.
Customer referral value (CRV). Finally, this is the amount of value that your referral program is generating. It compares the revenue that you are gaining through referrals to the value of other customs.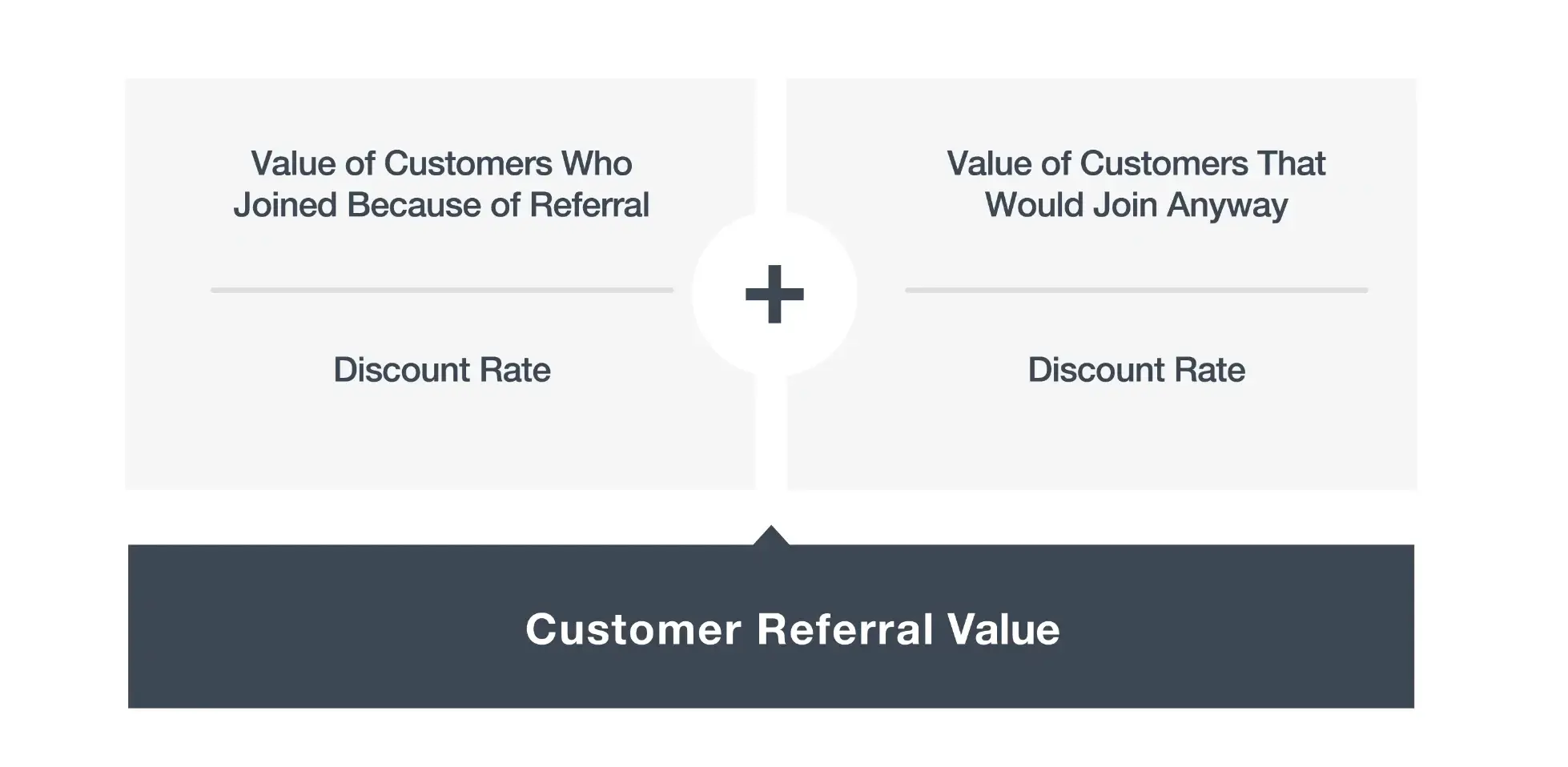 Build Your Own B2B Referral Program With CustomerGauge
Let's end with a final tip from Cary:
"If you are waiting for perfection in your program or all your data to be clean, you have missed the point of a referral program. We all have flaws and opportunities to improve.
"But it doesn't have to be fancy and it doesn't have to be automated, just get started. It's a staggeringly low percentage, around 10%, of B2B companies that actually have a referral program. So you're already going to be ahead of 90% of the competition."
We hope the insights in this article help inspire your own referral program.
To recap, here are some best practices we discussed:
Identify B2B Referral Opportunities with Net Promoter Score

Use Account Experience (AX) to Track Your Best B2B Referral Candidates

Activate Your B2B Referrers (and Arm Them with Content)

Reward and Thank Your Referrers

Measure the Impact of Your B2B Referral Successes
However, any B2B referral marketing program is easier with an established CX program that allows you to identify and monetize opportunities like referrals within your customer base.
At CustomerGauge, we can help.
About the Author