Introduction
There are key moments when an upsell makes sense for both your company and your customer. In these moments, account teams that aren't adequately prepared with customer perception insights and product knowledge leave money on the table.
Here's how to support your frontline to identify and take advantage of key trigger moments in the customer journey.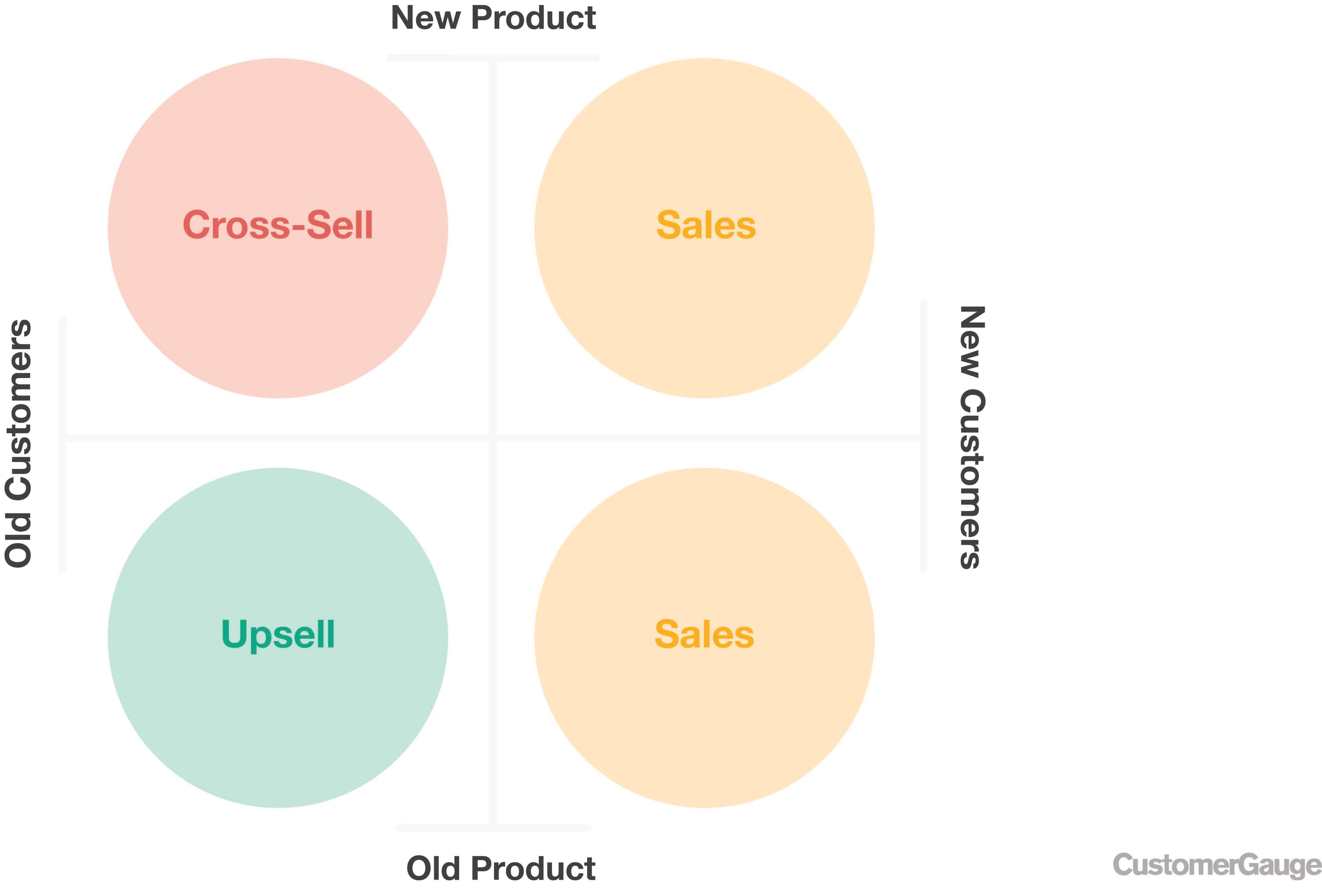 In a 15-word nutshell, an upsell opportunity is a moment in time when a customer is primed to get more value from your company.
Note, I said 'value' and not 'buy more stuff they don't need.' Upselling is not about coercing your customers to buy more, it's about expanding a trusting relationship.
The best upsells happen when your existing customers are ready to get more value from you through a mutually-profitable partnership—it's usually a brief window of opportunity.
The most important questions (and the ones we'll answer in this article) are:
👉 How do you know when the window is open?
👉 How can you encourage it to open?
👉 And, how can you jump out of it when it does?
Here's hoping you're on the ground floor.
Be prepared to pounce (🐯) when an upsell opportunity arises
Upselling is easier and cheaper than new customer sales. Your customers already know you and you've already passed what was likely an arduous procurement process once.
When a value-adding, lifetime-value-boosting opportunity like this falls in your lap, you really want to be wide awake for it.
Here are three ways to prepare your team:
1. Know your product range inside out
Whether it's new products, services, features, or just your standard product, it's imperative your team knows what it is, how to use it, and when it's useful.
Your product expertise could be the difference between spotting an open window and sitting stuck outside waiting for your significant other to get home. I don't know about you, but I don't like waiting outside.

2. Get to know your customer's really, really well
What success looks like to one customer may not be the same as another. During onboarding, take time to understand their definition of success and note down their success metrics.
The better you know your customer's priorities, the better you can tailor your recommendations to them. The best partner in crime comes to the table with new ideas, strategies, and methods for how to achieve success.
Never mind if you don't have this information. Schedule a call and explore your accounts' short and long-term goals. Teamwork makes the dream work.
3. Map out the common trigger moments in the customer journey
Oh look, something just pushed the window open. That's what we call ✨ a trigger moment ✨
Trigger moments are when a customer has just become primed to get more value from you.
Certain events, account characteristics, and engagement signals are indicators that an account is ready to grow.
You do not want to miss those moments. In fact, you want to manufacture them where possible.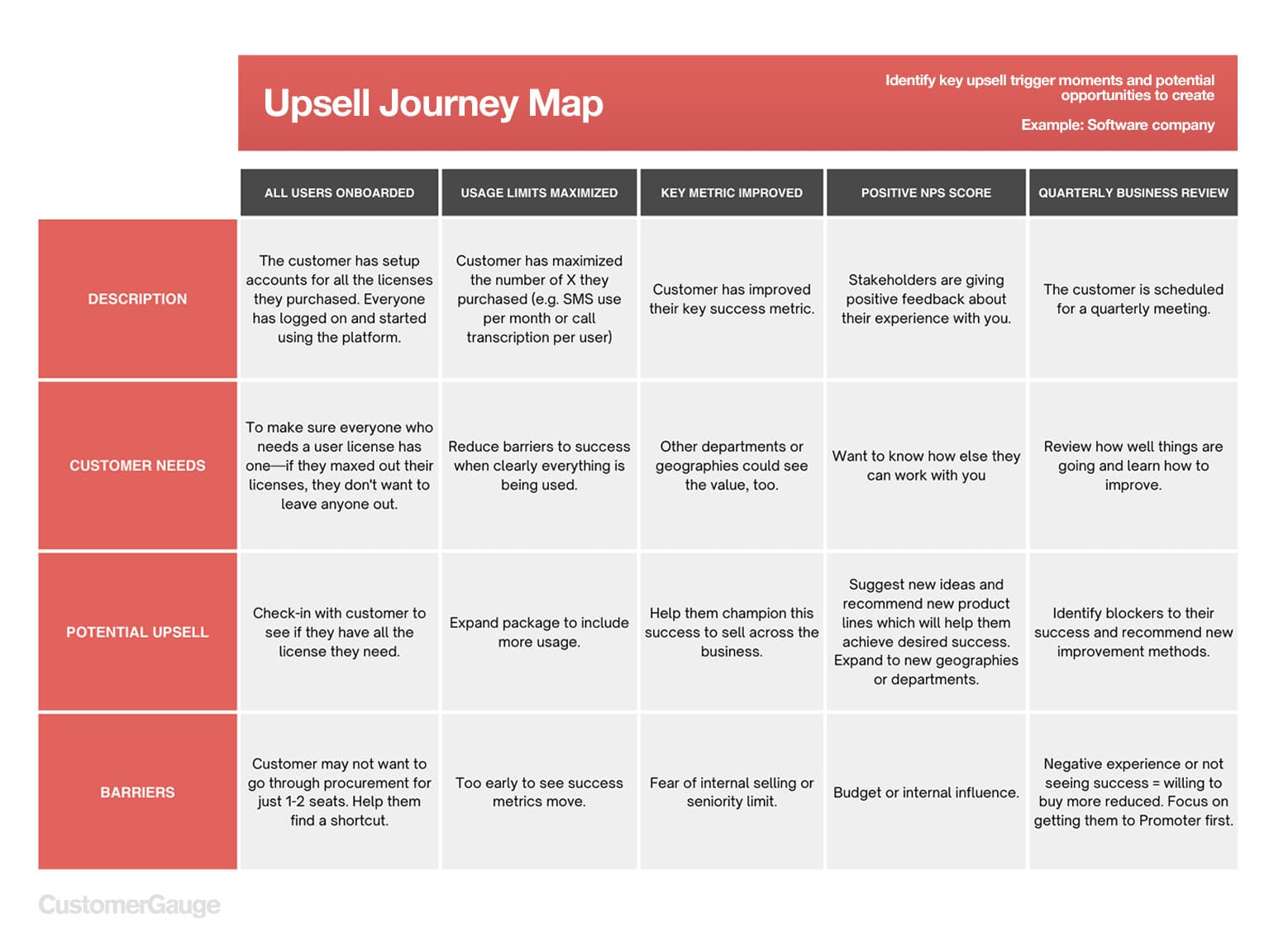 Download the blank upsell journey map here.
In the next section, we're going to look in detail at the upsell opportunity primers to look out for, so stay tuned.

How to identify upsell opportunities — Trigger moments that matter
Your first port of call is to assess each account's characteristics and ask, are they actually able to grow?
Even if they're sending all the right signals, some companies may be too small to grow further.

Can this account actually grow?
Here are three characteristics of an account that's ready to be upsold:
1. They are a large company, but not every potential user is getting value
For example, if you run a user-based model but only 10% of a team is using your product or services…there's likely room to expand by onboarding the other 90% of the team.
"
One example is business size, if we have a huge company where we know there's 2,000 potential users who could get value but they only buy 20 users from us…we know there is a lot of potential for upsell.
Dave Barber
Customer Success Director at CustomerGauge
2. They're a global corporation, but only one geography is using you
For example, if you currently sell your products to the EMEA division of a global organization but not APAC and AMER…there's likely a lot of potential for expansion.
"
If one of our customers is having great success with our product, they're very happy with us and our relationship, but we know we are only working with their European department, that shows us there is an opportunity to expand into the global company.
Dave Barber
Customer Success Director at CustomerGauge
3. They have a large spending potential, but they spend a lot less than others of their size
Sometimes two accounts have similar spending potential, but they spend vastly different sums. Which begs the question, 'why?'
Considering only size and share of wallet gives limited information (more on that in the next section), but it's an early indicator that upsell is possible.

Identify upsell opportunities with Net Promoter
It's no secret that Net Promoter Score (NPS) correlates strongly with lower cost to serve, retention, and, importantly, greater share of wallet. In fact, customers who had the best experience were found to spend 140% more.
You can use an account's NPS together with other factors to better identify upsell potential.
Here are two ways:
1. Cross-analyze account size with NPS score
When multiple stakeholders across an account are consistently leaving positive scores, it's a great signal that they are getting value.
If an account represents a low share of wallet but is leaving high NPS scores, there's likely an opportunity to expand the relationship.
Our friends at Bain & Co shared similar guidance at our annual B2B experience conference this year (here are some 'aha' moments for those of you who missed it). They noted that analyzing performance through the lens of sales data like account size and share-of-wallet alone is a limited approach to deciding upcoming upsell plays.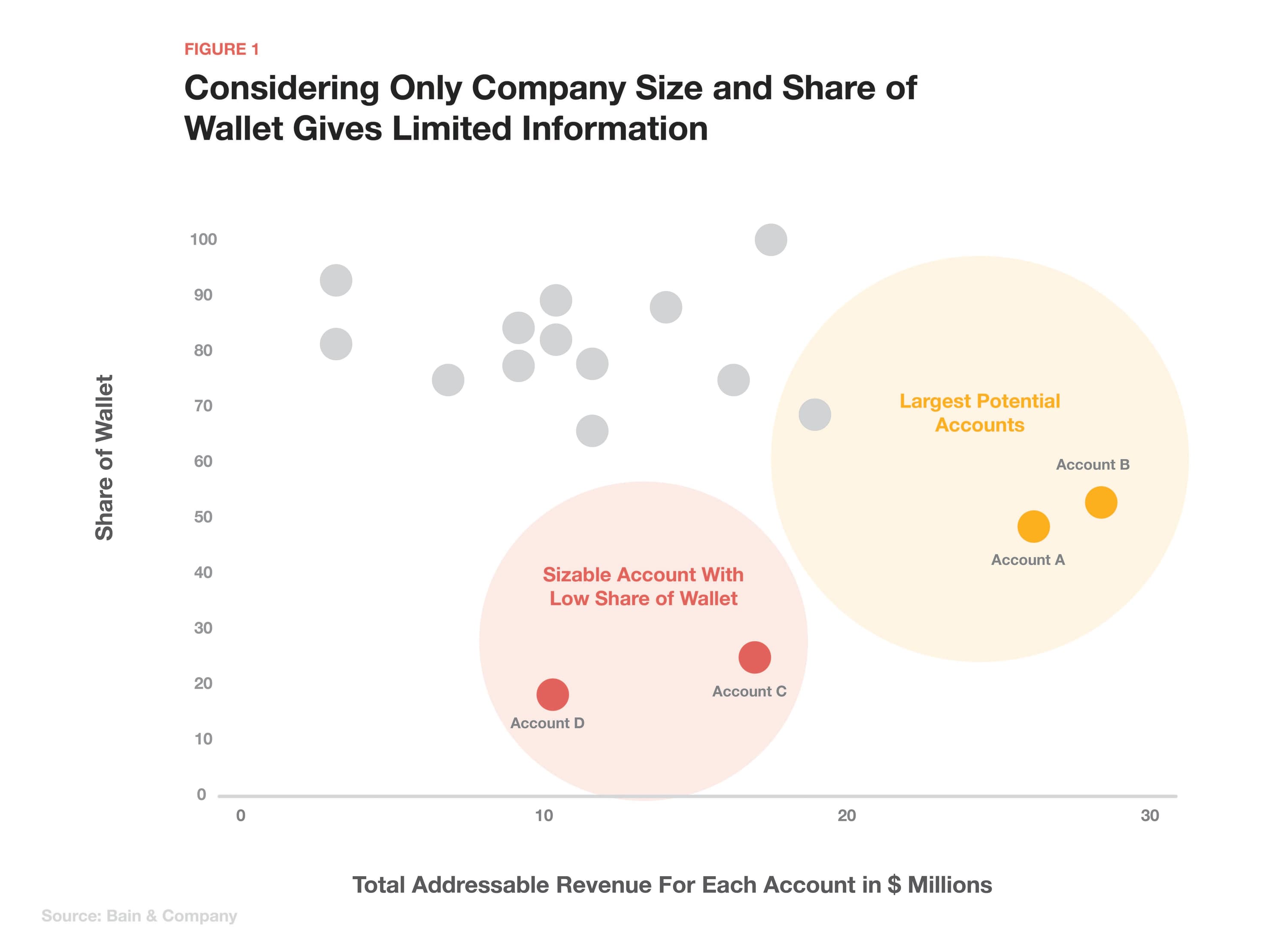 However, supplementing account data with willingness to buy and recommend (indicated by NPS) creates a more useful picture to build a strategy around.
In the CustomerGauge B2B experience platform, our Strengths Weaknesses Opportunities Threats (SWOT) chart shows you the value of each customer account plotted against their NPS score.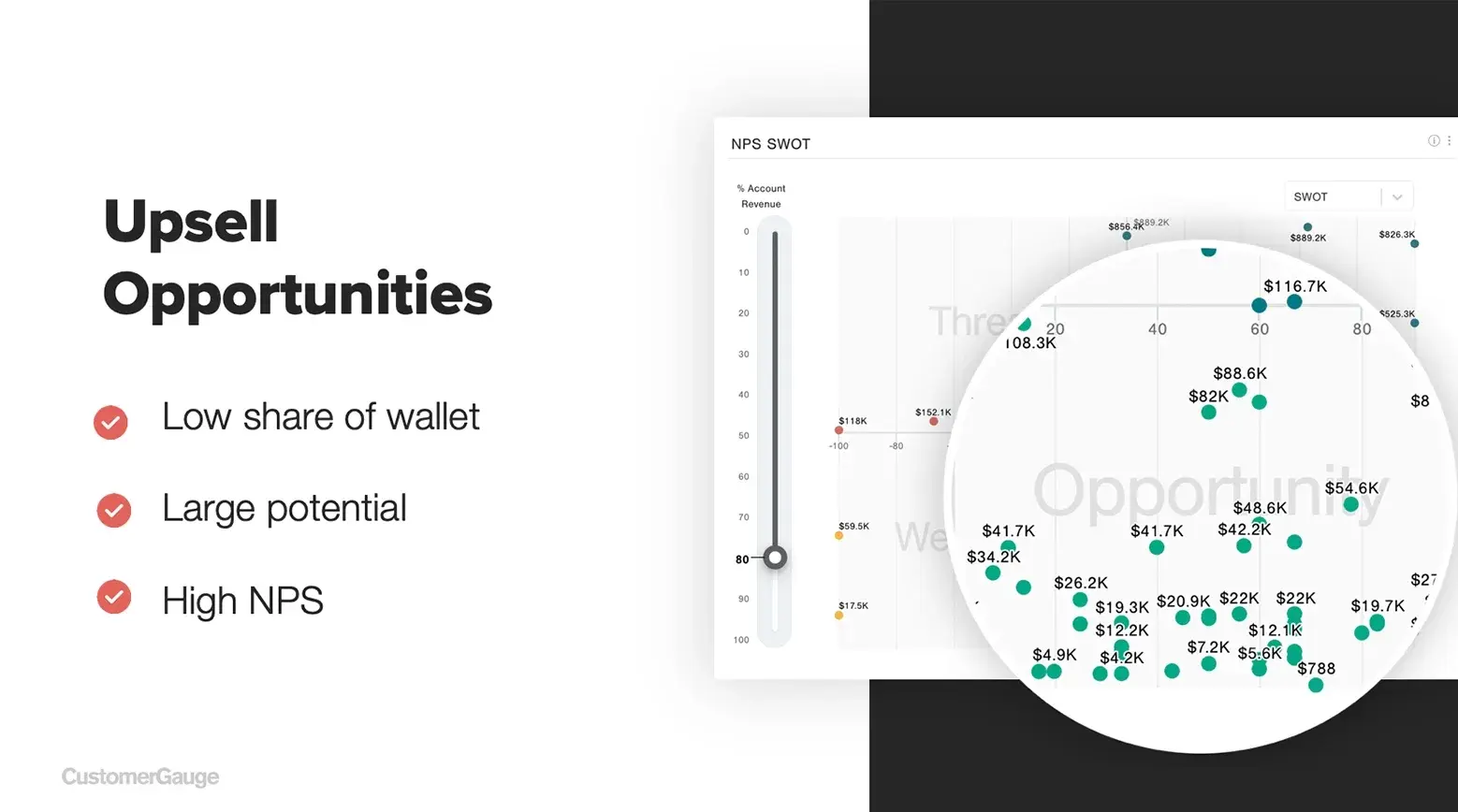 The bubbles on the chart above represent customer accounts. The dots in the 'opportunity' category are your small revenue accounts that are really happy with your service.
Teams that don't leverage customer perception overlook opportunities in their assessment and leave money on the table.
👇👇👇 Learn more about how to use CustomerGauge's SWOT graph 👇👇👇
2. Convert your high NPS customers into upsell revenue
I chatted with Dave Barber, Global Director of Customer Success at CustomerGauge, to understand how we teach our customers to use Net Promoter in their account planning.
He gave me two methods:
Support your champion to sell your product internally
"
f they're an NPS Promoter and have room to grow, this is a big opportunity to set your key contact up as an internal champion and support them to sell to other departments and geographies in their business.
For example, one of our customers at CustomerGauge recently shared how our product works to their peers in other geographies of their business—explaining the opportunity in their own words.
This is a great example of Earned Growth, where the value you bring to your customers earns organic referrals and upsells itself.
Top Tip:
The more senior your stakeholder champion is, the better able they are to influence the wider organization later down the line.
Use Net Promoter Scores to decide who to show new products/features
"
Alternatively, if you've just released new products or features, Net Promoter can guide you on who to reach out to
Dave Barber
NPS scores signal who will be most willing to hear about your new features and products, and who will be least willing.
"
If a customer has faced lots of recent outages, has steadily used your product less and less, or has recently left a Detractor NPS score, it's important that you focus first on showing them value and building them into an NPS Promoter before asking to sell more.
Dave Barber
Customer Success Director at CustomerGauge
Identify upsell opportunities with engagement signals
How much and who is engaging with your products and services helps identify upsell opportunities.
Here are three examples:

A stakeholder just set up an account or contacted customer support who is from a separate new department or geography.

An account just hit its usage limits and needs to extend them.

The individuals in the account are responding to feedback surveys at a higher than average rate than other accounts.
These are all useful signals to include in your upsell opportunity assessment.
We built an activity timeline into our experience platform to help customers flag low or high engagement from their accounts.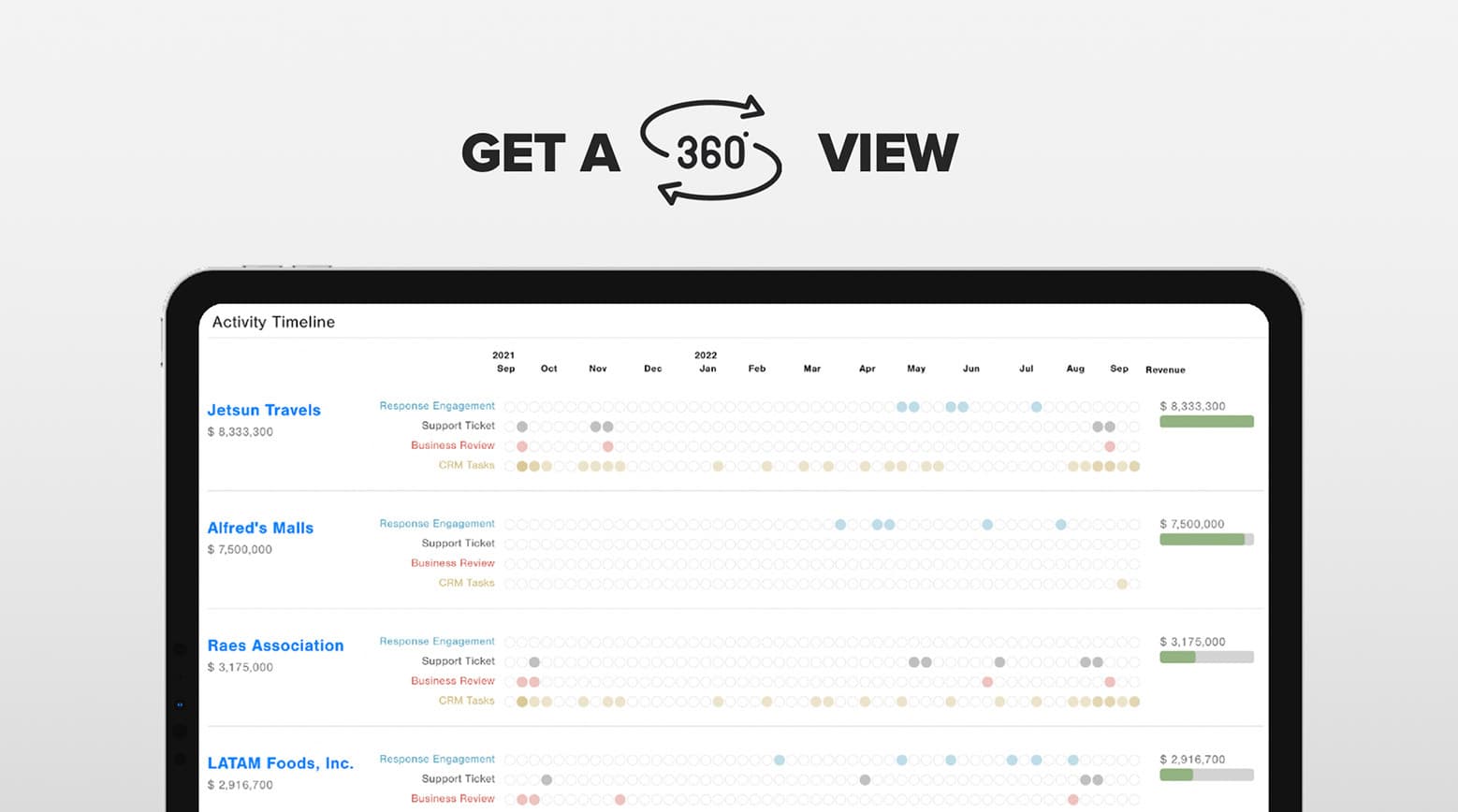 Users can assess engagement levels on a per-account basis, ordered by revenue or Net Promoter score so that it's easy to take a cross-sectional view of revenue opportunity and positive engagement signals.
Identify upsell opportunities with 'what next' ideas
Not everyone has NPS and engagement signal insights to hand, but even if you do, thinking about the 'what next' for your customers will help expand your accounts.

'What next' ideas simply capitalize on the positive results and achievement milestones on which you've helped your customer.
Here are some examples of 'what next' upsell opportunities:
First results and hitting success milestones, what next?
Results milestones are an important trigger point. You've helped them hit their metrics of success, so now sit down with your customer and discuss:
What's working well?

How can we do more of that for you?

How can we help other departments copy your success?
They're maximizing value, what next?
Lets say your customer purchased $X from you as a first step to prove value. They've been doing well and have maximized what can be achieved on their current budget.
This is a great trigger moment to book a meeting with your customer and explore upsell opportunities.
Things are running smoothly, what next?
When your customer has been doing business with you for a while and are happy with your service, it might be time to think about new product lines.
Here's what to ask yourself:

You've sold them X, what do they need next to achieve their goals?
Example: You sold a website design service and have just delivered the website. Could they use
Example: You sold a large pub chain your most popular lager to distribute and sales are looking good. Could they also be interested in your new IPA? Or perhaps, your new hard seltzer range?

You've sold them X, could you offer them more convenience?
Example: You've sold your software but you know it's a pain to train new users. Could you sell them your training services package to save them the headache?
Example: You've sold a pub chain your most popular lager, might they also want your automated supply measurement device to get alerts when their supply is running low?
Ultimately, your skill at upselling relies on your ability to suggest new creative ideas that help the customer achieve their goals.
When to pounce (🐯) on an upsell opportunity
There are two approaches to upselling: passive and active.
In the passive approach, simply help your customer maximize the value they get from your products and wait until they tell you they want more.
"
If I have a customer that comes along and says, 'right, I want to use CustomerGauge, these are my goals and I need this kind of stuff', I get them going, help them get the right teams involved who will get value out of the product and help maximize the value their company gets. At some point, as more and more users and departments see the value and want some for themselves, then the cost/amount we charge will need to grow alongside it.
"
The goal is to get them to value as quickly and friction-free as possible, and as a consequence other departments see what they're doing and want a piece of it.
Dave Barber
Customer Success Director at CustomerGauge
Focus your account teams on delivering an exceptional experience and let it speak for itself.
On the other hand, a more active approach is to look for key characteristics and trigger moments and make them the basis of your outreach plan.
"
A more active approach is to reach out to other departments and invite them to get value as well rather than waiting for them to come to me.
Dave Barber
Customer Success Director at CustomerGauge
A great time to reach out is:

Quarterly business reviews: If you've got a meeting planned in the diary, that's the time to suggest new ideas and make recommendations. Bring your A-game.

In the time of need: There's no harm in reaching out immediately when you've identified a need. For example, if your customer has just hit their max usage limits, not reaching out and offering to 'unlock the block' could actually damage their experience.
"
Expansion is a constant thing we're doing, say if they want more users or they've hit a usage limit. But, if it's a brand new functionality that we know would deliver value, then we would wait til the business review to bring that up. For example, if we were setting goals for the next quarter we would include feature expansion in that plan.
Dave Barber
Customer Success Director at CustomerGauge
Systemize your upsell opportunity process
To systematize your program, we strongly recommend you take a cross-section of account potential, account size, and experience data into your opportunity assessment.
Combine this with team training on a key-moment journey map to find your winning upsell opportunity formula.
Want to chat more about integrating CustomerGauge's B2B experience platform into your process? Reach out to us here for a short exploratory call with our team.
About the Author