We love original data at CustomerGauge. Especially the stuff that pushes this industry's thinking forward.
We send 100,000s of Net Promoter Score (NPS) surveys each year, so we thought, why not look there to see what we can learn about NPS detractors?
Simply put, an NPS Detractor is a survey respondent who leaves a score between 0 and 6 on the NPS question.
A score in this range has been proven to correlate with a customer who's least likely to recommend your company and most likely to churn.
They don't sound great, do they? However, don't make your conclusions too soon.

Our findings showed that Detractors could be your most valuable survey respondents.

Not only are they more engaged, but they leave more feedback than other groups.
In this article, we argue that Detractors are, with some care and attention, your future source of growth.

What Is A Detractor in NPS? The NPS Detractor Definition
In the world of Net Promoter, a detractor is simply defined as someone who leaves a score of 0-6 on the NPS scale when asked:
"On a scale from 0 to 10, how likely are you to recommend our service/product/brand to a friend or colleague?"

Respondents who fall in this category were proven by Fred Reichheld & Bain to have:
Increased likelihood to churn

Decreased likelihood of account expansion (share of wallet)

Increase likelihood to complain to customer service and others about your service
In other words, they're not good at all. A company with a healthy revenue base has a minimal percentage of Detractors.
However, and this is where it gets interesting, our original data at CustomerGauge suggests that if Detractors are handled properly they are your most valuable source of customer experience (CX) improvement, future Promoters, and referrals.

NPS Promoters vs Detractor vs Passive (vs Non-Respondents)
Let's look at what the data says about Detractors versus other NPS categories.
Promoters: They leave a score of 9 or 10 on the scale. Famously they are lower cost to serve, more likely to refer, and more likely to buy more from you in the future through upsale or cross-sale channels.
Passives: They leave a score of 7 or 8. In between Promoter and Detractor, Passives are lower risk but you can consider them only a churn risk if a better option comes along with low barriers to entry.
There is also an important final group we haven't mentioned much in this article: non-respondents.
Many suggest that you must consider non-respondents as Detractors to get a realistic understanding of your customer's health—an absence of signal should be considered a high-risk signal itself.
Just look at the impact on your NPS score if you assume non-respondents are Detractors: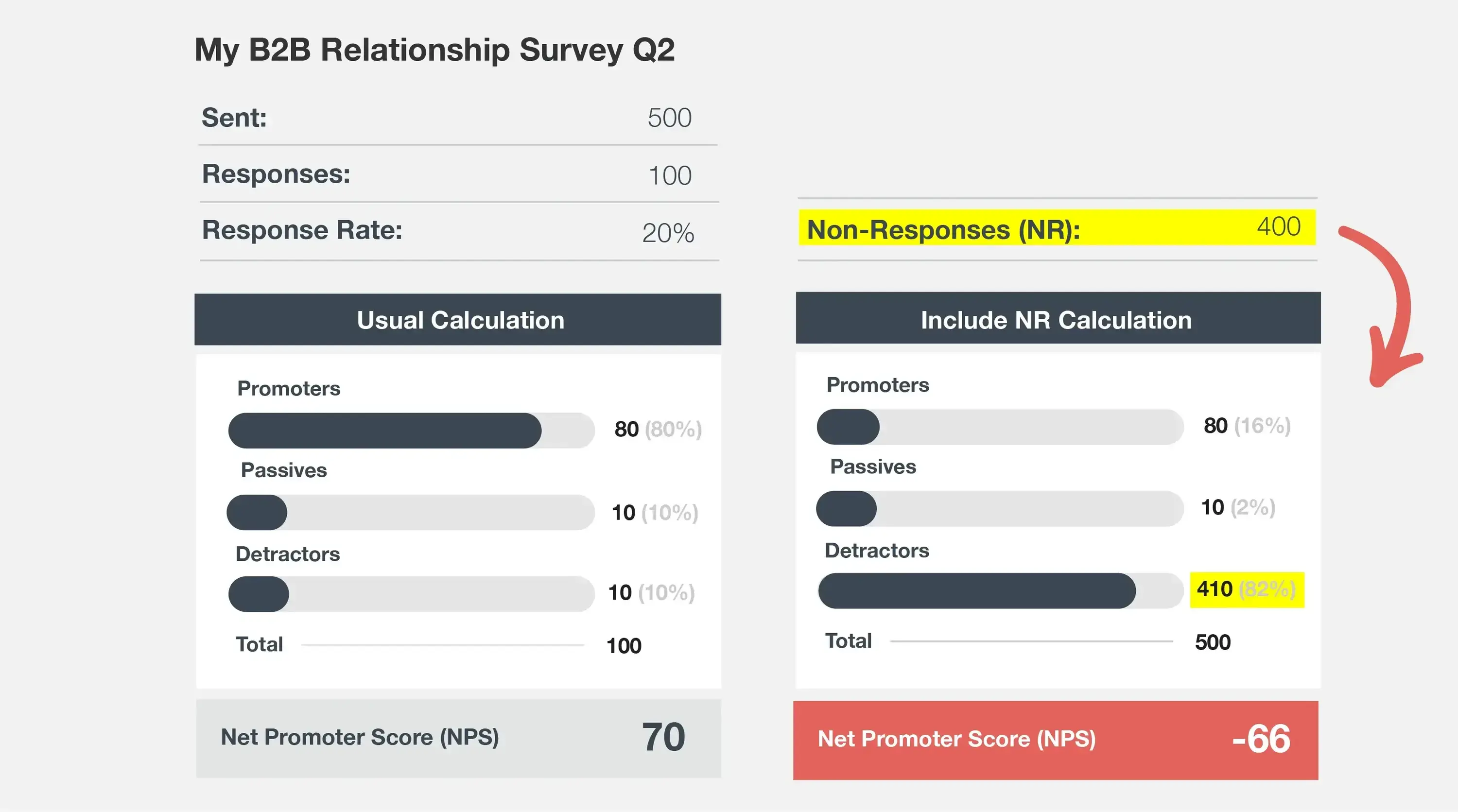 We'll leave non-respondents out for now; let's start with a comparison of Detractors, Promoters, and Passives using our own anonymized customer data (our customers tend to be large corporate B2B companies in manufacturing, consumer packaged goods (CPG), IT services, and other technology).
What The Data Says About NPS Detractors
1. Detractors spend more time completing surveys
Detractors spend up to 36 seconds longer filling out their surveys, which shows they're spending more time helping you improve.
An engaged user, even if angry, is one that cares about their experience with you. That's much less of a precarious situation than a disengaged customer (for example, one who doesn't fill your survey out at all — we'll come back to this point later on).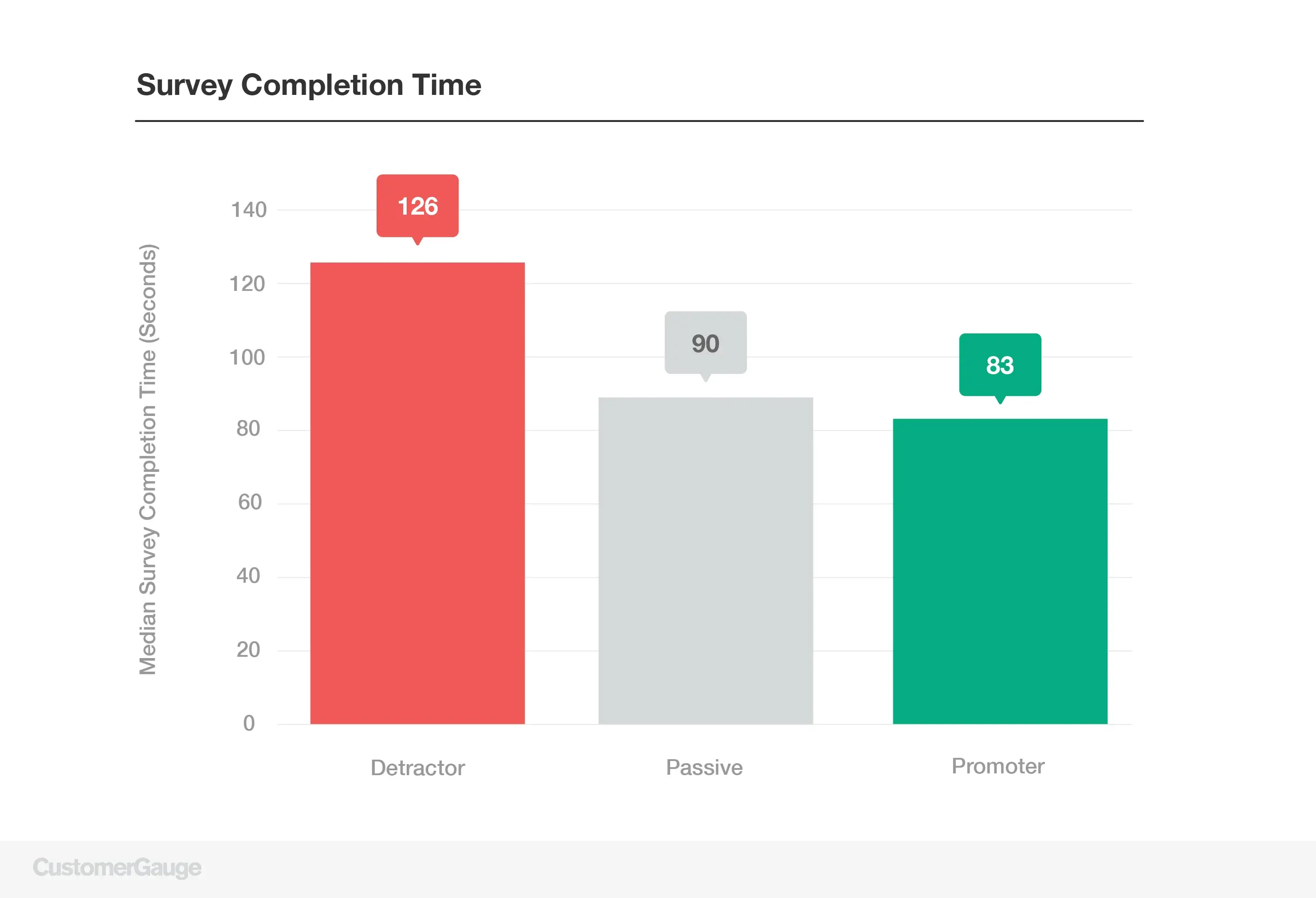 2. Detractors are more vocal
Respondents who are Detractors leave a reason 64% of the time. That's more than double your Promoters!
This is an interesting finding. Detractors clearly care about their experience enough for them to take the time to respond. They're annoyed, but they're also…invested.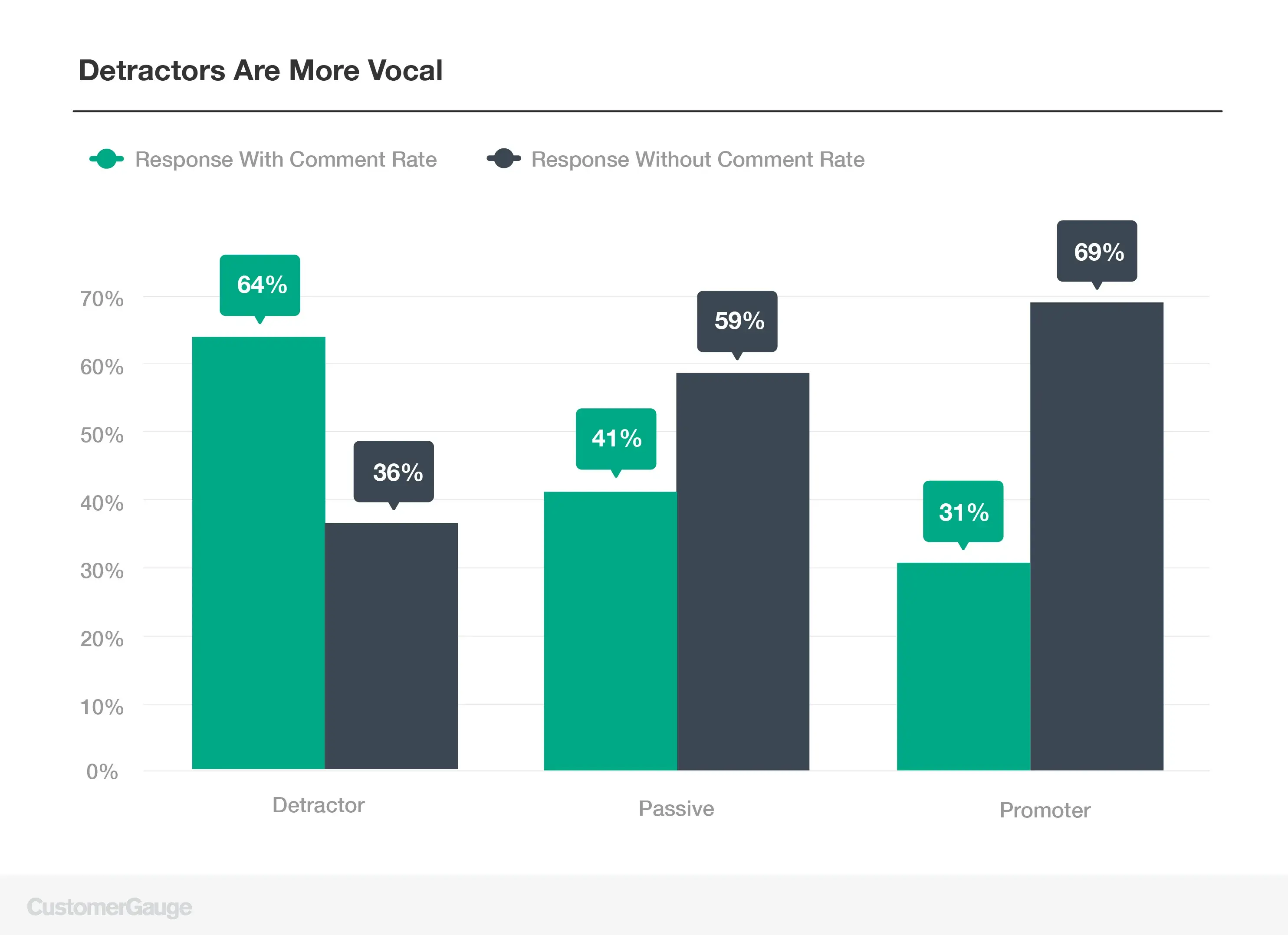 3. Detractors leave longer comments
So, not only do they spend longer completing your survey, but they also give a lot more feedback. On average they give 13 more words of feedback.
This gives you more to work with to further understand what areas need improvement and why.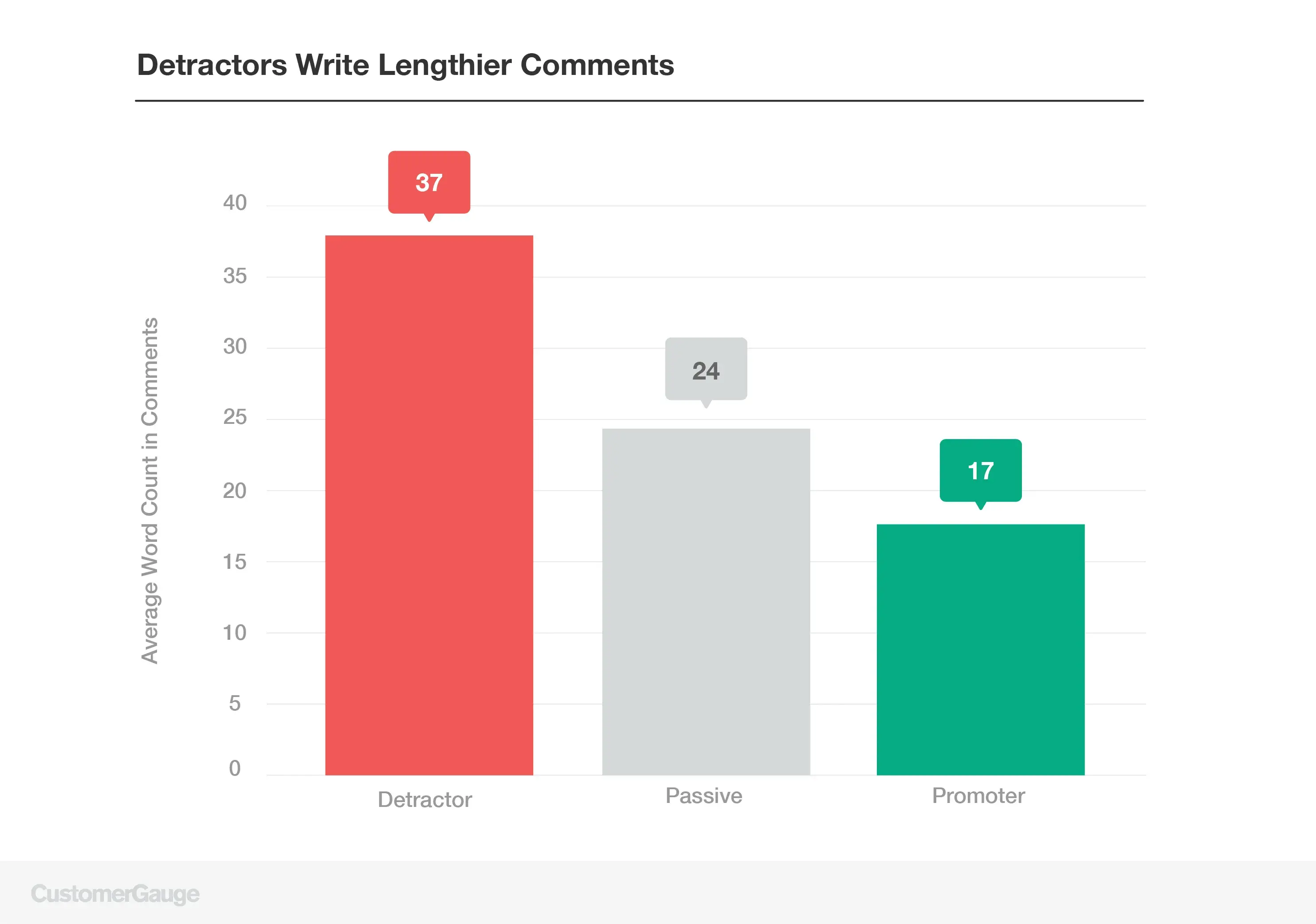 How to Turn NPS Detractors Into Promoters
What does all this data tell us about Detractors? That they're a good thing!
They're your greatest source of feedback and learning and your best opportunity to improve as a business.
And, this is where things get interesting…perhaps, they are your greatest source of future Promoters.
Our data on closing the loop suggests that companies with a case management system to close the loop (i.e. they follow up with Detractors and take action on their feedback) see THREE TIMES the number of Promoters than those who don't.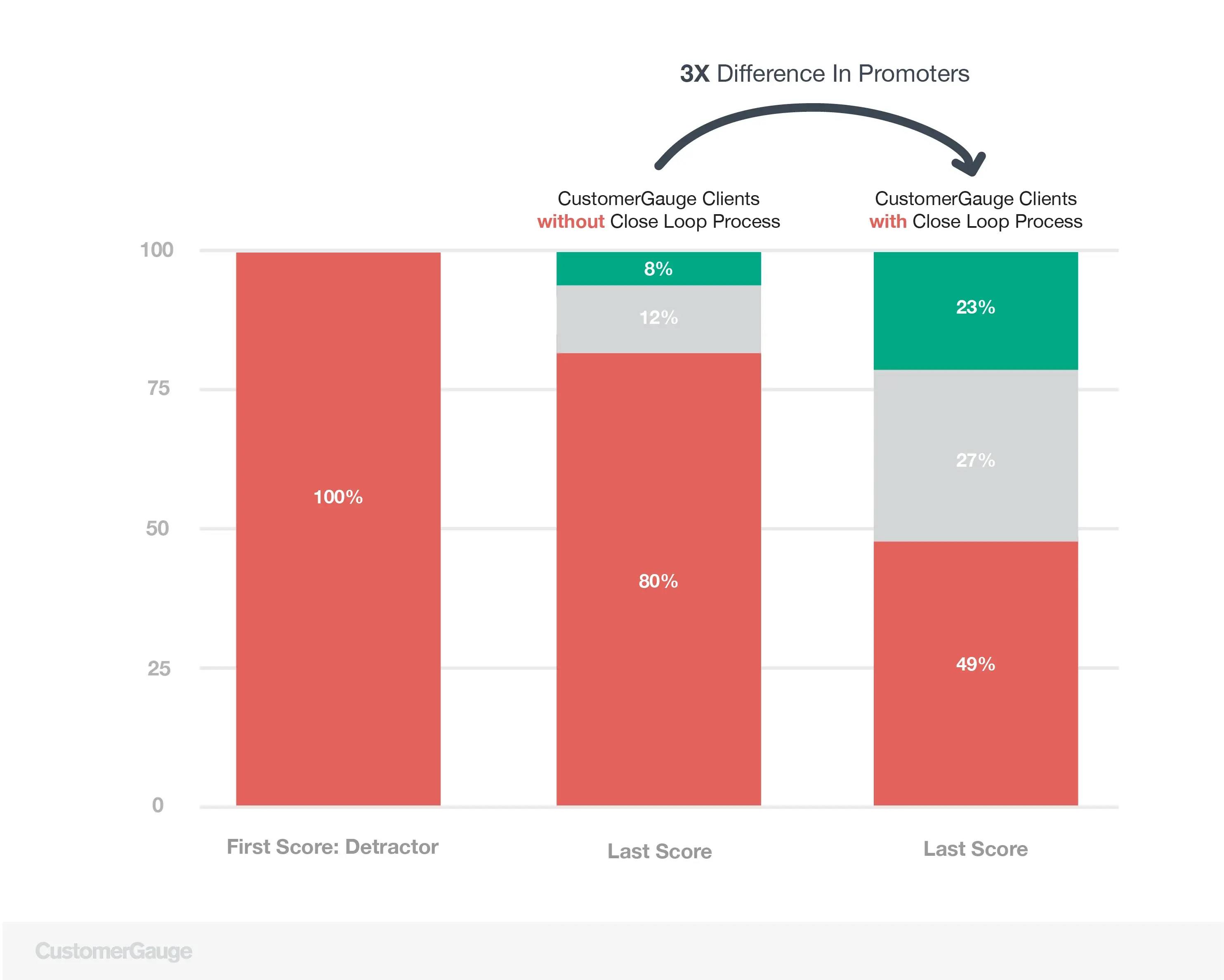 This could imply that Detractors when they're listened to and their feedback acted upon, are your next Promoters.
Who doesn't want more Promoters? They're where you can get more upsell opportunities, more referrals, and save on cost-to-serve.
Closing the loop quickly (<48 hours) and efficiently, using an NPS technology that supports fast case management, is your best route to turning Detractors into Promoters.

5 More Strategies to Turn NPS Detractors Into Promoters

In no particular order, here are five ways to bring back detractors from the precipice of customer churn to become your biggest champions.
1. Get senior management on the phones: Our customer DHL Supply Chain sends daily reports to senior management. High-value accounts that leave Detractor scores are followed up quickly — even the C-Suite picks up the phone.
The respect this shows is important to angry customers and, if their advice is listened to, is likely to flip them quickly to Promoter.
2. Boost your response rates: This one's critical and we repeat it often. The more feedback you have the more you're able to improve the relationship with that account and focus improvements on your most important customers.
In one of our recent newsletters on response rates, we show evidence from our customer, Briggs Equipment, on how close the loop properly also increased response rates and, as we've already shown, closing the loop leads directly to more Promoters.
Learn more about improving NPS response rates here.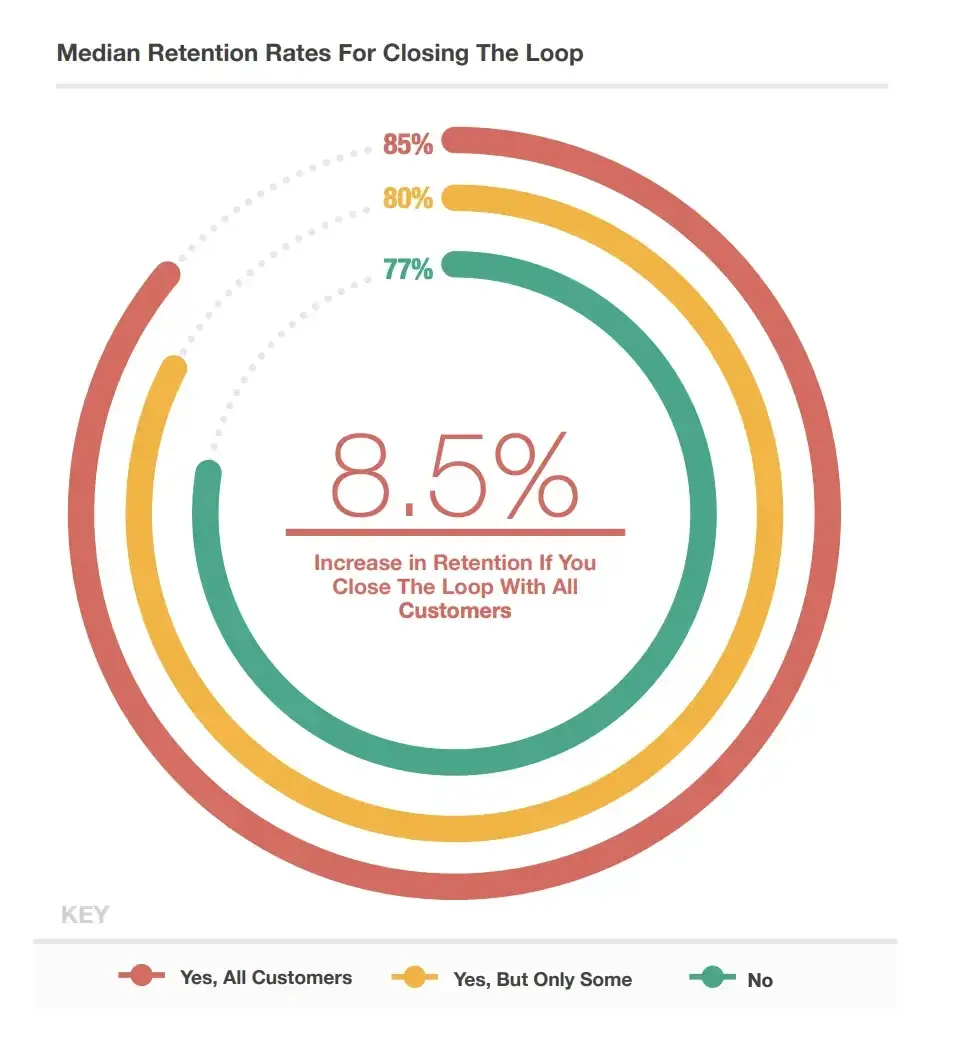 3. Leverage smart case management: Professionalize your closed-loop system with a case management system like CustomerGauge. We make it simple for frontline teams to close the loop, account managers can even do so on the go from their smartphones.
But, beyond this, CustomerGauge has built an advanced alerting system that ensures closing the loop stays to best practice (done within <48 hours).
Frontline agents and senior management, can each receive notifications for events like:

A survey email bounced (and other indicators of the quality of voice of customer signals coming from an account)

No responses have been received from an account

A new response was received

A case (i.e. a negative score) has been open for X hours
All of which ensure a voice of customer program is managed properly, in a way that drives account relationship health (and more promoters).
4. Conduct an NPS root cause analysis: If you're effectively case managing the issues that can be handled quickly by frontline managers, then it's time to turn to your company-wide CX improvements. Because they rely on other departments to play ball, these changes can be trickier to make happen.
In our guide to NPS analysis we discuss three methods: competitor benchmarking, driver analysis, and verbatim analysis. Leverage these to build evidence to present to other teams.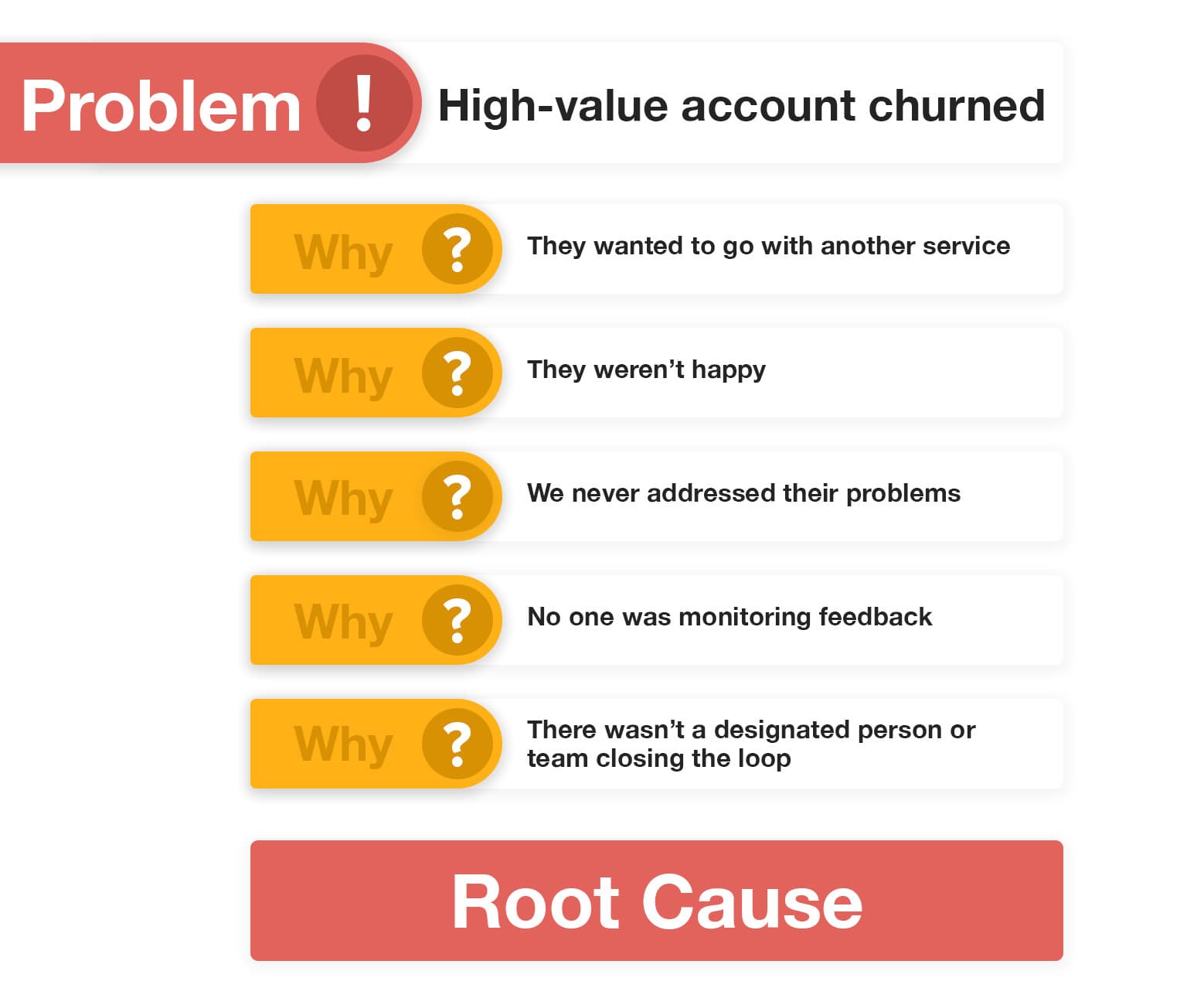 5. Monetize NPS to unlock more resources: We coach our customers to monetize NPS as part of the Account Experience (AX) methodology. In AX, we suggest linking your customer account revenue data to their experience feedback, that way you can easily understand the financial risk of Detractors and the ROI of converting them to Promoters. It goes without saying that this data is extremely effective at convincing C-Suite teams to invest in your experience initiatives.
There are plenty of other methods to improve your NPS score and boost your customer retention, feel free to reach out to our team to chat strategy.
NPS Detractor Follow-Up Email Templates
For those looking for a template to follow up with Detractors in your closed-loop process, look no further.
This is your best opportunity to:
Show your customer you're listening.

Understand their experience and how you can improve.

Win back the account's loyalty.

Demonstrate how you will implement their feedback.
So, what do you need to say to them?
We have a gallery of 'Thank You' Emails right here in our help centre.
Here are some examples:
Template 1
Hi [customer name],
Thanks for recently completing our NPS survey! We're really disappointed to hear that you're not satisfied with [our product/brand].
We're always striving to meet the needs of our customers and we welcome the opportunity to improve your experience. What is the biggest problem that we are not addressing for you?
If it's easier for you, I am happy to schedule a call with you this week to hear your thoughts in detail.
Thank you again for your feedback. We're committed to doing what we can to improve your experience in future.
Best,
Template 2
Or:
Hey [name],
You recently rated our services 5/10 and we're disappointed to hear that we haven't satisfied you.
We want our customers to be happy, so it would be great to understand what isn't working for you.
Would you have the time to tell us what happened, and what we can do to fix this?
Thank you,
[name] from [company name]
It's as simple as that. But making sure that you do it can turn a lost client into someone who really respects your brand.

Identify and Reduce Your Detractors With CustomerGauge

CustomerGauge is the leading provider of B2B Account Experience (AX) software and solutions.
The CustomerGauge Account Experience solution collects feedback and customer churn signals at the account level and distributes this information, in real-time, to front-line employees so businesses can proactively retain and grow accounts faster.
Account Experience also takes the guesswork out of the customer experience ROI equation by linking all account metrics and sentiment directly to revenue so you can maximize buy-in from the C-Suite, ensuring long-term program success and cultural transformation.
Book a demo with our team to find out how we can make your B2B customer experience management easier.

About the Author