In 2012, only 36% of companies expected to compete on the basis of providing exceptional customer experience (CX). Today, that number has skyrocketed to 89%. A massive shift has taken place, from service-centric to customer-centric business.
In the past, leaders may have expected to rise to the top of their respective industries by focusing on aggressive marketing, optimizing revenue streams, or hiring more staff. And while none of those strategies are necessarily detrimental, they don't always produce what every business needs to thrive: a loyal, high-value customer base.
On the other hand, focusing on providing a high-value customer experience – and strategically measuring and acting on CX or AX metrics like Net Promoter Score ­– can help produce loyal, enthusiastic customers. These are the ones that stay with your brand, make valuable referrals, and generally demand less, buy more, and provide constructive feedback.
Unfortunately, providing excellent customer experience and focusing on measuring CX metrics doesn't always get buy-in from key decision makers. Especially in B2B companies, C-suite executives and middle management sometimes fail to see the critical link between focusing on account experience™(AX) and increasing revenue.
The result? Companies blow through acquisition costs…while losing high-value accounts.
To stop this costly cycle, decision makers need to see the value of measuring, acting on, and growing metrics that indicate the health of customer (or account) experience. They need to see the direct link between monitoring account relationships and revenue. They need to know that continually measuring and acting on CX metrics – specifically, NPS – can result in higher profits and increased efficiency.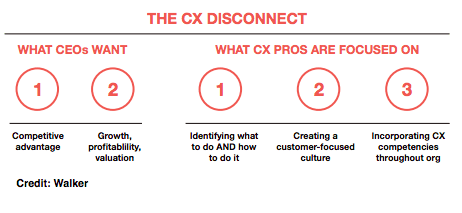 Ultimately, C-suite executives will be persuaded to get on board with CX metrics when they see that they can be monetized. (We've covered this concept in greater detail in this article). Once leadership is convinced of the financial value of a customer-centric approach, they'll be ready to adopt a shift in attitude, mindset, and approach. The end goal? C-suite execs, account managers, and mid-level management champion CX and NPS as a core part of decision-making – and see powerful results. Here's how to make a strategic approach to customer experience and Net Promoter Score a part of your company ethos:

Make the Case for Impact
73% of customers say that a positive customer experience is a key driver of loyalty to a brand or company. But focusing on delivering positive customer experience and closing the loop on Net Promoter Score do more than just drive up intangibles like loyalty and satisfaction.
Focusing on the overall experience in a measurable, revenue-driven way ultimately reduces churn and lifts retention. For B2B companies, this means holding onto key accounts and gaining valuable insight into current relationships. Ultimately, focusing on Account Experience and strategically measuring NPS also translates to more referrals and more up-sell and cross-sell growth.
Prevents Dangerous Churn
The term "churn" doesn't typically scare C-suite executives. Churn is considered a normal part of the business cycle. But in context of losing a high-value account without warning, churn can have a sudden, destructive impact. And when this loss was avoidable, churn needs to be taken seriously. And a traditional approach to monitoring account satisfaction – even measuring CX metrics – won't cut it.
Imagine this: Your company has been surveying your accounts, getting a great response rate, and even receiving an above-average Net Promoter Score. You feel safe and secure; Your accounts seem to be happy with the experience you provide, and likely to stick with your company. Then, accounts start dropping off with no explanation or warning. And when some of these accounts signify million-dollar clients, you're in trouble.
This is a wake-up call to consider your company's core approach to evaluating current account relationships – even if you're already partially invested in creating a better customer experience and measuring Net Promoter Score.
The difference between companies that "dabble" in AX and NPS and companies that are heavily invested in monitoring account experience and satisfaction is significant. The former might calculate their score and even close the loop in most cases, but they may be missing out on "blind spots" that pose a real danger to some of their most valuable accounts. If a high-value account never took their NPS survey, managers may have no way of knowing if this account is unsatisfied.

Companies who use advanced, revenue based actions in an NPS system see the most significant increase in revenue.
But companies that have made customer experience and NPS a part of their very ethos – and invested in the tools and strategies needed to make this approach successful – see massive reductions in churn.
CustomerGauge provides a detailed, in-depth view of each account, with churn likelihood based on frequency of NPS tracking, account engagement, and other strategically important account signals. Rather than guess at an account's level of satisfaction – and then lose the account suddenly – managers have the ability to accurately monitor engagement and loyalty with the help of state-of-the-art machine learning.
Lifts Retention
Along with helping B2B companies avoid dangerous levels of churn, prioritizing the customer or account experience can help significantly lift retention.
A Net Promoter Score survey asks how likely a customer (or account) is to recommend your service to a friend, coworker, or relative. The resulting score – the NPS – can serve as a powerful indication of the level of customer loyalty and engagement, and likelihood of churn. But NPS must be used strategically in order to be effective.
For example, companies that survey their customers for NPS but do not perform additional analysis have a retention rate decrease on average of -0.2% a year. But companies who survey their customers and look for root causes see an average increase of 1.8% in retention per year, according to the 2018 NPS Benchmarks Report.
Better yet, companies who use shorter surveys (2-6 questions) see a 2.3% increase in retention per year. And finally, companies who survey their customer bases frequently – at least once a quarter – see the largest impact, with a 5.2% increase in retention.
The conclusion? Companies who regularly survey their customers for NPS with short surveys and perform root-cause analysis of those surveys see significant growth.
If you'd like to take a look at CustomerGauge's Root Cause Analysis ebook, click here.

Link to Revenue
C-suite executives are interested in growth, profitability, and hitting targets. They want to see that CX/NPS has a numbers-driven value that will give them a competitive advantage. Fortunately, many companies are monitoring their CX/AX ROI in real-time!
Monetizing NPS
The classic mistake made by adopters of Net Promoter Score is not monetizing NPS. Only monetization can create a direct link between collecting and tracking NPS and measurable ROI – helping to maintain C-suite buy-in.
The reality is, setting (and meeting) targets for your Net Promoter Score can help you see significant changes in revenue. Promoters, passives, and detractors spend differently, engage differently, and pose different costs to your company. For a B2B company, converting a handful of passives into promoters can make a massive difference in revenue generated.
CustomerGauge's NPS Revenue Simulator links Net Promoter Score to hard data, to help you predict how changes in your score can affect your bottom line. You'll be able to see the average spend of promoters, passives, and detractors, and how much revenue is being produced by each category. The NPS Revenue Simulator helps decision makers to set measurable targets that keeps both revenue and account experience at the center.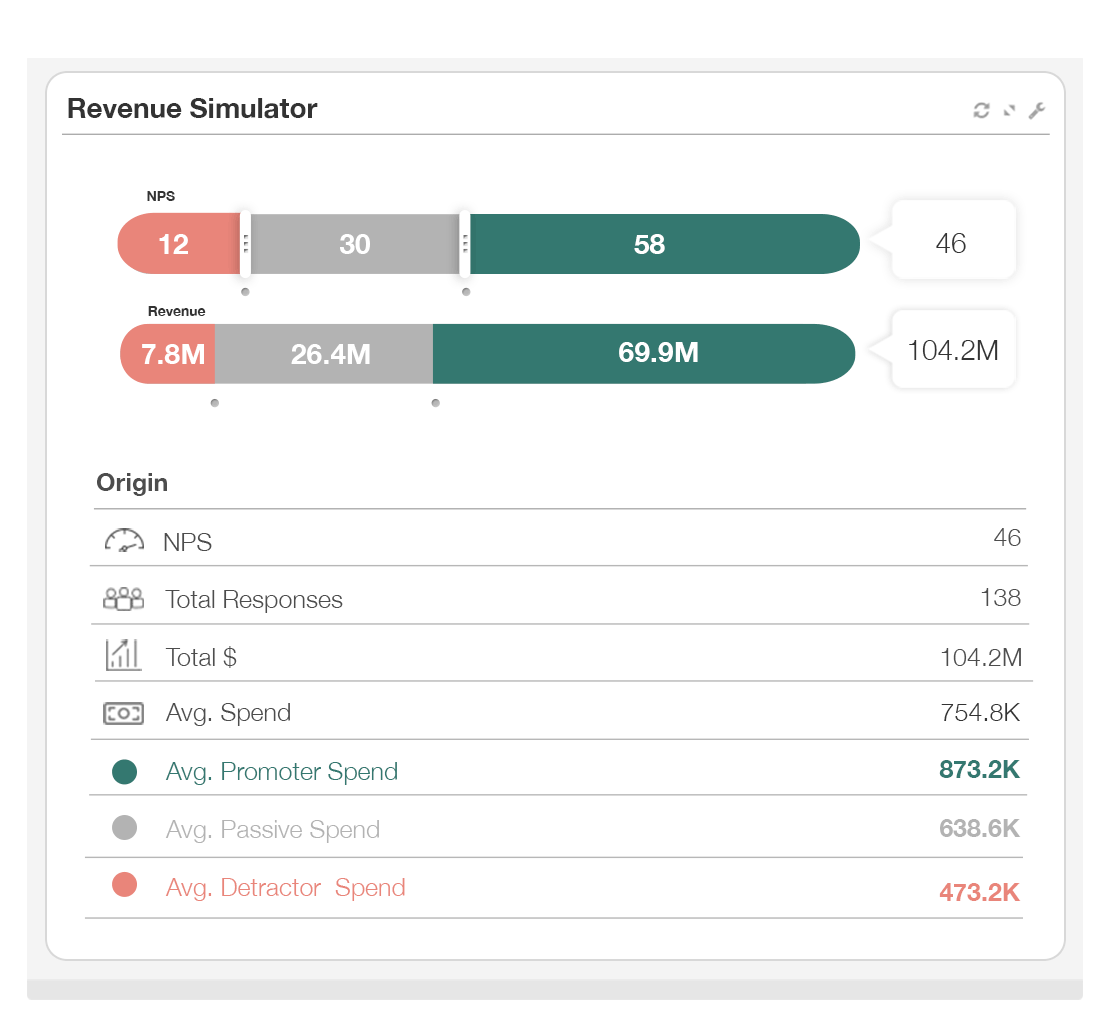 Strategic Decision-Making
All customers are valuable, but not all customers have the same value. Understanding how much revenue is produced by the top 80% of your accounts versus your bottom 20% will help you make better decisions when it comes to prioritizing your accounts. CustomerGauge's Customer Lifecycle Report can help provide you with this kind of valuable insight, by identifying both "climbers" and "fallers" among your accounts, as well as additional revenue opportunities you may be missing.
You'll also be able to see at-risk accounts, so you can quickly close the loop on high-value detractors and save your clients (and revenue).
How NPS Changed the Game for Micro Focus
There's plenty of statistical proof for the value of prioritizing customer experience and strategically measuring and tracking Net Promoter Score. But has this kind of approach worked with real companies?
Micro Focus – formerly Hewlett-Packard Enterprise – is one of the largest B2B enterprise software companies in the world. It has also been a long-time proponent of Net Promoter Score. But Micro Focus doesn't just measure NPS – They proactively listen to their accounts, strategically close the loop to ensure high retention, and keep revenue at the center of the conversation.
Dr. James Borderick, head of customer experience, says:
"
I find that linking NPS and revenue makes people sit up straight, and moves the conversation from 'just a metric,' to strategic responses and actions. I can say that, like CustomerGauge, I am an advocate of correlating Net Promoter with revenue, and have solidified and refined this methodology.
By linking experience data with revenue, Micro Focus is able to identify how much revenue is generated (or lost) from even one NPS point.
One of the reasons Micro Focus has been so successful in implementing a revenue-driven NPS strategy is C-suite buy-in. CEO Meg Whitman introduced a customer-centric ethos to what is now Micro Focus, drawing on her time as President and CEO of eBay. The result? A company that seeks to provide powerful, results-driven account experience.
Other companies that prioritize CX and NPS include:
A CX and NPS-Focused Ethos Delivers Results
Ultimately, making CX and NPS core values in your company, key drivers of decision-making, and central to the way you approach account management delivers real results. By servicing their accounts through strategic engagement and setting data-driven targets, companies were able to experience significant growth and build businesses that grew loyal, satisfied clients.
About the Author